The only surprising thing about Lando Norris's excellent start to the 2021 Formula 1 season, including his podium at Imola, was that he was having to earn his results the hard way.
Normally a best-of-the-rest result comes from qualifying fourth or fifth and then just being able to run at your own pace at the front of the midfield. But the McLaren driver wasn't earning his results through qualifying. He was seventh on the grid in the first three races of the season and turned that into top five finishes every time, including the Imola podium.
While McLaren played down the discrepancy between qualifying pace and race pace, there was something there. It was the closest thing approaching a weakness in an otherwise tremendous start to the season.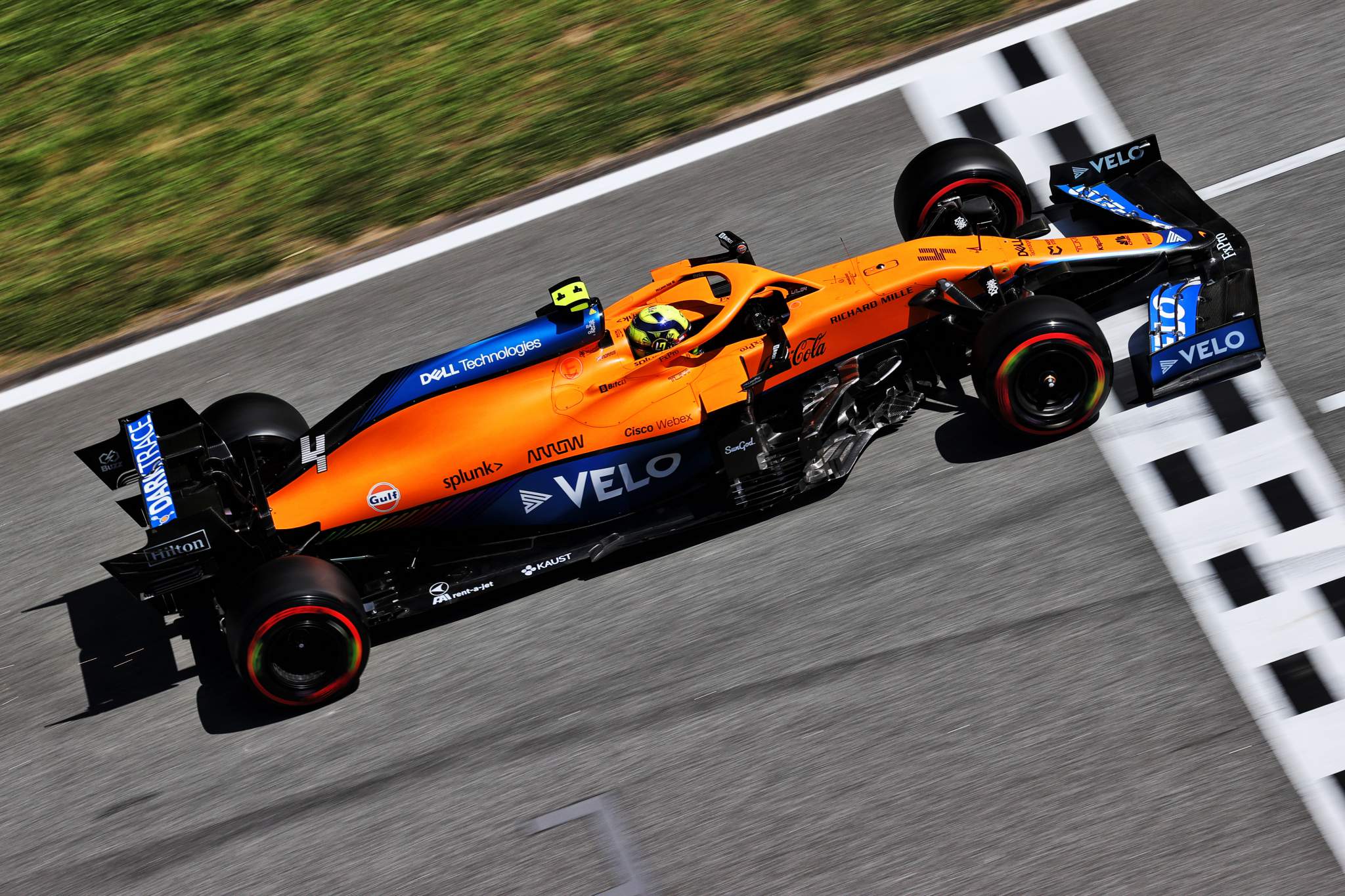 Norris then had a mitigating factor in his favour in Spain, where his qualifying was compromised, but the trend of the first four races was there hadn't been a standout qualifying performance. Imola had the chance for that but he made a tiny mistake. He went over the white line and lost his best lap.
It is hyper-critical but that's how good Norris's season has been so far. We are getting into the finer, tiny details to find areas of improvements. It speaks volumes to how he's evolved and what level of driver third-year Lando looks like being.
He was able to make things happen for himself in the first three races. There were circumstances at play that allowed him to do it. He was really feisty at the start in Bahrain, he was very measured at Imola in the rain and he took his opportunities when they arose, and in Portugal was feisty again grabbing places when he could – a couple of absolutely beautiful passes on Esteban Ocon and on Sergio Perez, to get up into fourth place at one stage.
But Spain was a precursor to Monaco, if you don't get the job done in qualifying, you end up boxed in. And he couldn't exploit any more potential performance in the race after qualifying near the foot of the top 10 in Spain.
McLaren was expecting to struggle in Monte Carlo because low speed isn't its forte. And we saw the difficulty of getting it right in Monaco, with the characteristics of the McLaren, in the form of Daniel Ricciardo's worst struggle of the season so far.
So it was a big test for Norris. If the qualifying trend of 2021 continued in Monaco combined with the McLaren not being suited to the circuit, then at best he would be in the lower reaches of the top 10. That's not what happened.
"Lando's obviously in great form," was McLaren team principal Andreas Seidl's verdict.
"He's simply at one with the car and manages to pull off these laps when it matters in qualifying."
Norris produced an excellent performance in qualifying, half a tenth from the front row and just a couple of tenths away from pole. No wonder he described it as the best lap he's done.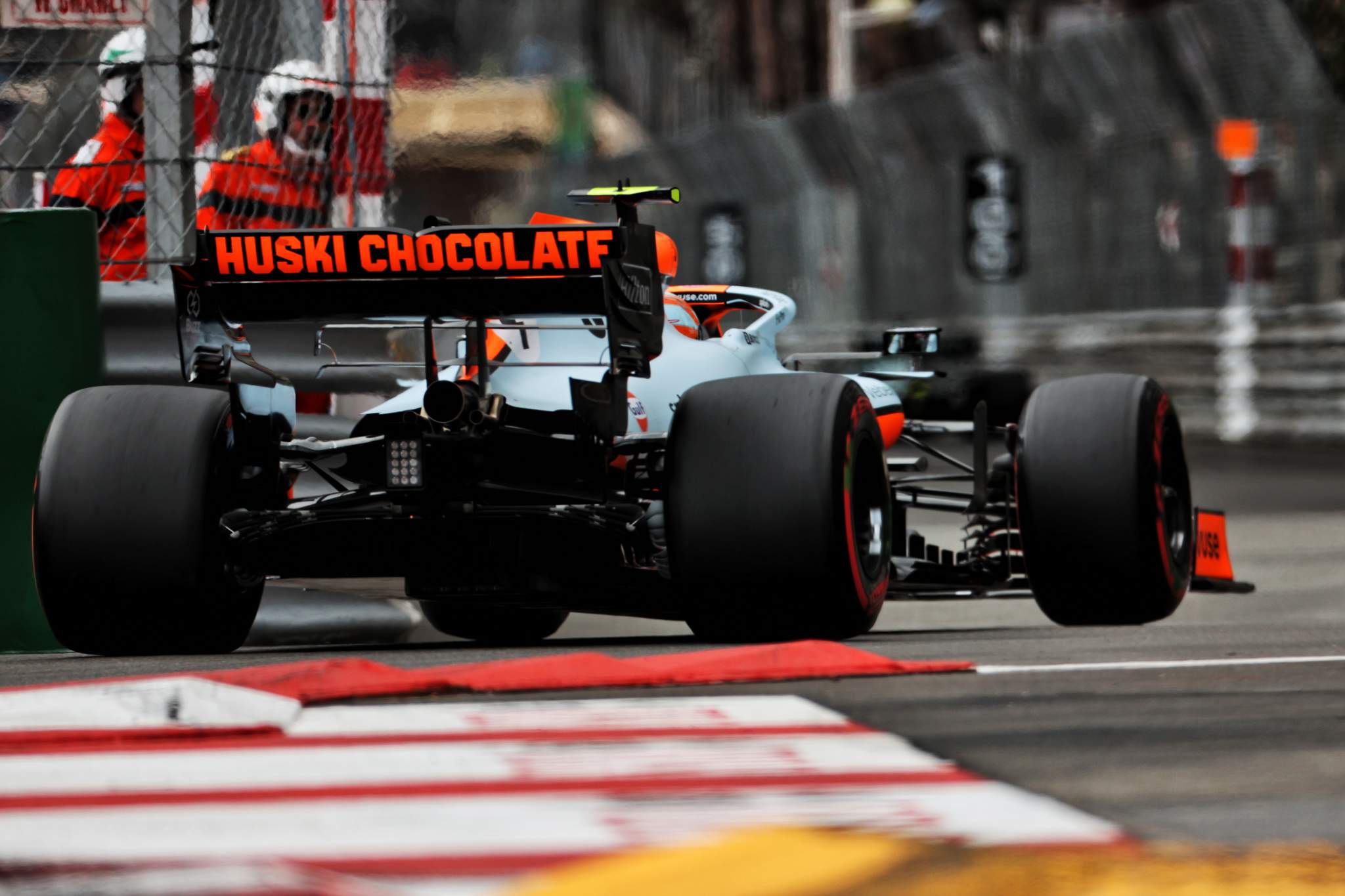 "We came into it with not many expectations," Norris admitted. "But it turned into probably one of our best weekends together, bar maybe Imola. The car's been pretty good to drive, I've had a lot of confidence, I've felt very comfortable.
"That showed with an alright package, not quite there yet compared to [Ferrari and Red Bull], but with that confidence to push the car in qualifying.
"To be only two-tenths off was a pretty cool achievement for us, even though it was still P5."
It was a surprise to McLaren too. And there's no better place for that kind of surprise than Monaco, where qualifying sets up everything that follows in the race.
Norris inherited fourth immediately thanks to Charles Leclerc's no-show, and maintained a good pace in the first stint. He was falling away from the top three but he wasn't under pressure from behind, then he found himself in third place because of Valtteri Bottas's horror pitstop and there was a Monaco podium on the cards.
There was a small amount of self-inflicted pressure because he'd made a couple of mistakes early on in the race exceeding track limits at the chicane and was on his final warning.
"It made my engineer Will [Joseph] extremely nervous and I'm sure it made certain other people very nervous too," Norris said. "I knew there were many more laps to go and the final stint, when you can be pushing more, if I made one more mistake and went off…"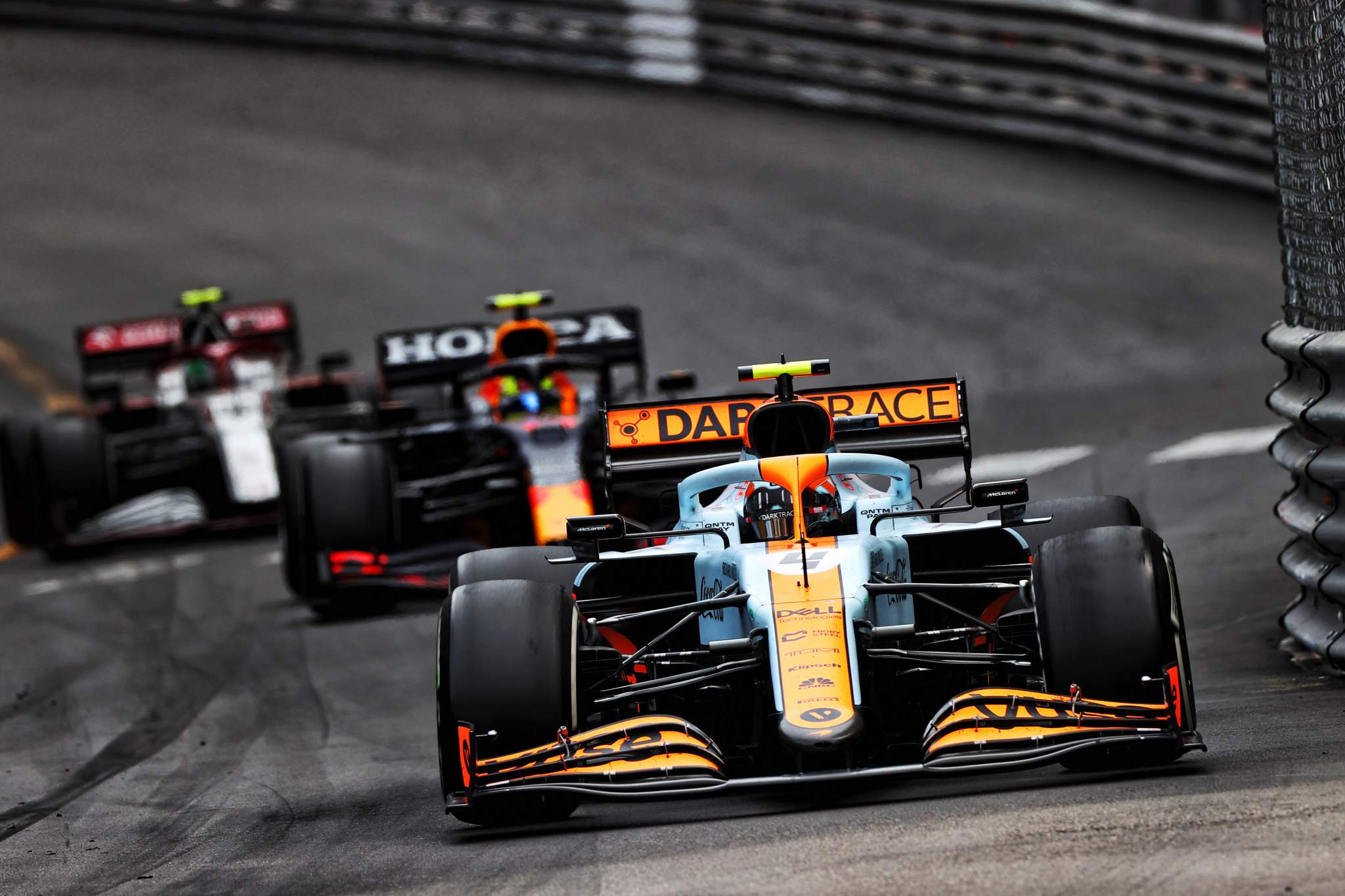 But he was flawless from that point onwards, and he had to be as strategy had allowed Perez to emerge from the pitstops third in the same car that Max Verstappen was leading the race comfortably in and lapping at a pace that Lando couldn't get close to on the hard tyres.
"It was mixed," Norris admitted. "The first stint we were pretty competitive. Pretty similar on pace to what Carlos [Sainz Jr] was doing, and Bottas and Max.
"Maybe Max was slightly ahead but I could see on the TV screens when I was going past what lap times Max was doing in the lead and I wasn't that far behind. I was like, 'OK, this is going well'.
"As soon as we put the hard tyre on, yeah, it kind of turned to the opposite.
"It was a very hard car to drive. Much easier to lock-up and snatch the front, worse over the bumps and so on. Not a lot of confidence and, as soon as I heard where Sergio was in terms of his tyre strategy, how much later he boxed, I got pretty worried."
It was little surprise that Perez cut into the gap to Norris and got into DRS range. There was still an advantage for Norris because he had track position, which is king in Monaco, but the Red Bull was several tenths a lap faster, Norris was struggling on the hard tyres, and he was on that final warning at the chicane, the only overtaking spot on the circuit.
Those final 10 laps contained quite a lot of pressure, he couldn't afford to make any mistakes with a podium in Monaco on the line. And he didn't.
"I was telling Will to be quiet, because sometimes you just want to focus on what you need to be doing, just driving around the streets of Monaco and you just want to be in your zone, missing the barriers, just feeling confident and not having to think of any other things." said Norris.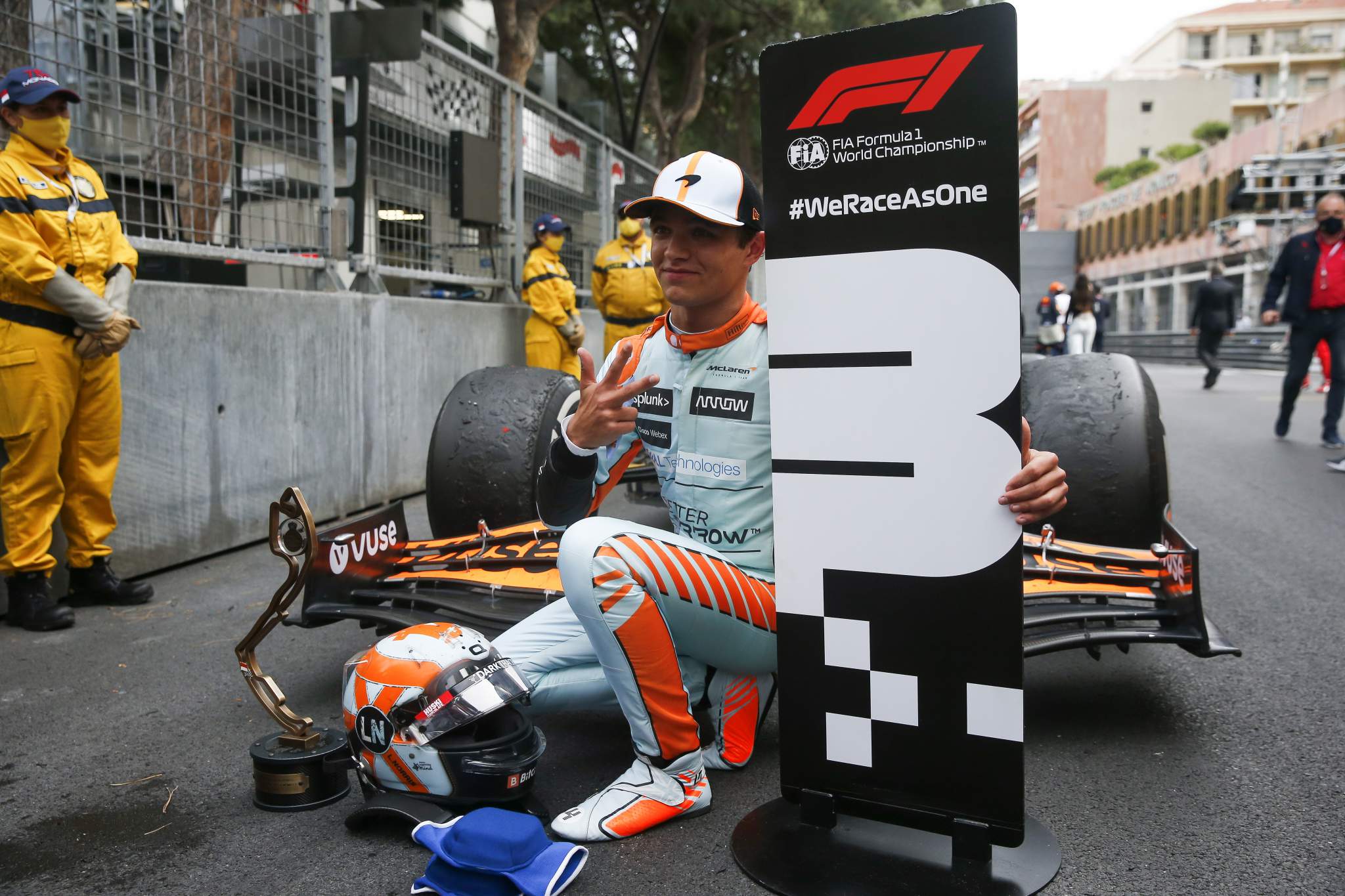 "So, when he's telling me there's a guy 20 seconds ahead, it's not something I cared too much about. I just wanted to concentrate on driving. Simple as that."
This was the sort of complete performance that underlined Norris's credentials. It also shows why McLaren's put its faith in him in the form of a multi-year deal.
Lauding this weekend above all others so far in 2021 is saying something considering the quality of his first three events.
But it had a little bit of qualifying magic that the other grands prix had lacked – and in Monaco, that makes all the difference.