The Monaco Grand Prix was a great advert for the old adage 'if they're good enough, they're old enough' – aided by a curious clash between the age of the drivers on the podium and their experience.
At an average age of 23 years, 11 months and 16 days, the Monaco podium was the third-youngest in F1 history. Two of the drivers – race winner Max Verstappen and runner-up Carlos Sainz Jr – were also part of the youngest-ever top three, alongside Pierre Gasly in Brazil 2019.
But Verstappen and Sainz are also in their seventh seasons of F1, and their experience belies their age. In fact, they lurk just outside the top 50 on the list of all-time starts!
F1 rookies together at Toro Rosso only as recently as 2015, Verstappen and Sainz – like fellow Monaco podium finisher Lando Norris – are textbook examples of the modern F1 drivers. They arrived in F1 very young, very well prepared, and in different ways mature beyond their years.
That's why there's a bit more to this kind of podium than just an interesting statistic. We've become so used to Lewis Hamilton's race wins and Valtteri Bottas podiums, that interjections from guys like Verstappen and Charles Leclerc's 2019 season are the only time in recent memory that the next generation has been represented 'regularly' at the front.
And when the 'usual suspects' aren't on the scene for whatever reason, there's enough novelty value that the whole affair becomes a bit more light-hearted.
Never was that clearer than when The Race attempted to ask the Monaco top three about age, experience, and the prospect of a new era for F1 – and pointed out how this was almost a record podium.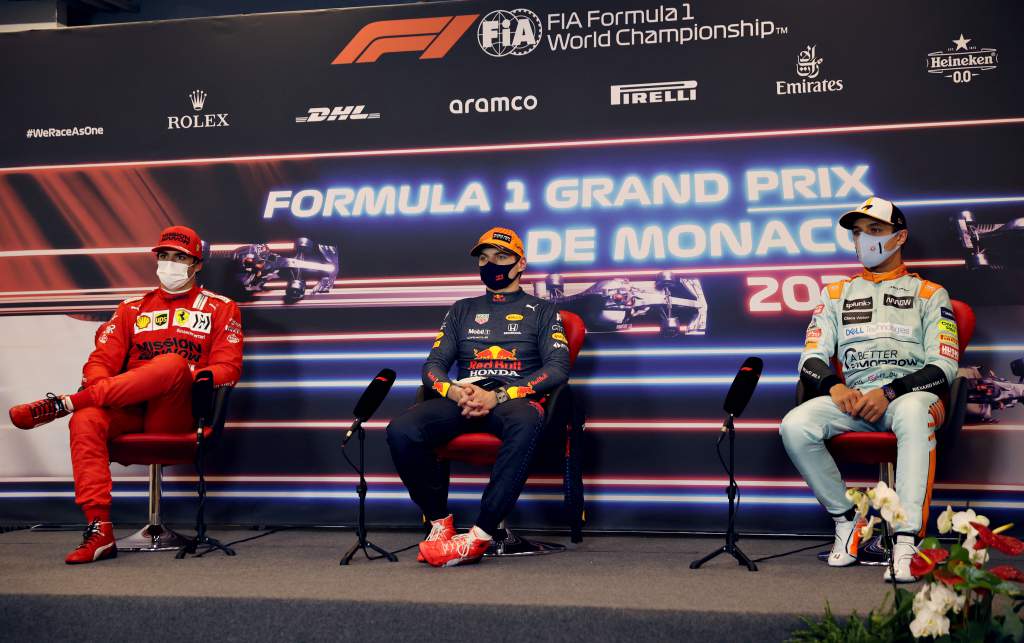 "Carlos, you ruined it man," teased Verstappen. "You're too old!"
"Thank you, thank you, Max. I knew you were going to say it! I knew it was coming," Sainz replied. "We were talking about it exactly 10 minutes ago!"
Sainz then offered to answer the question having been team-mates to both Verstappen and Norris – who kindly suggested Sainz should speak on the grounds of "elderly first"…
"I can tell you these two guys to my left are quite decent behind the wheel of a Formula 1 car," said Sainz.
"A little bit young and inexperienced sometimes but they're definitely very, very quick.
"Formula 1 is in good hands for the future. The level of drivers this year in general is super high. When you check the qualifying laps of everyone and you see not only the young drivers but also people like Lewis etc, it's just an incredible level.
"I'm glad to be sharing this grid with so many talented people and comparing myself against them and see how you can do because it pushes you like no other and it's good as a racing driver to feel pushed and to feel like you need to always keep finding new limits."
Verstappen and Norris feigned stunned silence in response to the answer.
"Nothing to add," said Verstappen. "It was a strong message. That was on point."
Norris just added: "Beautiful."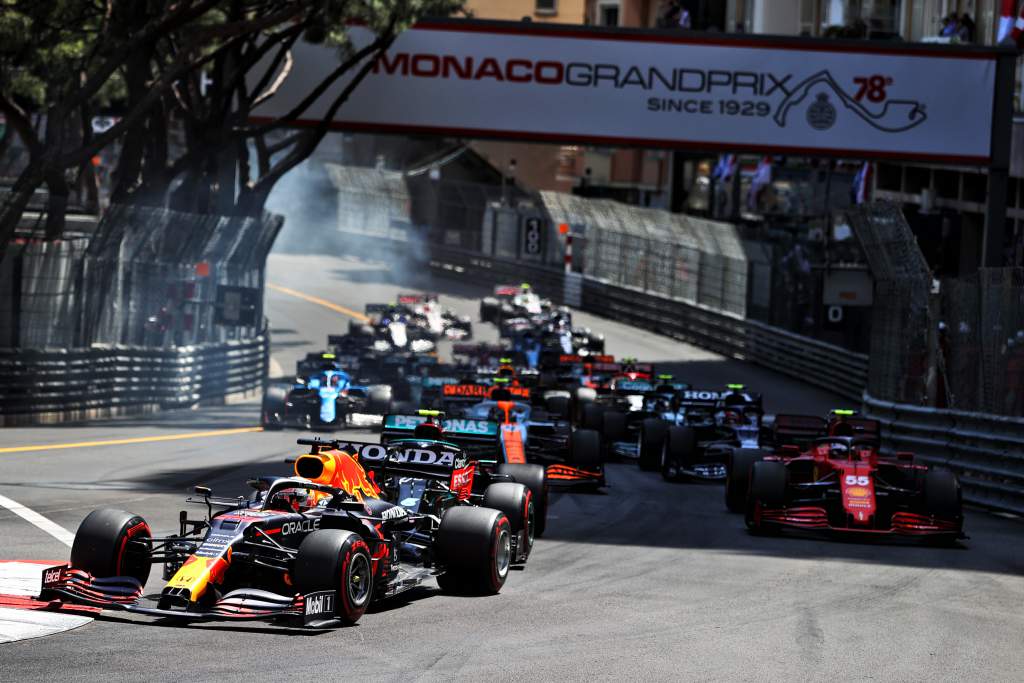 But, joking aside, Sainz was right. The 2021 grid is one of F1's strongest ever and we shouldn't lose sight of that just because there's a Mercedes winning most races and Hamilton's yet again in title fight. Maybe that'll be easier to do now Verstappen's actually leading the championship.
There is tremendous strength-in-depth in this field and it is underpinned by young talent and results like Norris's second podium of the season and Sainz's first podium for Ferrari.
Yes, even Sainz – who, as Verstappen pointed out, is the supposed interloper of this young trio at 26 – is part of that generation. After all, like Verstappen, he is a member of three of the five youngest podiums in F1 history!
---
Top 10 youngest podiums in F1 history
| | | |
| --- | --- | --- |
| Age | Race | Podium |
| 23y 08m 23d | 2019 Brazilian GP | Verstappen/Gasly/Sainz |
| 23y 11m 16d | 2008 Italian GP | Vettel/Kovalainen/Kubica |
| 23y 11m 28d | 2021 Monaco GP | Verstappen/Sainz/Norris |
| 24y 02m 01d | 2020 Italian GP | Gasly/Sainz/Stroll |
| 24y 05m 13d | 2019 Austrian GP | Verstappen/Leclerc/Bottas |
| 24y 07m 01d | 2008 German GP | Hamilton/Piquet/Massa |
| 24y 07m 12d | 2003 Hungarian GP | Alonso/Raikkonen/Montoya |
| 24y 07m 23d | 2008 Monaco GP | Hamilton/Kubica/Massa |
| 24y 08m 19d | 2008 Singapore GP | Alonso/Rosberg/Hamilton |
| 24y 08m 24d | 2007 Spanish GP | Massa/Hamilton/Alonso |
---
There will probably be more Verstappen-Sainz-Norris podiums in the future, in varying orders, and the funny side of it will probably fade the more it happens. Of course it will. There'll be more at stake, sharing a podium won't feel as special, and the pally relationships will transition to being more of a rivalry.
That doesn't mean it won't remain good-natured, of course. And their willingness to crack a few jokes shouldn't diminish how seriously we should take the Monaco top three now. They finished on the podium because they are top-quality drivers.
Generational changes are part of sport and when F1 has 'unusual' podiums like this one it's a breath of fresh air, so no wonder the drivers involved enjoy it. And we should too.
Every now and then, amid the sometimes stale present-day narrative, we get a glimpse of F1's bright future. Monaco was a perfect example of that, which is why a surprisingly young podium was much more than just a novelty.