Jenson Button found 40% of his NASCAR debut "a bit silly" due to the amount of contact in a hectic race, had heat exhaustion and had to stop for ice, and got "whacked" by fellow ex-F1 driver Kimi Raikkonen in an eventful Cup Series baptism.
Button made his debut with Rick Ware Racing supported by frontrunning outfit Stewart-Haas, and finished 18th after a wild race at the Circuit of the Americas – which featured eight cautions and three attempts at an overtime finish, running to 75 laps instead of the scheduled 68.
In the first stint Button stayed out longer than his rivals and spent laps in the top 15, but dropped back before the spate of late cautions for myriad incidents allowed him to work his way forward again.
A poor, by his own admission, final restart meant he had to rebound to his eventual 18th-place finish, which was impressive with 30 cars still running at the end.
Even the Cup Series regulars found the race a challenge as runner-up William Byron described the cars as being like "bowling balls", while Daniel Suarez hunted down and drove into Alex Bowman in the pits after the race had finished.
"You get to Turn 1 and everyone's in the way and people are braking later than me and they just hit a car and use that to slow them down," Button told Fox reporter Bob Pockrass.
"That was the thing for me. I have to say I enjoyed the race, I'd say 60% of it, 40% of it kind of felt a bit silly, the amount we were hitting each other.
Here's a look at the restart of #NASCAROvertime. pic.twitter.com/ieAGBDMBz9

— NASCAR (@NASCAR) March 26, 2023
"In Turn 1, people would have an inch overlap and I would turn in and get whacked, luckily it didn't spin me around, and then on the exit I gave them a big whack back. The revenge is enjoyable but there's points when it feels that we could do better.
"The action is amazing, don't get me wrong, and I have to give it to these guys, the first 10 laps they just destroyed me, left me standing. Every time I was in a corner I had someone overtaking me and I was like 'this just feels wrong', I'm driving in a race where nothing feels natural.
"Normally when I race, if I go into a corner a little bit slower, nobody is going to drive on the outside of me because they won't get there but in a Cup car you can.
"So they'll go on the outside, put a wheel inside for the next turn and then just push you off so you have to give them room.
"I took a while to learn the racecraft, I haven't raced for three years either and I never hit a car intentionally.
"After the first stint when I changed tyres, I said 'guy, put me in clear air, I need some laps on my own'. They did a really good job on the pitstop and I was able to run clear and really enjoyed it. The pace was good."
Raikkonen had a bit more of the spotlight in the race given he ran up front more regularly than Button.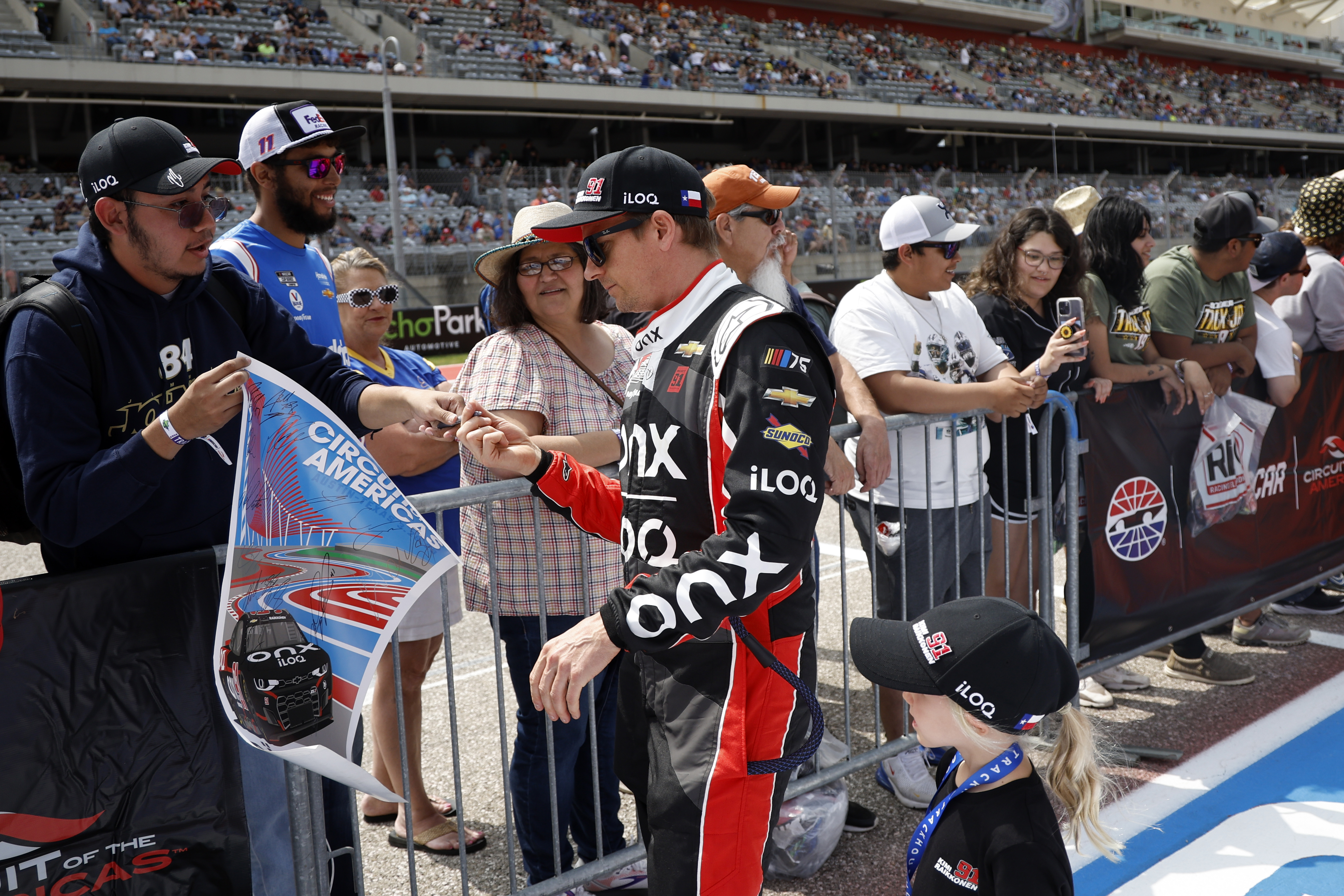 He ran as high as fourth as the entire field pitted under a late caution, when Raikkonen had bailed out of trying to save fuel and pitted a few laps earlier under green-flag conditions.
He helped Ryan Blaney into a spin, lost positions after being forced wide by another incident and then spun himself, meaning his promise only yielded 27th.
Unfortunately the NASCAR TV cameras did not catch the incident between Raikkonen and Button around the halfway mark of the race, with Button saying the "whack" gave him oversteer in the laps following.
At that point, Button – who hasn't raced for three years – began to find the physicality and conditions inside the car a struggle.
"I also had heat exhaustion, I was like 'guys, I'm going to have to stop' because it was that bad. So yeah, I need to improve some things in the car.
"I did stop twice near the end of the race to get some ice and some water because I was going to faint otherwise.
"It was tough, but I enjoyed the end. I got it wrong on the last restart but I made up for it, five or six places in the last two laps. So I enjoyed that."
Button has two more races, at Chicago and the Indianapolis road course, remaining on his current deal in NASCAR, hence referring to a need to improve things. Those races come in July and August so are likely to be tough conditions-wise, too.
Around goes Truex! pic.twitter.com/n83JSa0v3b

— FOX: NASCAR (@NASCARONFOX) March 26, 2023
Raikkonen doesn't have more confirmed races but team owner Justin Marks said last year he is "sort of operating under the assumption that it's kind of his ride until he tells me otherwise".
The Finn lamented his tyres going off late on – he'd stopped earlier than many of his rivals after all – and the "mess" that the end of the race became.
"I think it wasn't too bad," said Raikkonen.
"We got unlucky with the incidents that happened. It was one of those things, unfortunately.
"Then there were no tyres left. They kept coming, getting more restarts and more restarts, so I think after the spin I had, the tyres were just done.
"It's a shame because we were there, but then we restart, and just wrong place, wrong time.
"It was a case of trying to stay out of the issues in the first corners and every time it looked like you'd be very good, then three corners later somebody's going the wrong direction.
"There's a bit of mess and luck involved."
Of the other non-regular entries competing in the race, Jimmie Johnson and Conor Daly both retired early – with Johnson not even getting a full lap after being shunted off – while fourth-place qualifier and debutant Jordan Taylor could only manage 24th.
The double IMSA champion – subbing for 2020 Cup champion Chase Elliott, who broke his leg in a snowboarding accident – had been as high as 11th in the closing stages but was pinned down at Turn 1 on the last restart and plummeted backwards.