The first official free practice session of the delayed Formula 1 season gave us the opening clues of the real competitive shape of 2020. Superficially, at least, it appeared as if Mercedes had, if anything, extended its advantage since last year.
Lewis Hamilton was comfortably fastest in the qualifying simulations on Friday afternoon, following that up with convincingly the best long-run performance.
The other headline was that the Racing Point RP20 looked very convincing indeed, while the Red Bull-Honda RB16 looked like an oversteering handful with both Max Verstappen and Alex Albon having offs.
Sergio Perez was third-fastest to the two Mercedes in the qualifying sims and generally looked super-consistent on the long runs, where he averaged only around 0.35s slower than Hamilton on the soft C4 tyre.
In fact, on the evidence of Friday's running, the midfield group behind Mercedes appears now seem to comprise the second-to-sixth-fastest teams!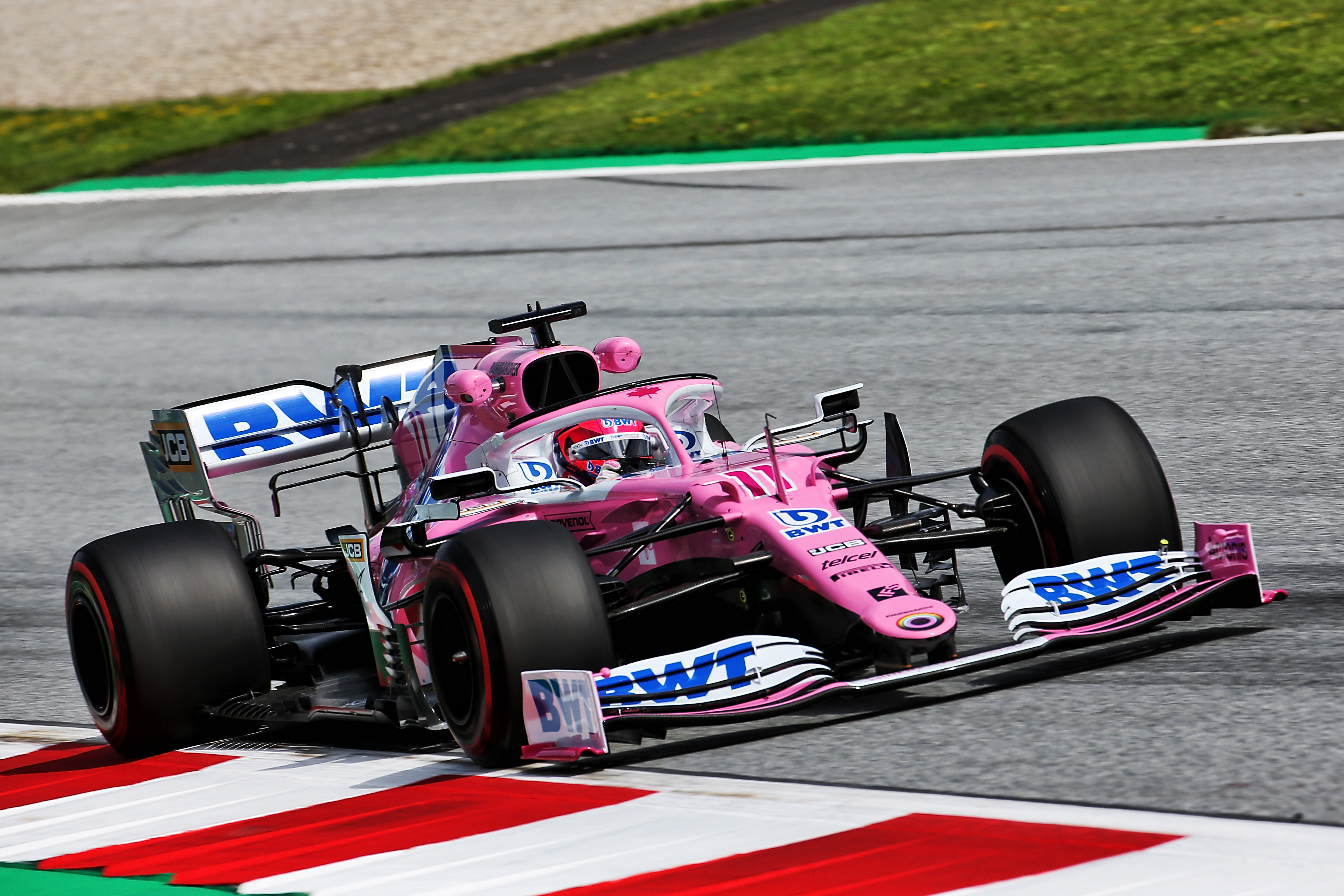 Racing Point headed that group, narrowly, from Ferrari, Renault and McLaren. Only then came Red Bull, although Verstappen's best lap was compromised by a wide moment.
"The laptimes don't really say anything because I broke my front wing in the fastest lap but we are, I think, confident," says Verstappen. "There's always things you can do better but I'm looking forward to tomorrow."
But regardless, the Red Bull looked troublesome around this circuit, with both Verstappen and Albon repeating their spins from Barcelona testing. Verstappen complained constantly of oversteer and spun in both sessions. Albon, using an older-spec floor than Verstappen, spun at Turn 1 in the afternoon.
Sebastian Vettel trailed Hamilton by 0.6s over a single lap, which made him the filling in the middle of a Racing Point/Renault sandwich
This was a tricky corner in the gusty crosswinds of the afternoon – an AlphaTauri and Williams also spun there – but the running theme of spinning cars seemed to be the Red Bull colours.
This is a quite different aerodynamic concept to last year's car, with its needle nose and repackaged front mechanical components, and it would appear the team has not yet got on top of it. And as Albon admitted, when the rear tyres start to go on longer runs, it gets even more tricky.
"Just pushing," he said of his spin. "Obviously on race runs the car gets a little bit more lairy and I over-pushed the entry a little bit and had oversteer."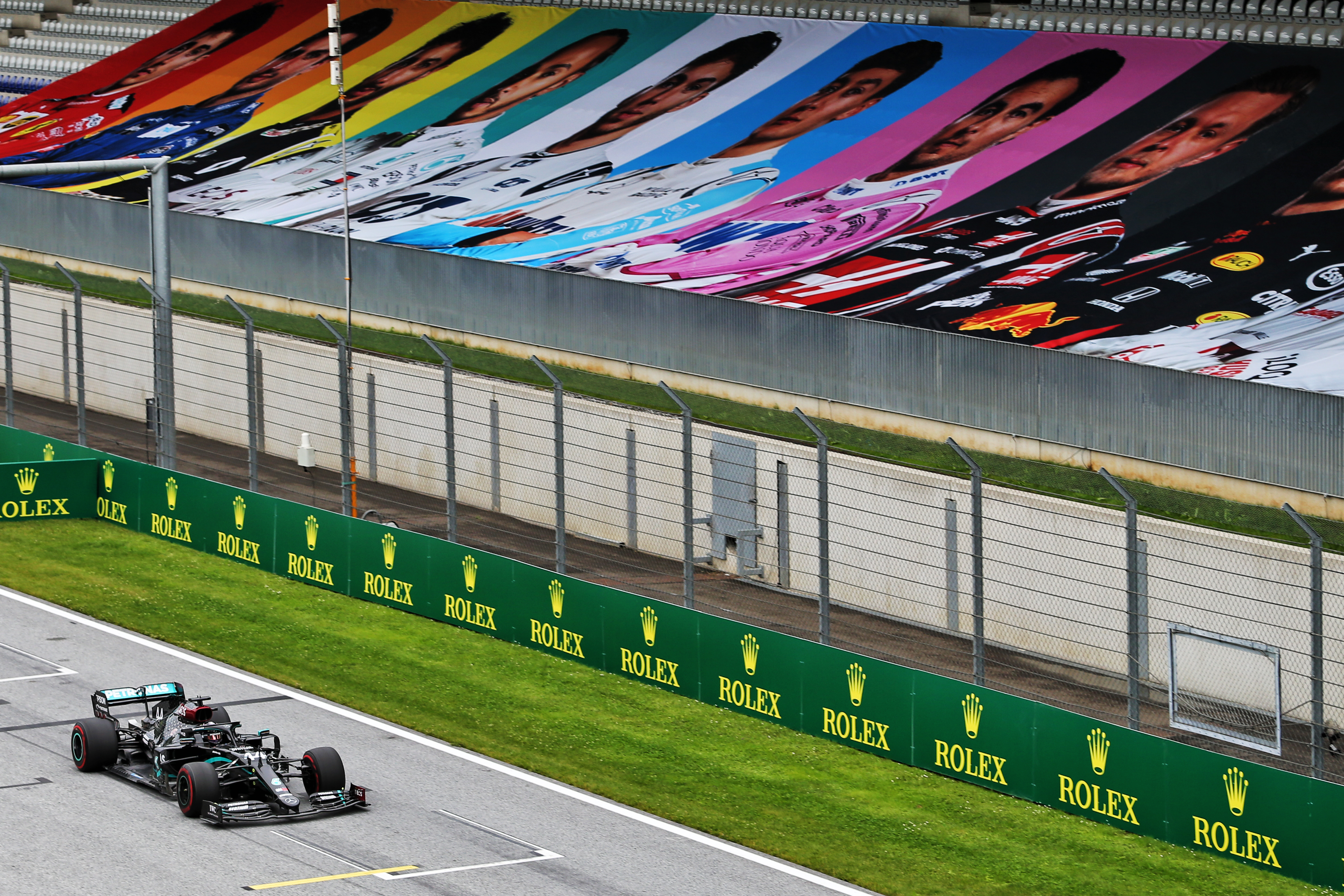 The Mercedes W11, by contrast, was supremely stable.
"Yes, we need to get it a bit better between the low speed and high speed," said Valtteri Bottas, "as it was either good on one and not the other, but generally I was very happy."
A few niggling mechanical issues prevented Bottas from doing a full programme in the afternoon. He trailed Hamilton by a couple of tenths in the qualifying simulation, but that was still around 0.4s clear of the opposition.
"We'll take the margin with a pinch of salt but the car did feel extremely good today," said Hamilton. "What's positive is it really feels like in general we've improved it over last year. This is a medium and high speed corner circuit where you really lean on the car – and it felt great."
While both Mercedes and Red Bull cars extensively developed since winter testing, Ferrari turned up with pretty much the spec it ran at Barcelona, with team boss Mattia Binotto emphasising that the first part of a re-thought aero programme will appear in Hungary in a fortnight.
"Testing showed we had aero correlation issues," admitted Binotto.
Around here on a gusty Friday afternoon, Sebastian Vettel trailed Hamilton by 0.6s over a single lap, which made him the filling in the middle of a Racing Point/Renault sandwich – but how representative that is remains to be seen.
Vettel concentrated on the hard tyre during the long runs, Charles Leclerc the soft. Leclerc's average over his 12-lap stint was around 0.85s adrift of Hamilton's – with Verstappen and Perez closely matched in between the Mercedes and Ferrari.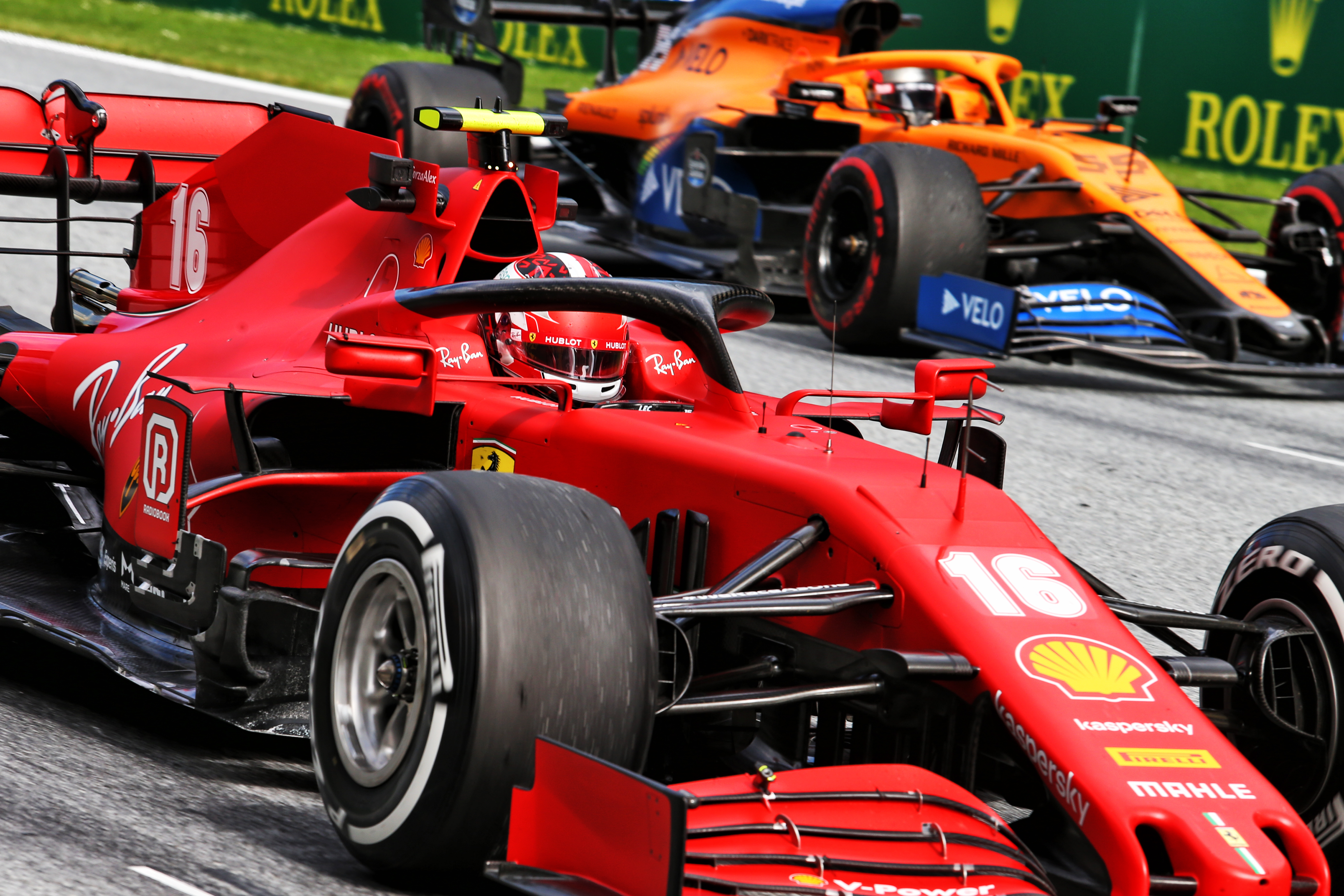 Single-lap pace
1 Mercedes (Hamilton), 1m04.304s
2 Racing Point (Perez), 1m04.945s
3 Ferrari (Vettel), 1m04.961s
4 Renault (Ricciardo), 1m04.972s
5 McLaren (Norris), 1m05.087s
6 Red Bull (Verstappen), 1m05.215s
7 AlphaTauri (Kvyat), 1m05.443s
8 Alfa Romeo (Giovinazzi), 1m05.608s
9 Haas (Magnussen), 1m05.678s
10 Williams (Russell), 1m06.125s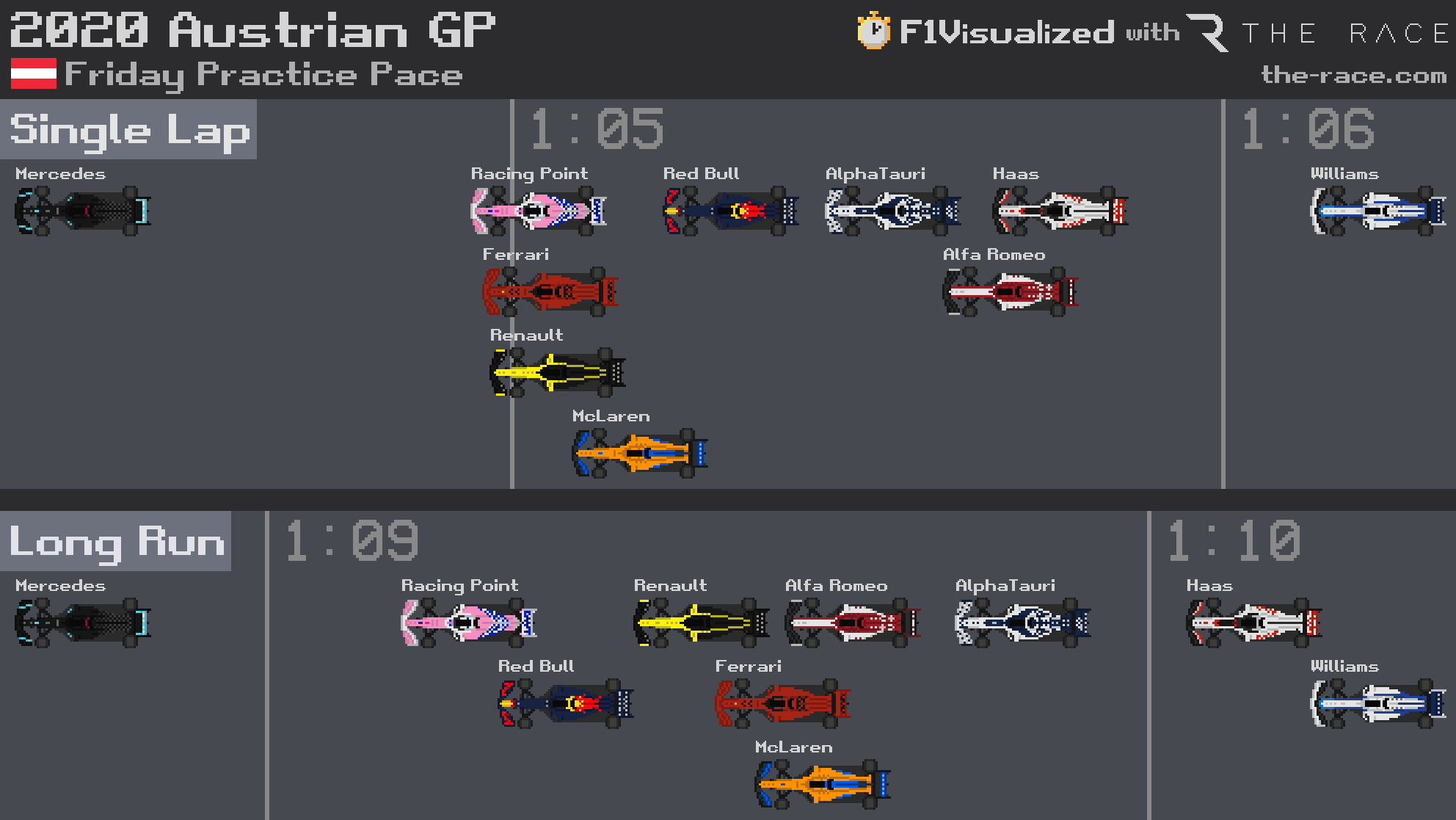 Long-run pace (based on seven-lap comparison)
1 Mercedes (Bottas), 1m08.716s
2 Racing Point (Perez), 1m09.154s
3 Red Bull (Verstappen), 1m09.264s
4 Renault (Ocon), 1m09.418s
5 Ferrari (Leclerc), 1m09.510s
6 McLaren (Sainz), 1m09.555s
7 Alfa Romeo (Giovinazzi), 1m09.589s
8 AlphaTauri (Gasly), 1m09.782s
9 Haas (Grosjean), 1m10.044s
10 Williams (Russell), 1m10.185s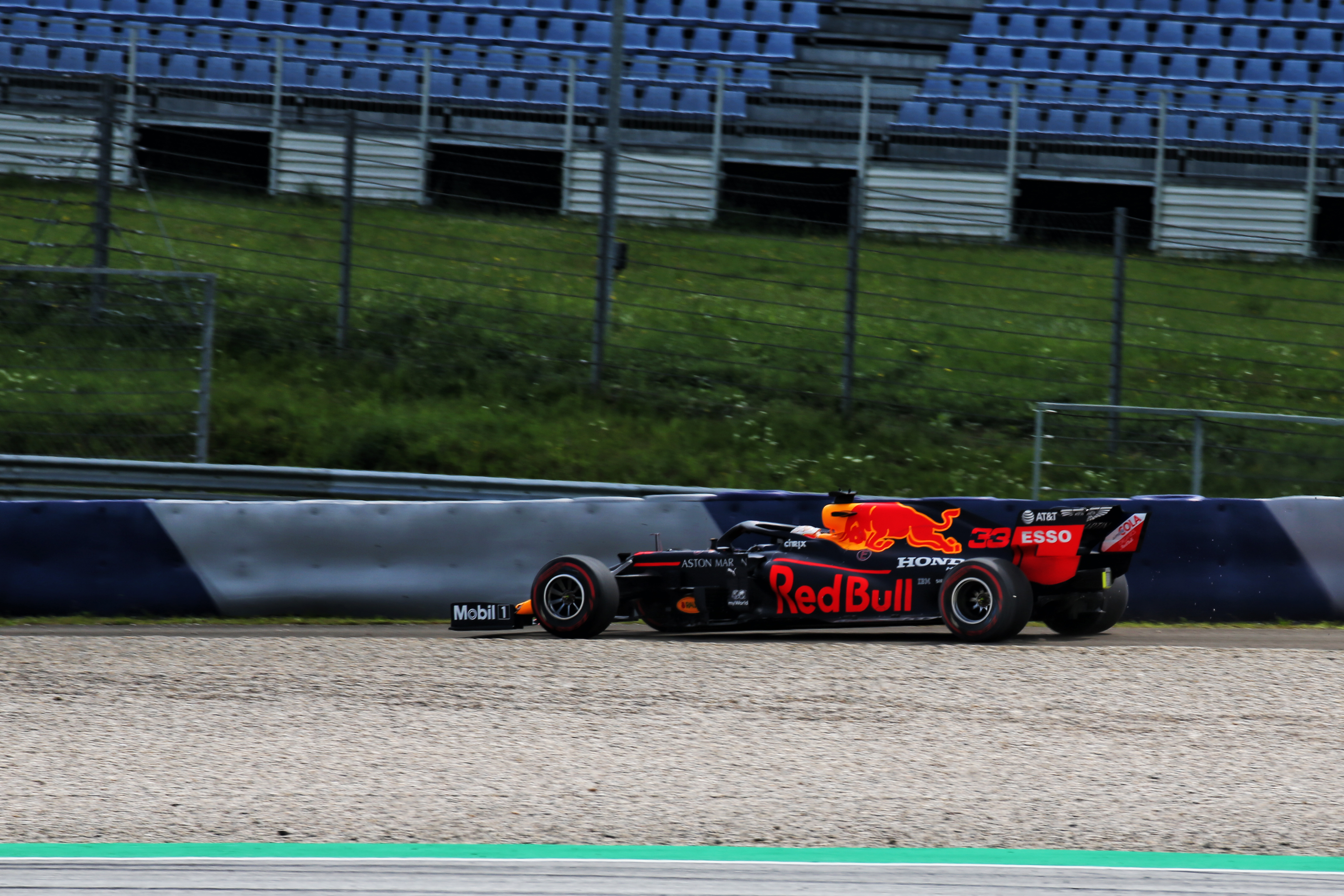 The long-run pace analysis shows how condensed the mid-pack is, as well as supporting the impression that Mercedes is well ahead.
The long-run comparison is, where possible, based on seven laps of long running to avoid degradation on more substantial runs distorting the picture, and shows the gap from second-fastest Racing Point down to seventh-fastest Alfa Romeo – with Antonio Giovinazzi's run showing more promise than the headline times suggested.
As expected, Williams brought up the rear but with Haas in ninth place, with the AlphaTauri pace placing it in a group of its own between the top seven and the bottom two.
Romain Grosjean's assessment of the field, which put it in three groups with Mercedes, Racing Point and Red Bull at the front and Alfa Romeo, AlphaTauri, Haas and Williams at the back – with the rest in the middle – therefore seems an accurate reflection of the day.
But it is only the first day, with many teams trying new parts and shaking off the rust after a long hiatus, so it would be a mistake to regard this as a definitive conclusion.
What it does do is suggest the impression that Mercedes was on top in pre-season testing and that Racing Point's imitation Silver Arrows is the dark – or should that be pink? – horse.