Max Verstappen's retirement from the Q2 part of Saudi Arabian Grand Prix qualifying with a broken driveshaft has set up a whole bunch of intrigue about race day.
Not least the prospect of a possible Fernando Alonso victory, given that he starts his Aston Martin from second on the grid, alongside the Red Bull of polesitter Sergio Perez.
Alonso is playing it down: "We have to be realistic. I don't think we can beat Checo on pace. That's not the target."
Perez is not: "I'm not thinking about where Max can get to, I've got to keep this lion behind me," he said, referring to Alonso sitting to his side in the press conference.
Alonso refers to the Red Bull being "on a different planet" and when Verstappen is driving it, that much is true. Perez qualified the car 0.465 seconds faster than the Aston Martin, which only even starts second because of the grid penalty being taken by Charles Leclerc's Ferrari.
But their respective Friday long runs suggest the Aston Martin can run at a similar pace to Perez, who averaged just 0.2s faster on the same tyre over a similar length run. So although this is Perez's race to lose and he starts as the logical favourite, the ingredients do look ripe for an Alonso upset.
Alonso cautions against writing off the 15th-place-starting Verstappen, referencing last year when the Red Bull won at Spa from 14th on the grid.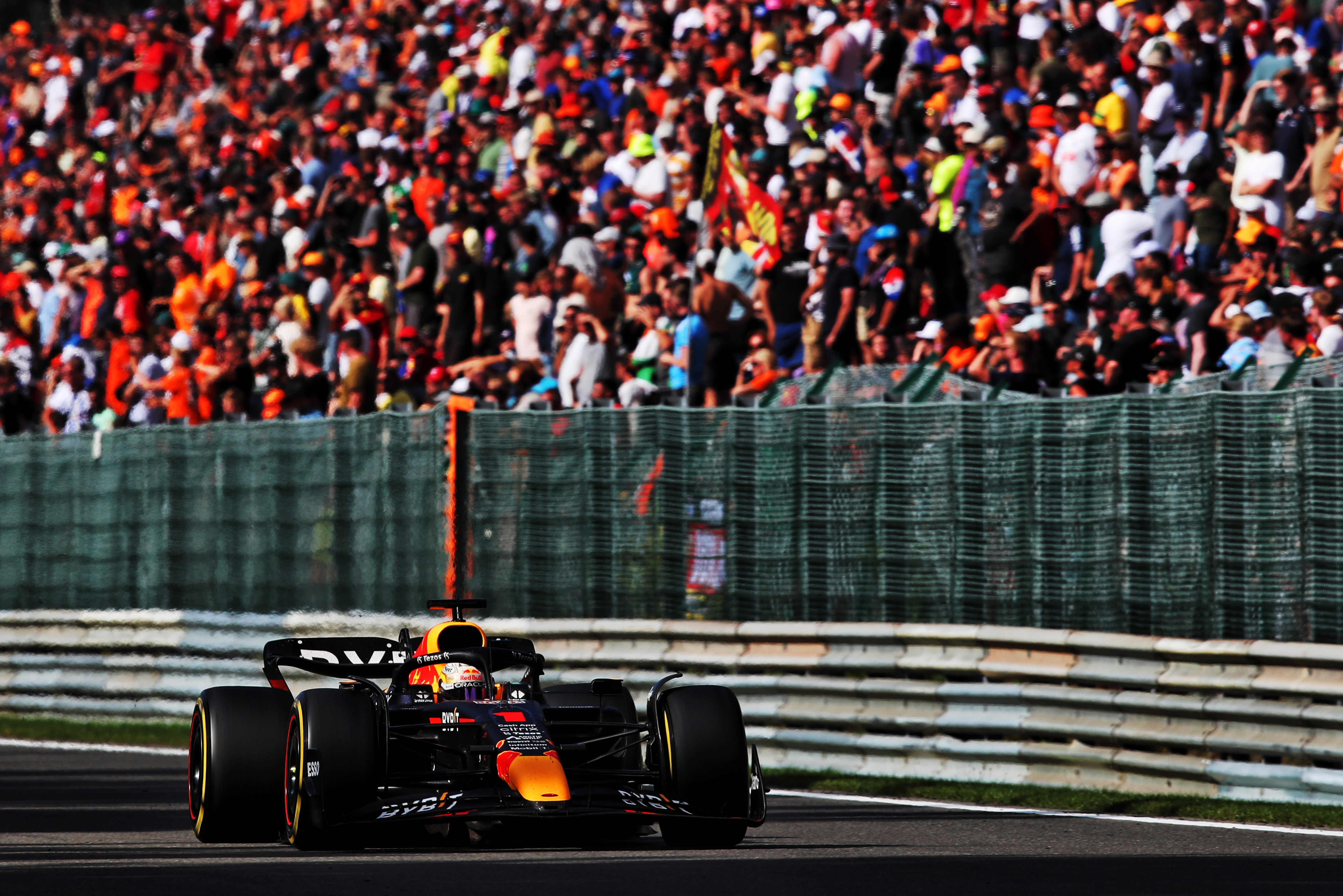 Working against Max being able to repeat that is a likely high level of field spread around the fast sweeping track on the opening laps and the DRS trains which are likely to form ahead of him. But the Red Bull's terminal speed with DRS is super-strong, so maybe…
But while Verstappen's misfortune has set up this great intrigue for the race, perhaps the most significant point to come out of the weekend so far is the confirmation of the Aston Martin as the next best car after the Red Bull.
It clearly carries significantly more drag in creating its downforce than the Red Bull and that posed the question of whether its great performance in Bahrain could be repeated on a track which so rewards the lower drag of the Ferrari and Mercedes. But it's been quick here regardless, quicker than the Mercedes and more consistently quick than the Ferrari.
Ferrari ran through Friday and into FP3 with very protective power unit settings and this much was confirmed as its performance took a big step up into qualifying, leapfrogging it well past Aston Martin on the speed traps and close to Red Bull.
But the Aston Martin showed much more consistent long-run pace in FP2, conforming to the pattern of Bahrain: the Ferrari can edge it over a lap – particularly when Leclerc puts together the sort of on-the-edge lap he did here – but the Aston Martin looks after its tyres better and is likely quicker over a race stint.
Furthermore, if the Aston Martin can be competitive here then its prospects at more conventional tracks are surely very good indeed. Looking at the Aston Martin's losses to Red Bull around the Jeddah lap, they are at their greatest at very high speeds – beyond 250km/h. In the slower – though still very fast – sector one part of the lap, it's very competitive even with the Red Bull.
---
Alonso vs Perez in Q3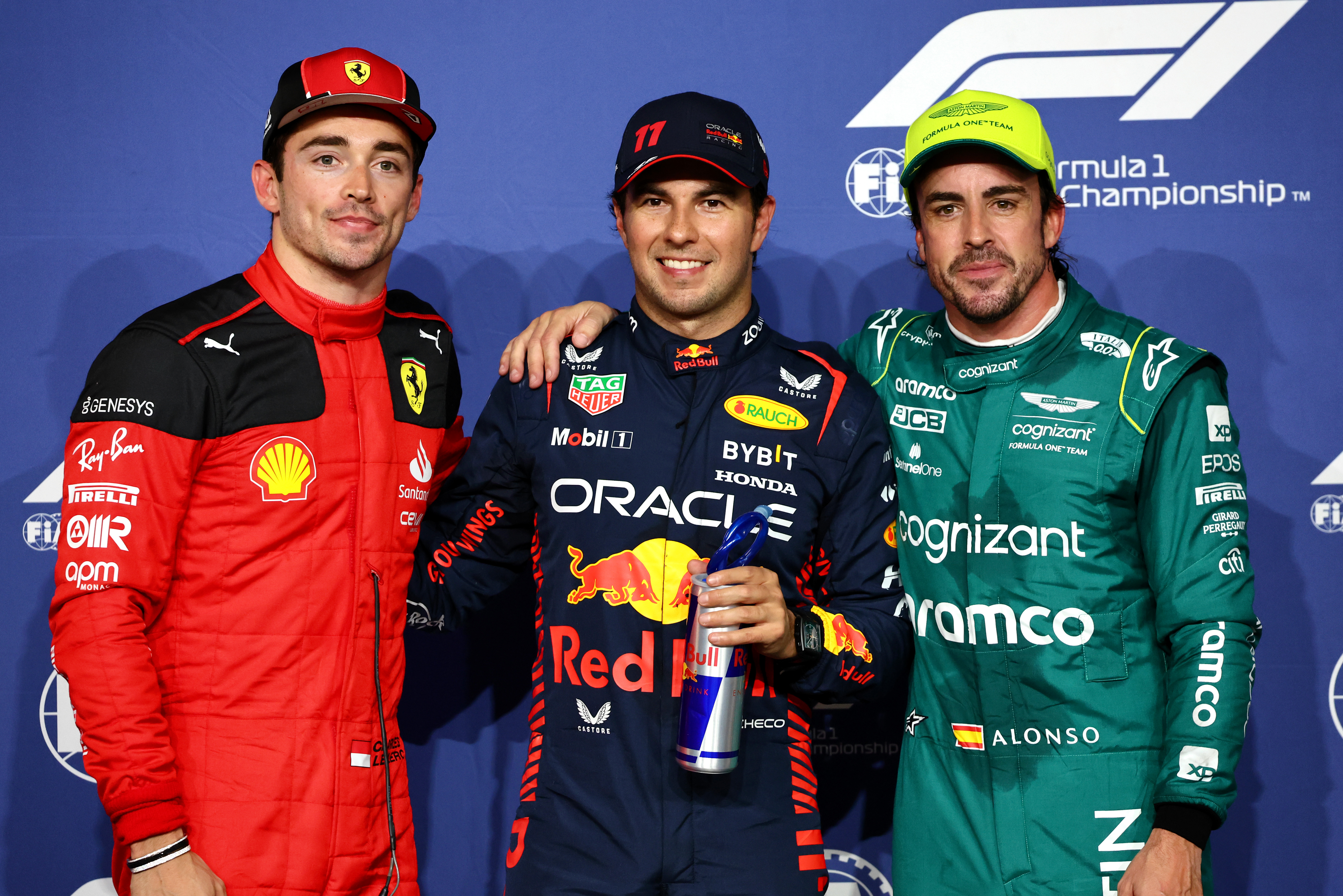 | | | |
| --- | --- | --- |
| Part of track | Perez | Alonso |
| End of straight before Turn 1/2 | 329km/h | 319km/h |
This is with DRS deployed. The difference is much smaller when both cars are in non-DRS mode. In the long runs, without DRS, the Red Bull was reaching 297km/h, the Aston 293km/h.
Interestingly we can see from the data that the Red Bull is longer-geared than the Aston. At its terminal speed of 329km/h, it is running just over 11,500 rpm, whereas the Aston, even at 10km/h slower, is running at 11,700rpm.
| | | |
| --- | --- | --- |
| Part of track | Perez | Alonso |
| Turn 1-2 apex | 92km/h | 95km/h |
Alonso is later off the throttle and onto the brakes and carries an extra 3km/h of apex speed through Turns 1 and 2.
| | | |
| --- | --- | --- |
| Part of track | Perez | Alonso |
| Straight before Turns 4/5 | 268km/h | 257km/h |
The Red Bull's lower drag helps it claw back and more of what Alonso gains in Turns 1-2. Even though he's going faster than the Aston at this point, Perez is still in sixth gear, Alonso in seventh, confirming the Aston's shorter gearing. 
| | | |
| --- | --- | --- |
| Part of track | Perez | Alonso |
| Turns 4/5 apex | 166km/h | 172km/h |
Again, the Aston is able to maintain a higher mid-corner minimum speed. But Perez is later and harder on the brakes and takes time out of Alonso in that phase. Alonso gets earlier onto the power out of there and claws back time.
| | | |
| --- | --- | --- |
| Part of track | Perez | Alonso |
| Straight before Turns 7/8 | 267km/h | 266km/h |
Alonso's better exit from a higher apex speed at Turn 5 means Perez has only just reached the Aston's speed before it's time to brake. Alonso is only 0.06s down to Perez on the lap at this point.
| | | |
| --- | --- | --- |
| Part of track | Perez | Alonso |
| Turn 8 apex | 234km/h | 233km/h |
| Straight before Turn 13 | 302km/h | 298km/h |
Perez is in seventh gear at this point, Alonso in eighth. As they cross the beam at end of sector one, Alonso is only 0.032s down on the lap.
| | | |
| --- | --- | --- |
| Part of track | Perez | Alonso |
| Turn 13 apex | 160km/h | 160km/h |
Alonso is able to get earlier on the throttle out of Turn 13 and this gives him better initial speed but the Red Bull's lower drag overcomes that advantage before Turn 17.
| | | |
| --- | --- | --- |
| Part of track | Perez | Alonso |
| Straight before Turn 17 | 291km/h | 286km/h |
| Turn 17 apex | 194km/h | 194km/h |
Perez is later on the brakes and takes time out Alonso going into Turn 17 but Alonso is able to get earlier on the power coming out and exits faster. 
| | | |
| --- | --- | --- |
| Part of track | Perez | Alonso |
| Straight before Turn 22/23 | 330km/h | 321km/h |
| Turns 22/23 apex | 196km/h | 193km/h |
The long run through the flat-out sweeps allows the Red Bull to build speed much more quickly than the Aston once past 250km/h as the Aston's higher drag really begins to hurt. By the time they reach the braking point for Turn 22, Alonso has dropped to 0.184s behind over the lap.
| | | |
| --- | --- | --- |
| Part of track | Perez | Alonso |
| Straight before Turn 27 | 338km/h | 323km/h |
Between Turn 23 and Turn 27 is another super-high-speed section which loses the Aston heavily to the Red Bull. By the end of the lap, Alonso is 0.456s behind.
---
The big losses suffered by the Aston over the lap are in the sections where speeds are in excess of 250km/h for an extended period. In parts of the track where the high-speed sections are interrupted by braking and lower-speed corners, it is able to hang on.
With the proviso that this is Perez's lap that Alonso's is being compared to and not Verstappen's, it does suggest that the Aston challenge may only get stronger once we return to a more conventional track.