Max Verstappen isn't a fan of Formula 1's sprint format. Even after leading the United States Grand Prix Saturday event from start-to-finish from pole, pulling out almost 10s on Lewis Hamilton's Mercedes in 19 laps, he was underwhelmed.
Putting his fan hat on, he said, "Now we've done this race everyone more or less knows what's going to happen tomorrow, between all the cars in terms of pace. It takes away a lot of the excitement of everything.
"If we wouldn't have done today and only had qualifying you don't really know what's going to happen in the race.
"As a fan, for me it would take away a bit of the excitement of turning on the TV for the race. But now we know, more or less. It takes a bit of the magic away."
So let's go with Verstappen's line of thought: what preview of the grand prix did the sprint provide? It gave us a pretty clear comparison of how the cars compared in race trim and on the medium tyre which will be heavily favoured by everyone. What did that picture look like?
Red Bull way more competitive than in qualifying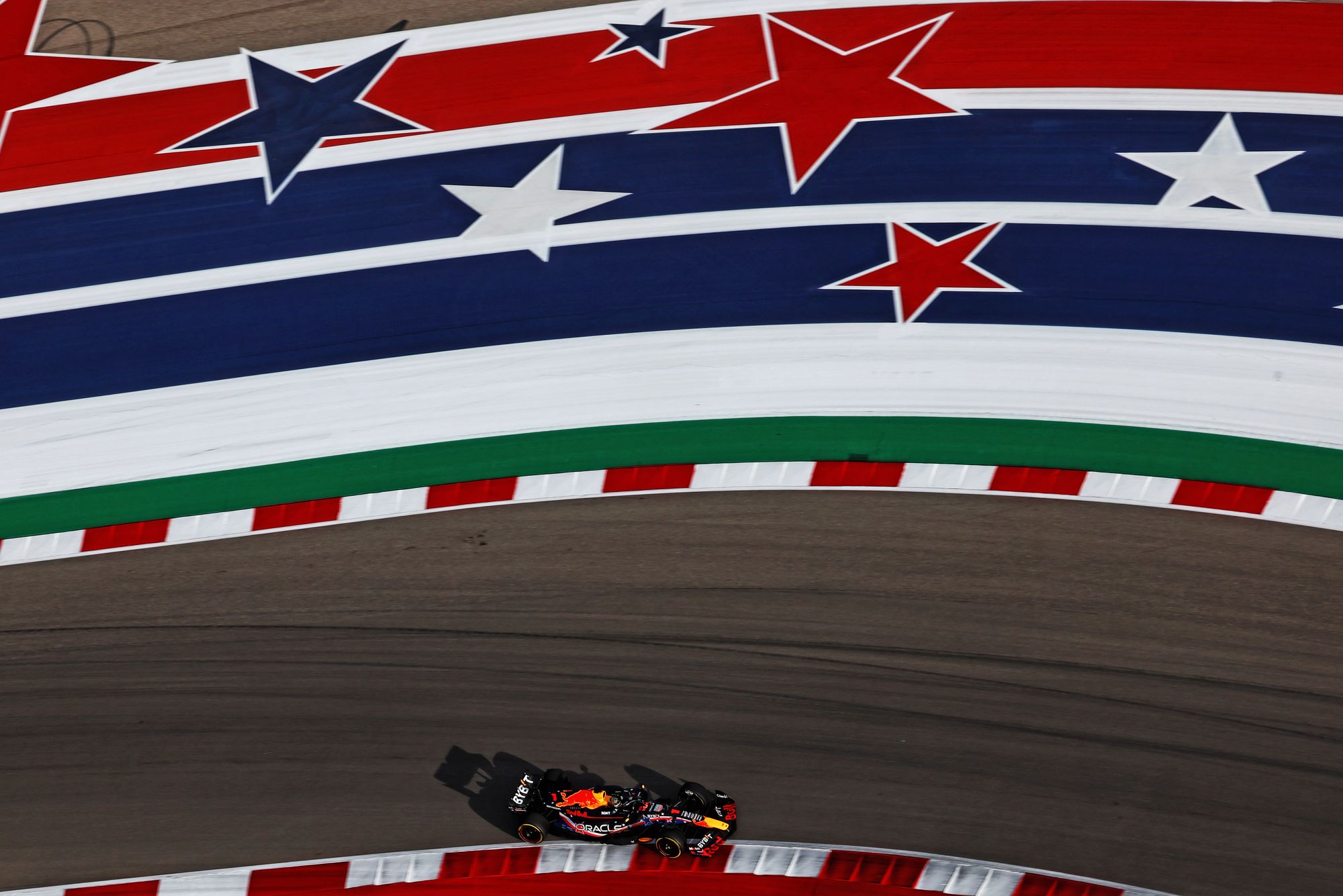 That sprint comparison of the cars showed – not for the first time – the Red Bull to have a big race day advantage. Something that just was not apparent in qualifying on Friday when the RB19 on the soft tyre was a) a little understeery and b) overworked its rears towards the end of the lap.
A less grippy compound will tend to reduce any understeer characteristic and we saw in SQ1 and SQ2 this morning (sessions in which the medium tyre was mandatory) that the car was much happier than had been the case on the hotter track of Friday.
There is very likely a good reason why the car was a little more understeery than ideal – a trait Verstappen usually dislikes: it protects the rear tyres in a race stint. Rear degradation is always the biggest tyre challenge on race day here. The better you resolve that, the faster you'll be and the more strategic flexibility you'll have.
The chosen set-up has almost certainly been with a view to looking after those rears in the race, but surely not in the expectation that the trait would have lost Verstappen pole, let alone that he would have qualified only sixth.
Not only are both Red Bulls carrying an untypically big rear wing – as a consequence of losing a lot of underfloor downforce from the big ride heights the bumps here make necessary – but Verstappen is actually running less front wing angle than Sergio Perez. That almost never happens.
Verstappen's car on the medium tyres, on a cooler track, with a tyre-protecting wing choice is by far the fastest on a race stint. "They've got half-a-second on the rest of us," as Hamilton summarised.
"I tried to see where their advantage was when I was following him before he disappeared," continued Hamilton. "All I can say is that everyone else, including us, has a lot of work ahead of them if we are to compete with them next year."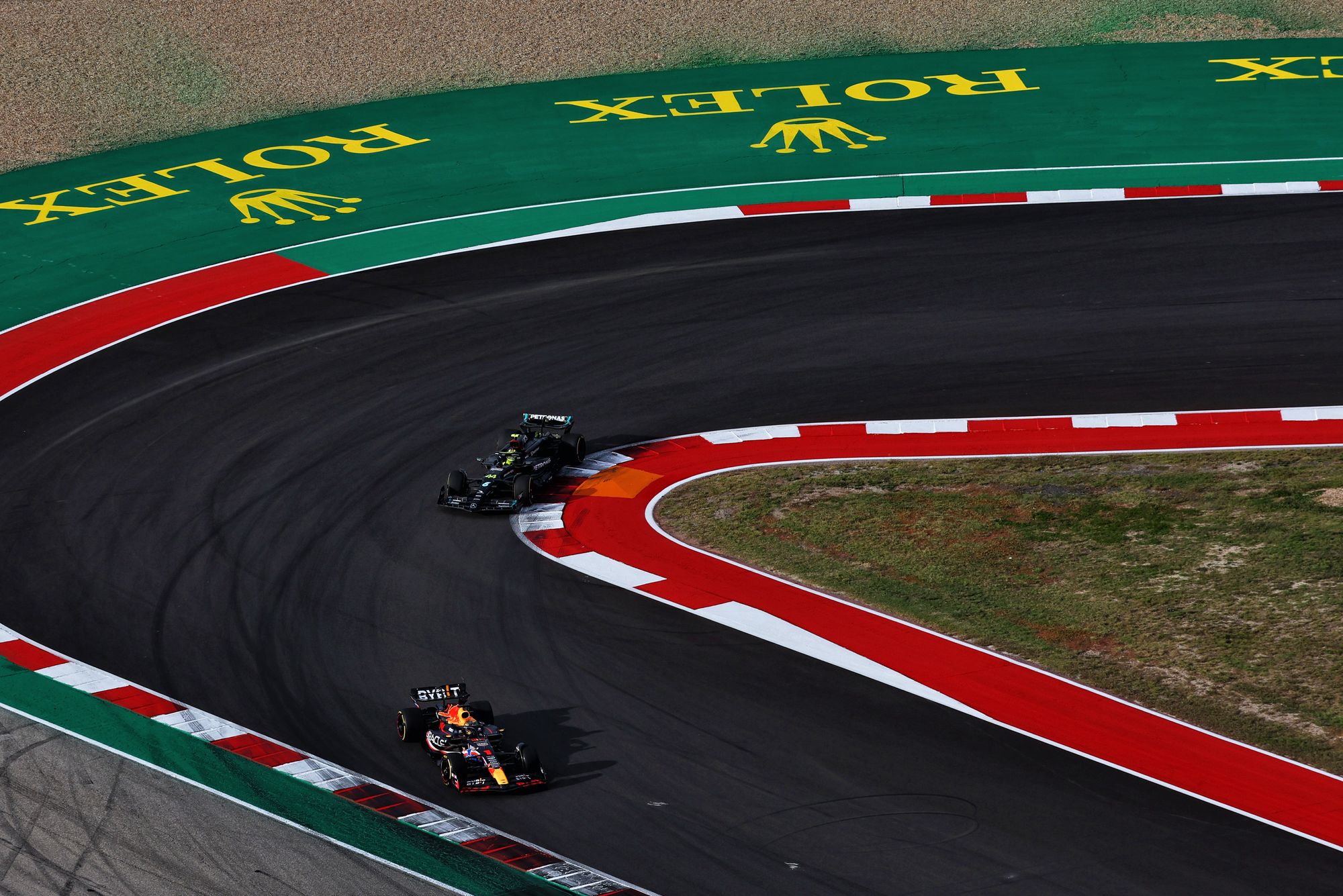 But Hamilton is starting three places ahead. Charles Leclerc's polesitting Ferrari is five places ahead, Lando Norris' McLaren four places ahead. Verstappen has to pass George Russell and Carlos Sainz before he even gets to those guys. Even with his half-a-second advantage is it even feasible Verstappen can pass them all?
"Mmm, lots of things can happen of course," says Hamilton, "but that should be enough for him to get by. It's likely he'll be finishing ahead tomorrow."
With the high wing levels being carried here, the DRS is particularly effective. So passing either into Turn 1 or Turn 12 should be quite feasible. But it may not be just about that.
"The pace in the car seems strong," says Verstappen, "and hopefully on high fuel we can do something similar.
"It's one thing to be fast, another trying to pass other cars while looking after the deg. Following other cars in the high-speed can be tricky while looking after the tyres. We have a race on our hands."
That race will potentially involve some wheel-to-wheel combat with Hamilton. That's invariably fruity, especially so given Hamilton's feisty form this weekend.
Polesitter has the slowest race pace of the top four cars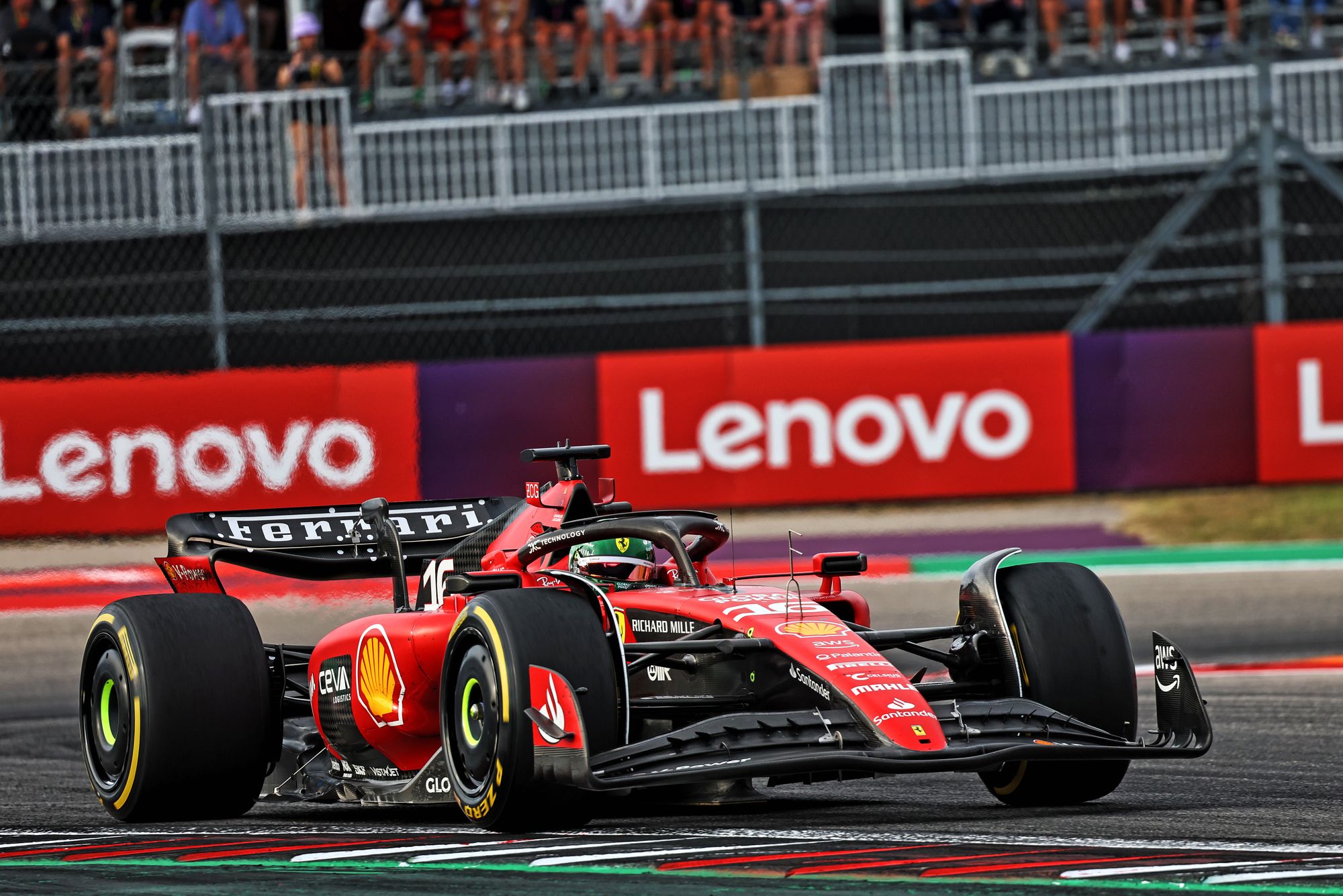 Leclerc, who starts the grand prix from pole, was soundly beaten to third in the sprint, 17s behind Verstappen, 8s behind Hamilton in just 19 laps.
Had Sainz in the other Ferrari (on soft tyres) not delayed Norris for the first 10 laps, then the McLaren would almost certainly have also beaten Leclerc. He was 7s behind him when he finally got past Sainz but was right under his rear wing as they took the chequered flag.
"Yes we struggled a bit with the tyres," said Leclerc. "That's going to be key tomorrow. We were struggling with the rears towards the end of the race. We'll have to see if we can do anything better, but there's not much we can do."
The way Leclerc was able to revel in the Ferrari's responsive balance was very much part of him taking pole. But that balance isn't going to help with rear tyre degradation. Just as in the sprint, it will likely be a slower car than the Mercedes and the McLaren, let alone the Red Bull.
Is Norris the dark horse?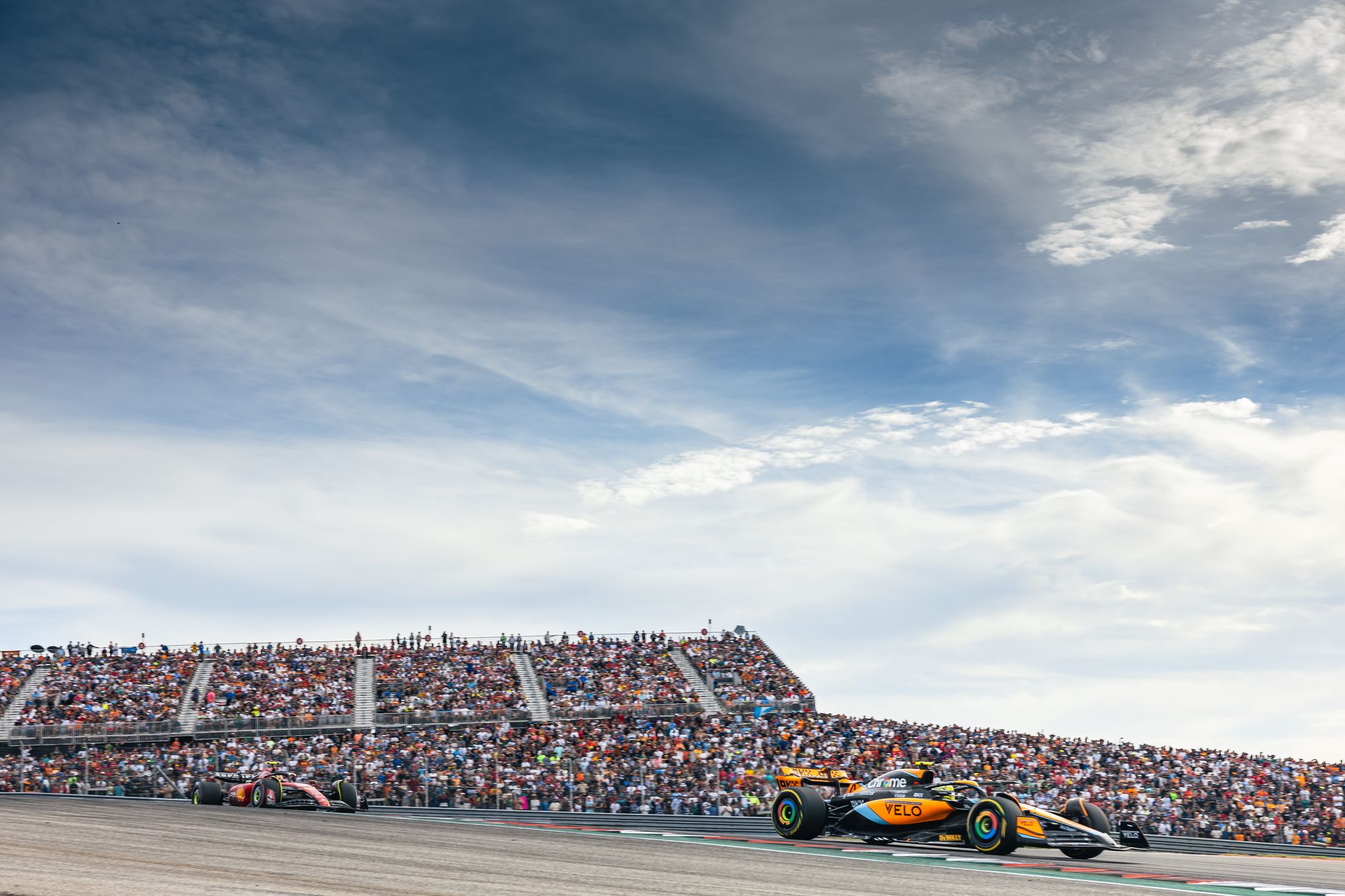 Now that we know the McLaren is potentially a much faster car than the Ferrari over a race stint and given that Norris is starting from the front row, what are his prospects if he can beat Leclerc into Turn 1, with the Ferrari then delaying the chasing pack?
On raw pace Norris averaged 0.48s per lap faster than Leclerc for the last nine laps (which was actually a couple of tenths faster than Hamilton, though the latter was just maintaining position by then). Verstappen averaged 1.1s per lap faster than the Ferrari in those laps, even when not being challenged. So if Verstappen gets anywhere near the McLaren, there's probably not much Norris will be able to do.
But Verstappen has all those cars to pass before he can get there – and with all those difficulties he outlined in getting through the traffic while taking care of the tyres.
It certainly becomes a potentially very interesting race if Norris can lead away, with Leclerc second.
So, yes. There probably is something in Verstappen's reservations, but sometimes knowing a little bit about how the battle is poised can actually enhance anticipation.