There were several reasons contributing to Max Verstappen's margin past the finish line over Lewis Hamilton being only 2.2 seconds in the 2023 United States Grand Prix.
The Formula 1 world champion had started on the third row, had to make his way past other cars while looking after his tyres around a circuit with high tyre degradation. He had a braking problem which compounded into a tyre temperature problem.
Finally, it turns out he was running a ride height which was kinder to the floor legality plank than that on Hamilton's Mercedes and Charles Leclerc's sixth place Ferrari.
In the years of high-rake cars, plank wear was never much of a concern. But with the ground effect regulations, where the lower you can run the car, the more downforce you will create, it's become a limiting factor once more. Well, for the good cars, at least.
We've discussed here before how the Red Bull's ability to run low without triggering the porpoising of other cars – probably a function of its sophisticated floor design and more compliant rear suspension – has made plank wear a potential limitation at some tracks. Other less sophisticated cars were finding porpoising problems well before they got so low that the plank was an issue. So it's been on Red Bull's radar for longer.
Plank wear concern played its part in the team's Singapore difficulties and in Verstappen and Sergio Perez lifting every lap before the Eau Rouge compression despite it being by far the fastest car at Spa. The RB19's ability to run low without porpoising (and therefore generating a bigger proportion of its total downforce from the low-drag underbody) is a huge part of its advantage.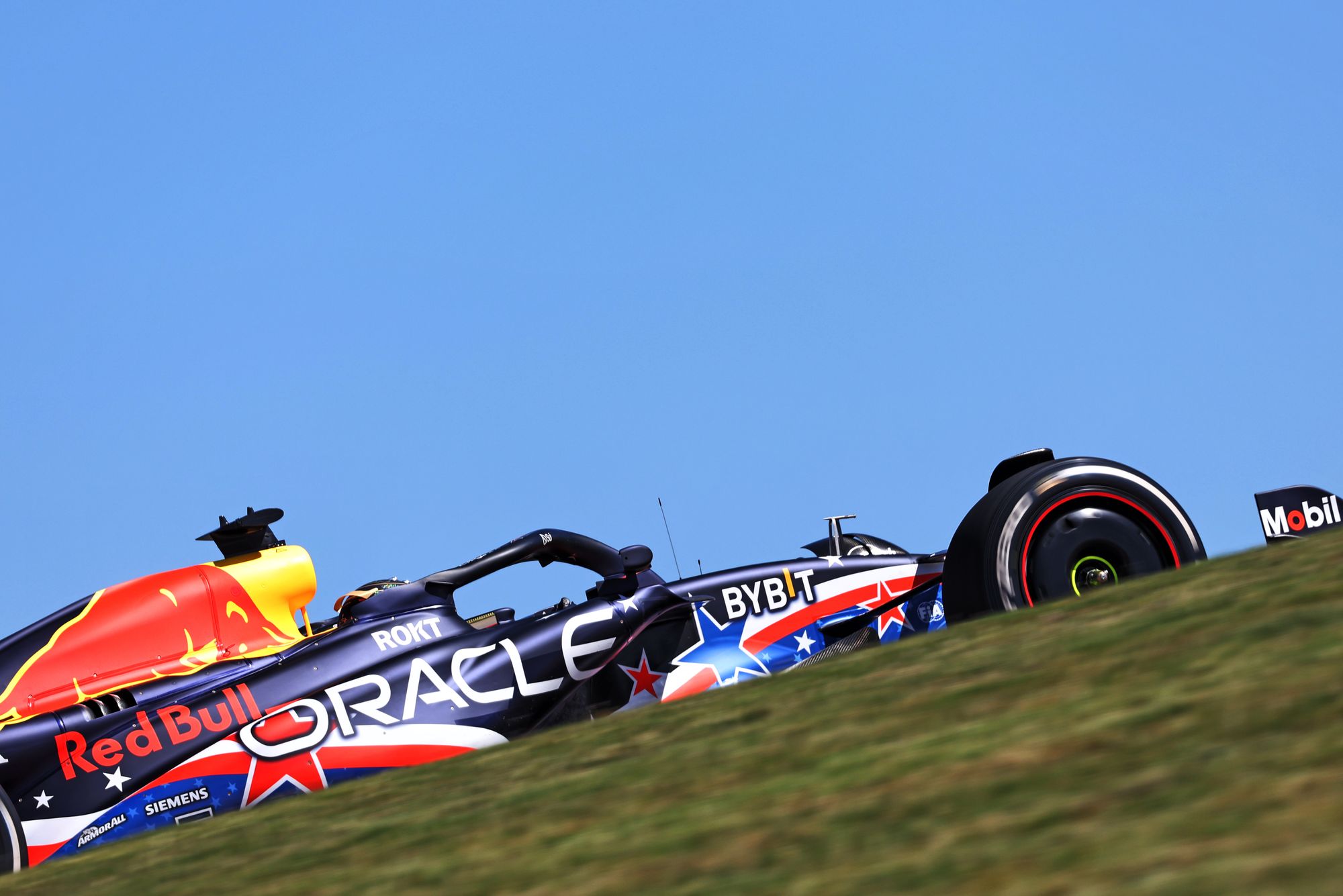 But introduce severe bumps like those around the Circuit of the Americas and the high plasticity of the ground upon which it's built (it contracts a lot in high temperatures and expands a lot when wet and this place gets extremes of both through the year), and the Red Bull can no longer run lower than the others.
Everyone's limitation becomes plank wear rather than porpoising and they increase their ride heights accordingly. Brought up to the same ride height as everyone else, the Red Bull loses a big chunk of its aero efficiency and has to run a big wing here just like the others.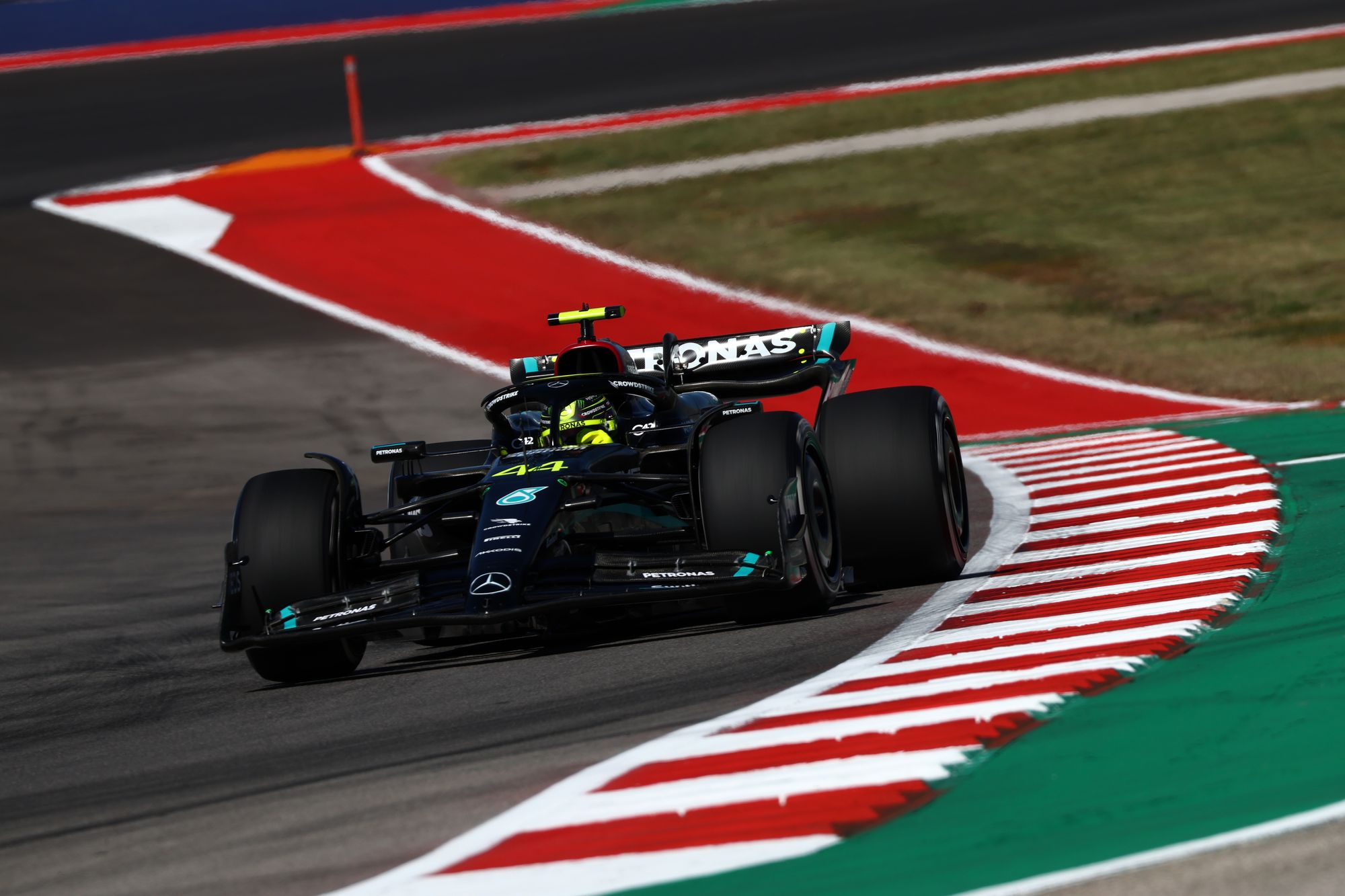 Mercedes has been on a different voyage under these ground effect regulations, with its zero pod W13 and its serious bouncing problem, then the reworked rear suspension of the W14 which cured that but revealed second-order shortcomings elsewhere.
The big bodywork and front suspension update of Monaco was evidence of the team belatedly heading in Red Bull's technical direction. That package has been gradually honed and the new floor brought here gave a significant improvement through the high-speed corners (where the ride height is at its lowest). It gave more total downforce, allowing the team to give the car more rear wing without ruining the balance or the aero efficiency.
Although simulation suggested it was worth only a tenth of a second, it allowed Hamilton to access a higher ceiling in his driving – and the combined effect was more like two tenths.
But at the ride height Mercedes ran here and with Hamilton's commitment through the fast turns and over the Turn 9 kerbs as he chased down Verstappen, it wore more than 10% of its plank thickness away at the defined measuring points. The sprint format of the weekend reduced the running time to check before parc ferme conditions applied.
Of the four cars which were checked at random, Hamilton's Mercedes and Charles Leclerc's sixth place Ferrari were found not in conformity. The cars of Verstappen and McLaren's Lando Norris were found to comply.
That explains some of why Verstappen struggled in Friday qualifying (his deleted 'pole' lap derived far more lap time from his breach of track limits than his margin over Leclerc and Norris) and why the soft tyres had surrendered through Turns 16-17-18 and lost him a couple of tenths there. That and how the car had been set up with understeer so as to protect those rears in the race. On Saturday, in the cooler track temperatures, we got a more normal picture of Verstappen dominance as he waltzed to a comfortable sprint victory from pole.
But not having pole for the main event was just the start of his Sunday complications. The track was hotter again, rear tyre deg was going to be an issue (and the race therefore a likely two-stop) but he still had to find a way past five cars while keeping the tyres in shape. Perez would show in the last stint just how easy it was to damage them by pressing too hard too early. Just three laps after having set the fastest lap of the race he was over 2s off the pace. McLaren's Oscar Piastri had done something similar in the sprint race.
Ideally, Verstappen needed poleman Leclerc to lead away because the Ferrari's rear tyre deg made it a much slower race car than Norris's McLaren or Hamilton's Mercedes. But it was Norris who led into Turn 1 and quickly pulled away, just making Verstappen's task yet harder. He got Russell off the grid, got his elbows out defending from the soon-to-retire Piastri (radiator damage from an Esteban Ocon hit at Turn 1) on the opening lap and was then stuck at Ferrari pace for a few laps while Norris escaped. McLaren began to dream this might be a winnable race.
Hamilton made a DRS pass into Turn 12 on Carlos Sainz on the fourth lap and on Leclerc a couple of laps later to go second, 3s behind Norris. He was followed through by Verstappen who trailed the Mercedes by 3-4s but didn't really make any inroads into it.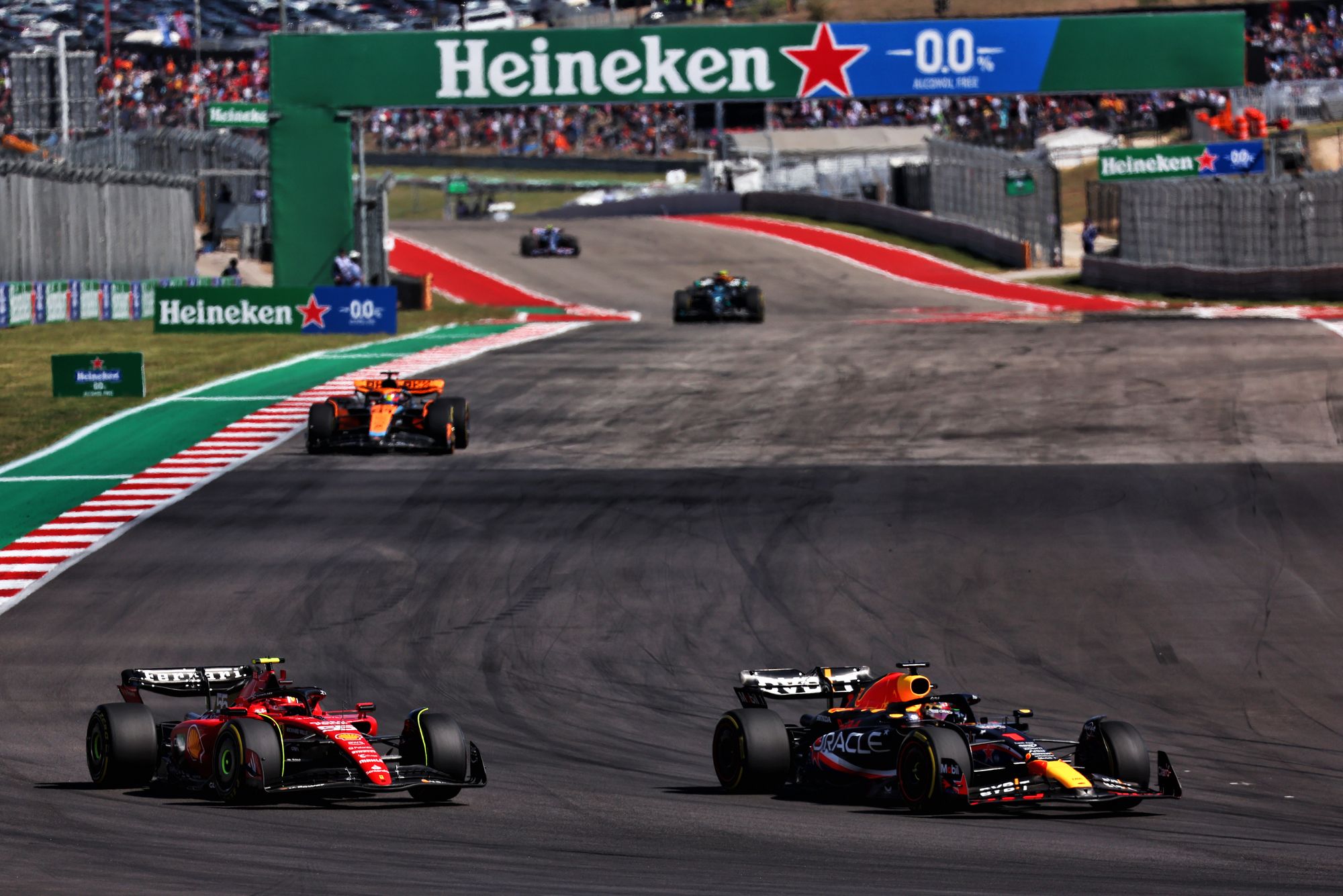 Was this just Verstappen taking care to preserve those rear tyres, having had a busy few tyre-hurting laps passing the Ferraris? Maybe some, but of more concern was his feeling on the brake pedal which from very early in the race just felt 'wooden'. There was no feedback coming through it, he couldn't feel if it was his fronts or rears on the point of locking.
As he braked conservatively because of that, so he began losing front tyre temperature, so increasing the likelihood of locking the fronts. Driving it with a lot of margin so as not to lock up, he was no quicker than Hamilton's Mercedes, a car which he had beaten by 9s in 19 laps the day before.
But they were both closing in on Norris.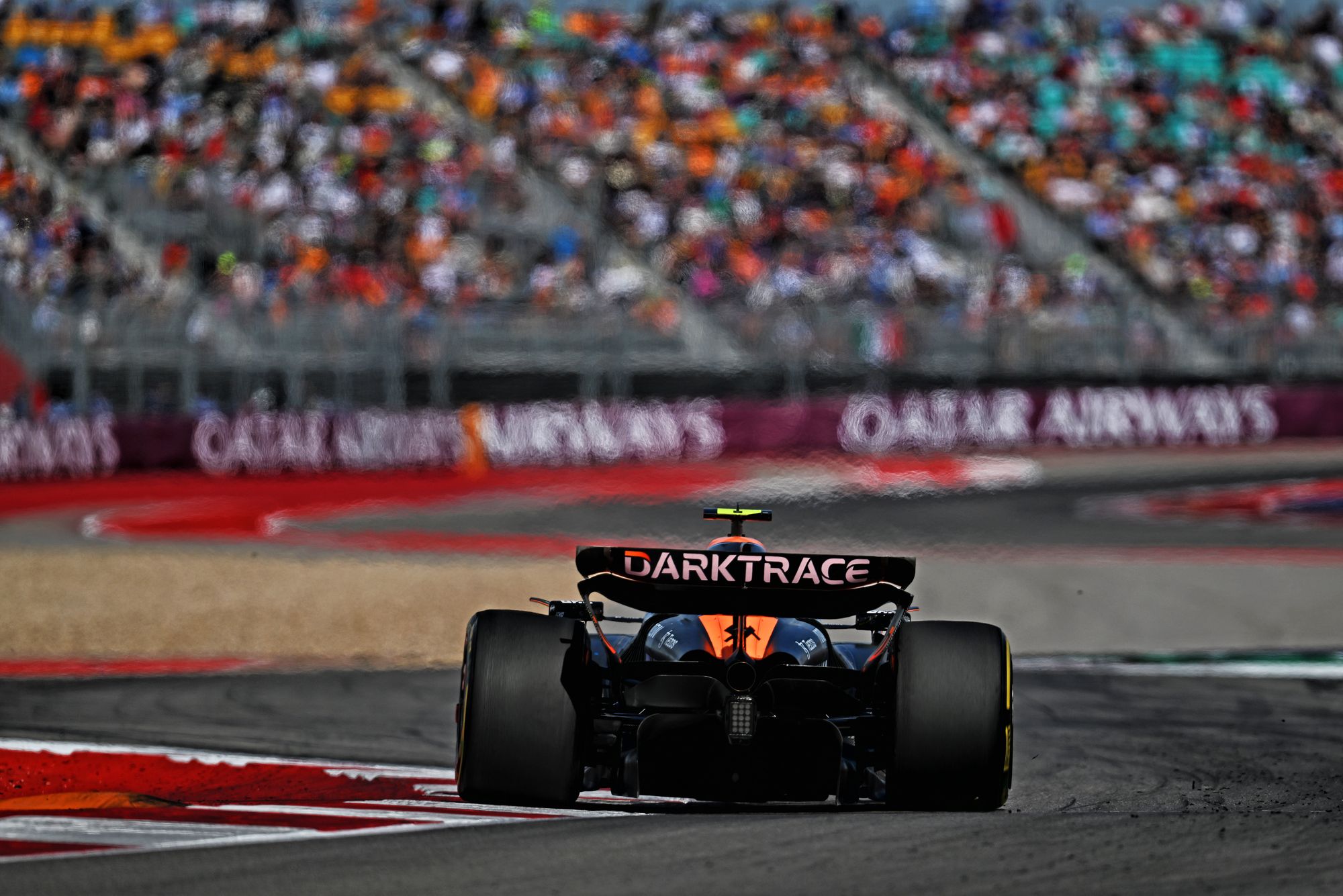 "Yeah, the deg was our problem," related Norris, "but we had good pace first 10 laps. Maybe if it was a cooler track. But it wasn't…"
The fast three cars were now in the first three places, though.
"We weren't as quick as Red Bull or Mercedes ultimately," said McLaren's Andrea Stella. "Our braking and traction in Turn 11 was problematic. Which wasn't a surprise; it's to do with bumps in low-speed corners where we know the car doesn't work well. But we were more competitive than we expected coming in.
"We didn't really run the race in competition with Verstappen or Hamilton. We just concentrated on getting to the end as quickly as possible. There were no real tactical decisions to be made."
Norris was still 1.7s in the lead as Verstappen was the first of the lead trio to pit, on lap 16 from 4s behind Hamilton. McLaren responded with Norris on the next lap. But Mercedes left Hamilton out, which in hindsight was a mistake.
The tyres seemed still in good shape. The team had asked Hamilton on lap 18 if he thought the tyres could do another five laps and he replied 'maybe'. On the numbers the degradation looked relatively low and a one-stop looked feasible.
Ferrari was thinking the same for Leclerc, who'd been running a couple of seconds behind Verstappen. Feeling that Verstappen had just been running conservatively to be easy on the tyres and that he'd surely outpace them on the same strategy, not knowing about his braking problems yet, Mercedes felt that doing a different strategy was more likely to pay off. It was also looking at how best to beat Norris, so again the offset strategy made sense. So long as the tyres remained good.
It took just two laps after Norris' stop for the tyres to fall away drastically. The one-stop gamble had failed, leaving Hamilton between stools. Abandoning the one-stop plan, he was brought in on the 20th lap, switching – like Norris had - from mediums to hards.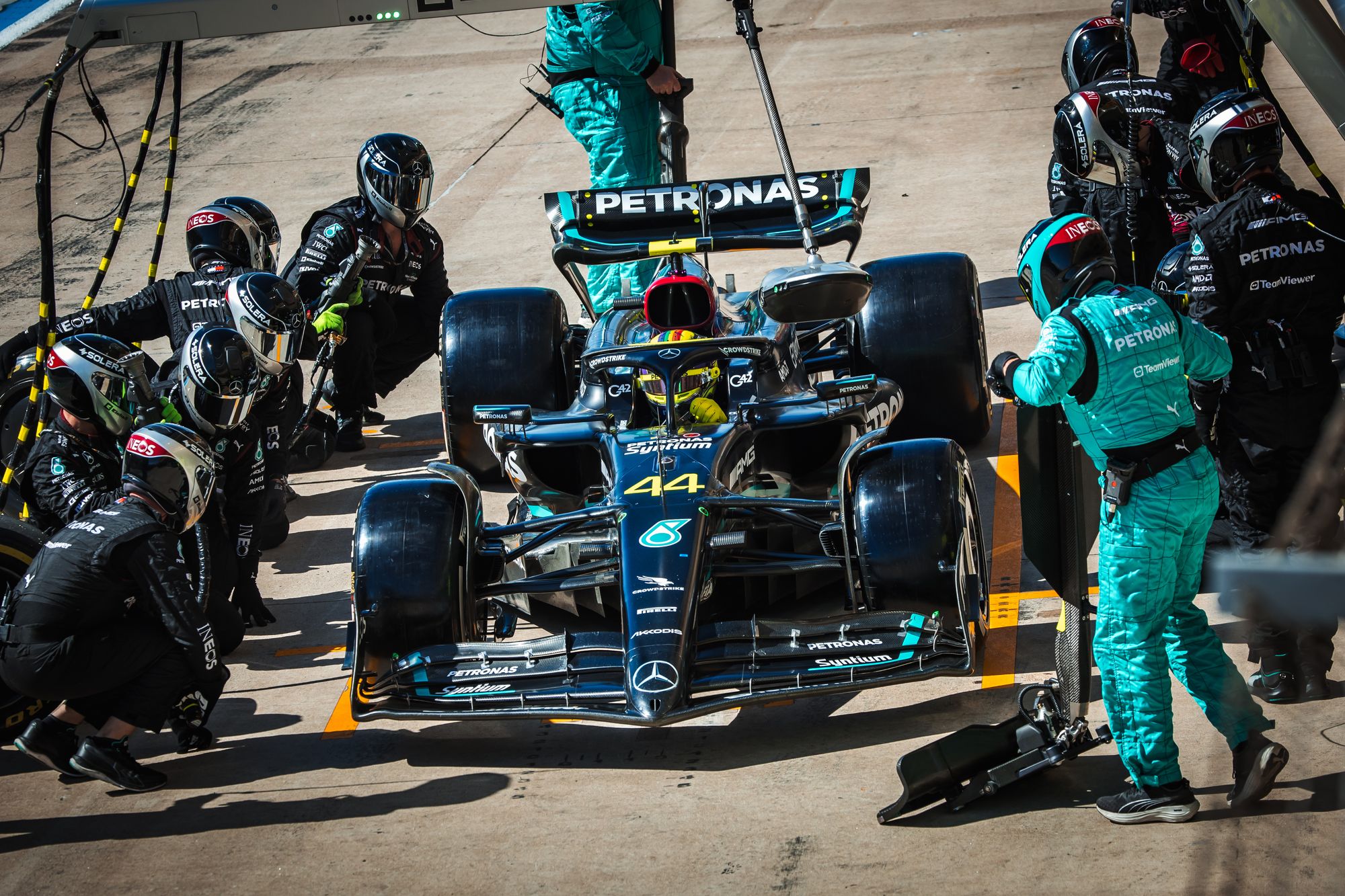 But Verstappen had gone for another set of mediums, which were the faster tyre. Hamilton was now 7s behind Verstappen instead of 4s in front and trailed Norris by 12s. Those four extra laps over Verstappen (plus a 1.5s loss in the pitstop, partly because he ran beyond his marks) had come at some cost.
Ferrari remained wedded to Leclerc's one-stop and brought him in on lap 22. It seemed a strange choice as it was never in a position to challenge the cars ahead and all it did ultimately was ensure he was beaten by two-stopping team-mate Sainz and Perez's Red Bull. Pole to sixth wasn't a great journey even before disqualification.
Mercedes' present to Verstappen ensured he didn't have to go wheel-to-wheel with Hamilton and could now just gently glide up to the race-leading Norris.
Hamilton behind, despite despairing of how big a deficit to Verstappen he'd incurred, was nonetheless gradually gaining on the Red Bull as Max took just as much from his tyres as he needed to. Verstappen was in control even if he was now complaining of his braking issue. That didn't prevent him from taking the lead from the McLaren under braking into Turn 12 with the aid of DRS down the preceding straight. The Red Bull pulled away from Norris at about the same rate that Hamilton was catching him.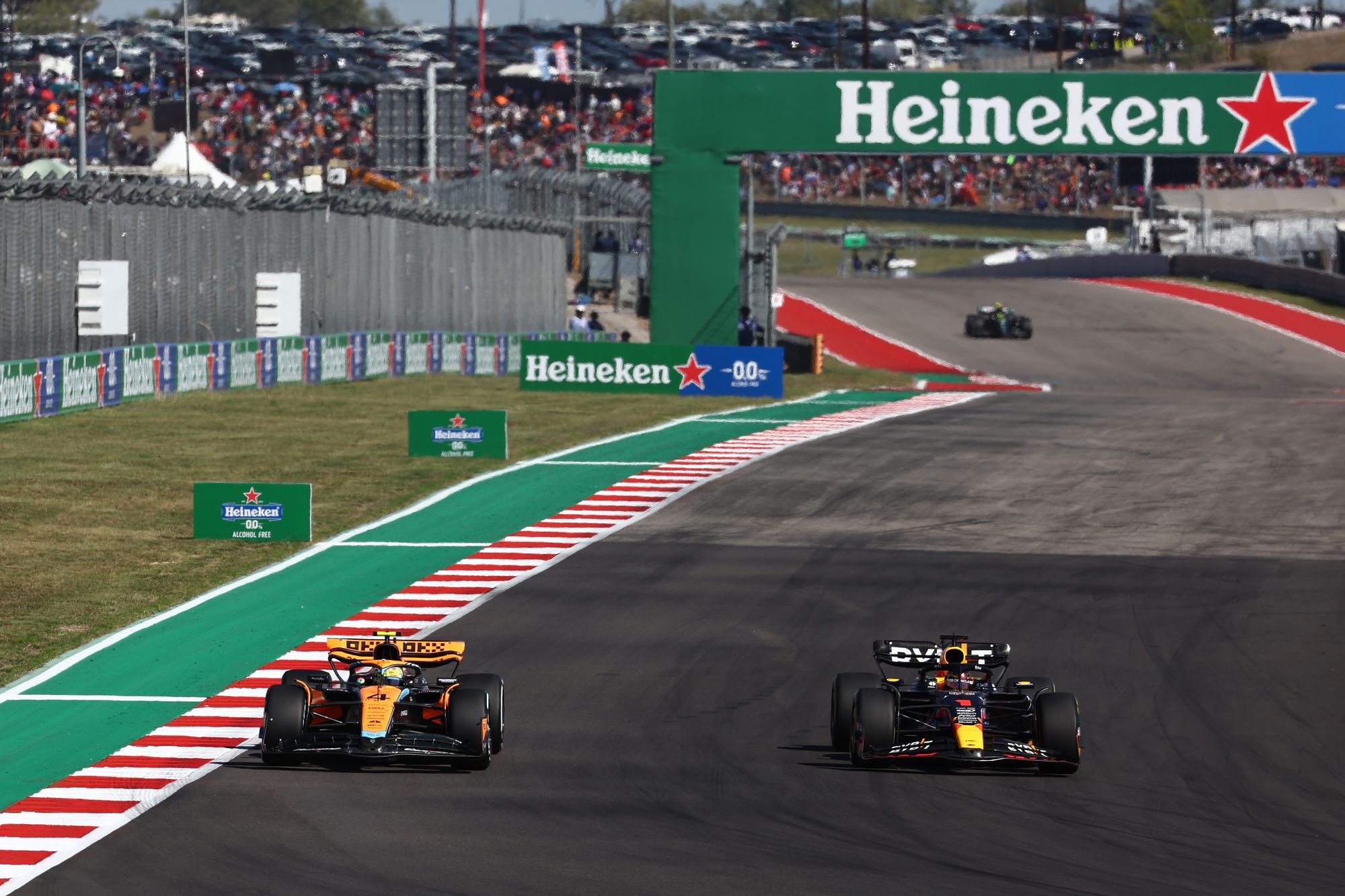 Norris initiated the second round of stops and was obliged to switch to another set of hards. He had no more mediums left. Norris' earlier stop gained him a bit of time on Verstappen before Max eased away once more.
Hamilton was now Norris' problem and the move when it came was spectacular, Hamilton dummying him into defending the inside into Turn 1 before sweeping out for a wide entry for a better exit, allowing him to pass down the hill to Turn 2.
That put the Mercedes just over 5s behind Verstappen, with eight laps left. Helped by being on the faster medium tyre for the last stint, Hamilton was around 0.5s faster, but ultimately didn't get close enough to force the issue. He was within 1.8s on the penultimate lap but caught the lapped Daniel Ricciardo at an awkward, time-costing, place.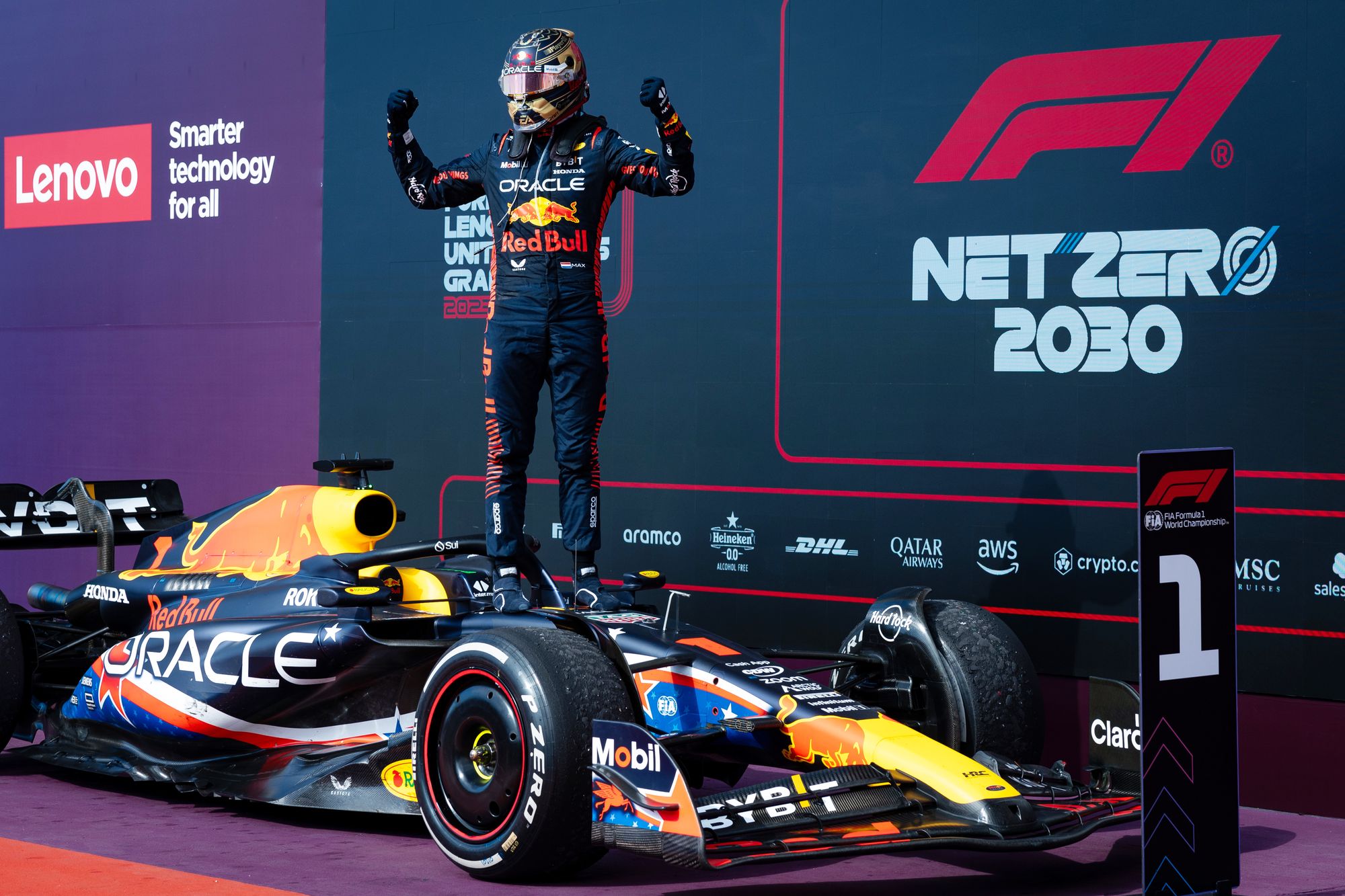 McLaren's disappointment with only third on the road illustrates its recent progress. Sainz was a very accomplished fourth, successfully fending off Perez, both of them having passed the very irritated Leclerc who was almost caught by George Russell, whose late race pace was seriously compromised by having to fuel save.
Pierre Gasly was on his own in eighth, clear of Lance Stroll's Aston Martin which had made reasonable progress from its pitlane start.
Yuki Tsunoda took advantage of his 22s margin over Alex Albon to make a late stop for soft tyres on which he set the race's fastest lap, giving him a total of two points – which would later be boosted further by the two disqualifications. These in turn brought the Williams pair Albon and Logan Sargeant into the points.