McLaren drivers Oscar Piastri and Lando Norris have warned that a precedent has been set with Formula 1 track limits breaches that means drivers are potentially willing to take a time penalty deliberately because doing so when completing a pass is a positive for their race.
Piastri was the victim of an illegal overtaking manoeuvre on the third lap of the United States Grand Prix sprint race when Mercedes driver George Russell exceeded track limits at the Turn 15 left-hander while passing the McLaren for seventh place. That led to a five-second penalty, which dropped Russell from seventh on-the-road to eighth behind Pierre Gasly.
"I wasn't really looking at him because he was behind me," said Piastri of the overtaking manoeuvre. "I've seen the replay of it, he clearly just accelerates off the track and goes past. I don't think you can get close to arguing that was a 50/50.
"The five seconds made a bit of difference to his race, but not much. That's the kind of thing you can do when you are in a faster car in a situation like that and I don't think it is great for everyone."
Williams driver Alex Albon made a similar move insofar as he exceeded track limits while overtaking Piastri later on, although escaped punishment for it.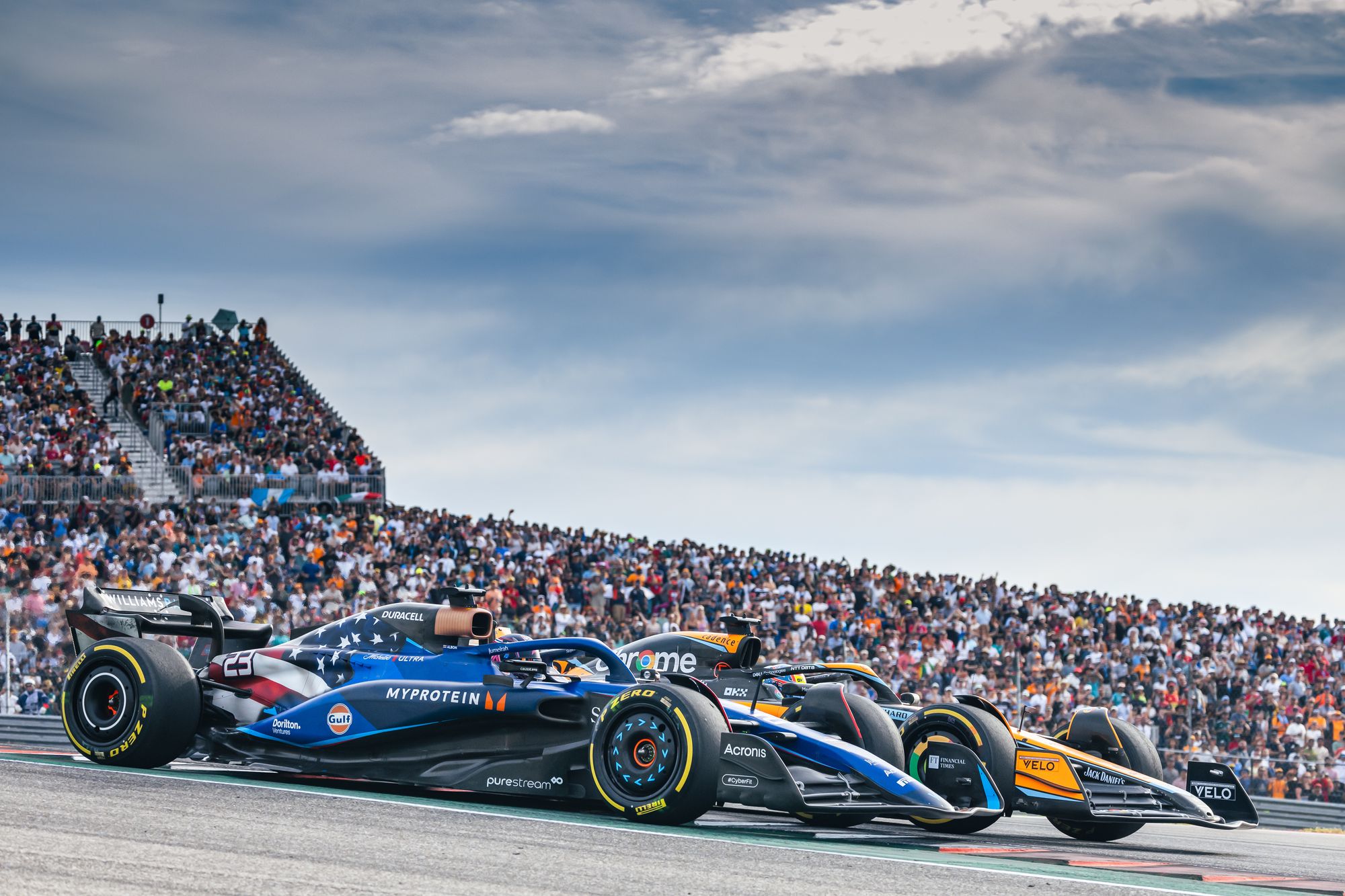 Piastri had no problem with this given Albon was legitimately contesting the corner, but compared the Russell move unfavourably with that.
"The one with George, the front wing wasn't even at my rear wheel," said Piastri. "The one with Alex we were wheel to wheel.
"He had the right to stay on the outside, I pushed him as much as I could and he managed to hang on so I didn't really see any issue with that one.
"The one with George was clear, the stewards gave him a penalty for it. It's just a question in that racing situation whether the penalty was right and whether it sets a precedent for the future."
The clear implication here is the concern that Russell made the move knowing he would exceed track limits but potentially make a gain from the time saved by not waiting to complete a legitimate pass.
The Race then asked Piastri if he felt certain drivers were making such moves on a pre-meditated basis.
"I don't know if I would go that far," he replied. "I feel like in that situation, to me that was quite blatant. I feel like swapping the cars back around shouldn't be that difficult in that set of circumstances.
"If it's only going to be five seconds for that, especially in a longer race tomorrow, it is going to be beneficial if you can clear slower cars.
"So maybe some people will have it pre-meditated, but it definitely sets a bit of a precedent for the kind of penalty you are going to get for doing that. If you are in a quicker car, it does give you an incentive."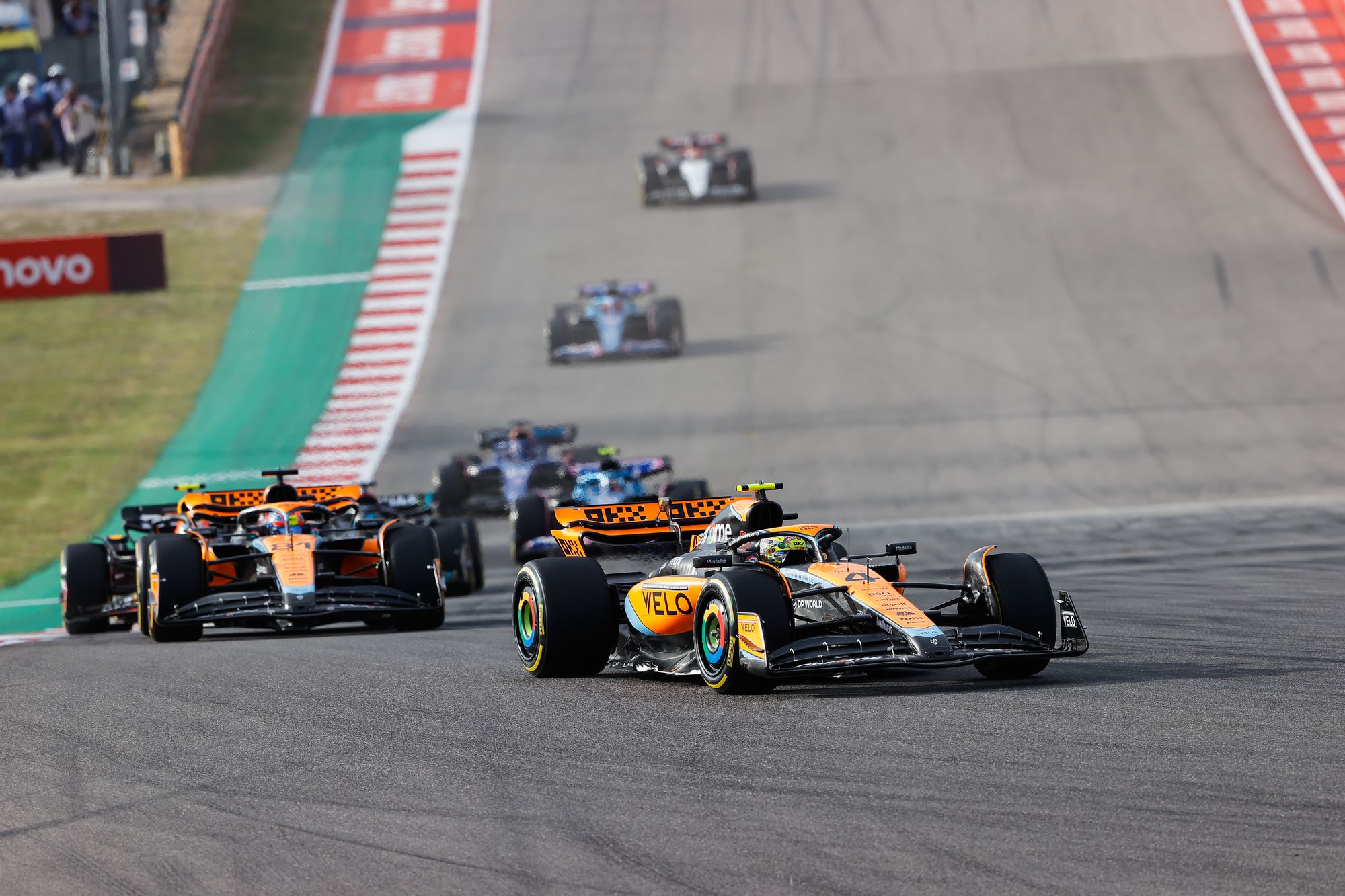 Norris was sat with Piastri while the Australian was tackling this topic and it was very clear that this was a fear he shared.
He criticised the fact that that F1 had moved away from ensuring drivers gave back positions gained illegitimately and suggested harsher penalties are required across the board.
"Yes," he said when asked by the Race if this situation means drivers now have to start factoring such overtakes in as a weapon to be used in battle.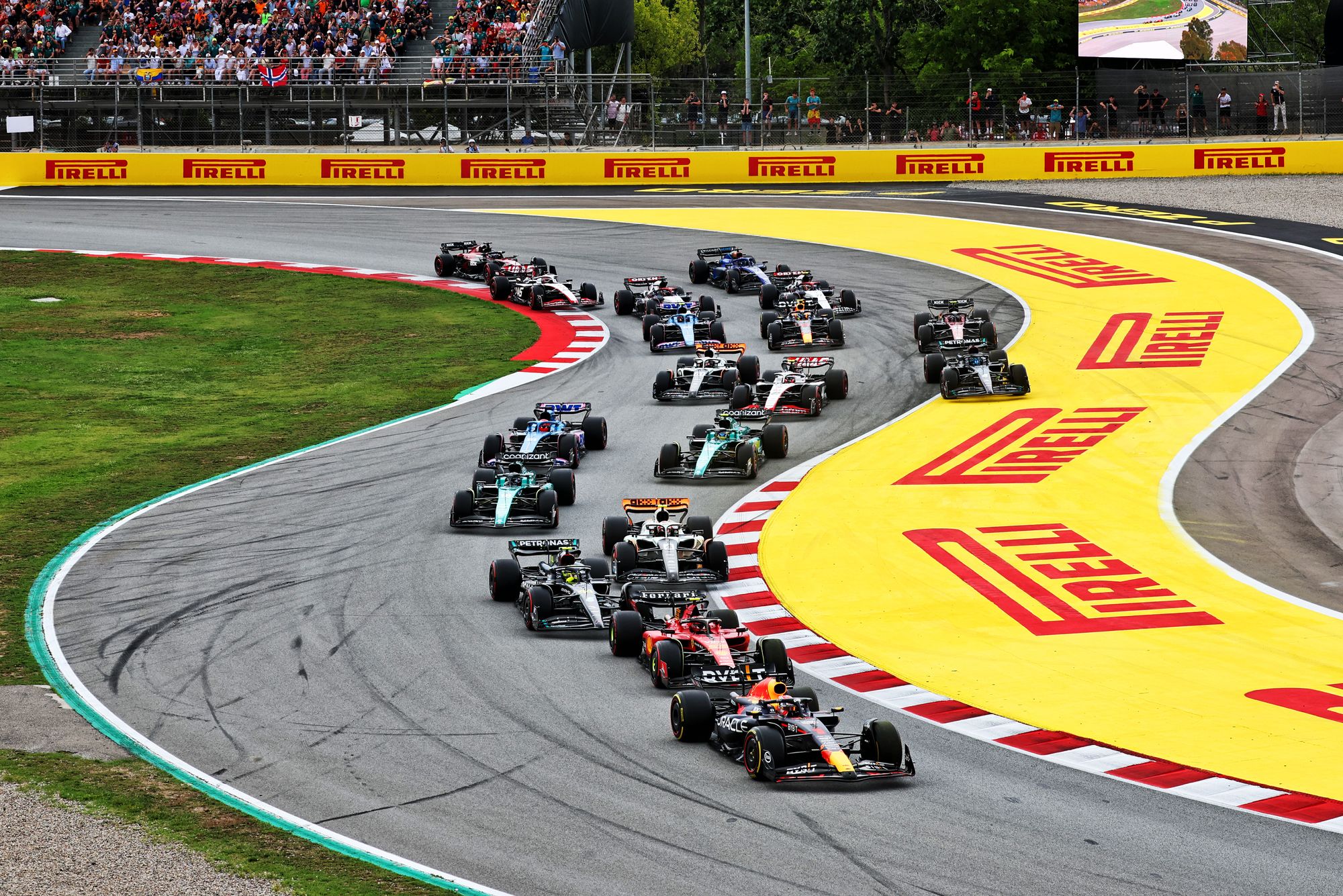 "These things have been brought up so many times in drivers' briefings. It's a point that we bring up every time, it's a point that George brought up himself in Barcelona with the fact that you can commit to the outside line in [Turn] 1, just overdoing it, you get past two cars - like we saw people doing in Russia as well in Turn 2.
"So it's something you can easily prepare yourself for and I'm pretty sure we came up with the conclusion that people are going to do it on purpose.
"We discussed this exact thing and we discussed that if you're quicker, you could get someone [with a deliberate track-cutting overtake] and you're easily going to pull away five seconds - in Monaco for example, you cut the chicane.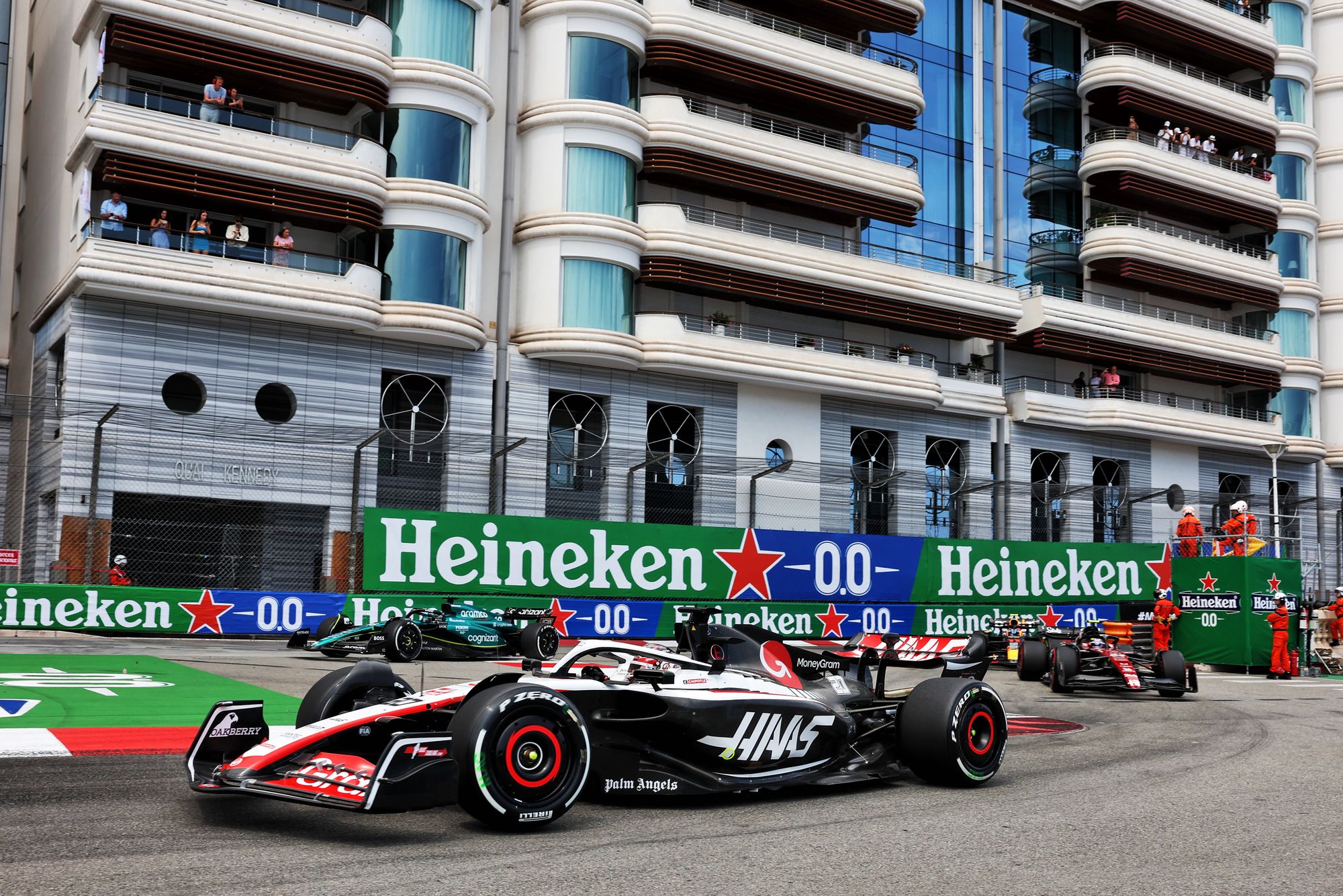 "So they said 'OK, we'll do it so you have to give the position [back]'.
"But now they've set a precedent of not even having to do that. They've set a precedent of being able to easily do that. So if I have it with the Ferrari tomorrow, I just commit to doing it, it's five seconds and I pull away five seconds.
"There's a bit of a lack of consistency once again, which I'm a bit surprised by [because] I thought it was quite a clear guideline of what they were going to do when such a thing happened but clearly not."
Last year, the FIA decided that drivers would not be expressly instructed to give positions back and instead that they would be responsible for choosing to do so or risk being given a time penalty. This is because the well-established system whereby teams could ask for the race director's opinion on whether they should give a place back (although the FIA stewards, who are independent, could still take action as they weren't bound by the advice given to teams) had gradually crept into being something more formal.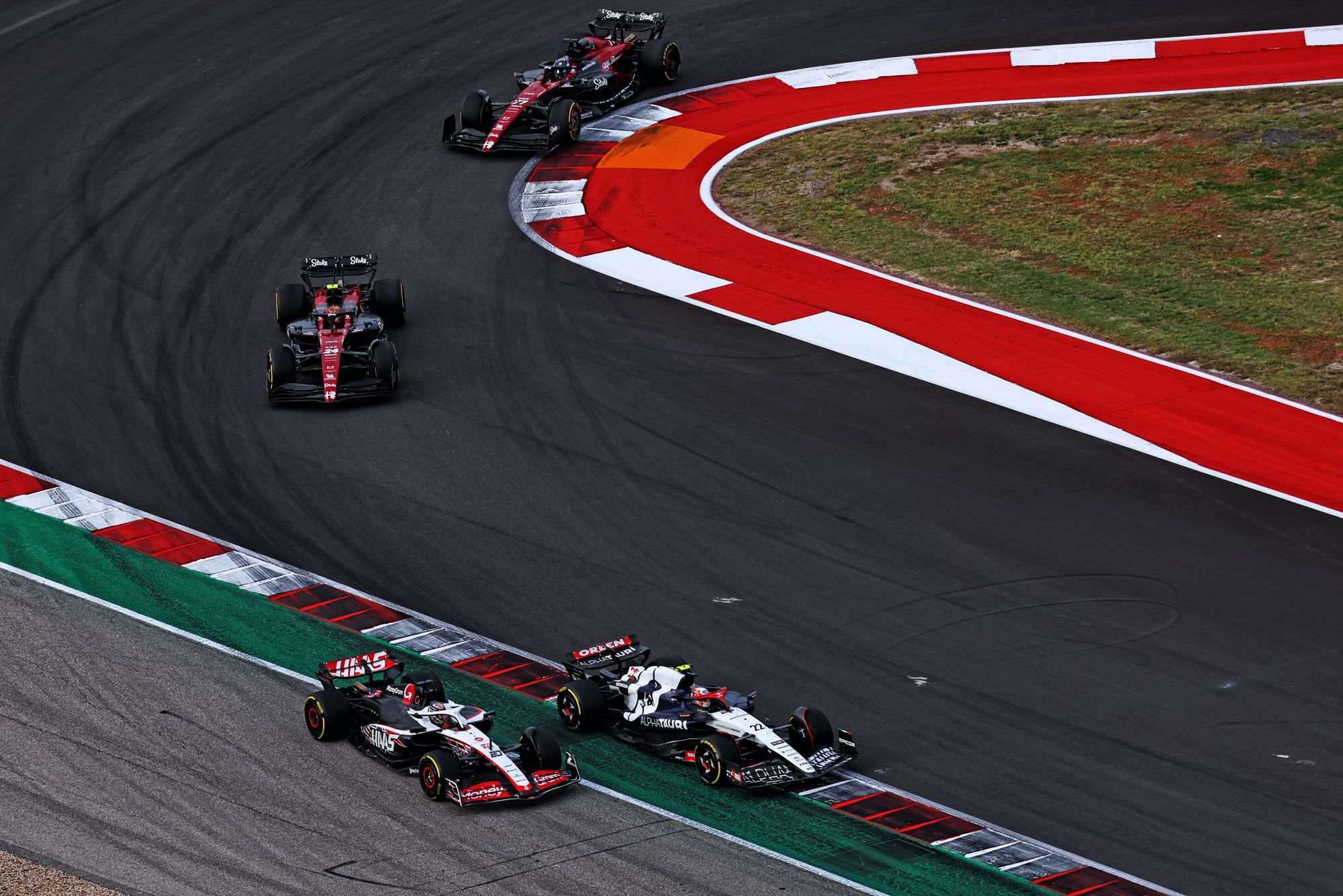 However, Norris dismissed the suggestion that having to physically give back a position would not work because of situations where the offending driver had gone on to pass another car. In that situation, it would simply be necessary to drop back two positions.
"Then it's your own fault, you give it back," said Norris when confronted with that scenario. "You took the risk of doing it, you committed to doing it then you give it back yourself straight away [because] you know you're going to get a penalty.
"Penalties just need to be more harsh in general. People are getting away with too many things. You block people in qualifying, you lose three positions but if you're in a quick enough car you don't care.
"I just think penalties in general need to be harsher, set the precedent that way rather than changing penalties all the time and not sticking to what they do. I think that's the main thing."
Albon shared the McLaren drivers' concerns about such overtakes.
"You saw it with George, the penalty isn't big enough," said Albon. "It's a silly penalty. It punishes a slower car.
"I'm sure George knew he was off track and thought 'I can afford this five seconds quicker than being stuck behind him'. That's how it is."
McLaren team principal Andrea Stella supported his drivers, arguing that something needs to be done to prevent drivers consciously taking penalties because doing so will be beneficial to their overall race.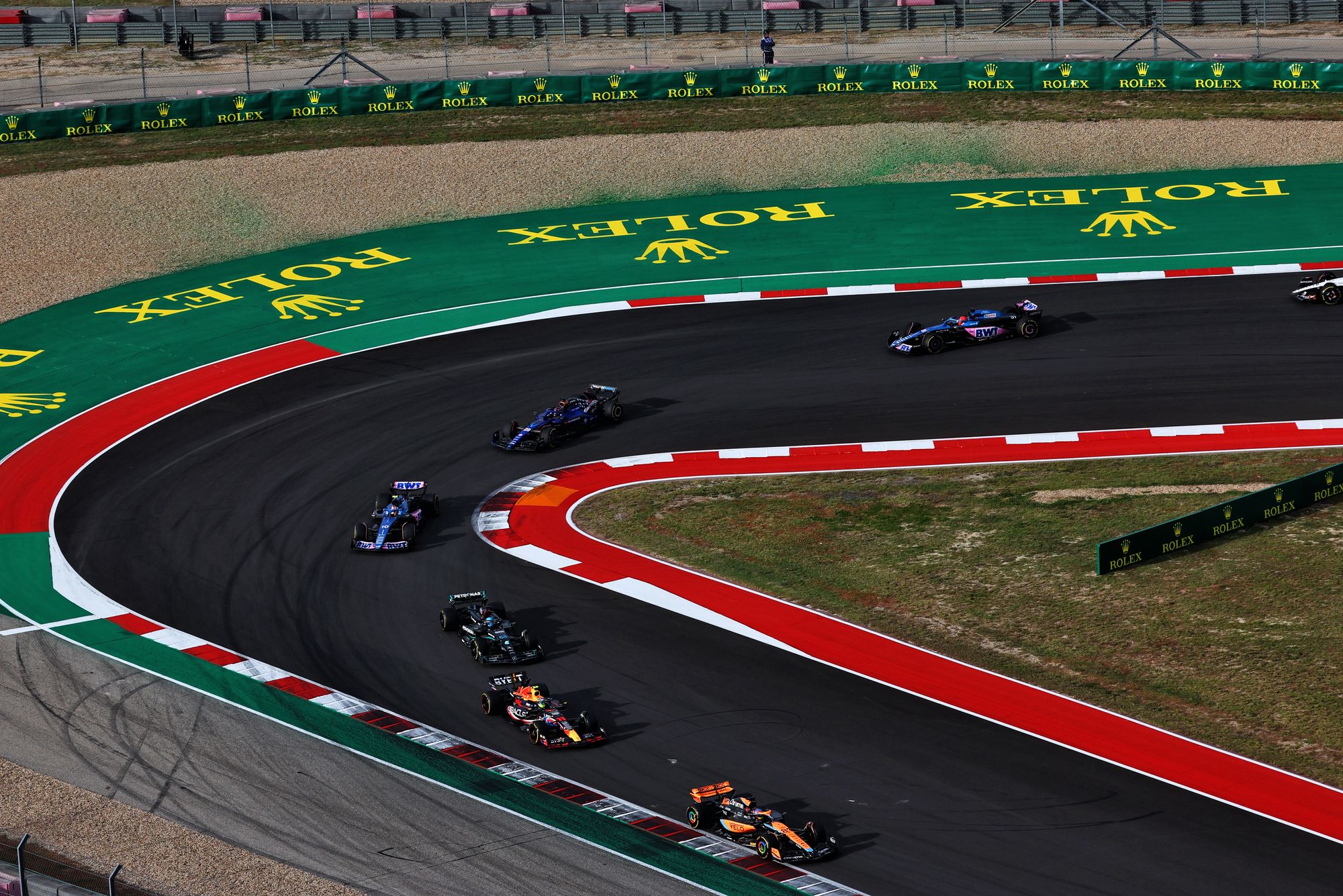 However, he also warned against quick-fix solutions that can have unintended consequences and cause other problems.
"These kind of doors need closing," said Stella. "You can't have exceptions that can be tactically exploited and then you gain a lasting advantage because that is actually effective in the race because you can open more than the consequence.
"Where I would like to be pragmatic is that these things tend to be more complex than they look. Everyone thinks 'yeah you could do this' and then actually you think about the solution and then you see that the solution has some other implications.
"The drivers need to have their say because they know how they race so I think it goes back to co-ordinating, certainly under the co-ordination of the FIA then the other stakeholders, but it looks like we have some opportunity to clamp down on the situations that can be exploited."
THE RACE SAYS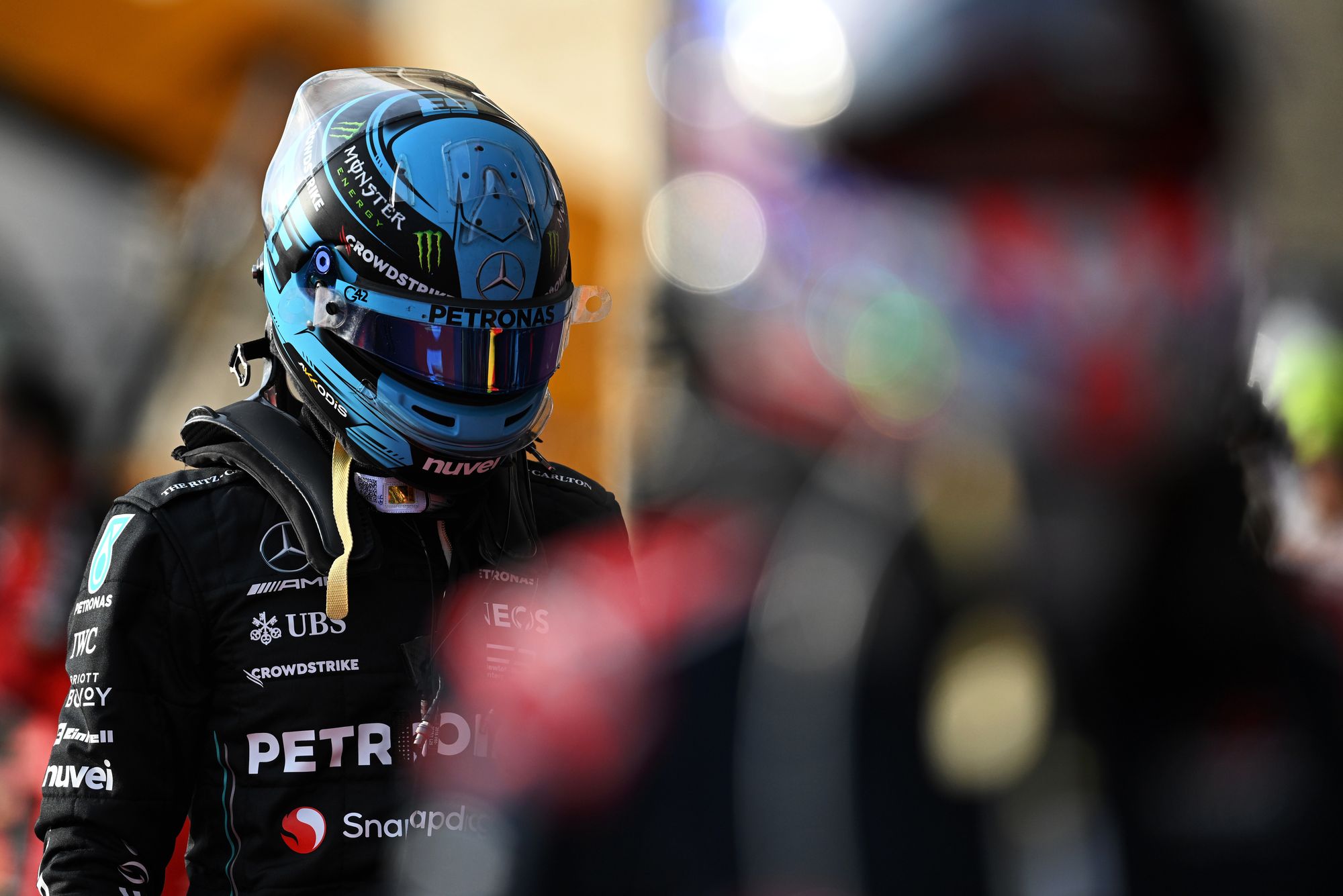 That Russell traded off the likely penalty against the overall gain from getting ahead of Piastri when he made his past seems certain.
Russell was nowhere near challenging the McLaren in Turn 15 and simply applied the throttle far too aggressively to make the corner and gunned it around the outside.
It was a drive-by overtake made possible by effectively driving a different, faster corner to the one Piastri did and Russell's attempt to argue over the radio that he was pushed wise was half-hearted and unconvincing. He knew exactly what he had done.
Norris mentioning Russell had argued against this earlier in the season is telling because it suggests he's pulling the kind of trick Fernando Alonso is known for. As Norris alluded to, the Turn 2 runoff at Sochi has been a problem and Alonso capitalised on this in 2021 by taking to that runoff at the start of the race.
But he only did this after having raised objections in the past. Effectively, he did that to make a point that the application of the rules effectively forced him to. His position can be paraphrased as 'if you aren't going to listen to me that this is a problem, I am going to exploit it'.
It's impossible to escape the conclusion that it's the same for Russell. He's a sharp, ruthless operator and likely feels he's doing what he has attempted, unsuccessfully, to stop.
For further supporting evidence, it's important to remember he did a similar thing at Monza in September, overtaking Esteban Ocon off track, not looking back and accepting the five-second penalty because it potentially saved him more than risking sitting behind the Alpine for any length of time.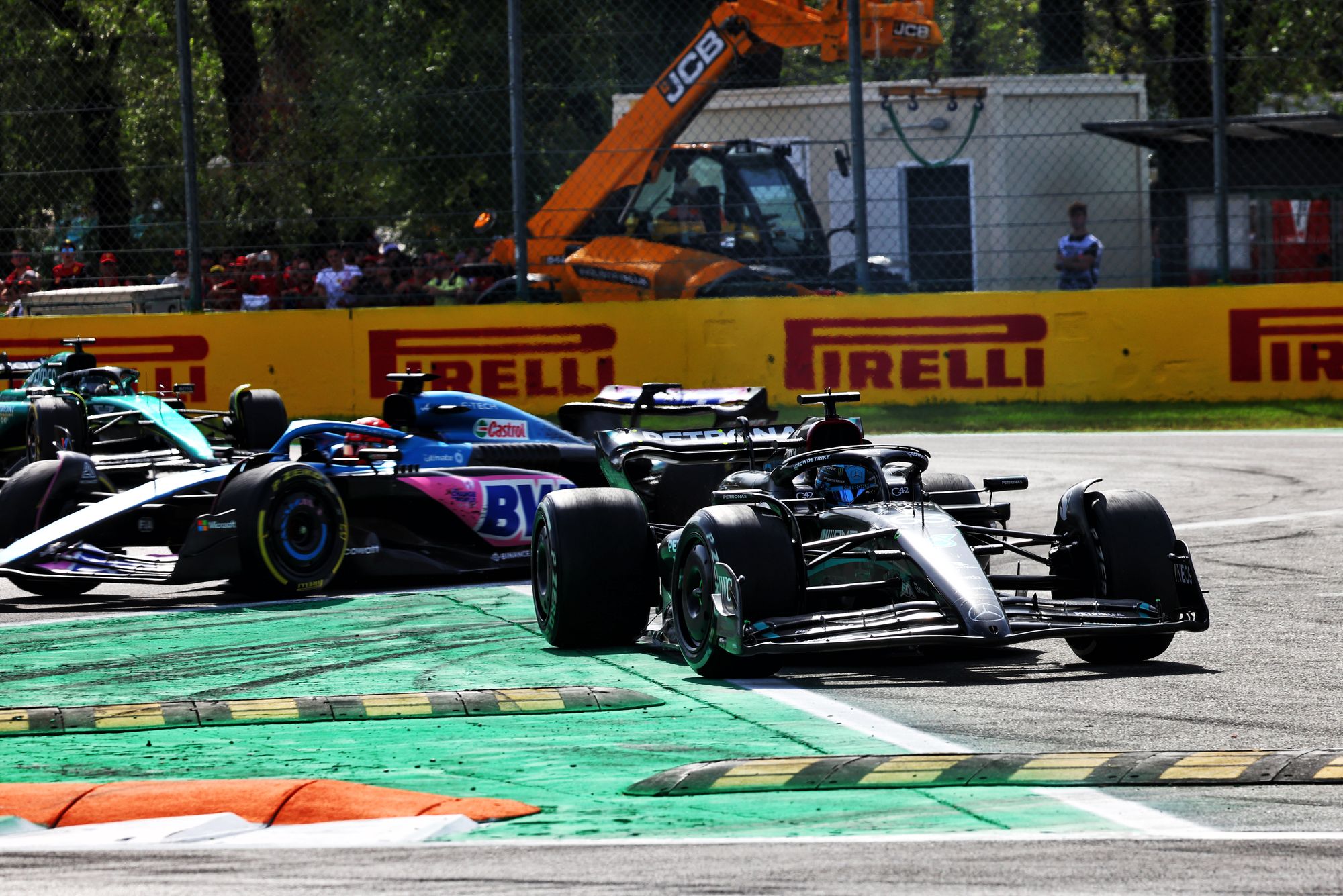 The five-second penalty has become the standard but it's simply not enough. Any penalty has to outweigh potential benefits dramatically and five seconds is insufficient. It's too easy to 'spend' and that's exactly what drivers will do if this situation continues.
Yes, track limits are a huge problem and that's a whole other can of worms that needs dealing with. But that doesn't change the fact that effectively spending penalties deliberately is undesirable and the current situation whereby the way they are punished effectively forces drivers to do the calculus and decide whether or not it's a net gain to take the hit cannot continue.
This is also not a criticism of Russell, far from it. As the saying goes, blame the game not the player – and that's especially true when the player's attempts to make the game work better have been ignored.