George Russell's crash under the safety car in the Emilia Romagna Grand Prix at Imola likely cost him his first top 10 finish in Formula 1, meaning he has still yet to break his points duck after 34 races. The question is whether this is a statistical anomaly or if it reflects a fundamental weakness in his game – a points 'curse' caused by errors under pressure?
It's true that some drivers fare better in pressure situations than others and given the fact he has spent his entire F1 career in one of the worst and often the worst car, Russell's lot is to seize on the rare opportunities that present themselves to make the top 10. While the fact he is now ranked fourth equal alongside Brett Lunger, whose F1 career was spent in mediocre machinery from 1975-1978, in terms of F1 starts without a point ostensibly supports the suggestion Russell struggles in such situations, it only tells part of the story.
Starts without a point
1 Luca Badoer, 50
2 Charles Pic, 39
3 Mac Chilton, 35
4 George Russell, 34
= Brett Lunger, 34
6 Tora Takagi, 32
7 Mike Beuttler, 28
= Enrique Bernoldi, 28
= Scott Speed, 28
10 Riccardo Rosset, 26
Instead, we need to look at the quality of the opportunities. In those 34 race weekends, Russell has generally performed very well with a crushing advantage over his team-mates – he has never been outqualified by either Robert Kubica or Nicholas Latifi and has finished ahead 22 times on the 26 occasions both Williams drivers have finished. Regardless of how you evaluate the quality of his team-mates, that's a remarkable record.
In total, there have only been three races where a points finish can legitimately be said to have been lost based on what happened on track.
This eliminates races such as the 2020 season-opening Austrian Grand Prix, where Russell would likely have scored but for retiring with a loss of fuel pressure – a result that would eliminate any points curse narrative.
It also excludes the following Styrian Grand Prix where he went off – rejoining in 18th – after an early-race safety car while trying to hang onto 11th place in battle with Kevin Magnussen. A lack of pace would have made points impossible anyway.
GERMAN GP 2019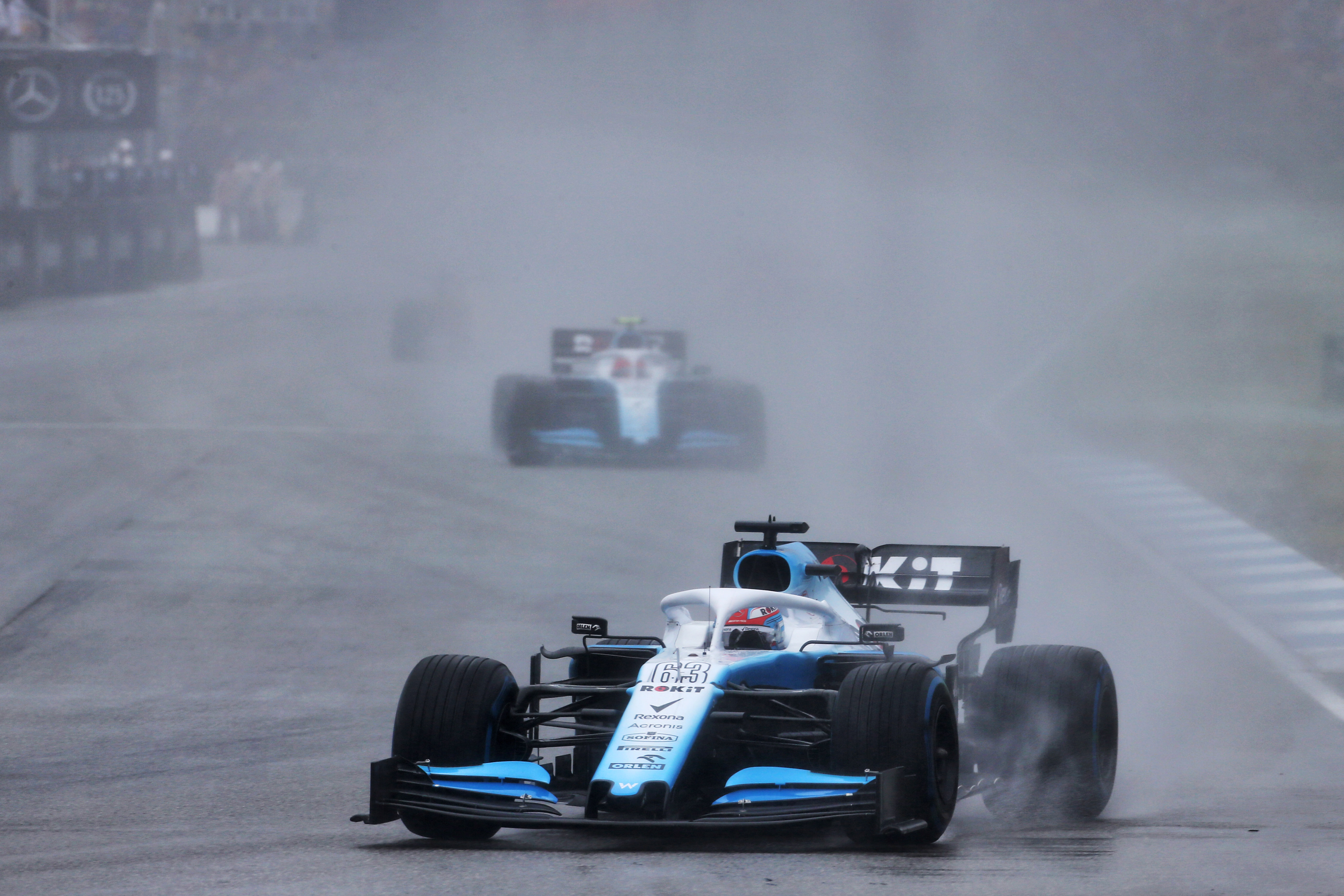 Williams has scored just one point during Russell's time with the team so far, in the rain-hit 2019 German Grand Prix at Hockenheim. There, team-mate Robert Kubica was promoted to 10th after finishing 12th on the road thanks to the two Alfa Romeo drivers being hit with a time penalty for clutch infringements. Russell finished behind him, in 11th place, having handed the position to Kubica when he locked up and slid off the track at Turn 2 with 14 laps remaining.
While Russell was on slicks on a drying but still slippery track having pitted three laps earlier, it was a clear error that ultimately did cost him a breakthrough point. At the time it only cost him 14th place so it's a stretch to conclude this is evidence of wilting under pressure even if the chaotic race circumstances had obviously presented an opportunity.
In a season where this was the only chance for Williams, Russell was unfortunate that it was only one of two occasions he finished behind Kubica. Had this opportunity for Williams to score cropped up in the 18 races he finished ahead of Kubica, the point would have been his.
TUSCAN GP 2020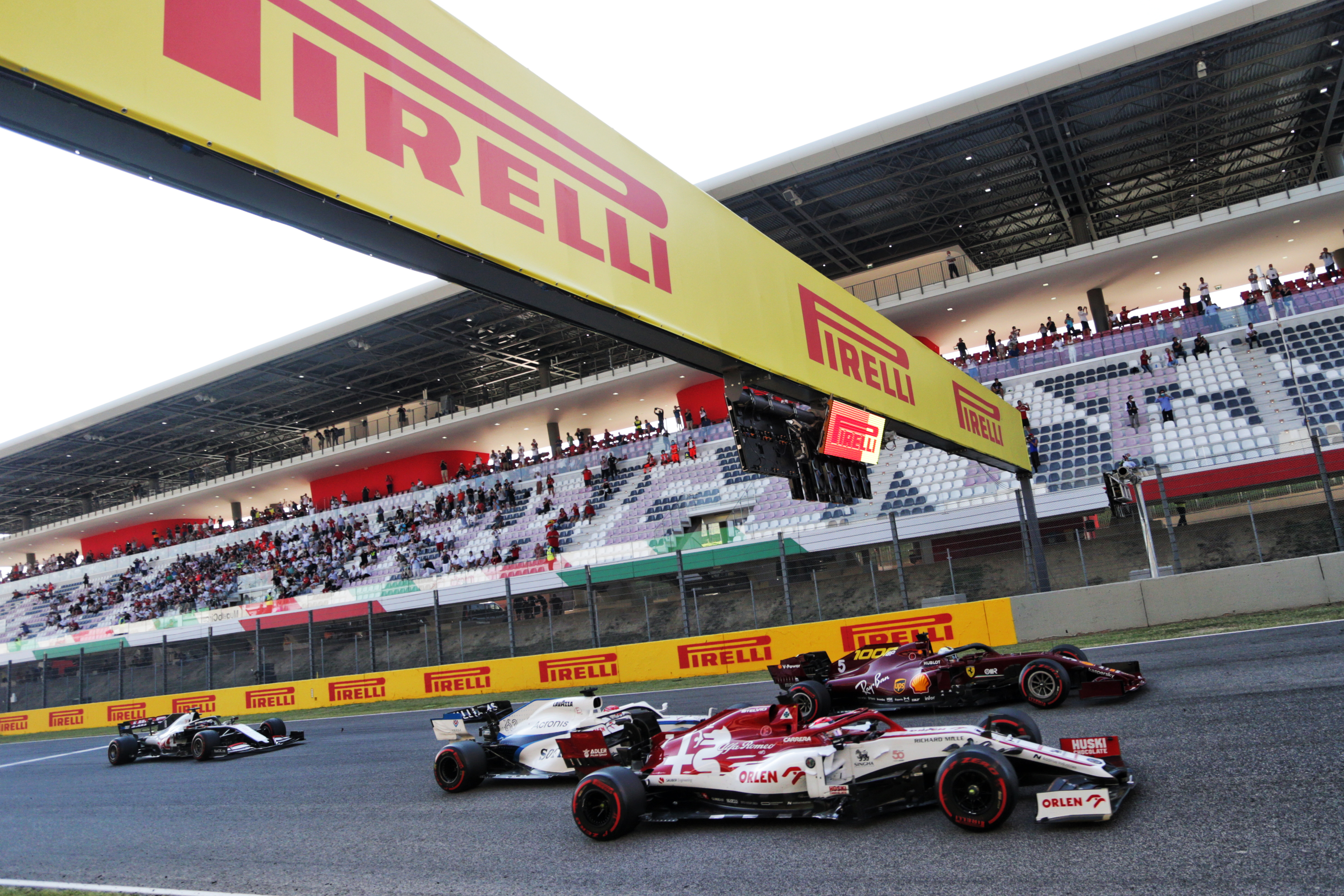 Russell spent 36 of 59 laps of the Tuscan Grand Prix at Mugello running in the top 10 – 61% of the total laps he's spent in the top 10 in his F1 career. He took the second and final standing restart ninth, only to be jumped by Sebastian Vettel, Kimi Raikkonen and Romain Grosjean after wheelspin at his launch. He repassed Grosjean, but that was only good enough to finish 11th.
Both Russell and Williams said he hit the parameters required to nail the start in terms of throttle and clutch use, but these were best-guess estimates given practice starts are not conducted on low fuel. There was also the complication that both Raikkonen and Grosjean had built better tyre temperature thanks to being sent past the safety car used before the standing restart, which gave them a grip advantage.
"To be fair to him, on that occasion he executed all three starts as we wanted him to," said Dave Robson of Russell's Mugello launches. "Actually, his race start was not bad. I think Nicholas's was a bit better, but his race start was pretty good. The first of the restarts was also pretty good actually just annoyingly, that one that in the end really counted wasn't quite what we expected.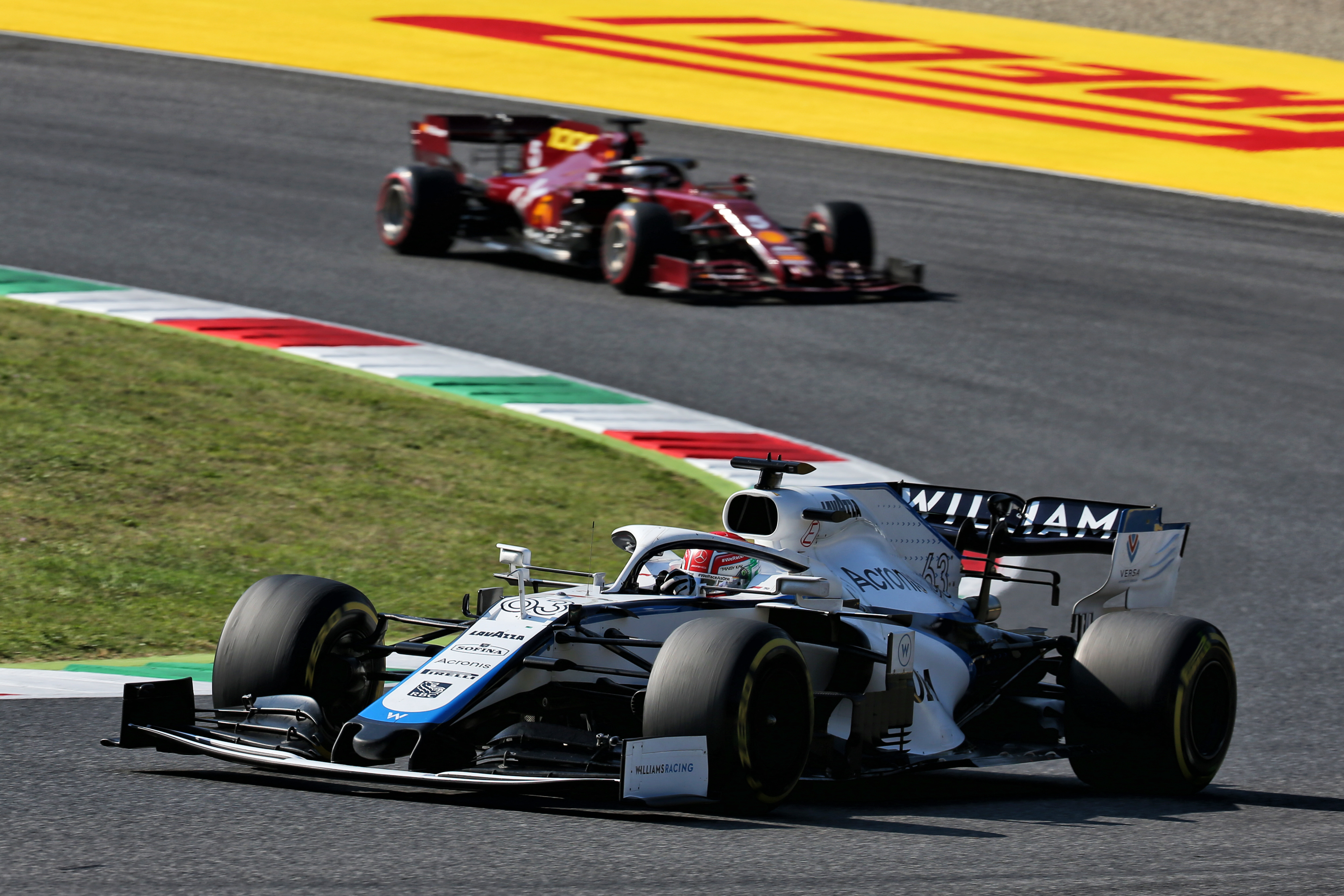 "He did what we what we asked him to, I think we slightly misjudged the grip level in that grid slot, the tyres, the fuel load, all of it different to the normal race starts where you're at full load and we know pretty much what grid slot we're going to be at.
"So it was a case of us not quite estimating the grip correctly and asking him to do the wrong thing."
The poor launch unquestionably cost Russell points, but he can be given the benefit of the doubt given he did nothing wrong in the way he executed the launch.
EMILIA ROMAGNA GP 2020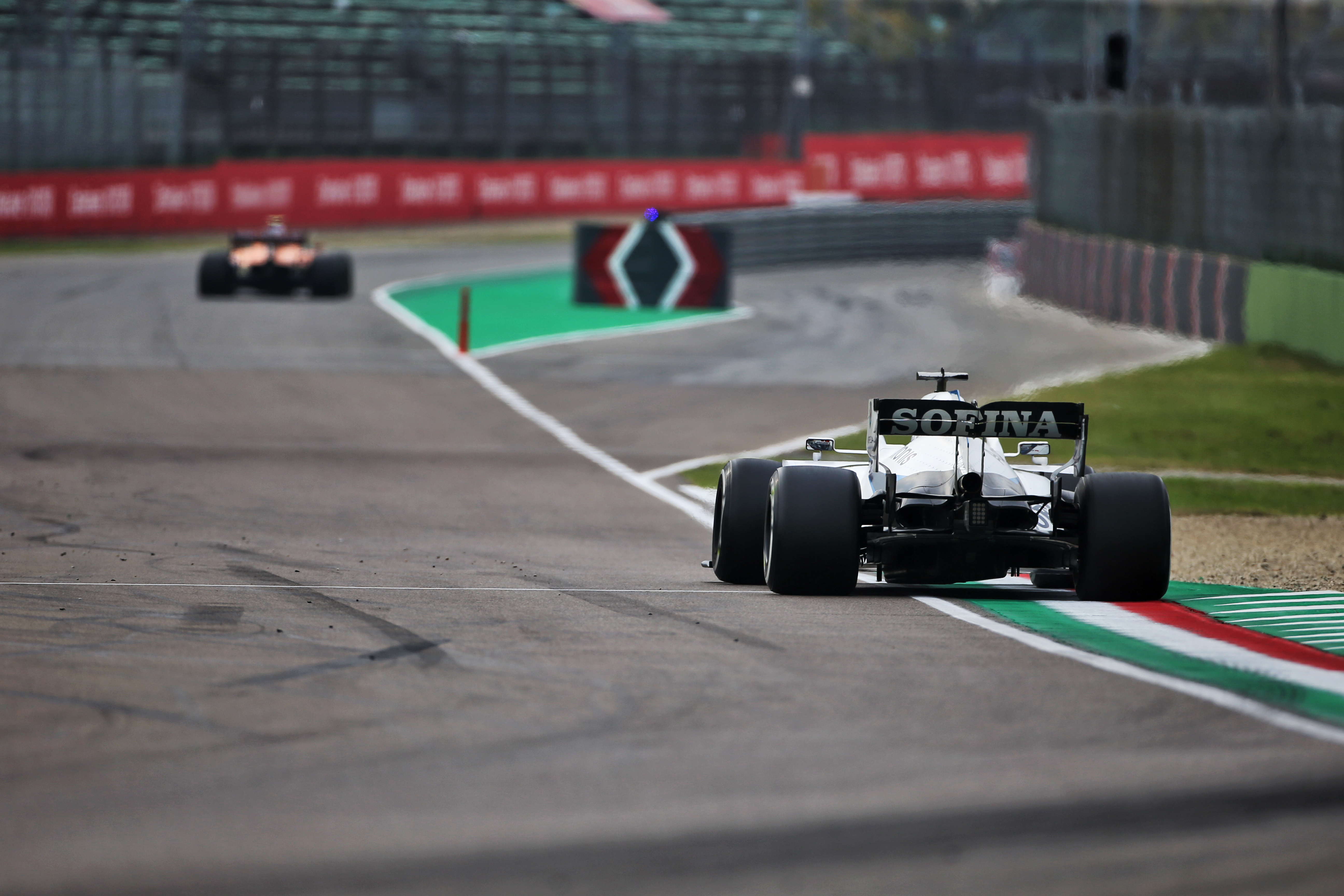 Russell was running 10th under the safety car, ahead of eventual ninth-placed finisher Raikkonen, when he speared into the barrier while trying to build heat in his aged hard-compound Pirellis in anticipation of the restart. It was a catastrophic blunder, one he described as "amateur", "schoolboy" and "the biggest mistake of my career" – and it's impossible to argue with that.
He believes he would have been able to hold on to the position had he made it to the restart and there's every chance he would have done. While not quite a dead cert, Russell's terrible mistake almost certainly cost him that first points finish.
He attempted to make no excuses for the error and the source of it was the desire to keep as much heat as possible in the older hard tyres in anticipation of the restart. Russell conceded he had been too aggressive, but did also legitimately point to the attacking mindset he had carried throughout the race that put him in that position.
So of those three opportunities, you can certainly say that two of them were lost due to a driver error. It's difficult to condemn Russell for what happened at the second and final standing restart given the unusual situations of attempting to execute a start in unfamiliar conditions and the fact he hit his objectives in the launch sequence. There's not much the driver can do if the targets are miscalculated.
Russell puts it in the barriers behind the safety car 💥@GeorgeRussell63: "I don't know what to say" 📻

📺 Live on Sky Sports F1
📱 Live on the App and Sky Go
💻 Live Blog: https://t.co/CkqLNAZAQx#SkyF1 | #F1 | #ImolaGP pic.twitter.com/5RArYihpOP

— Sky Sports F1 (@SkySportsF1) November 1, 2020
This is far from a big enough sample set to draw the conclusion that Russell is in some way a choker when a big result is on the cards. Always, his path to points is to ace the race and hope that circumstances play into the hands of Williams and while he has conceded that, at times, he has been too conservative – particularly on first laps – this is not the root cause of his lack of points.
Instead, the blame lies with the machinery – terrible last year and better, but still a car that requires heroics to get into Q2 today. Russell has achieved that eight times out of 13 this year, which is testament to his speed. He's also proved in the junior formulas that he can nail it when it matters and you don't win the Formula 2 title, as he did in 2018, without being strong under pressure.
As it stands, the lack of points is a curiosity and to use a small sample set of three races where points were possible to point to a definitive pattern is premature. The key now is that Russell doesn't make a mistake the next time there's a top 10 on offer and, given the quality of his performances in the endless strong runs to anonymous finishes in the teens, he likely won't.
Yesterday sucked. But that feeling only makes me more determined to keep pushing, keep improving and keep getting stronger.

Know that every one of your messages gives me that same motivation. Thank you for the incredible support, it means a lot 👊

— George Russell (@GeorgeRussell63) November 2, 2020
"It would be great to score points at some point but ultimately it's not something that's weighing on my shoulders, that we haven't scored one yet," said Russell when asked by The Race about his scoreless run.
"We just go into every single race weekend trying to get the best result possible. "Obviously, there's been a couple of moments that we've missed out on these opportunities when the opportunity has been there, so that is frustrating.
"As a racing driver, you look at the bigger picture as a race team. We want to be in these positions, positions on merit, as we were today [at Imola]. OK, you had the [Max] Verstappen and [Pierre] Gasly retirement but we were absolutely fighting on merit in P12 for the majority of the race.
"That's something we have to be proud and pleased for, with the progress we've made since last year because our car was not even close to being the 18th fastest. And now we've just had a weekend where on merit, we've qualified 13th and we were racing just outside the points.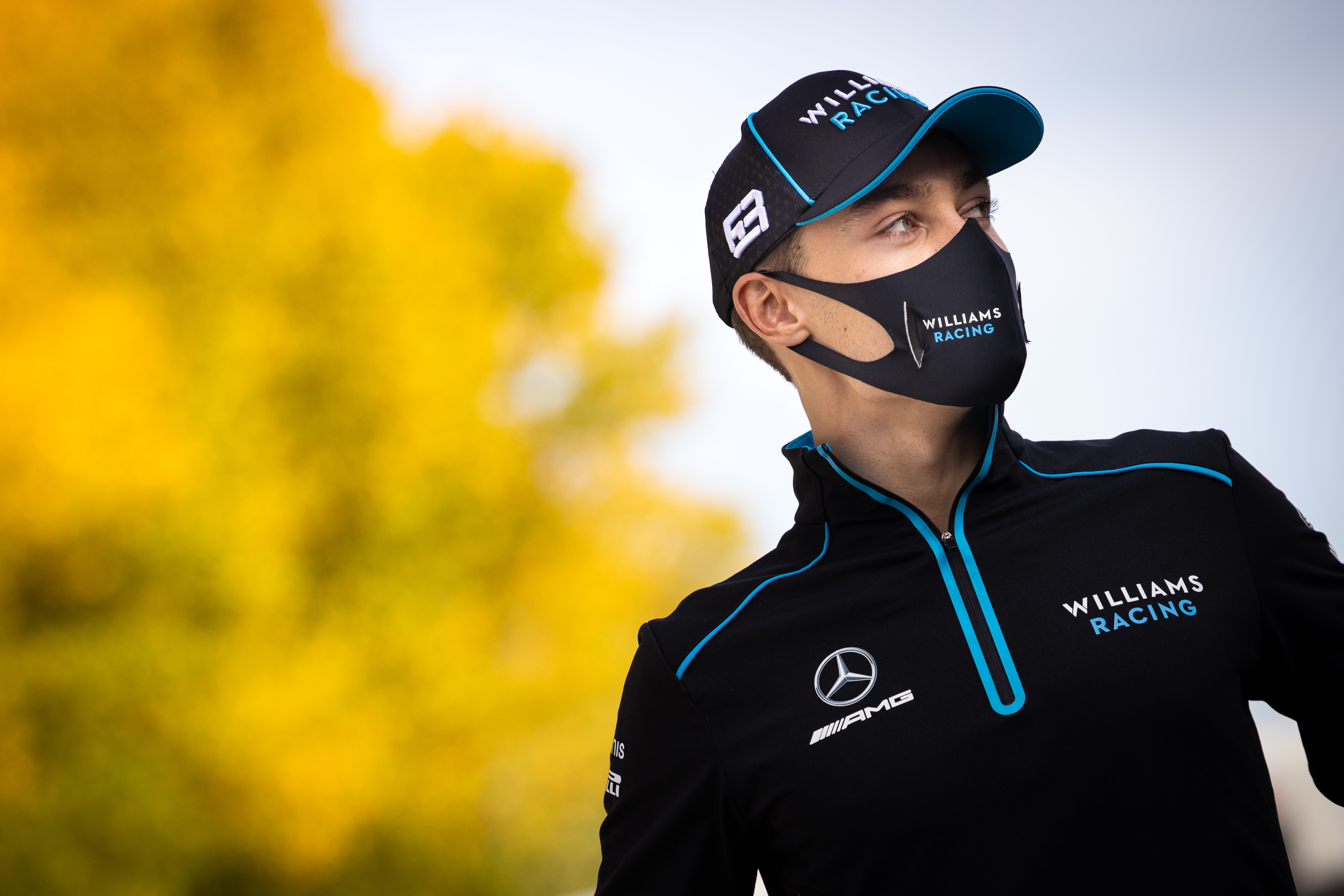 "So that is the bigger picture and when we do get the opportunity to be scoring week in week out, we will look back on these moments thinking they were some tough years but they made a stronger made me a stronger driver, made the team stronger.
"And potentially in five years' time, I can look back on all of these moments and say, you know what this made me into a better driver all round."
Chances are, come 2025 Russell will have accumulated more than enough points to make any suggestion of a weakness in nailing results when they are on offer seem ludicrous. After all, there's a reason why he's regarded as a potential future Mercedes driver.