The returning Lewis Hamilton felt like he'd "spent a lot of time away" after needing most of Abu Dhabi Grand Prix Friday practice to "get back into the flow".
Formula 1 world champion Hamilton missed the Sakhir Grand Prix after contracting COVID-19 but has recovered in time to take part in the season finale.
He ended Friday practice second-fastest, two tenths slower than Mercedes team-mate Valtteri Bottas.
The seven-time champion said he was "super excited, like the first day back at school" when he arrived at the circuit on Friday having only travelled to Abu Dhabi yesterday and remained in isolation pending a final COVID-19 test.
Hamilton said he felt good but did not want to go "deeply" into how he felt while he had the virus, and was just "very happy and grateful" to be back.
"It was an experience, that's for sure," he said. "I'm just happy to be back in the car. Grateful to be back with the team.
"It's taken a session and a half to get back into the flow even though it was such a short time not in the car.
"We got through the programme we needed, just have to work hard tonight for tomorrow."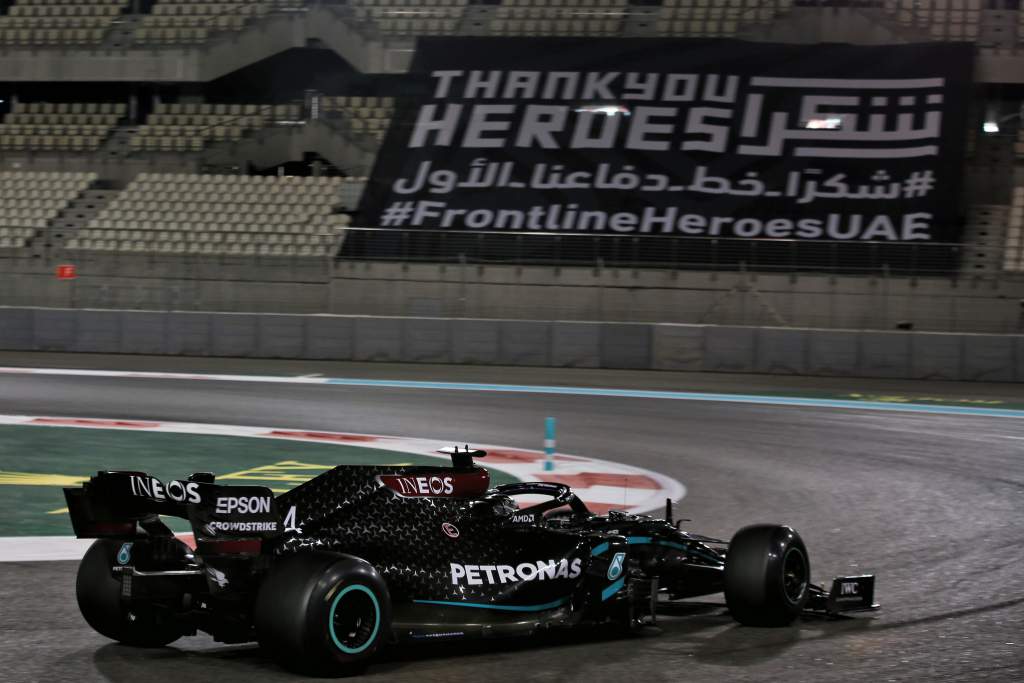 Asked where he was lacking on Friday, Hamilton added: "Just me, it felt like I'd spent a lot of time away from the car, it was very odd.
"So, it was about refamiliarising myself with the car.
"The car wasn't quite the way it was when I'd left it, the balance wasn't the same as I'd got to previously. But I'm working my way back towards it."
Hamilton's first day back was interrupted by a brake issue in FP1 that cost him more than 40 minutes of running.
He said he had "no idea" if that was a legacy of the set-up changes the team had made to facilitate the taller George Russell in Hamilton's absence last weekend.
"There's a lot going on and the guys have been on the road for three weeks now so there have been some tech gremlins but we punched through like we always do and tomorrow will be better," said Hamilton.
He said his replacement Russell, who qualified second and could have won on his Mercedes debut last weekend, did an "amazing job" in Bahrain.
But Hamilton, who still has not signed a new Mercedes deal for 2021, said his return for Abu Dhabi was not about proving anything after a race on the sidelines.
"I don't think I need to do anymore to seal what I've done this year," he told Sky Sports F1.
"I just wanted to come here this weekend and enjoy it and enjoy what I do.
"There's been a huge amount of work from everyone back at the factories and it's been a privilege to race with them this year.
"We don't have anything to prove this weekend, just here to have some fun."