The official 2020 Formula 1 video game has unveiled a full set of driver ratings for the current F1 grid to be used in the game's 'Career' and 'My Team' modes.
The 20 drivers have been graded on four metrics, those being Experience, Racecraft, Awareness and Pace.
An 'Overall' ranking – which correlates with the four metrics but does not represent a simple equally-weighted mean – has also been assigned to each driver, with reigning champion Lewis Hamilton's 94 representing the maximum in the field and rookie Nicholas Latifi's 64 – the minimum.
F1 2020 driver ratings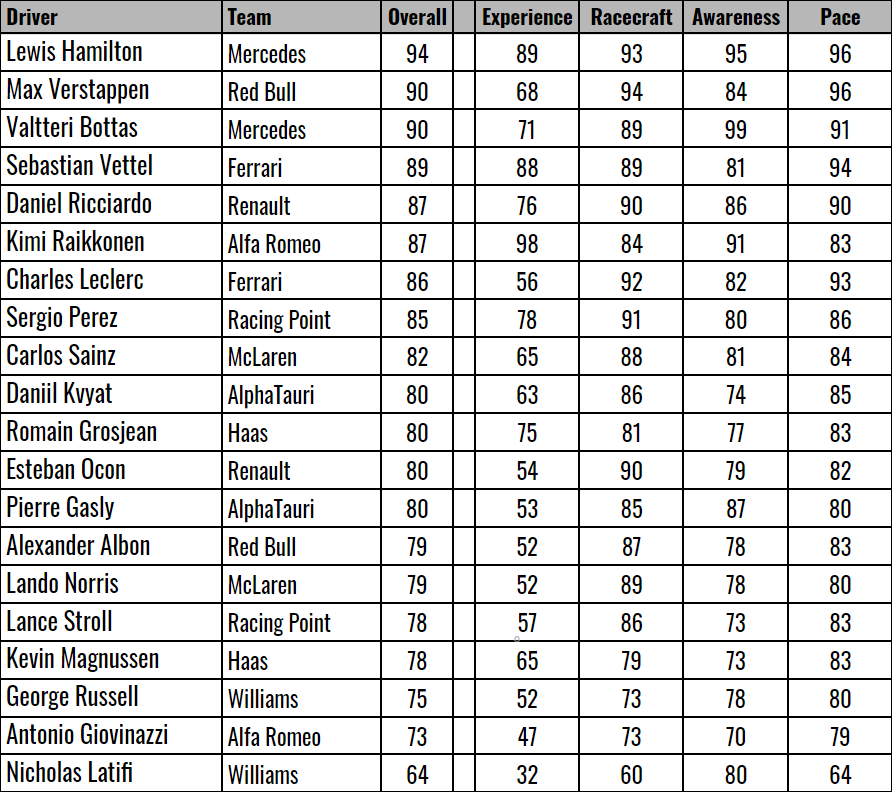 Only three drivers place within five points of Hamilton on the overall ranking, with his Mercedes team-mate Valtteri Bottas on 90 alongside Red Bull's Max Verstappen, and four-time champion Sebastian Vettel on 89.
And while Latifi stands alone below the 70-point threshold among the F1 contingent, his Williams team-mate George Russell and Alfa Romeo's Antonio Giovinazzi are also somewhat cut adrift of their fellow grand prix drivers, with 75 and 73 overall rankings respectively.
Giovinazzi's team-mate Kimi Raikkonen, who has the most starts out of any active driver on the F1 grid, is ranked highest for Experience, which Codemasters says will impact car development – a major feature of both Career and the nascent My Team mode – in the game.
Verstappen scores highest on Racecraft, which "allows the driver to unleash more effective overtakes" at 94, albeit just narrowly ahead of Hamilton, Charles Leclerc and Sergio Perez.
Bottas scores a field-high 99 on Awareness, an attribute makes a driver "less likely to lose control of their car", while Hamilton and Verstappen are tied on 96 at the top of the Pace rankings – with the metric representing pure outright speed.
Formula 2 drivers will also be represented in the game and assigned driver ratings, but these have not been disclosed.
It is now clear how the ratings will modulate during gameplay experience, but the confirmed feature of driver retirements and F2 promotions hints at evolving ratings being a prerequisite.
In addition, driver contract costs for the revamped underlying driver market system have been unveiled, with Hamilton and Vettel set to demand the biggest salaries and buyout clauses.
F1 2020 drivers ranked by game rating