In a new feature in the upcoming Codemasters' Formula 1 game, drivers have been given visible driver ratings for the first time.
Similar to other sports games, drivers are given an overall rating and are numerically scored on other traits too.
This, along with the contract cost, will come into play in F1 2020's new 'My Team' mode which will expand the concept of previous games' career modes.
In F1 2020 players will be able to create their own team and race against the 10 licensed teams, creating a 22 car grid.
Alongside themselves, players can choose to have any of the current F1 or Formula 2 drivers to join them in their team.
Fictional drivers, who have been used in the previous games for classic car races, will also be available in the pool of drivers a player can sign but will be lower rated than the real-life drivers.
The ratings for Red Bull, Racing Point, and AlphaTauri's drivers have already been revealed.
Max Verstappen has the highest rating of those drivers with an overall score of 90.
The lowest rated of the six drivers is Lance Stroll at 78.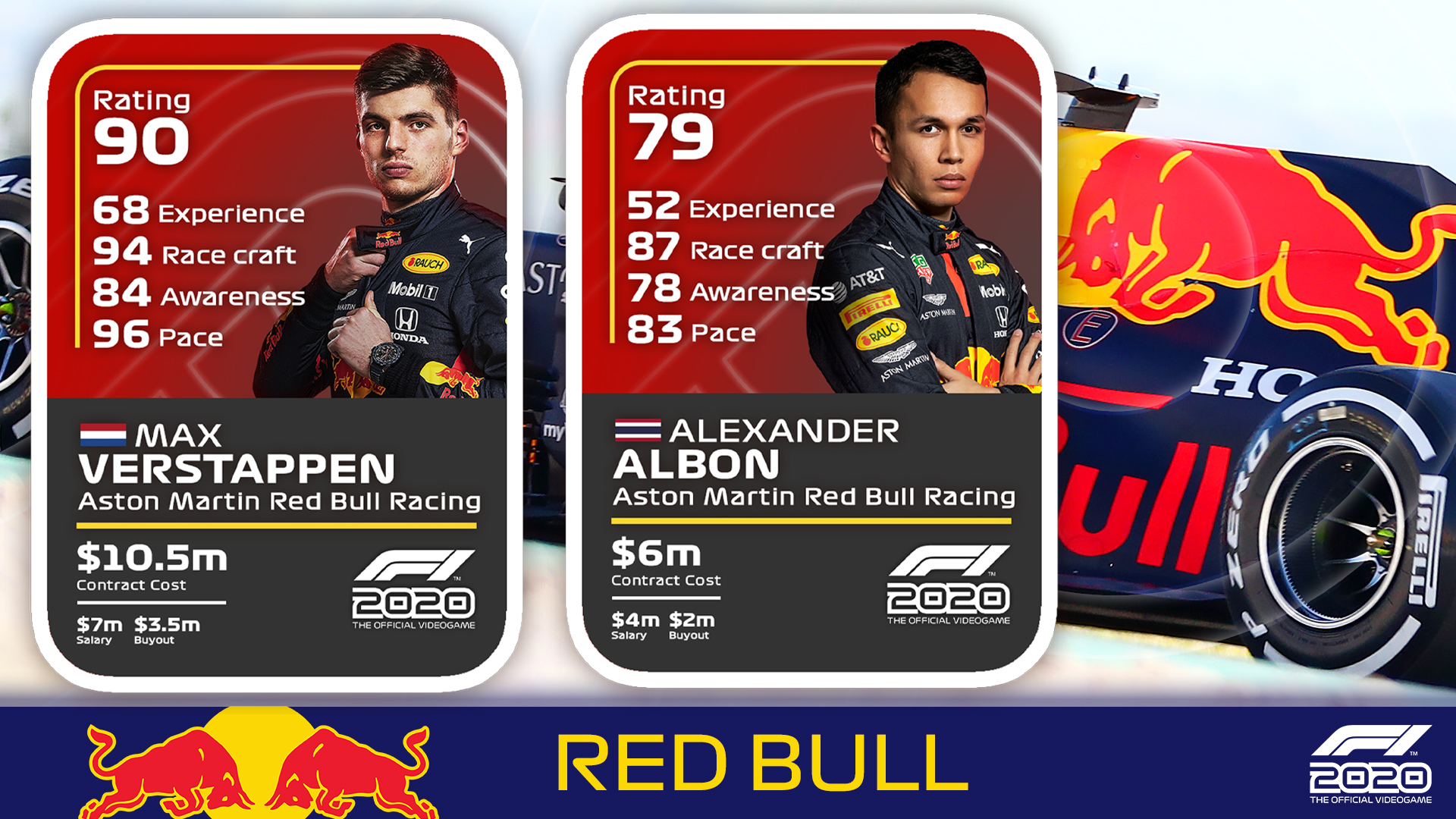 Drivers are scored on four traits: firstly experience which determines the number of resource points, the currency used to purchase car upgrades, they collect.
Racecraft determines their overtaking ability and a higher awareness rating will mean the driver is less likely to make mistakes when under pressure.
Finally, their pace stat is a reflection of how quick they are on circuit.
Another feature that is also new to F1 2020 is that drivers will retire and the F2 drivers will improve over time.
The driver rating system will enable more realistic driver changes than were possible in F1 2019 when driver transfers were first introduced.
"Obviously in the early stages of your career a Formula 1 team will not actively go hunting for a Formula 2 driver unless of course you go in and stir things up and try and poach their driver," said F1 Franchise Game Director Lee Mather.
"So if I go in and I take one of the top team's drivers they're going to be looking for somebody else, and if other teams aren't happy to relinquish their driver, they're going to go to the F2 driver market as well.
"There is a very intricate driver market in the game. You won't just be able to go in and buy Lewis Hamilton. Lewis is going to be prohibitively expensive to a degree.
"There's a very live and active driver market and the reasons why drivers move teams are very tightly constrained, unlike maybe some of the crazy moves that we may have seen in '19 when we introduced the driver moves.
"You'll see a lot of the reasons why a driver would choose to move, you'll see how the stats that they have appeal to other teams, and you'll see why they can and can't move to certain teams.
"It's all going to be based upon not only whether they can afford them or not, but whether that team's attractive to that driver in the first place."
F1 2020 70 Edition will be released on July 10, with the Deluxe Schumacher Edition launching three days earlier.