This is a good time to be a fan of Formula 1 games. After years of game creators being shackled by an F1 regime that was living in the past, now those shackles are off and every new title from Codemasters comes with an abundance of new features.
In 2019 the big addition to the series' career mode was the long-overdue driver transfers between teams, giving players more of an incentive to play on through the 10 seasons available.
But people always want more, and as soon as one longed-for feature was finally included, the cries for another grew louder: players wanted to run their own team in the game.
In F1 2020, which is released on July 10, those players get their wish. The new 'My Team' mode looks incredibly in-depth, and while that's where we'll start our look at what's new with this year's game, it's far from the only change being made to move things on from F1 2019.
RUN YOUR OWN F1 TEAM
There's nowhere else to start with F1 2020 than looking at everything we know so far about 'My Team'.
My Team is a separate game mode from the traditional driver career, which still exists in the game with a few improvements of its own.
If you commit to running your own team you can't drive for anyone else, and you can't take over one of the existing teams in a management role. This mode is all about building your own outfit from humble beginnings to becoming a powerhouse on the F1 grid.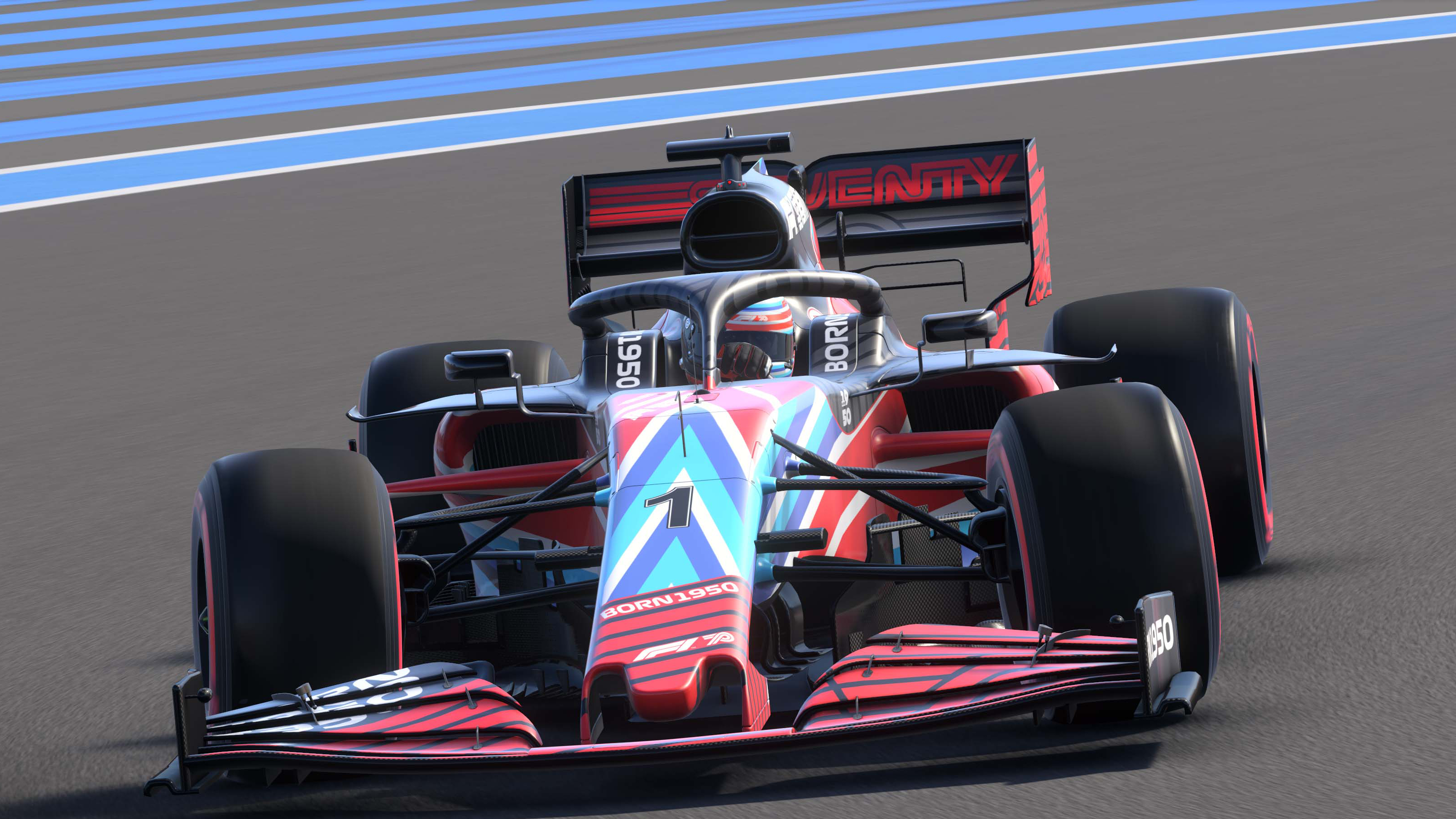 "The way we've done it gives the player the maximum freedom to manage a Formula 1 team," says game director Lee Mather. "If we were to put you behind the scenes of Ferrari, Mercedes, McLaren, the restrictions would be far more significant.
"You wouldn't be able to do things with sponsors, the colour of the car, the livery. There's so much that would be taken away because that is an official team, and it wouldn't be Formula 1 if we started changing the colours of those teams and the way they are structured."
It's a fair compromise: in exchange for a huge amount of freedom, you have to stay with your fledgling F1 operation, which takes the 11th slot on the F1 grid. But you're in full control of the look of the team and its colour scheme and branding. To make sure that flexibility doesn't get affected by real world conflicts, the sponsors you negotiate with for your team aren't real, but that saves the bother of Codemasters having to explain why you can't be sponsored by rivals such as Petronas and Shell, and make their logos purple.
"Large brands have very strong guidelines around how you use their logos, colours, placement, and all of those things would take away a large amount of the gameplay for us," says Mather. "We wanted to make sure the player had the ability to customise their sponsors, place them where they want and with whatever colour scheme they want.
"And we want to be able to attach sensible goals, values and payments to those sponsors. By using fictional sponsors that gave us much more versatility. Keeping a real driver as your team-mate and keeping the real engine suppliers were the main things for us."
Using a real-world engine supplier ties in with a new R&D feature that crosses over into the driver career as well. As an engine customer, if your supplier brings an engine upgrade for its works team, your team will benefit from that as well.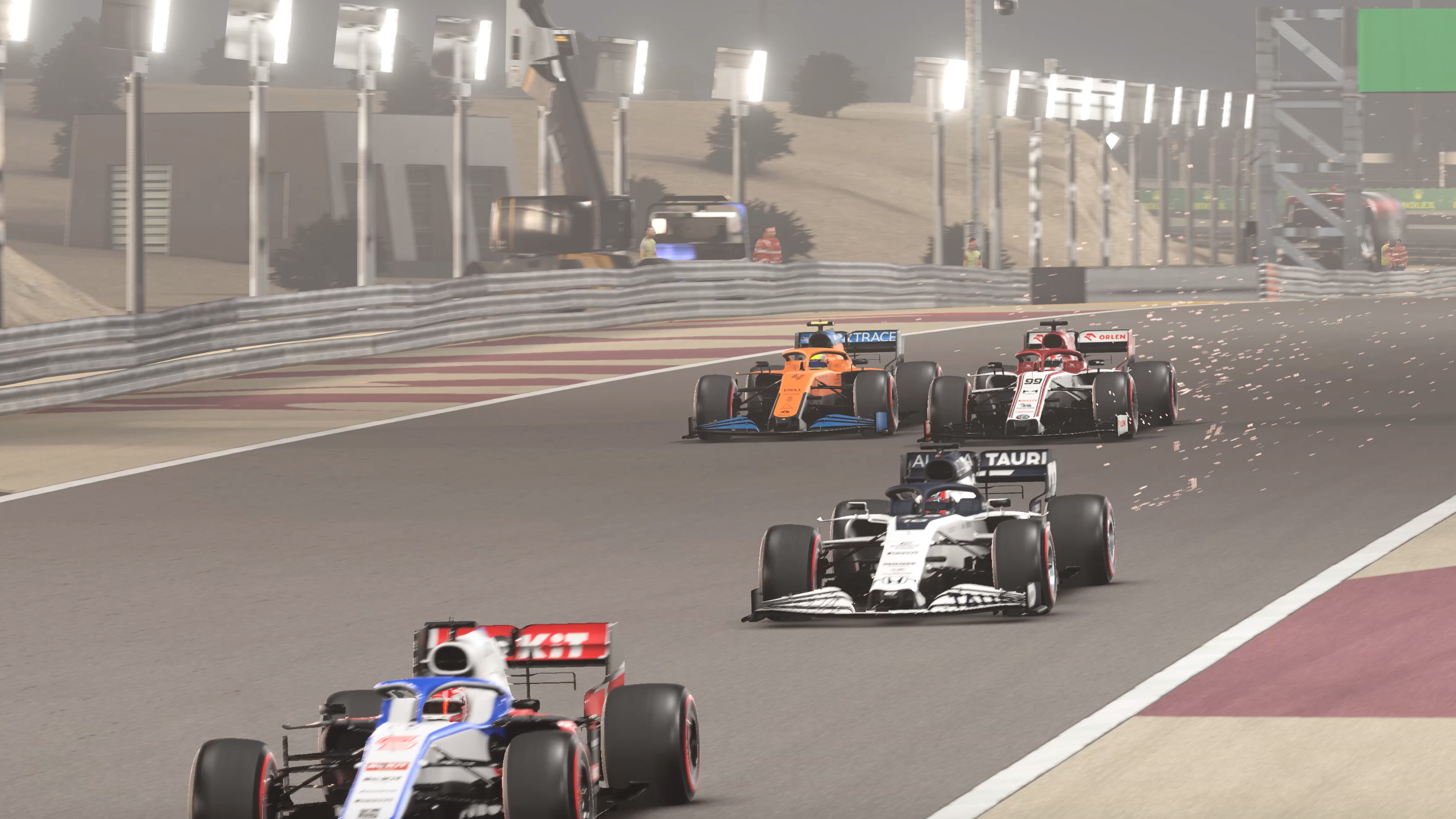 The amount of money you receive from your first primary sponsor, and what you spend on an engine, determines how much you have left to sign a driver to be your team-mate in the beginning. And with all 2020 F1 line-ups locked in, you'll be choosing a driver from the Formula 2 grid to get you started.
As time passes in the game you can try to poach F1 drivers from rival teams, but it's not simply about saving up enough money to afford Lewis Hamilton's salary. If you haven't upgraded your facilities to a level that can convince a top driver you can give them a front-running car, they won't go anywhere near you.
It's possible to train and develop drivers in My Team, so you could turn an F2 protege into the real deal if you put the effort in. But if you run your team irresponsibly even F2 drivers could be off limits, and you'll find yourself fishing around in the pool of drivers Codemasters created to race the classic cars that feature in each game.
"The fallback drivers are notoriously poor compared with the real-world drivers, so you'll find yourself languishing at the back," says Mather, who adds that you can temporarily close down departments of your team to save money, but that will lead to your car falling even further off the pace. So watch those pennies.
There's no option to bail out of driving entirely and sign two drivers to your team, so your actions in the driver market will only ever be related to finding a team-mate to race alongside you. But the team boss role is likely to make you approach the way you race your team-mate.
"We are a racing game first and foremost, so that is important to us," says Mather. "But we are a racing game with a management component now, which adds a whole new dynamic to the way you play it.
"When you see your team-mate ahead of you on track, you don't really worry so much about overtaking him, you want them to perform well for the team. You're racing together, and it changes how you play the game."
Each season starts with a "cinematic" car launch, and an interview with F1 digital presenter Will Buxton, who features in the game for the first time.
"The answers you give will influence the performance of your car," says Mather. "Will might ask you which of your departments has performed well over the winter, and I might say we've got a strong aero package, and that will give a boost to the aero department. When I start the season they will have a slightly higher level than some of the other departments, so you can focus on how your car is being developed by the way you answer the questions."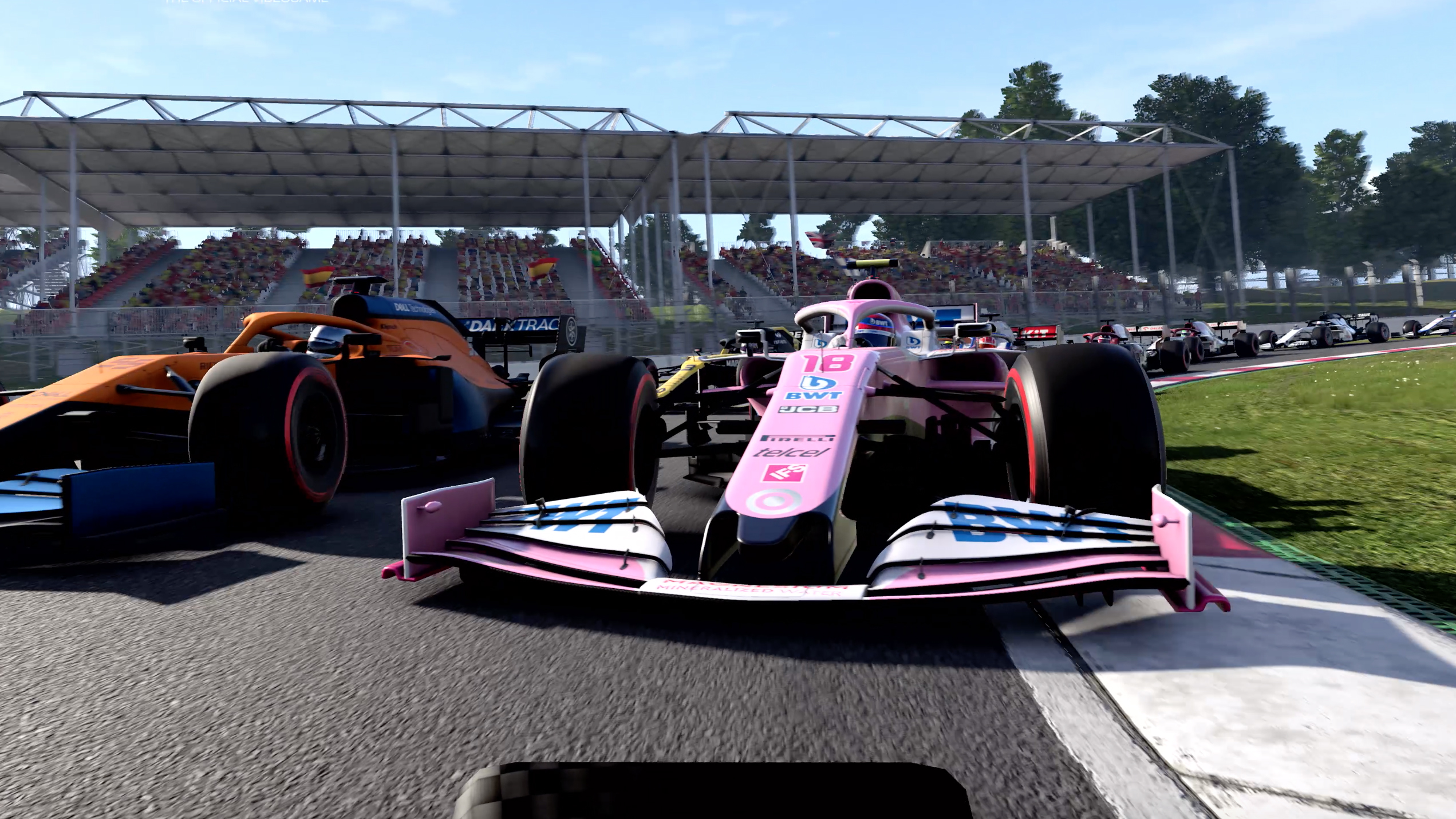 My Team is anchored by a timeline, and the priority is working out how to allocate the time available to you between races. You can choose to focus on car development programmes, which will look familiar to those used to the R&D part of the driver career mode, or use days up for driver training, merchandise, sponsor appearances or media activities. As well as the four core departments of aerodynamics, chassis, powertrain and durability, My Team also features personnel and marketing departments that you'll also have to upgrade.
All of these facilities in your F1 factory are represented visually in the game, featuring your chosen branding with noticeable differences in their look depending on how advanced each facility is.
"We wanted to do more than just give you some on screen graphs and text, we wanted to visualise that beautifully as well," says Mather. "In its first instance it looks quite humble, when you're in your fledgling years, and when it gradually improves you will see the quality of the facility improving."
One of the big off-track challenges in My Team will be balancing up where to focus your investment and the time spent by your driver and staff. Focusing on one area of the team could mean another is neglected, so it will be hard work keeping everything ticking over nicely, just as you'd expect.
WHAT ELSE IS NEW?
The driver career mode hasn't been overlooked. As well as the engine-supplier upgrades, there's a new 'rush' option on upgrades, where the player can take the risk of rushing through an update with the increased chance of that part failing. The aim is to give the player "more versatility" in how upgrades are managed in the R&D area of the game.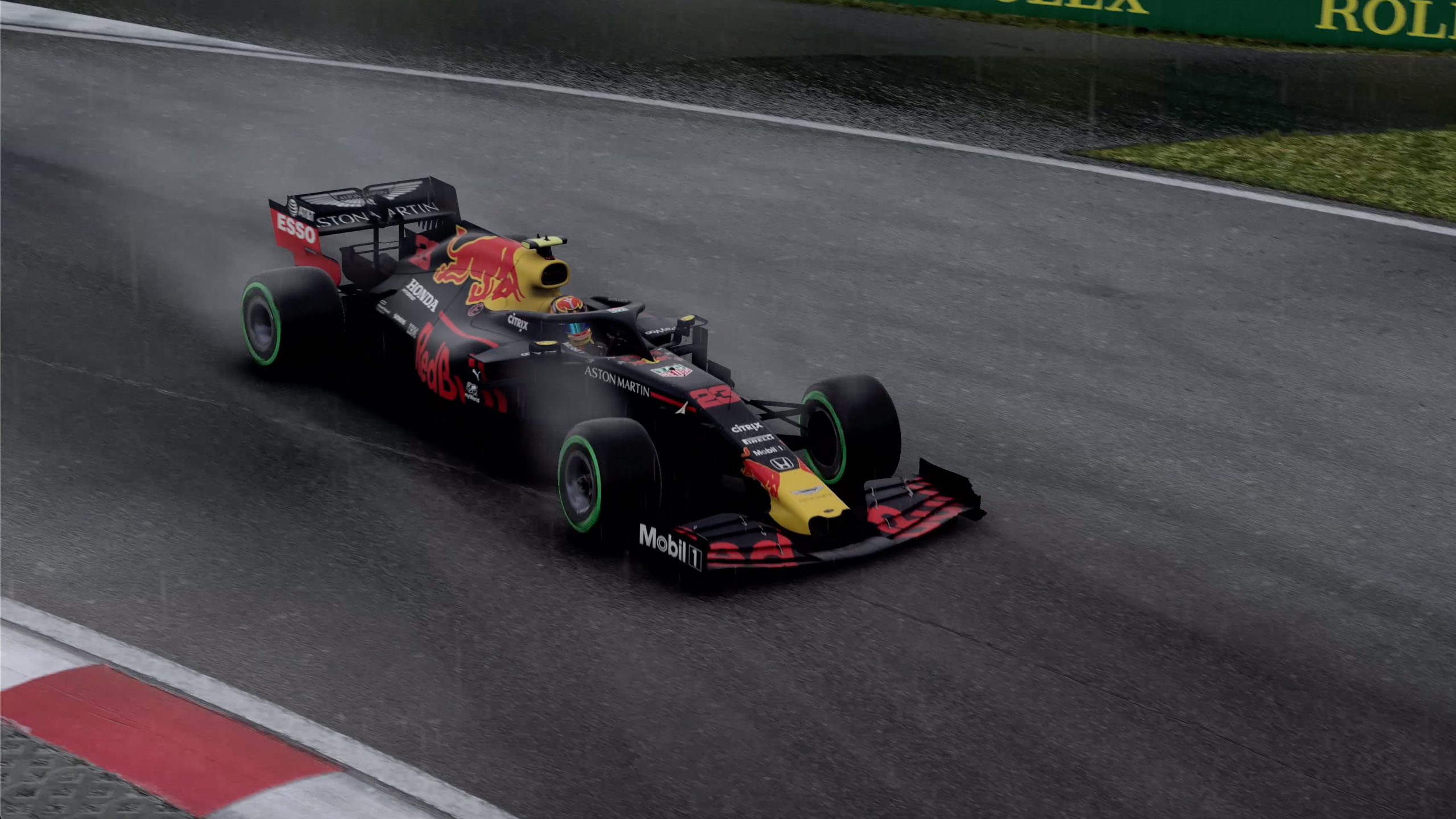 Also receiving an overhaul is the contracts system. Players can negotiate with multiple teams at once to find the best deal, and if you can earn more money you can invest that into your character to give yourself bonuses.
The driver market element itself has been tidied up as well, after the debut of drivers moving between teams in 2019 that could often throw up some surprising combinations.
"As a driver you are a commodity that teams want," says Mather. "There's a very live and active driver market, and the reasons why drivers move teams are very tightly constrained, unlike maybe some of the crazy moves that we may have seen in '19, when we introduced the driver moves.
"You'll see a lot of the reasons why a driver would choose to move, you'll see how the stats that they have appeal to other teams, and you'll see why they can and can't move to certain teams."
The driver rivalry segment of career mode has been altered as well, being fuelled by what you say in interviews rather than just selecting an opponent in a menu screen.
Players can now choose to play a shortened season in career mode, cutting down from the full 22 races to either 16 or 10, and you can choose which tracks are included in a shortened season.
For the full season, Codemasters will use the original 2020 F1 calendar, before the season was disrupted by the COVID-19 health crisis. That means Hanoi and Zandvoort will appear in the game before either hosts a grand prix.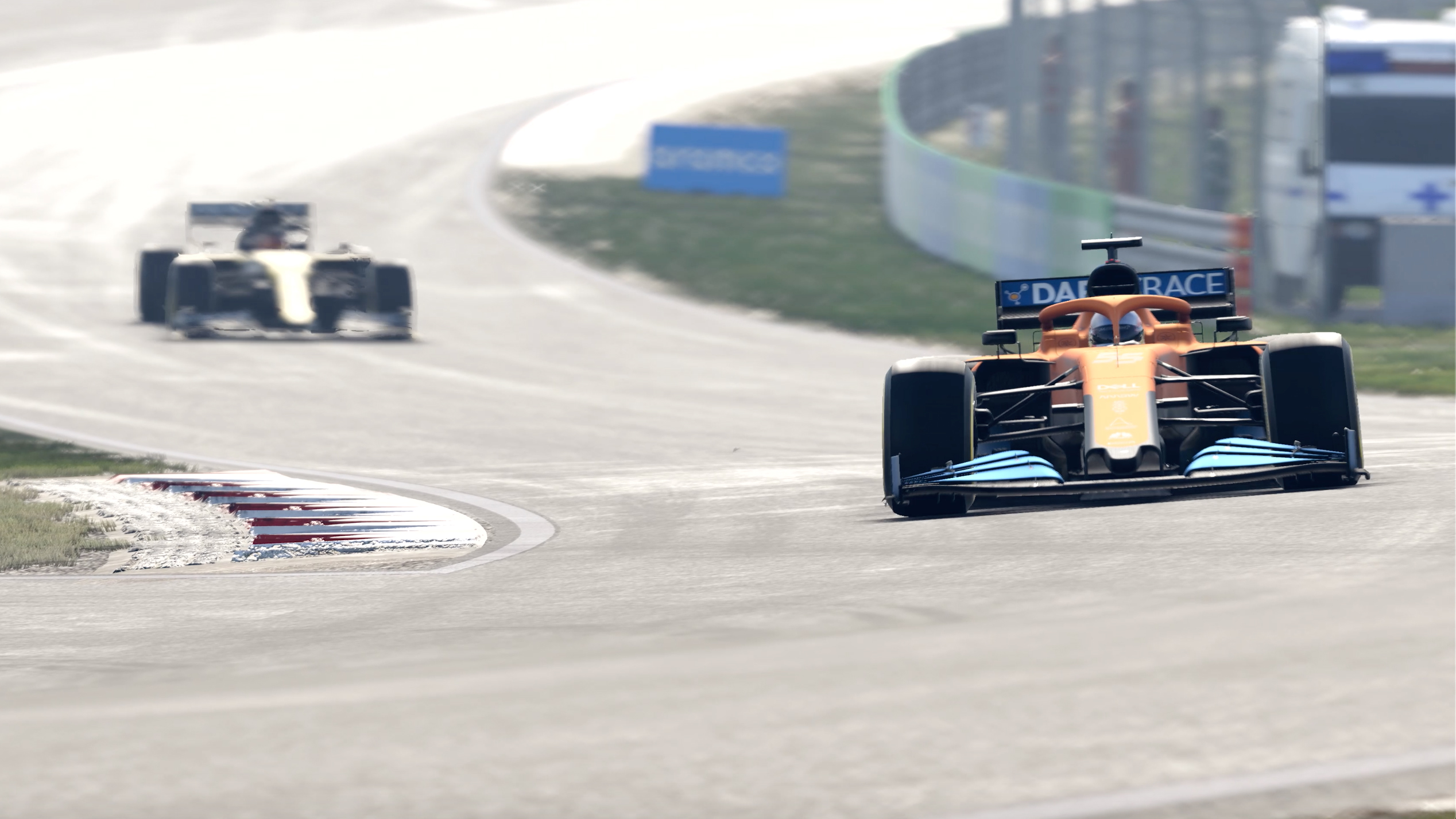 The way ERS is managed on track has had an overhaul, thanks to input from Lando Norris. The McLaren driver explained to Codemasters at an event last year how teams map their ERS settings, meaning the game's version of ERS was far more manual than it is for drivers in the real world.
The ideal ERS settings are now pre-programmed for each circuit as they are by the teams in real life, with the driver having the option of an 'overtake' button to override those settings.
"It's a really great mechanic, it's a lot simpler than having to manage multiple ERS modes, and it creates a really fun on-track experience," says Mather. "And it mirrors more so what the drivers are doing in real life. This is feedback we've been given and we've been able to act upon.
"Obviously the more you use it, the more power you use, and you could leave yourself a sitting duck and struggling for energy later on in the race, or just a few laps later."
Players now have multiple options available to them to customise the game's heads-up display (HUD), meaning you can tailor the on-screen graphics to suit your preference, saving different templates for practice, race and when the car is in the pits. An option included within that is the ability to have a rear-view mirror on screen, which has been a much-requested feature by players and Codemasters was keen to include it.
A returning feature is split-screen mode for two players, which it is hoped will make the game more appealing to less experienced players, along with a new 'casual' race style that simplifies the game on track and off it.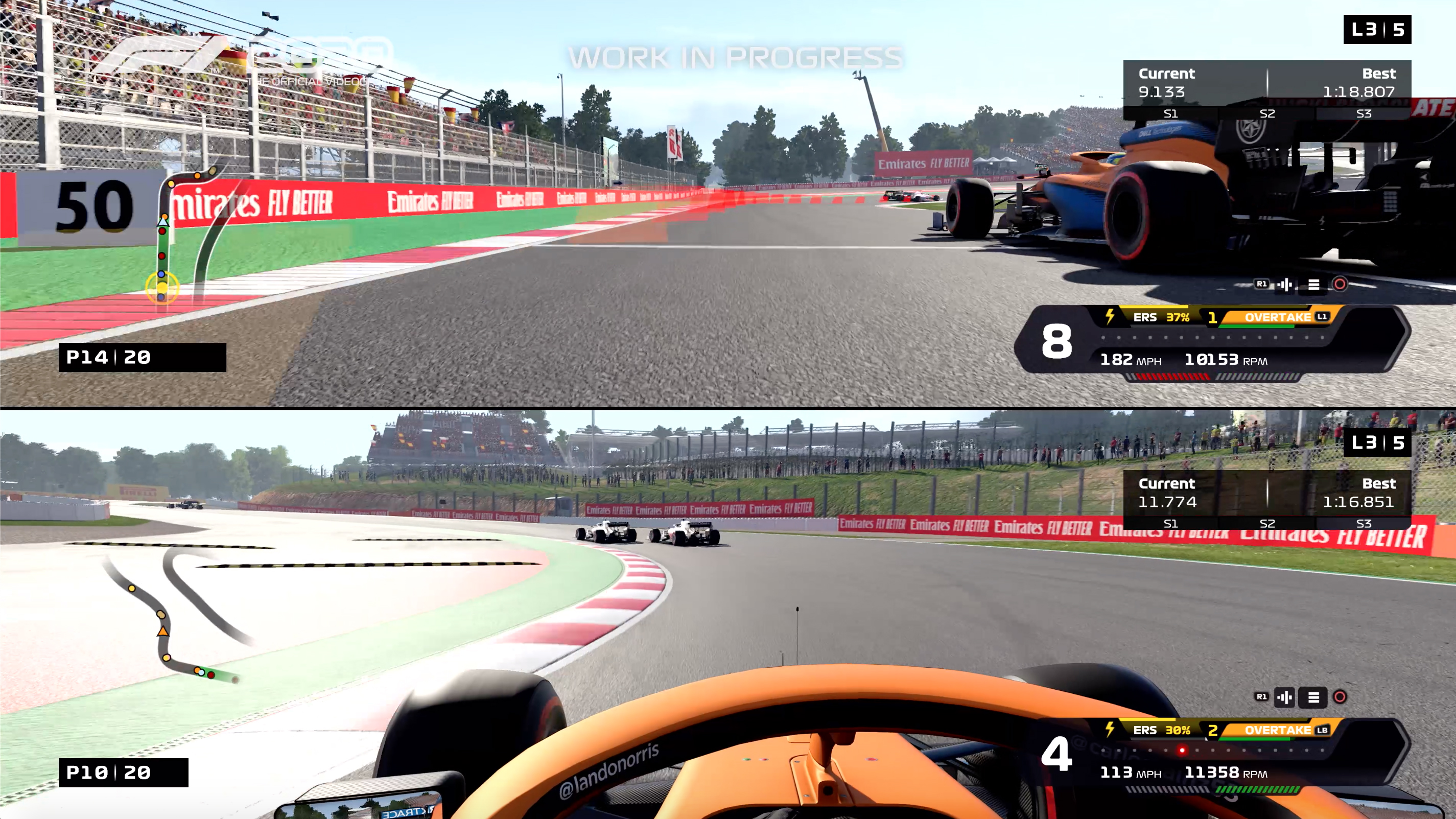 Players choosing the 'casual' mode will experience simpler off-track surfaces that are easier to rejoin from, simplified menu screens, the option to have "quite heavy-handed" computer-assisted steering, and automatic reset-to-track option. Fuel mix management and DRS use can now also be set to automatic.
"We wanted to broaden the appeal to the sort of person who loves Formula 1 and would want to play the game, but they're instantly daunted by it and find it very challenging," says Mather. "The casual race style goes further than just some assists, this makes some fairly fundamental changes to the game.
"We believe we're offering the same great experience to people who already know and love the game, while broadening the appeal to people who are huge Formula 1 fans but maybe not the greatest at playing racing games. All the options we have are great for people that understand all of the intricacies of the sport, but it's quite daunting for inexperienced players."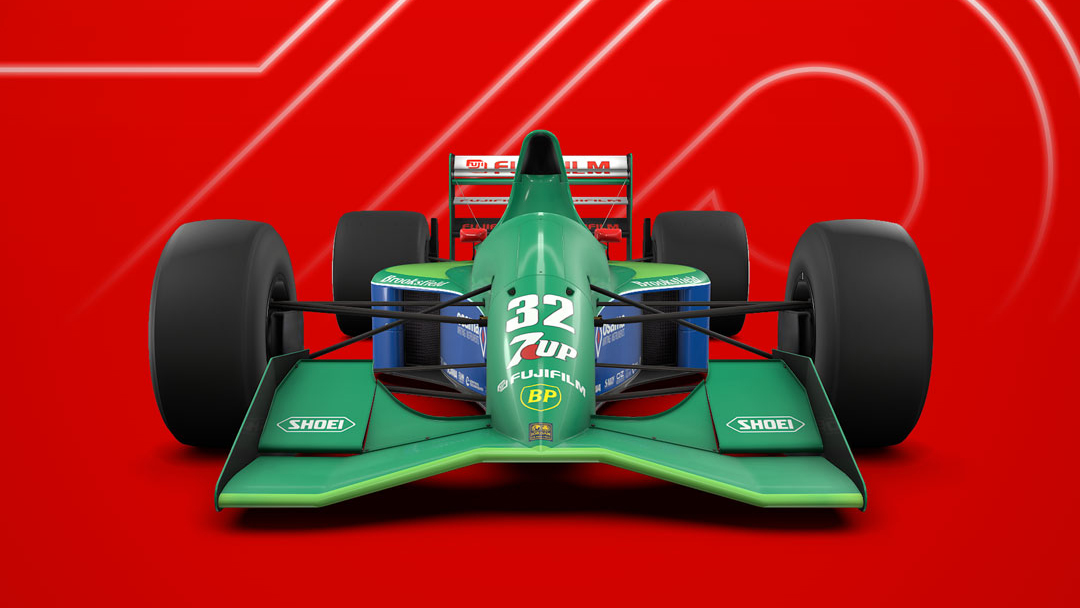 Classic cars are back, with 16 machines available, including the 1990 McLaren and Ferrari models that were part of the special Ayrton Senna/Alain Prost package in F1 2019.
This year's special extra cars, which take the total number to 20 if you purchase the Deluxe Michael Schumacher edition, are his championship-winning Benettons and his 2000 Ferrari, plus the iconic Jordan 191 that he made his F1 debut with, a car Mather says "we've been stalking since 2010".
Codemasters has promised it has more details to share between now and the game's July release, including a more in-depth look at My Team. Based on what we've seen already, that's a tantalising prospect.
Full classic car list
2010 Red Bull RB6
2010 Ferrari F10
2010 McLaren MP4-25
2009 Brawn BGP 001
2008 McLaren MP4-23
2007 Ferrari F2007
2006 Renault R26
2004 Ferrari F2004
2003 Williams FW25
2000 Ferrari F1-2000*
1998 McLaren MP4-13
1996 Williams FW18
1995 Benetton B195*
1994 Benetton B194*
1992 Williams FW14B
1991 McLaren MP4/6
1991 Jordan 191*
1990 McLaren MP4/5B
1990 Ferrari 641
1988 McLaren MP4/4
*only available with Deluxe Schumacher Edition