While waiting for the delayed 2020 Formula 1 season to begin, our writers have been revisiting classic grands prix from the past. These articles are fresh takes on those great races rather than recycled material.
This weekend, Edd Straw revisits Robert Kubica's sole grand prix win in a memorable Canadian Grand Prix, made possible by an uncharacteristic error by Lewis Hamilton and the assistance from his BMW-Sauber team-mate Nick Heidfeld.

What a difference a year makes. Twelve months prior, Robert Kubica had spent the night of the Canadian Grand Prix in Montreal's Hospital de Sacre Coeur after a 75g crash. In 2008, he celebrated what would surely be the first of many grand prix victories after taking his and BMW Sauber's breakthrough win – with a little help from the safety car, team-mate Nick Heidfeld and a disastrous blunder by Lewis Hamilton.
Montreal always looked set to be BMW's best shot at a victory yet. Qualifying supported that to an extent, with Kubica claiming a front-row slot alongside Hamilton's McLaren. But while Kubica was carrying a little more fuel than Hamilton, the BMW Sauber was still in close-but-no-cigar territory given Kimi Raikkonen's Ferrari should also have been ahead.
Raikkonen branded the circuit "a joke" after running deep at the Turn 10 hairpin under braking on a track surface that was breaking up, which turned his qualifying lap from one that was nip and tuck with Hamilton into third-fastest, eight tenths down. He wasn't the only one to complain, with Red Bull's Mark Webber also caught out and suggesting the race might be better contested using motorcross bikes. This led to overnight resurfacing work in an attempt to ease the problem.
Hamilton was on course for a repeat of his 2007 victory in the early stages. Lining up on supersoft Bridgestones, he held the lead comfortably at the start, with Kubica moving left from the dirty side of the grid to cover off Raikkonen. Kubica held off the Ferrari, but found the rear end unstable thanks to the pressures of his soft Bridgestones being set a little too high.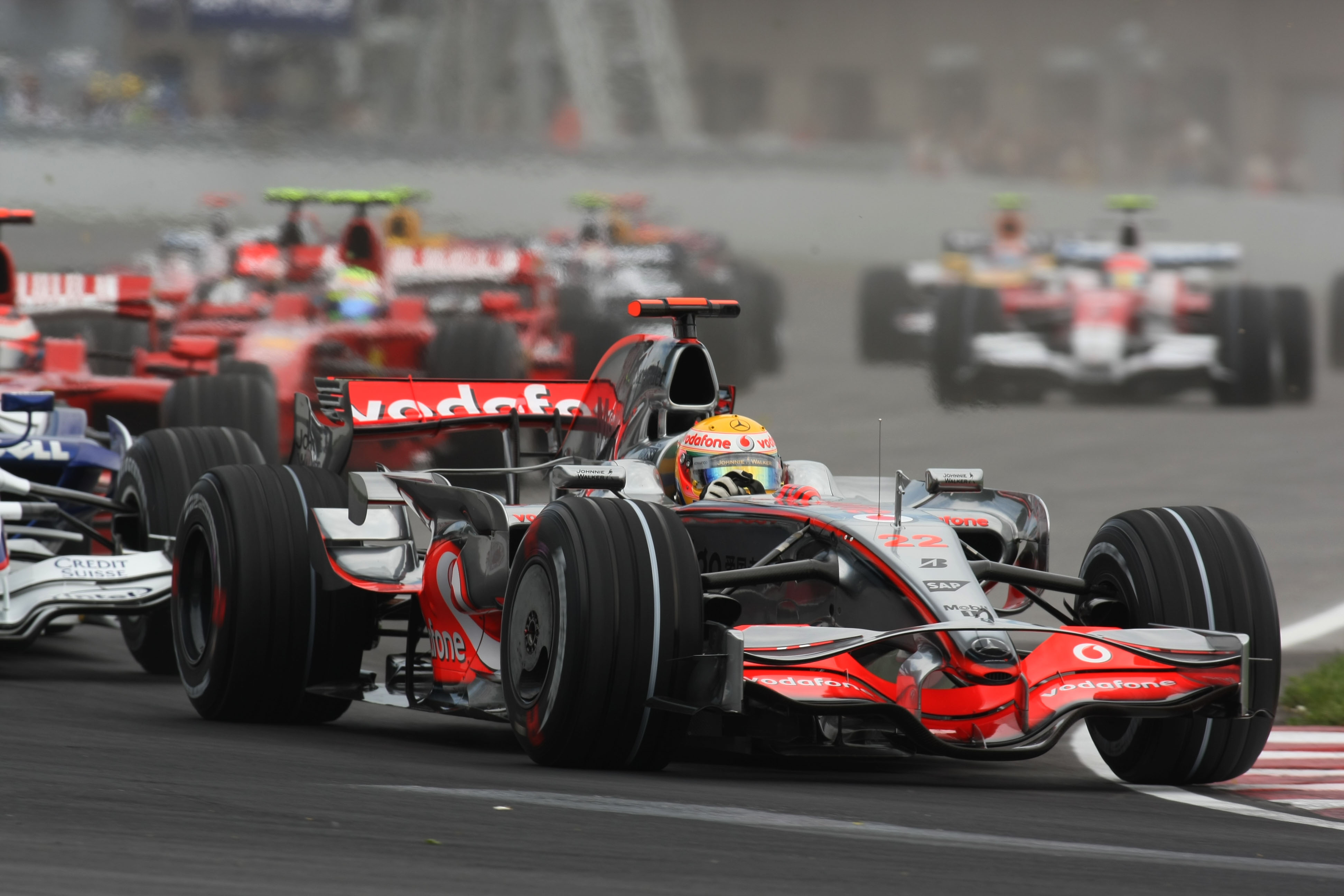 Hamilton completed the first lap 1.5s clear and proceeded to edge away. By lap 10, he was five seconds clear, then 7.2s by lap 15 as Raikkonen started to pile the pressure on Kubica, having closed back up once the graining of his front-left tyre had cleared.
What Hamilton didn't know was that the conditions had already been created that would cost him the race.
"There was a red light, but I guess some people chose not to stop" :: Kimi Raikkonen
Force India driver Adrian Sutil had ground to a halt and pulled over just before Turn 3 on his 14th lap. This was initially covered by yellow flags, the safety car was later deployed. Hamilton could have gone to lap 22 with his starting fuel load but thanks to the safety car he led a queue of the top seven cars into the pits at the end of lap 19. In the moments that followed, both his and Ferrari's victory challenges were destroyed.
Hamilton, lightest of the leaders, had to take on more fuel even before a delay detaching the fuel nozzle cost him further time, allowing Kubica and Raikkonen to jump him. The BMW and Ferrari ran side-by-side before stopping at the pit exit red light. Behind, a combination of Hamilton's own inattentiveness and a late warning over the radio thanks to the distraction of team-mate Heikki Kovalainen also pitting, led to disaster. He got on the brakes and attempted to throw the car left too late, swerving to avoid Kubica but hitting Raikkonen's adjacent car.
"We made a good pitstop and got out more or less in front of everybody else," said Raikkonen. "I was side-by-side with Kubica when suddenly somebody hit me. There was a red light, but I guess some people chose not to stop.
"In the last race, I made a mistake but these are two completely different stories. You can lose control at 300km/h on a circuit and hit someone, or go along on the pitlane speed limited and don't watch in front of you. That's a bit silly."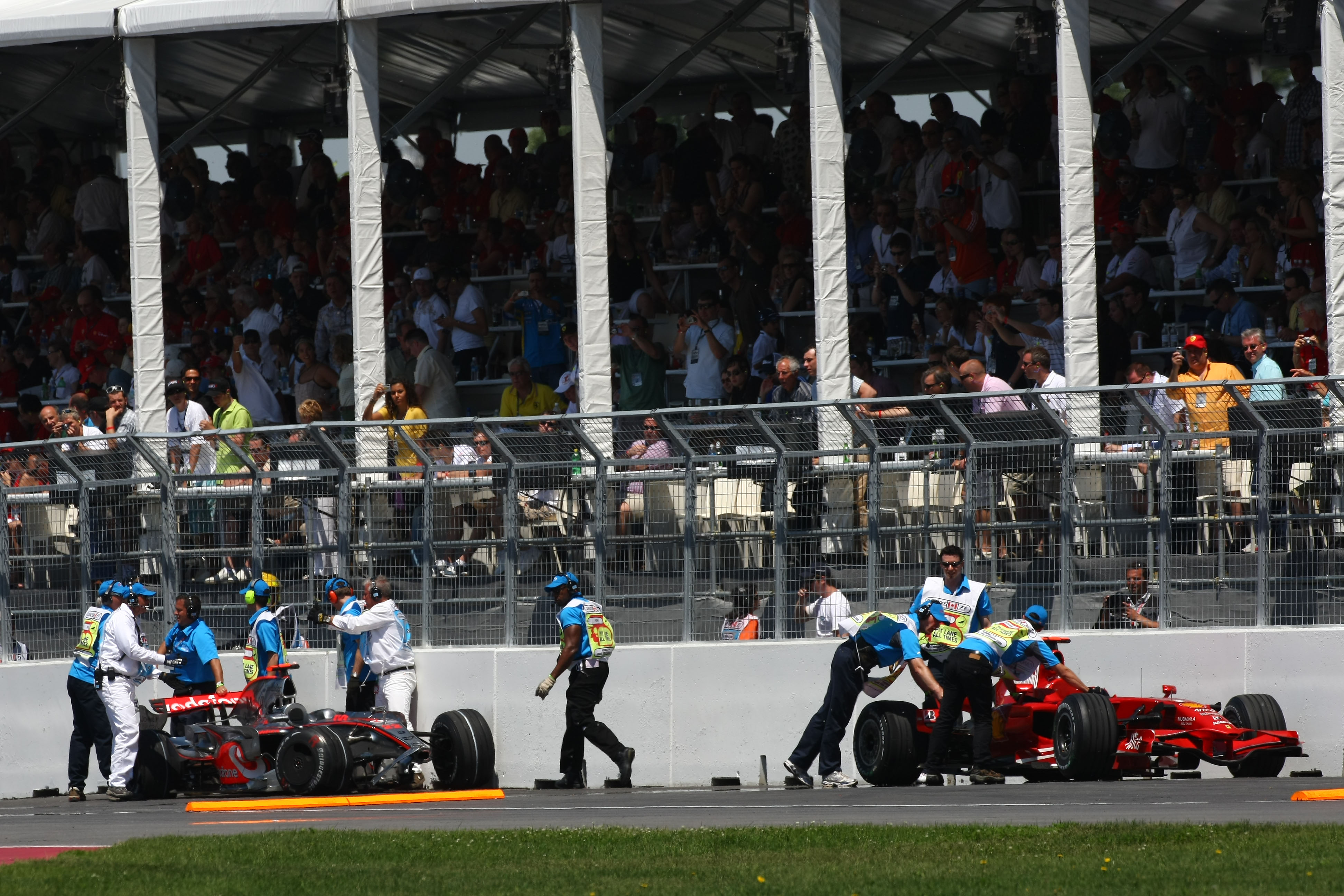 A few seconds later, Nico Rosberg, who ran fourth for Williams-Toyota after passing Fernando Alonso's Renault through Turn 2 at the start, piled into the back of Hamilton. While Rosberg survived, rolling around to return for a new front wing, both Raikkonen and Hamilton were out.
Hamilton and Rosberg were subsequently hit with 10-place grid penalties for the upcoming French Grand Prix, while Raikkonen's only reward was to be able to draw Hamilton's attention to the traffic lights as the pair embarked on their walk back down the pitlane.
"I saw the two guys in front battling in the pitlane and all of a sudden they stopped," said Hamilton. "I saw the red light but by the time I stopped it was too late. It is a lot different if you crash into the wall and are angry, it's not like that. I apologise to Kimi if I cost him the race, but these sorts of things happen."
Unseen, things also went wrong for Felipe Massa in the other Ferrari. Sixth behind Alonso in the first stint, a faulty valve meant he didn't take on fuel, meaning he had to return to the pits a lap later and dropped to last place.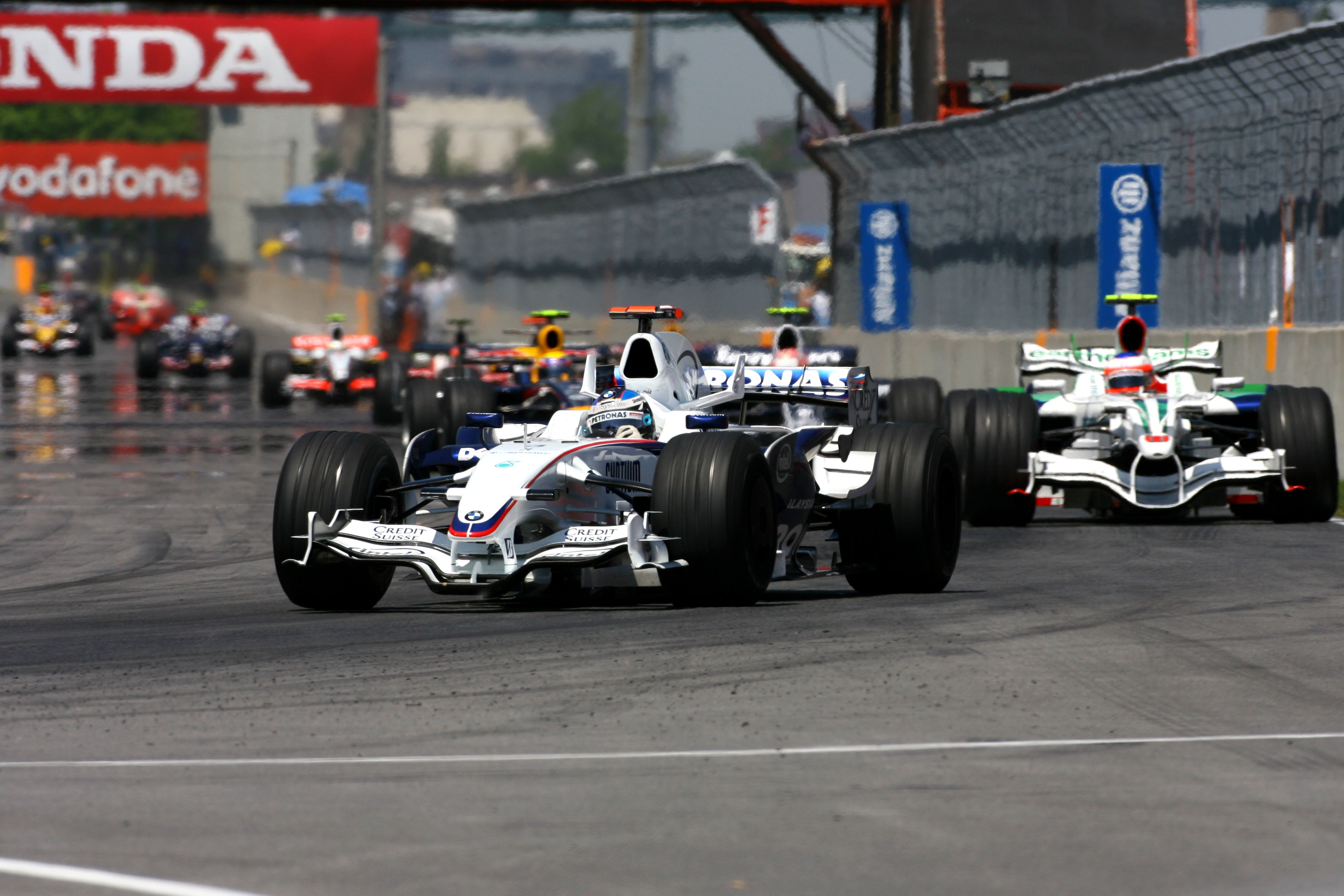 The race was now split in two, with BMW Sauber in control of both groups. Up front, Heidfeld was fuelled for a long first stint, with the safety car allowing him to extend to lap 29 and convert to a one-stop strategy. Behind was Rubens Barrichello, who Heidfeld passed for eighth in the first stint, on a pukka one-stop strategy having qualified a superb ninth in the Honda.
He was chased by Kazuki Nakajima's Williams, Red Bull duo Mark Webber and David Coulthard, the Toyotas of Jarno Trulli and Timo Glock then the Force India-Ferrari of Giancarlo Fisichella and Sebastian Vettel's Toro Rosso.
Kubica headed the 'virtual' leader group of two-stoppers in 10th place chased by Alonso, Renault's Nelson Piquet Jr and Kovalainen. But while Heidfeld took off up front, Kubica was trapped in the queue behind Vettel.
"Stopping on lap 25, we would have been ahead of Kubica and we could have won" :: Fernando Alonso
While Kubica was stuck behind the Toro Rosso, Heidfeld took off and tried to build enough of a lead to come out ahead of the two-stoppers. He left Barrichello behind and was 27 seconds clear of Kubica when he dived into the pits – a lap later than the team had wanted given it would have suited the BMW pitwall to bring him out between Kubica and Alonso. This meant he emerged in the worst-possible position – directly in front of Kubica and Alonso.
But on lap 31, Kubica passed Heidfeld unchallenged up the inside into the first corner. This freed Kubica up to build a lead over not only Heidfeld, but also the rapid Alonso who could pose a serious threat were he to get past the German. But of course, since Austria 2002 team orders are banned, so this had to be presented as Heidfeld recognising the race situation and being generous.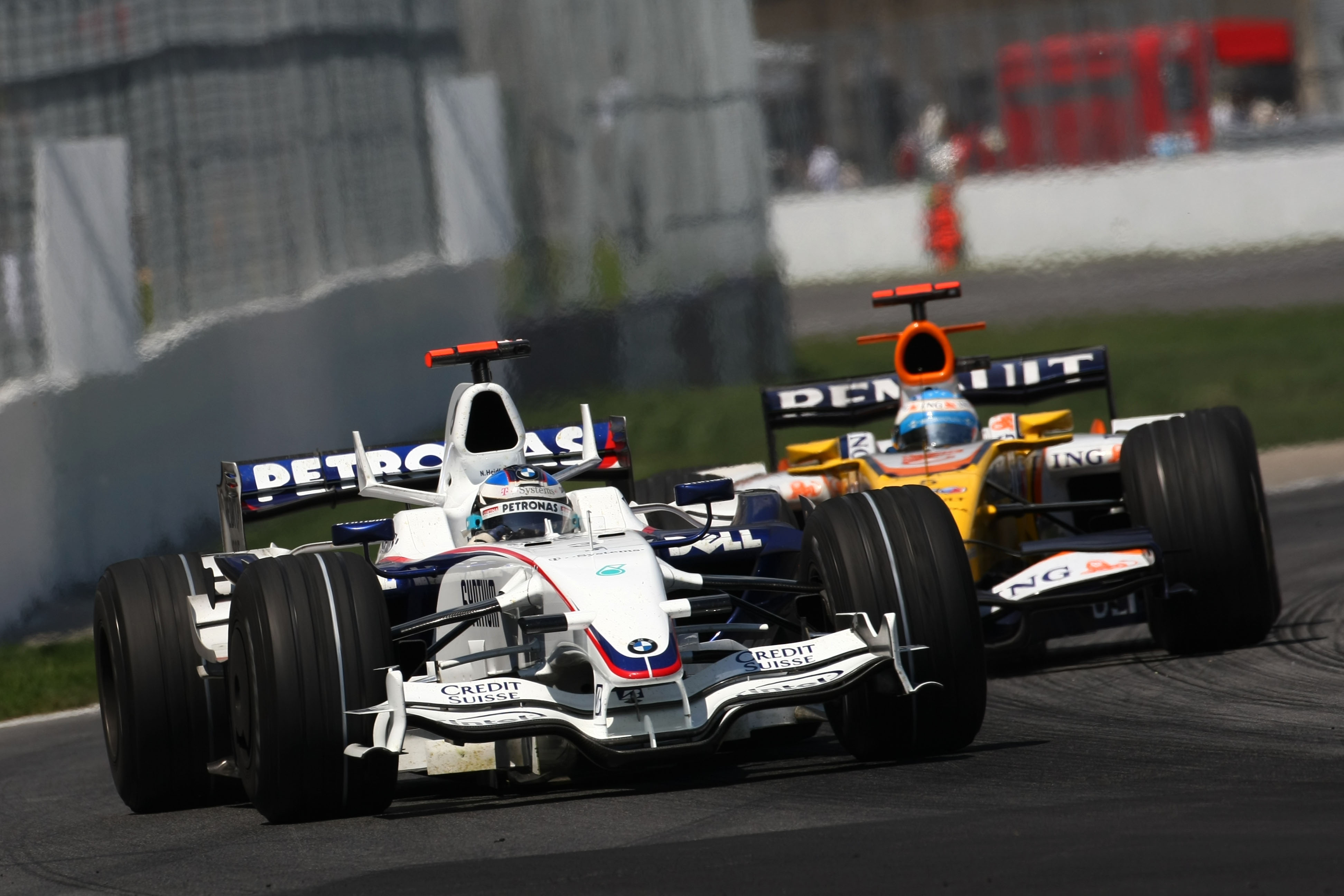 "As there are no team orders allowed, no," said Heidfeld when asked he was told to let Kubica past. "But as I was on a one-stop, a lot heavier than Robert, knowing that, it's clear within the team that I wouldn't make it too difficult for Robert."
Until the end of lap 42, Kubica wasn't able to capitalise on his pace. While Heidfeld was struggling to keep Alonso behind – there was even discussion about letting him past given the Renault had another stop to make – Kubica was still only 12s up the road. Once the track was clear, he had to attack.
"The last car [of the one-stoppers] went into the pits, I think it was Timo Glock, and then I had seven laps to make a 16 or 17 seconds margin to come back after my pitstop in front of Nick. This was my seven laps of qualifying. I never struggled so much and I was pushing very hard as I knew I had to make around a 21-second gap and I managed to do 24. So it was a great race."
Kubica pitted at the end of lap 49, emerging agonisingly out of reach of Heidfeld. BMW Sauber's one-two was now assured, helped by Alonso spinning into the wall at Turn 7. It was a frustrating missed opportunity for Alonso, who had suggested staying out under the safety car but was over-ruled.
Although Renault's aggressive configuration meant brake cooling was a big concern – team-mate Piquet retired with unusually high brake wear – and he might not have made the finish without his mistake, had he been able to jump Heidfeld on a one-stopper and spent more time in clear air, things might have been different.
"The strategy was a mistake," said Alonso. "We would probably have won if we had stayed out on track rather than pitting when the safety car came out. Heidfeld came out ahead of Kubica and he was quite far behind. Stopping on lap 25, we would have been ahead of Kubica and we could have won."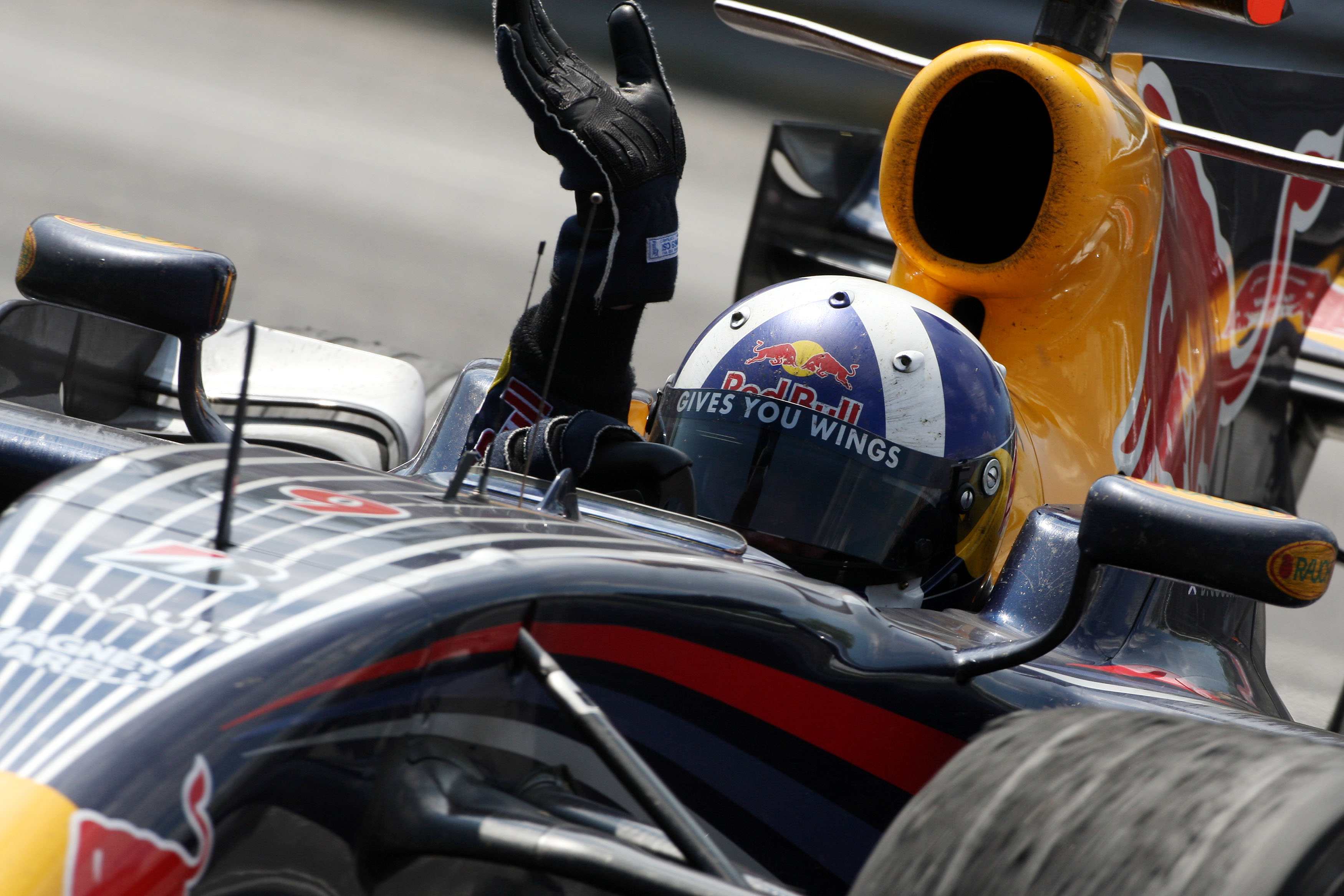 This meant a first podium in two years for Coulthard. He started 13th and ran 12th in the first stint on a one-stop strategy, moving up to fifth by staying out under the safety car. But he still had Nakajima and team-mate Webber ahead of him.
Webber was removed from podium contention because Red Bull was not confident of making a one-stopper work with a long second stint on super soft. This condemned Webber to 12th place, ahead of last-placed runner Sebastien Bourdai's Toro Rosso. Coulthard, meanwhile, ran longer than Barrichello to jump the Honda driver.
Barrichello had a shot at a remarkable fourth place, but ultimately had to settle for seventh. A mistake at the Turn 3/4 right/left sent him across the grass and allowed the Toyotas of Glock and Trulli to come past.
Massa split the two Toyotas at the finish in fifth place after a tough race from the back. Along the way, he pulled a stunning double pass on Barrichello and Kovalainen at the hairpin, scything up the inside of the pair mid-corner while the McLaren driver was taking a place.
Both Kovalainen and Massa had to pit again, meaning the Ferrari driver had to repass Barrichello. He then jumped Trulli out of Turn 2 when Glock made an error, causing his team-mate to check up.
Behind, Vettel claimed the final point ahead of Kovalainen, with the recovering Rosberg rounding out the top 10. It was a frustrating race for Williams, as not only could Rosberg have been on the podium without the pit-exit fracas, but Nakajima also had a shot on a one-stopper. But he hit the rear of Jenson Button when the Honda had a wobble in the hairpin, damaging his front wing then understeering into the pitwall when the entry kicks left – ending his race.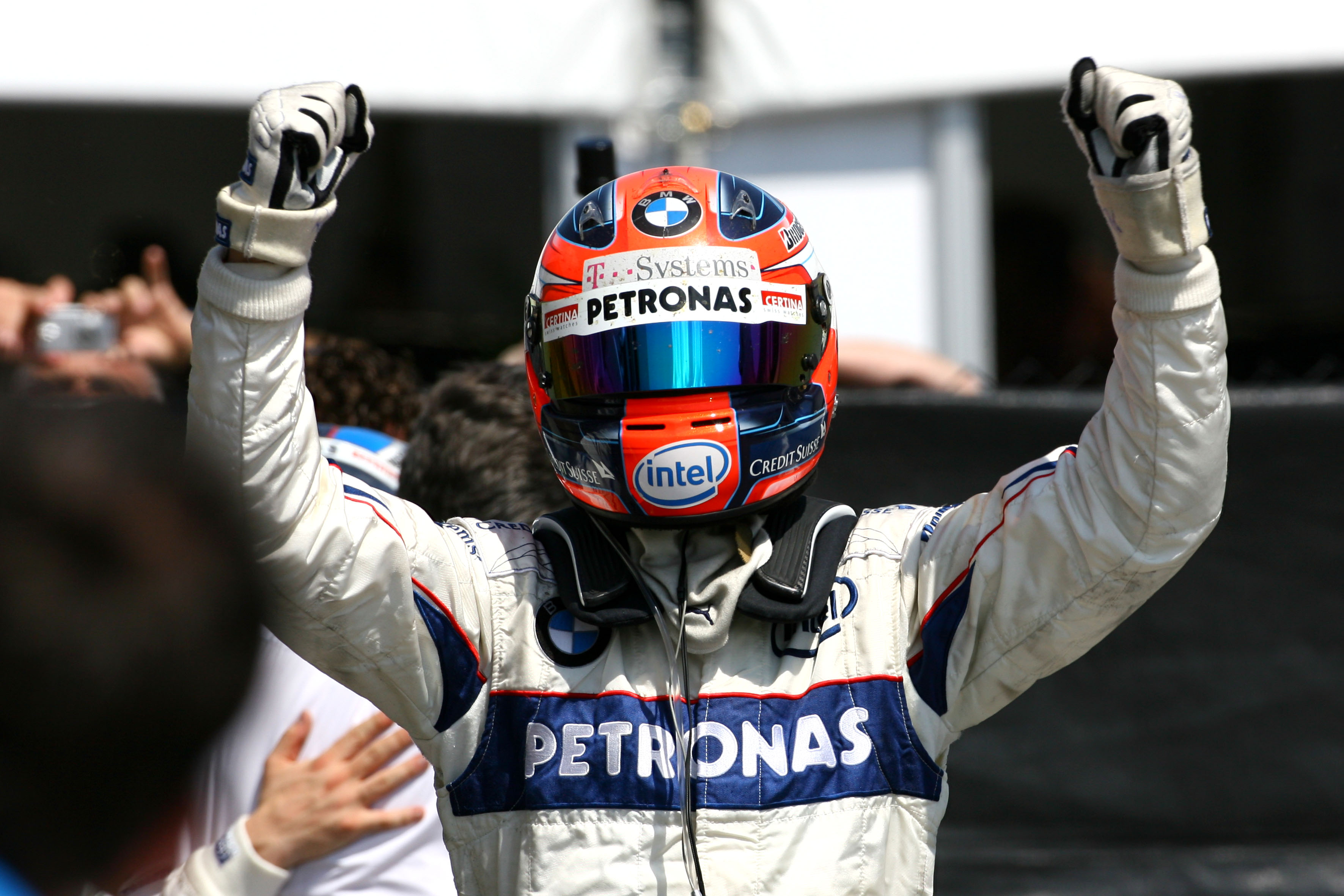 On a day when others tripped up, this was Kubica's best moment yet in F1 as he established himself as a genuine title contender by taking the points lead. Even if Heidfeld was a little disappointed at having to give up a potential victory, it was a great day for BMW.
"I am very happy being in Canada where I had a big shunt last season," said Kubica. "It is something amazing now. The goal was to win a grand prix this season and we have done it. We are leading the drivers' championship, so I hope the team will give me 100% support to try and maybe defend it until the last race."