The process of George Russell getting called up to the Mercedes Formula 1 team in place of Lewis Hamilton began with receiving a 2am phone call from Toto Wolff while in the bathroom.
World champion Hamilton is missing the Sakhir Grand Prix after testing positive for COVID-19. His participation in Abu Dhabi next weekend is also in doubt.
Mercedes has its Formula E race winner and F1 reserve driver Stoffel Vandoorne available, but Wolff quickly identified Russell – a Mercedes protege – as the preferred replacement.
That has led to a scenario Russell described as "surreal" and another "twist of the tale" of his career so far – especially in the context of a bizarre year.
Tuesday, 2am: Russell's first call
Hamilton had some symptoms on Monday and found out a close contact from before travelling to Bahrain had tested positive for COVID. He took a test, which came back positive, and a second one confirmed it.
At 2am Tuesday morning, Russell received a call from Wolff.
"I was actually in the bathroom at that moment, which was slightly awkward," he says.
"So I answered the phone, he said, 'George are you in the bathroom?'. I was like '…Sorry, I am in the bathroom!'
"He said 'Unfortunately, Lewis has caught COVID, he's doing well, he's healthy and feels fine, which is most important, but we want you to drive'. I was like 'Right, OK…'.
"And then, obviously, a bit of a sleepless night."
Tuesday: The 'very anxious' wait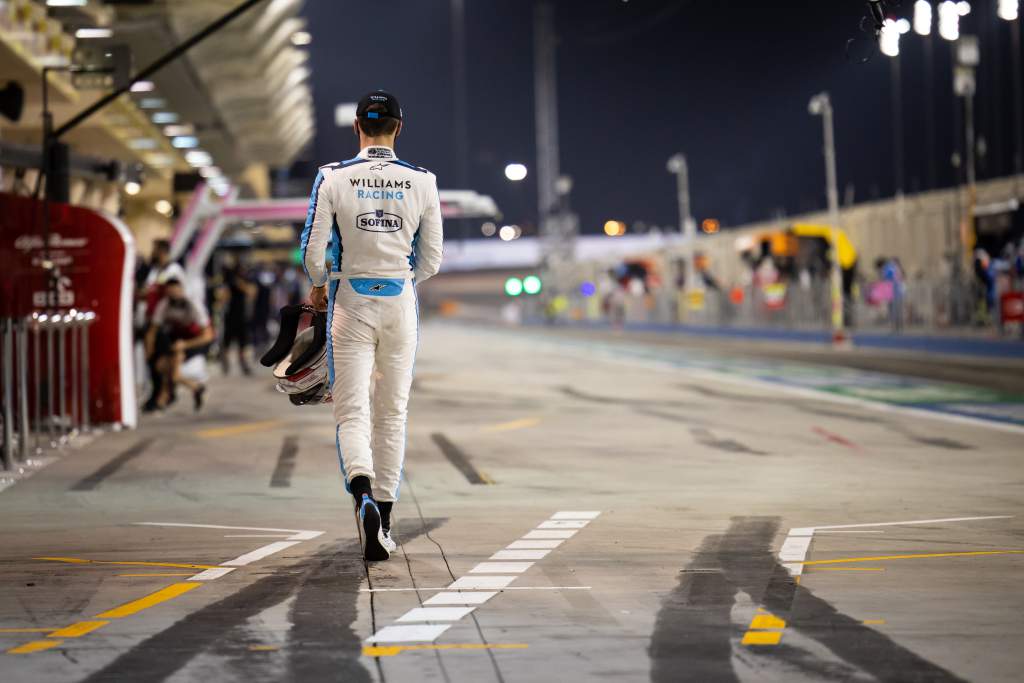 Russell says 64 phone calls ensued across Tuesday before his place was confirmed.
The key was Mercedes convincing Williams to part with its lead driver for a race weekend where it harbours outside hopes of returning its first points of the season, with Bahrain Outer presenting an unusual challenge.
Exactly what made Williams amenable to the move is still unknown. But it is believed to have been keen not to stand in Russell's way a second time, after blocking a Mercedes approach earlier this year and activating an option to keep Russell when Mercedes was weighing up its driver line-up for 2021.
"I actually contacted the team and said 'look, what's going on?' They said 'we'll get back to you, just sit tight'" :: Jack Aitken
Confirmation would not come until Wednesday morning but Russell suggested it was settled on Tuesday. By the evening, The Race understood it to look likely but paperwork was still to be finalised.
"It's all happened so fast," he says. "It's been an intense 48 hours, very anxious on Tuesday waiting to find out if we could strike a deal with Williams.
"I need to say a massive thank you to them for allowing me this opportunity."
One theory as Russell emerged as Mercedes' favoured choice was that Mercedes might offer its snubbed reserve Vandoorne to Williams to replace him.
However, Williams's own reserve Jack Aitken was also in Bahrain – with his priority being the end of his Formula 2 campaign – and he recognised the opportunity.
"Such was my impatience that I actually contacted the team and said 'look, what's going on?'," Aitken says.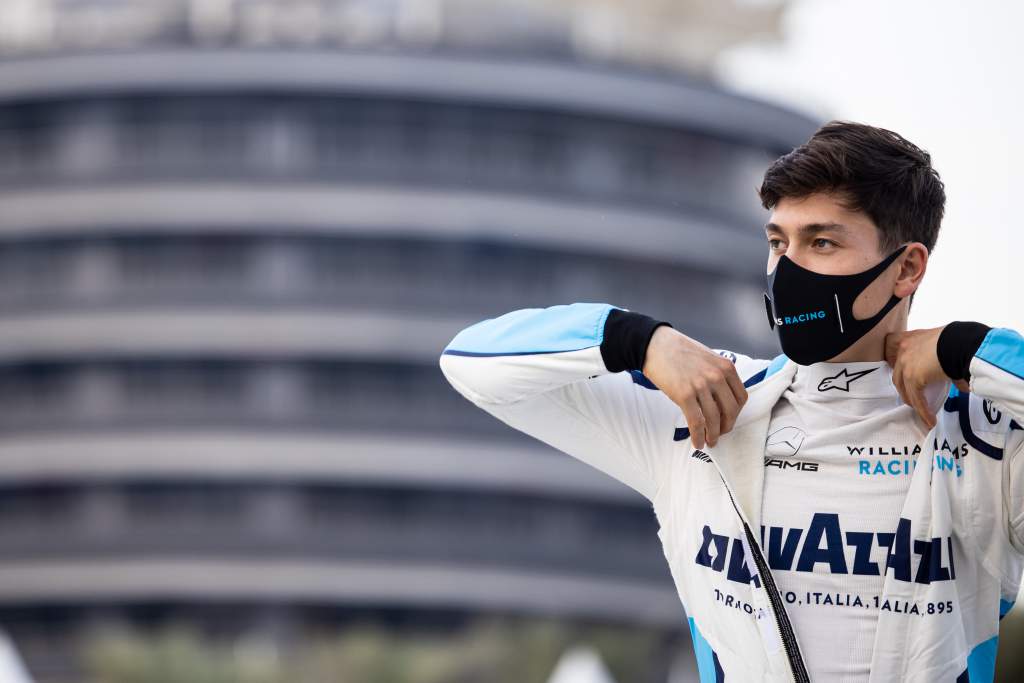 "That was on Tuesday afternoon and they said 'we're assessing the situation, we'll get back to you, just sit tight'."
Even in fast-moving stories such as this one, the parties involved normally have a better command of the updates than those on the outside.
Aitken's situation was not hugely more enlightened than those waiting for news.
"I sat tight for several hours and eventually it stretched out overnight," says Aitken.
"And in the morning on Wednesday confirmation came through and it was announced half an hour later or something.
"So, it all happened quite quickly."
Wednesday/Thursday: Immense work for team and driver
In addition to getting Williams's blessing to use Russell, Mercedes recruiting a replacement at the last-minute came with other hurdles.
"It means a huge amount to me that Mercedes gave me this opportunity, because it was not easy for them," Russell says.
"A lot of effort went into making this deal happen. And I really appreciate what they've done logistically, to get some helmets painted in the course of 24 hours, suits made and flown over from Italy to the UK to Bahrain.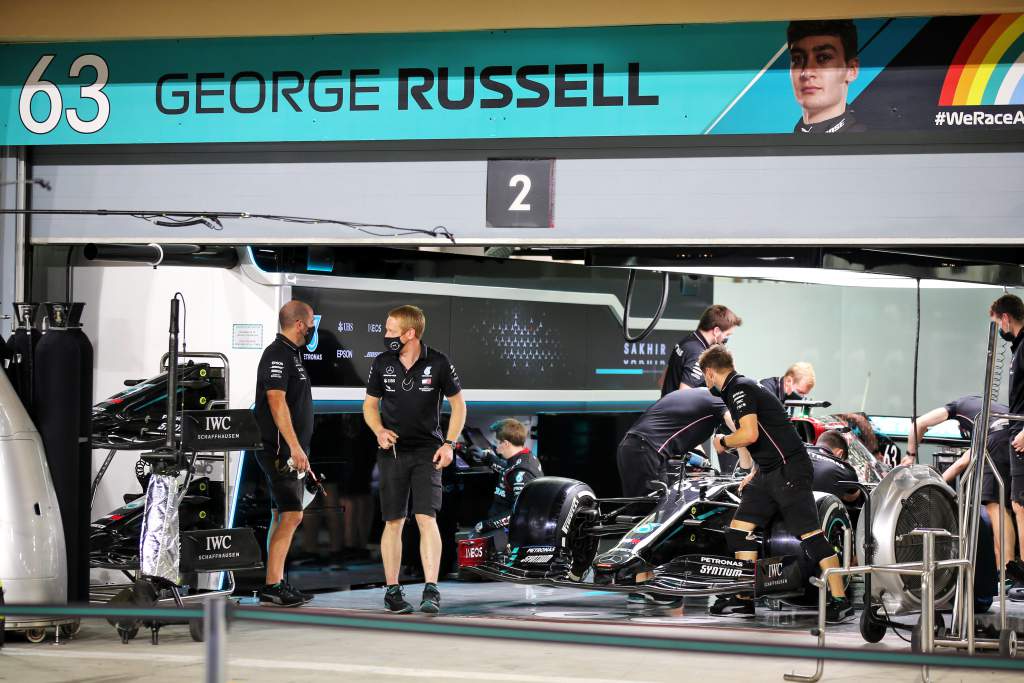 "There's so many things that have had to happen in the course of such a short period of time.
"Knowing they were willing to do that means a lot to me."
Russell has his own work cut out for him. He has plenty of days of testing experience with Mercedes but not since last year in Abu Dhabi and he has not driven its simulator for a couple of years.
"I know all of the guys, which makes things a lot easier to get back into the team and just being bombarded with information at the moment to learn," he says.
"I know it's not going to be an easy task coming in. I know the level I was at Williams, just having spent two years in the same car, with my same engineers, same mechanics and changing suddenly there' so many new things to learn."
Plenty of car homework, including learning how the DAS (dual-axis steering) system works, is not all Russell has to do to get comfortable ahead of his big opportunity.
Russell is one of the tallest drivers and has spent time in the last 24 hours trying to find an acceptable compromise within his new cockpit.
It fits! Just… 😂 pic.twitter.com/c8P481qhIP

— George Russell (@GeorgeRussell63) December 2, 2020
He says he's using a three-year-old seat and it was a tight squeeze getting in the car, and is also wearing a size smaller boot in order for his feet to fit in the footwell better.
It's not the first time Russell has driven with that sort of discomfort. As a 16-year-old he won the 2014 BRDC Formula 4 title with his feet too big for the car's footwell as he grew over the course of the year, which made operating the pedals more difficult and even compromised his race starts.
Back then the reward for working through any pain was a first car-racing title and the beginning of a journey to F1. Now it's to race there for the best team in the championship.
Thursday PM: The tough questions start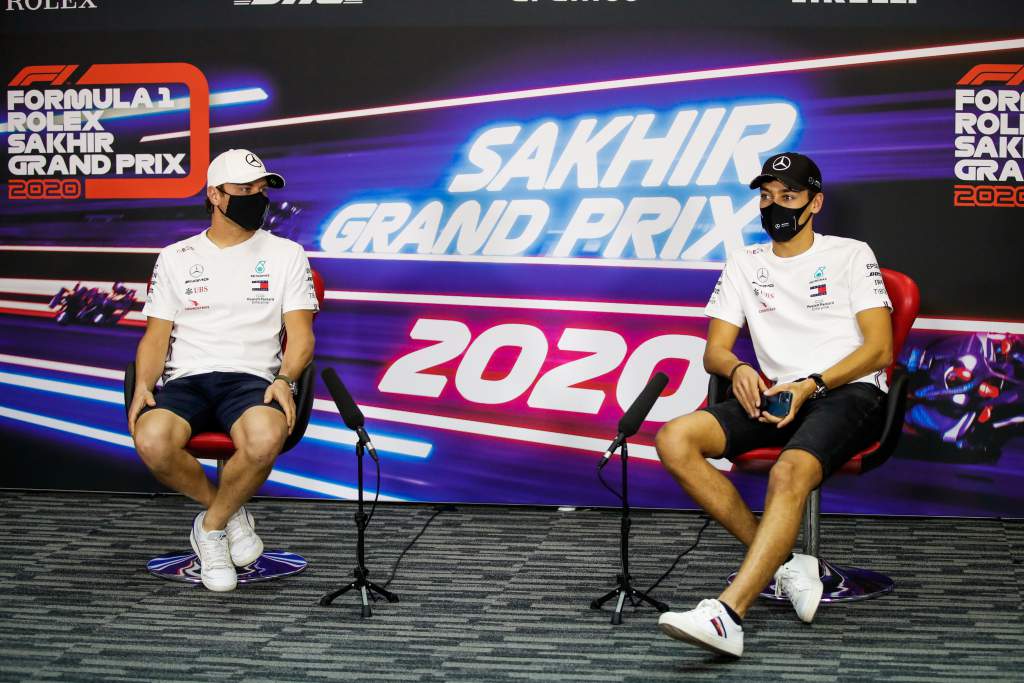 Once at the track and (at least initially) up to speed. Russell has faced the usual Thursday media, alongside Valtteri Bottas, and the tough questions have already begun.
For Russell, this is an opportunity to stake his claim at Mercedes long-term, even though he will be back to Williams next year.
"For sure it wouldn't look so good on me if I have a normal race and if he beats me fair and square. So obviously, I'll try to avoid that" :: Valtteri Bottas
For Bottas, this is a huge threat to his reputation if the driver deemed most likely to replace him in the future, beats or challenges him as a stand-in.
Not that either will admit it.
"Many people can think that way and it's also you guys making that kind of thing up, because I know that you like to speculate things and create drama and showdowns, etc," says Bottas.
"But I doubt George thinks that way. At least I don't. I think is a great opportunity for George, a great opportunity to learn a lot, and to show what he can do with the team."
Russell says: "One race doesn't define a driver's capabilities or the decision making for something that is over 12 months away.
"So, from my side that's not even in the back of my mind."
Bottas, who arguably has more to lose from the arrangement, had one last question to face on the subject – at least until the cars hit the track.
What would it do for your career if Russell is able to beat you?
"Quite a punchy question!" he laughs. "I haven't really thought about it.
"It's difficult to know what to expect from George in terms of performance. He knows the team but also it's a different car that he's tested and lots of new things.
"I don't really know what to say to that question. I haven't thought about it in that sense.
"If I have to give some kind of answer, I say if he beats me, yeah, for sure it wouldn't look so good on me if I have a normal race and if he beats me fair and square.
"So obviously, I'll try to avoid that."