Ferrari would probably have asked Carlos Sainz to hand his Brazilian Grand Prix podium to Formula 1 team-mate Charles Leclerc had it not been worried about the potential for Sainz to be penalised for a safety car incident involving Yuki Tsunoda.
Sainz and Leclerc ran third and fourth on the final laps as Leclerc completed an impressive comeback drive having been sent into the barriers by Lando Norris when fighting for third at the race's first safety car restart.
Leclerc urged Ferrari to "please think about the championship" on team radio, given he had gone into the race six points behind Red Bull's Sergio Perez in their fight to be world championship runner-up this year.
But Leclerc was told a position swap with Sainz would be "too risky" so stayed fourth.
The risk Ferrari had in mind was two-fold: that Leclerc had Fernando Alonso and Max Verstappen right behind him and that could complicate any team shuffle, but mainly that it was not convinced Sainz wouldn't be penalised for passing the lapped Yuki Tsunoda on the final lap of the second safety car period.
"Swapping the two cars on the last straight was certainly tricky because Charles had got Fernando and Max just behind, so swapping them would have been tricky and somehow dangerous," team principal Mattia Binotto explained.
"But more than that, we knew that we were under investigation for what happened behind the safety car with Tsunoda.
"We were cleared by race control at the time so we were quite comfortable, but without having a conclusion on that matter it would have been tricky because a 5s penalty for example would mean that Carlos would have been losing more than one position.
"So for the constructors' championship it was better to stick with the positions and the gaps on track."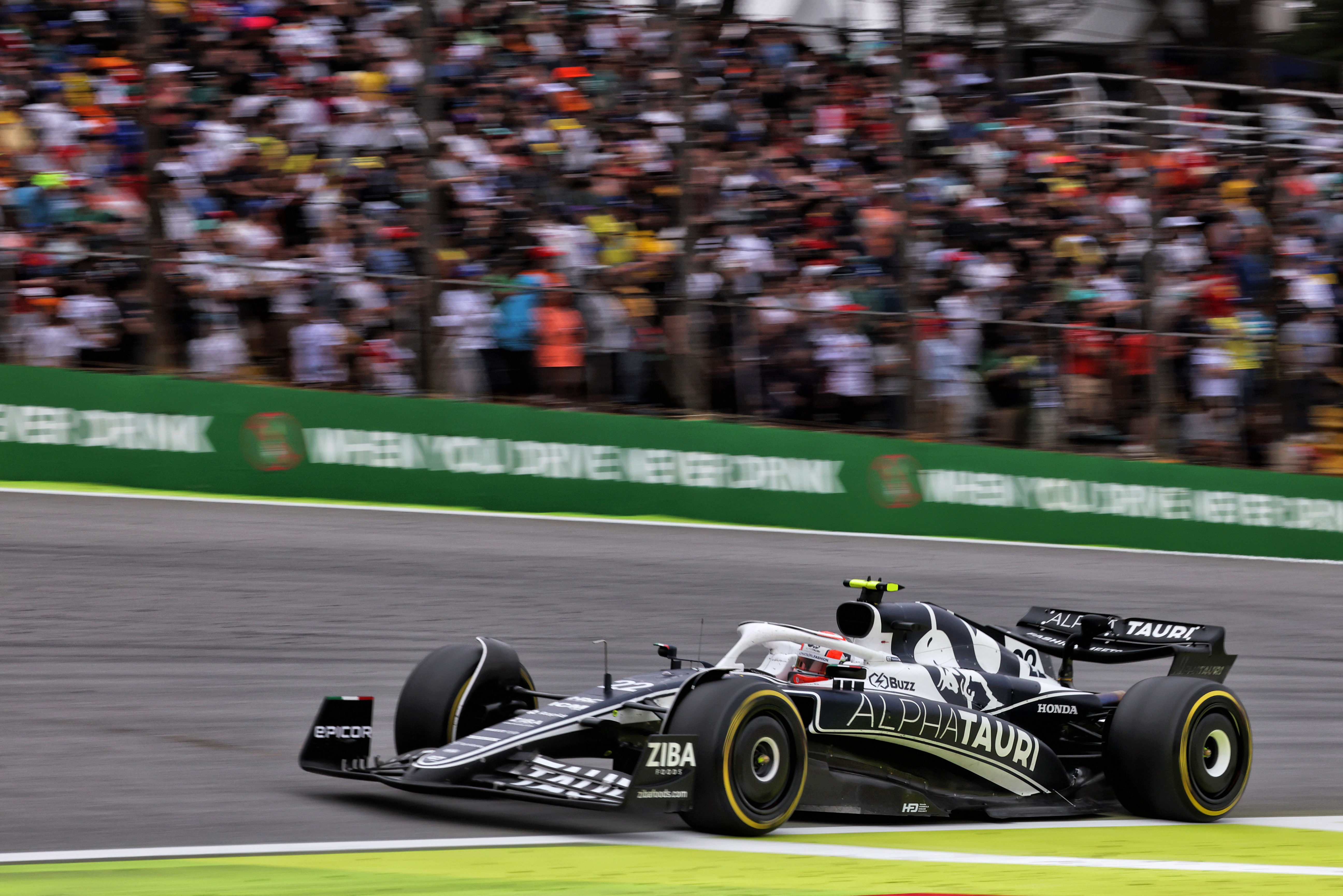 The Tsunoda situation was a bizarre anomaly of how the rule around lapped cars being allowed to rejoin the lead lap during a safety car period was applied.
He and Williams pair Alex Albon and Nicholas Latifi were the only drivers a lap down when the safety car was called out on lap 55 so Lando Norris's broken-down McLaren could be moved out of the way.
The FIA timing system registered Tsunoda as a lapped car, but then noted him as having unlapped himself already when he made a pitstop – in which he temporarily rejoined the lead lap because he was going faster in the pit entry than the cars behind the safety car on track so effectively overtook them.
He began unlapping himself properly ahead of the restart when the Williams drivers did so too, but was then told to hold his position in the queue because the timing system regarded him as having already unlapped himself due to the pitstop anomaly – even though he was back one lap down again as soon as he made the stop.
That left Tsunoda between third-placed Perez and fourth-placed Sainz on the road, with the Ferrari driver eager to make progress at the restart having just pitted for soft tyres.
The confused Sainz drew alongside Tsunoda repeatedly before passing him on the straight after the Senna S and saying on team radio "if he doesn't want to unlap, I go through".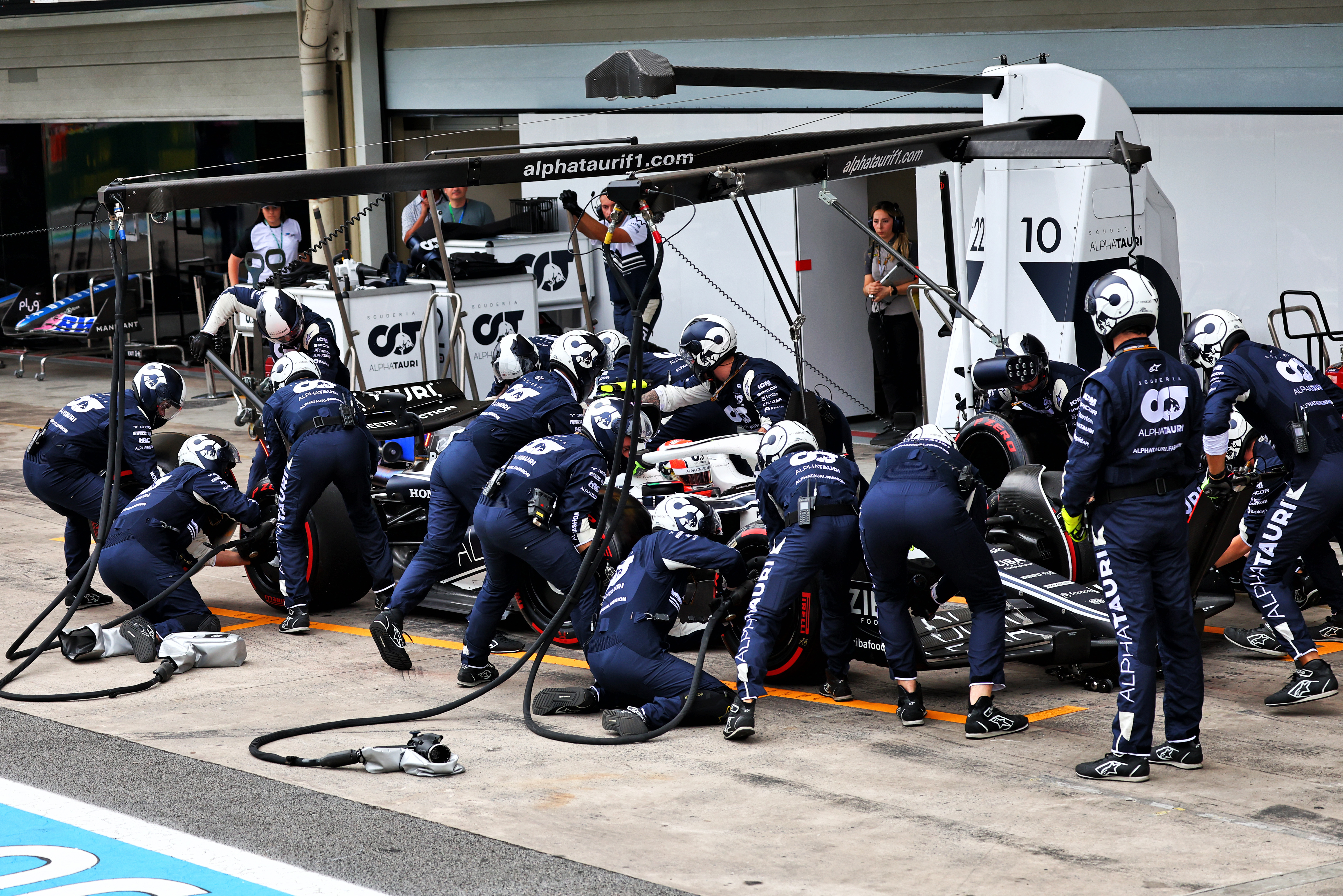 The following Valtteri Bottas then asked Alfa Romeo "can I overtake him?" and was told "yes" before instantly being told to stay put instead as Tsunoda was going to pull aside after the first safety car control line and allow the rest of the lead lap cars through there. Bottas had to wait for this to unfold and was overtaken by Leclerc into the first corner at the restart.
Though Sainz's move meant he had a cleaner run at the restart than those who had remained trapped behind Tsunoda, race control appears to have quickly reassured Ferrari that there would be no penalty given the confusing situation around Tsunoda's presence amid all the lead lap cars.
But Ferrari did not feel sufficiently confident Sainz was in the clear to take the risk of then applying team orders and dropping him closer to the tight pack behind.
While that was unfolding, a more dramatic team orders refusal was playing out for Leclerc's championship second place rival Perez, as Verstappen snubbed Red Bull's request to give sixth position to his team-mate on the grounds that he carried a grievance against Perez over an unspecified incident earlier in the season.
Red Bull team principal Christian Horner made multiple attempts to highlight the fact Ferrari had a team orders controversy of its own during his post-race interviews, describing Red Bull's internal spat as "a little bit less public than Ferrari's".
When asked by The Race immediately after the finish about Ferrari declining his team orders request, Leclerc said it had surprised him because he believed there was a pre-race agreement that Sainz would let him through in such a situation.
Ferrari sporting director Laurent Mekies radioed Leclerc on the slowing-down lap to say there was a specific reason why team orders weren't applied that he would be briefed on later, but initially, Leclerc believed that Ferrari had simply decided it didn't want to deprive Sainz of a podium finish.
"I kind of understand that obviously Carlos is on the podium," said Leclerc.
"But I normally never ask these types of things. I did because we had a discussion before the start of the race mentioning this case and for some reason we changed our mind.
"In the heat of the moment that was very frustrating. But it's like this."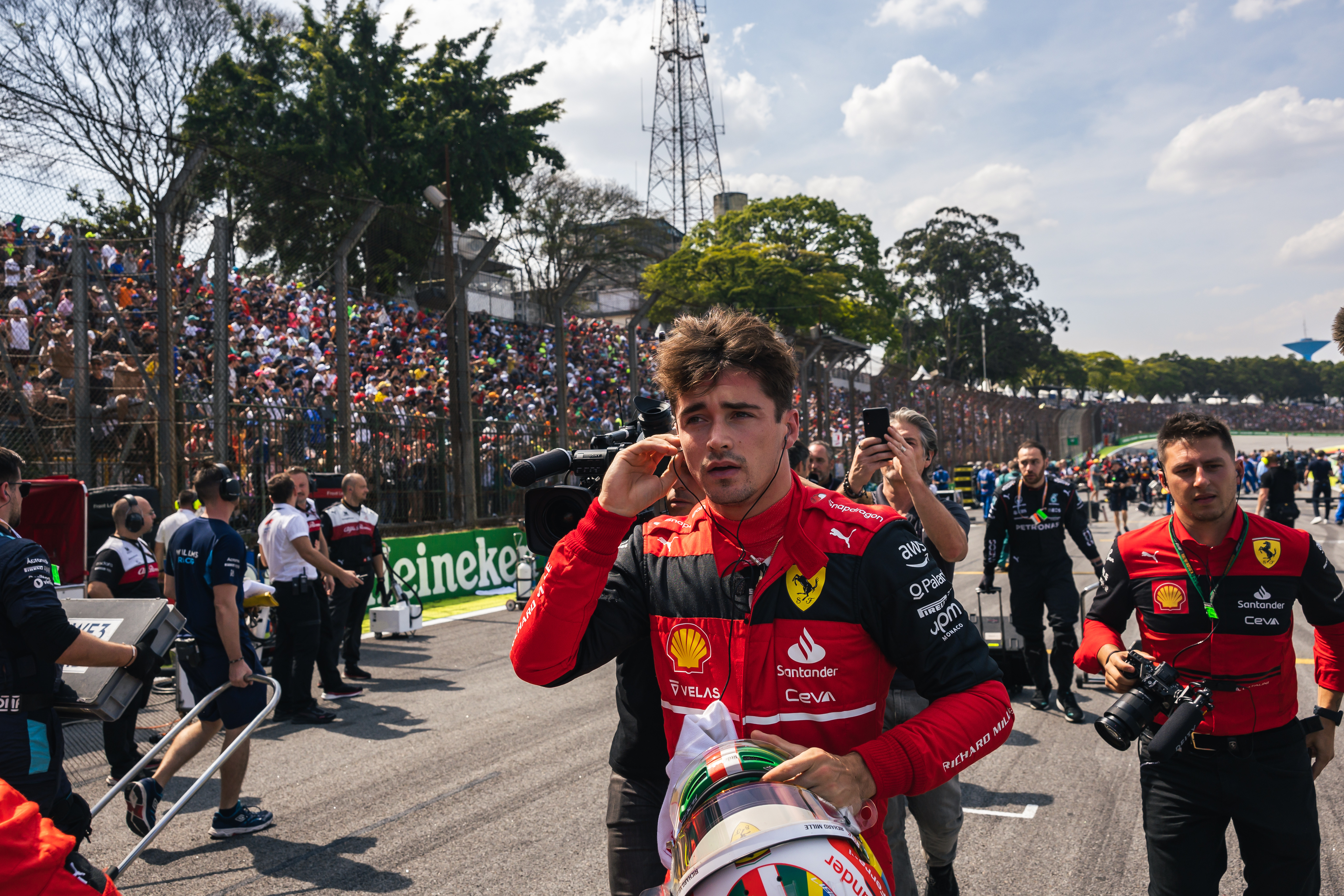 Sainz was surprised to be asked about the declined team orders request after the race because he had not been told of what Leclerc had asked or why it was turned down.
"I got to know this at the end of the race, because to me on the radio, nothing came from my engineer or the team," he said.
"So I just got to know this half an hour ago when I jumped out of the car. So I have nothing to comment."
Leclerc and Perez now go to this weekend's Abu Dhabi finale equal on 295 points, while Mercedes' Brazilian GP 1-2 means it has closed to within 19 points of Ferrari's second place in the constructors' championship.
If Leclerc and Perez stay tied – either because neither scores at Yas Marina or in the event that one finishes ninth and the other is 10th but takes fastest lap – then Leclerc will get second place on countback because he's won three races this year to Perez's two.
Asked by The Race how much the championship runner-up spot meant to him given it had prompted him to ask for team orders, Leclerc replied: "It's always nicer. We are trying to do everything to be second in the teams'. I would like us also to look at second in the drivers'."