Both championships might be decided but the 2022 Formula 1 season hasn't stopped giving with a highly controversial Brazilian Grand Prix.
From team orders to a clash between the 2021 title rivals, Interlagos served up a timely reminder of why its value on the F1 calendar.
But who were the main winners and losers of the grand prix?
Winners
George Russell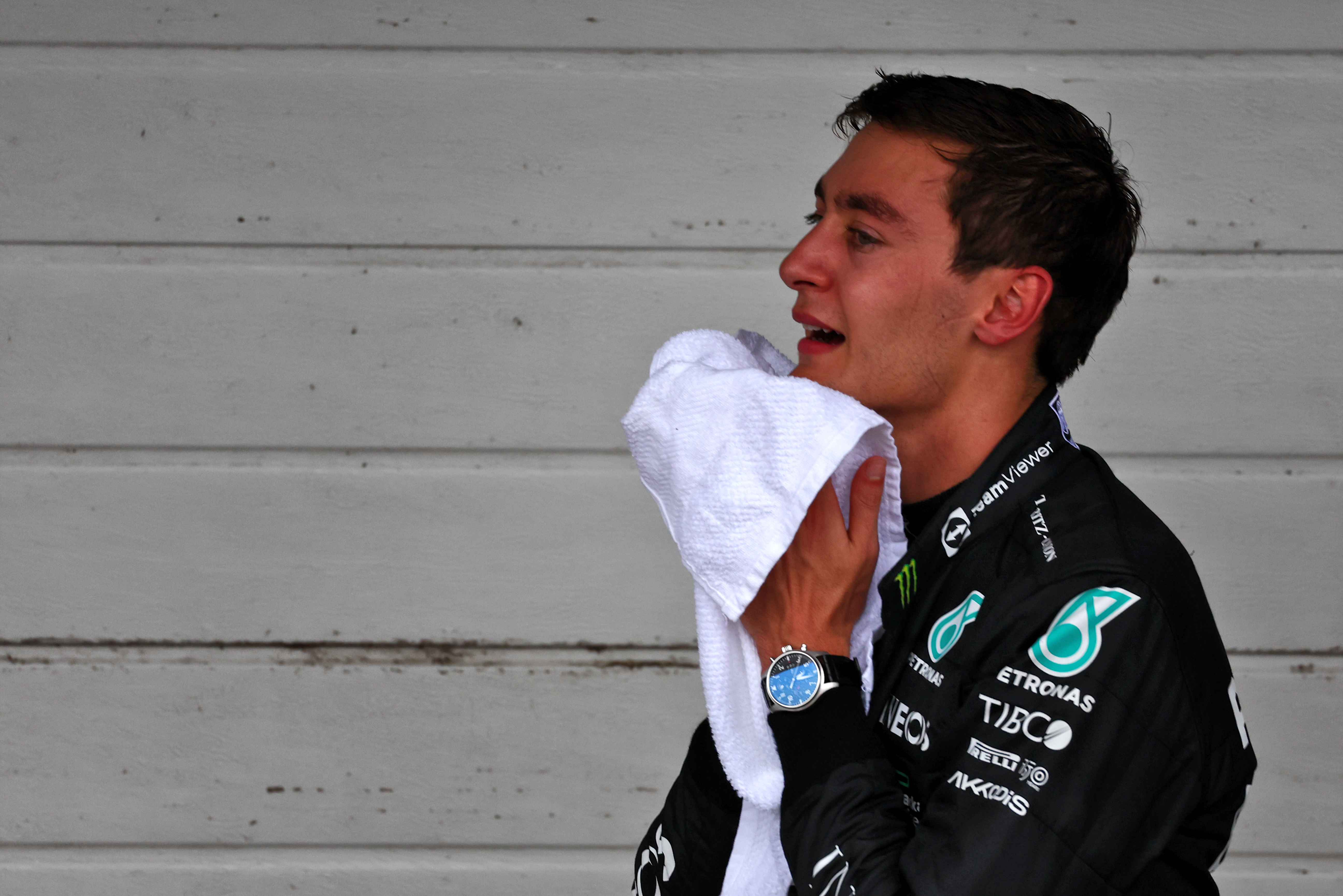 George Russell has not had the rookie season he would have been expecting at Mercedes this year but it makes this kind of result all the sweeter.
Hamilton's clash with Verstappen gave him a helping hand but when the second safety car essentially reset things, Russell was able to keep Hamilton out of DRS range and control things out front despite immense pressure from his seven-time world champion team-mate.
He was sublime and looked comfortable in the lead of an F1 race just as he had done when he'd led during his Mercedes debut at Sakhir in 2020. This time there were no cruel twists of fate and he kept the win he'd fought so hard to earn.
This weekend has got Russell's season back on track after a blip and he couldn't have picked a better weekend to do it as Mercedes finally had the fastest car again for the first time in 2022. – Josh Suttill
Mercedes' 2022 progress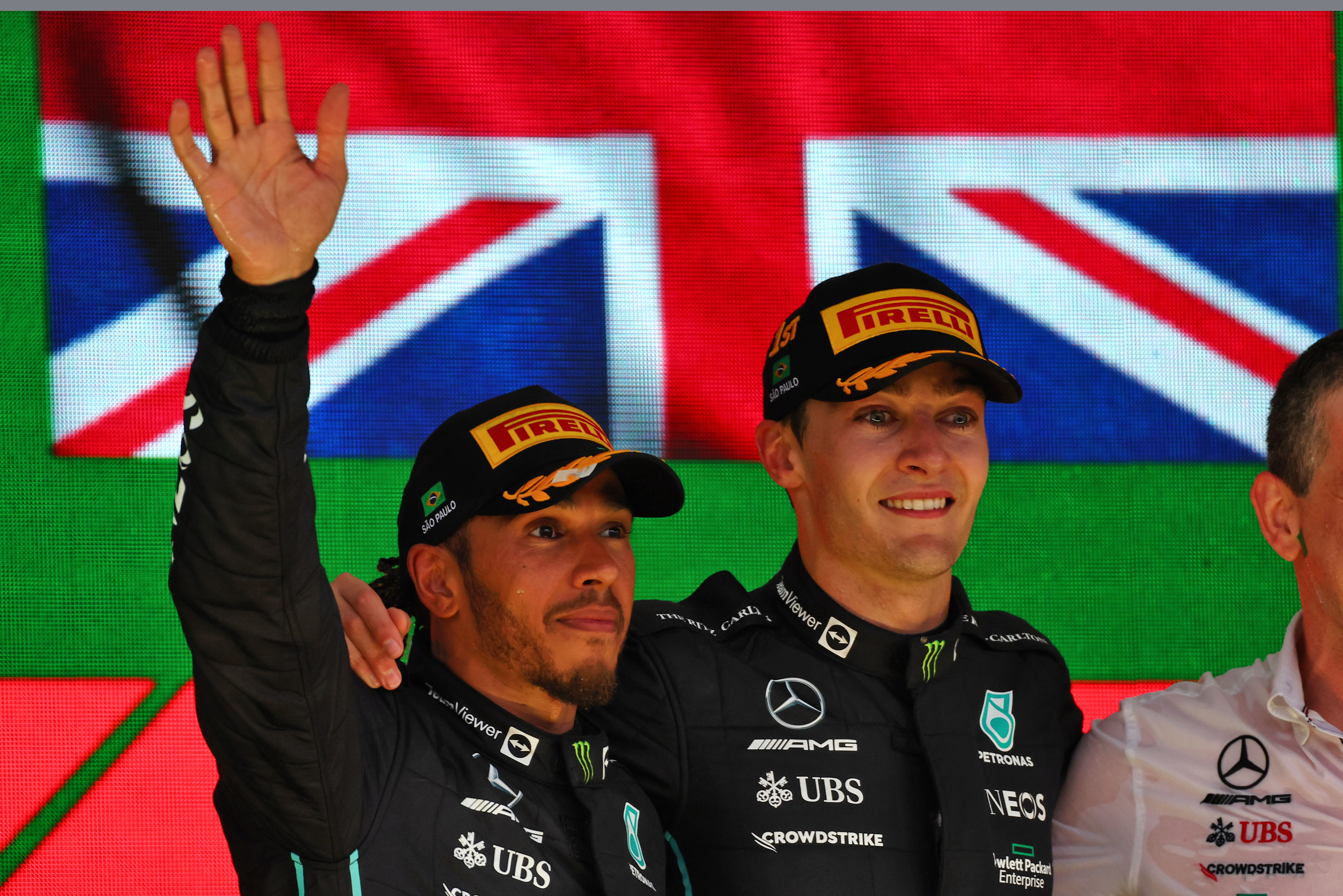 +1.964s. That was the gap between the front and the fastest Mercedes (Russell) in qualifying at Imola, four races into the 2022 F1 season.
Mercedes was in a dire place at the start of the 2022 season but through various false dawns and crushing lows – like the double Q2 exit at Imola and subsequent horror race suffered by Hamilton – it has finally managed to produce a car capable of winning races.
Things appeared to click right from Friday qualifying and that was followed up with wins in the sprint and the grand prix.
While Mercedes has so often been playing catch up on race day and ending the race as the fastest package, it was the best car throughout the weekend.
Its first one-two finish since Imola in 2020 also makes the chance of it overhauling Ferrari for second in the constructors' championship move from 'very unlikely' to 'possible' with the gap at 19 points.
Whether it can repeat this kind of form Abu Dhabi is questionable but it's a mark of undoubted major progress throughout 2022 and offers plenty of hope of Mercedes joining the lead fight in 2023 which is far more important than beating Ferrari to second place this year. – JS 
Carlos Sainz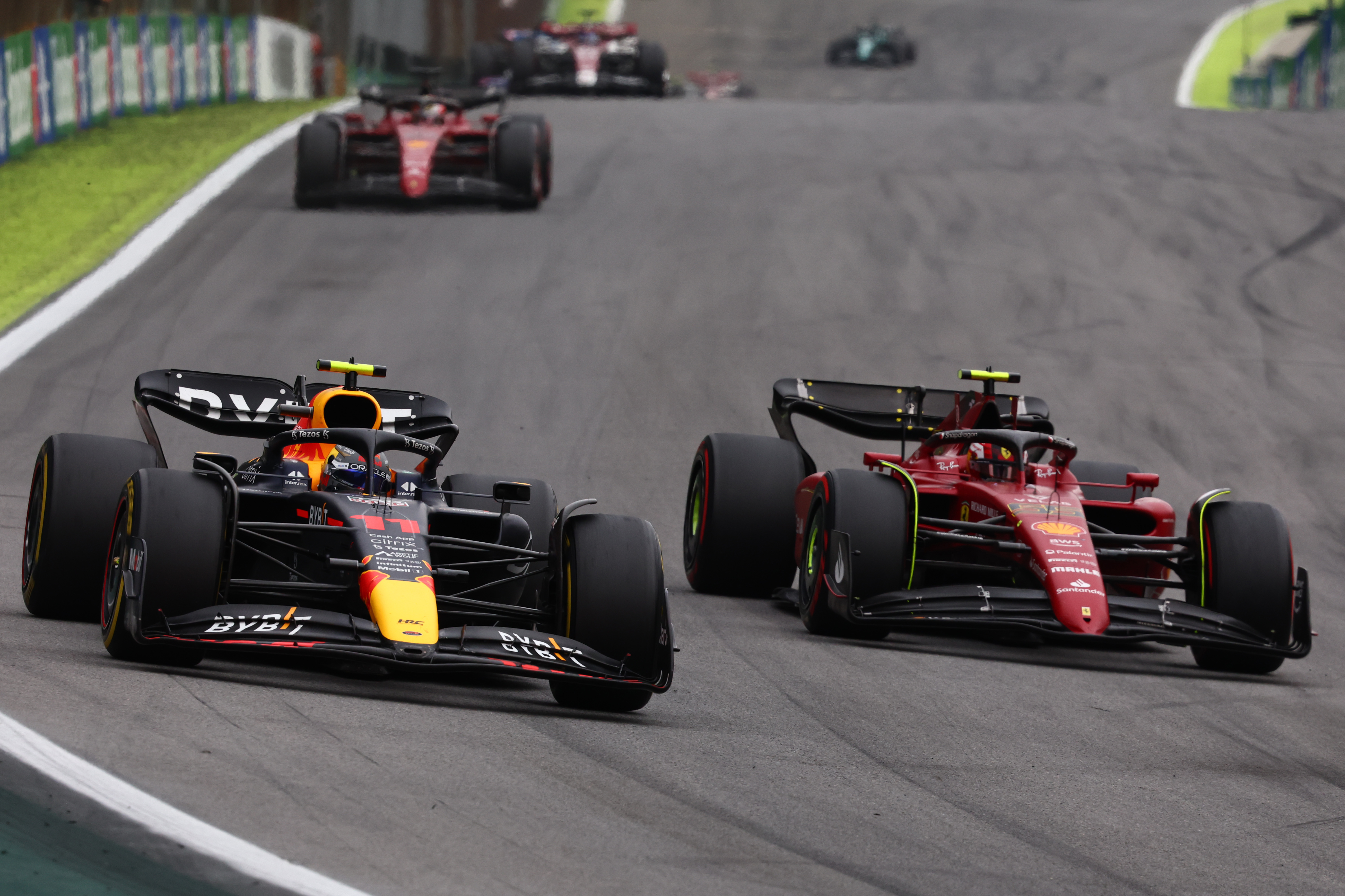 Sainz is starting to feel aggrieved that whenever he's the fastest Ferrari driver, there's some kind of problem (usually a grid penalty) that means he can't show it.
But it's fair to say with third place in both the sprint and grand prix he showed plenty of his speed and earned his first podium since Singapore.
He was lucky to cut through the first safety car restart chaos and fortunate with the timing of the second safety car but he generally looked the marginally stronger Ferrari driver all weekend long and beating either of the Mercedes drivers this weekend was always going to be a long shot – especially after a visor in his brake duct forced a changed strategy. – JS 
Alpine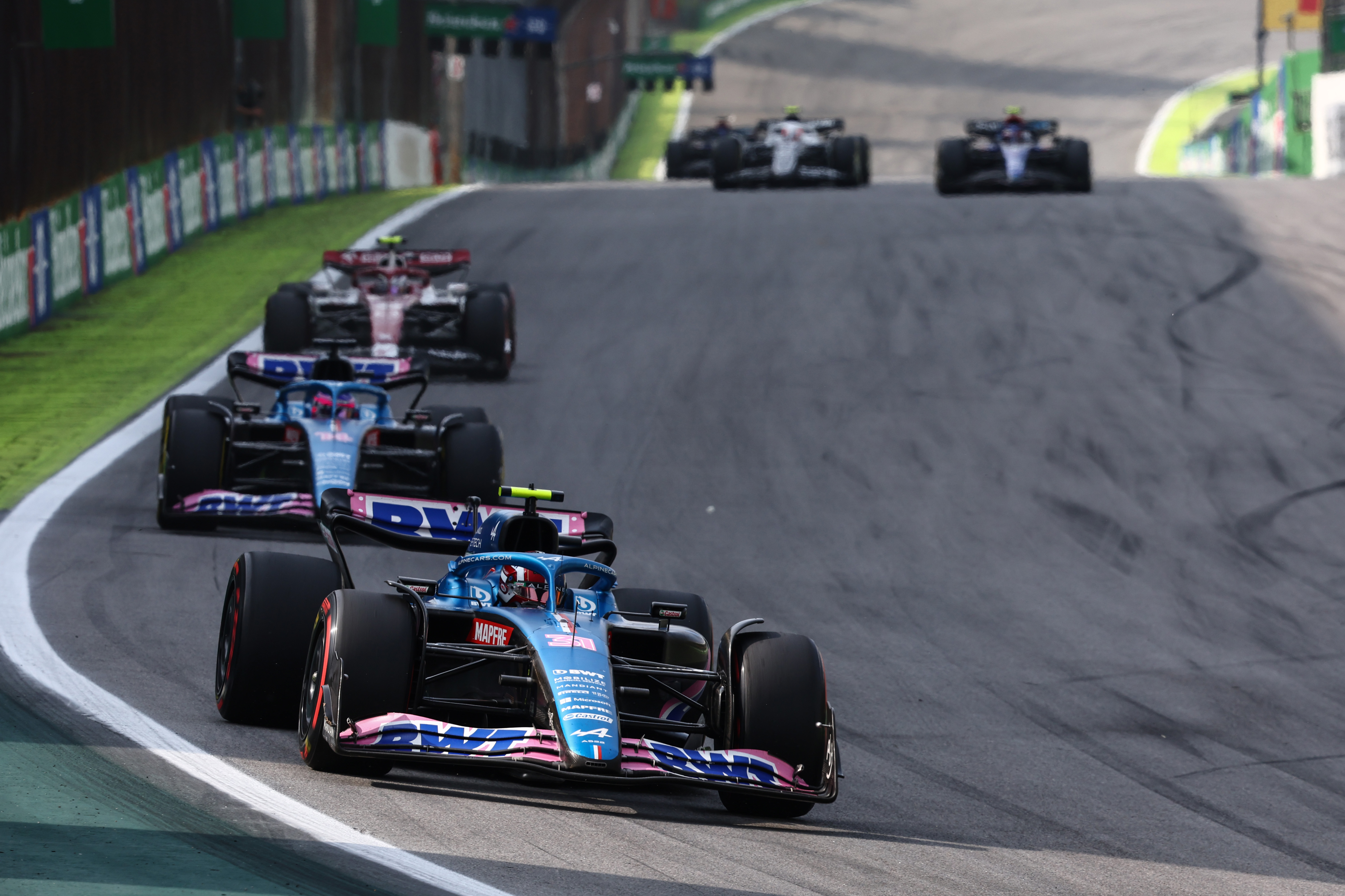 It was very 'on brand' for Alpine's 2022 F1 season that it went from qualifying really well at the Brazilian GP to having two collisions and a messy fallout between its drivers in the sprint that cost it both points and a huge number of grand prix grid positions, to a brilliant fifth and eighth place that all but secured it fourth in the constructors' championship.
Given how fast the Alpine was in both races this weekend, there's a strong argument to suggest a podium chance was wasted here. And Fernando Alonso somehow found a new way to sour his relationship with the team even more with his comments about being so desperate to test the Aston Martin in Abu Dhabi. So there were plenty of low notes to Alpine's Brazil weekend.
But in terms of accomplishment, a top five finish ahead of the world champion, and outscoring McLaren by 12 points to take a 19-point margin into the finale mean Alpine's done everything it had to at Interlagos and a bit more. – Matt Beer
Valtteri Bottas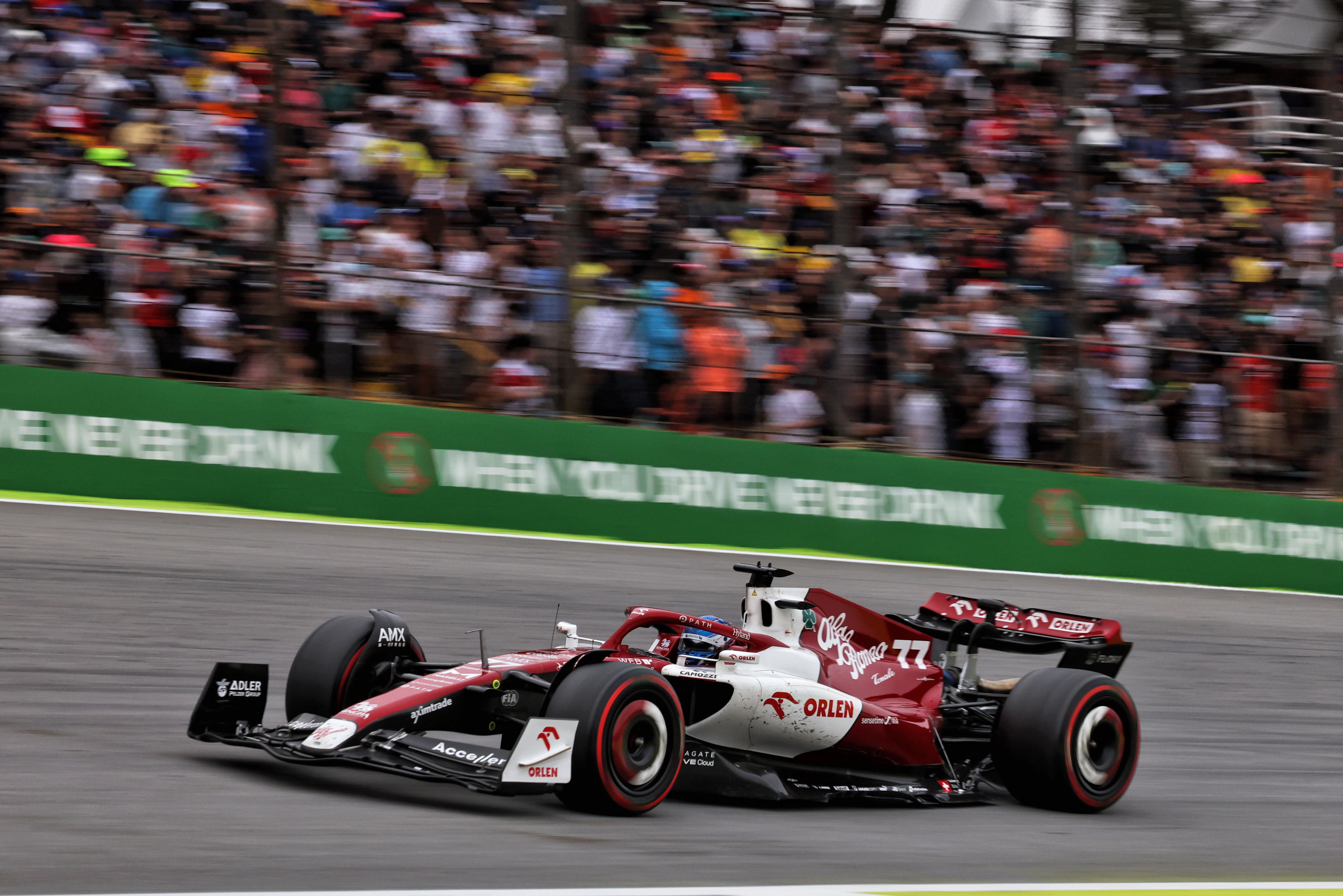 Having started 14th Bottas delivered a really strong drive to score all important points for Alfa Romeo, especially as its closest rival Aston Martin looked so strong.
Alfa Romeo had two points finishes in 11 races coming to Brazil, and starting 13th and 14th with both Alpines and an Aston behind, its outlook appeared bleak.
Sadly Bottas's hard work holding off Vettel and establishing fifth was mostly undone by pitting shortly before the late race safety car that gave others behind the chance to pit and have fresher rubber at the end. He was passed by Alonso, Verstappen and Ocon – all drivers that had no business being behind – to take ninth and crucial points that keep it five ahead of Aston heading into the season finale. – Jack Benyon
Losers
Sergio Perez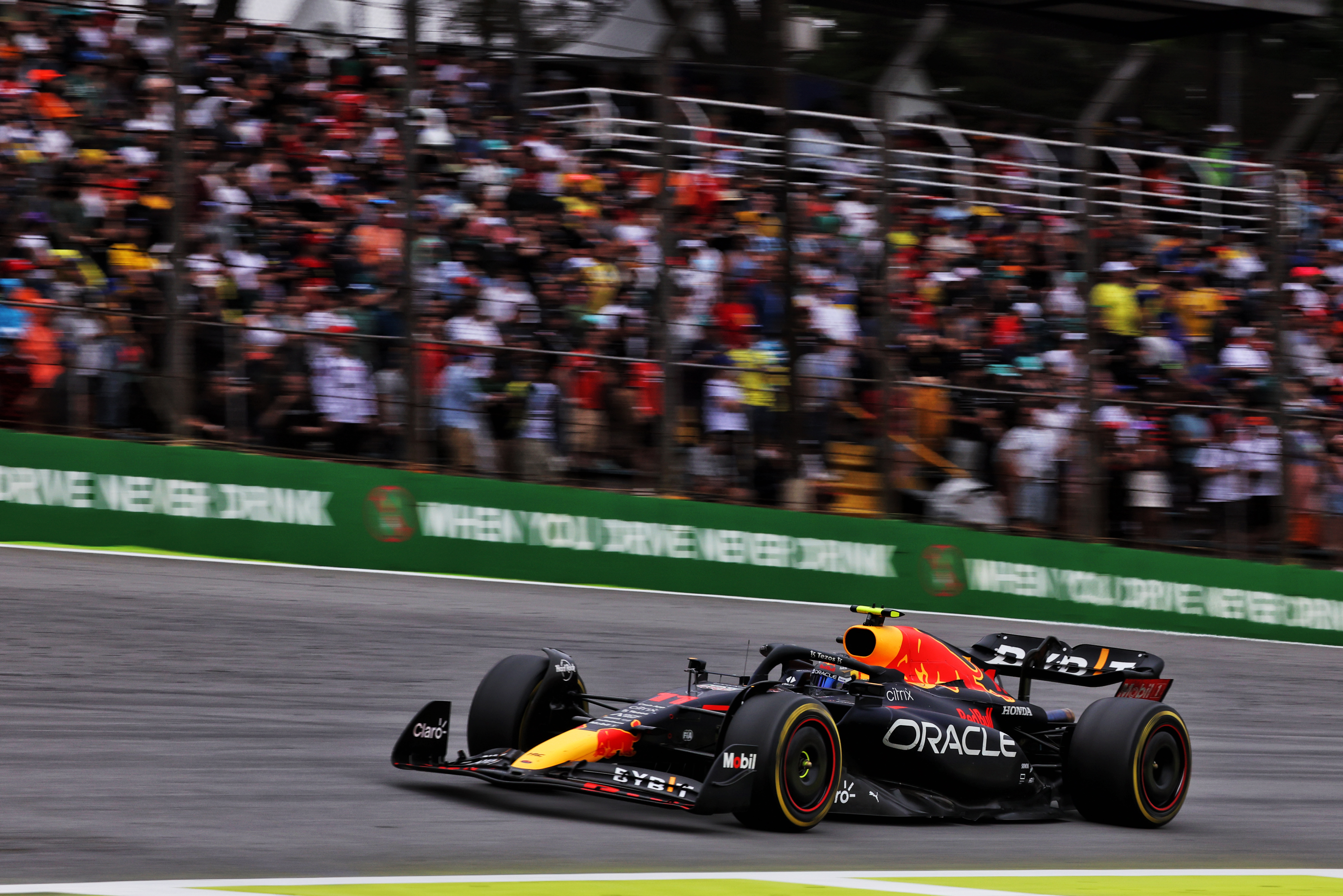 Perez was powerless to prevent his dramatic fall from third to seventh in the closing laps as his old mediums paled in comparison to the softs on most of his rivals. He was even easily picked off by the Alpine of Fernando Alonso such was his pace drop-off.
To make matters worse Verstappen refused to give Perez the sixth place he'd handed to Verstappen earlier in the race and it leaves Perez level with Ferrari's Charles Leclerc in the fight for second place in the drivers' championship heading into the Abu Dhabi decider when he could have had a small – but not meaningless – two-point cushion. – JS 
Max Verstappen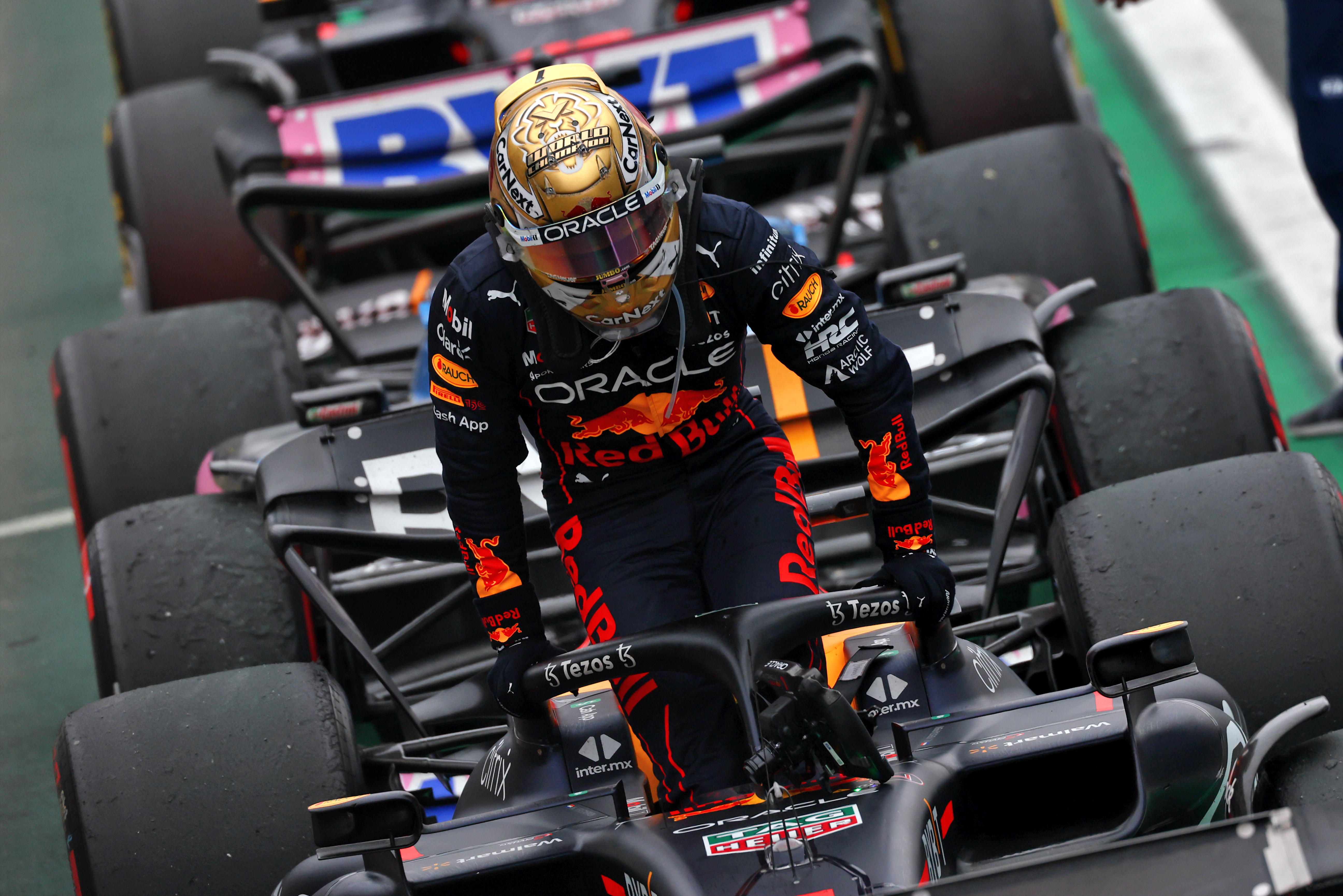 Verstappen has had very few bad races in 2022 but this was certainly one of them. He suffered the same lack of pace and high tyre degradation that ruined his sprint race and was judged to have prominently caused the clash with his ex-title rival Hamilton.
Regardless of if Verstappen deserved the penalty, he suffered the consequences and his car came off second-best in the collision, creating the need for a solid recovery drive.
Verstappen did exactly that but some will say he created unnecessary controversy with his rather frank dismissal of Red Bull's team orders at the end of the race for the sake of two points in a championship he's already won. – JS 
Haas
What a sad way for such a glorious weekend to end. After the sheer brilliance of qualifying and the dogged decentness of the sprint, Kevin Magnussen barely got to compete in the grand prix thanks to Daniel Ricciardo's first-lap shove.
Mick Schumacher, who'd shown great pace in the sprint following his poor qualifying, looked like he'd rescue Haas's day as he ran in the points early on. But he just didn't have the pace, especially on the medium tyre, to stay there on merit.
The plus side is that Haas leaves Brazil having taken its first F1 pole and having doubled its advantage over constructors' eighth-place rival AlphaTauri – though we say that slightly sarcastically as the advantage was one point and now, thanks to Magnussen's sprint result, it's two points.
But for all the great things that happened during Haas's Interlagos weekend, it ended with a broken car and a 13th place. – MB
M
c

LAREN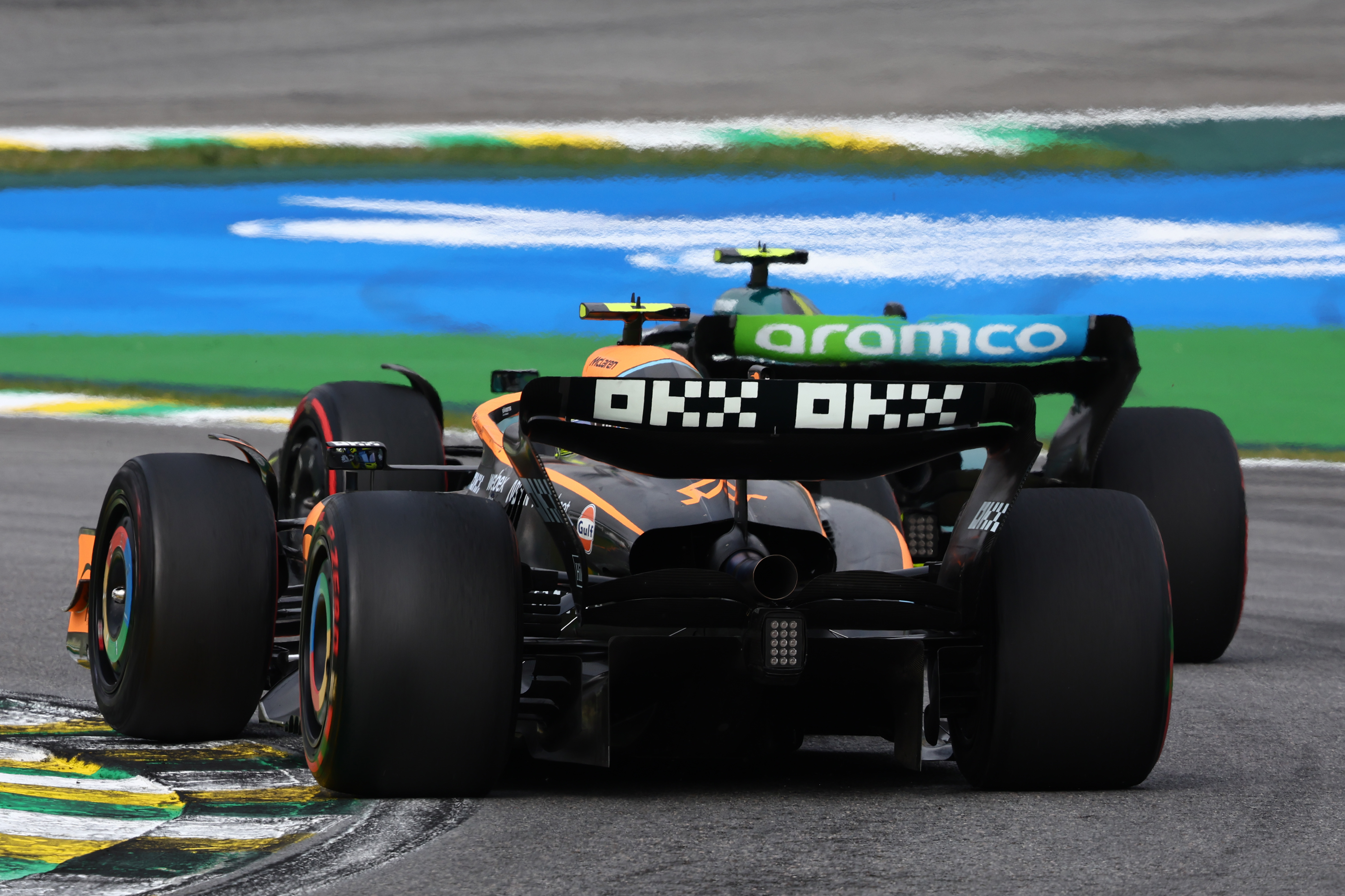 McLaren's gallant fight to hang on to fourth place in the constructors' championship despite Alpine generally being faster (and McLaren only having one competitive driver this year) is now effectively over. Its double disaster on Interlagos GP race day means Alpine is 19 points clear with just one race to go.
There's been a 22-point single-race swing in McLaren's favour not even two months ago, when its double top-five in Singapore coincided with a pair of Alpine engine failures. But it would be asking a lot for that to happen again.
The unwell Lando Norris qualifying fourth was a definite highlight. Ricciardo and Norris sending Magnussen and Leclerc respectively into the wall with dire consequences for their own races were not highlights. On top of that, Norris wasn't even especially quick in the GP even before a loss of power ended his race abruptly. – MB
Sebastian Vettel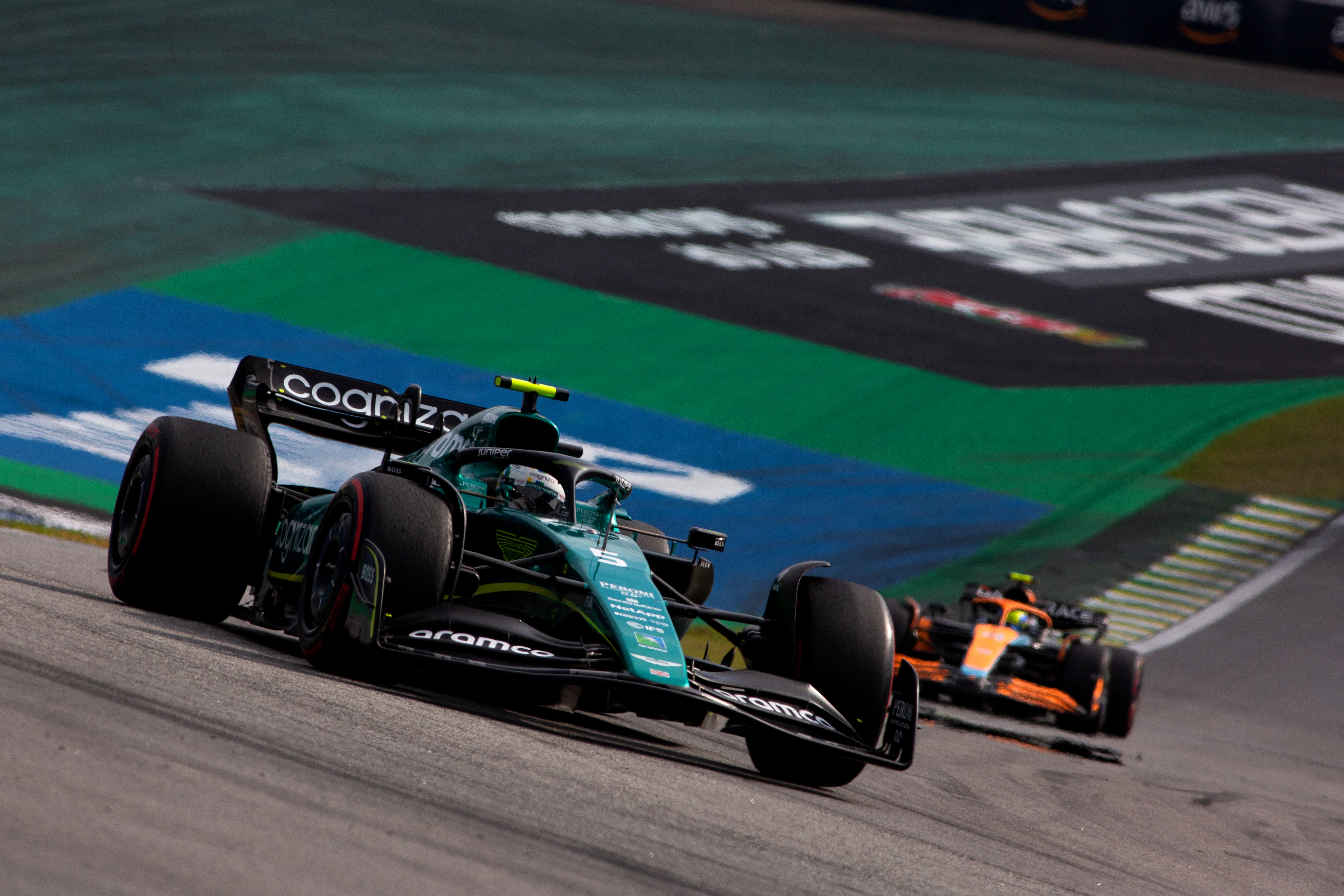 Like Bottas, Vettel was another driver caught out by drivers pitting during the late safety car, although he had it even worse than most as he was stuck on the unfavourable mediums, and a used set at that.
After a strong race where he had at least challenged Bottas for fifth, he had to correct his car at Turn 1 on the late restart and that allowed the Alpines to dive through.
It was downhill from there as his team-mate Lance Stroll also benefitted from the bunching of the pack to catch and pass his team-mate – making use of a fresh set of softs – for the final point. – JB