Our team of reporters at Barcelona picks out the vital storylines from day one of 2020 Formula 1 testing.
Red Bull looks like the best car
Mark Hughes
In Max Verstappen's hands the new Red Bull RB16 finished the first day of testing 0.5s adrift of the fastest time and didn't get a totally clear day of running.
There also seemed to be some difficulty with its balance through slow corners – Verstappen twice spinning at the final chicane after getting a wheel on the gravel exiting Turn 13.
But where it was good, it looked exceptionally good. Through the esses that form the interlinked Turns 2 and 3 it was changing direction better than any other car.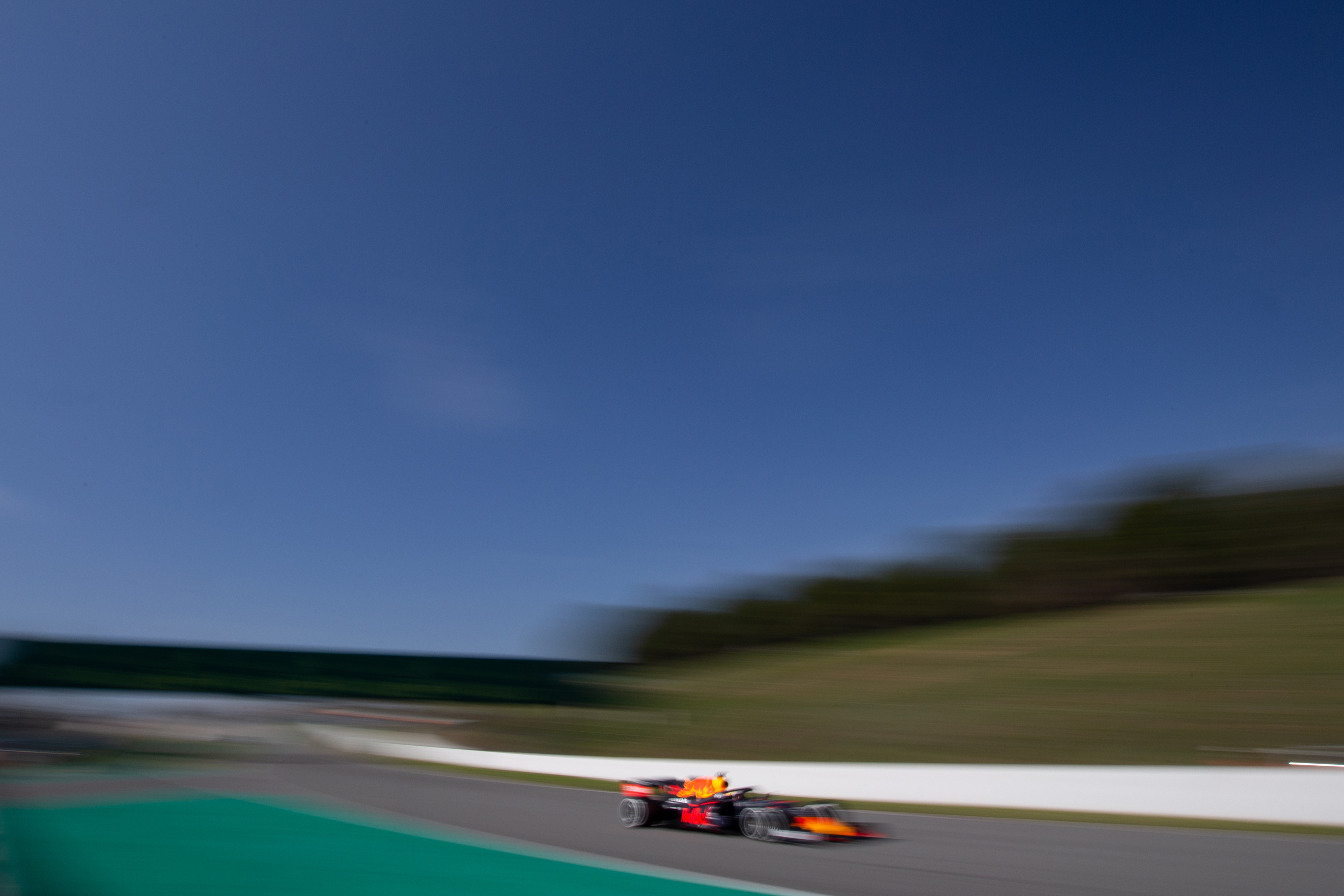 Verstappen was able to place it more aggressively on the piece of track he wanted it so as to widen the approach angle for Turn 3. Only the Mercedes was carrying comparable speed – both cars able to change up before the turn-in of 3 – but it was the Red Bull that appeared to have greater agility.
It can often be that the handling balance differs too much in different speed ranges, and Valtteri Bottas alluded to a similar thing with the Mercedes, but on the first day of testing that's not such an alarming trait.
If the slow corner edginess can be eradicated without losing the medium speed agility, the RB16 could be the Mercedes-challenger the championship craves.
…But Mercedes' picture already looks clear
Edd Straw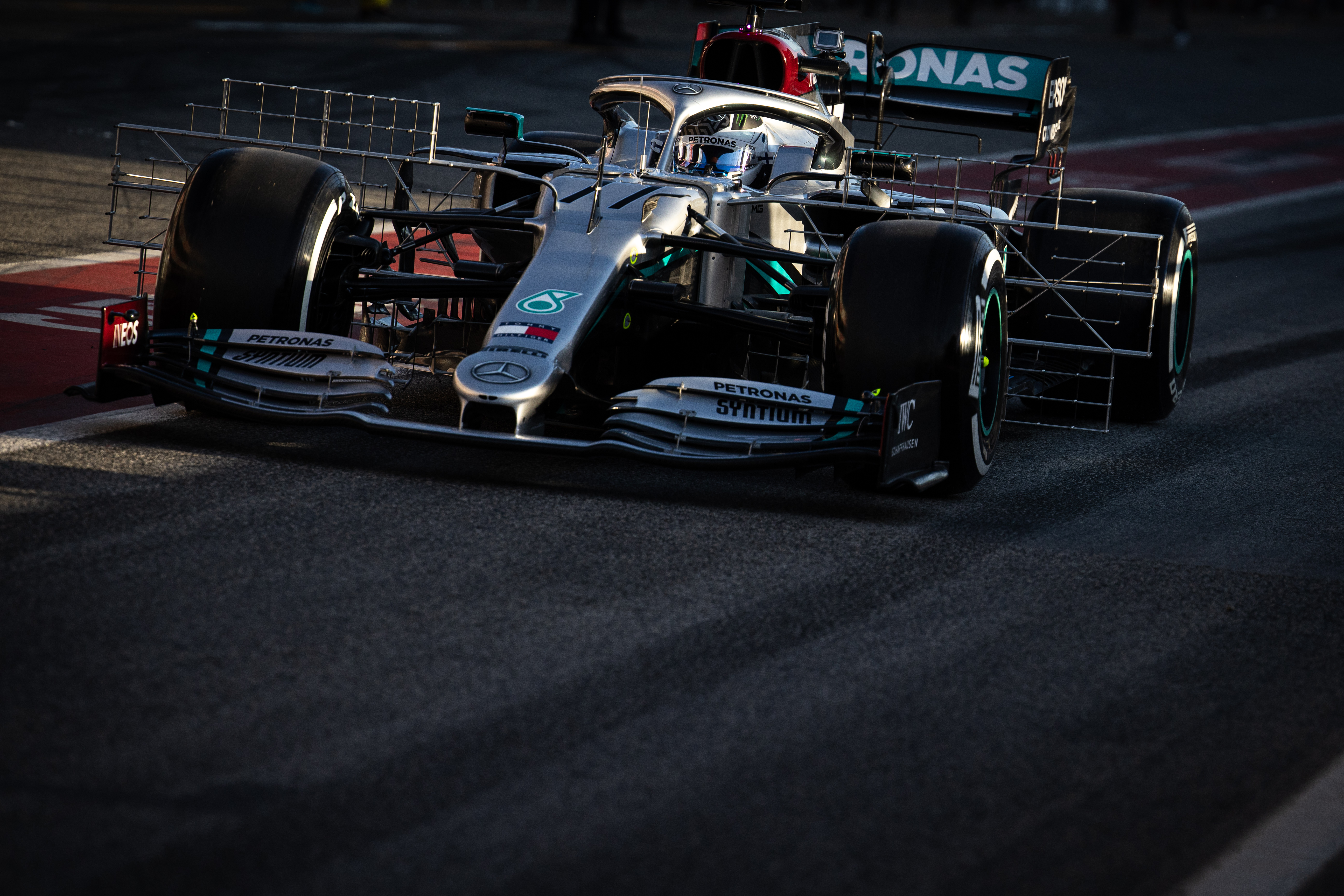 We already knew heading into testing that Mercedes wasn't going to repeat its 2019 trick of running the first test with a basic car spec then introducing the 'real car' through a massive aerodynamic package at the second test.
After all, while this approach worked last year when there were rule changes, it doesn't confer a real benefit when rules are stable as the development curve has become much shallower.
Given this, the Mercedes as it appeared for day one is the real deal. And it did exactly what you would expect of a Mercedes, setting the pace – not that this is worth anything at this stage – and racking up 173 laps. That's just over two-and-half grand prix distances.
The car looked typically well-poised on track as well, whether in the hands of Valtteri Bottas or Lewis Hamilton. As Mark Hughes explains in his trackside analysis, the Mercedes, along with the Red Bull, stands out.
It's still early days, and the car will evolve between now and the Australian Grand Prix weekend, but we can be sure of one thing. Mercedes hasn't dropped the ball, it's still the mighty team that has dominated the last six years and will take some beating.
Gary Anderson's pace analysis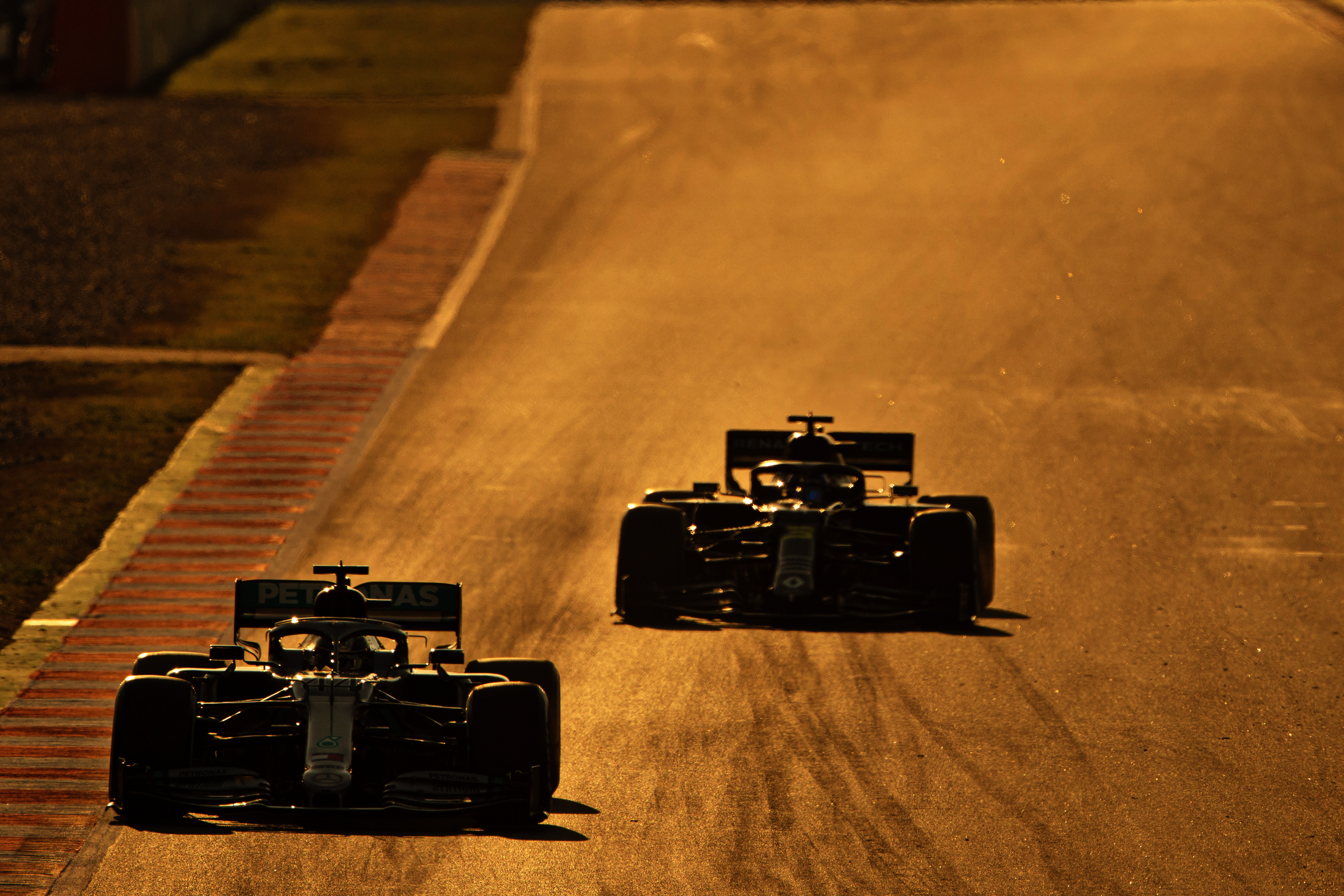 The honest truth is that nobody can draw meaningful conclusions about what day one's lap times mean with any confidence.
But it is always worth looking through the times to see what hints, there are and there are some tentative pointers we can look to that act as a basis for refining as testing progresses.
However, this is very early days and this is not a prediction of the final competitive order.
First, you can look at the improvement from Wednesday's running compared to each team's qualifying average during the final four races of 2019 when we know all were on low fuel.
With lap times converted into percentage of the outright fastest, this gives us a performance swing for each team, with a minus figure a gain.
1 Williams -2.812%
2 Racing Point -1.414%
3 Renault -1.038%
4 Haas -0.997%
5 AlphaTauri -0.840%
6 McLaren -0.544%
7 Mercedes -0.241%
8 Alfa Romeo -0.004%
9 Red Bull +0.544%
10 Ferrari +1.228%
All of the cars were not on low fuel on day one, so that does paint a confusing picture. To help that, we can take each team's best time converted to a percentage of Wednesday's outright pace.
1 Mercedes, 100.000%
2 Racing Point, 100.518%
3 Red Bull, 100.702%
4 AlphaTauri, 100.938%
5 McLaren, 101.125%
6 Renault, 101.165%
7 Williams, 101.549%
8 Ferrari, 101.706%
9 Alfa Romeo, 101.832%
10 Haas 101.936%
You can also look at last year's testing times compared to the average qualifying percentage from races 2-5 of 2019. The first race of the season is discounted as it can catch teams out and often creates anomalies in qualifying.
From this, if teams were using the same the same fuel loads for testing this year as last year – which is a big assumption – this creates the following 2019 fuel loads that you could then apply to this year.
Mercedes 65kg
Red Bull 63kg
Racing Point 53kg
Ferrari 52kg
Haas 48kg
Alfa Romeo 44kg
McLaren 39kg
AlphaTauri 37kg
Renault 30kg
Williams 5kg
If we calculate that 10kg of fuel is close to 0.4% performance around Barcelona, adding that on we get the following relative performance and team delta for each team if they were on the same fuel load:
1. Mercedes 100.000%
2. Red Bull 100.782%
3. Racing Point 100.998%
4. Ferrari 101.226%
5. McLaren 102.165%
6. Renault 102.365%
7. Haas 102.616%
8. Alfa Romeo 102.672%
9. AlphaTauri 102.952%
10. Williams 103.949%
There are also tyre compounds to take into account, which can very quickly change the above by 0.5%, but from what I have seen today it won't change the running order by much. So will delve into that a bit more as the test progresses.
This whole order is extremely tentative, but it gives us something to work on and refine as the test progresses. It certainly doesn't mean that Racing Point will finish second in the championship and Ferrari will be dicing in the midfield.
Ferrari has changed its testing approach
Gary Anderson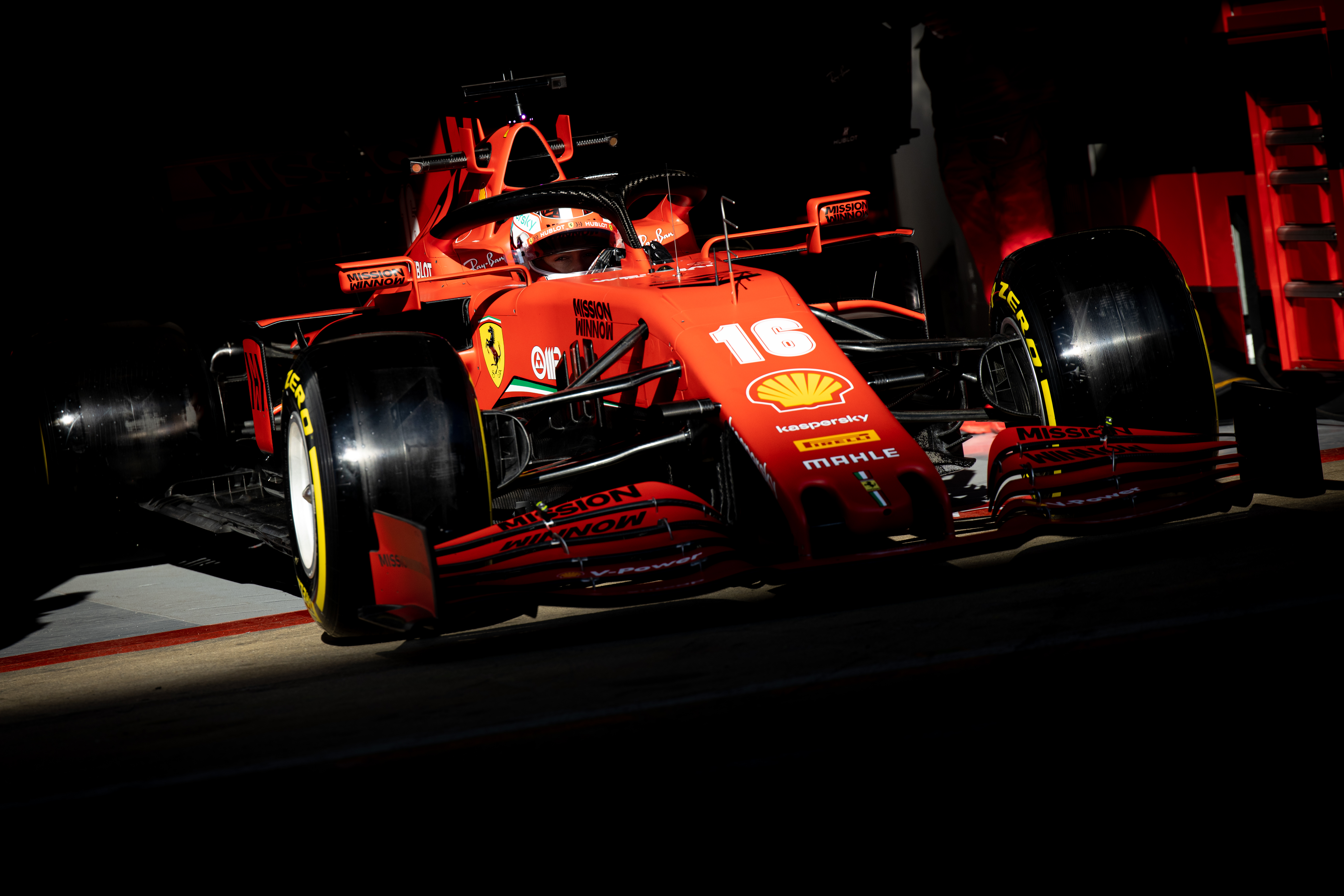 Ferrari is not going to be where it was on the timesheets or in the above analysis when the season actually kicks off, but what we can be sure of is that it has changed its approach to testing in 2020.
Ferrari went to Melbourne last year as the favourite and basically got thrashed, so I don't think it is showing its real potential yet.
Charles Leclerc confirmed as much when he spoke to the press after his day in the car, having taken over from the ill Sebastian Vettel before the start of running. He said Ferrari will focus on performance later.
But the lap times aren't the problem. I'm not that impressed with the car aerodynamically.
When Ferrari introduced its sidepod concept in 2017 it was impressive. But now the development of the aerodynamic philosophy appears to have stood still.
Bolt-on bits like the nose might have to change if it is to challenge for that elusive world championship.
McLaren's starting with a "very basic" car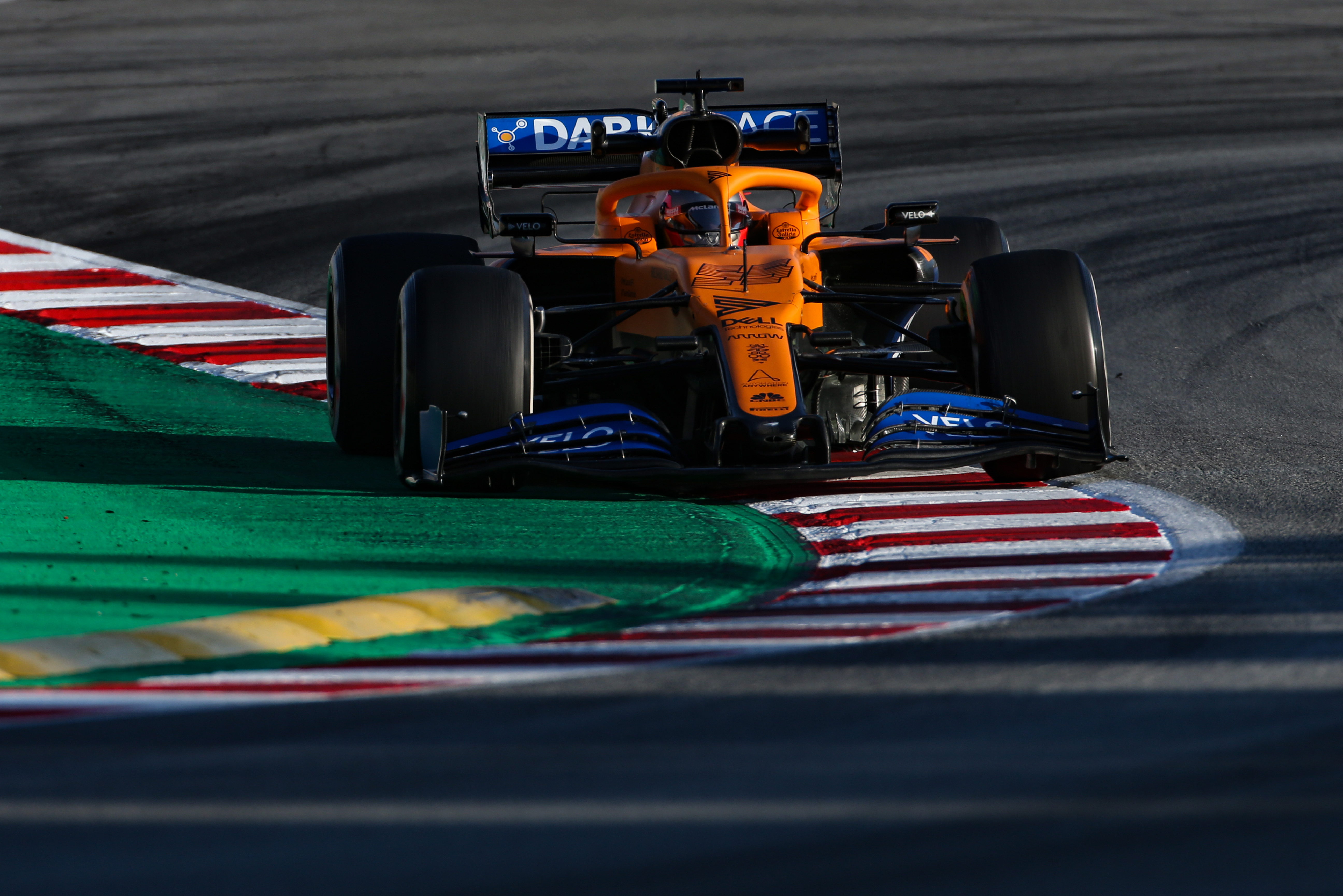 Carlos Sainz Jr emphasised that the McLaren he was running in the first week of testing was "very basic" and specifically configured to ensure reliability – and that there is significantly more performance to come.
"We did 160 laps on our first day of testing… we hit the ground running, into our run plan very quickly and the positive thing was that we completed every single lap we planned for," he said.
"Basically we didn't do any more laps because there are no more tyres available.
"We didn't have a single problem in the car with reliability, which meant we ended the day just doing pitstop practice and some starts with not much more to do."
He referenced McLaren's sometimes troubled winter preparations in previous seasons, saying: "You need to pay more attention to the detail and you can see this team has learned a lot from the past…
"It's a very basic car at the moment what we have on track, a car that allows us to do the track time we did today.
"I'm not too worried about performance yet because we're going to bring new bits in the future and hopefully that addresses the weaknesses."
Sainz finished the day fourth quickest, 0.8s off Lewis Hamilton's fastest time. – MH
Williams is much healthier, even with a big question mark
Scott Mitchell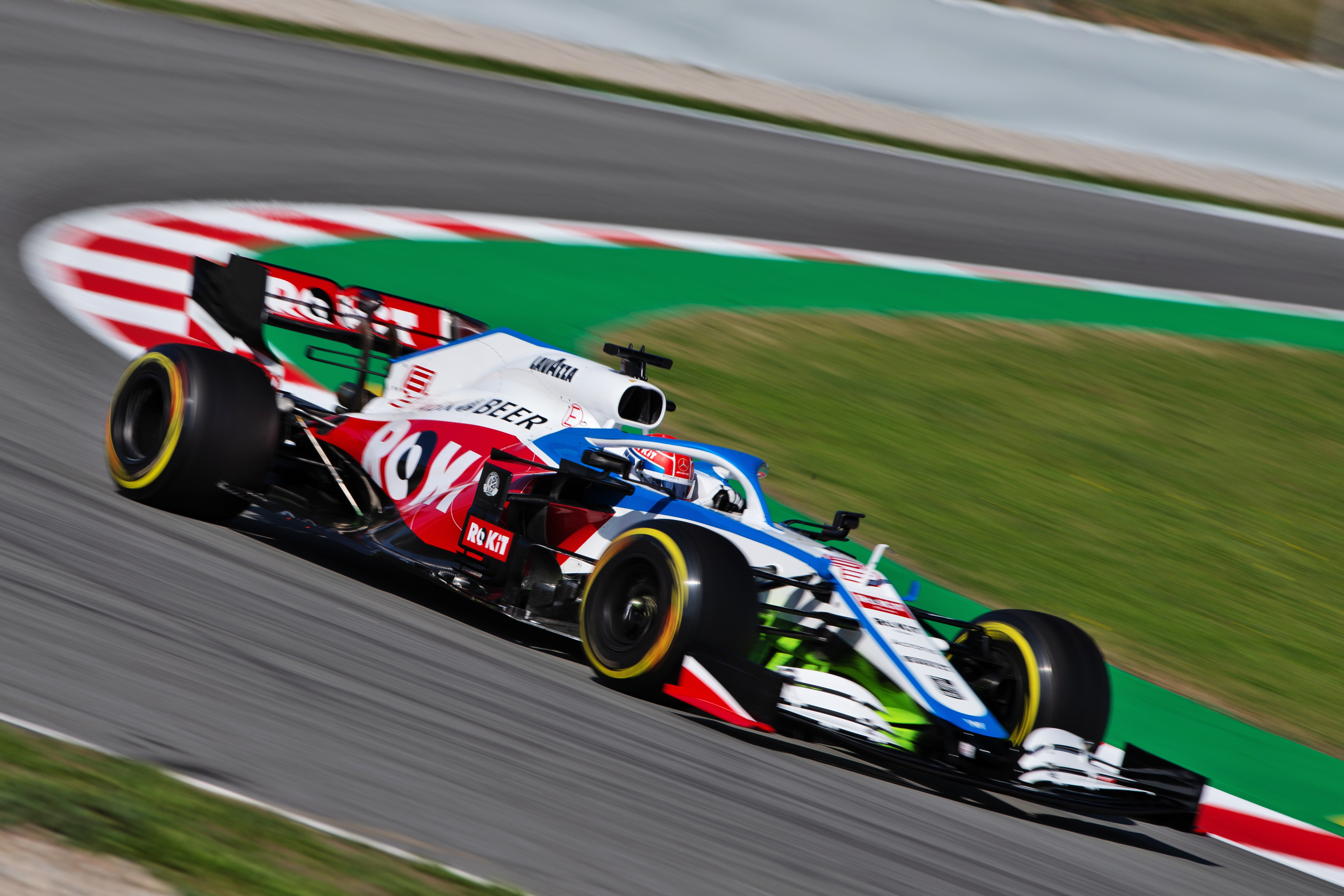 George Russell pulled no punches when he described the 2019 Williams as a "scary" car to drive in the first few days of its existence. Which was hardly the impression the then-F1 rookie wanted to get from a car that was two and a half days late to testing to begin with.
One year later and things are very different. Williams has not produced a race winner – it might not have even produced a regular point scorer.
But it did put a car out for the start of testing (Russell hit the track before anybody else) and more importantly it was a car that its driver said was being pushed "almost to its limits" straight away.
Russell knows Williams cannot be celebrating simply making the start of testing. He and the team are also aware that just having a car that feels compliant will mean nothing unless Williams's ultimate performance gain is both significant, and more significant than its rivals.
But we should let Williams bathe in the glory of a successful first day. As Russell said: "We had no issues, we did every lap we were meant to do and that was positive."
Sure, it's no guarantee that Williams has suddenly transformed from its 2019 nadir. But it's proof it has not made all the same mistakes and the team is an undeniably healthier position than 12 months ago.
The lingering, big question is whether that translates to the design of the car as well. 
Honda proves it's a match for Mercedes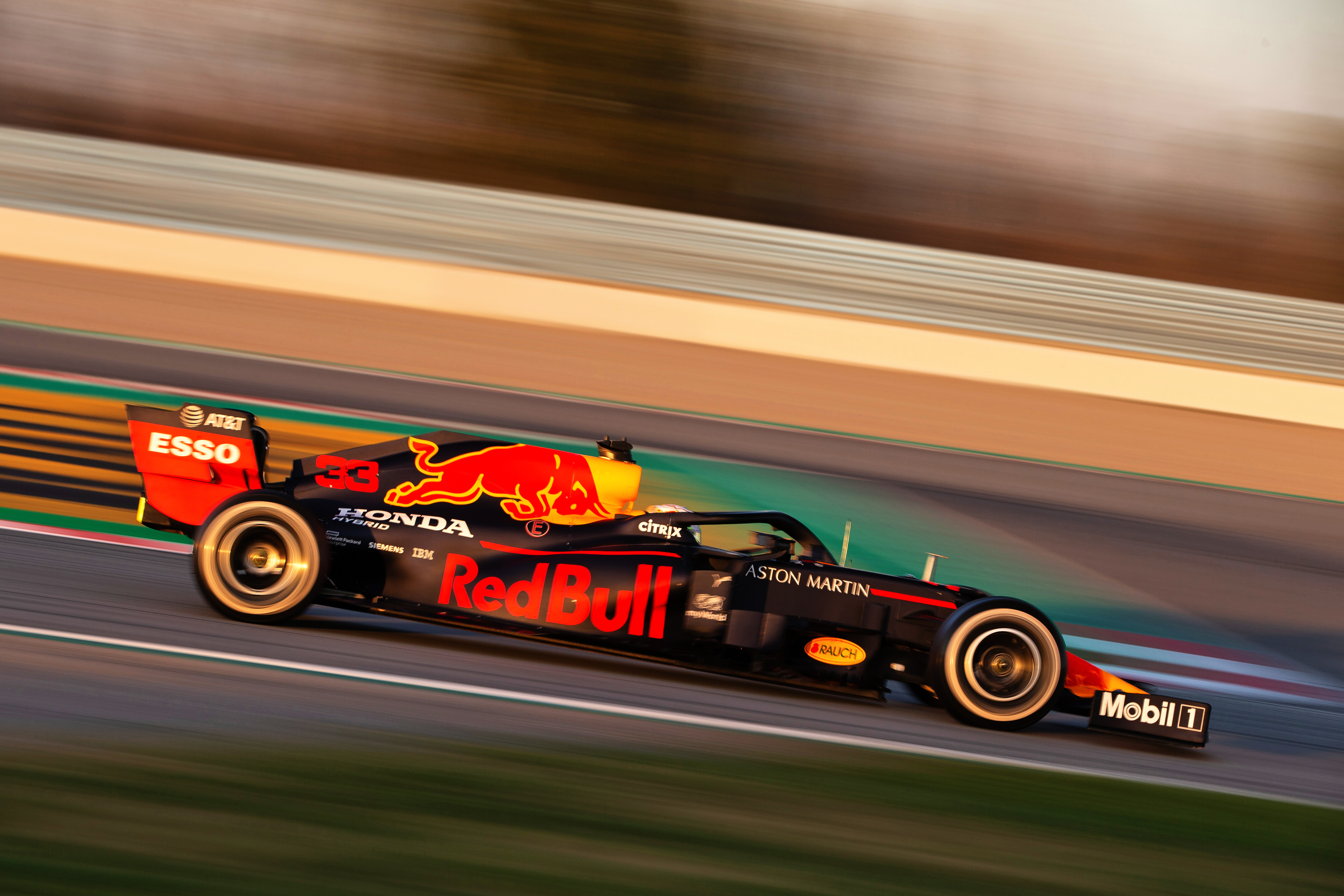 "The car is fast everywhere, which is a good thing," said Verstappen of his Red Bull. "And the reliability seems even better, so that is all very positive."
We've known for a little while now that Honda's not the combustible disaster it was in the McLaren era. But now, preparing for its third season in the Red Bull family, Honda should be regarded with the same respect as Mercedes on the reliability front.
Verstappen managed 168 laps on day one, a mammoth count that was only just shy of Mercedes' combined total and comfortably the most Honda has managed on an opening day of testing. And it's only one lap fewer than its busiest-ever day.
A mammoth day-one lap count makes it no wonder Verstappen was quick to single out the engine's progress. It's absolutely vital Red Bull logs proper running because it is preparing for a title bid and that is something that, against Mercedes, can afford no slip-ups.
So the baseline at the start of the year, Verstappen says, "has to be" higher than in the past: "We just want to learn the car, and try things on the car, and see what we can do."
Of course, we do not know if Honda has made the required gains on the performance side.
But its reliability was already very strong and it has managed to up its game further. That is a very encouraging start. – SM
Is the Racing Point just a pink Mercedes?
The visual similarity between the new Racing Point RP20 and last year's Mercedes W10 was not lost on anyone. From head-on, the slim nose bore a startling resemblance to last year's title winner.
It seemed to be a much closer relative to last year's Mercedes than last year's Racing Point. Its general proportions further back were quite similar to the W10 too.
Not unnaturally, there were a few disapproving noises from would-be rivals in that midfield pack. The team has for many years received power unit, gearbox and rear suspension from Mercedes. This year its front end mechanicals are also Mercedes-based. Furthermore, it appeared to be running a relatively low degree of rake, Mercedes-style, whereas traditionally it has always favoured a Red Bull-style high-rake approach.
Nonetheless, there is nothing preventing any team from taking design influences from rival cars. The impact of the car was only intensified by Sergio Perez lapping it behind only the Mercedes W11 and ahead of all the others.
McLaren driver Sainz referenced the situation obliquely when asked about his team's prospects of closing the gap to the front in 2020.
"That has to be our target," he answered. "Fourth or fifth isn't where McLaren wants to be.
"But when some of the smaller teams are getting a lot of help from the bigger teams it's difficult to know. If they come here with a car very similar to last year's Red Bull or last year's Mercedes it's going to make it very difficult for McLaren." – MH
Teams are better prepared than ever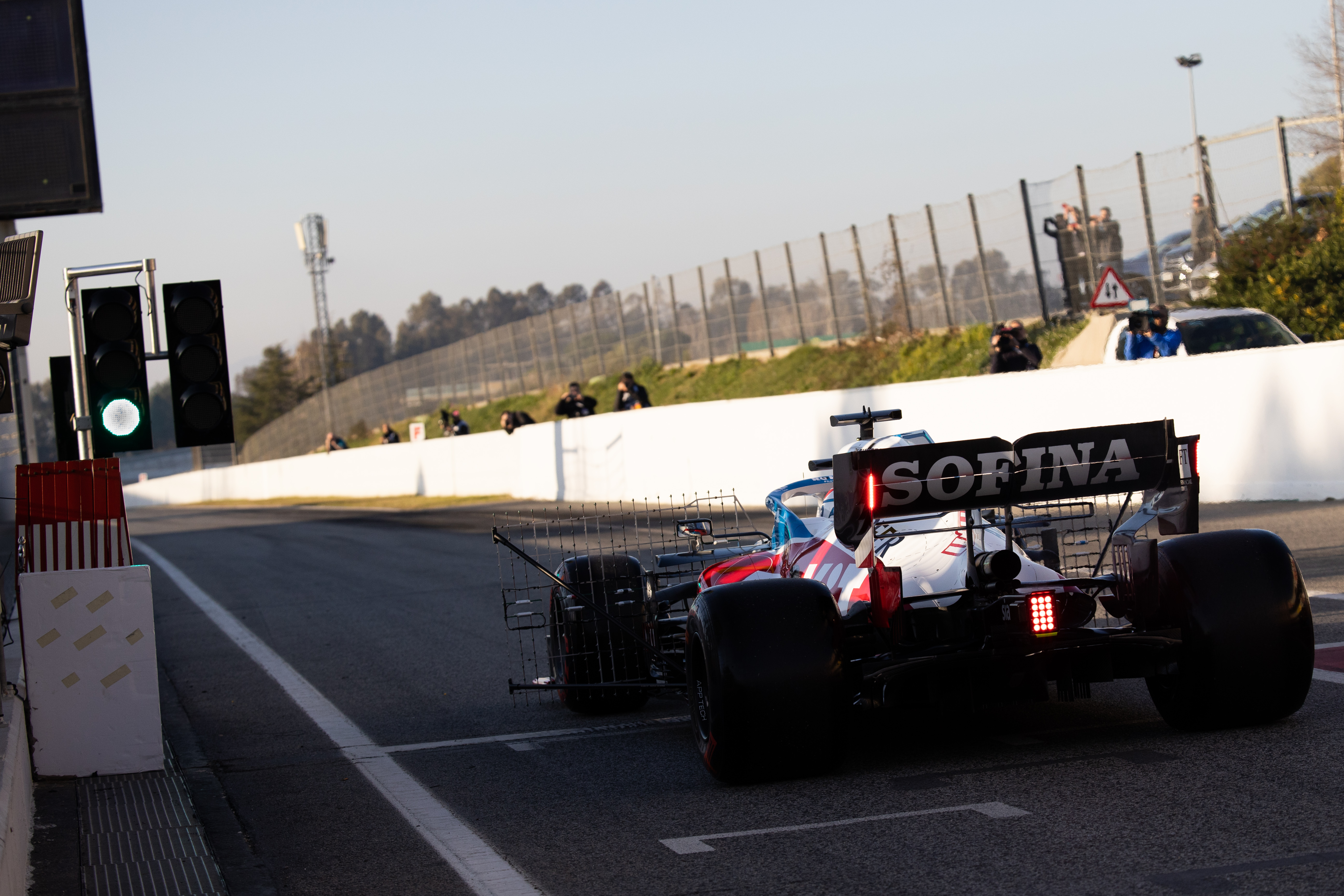 With the reduction from eight to just six days of pre-season testing, teams needed to be readier than they have ever been for the start of testing. And they were.
Nine of the 10 teams had already completed shakedowns on promotional days prior to pre-season testing even starting. And all of them were ready to start racking up the miles when the pitlane opened on Wednesday morning.
The teams completed a combined total of 1358 laps today, an increase of 41% from last year's tally. Even if you remove Williams, which was not ready to run at all at the start of testing last year, the increase is still 27%. And that's despite the overall tyre allocation for each day of testing not changing, with 30 sets for this three-day test compared to 40 for the equivalent four-day test last year.
To add to the impressive feat, founded on endless miles completed using a variety of simulation tools before the cars ever hit the track as well as sky-high reparation standards, there wasn't a single red flag. – ES