George Russell says Williams's new FW43 Formula 1 car has immediately given him more confidence than the "scary" early experience with last year's machine.
Williams has avoided any fundamental changes to its design despite a highly disappointing 2019 season in which it scored just one point and toiled at the back of the grid.
However, it has made that decision based on the progress it felt could be made by exploiting last year's car, which was hamstrung by significant weaknesses such as its weight and braking capabilities.
Asked by The Race if he could feel that on track in his first morning driving the FW43, Russell said: "The difference is from my first lap today, I was confident and pushing the car almost to its limits.
"Whereas last year, it was almost scary to drive the car in the opening days.
"Granted, we didn't have all of the bits on our first day when I drove the [2019] car, but the [2020] car gave me confidence.
"It's not [just] about giving me confidence, it's about producing fast lap time.
"So if the car's great to drive but slow, it's not good, and if the car's terrible to drive but fast then I prefer that."
Russell set the sixth-fastest time on the first morning, lapping within a second of Valtteri Bottas in the Mercedes, having spent last year almost exclusively battling team-mate Robert Kubica at the back of the grid.
He ended the day still in the top 10 and just over a second off Lewis Hamilton's pace after the six-time world champion took over the W11 from Bottas.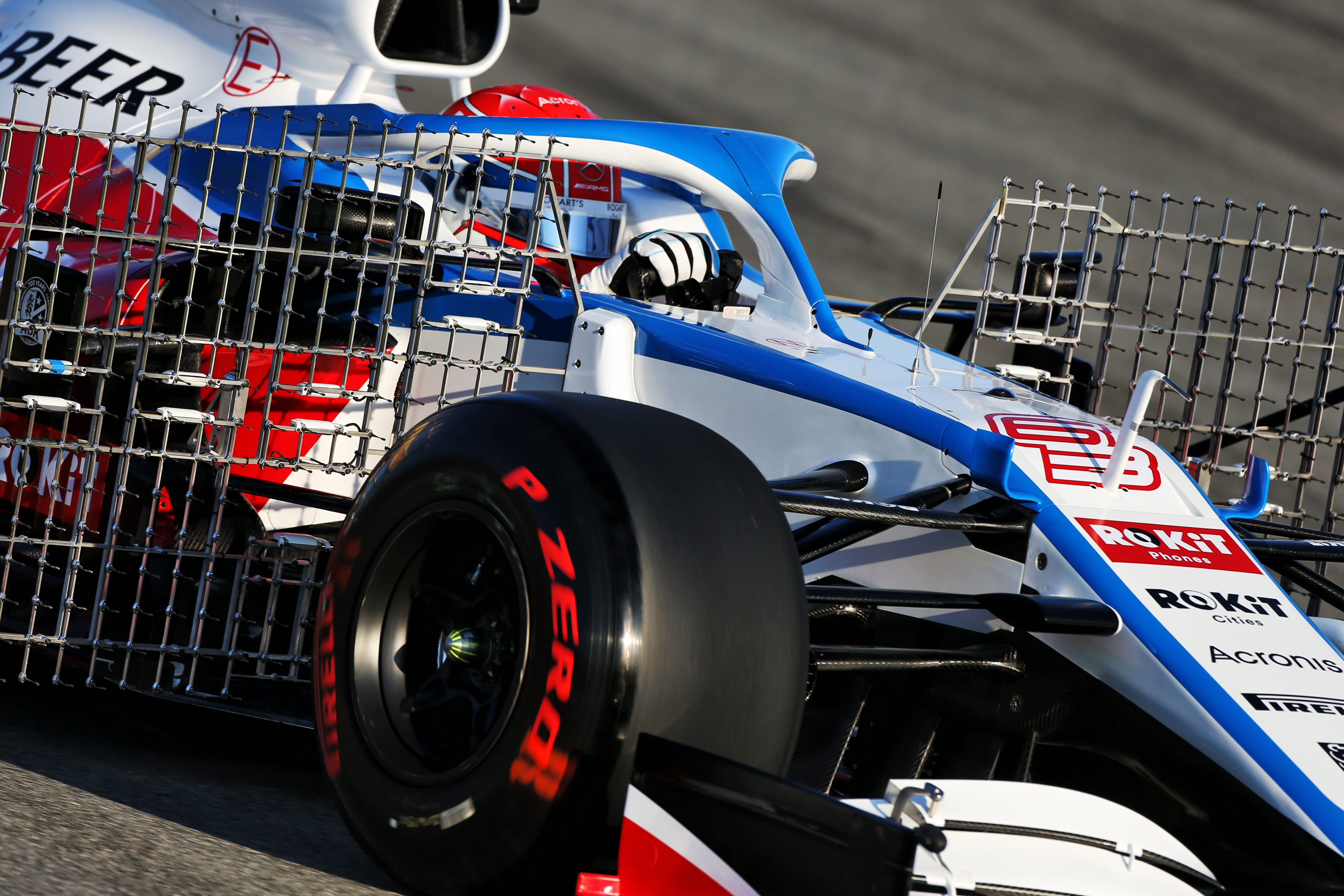 Despite Williams using the FW43 as a target with which to improve last year's car, Russell said it was still "definitely a big step up" from what the team ended the season with
He described the new Williams as a "big evolution" and that though it is true to say there are no fundamental changes to the design, "what's said in the media is one thing and what is reality is another thing".
"I'm very up to date with what's going on," Russell said.
"There's no doubt from the off it is much improved.
"But even if we went two seconds quicker if everyone else went 1.5 seconds quicker, then we'll still be in the same boat."
Williams's dismal 2019 season started in "embarrassment" when it failed to get its car ready for the start of testing.
However, on Wednesday, Russell was the first driver to leave the pitlane, which he said was "reward" for the team's efforts.
"What we saw this morning obviously looks like a massive success versus last year, and it is, but the fact that we have a car at winter testing is not something to celebrate," said Russell.
"It's should be normal.
"We're here, we're going through our programme. We had a very smooth morning.
"We had no issues, we did every lap we were meant to do and that was positive."