While waiting for the delayed 2020 Formula 1 season to begin, our writers have been revisiting classic grands prix from the past. These articles are fresh takes on those great races rather than recycled material.
This weekend, it's Mark Hughes's personal choice of a race whose full story deserves to be retold: the 2000 Japanese Grand Prix, and the day when Michael Schumacher ended Ferrari's two-decade title drought and its recent run of last-round heartbreaks.
Coming to Suzuka for the penultimate race of a see-sawing seasonal battle between Ferrari's Michael Schumacher and McLaren's Mika Hakkinen, it all still hung in the balance.
Schumacher, eight points clear coming in, could seal it here. With 10 points for a win and six for second, a victory in Japan would give him the title regardless of what Hakkinen did.
Realistically, Mika had to win here just to keep the contest open until the final round at Sepang. Even if he won and Schumacher non-scored, it would only put Hakkinen two points ahead with a race still to go.
Even when Schumacher looked poised to strike back at Spa, Hakkinen made that stunning race-winning pass. The competitive wind had changed
The desire at Ferrari, fresh off the back of consecutive Schumacher victories at Monza and Indianapolis, was very much to get the job done here, to avoid the nerve-wracking final round showdowns of the previous three years, none of which had gone its way.
The stakes were enormous. Could Schumacher bring a driver's world title to Ferrari for the first time in 21 years? Could the immense burden on both driver and team survive a fifth year without the ultimate success (last year's winning of the constructors championship notwithstanding)? The biggest team in racing had been completely restructured around Schumacher's recruitment, at enormous cost. To come up empty-handed again didn't bear thinking about.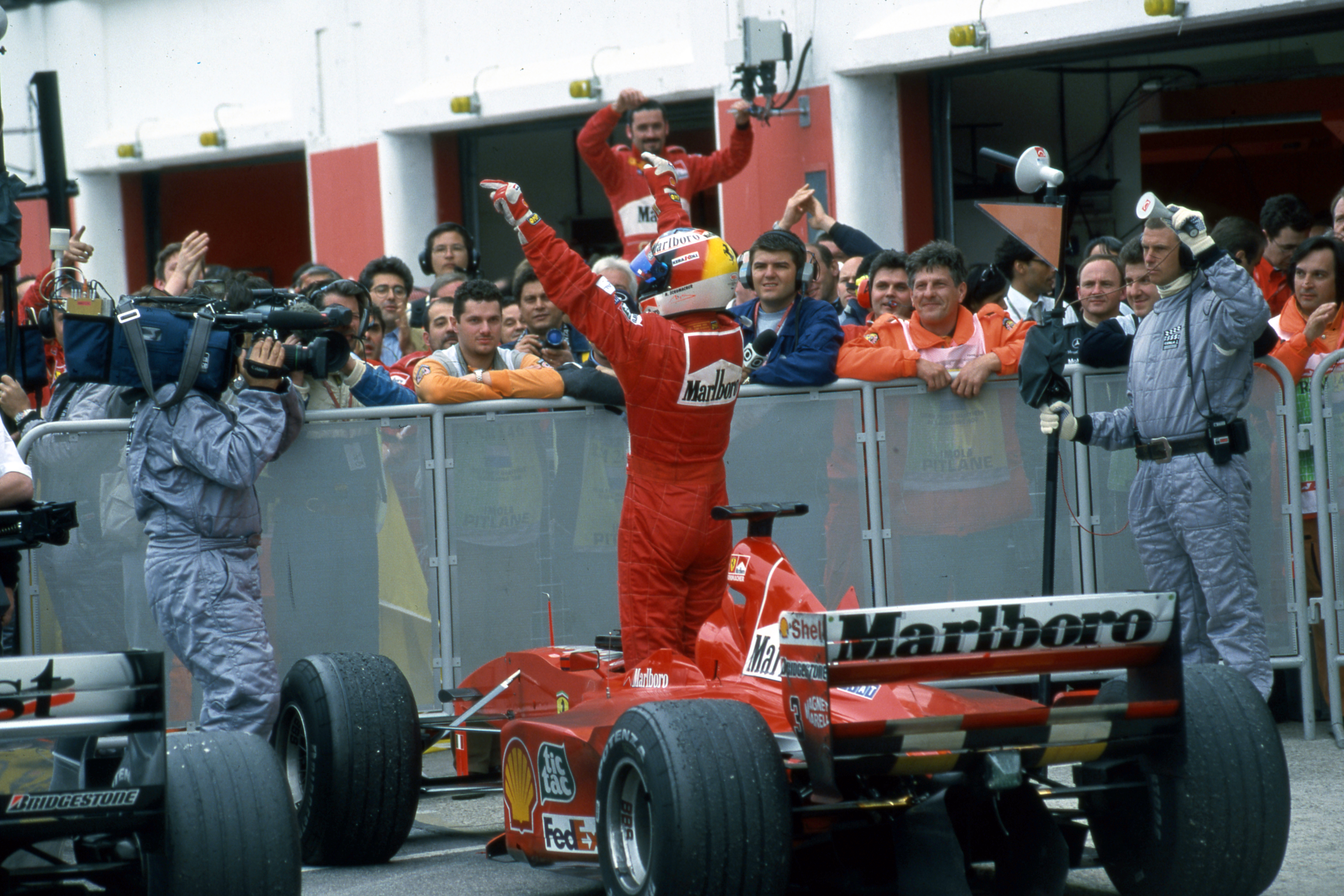 It had all looked so comfortable for Ferrari back in May after the first six races had yielded four Schumacher victories and just one for Hakkinen, putting Michael 18 points clear.
The pattern over the previous few years had always been Ferrari beginning the season behind the pacesetting Adrian Newey car – whether that be the '97 Williams or the '98 and '99 McLarens – and having to play catch-up in the development war through the season.
This time, Rory Byrne's F1-2000 had hit the ground running; every bit as fast as the McLaren and more reliable. Two Mercedes engine failures for Hakkinen in the first two races was a fantastic present for Ferrari, giving a double victory platform for its campaign. Even when Hakkinen's car then held together at Imola for the third round, Schumacher had the beating of him.
But after Schumacher's Nurburgring defeat of Hakkinen in May, there followed a seven-race sequence in which Michael won only once (in Canada) and Mika emerged victorious in Austria, Hungary and Belgium.
The McLaren appeared to be edging ahead in the aero development war and a rare engine failure for Schumacher in France combined with consecutive crashes in Austria and Germany were potentially costly. Even when Schumacher looked poised ready to strike back at Spa, Hakkinen had made that stunning race-winning pass on him as they lapped Ricardo Zonta, a result that put Hakkinen six points ahead. The competitive wind had changed.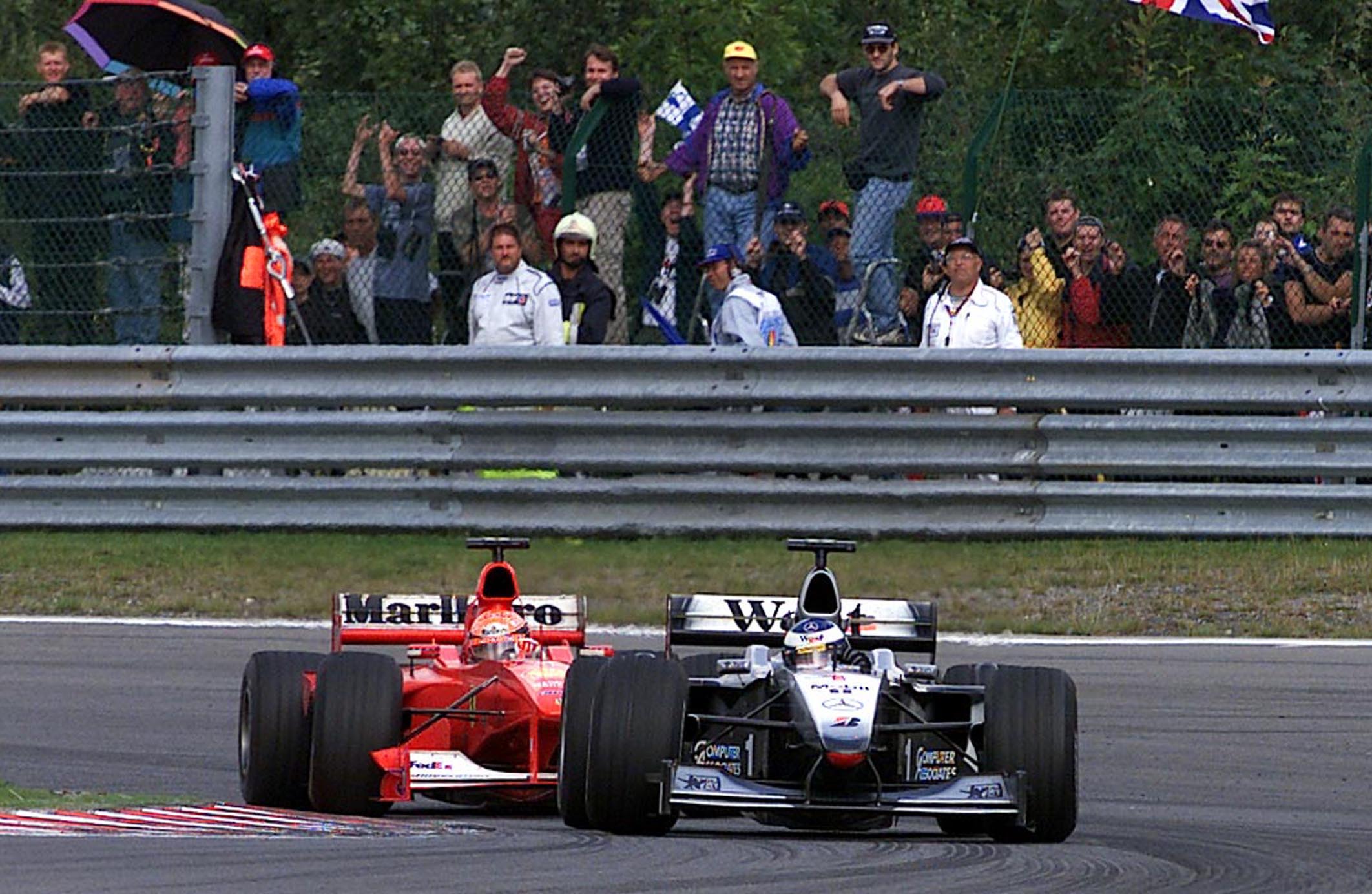 But it would change again thereafter, as the Ferrari engine department rose to the challenge. For Monza an upgraded version of the V10 was yielding a Mercedes-matching 830bhp and combining it with rock-solid reliability. Schumacher's emotional win there had put him back on the rails and he'd followed it up with a victory at Indianapolis made more momentous by Hakkinen's engine failure as he was closing fast on the Ferrari.
And that's where we were as we arrived at Suzuka, Michael having stopped off at Fiorano to test new aero parts and a revised front suspension. They worked well, but it meant Schumacher was suffering terrible jet lag in Japan. Most of the others had flown west from America in plenty of time to adapt their body clocks.
As had been the case all season, there was very little between the F1-2000 and the MP4-15 in outright pace, despite their significantly different concepts. The McLaren was the third year development of the original Newey McLaren of 1998, still with the vee-shape chassis and low nose, contrasting to Ferrari's high-nose. Its Ilmor Mercedes 72-deg V10 gave very similar power to the Ferrari's 90-deg bigger bore unit but was as much as 10kg lighter.
The whole weekend was only ever about Schumacher and Hakkinen. As we've seen before, the two title contenders reached a different level of performance to the rest, each of them around half a second faster than their respective team mates Rubens Barrichello and David Coulthard.
Saturday's hour-long qualifying session reached a crescendo as pole see-sawed between the two would-be champions. Eventually Schumacher shaded it by the margin of nine-thousandths of a second. Right up to the last corner of his final lap, Hakkinen was poised to go 0.1s faster but had simply used up the best of his tyres by then. "I just couldn't get the power down coming out of the chicane," he rued.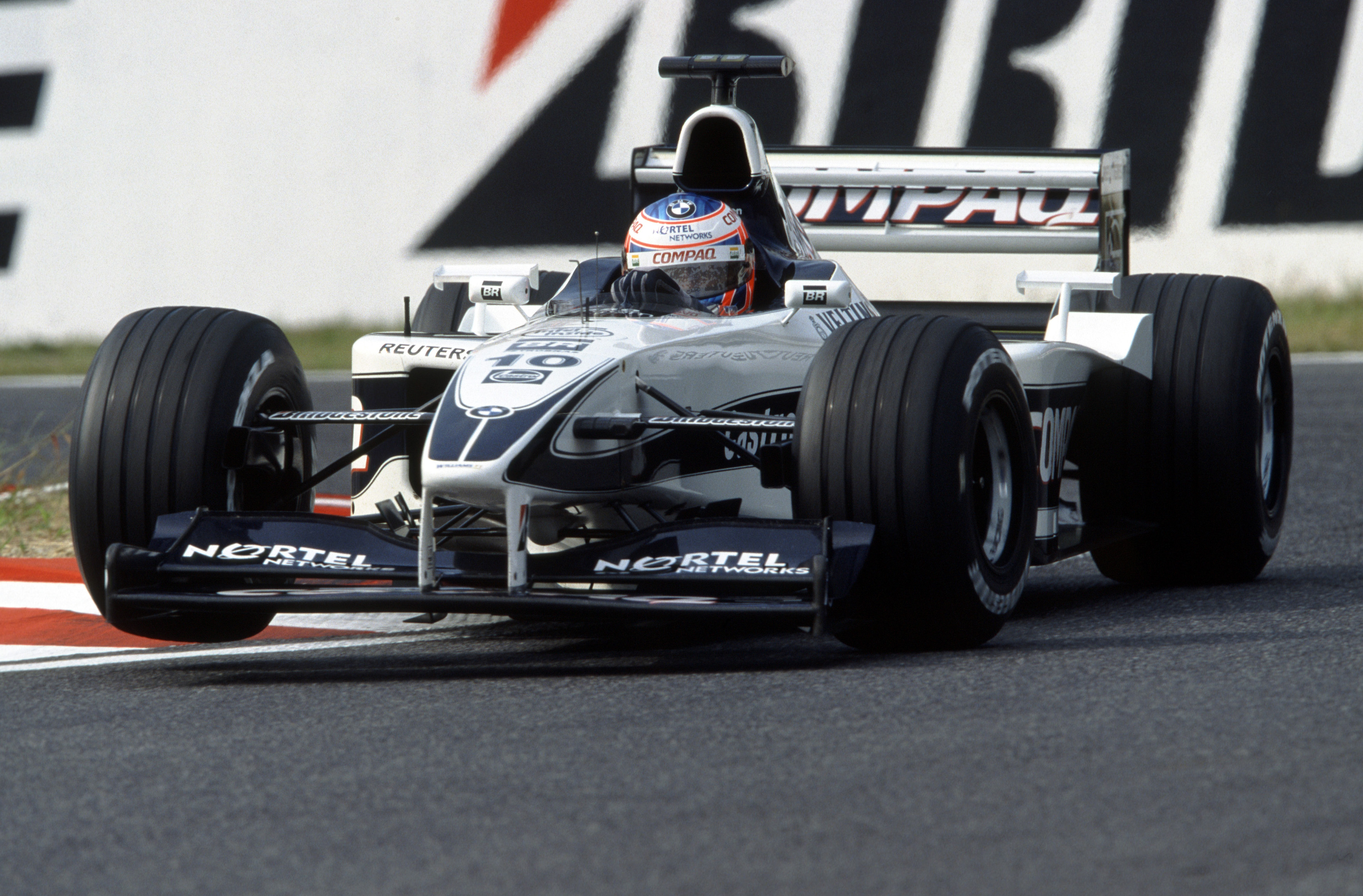 Coulthard and Barrichello shared the second row. Quickest non-Ferrari/McLaren was Jenson Button's Williams-BMW, a superb effort on his first visit to the notoriously demanding track. He'd been fastest of all through the Esses to go just 0.3s shy of Barrichello. Ralf Schumacher's sister car shared the third row with Button.
As had been the case for much of the latter part of the season, Williams was in a no-man's land between the title contenders and the midfield where Jaguar, Jordan, BAR-Honda and Benetton slogged it out. On this occasion Suzuka specialist Eddie Irvine headed that group for Jaguar, ahead of Heinz-Harald Frentzen's Jordan, Jacques Villeneuve's BAR, Johnny Herbert's Jaguar and the Benettons of Alex Wurz and Giancarlo Fisichella.
The Arrows pair Pedro de la Rosa and Jos Verstappen headed the lower half of the grid from Jarno Trulli (having handling problems with his Jordan after he crashed it on unflagged oil in practice), the Prosts of Nick Heidfeld and Jean Alesi, Zonta's BAR, the Sauber pair Mika Salo and Pedro Diniz, with the Minardis of Marc Gene and Gaston Mazzacane bringing up the rear.
The demands the circuit's long, fast corners made of the Bridgestones here meant this was always going to be a two-stop race. The crucial question was going to be how much to fuel the first stint for.
This was particularly tricky for Ferrari. The car's one weakness is its startline performance and the temptation was to fuel light to counteract that. The danger of that was obvious: if McLaren could go a few laps longer, it would put it at a big tactical advantage. Ferrari secretly opted for a 23-lap fuel load. As it happened, this was one lap longer than McLaren chose for Hakkinen. These would turn out to be absolutely the key decisions in determining the race's outcome.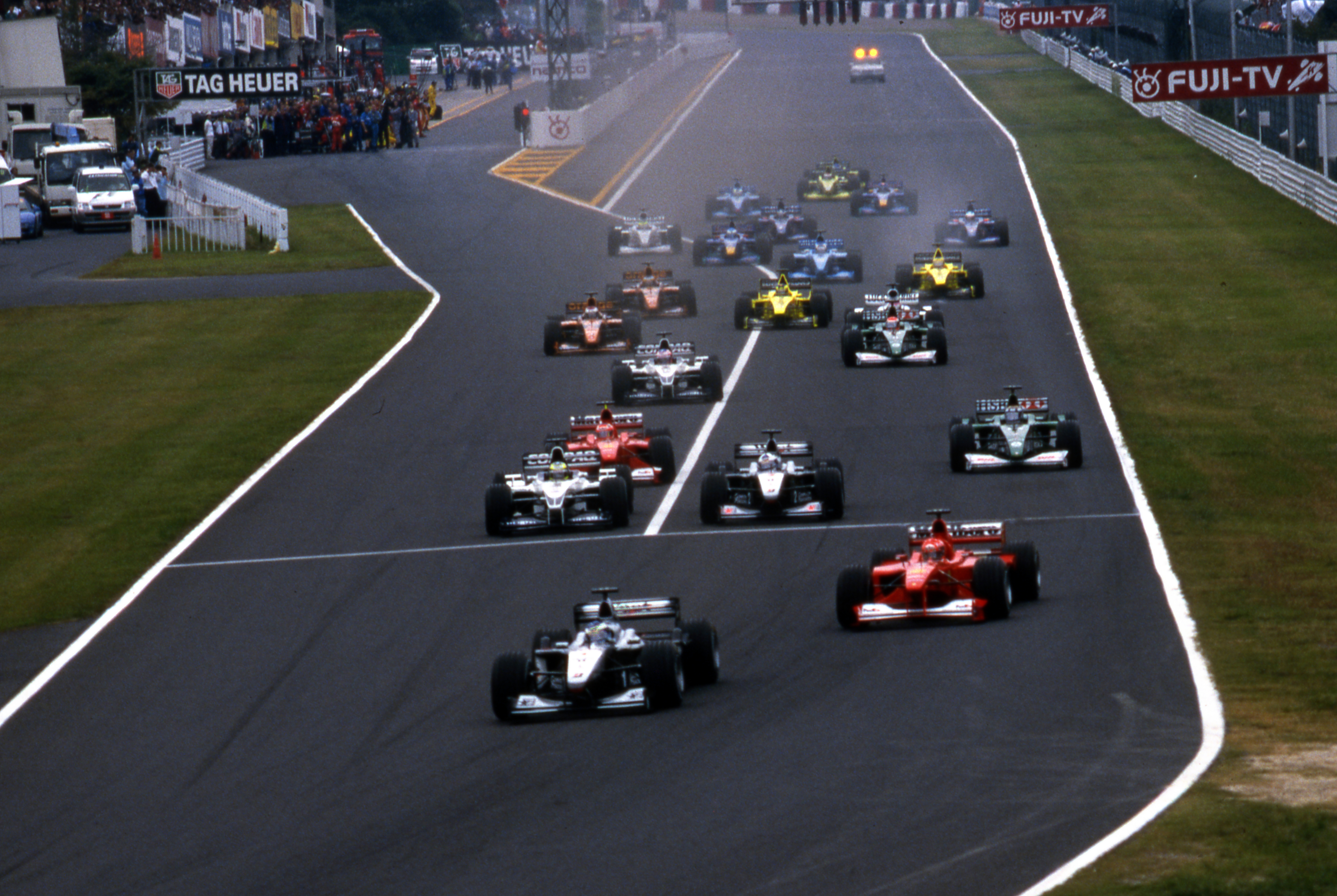 As the grid lined up, the place was cool and overcast, with the forecast of light rain before the end. The red lights stayed on for quite a time but as they went off, so Hakkinen, from the inside of the front row, was away better than Schumacher, just as Ferrari had feared.
Michael immediately made an aggressive swoop right, trying to block the McLaren before it got ahead – but it wasn't enough. Hakkinen simply used some of the pitlane exit road and kept his foot planted, using his greater momentum to take a clear lead even before they'd arrived at the first corner.
Hakkinen had thereby put destiny back into his own hands – for the time being, at least. If he'd not won that start, his chances of defeating the Ferrari here would have been slim, so evenly matched were the pair. Unless he was able to open up a good gap on Schumacher, it would probably all come down to who had to pit first.
The title contenders pulled quickly away from the others who had got through Turn 1 in the order of Coulthard, Ralf Schumacher, Irvine and Barrichello. This was only ever a two-horse race, pretty much reflecting the story of the season.
Hakkinen pushed hard but quickly realised he wasn't going to be able to pull out a gap on his tenacious pursuer. His advantage was rarely more than 1s as the world's two best drivers put on a display of flat-out brilliance.
The Ferrari tended to be slightly harder on its rear tyres than the McLaren and, sure enough, as the stint went on, so Hakkinen began to edge away a little. He had the gap out to 2.5s by lap 18, and he was able to hold it there for the next few laps before making for the pitlane and his first refuelling stop.
The McLaren pitwall doubtless looked on with disappointment as Schumacher was able to stay out there – as this meant that Ferrari would be able to time the fuel nozzle at Hakkinen's stop, and adjust the length of Schumacher's second stint accordingly. With only one more lap of fuel in the tank, Schumacher hadn't been close enough to jump ahead at these first stops, but he'd be sure to be at a tactical advantage up to the second round of them.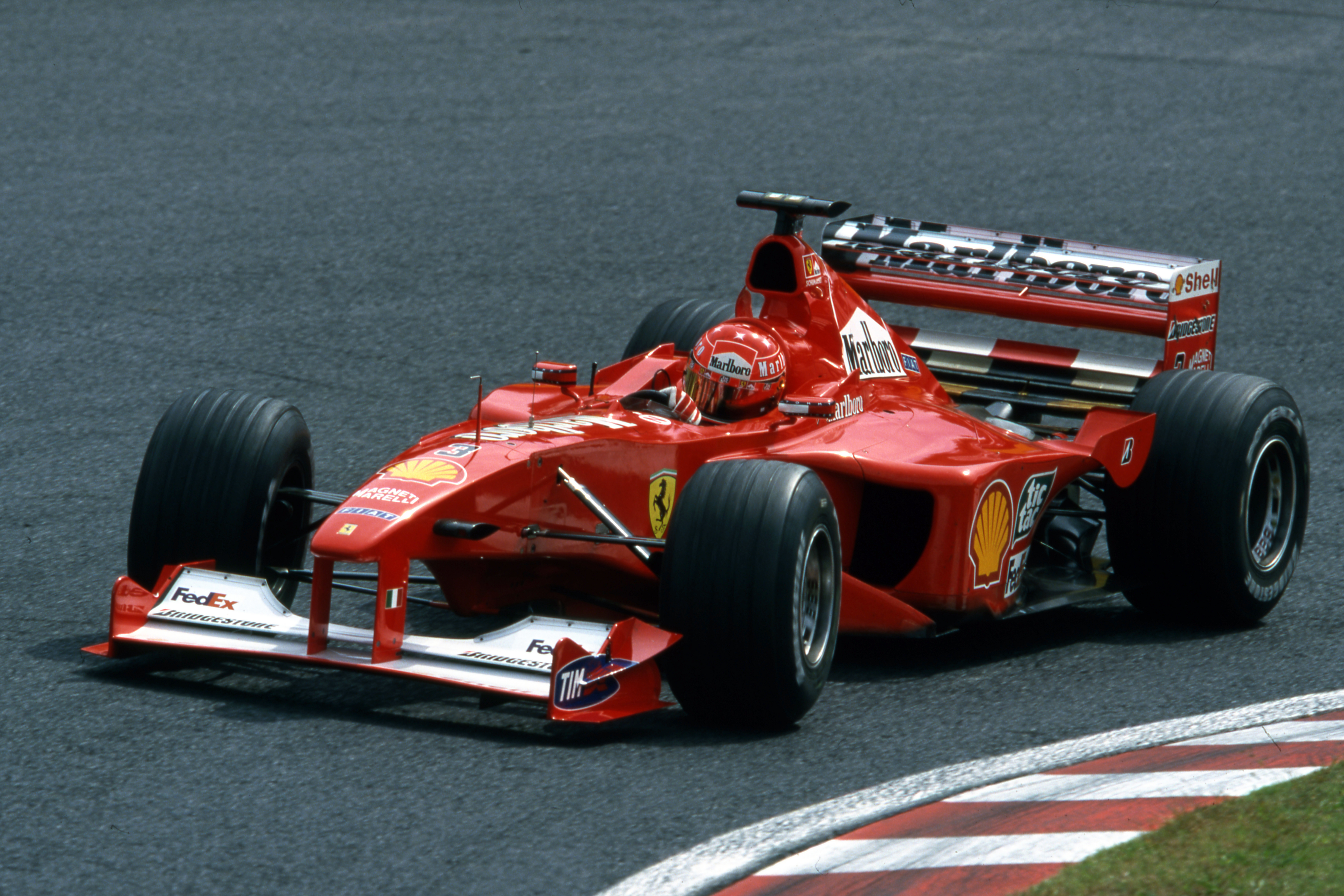 Hakkinen was stationary for 6.8s as Ross Brawn in the Ferrari pit calculated from the nozzle-on time that the McLaren would be able to go for 15 laps before stopping again. He instructed the Ferrari crew to fuel Michael for 17 laps, which took 7.4s. When added to the extra lap he'd made up to the first stops, this fuel load would have him stopping three laps later than Hakkinen next time around. That would be three valuable low-fuel laps while Hakkinen was rejoining heavy.
But for that strategy to work, Schumacher was going to need to be within 2s or less of the McLaren by the time of those second stops – and he was currently 2.7s adrift. He set about closing the gap, but it was only by the odd tenth here and there; Hakkinen, at this stage, looked to have it under control.
"I was just waiting for Ross to say 'no it's not looking good enough' – and then he said 'it's looking bloody good'. That was an amazing moment" :: Michael Schumacher
Both were still lapping flat-out, howling V10s in their wake, moisture vortices off the Ferrari's rear wing tips, less so on the McLaren's. Michael's car was darty over the bumps and under braking, set up for maximum response, just the way he liked it.
But mid-way through that second stint came the first drizzles of rain. Suddenly, Schumacher was significantly faster than Hakkinen. About half-a-minute behind them, Coulthard was being caught by Barrichello, repeating the pattern: the Ferrari was quicker than the McLaren in the wet.
It seemed to generate and retain its tyre temperatures more easily as the rain cooled the track, perhaps the upside of its using the rubber harder in the dry. This drizzle was bringing Schumacher right back into contention.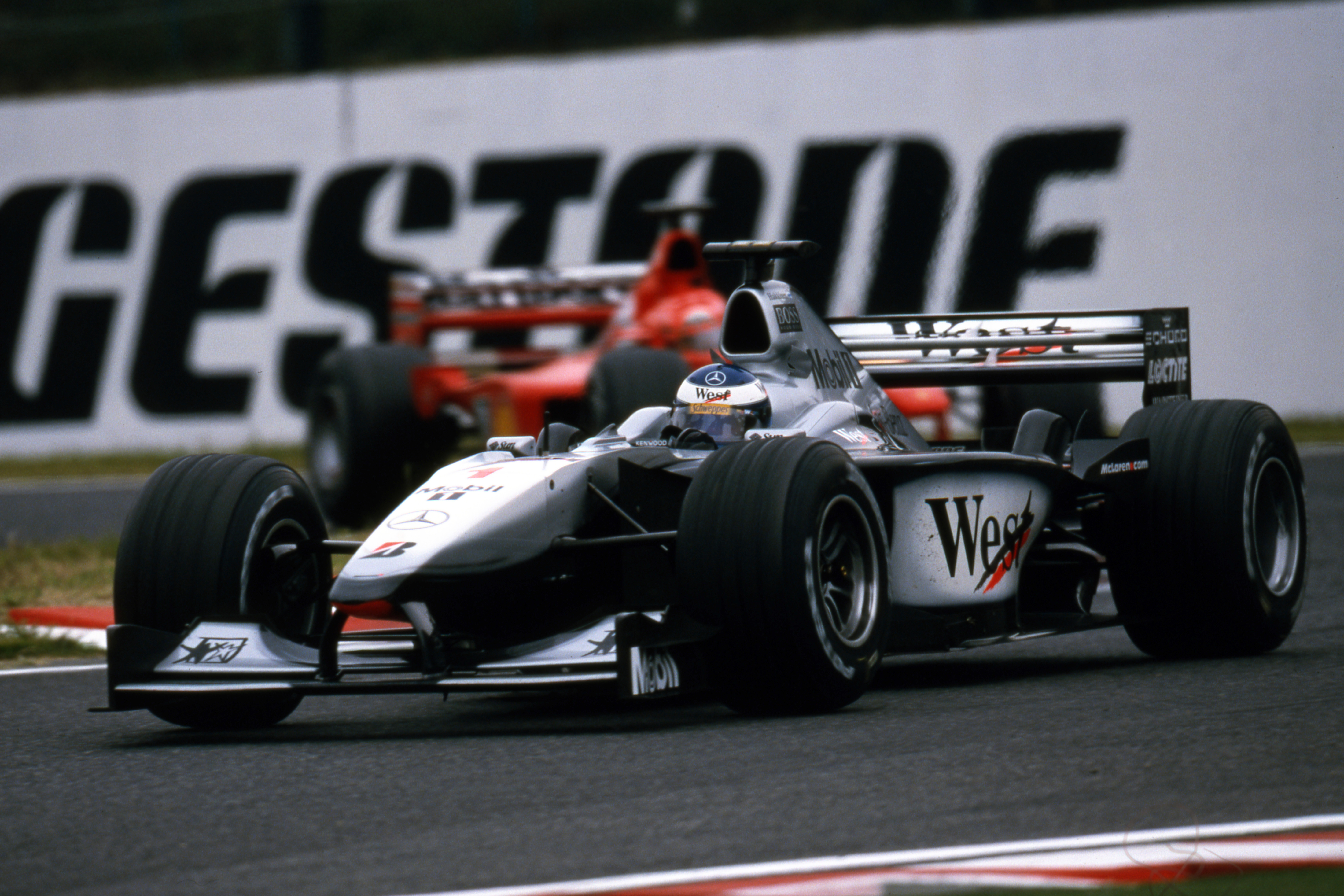 The crucial lap was lap 30, on which Michael took a full second out of Mika. By lap 33 he was less than 1s behind. Then the drizzle faded away – and Hakkinen began to edge the gap back out again, Schumacher pushing like crazy to hang on, knowing he needed to be close as they came up to the second stops. The drizzle was on-off like this for a few laps – and the advantage swung one way then the other between silver and red.
Schumacher was less than 1s behind as Hakkinen peeled off into the pitlane at the end of the 37th lap. At just that moment, the drizzle increased in intensity.
"As we saw Mika going in, we knew we had a couple more laps to go and we knew these were the crucial laps," said Schumacher. "Problem was, I had traffic. I wouldn't say it was easy to pass them as it cost me a bit of time… Also as it was spitting with rain, I wasn't really thinking I was going as fast as I should have done."
But if he had problems, Hakkinen had more. At least Schumacher's tyres were staying up to temperature. Hakkinen's brand new dry weather rubber just wouldn't be brought up to temperature on the damp track.
"The actual stop went pretty good," Mika reported. "The mechanics and team did fantastic work. I went out onto the track and realised Michael still hadn't stopped and so automatically realised he had an advantage.
"I knew it was going to be very tough. Then I hit the traffic and then it started raining a bit more so I was just sliding all over the place, couldn't get the grip in the tyres. So that gave Michael opportunity."
Schumacher's three low-fuel laps in drizzle may have been compromised, but his hot rubber meant he was in better shape than Hakkinen. After pitting at the end of the 40th lap, narrowly avoiding a spinning Wurz, "I then I came out and Ross was keeping me updated and saying 'it's looking good, it's looking good' as I'm going down the pitlane at 80km/h and I was just waiting for him to say 'no it's not looking good enough' – and then he said 'it's looking bloody good'. That was an amazing moment."
Schumacher's Ferrari exited ahead. He'd done it! Well, not quite yet.
"I was then just hoping nothing breaks and the rain meant I didn't want to make a mistake. If you're the one behind you just keep on pushing, but if you're in front…. So it wasn't the ideal circumstance but… at the end of the day it doesn't matter. It was enough."
The drizzle faded away once more and Hakkinen closed up.
"On the last lap I was so far over the limit," he said. "I got close but not quite close enough."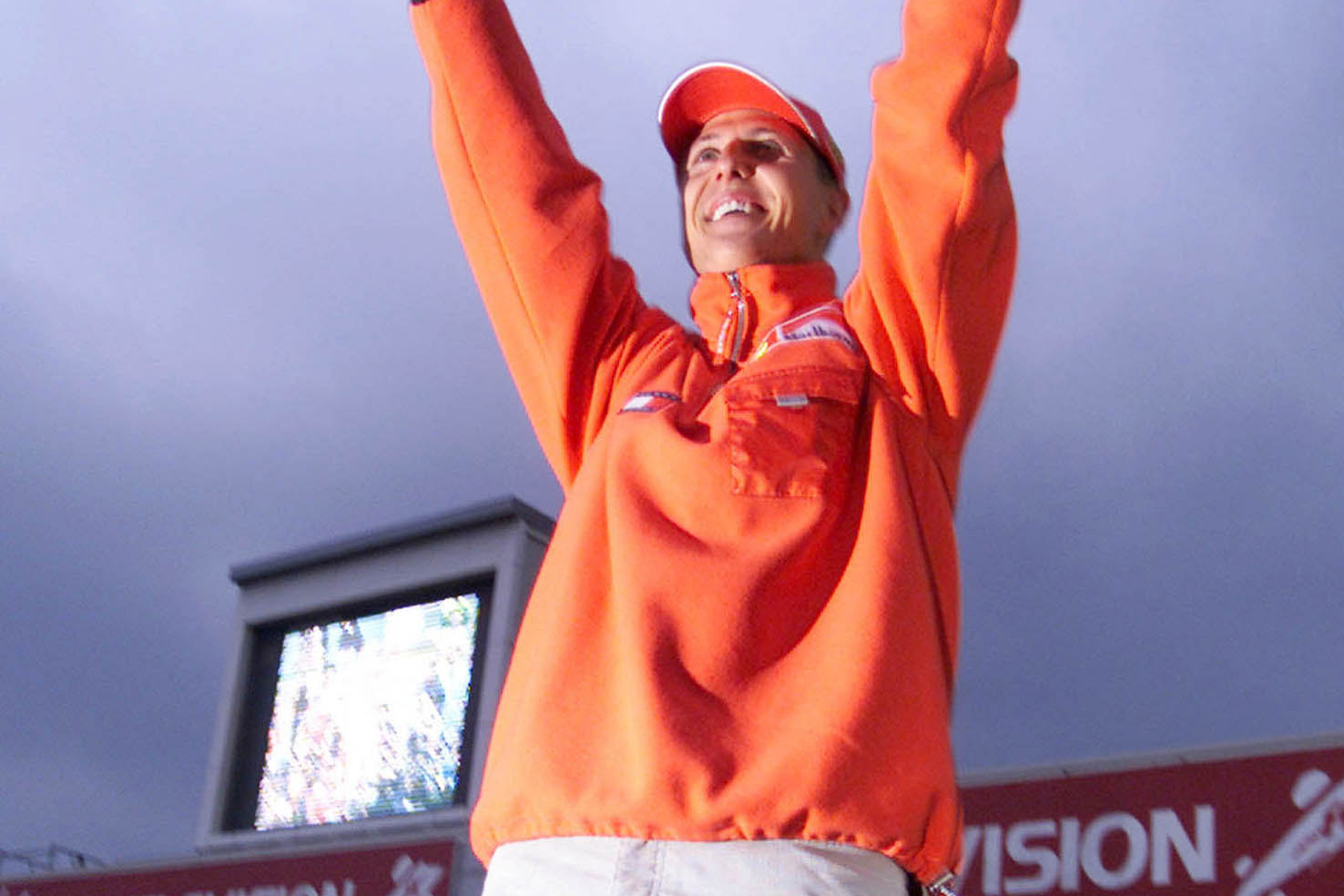 Michael Schumacher, a Ferrari-driving world champion, the first since Jody Scheckter in 1979.
At the conclusion of this epic contest, the rest were there just to fill in the blanks. Coulthard held onto his third place quite comfortably from Barrichello, with Button and Villeneuve taking the final points-paying places.
The early-starring Irvine had been jumped after his early stop and ultimately finished eighth, behind team-mate Herbert, who passed him at Turn 1 as Irvine exited the pits for the second time. Ralf Schumacher faded from his early fourth place with handling difficulties that eventually led to him spinning into the gravel.
The scenes in the collecting area of Ferrari euphoria were memorable. As Schumacher brought the Ferrari in and switched off the engine, first to greet him was Jean Todt, the man who'd pulled this team together and played a huge part in getting it finally to achieve its potential.
"To be a good winner you have to be a good loser too" :: Mika Hakkinen
Hakkinen got slowly out of his car alongside and walked over, still with helmet on, to greet his rival, with a brief 'well done, mate'. The crowd was chanting 'Michael, Michael', horns were blowing, shouts of joy from the crowd as Schumacher went to the fence to greet his team, a special greeting for chief mechanic Nigel Stepney. Then a big hug and kiss, and a special message for wife Corinna.
Into the weighing area where Hakkinen and Coulthard were patiently waiting for him. Stepping off the scales, Michael greeted Mika with, 'You bastard'. They laughed and hugged again. Mika's warm congratulations and arm around the shoulder looked heartfelt. He knew how hard it is, what it takes from you, what the stresses are, to fight a title campaign.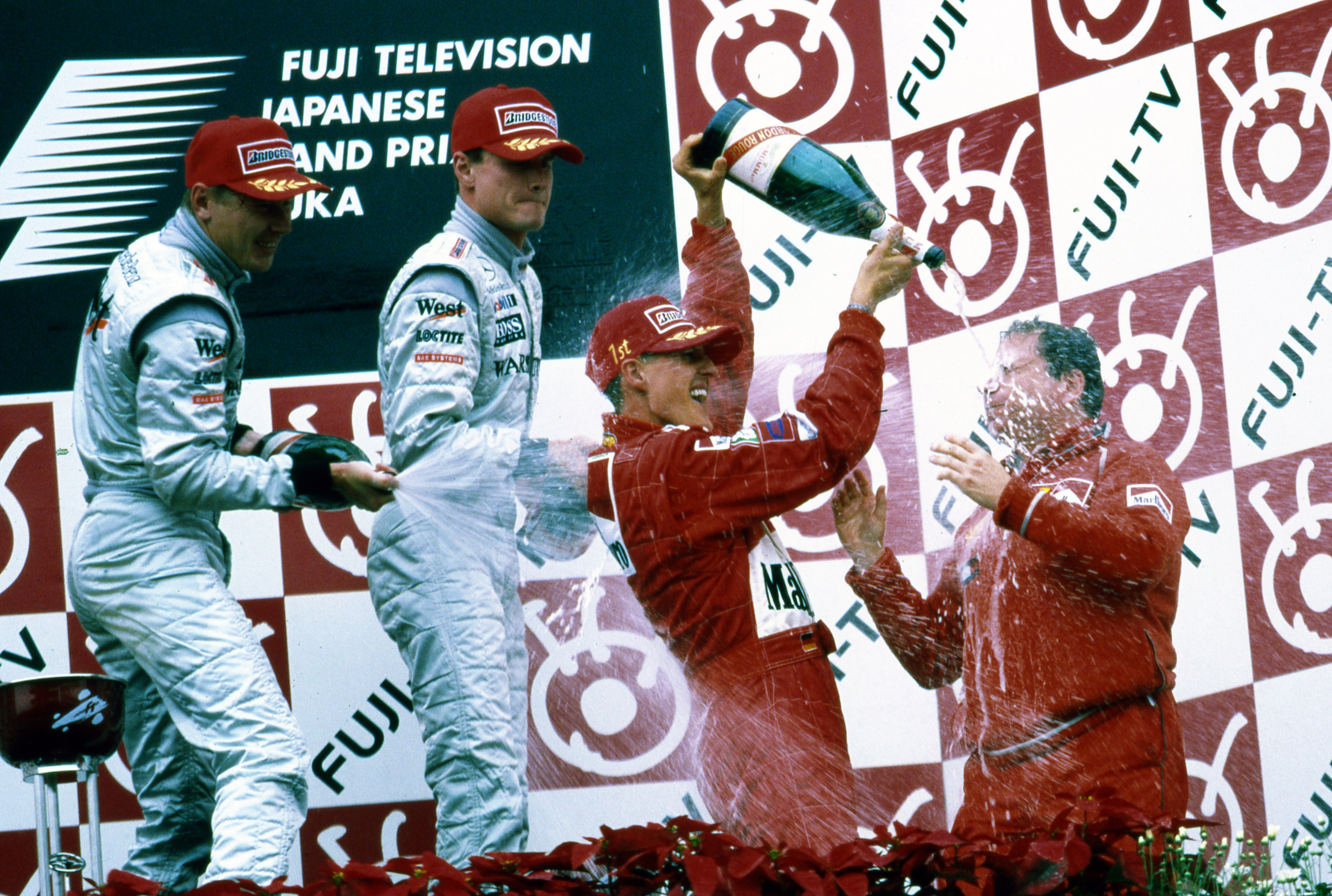 As Michael walked back out on his way to the press conference, a voice called him from behind: Stefano Domenicali, team manager. A warm exchange. This was a huge moment in both their careers. The joy of Ferrari contrasted with the impassive decorum of the McLaren team members, only accentuated by their respective colours of red and grey, like the colour of celebration and the black and white of deposed champions.
As Schumacher stood on the podium, the national anthems played. When it was the turn of the Italian anthem, he swung into orchestra conductor mode while laughing at the gusto with which track engine man Pino D'Agostino was singing along to it. Pino was an old guy by then, nearing retirement, but if you wanted to see what passion looked like, here it was.
"It's difficult to put into words such feelings," said the new world champion in the press conference. "There was such an outbreak of emotion initially when I crossed the line. I mean, the conditions were difficult today – it rained, no rain, then a little bit, then a bit more. The upgoing, the downgoing through the season. Even with a victory, the fight we had – you [Mika] could have made it a bit easier for me! Was simply outstanding… I have no words.
"I never thought the championship was never going to happen again but obviously every year it didn't happen, it gets longer and longer and you get more upset that it doesn't work finally even though we always felt we had an opportunity but couldn't use it for many reasons. Finally doing it, is simply great. I can only imagine how it was in Italy at the second pitstop."
Hakkinen was supremely gracious. "Congratulations for Michael. It's been a great season. Definitely been very interesting this year, been also up and down for us. I understand some other drivers tend to win.
"To be a good winner you have to be a good loser too. It doesn't mean you have to be happy about it. But to give the enjoyment and pleasure for the driver who has won – and that is the Michael at the moment.
"We weren't able to do it. Naturally I'm a bit disappointed but life continues, racing continues."