While waiting for the delayed 2020 Formula 1 season to begin, we've been revisiting classic grands prix for all-new articles highlighting what made them so memorable.
This weekend would've been the French Grand Prix, so we're off to Paul Ricard for a race rather more eventful than any it's held since returning to the calendar.
It says a lot about the 1989 French Grand Prix that Alain Prost's fourth win on home soil isn't one of the main things it is remembered for.
Prost's achievement was easily overshadowed by one of Formula 1's most famous first corner crashes, a charge from a pit lane start to the podium, and an impressive debut for a driver who would start another 200 races in his career.
It was a race packed with storylines before cars even hit the track on Friday. And for Prost, the most interesting part of this sunny July weekend came when he announced he would leave McLaren at the end of the year.
The circumstances around the announcement press conference were bizarre. Prost explained that McLaren "wanted a quick decision and I was not comfortable to take it at this time of year".
McLaren boss Ron Dennis talked of "a very difficult supply and demand situation on grand prix drivers at the moment", which he claimed made it "necessary" for McLaren to force an answer from Prost sooner than he would have liked.
"There is a big difference from saying, 'I don't want to drive for McLaren' and saying, 'If you need a decision today, this is the only one I can give you'," Dennis added in a failed attempt at clarity.
Prost's relationship with team-mate Ayrton Senna – utterly broken since their falling out over a pre-race agreement at Imola earlier in the year when Prost felt betrayed – was the elephant in the room.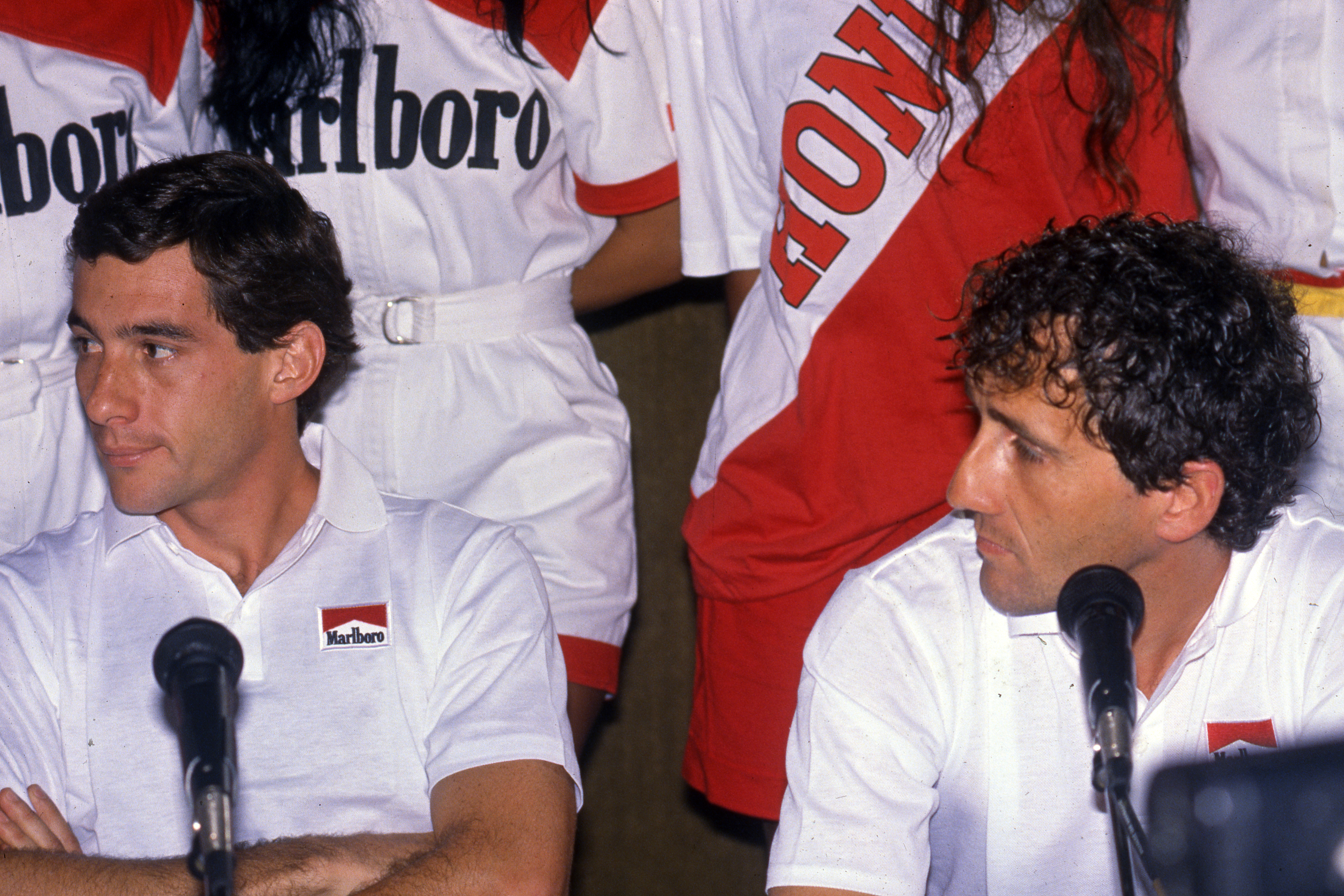 The Frenchman declined to answer questions on whether he'd have stayed if Senna wasn't at the team, but just weeks earlier he'd described the atmosphere inside the McLaren garage as "awful" on race weekends, so it wasn't hard to read between the lines.
Speculation at the time had Prost linked to Williams and its Renault engines, but later in the season he would sign for Ferrari ahead of the Italian Grand Prix.
There was no Prost v Senna battle this weekend at Paul Ricard though. Senna stormed into the lead with a stunning getaway when the green lights lit up – a start so good Prost suspected he'd jumped it.
As both McLarens pulled away from the front row, the most obvious difference was that Prost's #2 machine squirmed with wheelspin, back in the days where pole position was still often placed on the inside – and therefore dirty – side of the track.
No matter how good, or legal, Senna's start was, it turned out to be irrelevant.
GUGELMIN'S ACROBATICS
Until Ralf Schumacher vaulted over Rubens Barrichello's Ferrari at the start of the 2002 Australian Grand Prix, the image of Mauricio Gugelmin's upside down March at Paul Ricard's tight first corner was a popular one on the front of birthday cards – usually with a speech bubble featuring a play on the words 'mirror, signal, manoeuvre'.
We'll ignore the pedantry on exactly how Gugelmin looking in his mirrors would have helped. If anything that could have been one of the causes of an iconic accident.
Gugelmin started 10th, and with Riccardo Patrese's Williams breaking down on the formation lap he took off with plenty of space in front. The leading seven cars got away well: two McLarens, two Ferraris, one Benetton, one Williams and the Larrousse-run Lola of Philippe Alliot. Yes, you read that right.
Behind them there was a gap, with Gugelmin in the middle of the road and three abreast with Jonathan Palmer's Tyrrell on his inside and the second March of Ivan Capelli to his outside. Bertrand Gachot's Onyx briefly made it four-wide off the grid, although by the braking zone he'd slotted in behind.
Gugelmin had been slow away, so perhaps with clear space ahead to the leading cars he was focused more on winning the three-way duel to get to the first corner in eighth.
But he got it spectacularly wrong. He locked up, then as he came off the brake pedal for a moment in an attempt to regain control he darted for a gap that was always going to close between Gerhard Berger's Ferrari and Thierry Boutsen's Williams. That sent the Adrian Newey-designed March up into the air and onto its side, before it slammed into the back of Nigel Mansell's Ferrari and came to rest upside down in the escape road.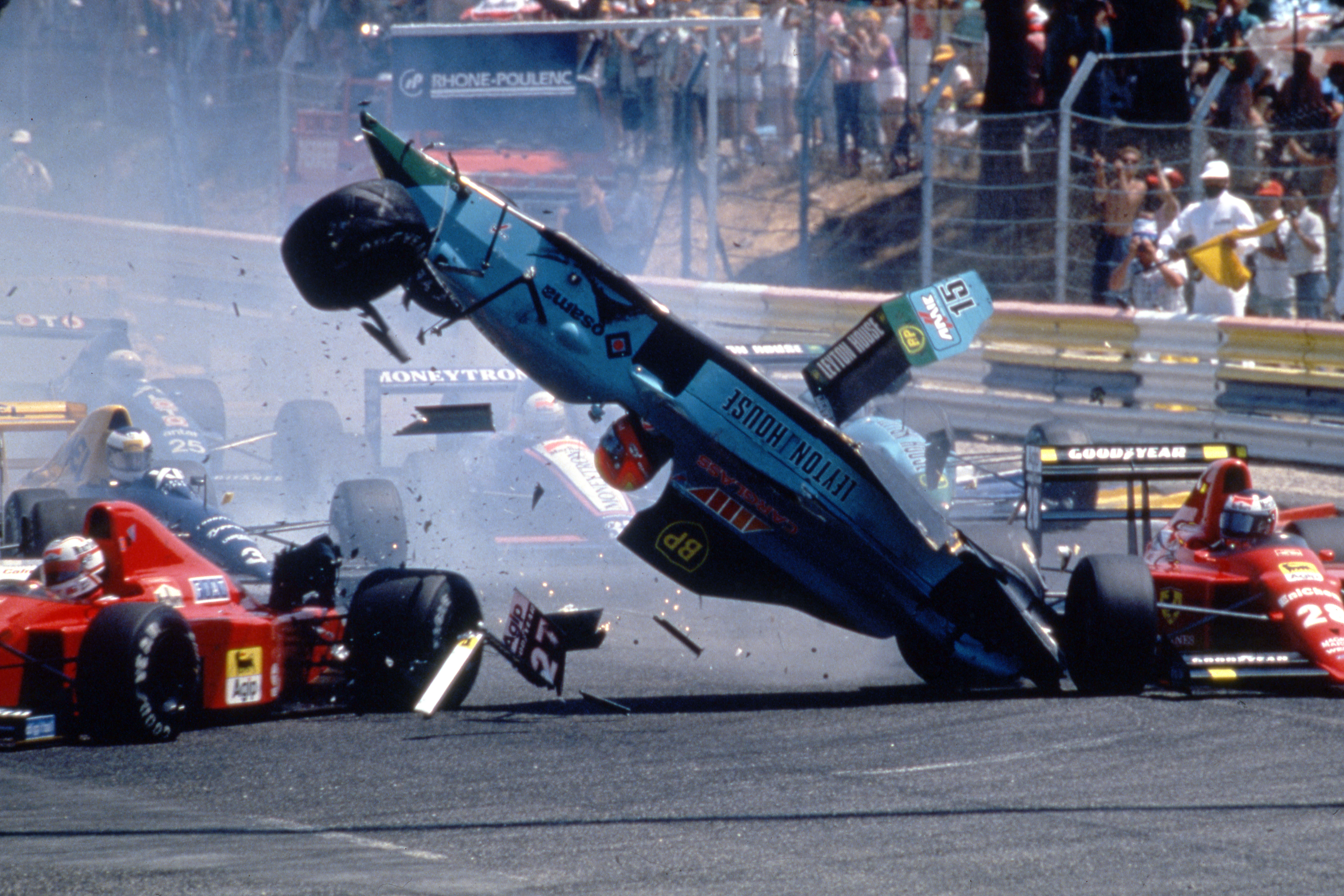 "I saw a gap ahead of me so I went for it," Gugelmin said after the race. "I could see Mansell in front and I had Berger to my left and Boutsen to my right. Then the gap just disappeared, so I put on the brakes hard and the car started to twitch and then the front wheels locked up. There was nothing I could do to stop it."
Since Paul Ricard had been shortened for the 1986 race following the death of Elio de Angelis in a testing accident, photographers ready to capture the start of the race had been primed for a massive shunt, and at the fourth attempt they got it.
As an amusing side note on this crash, former F1 designer Mike Gascoyne recently revealed on social media that he'd used the images of the upside down March to take inspiration from Newey's diffuser design for the 1990 McLaren that would take Senna to his second world championship. Newey is probably tickled by that, as the 1989 March was a flawed car that he felt damaged his reputation at the time.
I used the photo of the upside down Leyton House to copy the diffuser design which was the diffuser used on the world championship winning McLaren MP4/5B https://t.co/niZvXiwHk0

— Mike Gascoyne (@MikeGascoyne) April 20, 2020
With so many cars affected, the race was inevitably red-flagged. Mansell was one of the few to voice his anger about the crash, having taken such a big impact from Gugelmin's flying car that he'd hit his head on the back of his cockpit.
To make matters worse for Mansell, his rear wing-less Ferrari was then carelessly thumped again between the first and second corners by the Ligier of Olivier Grouillard, who'd avoided the first wave of trouble with a cheeky but utterly understandable giant cut of Turn 1. Grouillard ended the day by scoring the only point of his F1 career.
The other Ligier of Rene Arnoux hadn't made it quite that far. As Gugelmin's car flew through the air, just behind Arnoux steamed into the accident moments later, very nearly suffering the same fate. The French veteran bounced off four cars on his way through the slowing pack, narrowly avoiding being tipped over in the final impact with Palmer.
MANSELL'S CHARGE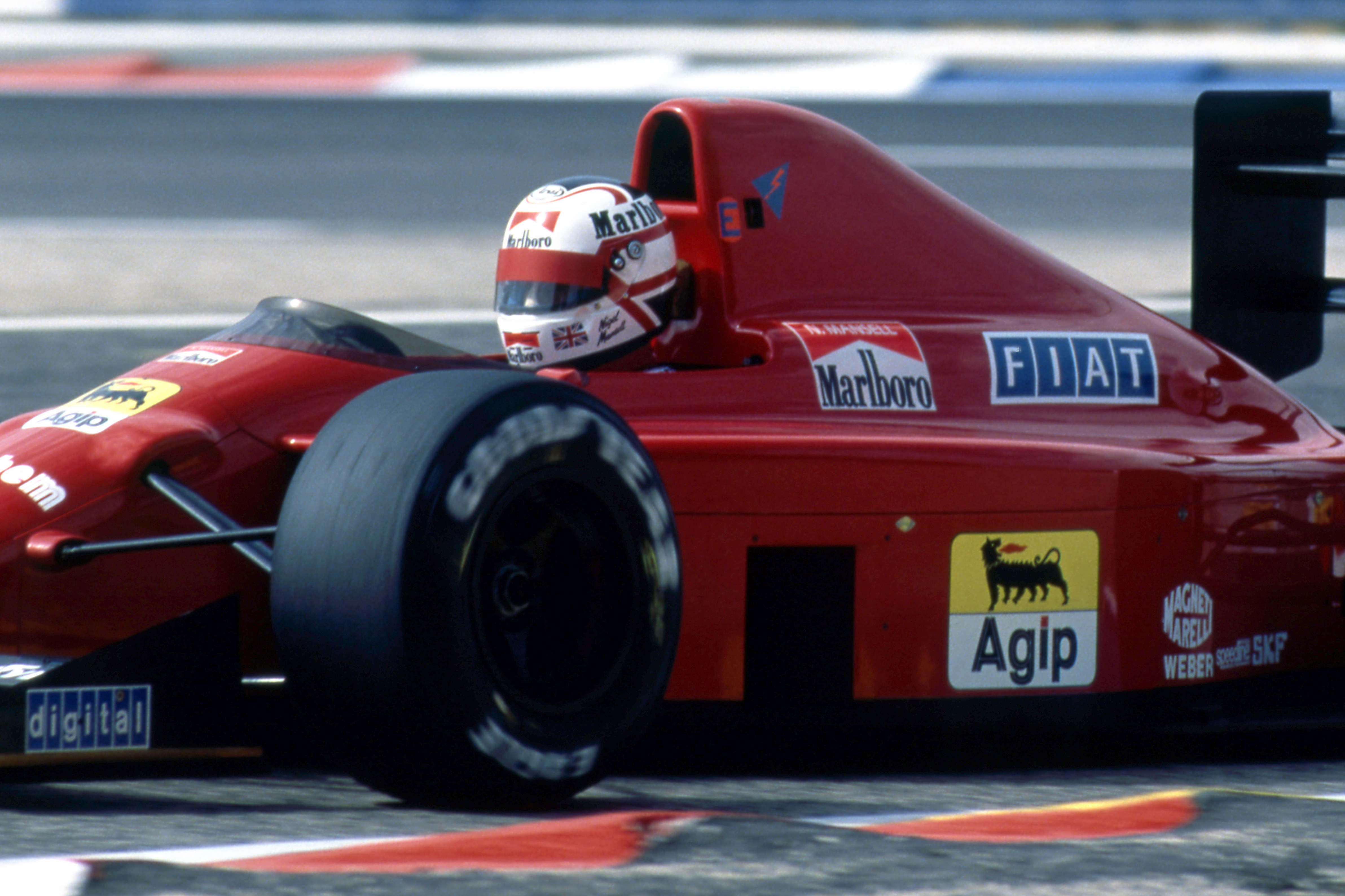 Remarkably all 26 drivers took the second attempt at the start, with Mansell, Gugelmin and Martin Donnelly queued up in the pits in their spare cars.
Mansell was in fact in Berger's car, as his team-mate had already taken the spare when suspected an oil leak on the way to the grid. Not only did Mansell have to take the car Berger had rejected due to reliability fears, but in Ferrari's haste to get the spare ready for Berger, the car left in the garage didn't have a seat or belts, meaning there was no way the mechanics could have it ready in time for Mansell to start from third on the grid.
The restarted race good news for Patrese, who could take the start after all in Williams's spare car after a sensor failure had caused his stoppage on the original warm-up lap. Like Mansell he would have much to show for the second chance.
Ironically at Ferrari, Mansell would make the finish in the car Berger suspected had a problem, while Berger would only last 29 of the 80 laps in the spare. Gearbox problems – a common theme at Ferrari in 1989 – meant the Austrian was still yet to score a point as the halfway mark of the season approached.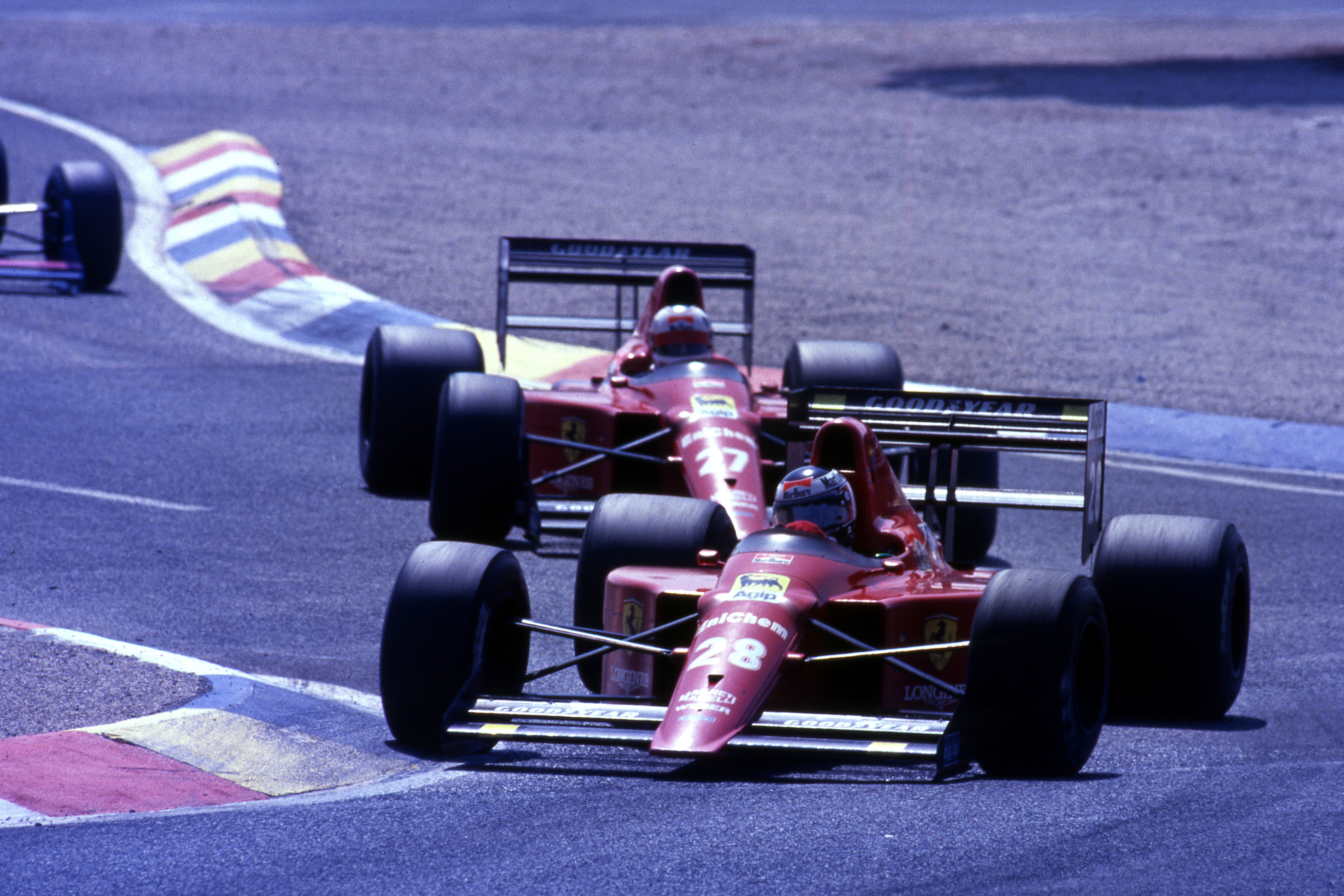 Mansell was unsurprisingly revved up after the frustration of starting from the pits. In qualifying he was the only driver in the same league as the McLarens, just two tenths behind with Alessandro Nannini nine tenths off pole in fourth.
Despite driving Berger's car, which gave him "problems with understeer and many other things", Mansell put on a charge. He ended the first lap 21st, then picked off one car per lap for the next nine: Pierluigi Martini, old Williams team-mate and rival Nelson Piquet (having a miserable weekend even by his 1989 standards), Eddie Cheever, Gabriele Tarquini, Satoru Nakajima, Stefano Modena, Eric Bernard and Arnoux were the victims.
Mansell was ninth by lap 20, but by his own admission he'd "destroyed" his tyres, so he made an early stop and brought the next set in more gently. His stop dropped him back to 15th, but he began to make his way back through, also benefiting from the retirements of Berger, the superb Alliot who was running sixth, plus Nannini and Capelli in quick succession – both from second place.
The Ferrari spent the best part of 20 laps stuck behind Patrese, who was also driving a car set-up for his team-mate. While Mansell fought with understeer Patrese was struggling with oversteer, which eventually got the better of him at Le Beausset. As the Williams skated off backwards into the trackside dust, Mansell was through to second. For the final 20 laps there was nothing to fight for, as Prost was comfortably up the road.
A LACK OF CHALLENGERS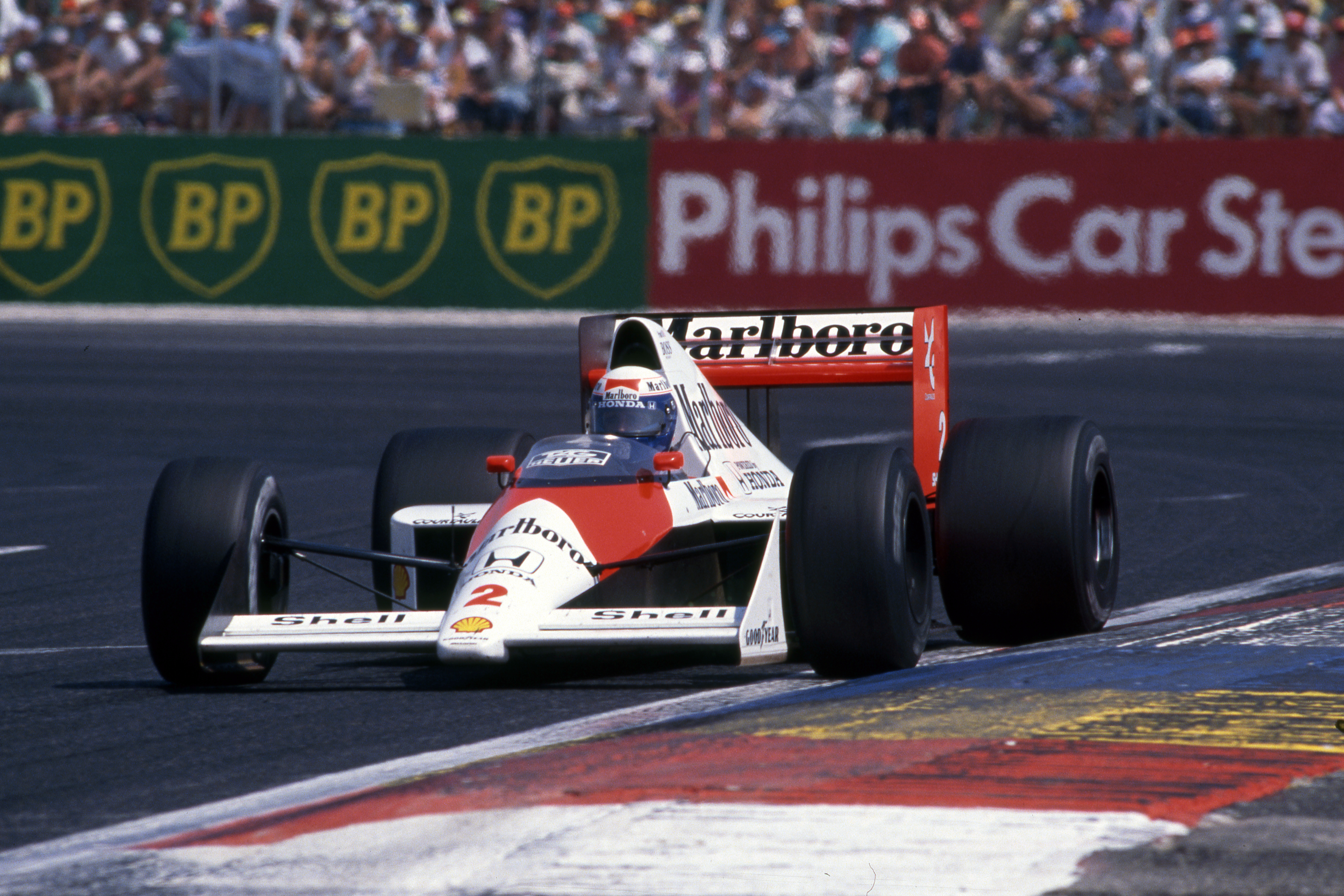 Prost's race looked a straightforward one within seconds of the restart. With Mansell waiting at the end of the pitlane this would surely be a head-to-head between the McLarens. But there was no repeat of Senna's stunning getaway from the first start.
"I was just changing from first to second gear when the drive simply failed," said Senna. He concluded "one of my shortest ever races" by pulling his car to the side of the track, fortunate to be dodged by the charging field streaming past him.
Prost, who made a better start second time around anyway, initially thought Senna had missed a gear rather than retired immediately, but he didn't hide the fact "I was happy" to have his main challenger out immediately.
The closest thing to drama Prost came across all race was when he caught a train of backmarkers being held up by Stefano Modena's Brabham after 20 laps. As Prost calmly worked his way past the queue of seven cars, his lead of more than 10 seconds over second placed Nannini shrunk to just five.
Had Senna been in the race, Prost might have needed to attack that group with more urgency. But he passed Modena at the head of the line just as Boutsen – second after Nannini pitted – reached the back of the queue.
Boutsen wasn't to prove any trouble to Prost. Williams had made hurried repairs to his front and rear suspension after the Gugelmin accident, and he was having to drive around an imbalanced car. He lost second gear around his pitstop, but once sixth gear went too, that was one problem too many for the Belgian to soldier on with.
Nannini was the first of the leaders to stop, giving up second place just as Prost started to lose time in the Modena-led traffic jam. That could have spooked McLaren into stopping Prost early to cover the Benetton off, but it was a sign of McLaren's awareness that this was a one-car race, and Prost being mindful of Paul Ricard's abrasive surface, that the leader pitted after spending so long clearing those cars.
"I didn't have any real pressure from anyone," Prost said. "But the others were not too far behind in the early part of the race, so I had to focus on keeping a rhythm and conserving the tyres properly."
Prost rejoined six seconds ahead of Nannini, and set his fastest lap of the race as he started to pull clear. Victory coupled with Senna's third retirement in a row gave him a very satisfying 11-point lead in the championship.
Nannini's impressive run on the debut for Benetton's definitive 1989 car didn't last much longer. At the start of lap 41 his left-rear suspension failed in spectacular fashion, and the Italian did well to guide his missile-like B189 between the trackside barrier and Nakajima's Lotus that was braking for Turn 1.
That promoted Capelli to second for three laps until his engine let go. He'd get to finish second at the same track a year later but in cruel circumstances, being passed by Prost for the lead with just four laps to go with an ailing car.
The next man to inherit second position was star debutant Jean Alesi.
FIVE DEBUTANTS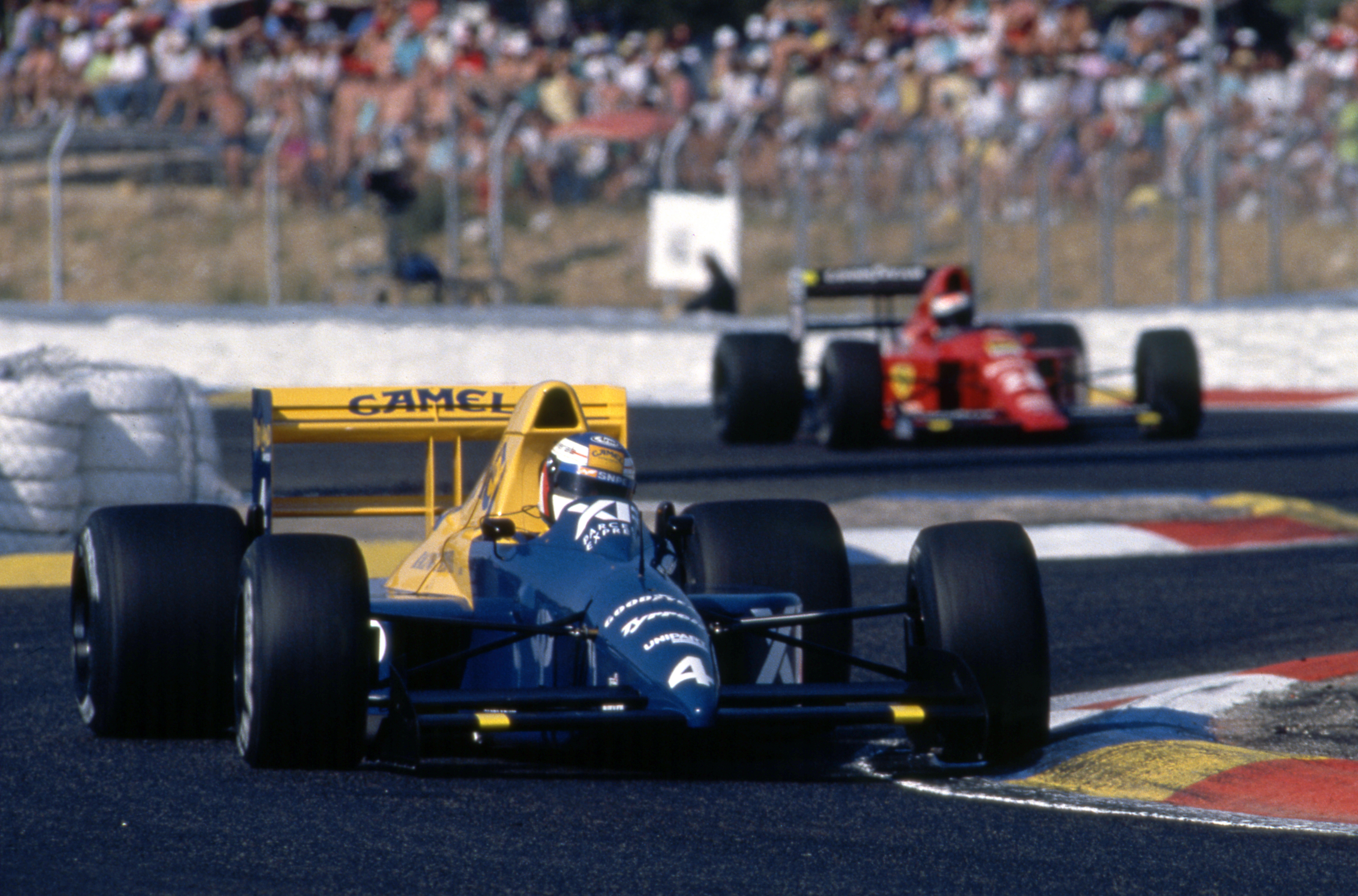 Alesi only ran second for four laps before coming in for a tyre change later than most. But he rejoined fourth behind Patrese and Mansell, a position he would hold to the end to cap off a memorable first weekend in F1.
The opportunity for Alesi to join Tyrrell has always been attributed to the team's sponsorship deal with Camel, which clashed with Michele Alboreto's personal deal with Marlboro.
Alboreto left the team on the eve of the race, but his and Ken Tyrrell's actions in the weeks that followed suggest there might have been more to it. Tyrrell claimed he was keeping the seat open for Alboreto if the Italian wanted to return at Silverstone, and after he didn't, Alboreto ended up at Larrousse later that year. Larrousse also carried Camel sponsorship…
Back to Alesi. He was leading the Formula 3000 championship for Eddie Jordan, who had him tied to a management contract. Jordan, whose team was sponsored by Camel, worked hard to get Alesi into the Tyrrell seat, but at first neither the team nor its sponsor were willing to pay to give Alesi the opportunity.
Tyrrell told Jordan Alesi was unlikely to qualify, which Jordan took offence to as he felt it was an attempt to "get their hands on Jean for next to nothing". He eventually got some money for the deal, but he later said "Ken never put anything in the subsequent agreement to cover the eventuality of Jean doing well".
Alesi recalls that he went from feeling like an anonymous presence at his home grand prix to having a garage full of journalists on the Sunday evening. Tyrrell's reaction was similar, desperately trying to get Alesi released from his Jordan F3000 commitments on the Monday after the race. Instead he combined both drives, with F3000 taking priority until he'd sealed the title with a round to spare.
Alesi was one of five men who made their debut at Paul Ricard in 1989. Jordan managed to get another of his drivers – Martin Donnelly – in at Arrows to stand in for Derek Warwick. Warwick had injured his back in a karting accident, and didn't want to risk missing the upcoming British Grand Prix by trying to battle through the pain in France.
Jordan faced no difficulties this time around, with Warwick recommending Donnelly to Arrows. The deal came off the back of an impressive performance in testing with Lotus, where Donnelly had outpaced regular drivers Piquet and Nakajima.
Donnelly qualified 14th, eight tenths of a second and 11 places ahead of team-mate Cheever, and after starting from the pits with Gugelmin and Mansell he finished 12th. The following season he and Warwick would be team-mates at Lotus.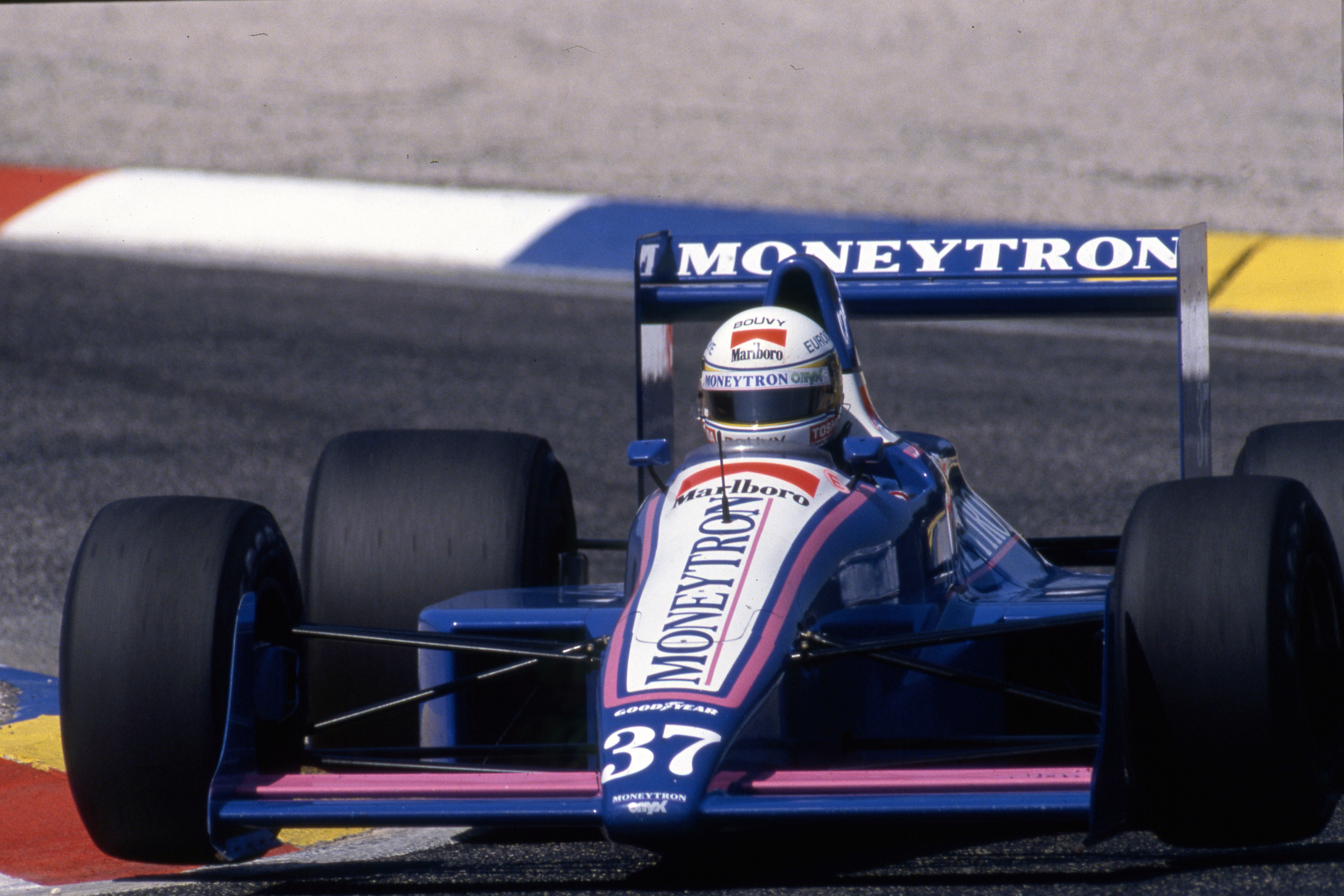 The highest-placed of the five newcomers in qualifying was Bertrand Gachot, who'd failed to get through pre-qualifying with Onyx at the previous six races. He was 11th on the grid, two places ahead of team-mate Stefan Johansson, who would score the team's first points in the race. That honour could have gone to Gachot, who was running sixth when his battery overheated.
Fortunately it happened just before the pits, so he was able to coast in and rejoin the race once the problem had been rectified. He was the last classified finisher in 13th, four laps down.
Prior to Alesi's star showing, the most high-profile driver change appeared to be at Benetton. Johnny Herbert was 'rested' after failing to qualify at the previous race in Canada. Herbert had scored points on his F1 debut in Brazil at the start of the year – a remarkable achievement given the agony he was still in from his horrendous F3000 crash in 1988. But on circuits with heavier braking zones he'd struggled.
At the end of his F1 career in 2000, Herbert confessed he "knew it was probably the right thing" for Benetton to drop him while his legs and feet were still recovering, even if it was hard to take at the time.
McLaren test driver Emanuele Pirro was called up to Benetton, taking him away from a deal that was "99%" completed with Larrousse. Pirro said Larrousse "gave me a lot of time to think about" accepting its offer to replace the underperforming Yannick Dalmas, but "unfortunately they gave me too much". He hadn't signed anything, and he could hardly be blamed for considering Benetton a stronger bet.
Larrousse was always going to need another driver for its home race, as Pirro was supposed to join from the British Grand Prix due to a clashing commitment in Japan. Although he was able to get out of it for Benetton.
Eric Bernard became the third F3000 racer to join the grid for the French Grand Prix, having impressed in a test at Silverstone for Larrousse where Pirro was fastest. He qualified 15th, just ahead of Alesi on the eighth row, and ran as high as fifth before engine gremlins started to creep in. Bernard tried to nurse the car to the end, and was running seventh until his Lola-Lamborghini blew up three laps from home.
That was still enough for him to be classified 11th, just ahead of Donnelly and Gachot.
One more man was still running at the finish, but he didn't complete enough of the distance to be a classified finisher: Gugelmin. He'd been upside down, then taken the restart in his misfiring race car, which he'd ditched earlier in the weekend.
After a lengthy stop to finally cure the misfire, Gugelmin set the only fastest lap of his F1 career. Strangely enough, that's not the first thing that comes to mind when you think of his 1989 French Grand Prix.