After a year featuring struggles defending his IndyCar championship, being sued by his team while still racing for it and desperately trying to grab back control of his own destiny, Alex Palou will make his Formula 1 grand prix weekend debut with McLaren in Friday practice at Austin.
Given the path his 2022 has taken alone, it's an incredible journey.
It's clear that after putting Palou in its 2021 MCL35 at Barcelona and the Red Bull Ring, McLaren deems him ready to contribute to its 2022 campaign with this opportunity.
But how did Palou get here? Why did he never think he'd get an F1 chance? Why is his brain power so highly regarded? And how will his style suit F1? F1 fans may have plenty of questions about Spain's latest F1 hope.
The Race has followed Palou's progress for years and answers some of those key questions about him, his driving, and his future.
He never expected an F1 chance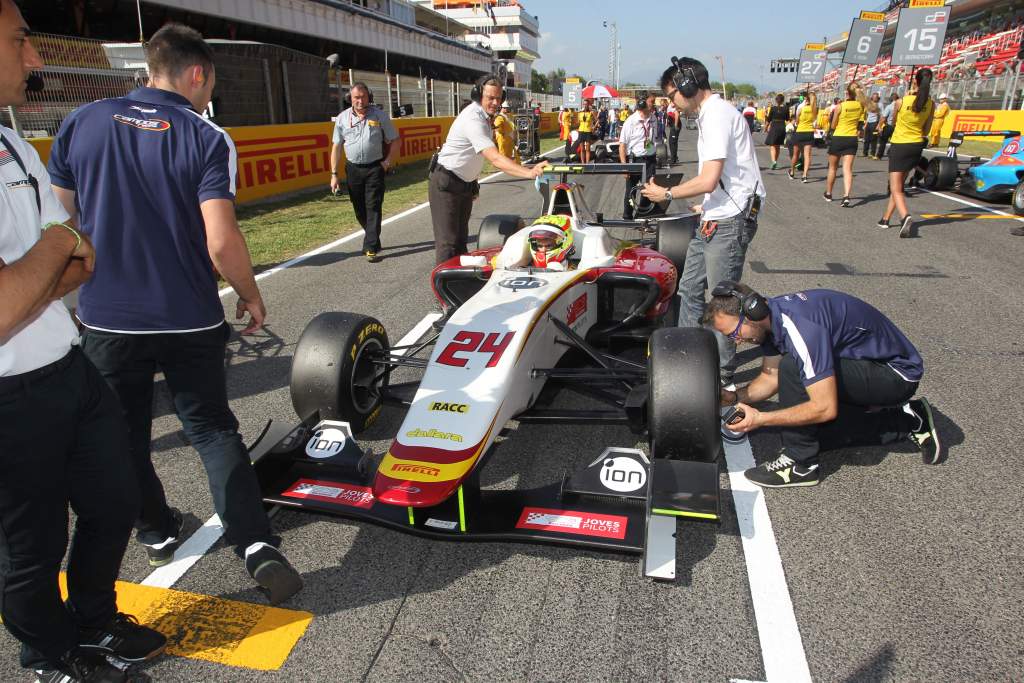 While racing for Campos in GP3, a realisation occurred to Palou much earlier than many other drivers: F1 was a pipe dream.
His family are not particularly wealthy – certainly not having the hundreds of millions required to reach F1 – and so he sensibly switched his ambitions.
Little did he know where this path would take him.
---
Brief resume
2022 5th in IndyCar
2021 IndyCar champion
2020 16th in IndyCar
2019 3rd in Super Formula, 1 win, 3 poles
2018 7th in FIA European F3 Championship
2017 3rd in Japanese F3, short stints in World Series Formula V8 3.5 and F2
2016 15th in GP3
2015 10th in GP3
2014 First year of car racing. Third in Euroformula Open, second in Spanish F3
---
"Formula 1 obviously is a dream for everybody, for all racing drivers," Palou told The Race in 2020 while still racing for Dale Coyne in IndyCar.
"But it was a dream for me when I was a kid, not when I grew up.
"Or let's say when I started single-seaters. I already saw what I needed to go to Formula 1 and what you need is to win everything. To be able to do that you need a lot of money to be in the best team in GP3/F3 and GP2/F2, and you need to be in the best position doing the most testing. I couldn't do that.
"So then I looked at my options. What I really wanted was to be a professional racing driver, whether that was in formula cars, GT racing, I didn't care.
"I had the dream to go to IndyCar because I thought that was the best championship I could go to. I was looking for that dream since then, for the past six or seven years. I made it."
He outshone George Russell in a one-off
Scott Mitchell-Malm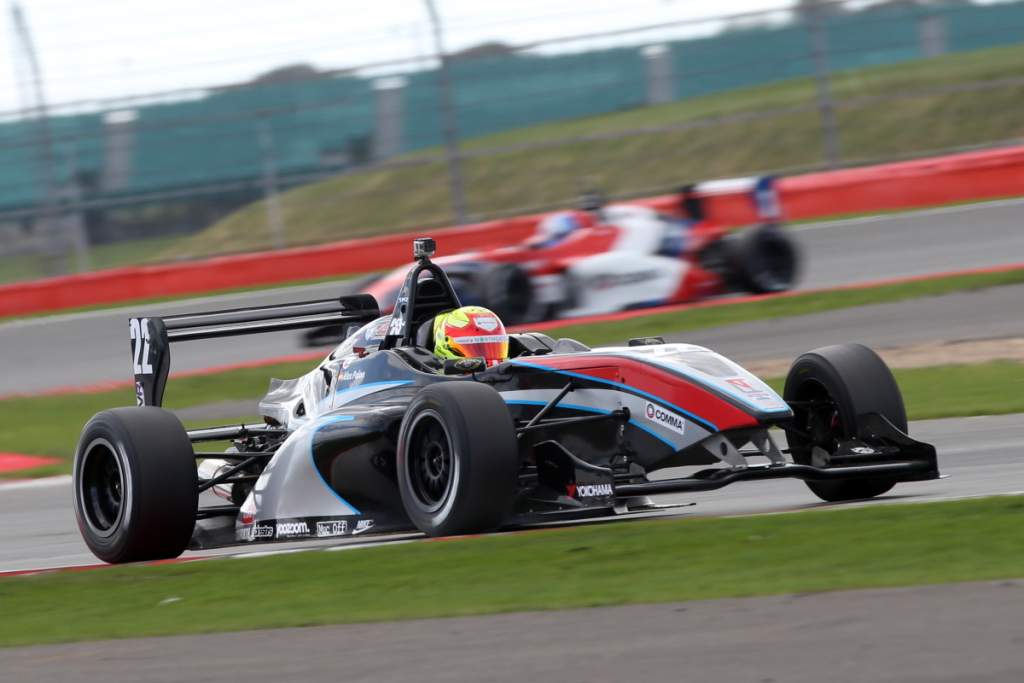 When Palou takes part in Friday practice at Austin he'll be reunited with someone he first shared a track with in single-seaters back in 2014.
Palou outshone George Russell at a Silverstone round of the BRDC Formula 4 championship during the now-Mercedes F1 driver's title-winning rookie season.
Russell had actually beaten Palou to the European KF3 title in karting in 2012, so they knew each other of old. In 2014 they both stepped into cars, with Russell in F4 and Formula Renault and Palou in Euroformula Open – an F3-level category.
When Palou rocked up in BRDC F4, Russell's season was going through a tough patch. And Palou beat him twice in the three races.
Through an odd junior career Palou had plenty of head-turning moments of magic. This was the first I saw. It was a very impressive one-off performance and meant every time he turned up in something after that point, as a full-time driver or not, I always knew he could surprise people.
Going to Japan rekindled his career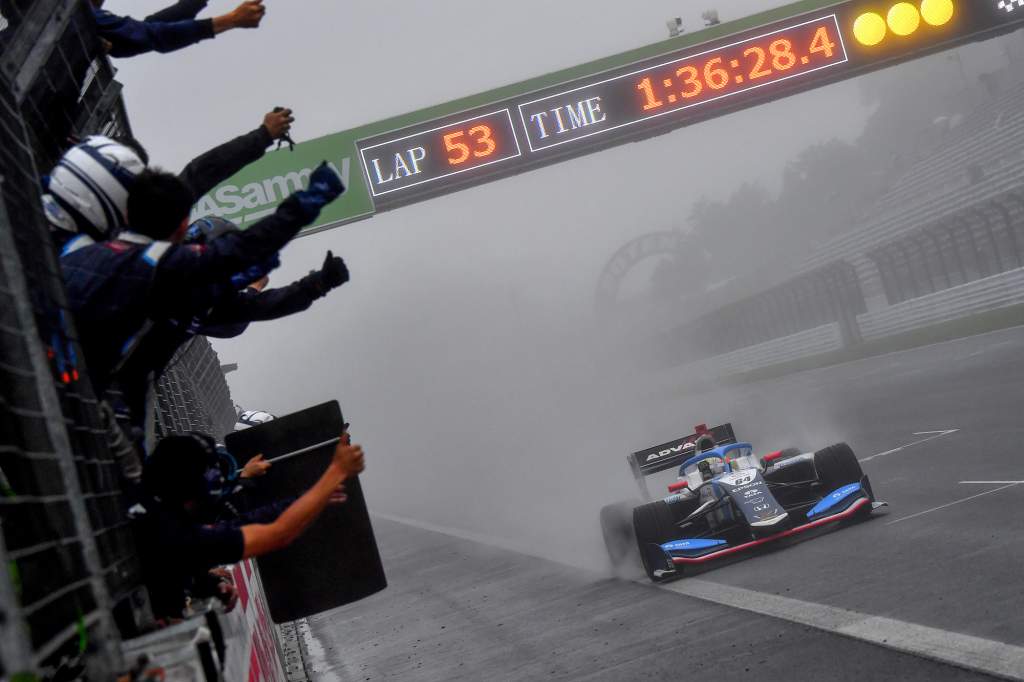 A host of these surprising and impressive one-offs were tempered by regular championship difficulties.
He didn't have the machinery to compete for the GP3 title in 2015 and 2016, and even if he had, it felt Palou still had some sharpening up to do to beat the calibre of driver he was up against. After all, the champions in those years were Esteban Ocon and Charles Leclerc.
One shining light on his junior path was a year in Japanese F3 where he finished third against some drivers much more comfortable on and off the track in the land of the rising sun.
After a flashy but ultimately underwhelming year of European F3 with Hitech, he returned to Japan and that's what turned his career around.
He made the move with the help of his manager Roger Yasukawa, an IndyCar regular in the 2000s himself, and it allowed Palou to impress in a championship that is highly regarded worldwide, and where Honda has plenty of interest.
His ability in the wet and generally his calmness under pressure delivered a victory that year, but perhaps more impressive were his three poles in the hotly contested series. He's a driver more thought of for his pragmatism than his raw pace, but there can be no denying his speed that year.
He even took pole in the series finale where he had a good chance at the title until a cooling issue ruled him out.
Super Formula also gave him key experience of racing in a series with refuelling and understanding pitstop strategy that features it.
With the help of Honda, the year earned Palou a Dale Coyne Racing test at Mid-Ohio that year in which he impressed enough to get the seat.
His first IndyCar season was better than it looked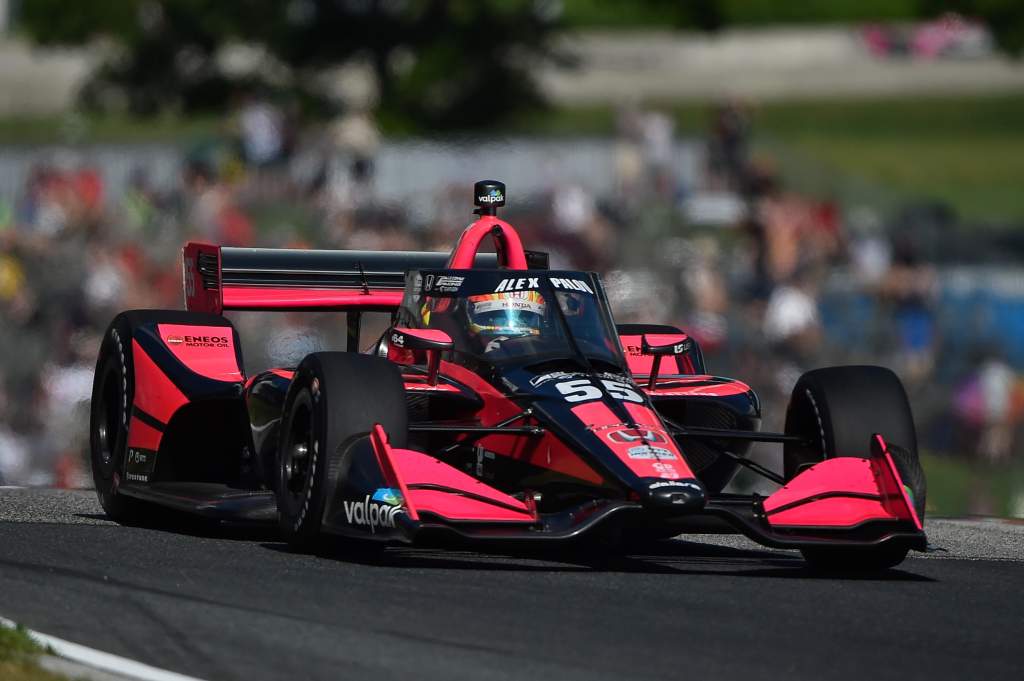 The first thing you have to remember analysing any IndyCar campaign is that, in any given year, the top three teams – Andretti, Ganassi and Penske – are bringing 10+ cars to the table. Imagine if Mercedes, Red Bull and Ferrari between them brought 10 cars to every race in F1?
It means a top 10 result is actually better than it might look in some other series.
Palou's 16th place finish with only one podium – at Road America – in the 2020 championship in his rookie year with Dale Coyne Racing doesn't seem that impressive. But you have to look deeper than that.
He was strong on ovals from the get-go and immediately understood the Indy 500.
His focus and level-headedness are perfect for the event and something it takes some drivers years to reach such is the pressure and the excitement of the 500. But he was in the Fast Nine pole shootout first time there, which impressed Ganassi enough for it to begin talks to sign him.
Having had staff move from Coyne to Ganassi – and with shared engine supplier Honda also able to advise – Ganassi was impressed with the praise Palou received.
"It was a tough year, I think I did things that we were able to shine in almost every race," explained Palou talking to The Race at the end of 2020.
"Maybe in qualifying, maybe during the race or maybe during free practice that we were able to really do good stuff with the car.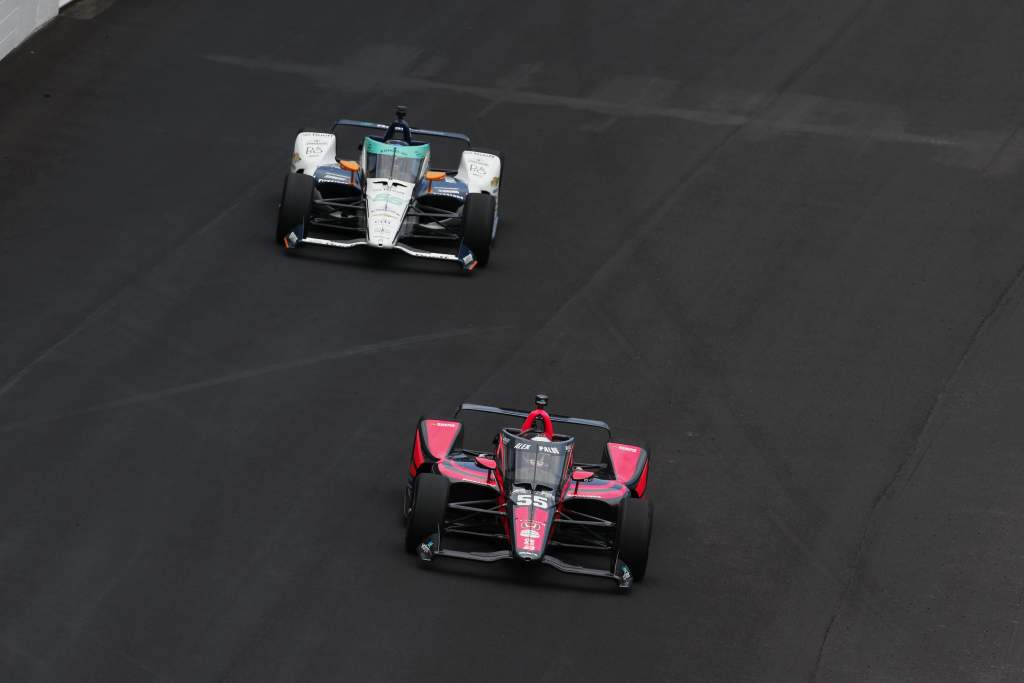 "But obviously the results were not the ones I wanted or the team wanted. But lucky, lucky me that there's a guy that owns the biggest team that thought that I could win with his car, and that's Chip [Ganassi]. And I think that's what matters, right? If he believes in me.
"He believes that I can do really good stuff for the team. I know I already believe in myself, I think every driver believes so much in himself.
"But knowing that one of the big guys really trusts in you and gives you one of the most historical cars in the field, it's amazing."
Not only was Palou's year better than it looked, but he also laid the foundations for Romain Grosjean's 2021 season at Coyne where he earned a pole and two podiums.
Take nothing away from Grosjean's year, but Palou worked tirelessly to analyse and improve the Coyne car to the point it was much better when he left it than when he got it.
He'd also adapted well to life in America.
He left his coffee shop in Girona near Barcelona – brilliantly where he competed in his first IndyCar race, in its iRacing Challenge, having removed some tables to put his sim in there – and immediately took to fried chicken.
That has become one of his trademarks in the states. He only gets to eat fried chicken after a win. After his championship success he got to drive a fried-chicken liveried limousine around the Indianapolis Motor Speedway.
"A new track recordddd!"

After winning the @IndyCar championship last week, @AlexPalou put his name in the record books again at #IMS.

Fastest lap ever driven in the @ChickenLimo.#INDYCAR | #IsItMayYet pic.twitter.com/ZFc0N6MjFR

— Indianapolis Motor Speedway (@IMS) October 4, 2021
His 2021 title was amazing on so many levels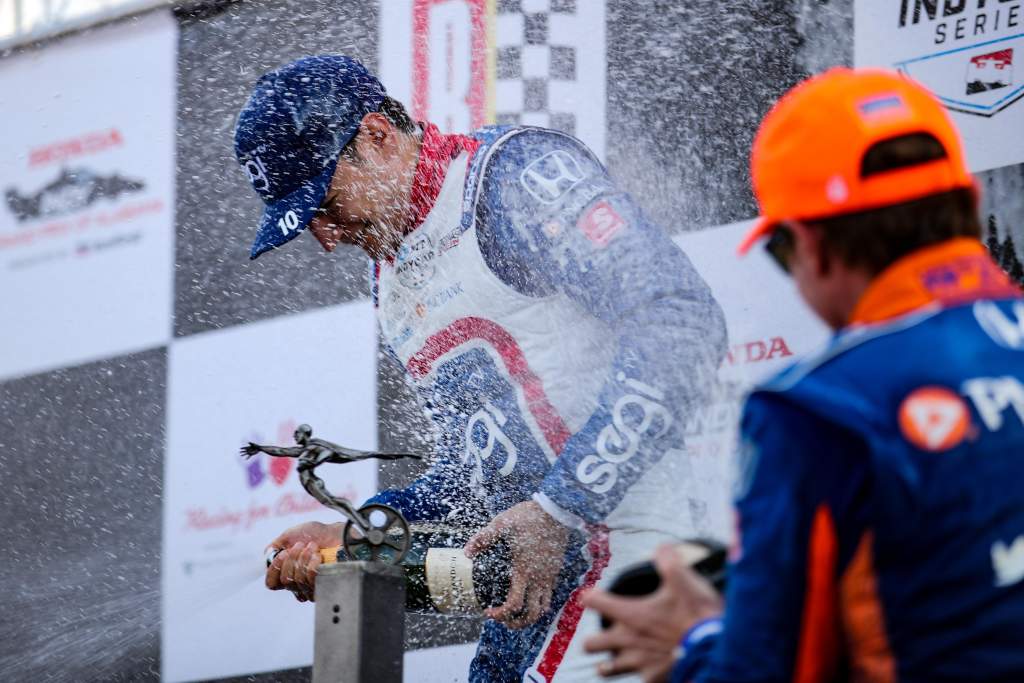 Winning the first race of the season gave Palou some lovely momentum at a track he loves, Barber Motorsports Park.
It showed that he wasn't employed to be Scott Dixon or Marcus Ericsson's whipping boy, or at least, he wouldn't be willing to fulfil that role.
On display that weekend was everything that would make him a champion. Cool in the face of a tough fuel-saving strategy battle, rapid when he needed to be but most of all, immediately able to calm the current IndyCar which is wayward in style.
His second place at the Indy 500 – which offers double points – gave his campaign a mid-season boost and a win at Road America snatched from the heartbroken Josef Newgarden – Palou's closest rival who retired close to the end – also helped.
But another area that cemented the aura that this was his year was as his engines kept breaking. One in pre-season, grid penalties followed later in the year and then he had an engine let go while set for a top five at the Indianapolis road course in the heat of the title battle in August.
Instead of shouting, screaming, moaning or complaining he looked more like a driver that had won the race than lost it in his post-race interview.
That sent a message to his competitors that Palou is unflappable, and to his team that he wouldn't apportion blame or be defeated by a mechanical issue.
A disappointing day for championship leader @alexpalou, but his sights are already set on @WWTRaceway next weekend.#INDYCAR // #BigMachine // @CGRTeams pic.twitter.com/Qc2z2ix3dC

— NTT INDYCAR SERIES (@IndyCar) August 14, 2021
He was then taken out in the next race at Gateway but won the Portland event where he was forced off track at the start and came from 16th to win in a strategy thriller. Are you starting to get the 'never give up, never back down, never show weakness' vibe yet?
His brain impressed Honda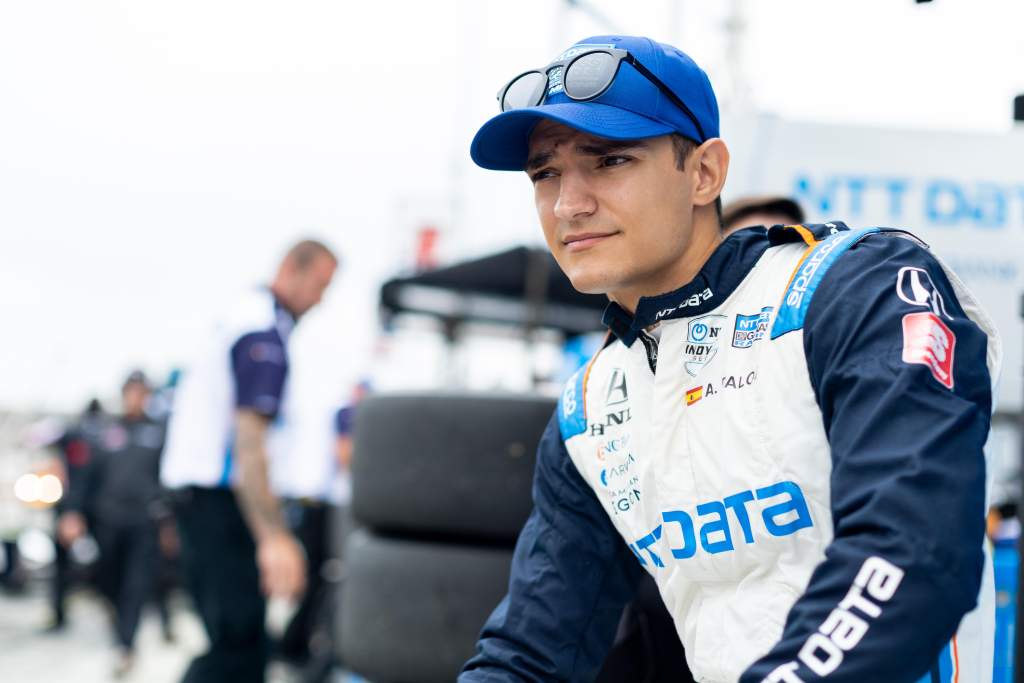 Ex-Ferrari F1 engine chief David Salters is now the president of Honda Performance Development. After Palou's title win Salters gave his take on what makes Palou special, having worked with countless F1 champions and race winners before.
"There's a few things, he's super-fast, obviously," said Salters.
"But then these days looking at the top class drivers and how they go about their business, their method, you can see that in the simulator, there's a methodical way of understanding how the car is behaving, improving the performance.
"The champions are the ones that are probably best at that. A lot of them have the speed but then there's that extra mental capacity that goes into being a champion.
"I've been lucky enough to see it in different areas and after a little while – I'm not precocious enough to say you can spot it – but you can notice it at a certain point when it becomes really obvious.
"Speed is king but there's this extra mental capacity, bandwidth to do extra stuff while being really fast.
"You want the car to be as good as it can, but at a certain point you have to also adapt to the car and the champions seem to have a way of doing that mentally. Alex has got all that.
"Even last year when he was in the simulator that became obvious to be honest.
"Hats off to him, there's massive further potential there I think. Just looking at how the guy works, it's not a surprise what he's achieved."
He has an unusual driving style in IndyCar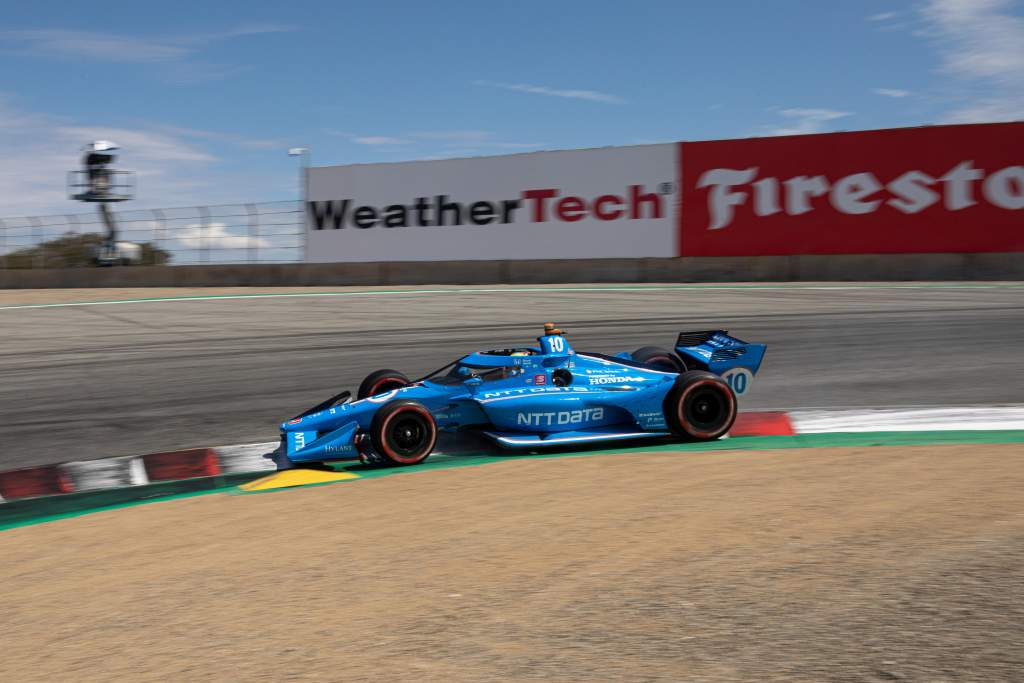 The current IndyCar is driven by almost everyone with big doses of opposite lock and intense aggression. That's just how you're expected to extract speed from it. Unlike F1, sliding around is very normal there and sometimes even necessary to find speed.
But Palou's onboard rarely gives that impression. He's able to extract pace in a much more calm fashion, which means he's friendly to his tyres and his machinery.
It's perhaps one of the reasons he makes so few mistakes on-track, with his whole 2021 season coming without a major error. Nothing ever appears so wild that he can't bring it back into line with his strong car control.
You've heard from Salters on Palou's available brain power, and that stretches into analysis too.
He's known at Ganassi for being able to break down the circuit into corners and work to suggest changes, but with a wider view of how changing a car in one corner can alter it in another.
Put simply, he's very clever indeed.
These characteristics are all things that make a fantastic F1 driver, so his first FP1 this weekend will be a great chance to see how that applies on a bigger stage here.
Why a McLaren IndyCar move would be intriguing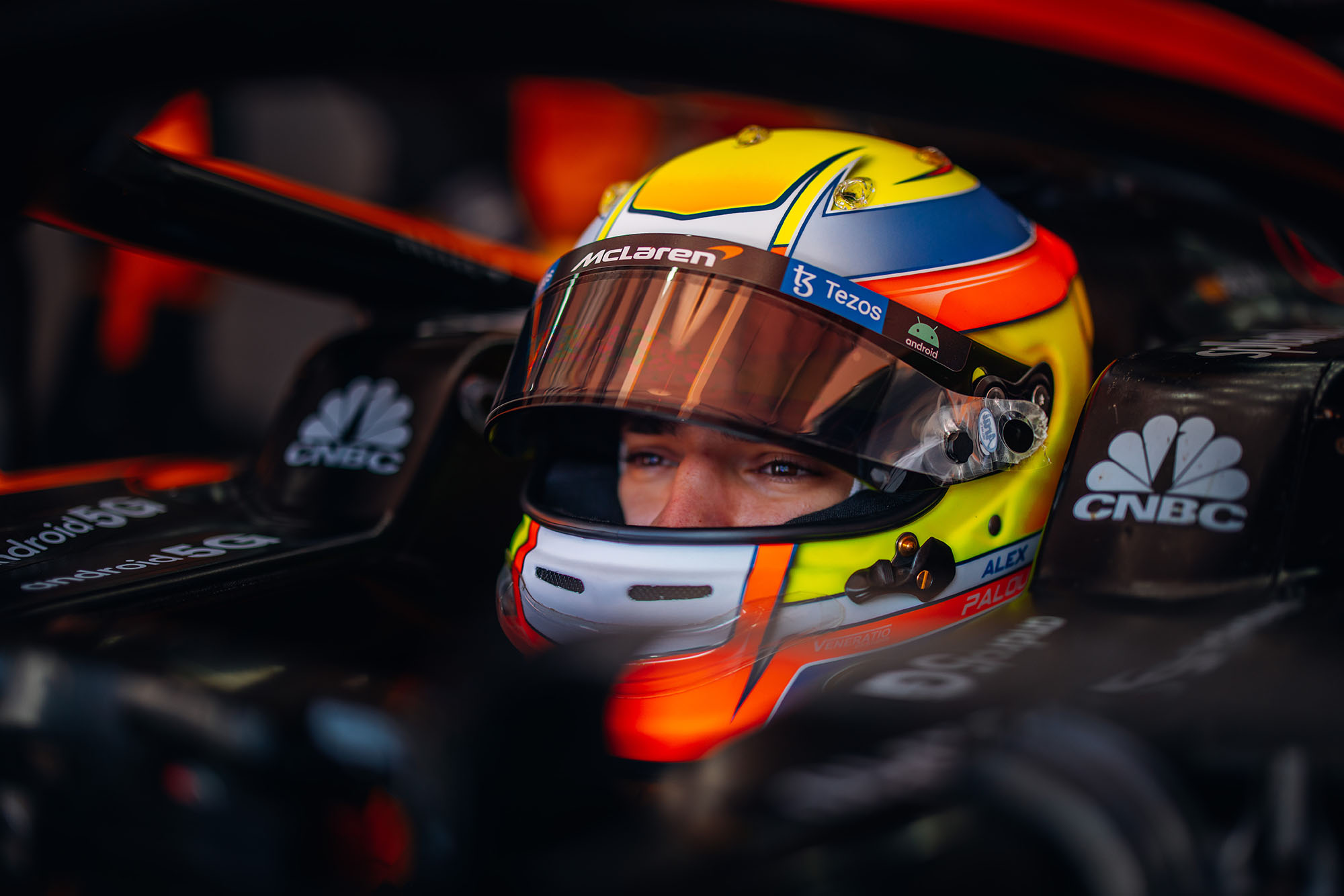 After the recent court case it's been established that Palou will race for another year with Ganassi as per his contract, although he has been given permission by Ganassi to test in F1.
He has an exclusivity clause until next September which means he can't talk to other teams, but it's widely accepted he'll make the switch to McLaren's IndyCar team for 2024 when he is free to.
What's intriguing about this is: the Arrow McLaren SP car has been one of the toughest cars on the grid to tame.
Pato O'Ward has gained a very strong reputation in the paddock for what he's been able to do with this car. Remember, McLaren is three years into its IndyCar journey with this team while Ganassi has been winning championships since the mid-1990s.
Palou's style – much more straight, calm and precise – seems at odds with the manhandling the Arrow McLaren SP car sometimes requires.
It's been made more compliant last season and perhaps the team will take another step with that in 2023. But watching Palou try to adapt to that up against a future potential F1 contender in O'Ward will be absolutely brilliant to watch.
There's no suggestion here that Palou won't be able to do it, or even that he is inferior if he can't. It's just worth remembering how highly Daniel Ricciardo is rated, and what driving a car not suited to him has done for his F1 future. Hopefully, Palou at McLaren in IndyCar wouldn't follow the same path.
It's very likely by the end of 2024, we'll have an answer to if Palou is ready for F1, and if he's usurped or dropped behind O'Ward in the pecking order.