Valtteri Bottas won a thrilling Formula 1 season-opening Austrian Grand Prix as a penalty for clashing with Alex Albon dropped Lewis Hamilton from second to fourth.
That meant Charles Leclerc snatched a surprise second place for Ferrari with Lando Norris claiming a maiden F1 podium in third, while Max Verstappen retired early while chasing Bottas.
Sebastian Vettel only finished 10th after a spin while battling with his 2021 Ferrari replacement Carlos Sainz Jr.
The race was already taking dramatic twists even before it started, with Red Bull's call for a review of new video evidence leading to the stewards penalising Hamilton for a qualifying yellow flag infringement after all – dropping him from second to fifth, where he remained in the opening laps.
Polesitter Bottas established a two-second lead over Verstappen, who was running an alternative strategy having started on the medium tyres compared to the other frontrunners' softs, early on.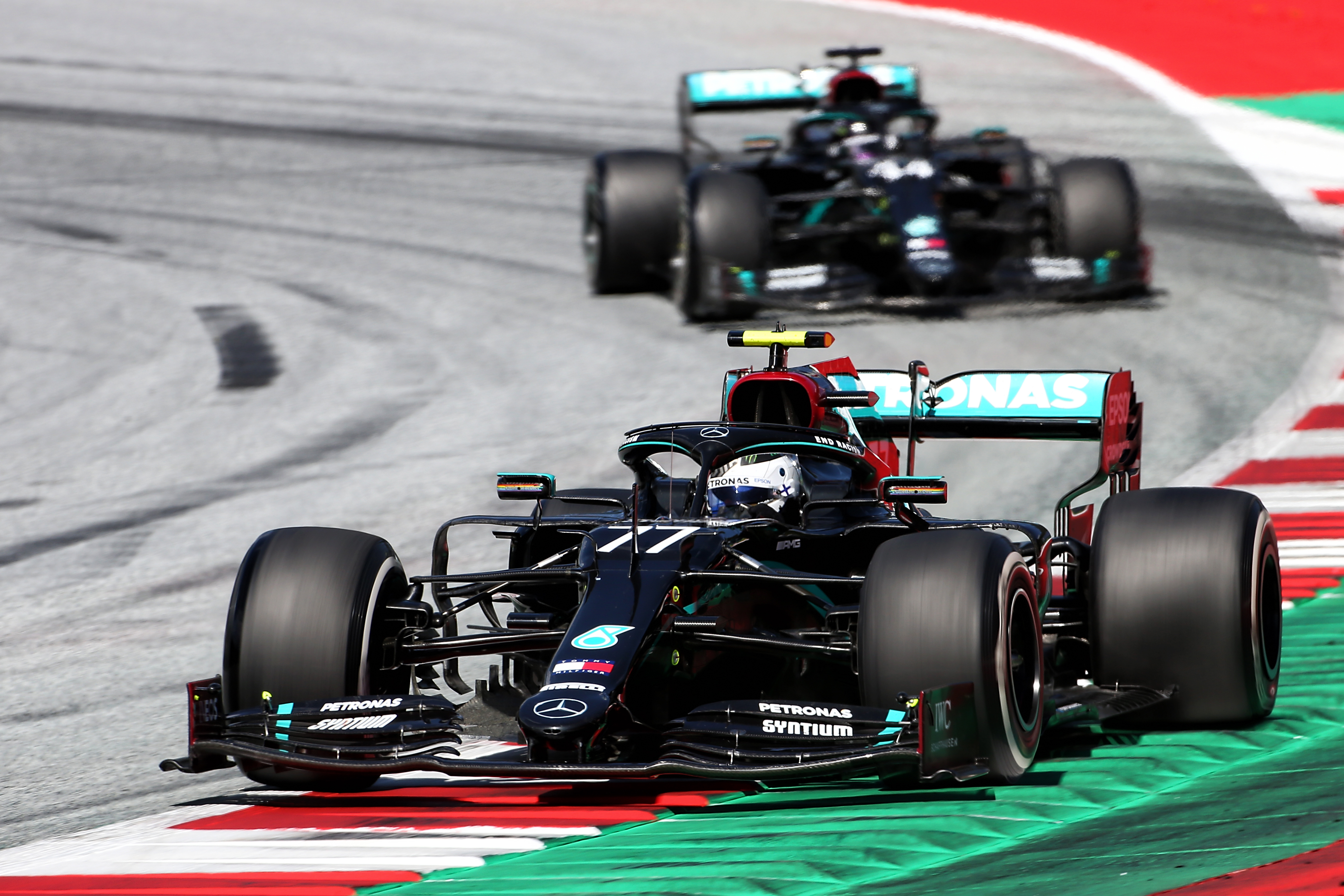 But Red Bull never had chance to see how its plan might've played out as Verstappen slowed at the first corner on lap 11 and retired with a suspected electrical problem.
That placed Mercedes in its familiar 1-2 order, its cars seven seconds apart, with Hamilton having followed Albon past Lando Norris early on and then overtaken the Red Bull too.
Hamilton inched closer to Bottas and then ended up right with him as Kevin Magnussen slewing into the run-off area and spinning to a halt at Turn 3 on lap 26 of 80 caused a safety car under which everyone cleared their planned pitstops.
Mercedes was soon urging caution from its drivers, warning both of potentially critical gearbox issues and demanding they stay clear of the kerbs.
Hamilton spent a while right behind Bottas, before easing back to 1.6s away as they heeded the warnings.
With 20 laps to go, the race was turned on its head when George Russell's Williams parked on the inside of Turn 4 with a fuel pressure problem and triggered another safety car.
Most drivers took the chance to pit and switch from hards to softer compounds, with the Mercedes and Sergio Perez – who was running fourth having taken mediums at his earlier stop – the only major contenders to stay out.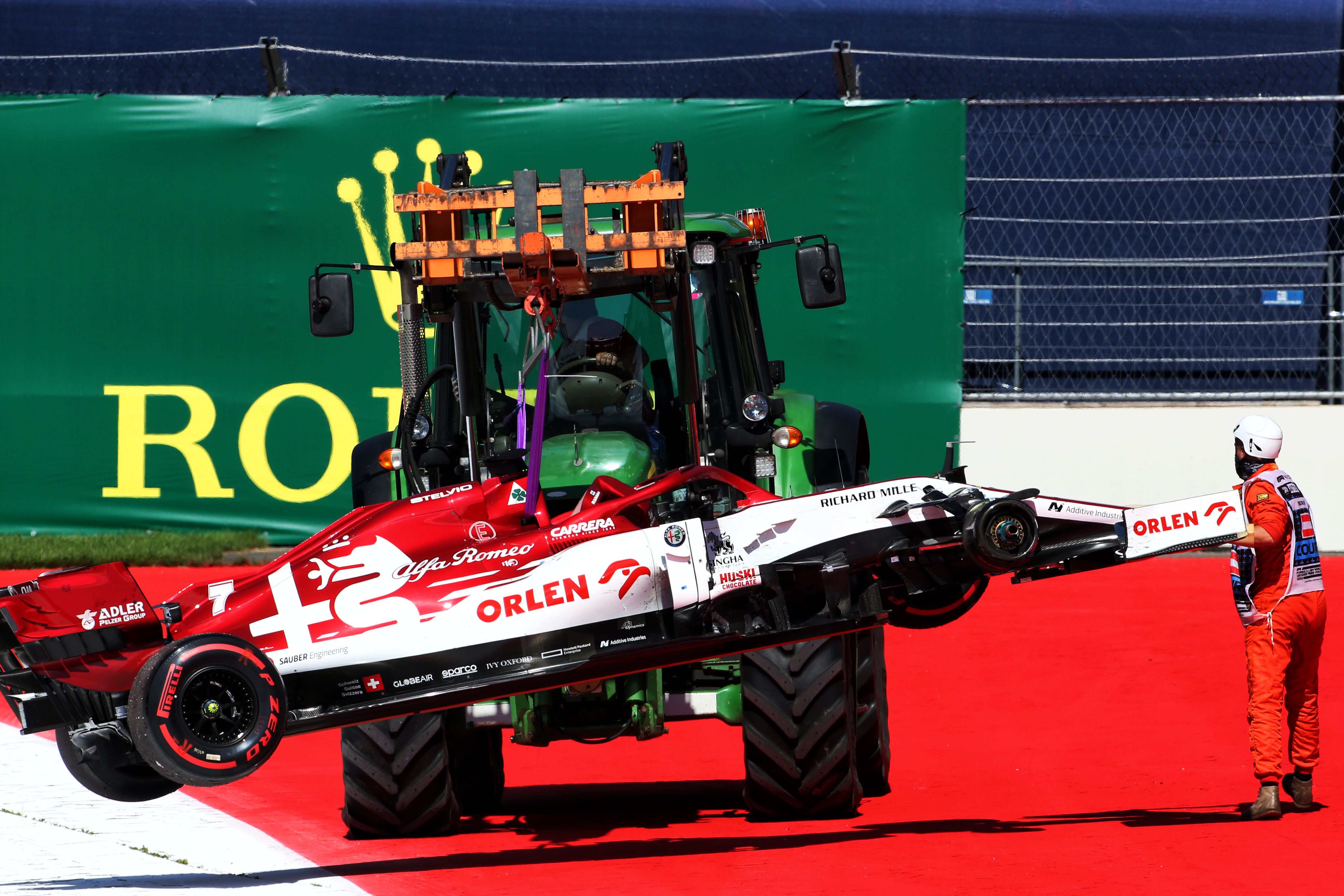 After a false start when the safety car immediately came back out because Kimi Raikkonen's Alfa Romeo had dramatically shed its right front wheel at the final corner, racing resumed with 11 laps left and the two Mercedes immediately ahead of Albon's soft-shod Red Bull – which had passed Perez in the moments between the initial green and the safety car returning.
Albon immediately used his softer rubber to attack Hamilton for second and edged ahead around the outside of Turn 4, only for a tap from the Mercedes to send the Red Bull spinning through the gravel. Albon later retired with a loss of power.
The stewards gave Hamilton a five-second time penalty for the incident, which meant his second place on the road became fourth – just 0.198s behind Norris on amended results.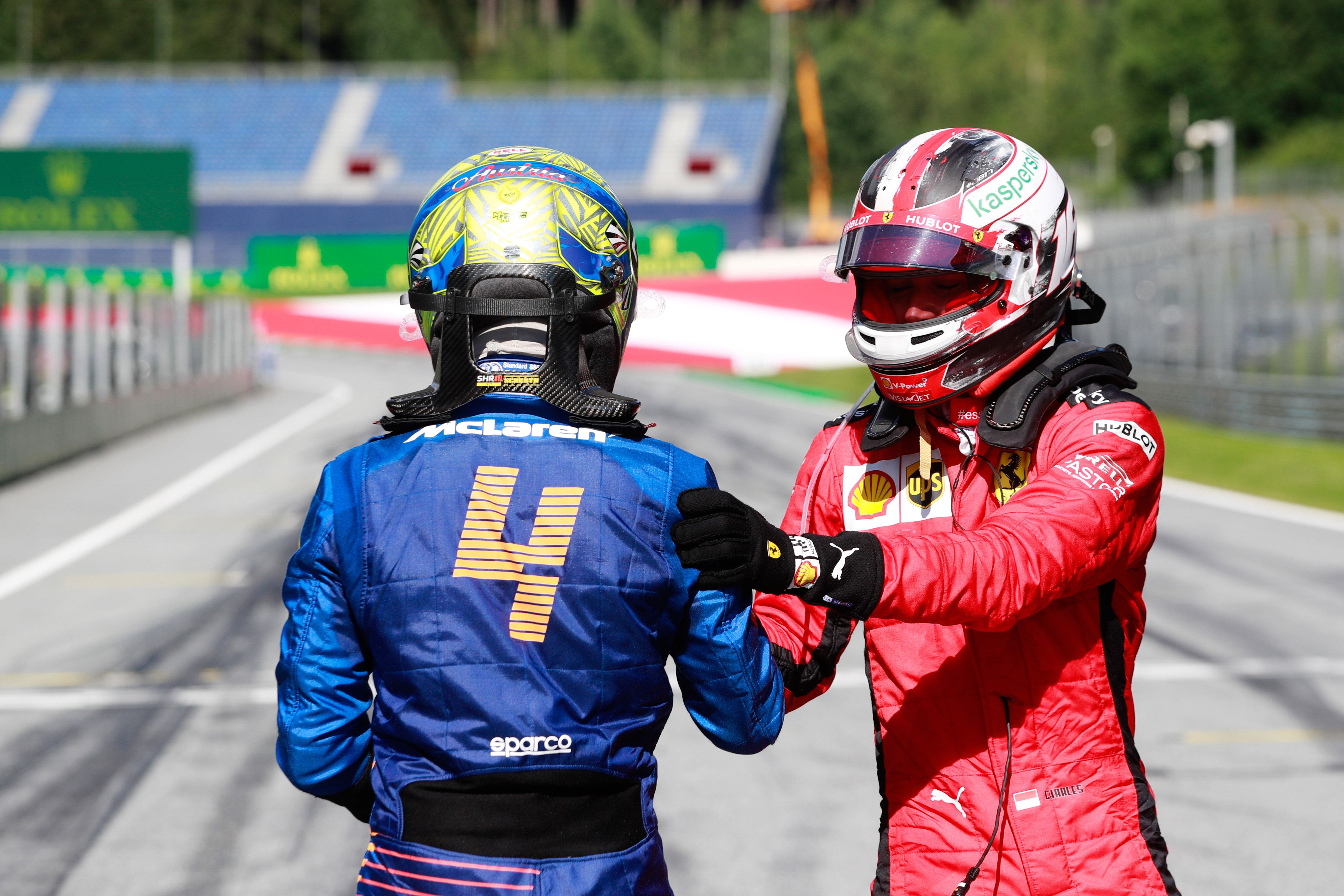 Leclerc earned his second by charging past Norris and Perez in the closing laps, with Perez then getting a time penalty for pitlane speeding. The two McLarens of Norris and Carlos Sainz Jr still battled past the Racing Point on the road to take what became third and fifth.
Behind Perez, Pierre Gasly, Esteban Ocon and Antonio Giovinazzi, Vettel was only 10th having spun to the back in a failed attempt to pass Sainz at the first safety car restart when the McLaren was attacking Leclerc for sixth.
Only 11 cars finished – Nicholas Latifi's Williams the last of them – with Romain Grosjean dropping out after two trips off the road, and both Lance Stroll and Daniel Ricciardo slowing with mechanical problems early on.
Daniil Kvyat was the last of the retirees, making a dramatic exit at Turn 1 with a destructive puncture a lap from the end.
Race Results
| Pos | Name | Car | Laps | Laps Led | Total Time | Fastest Lap | Pitstops | Pts |
| --- | --- | --- | --- | --- | --- | --- | --- | --- |
| 1 | Valtteri Bottas | Mercedes | 71 | 71 | 1h30m55.739s | 1m07.657s | 2 | 25 |
| 2 | Charles Leclerc | Ferrari | 71 | 0 | +2.7s | 1m07.901s | 3 | 18 |
| 3 | Lando Norris | McLaren-Renault | 71 | 0 | +5.491s | 1m07.475s | 3 | 16 |
| 4 | Lewis Hamilton | Mercedes | 71 | 0 | +5.689s | 1m07.712s | 2 | 12 |
| 5 | Carlos Sainz | McLaren-Renault | 71 | 0 | +8.903s | 1m07.904s | 3 | 10 |
| 6 | Sergio Pérez | Racing Point-Mercedes | 71 | 0 | +15.092s | 1m08.305s | 2 | 8 |
| 7 | Pierre Gasly | AlphaTauri-Honda | 71 | 0 | +16.682s | 1m09.025s | 2 | 6 |
| 8 | Esteban Ocon | Renault | 71 | 0 | +17.456s | 1m08.932s | 2 | 4 |
| 9 | Antonio Giovinazzi | Alfa Romeo-Ferrari | 71 | 0 | +21.146s | 1m08.796s | 3 | 2 |
| 10 | Sebastian Vettel | Ferrari | 71 | 0 | +24.545s | 1m08.623s | 3 | 1 |
| 11 | Nicholas Latifi | Williams-Mercedes | 71 | 0 | +31.65s | 1m09.662s | 3 | 0 |
| 12 | Daniil Kvyat | AlphaTauri-Honda | 69 | 0 | +2 laps | 1m09.135s | 3 | 0 |
| 13 | Alex Albon | Red Bull-Honda | 69 | 0 | +2 laps | 1m08.432s | 3 | 0 |
| | Kimi Räikkönen | Alfa Romeo-Ferrari | 53 | 0 | DNF | 1m09.031s | 2 | 0 |
| | George Russell | Williams-Mercedes | 49 | 0 | DNF | 1m09.317s | 1 | 0 |
| | Romain Grosjean | Haas-Ferrari | 48 | 0 | DNF | 1m10.228s | 2 | 0 |
| | Kevin Magnussen | Haas-Ferrari | 24 | 0 | DNF | 1m10.72s | 0 | 0 |
| | Lance Stroll | Racing Point-Mercedes | 19 | 0 | DNF | 1m10.326s | 1 | 0 |
| | Daniel Ricciardo | Renault | 16 | 0 | DNF | 1m10.61s | 1 | 0 |
| | Max Verstappen | Red Bull-Honda | 10 | 0 | DNF | 1m09.351s | 1 | 0 |