Mercedes Formula 1 driver Valtteri Bottas claimed pole position for the delayed 2020 season's opening race in Austria, as Ferrari endured a woeful session.
Bottas had trailed champion team-mate Hamilton in all three practice sessions, but overturned the deficit in the final qualifying segment.
There he recorded an initial 1m02.939s, which put him over a tenth clear of Hamilton and stood as the new lap record at the Red Bull Ring venue.
And though Bottas went into the gravel while chasing an improvement on his final lap, Hamilton could only lap within 0.012s of his team-mate's effort.
The outcome of qualifying marked the seventh consecutive time that Mercedes kicked off an F1 campaign with pole, but Hamilton's six-year streak of opening round pole positions was snapped.
Mercedes' dominance looked somewhat under threat when Red Bull's Max Verstappen set the pace in the opening segment of qualifying.
However, normality was restored with a Mercedes 1-2 in Q2, and Verstappen came nowhere near matching the Silver Arrows' blistering pace in Q3, ending up half a second slower.
The Red Bull driver will head the second row in his employer's home race, but he did manage to make it out of Q2 on mediums – which means he will be starting the race on a different compound compared to the soft-shod Mercedes cars.
His team-mate Alex Albon had to settle for fifth. He had been in the drop zone in Q2 after his first round, and advanced on the soft tyre, but was beaten to fourth place on the grid by the standout McLaren of Lando Norris in the dying seconds of Q3.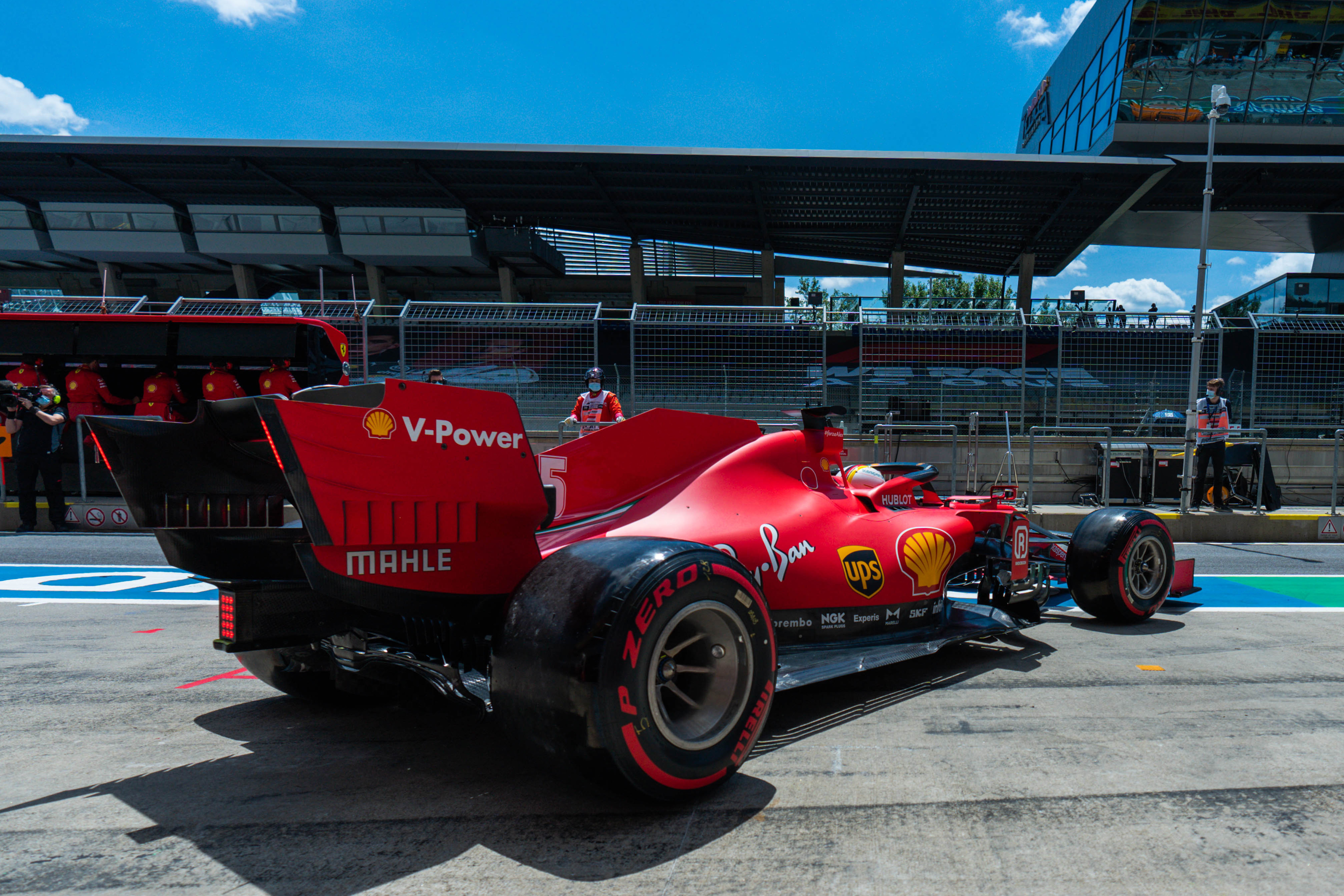 Beyond the battle out front, F1's third customary 'top team' Ferrari had a miserable time, its two drivers having to fight for the final Q3 transfer spot in the second segment.
This went to Charles Leclerc, by 0.165s over Sebastian Vettel, but Leclerc admitted on team radio that it was "crazy" how close he'd come to elimination.
He eventually placed seventh on the grid, beaten by Racing Point's Perez but seeing off the second McLaren of Carlos Sainz Jr, the second Racing Point of Lance Stroll and the lead Renault of Daniel Ricciardo – who won his qualifying battle over new team-mate Esteban Ocon in 14th.
Pierre Gasly carried his practice edge over AlphaTauri team-mate Daniil Kvyat into qualifying, outpacing the Russian by just over a tenth as he placed 12th, just under three tenths short of advancing into the pole shootout.
Over at Haas, Kevin Magnussen sat comfortably ahead of team-mate Romain Grosjean after the opening runs in Q1, but was beaten at the death to the final Q2 transfer spot, with Grosjean going 0.07s faster. The Frenchman, however, could do no better than 15th – half a tenth behind Ocon – in the second segment.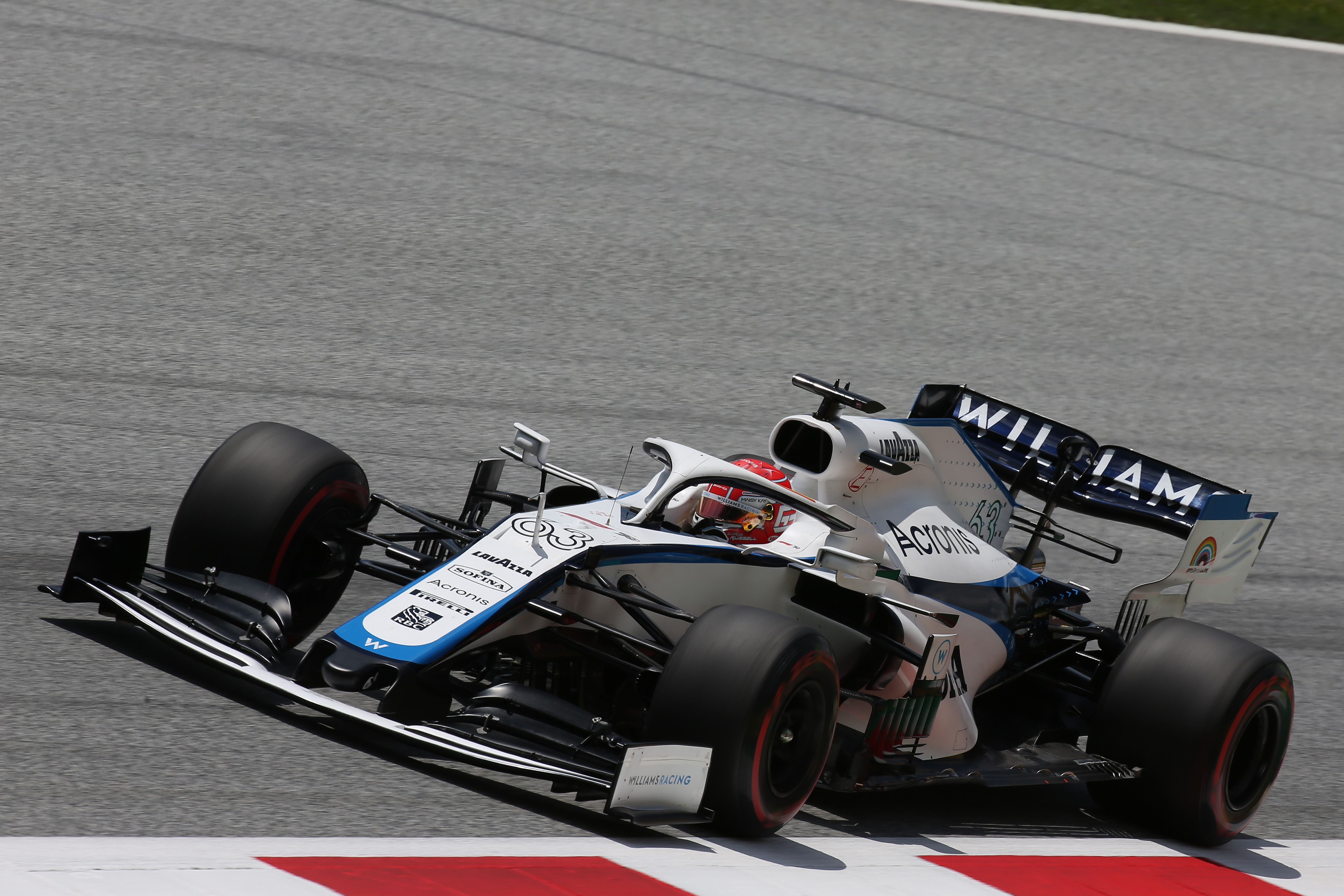 Williams's bid to avoid a pair of Q1 exits for the first time since the 2018 Brazilian GP came to naught, but George Russell's best effort emphatically proved the FW43 was not cut adrift at the back of the pack.
Russell was just 0.003s short of toppling Magnussen and, like in third practice, outpaced both Alfa Romeo cars.
In the intra-team battle at Alfa, Antonio Giovinazzi claimed first blood over Kimi Raikkonen, beating him by half a tenth for 18th place after having led him in each of the practice sessions – despite going off the road on his final Q1 lap.
Williams' rookie Nicholas Latifi, whose FW43 was repaired in time for qualifying after an FP3 shunt, brought up the back of the timing screens in 20th on his debut, six tenths behind Russell.
Qualifying Results
| Pos | Name | Car | Q1 | Q2 | Q3 |
| --- | --- | --- | --- | --- | --- |
| 1 | Valtteri Bottas | Mercedes | 1m04.111s | 1m03.015s | 1m02.939s |
| 2 | Lewis Hamilton | Mercedes | 1m04.198s | 1m03.096s | 1m02.951s |
| 3 | Max Verstappen | Red Bull-Honda | 1m04.024s | 1m04s | 1m03.477s |
| 4 | Lando Norris | McLaren-Renault | 1m04.606s | 1m03.819s | 1m03.626s |
| 5 | Alex Albon | Red Bull-Honda | 1m04.661s | 1m03.746s | 1m03.868s |
| 6 | Sergio Pérez | Racing Point-Mercedes | 1m04.543s | 1m03.86s | 1m03.868s |
| 7 | Charles Leclerc | Ferrari | 1m04.5s | 1m04.041s | 1m03.923s |
| 8 | Carlos Sainz | McLaren-Renault | 1m04.537s | 1m03.971s | 1m03.971s |
| 9 | Lance Stroll | Racing Point-Mercedes | 1m04.309s | 1m03.955s | 1m04.029s |
| 10 | Daniel Ricciardo | Renault | 1m04.556s | 1m04.023s | 1m04.239s |
| 11 | Sebastian Vettel | Ferrari | 1m04.554s | 1m04.206s | |
| 12 | Pierre Gasly | AlphaTauri-Honda | 1m04.603s | 1m04.305s | |
| 13 | Daniil Kvyat | AlphaTauri-Honda | 1m05.031s | 1m04.431s | |
| 14 | Esteban Ocon | Renault | 1m04.933s | 1m04.643s | |
| 15 | Romain Grosjean | Haas-Ferrari | 1m05.094s | 1m04.691s | |
| 16 | Kevin Magnussen | Haas-Ferrari | 1m05.164s | | |
| 17 | George Russell | Williams-Mercedes | 1m05.167s | | |
| 18 | Antonio Giovinazzi | Alfa Romeo-Ferrari | 1m05.175s | | |
| 19 | Kimi Räikkönen | Alfa Romeo-Ferrari | 1m05.224s | | |
| 20 | Nicholas Latifi | Williams-Mercedes | 1m05.757s | | |