Fernando Alonso's recovery from 17th and last to seventh in Formula 1's United States Grand Prix may have been rendered futile by his post-race penalty, but the loss of points makes it no less remarkable that he achieved such a good on-the-road finish after being sent into the wall by contact with Lance Stroll.
Alonso described the race as "56 laps of qualifying" given he was locked in battle throughout. The Alpine driver was running eighth when the crash happened, having passed Pierre Gasly's AlphaTauri at Turn 1 when the race was restarted after a safety-car period.
Stroll jinked to the left just as Alonso pulled out to pass him on the back straight, with the contact launching Alonso's car briefly into the air then, having landed on the track, into the Armco barrier. Understandably, Alonso's first reaction was relief that the accident was not more serious before he turned his attention to recovering to the pits.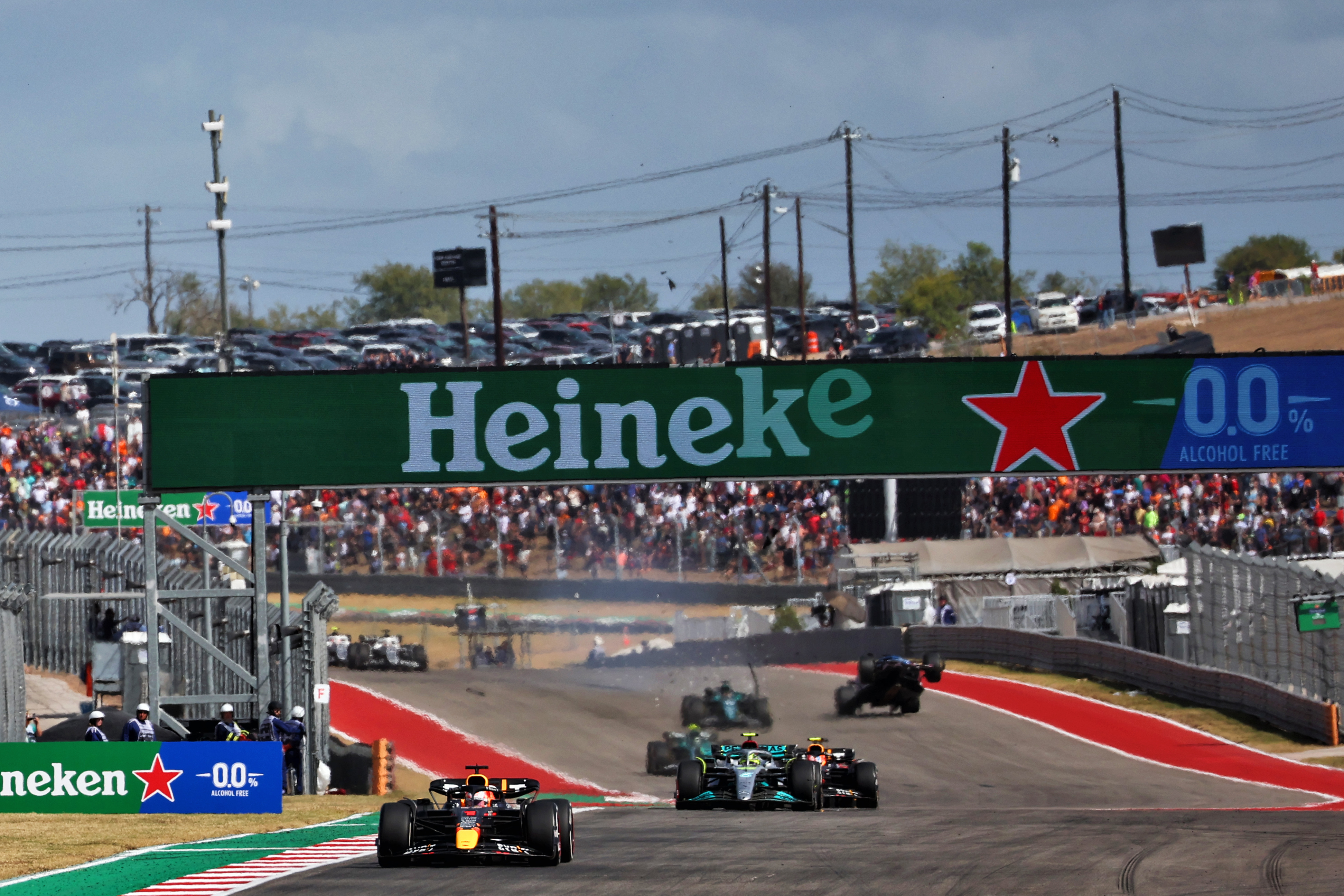 "It was not nice because when you're up in the air, you're not aware of where you are on track, I thought I was much more on the left," said Alonso. "If you catch the metallic fence, then you spin in the air 360 [degrees], you see this kind of accident a lot in IndyCar and they are quite dangerous.
"When the car landed on track, I thought 'OK, this is all safe, the car will be broken for sure, this is what it is'. I drove slowly to the pits thinking we would retire. I was surprised when they changed the tyres and the front wing and sent me out, I said 'OK, it's just a test' but they will call me in on the next lap or whatever.
"But the car was apparently OK when they checked it. Visually everything was fine. We kept going.
"The second bad news was we had to go to the end with that set of [hard] tyres, it was 32 laps to the end. I thought we would never make it. It was a good call from the team, good strategy at the end. Finishing P7 with a car that was broken in the middle of the race and was last, quite a thing."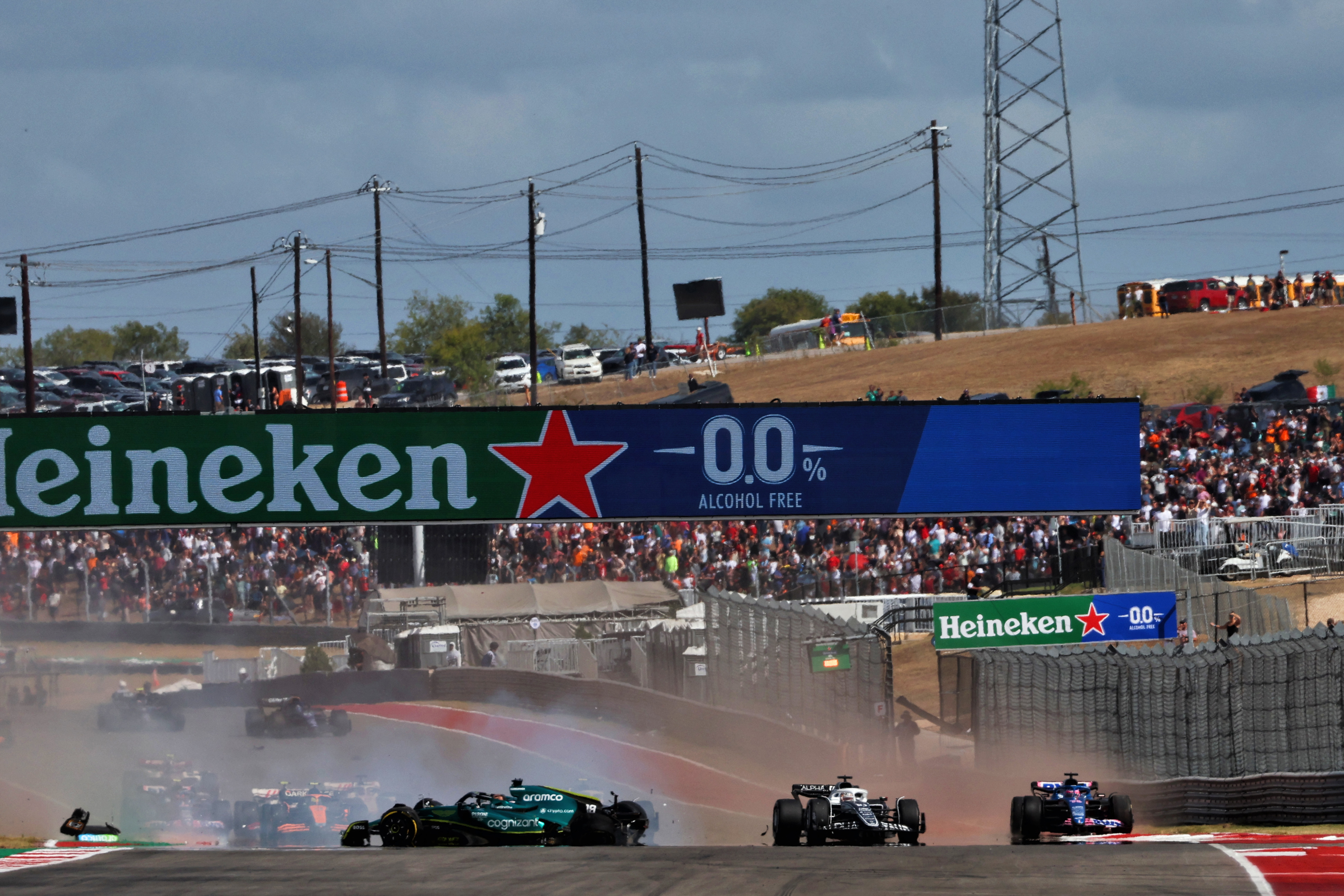 Alonso returned to the pits after the accident warning that there was "probably front suspension damage". But at his pitstop, the front wing was changed and after a quick inspection by the Alpine crew, he was sent back out.
He reported on his outlap while catching the safety car train that the car felt "OK" although expressed concern about the steering.
Alonso was unsure after the race what damage he was carrying after the pitstop, but did suggest he spotted some floor damage in parc ferme.
"I'm sure there's something on the floor I saw at back," said Alonso. "[I was] concerned about the suspension, if the toes of the car are exactly as they should be.
"Initially, it felt like the car was turning a lot more to the left than right, [that was the] impression when I left pits. They asked me if car felt OK, I said car is very good on left corners, quite bad on right corners, but during the laps it was getting more and more normal."
Alonso was 17th and last after rejoining, running on hards with the intention to run to the finish. He gained his first position before the race had even restarted thanks to Alfa Romeo bringing Zhou Guanyu in for his second pitstop, but had work to do at the restart.
He chased Williams driver Nicholas Latifi for the first couple of laps, having to catch a couple of moments as he got used to the post-crash car. But once the DRS was enabled, he started to gain places.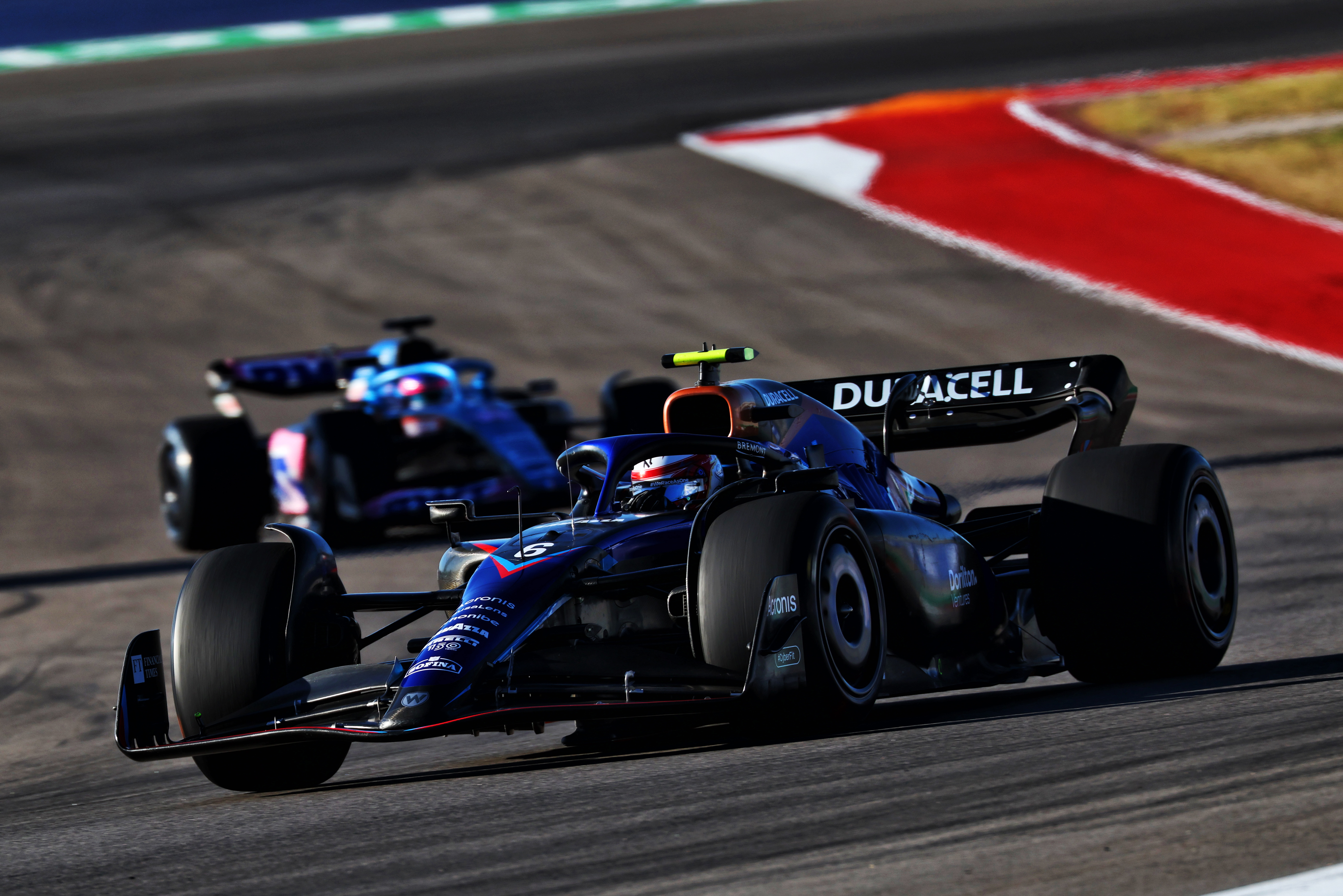 Although Latifi had the DRS open thanks to being in close proximity to team-mate Alex Albon ahead, Alonso passed him on the inside heading into Turn 12 on lap 18 to take 15th. That became 14th three laps later when he passed McLaren driver Daniel Ricciardo, who had fallen behind Albon, in a move that started into Turn 12 but was completed approaching the Turn 13 right-hander.
Two laps later, Alonso gained two more places thanks to overtaking Albon and picking up a spot when Pierre Gasly came into the pits. He then moved up into the points on lap 34 when both Yuki Tsunoda and Mick Schumacher stopped.
He was promoted to ninth when McLaren driver Lando Norris pitted on lap 35 and was at this stage closing in on team-mate Esteban Ocon. As he approached the other Alpine driver, he enquired about whether Ocon was going to be brought into the pits soon as it would be "not ideal" to be held up.
On lap 40, Ocon was told by race engineer Josh Peckett that "Fernando is on a different strategy to us, we need to swap positions with him going into Turn 12 please". In response, Ocon pointed out Alonso was still two seconds behind him, but was told "it doesn't matter in this case", meaning he subsequently let the Spaniard by to run eighth.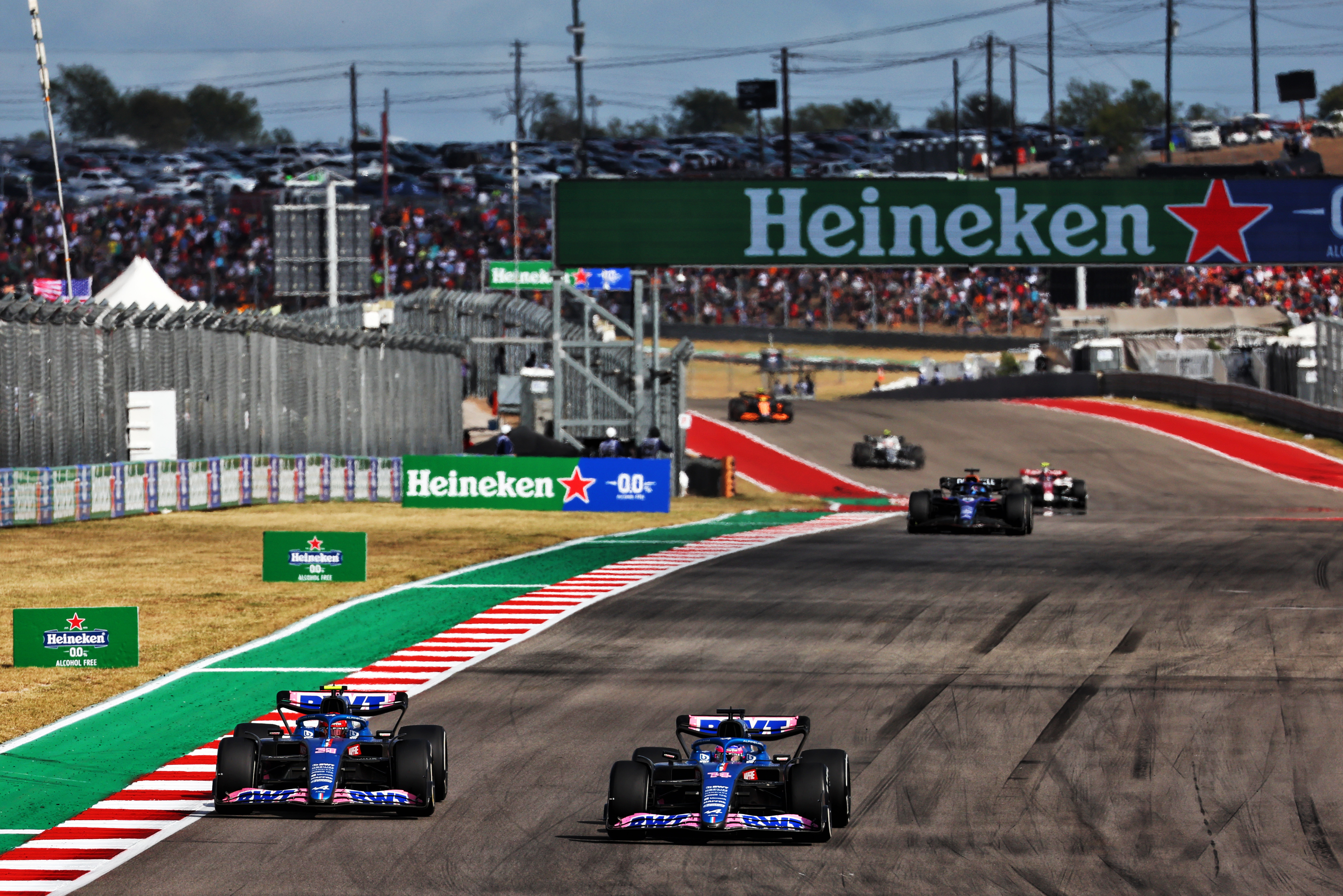 Alonso then benefitted from Sebastian Vettel having a slow pitstop thanks to a front-jack problem to move up to seventh, which became sixth when he pulled off another DRS pass on Kevin Magnussen approaching Turn 12. It was as this move happened that Alonso's right-side wing mirror, which had been flapping around ever since his accident, flew off the car.
That left Alonso sixth, but with Norris, on tyres 16 laps younger, closing in on him. This was particularly significant given the battle between Alpine and McLaren for fourth in the constructors' championship.
Alonso was able to keep Norris at arm's length until the penultimate lap, when the McLaren driver passed him into Turn 12 to relegate him to seventh. While Alonso was disappointed to lose the place, it was still an impressive performance to recover to finish in the points positions.
"Not on my mind, but obviously there were other things to focus on," he said of whether the crash played on his mind during the final stint of the race.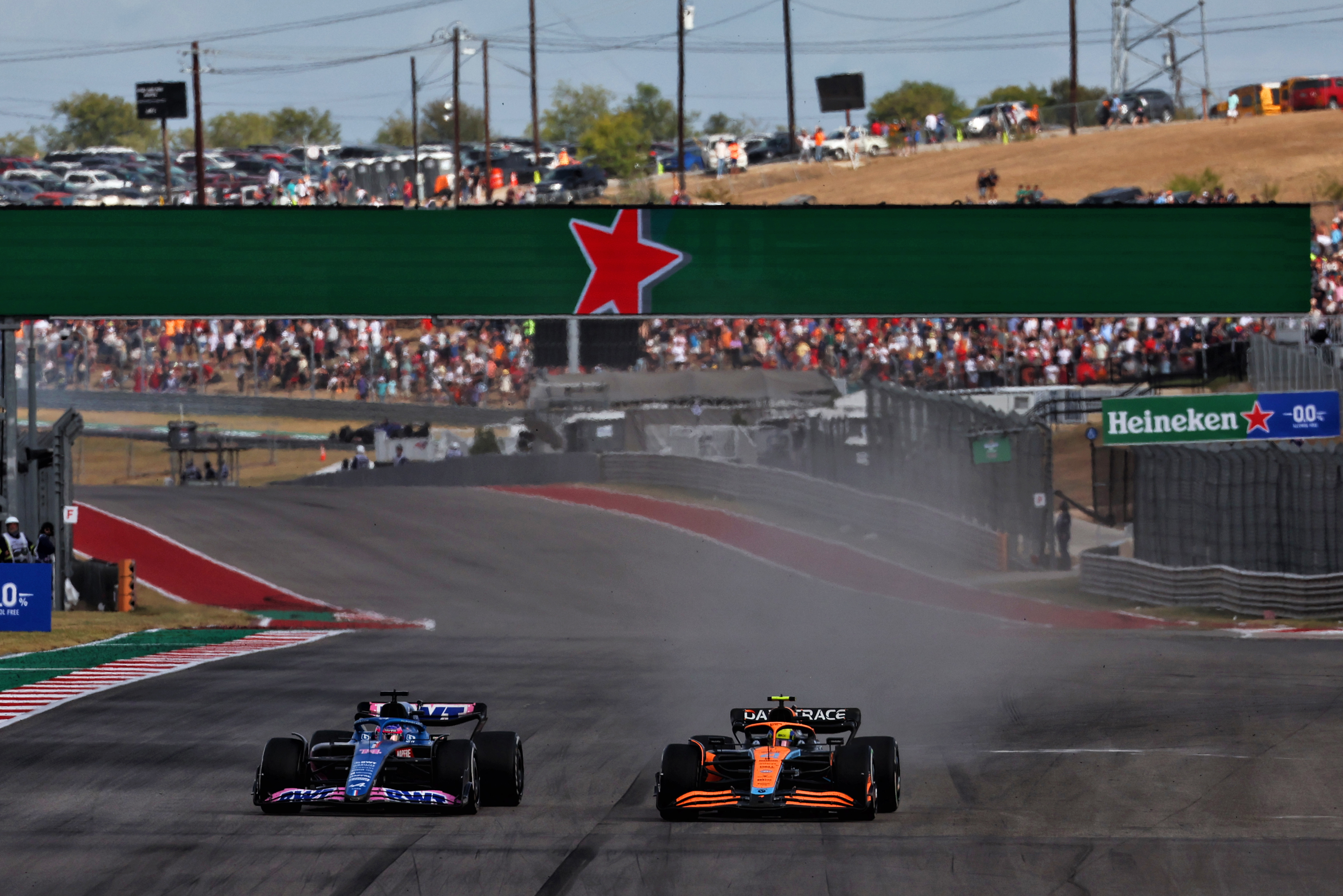 "Initially, it was to pass the Williams [drivers], then Magnussen, and then it was Norris coming with fresh tyres. I kept my mind busy with challenges, with no time to relax, a very physical race – 56 laps of qualifying because we had different threats in different parts of the laps.
"[With Norris I] tried to push a lot, ready to be very aggressive with him in the battle. But I had no chance on that penultimate lap, and I didn't have the right mirror at that point and also couldn't see where he was."
Speaking before he would learn that a protest from Haas had resulted in a penalty that relegated him to 15th, Alonso likened the drive to his famous seventh place in the 2018 Azerbaijan Grand Prix.
"I think it's similar to Baku 2018," said Alonso. "So in a car that should be retired we could keep up and eventually finish in points [meaning] it's a surprise for everyone."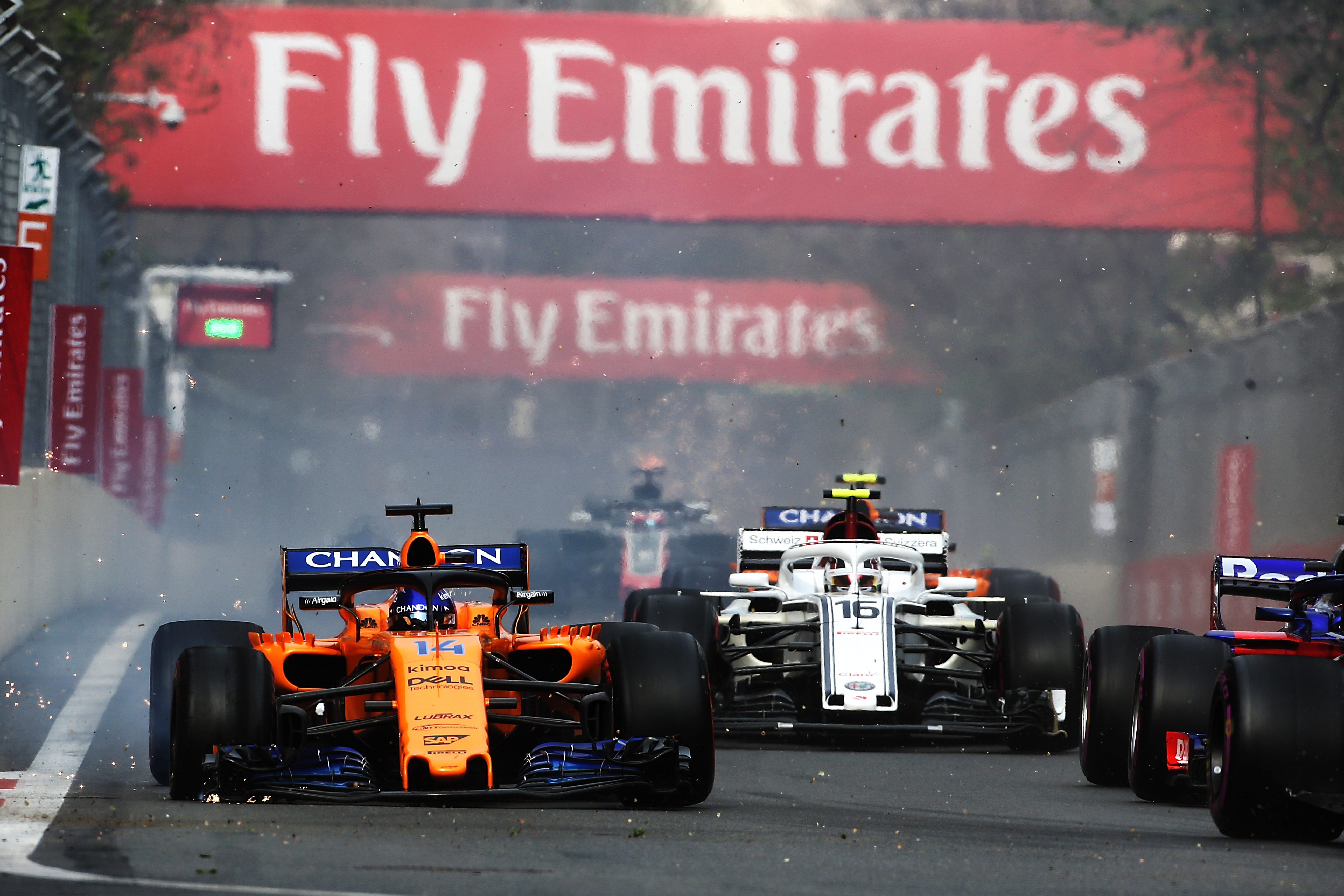 Then, when driving for McLaren he started 12th but his race appeared to be over when Williams driver Sergey Sirotkin was squeezed into him by Nico Hulkenberg's Renault.
As well as a right-front puncture, Alonso suffered damage to the T-tray, floor and diffuser. After limping back to the pits, he couldn't even make it to his pit box without glancing the pitwall thanks to steering struggles.
With his car lacking a good half-second of pace, as well as suffering from poor balance, Alonso restarted down in 17th pace. He passed six drivers – including Williams driver Stroll on the last lap – with the remaining four positions gained thanks to retirements and finished a remarkable seventh.
Given Alpine has appealed, it's possible Alonso could get his seventh place from Austin back. But regardless of whether or not he is rewarded with the points, it was unquestionably another remarkable chapter in a great career.