When Alex Albon suits up for his DTM debut in 2021, he will be adding to a chequered history of grand prix drivers who tried their hand at the German touring car series.
Of course, the DTM Albon will find – in what is to be a part-time Red Bull-backed 2021 campaign in a Ferrari – will be markedly different to the DTM we all know. It will be GT3 instead of Class One, with privateer sportscar teams instead of big manufacturers.
But it's not the first time DTM has changed drastically even in its modern 'Masters' era, and therefore we saw it fit to have a detailed look at past examples of drivers who came into the series with grand prix racing baggage.
Honourable mention
Twenty-seven drivers have started races in both F1 and modern-era DTM. But for the purposes of this ranking, which aims to highlight how drivers fared in DTM after grand prix racing, we've set out some simple criteria.
A driver was to have made 10 or more F1 starts and then subsequently competed in the DTM on a regular basis to qualify. That slims the list down to 16 people.
Unintentionally but somewhat conveniently, that means Bernd Schneider doesn't fit the eligibility criteria. Schneider did spend two F1 seasons trying to qualify very unreliable Zakspeeds, and usually failed, ending up only on nine F1 starts.
In a sense, it is fitting because Schneider does not belong on this list. Across the two DTMs of this and last century, he is the series' greatest-ever driver. The story of F1 drivers having a crack at DTM is by and large a tapestry of disappointment, as none of them really managed to make the highly-specialised their own in what was often the twilight of their respective careers.
Schneider never made F1 his own but the DTM is all his. If you want to consider him as part of this list, it's an easy, obvious adjustment – move everyone down a spot and put him in first.
And he does get a starring role later on, as while we've focused on 'modern' 2000-onwards DTM for our ranking, we do give a nod to the F1 converts (non-qualifiers and all) who landed in the epic Class 1 era of DTM/ITC in the mid-1990s.
16 Vitaly Petrov
2014 (Mucke Mercedes)
10 starts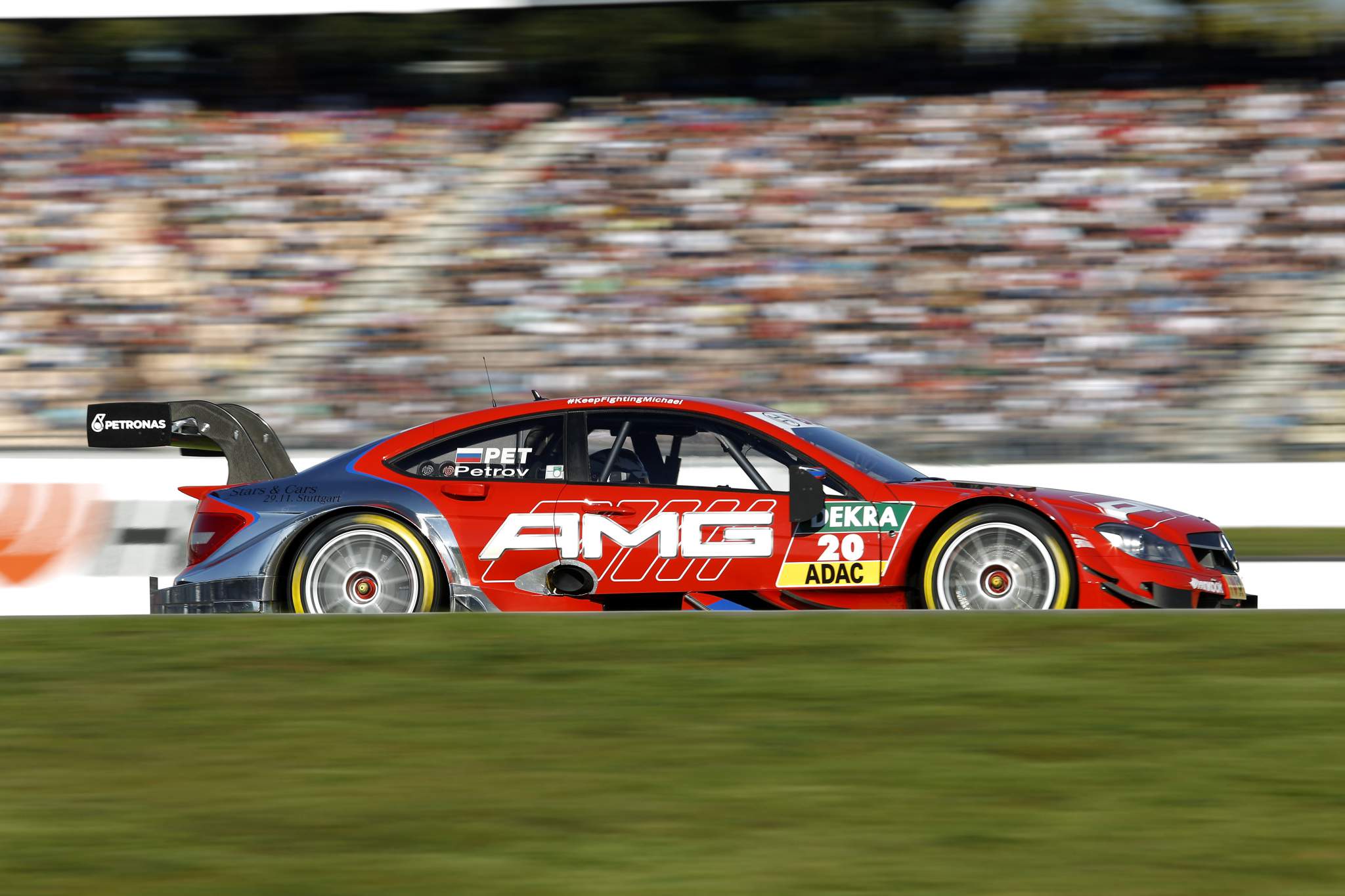 Vitaly Petrov is an F1 podium finisher pretty much on merit, and of his four F1 team-mates he was only really battered by Robert Kubica. So he's a capable top racer – but he won't be submitting his sole DTM season as evidence of that any time soon.
Arriving to the German series in 2014 after a year on the sidelines, Petrov landed a seat at Mercedes' second-string Mucke squad and didn't punch above its weight.
Though he came within a second of scoring points in a Zandvoort race awash with safety car periods, that was as close as it got during the 10-race season, and he was whitewashed in qualifying by team-mate Dani Juncadella.
And as he was the sole full-timer not to pick up a top-10 finish all year, it was no huge shock that he didn't return for 2015.
15 Karl Wendlinger
2002-03 (Abt Audi)
29 starts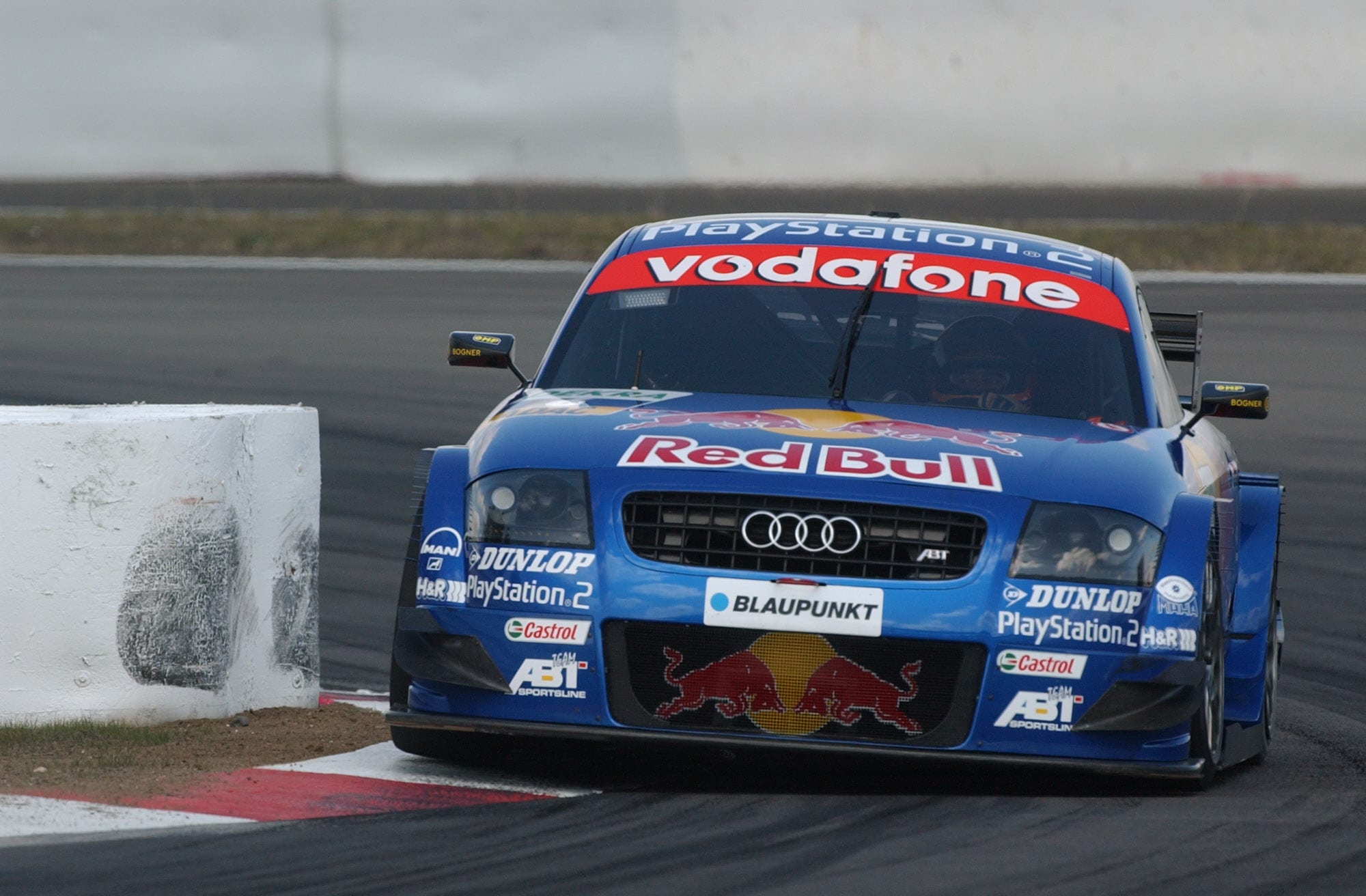 Was the once super-promising Wendlinger ever the same driver after the coma-inducing Monaco crash that derailed his F1 career? His Le Mans and GT racing exploits suggest he was at least not far off, but his time in the DTM was short and unrewarding.
In two seasons with a current-spec, Abt-run Audi driver Wendlinger managed just four points while some of his team-mates were fighting for the title.
The tally is slightly misleading because Wendlinger did at least have a few decent outings in his first year in 2008. He qualified well at the Sachsenring but was hooked off-track immediately by team-mate Mattias Ekstrom in the qualifying race, and took fourth after letting Ekstrom through in the Hockenheim qualifying race, only to have a dreadful start in the championship race – which actually awards the vast majority of the points – and be speared into by Alain Menu's Opel.
He kept the Audi seat for 2003, but that season was pretty inescapably bad and drew the curtains on his DTM career.
14 Stefano Modena
2000 (Euroteam Opel)
14 starts
Modena's exploits in 1990s DTM would've certainly earned the ex-Brabham, Tyrell and Jordan driver a higher spot on the list if we included those. But even his 2000 comeback was perfectly serviceable.
As part of an eight-man Opel roster, Modena – fielded by the single-car Euroteam operation – qualified just below 10th (out of 20) on average, and had some decent qualifying outings that he struggled to convert into points due to incidents.
There was a particularly galling pair of weekends towards the end of the season, as he failed to take advantage of a Markus Winkelhock-induced pile-up at Oschersleben due to being taken out by a spinning Christian Menzel, and was then punted off into the gravel at the Nurburgring. In both cases these were the first races of double-headers, and in both cases he was ruled out of race two.
But the DTM finally paid him back in his farewell race at Hockenheim, as frontrunners tripping over each other allowed him to inherit a season-best fourth when Pedro Lamy's Mercedes failed right ahead.
Ex-Jordan F1 designer Gary Anderson discusses Modena's time at the team in the Bring Back V10s episode below (at 10:14)
13 David Coulthard
2010-2012 (Mucke Mercedes)
31 starts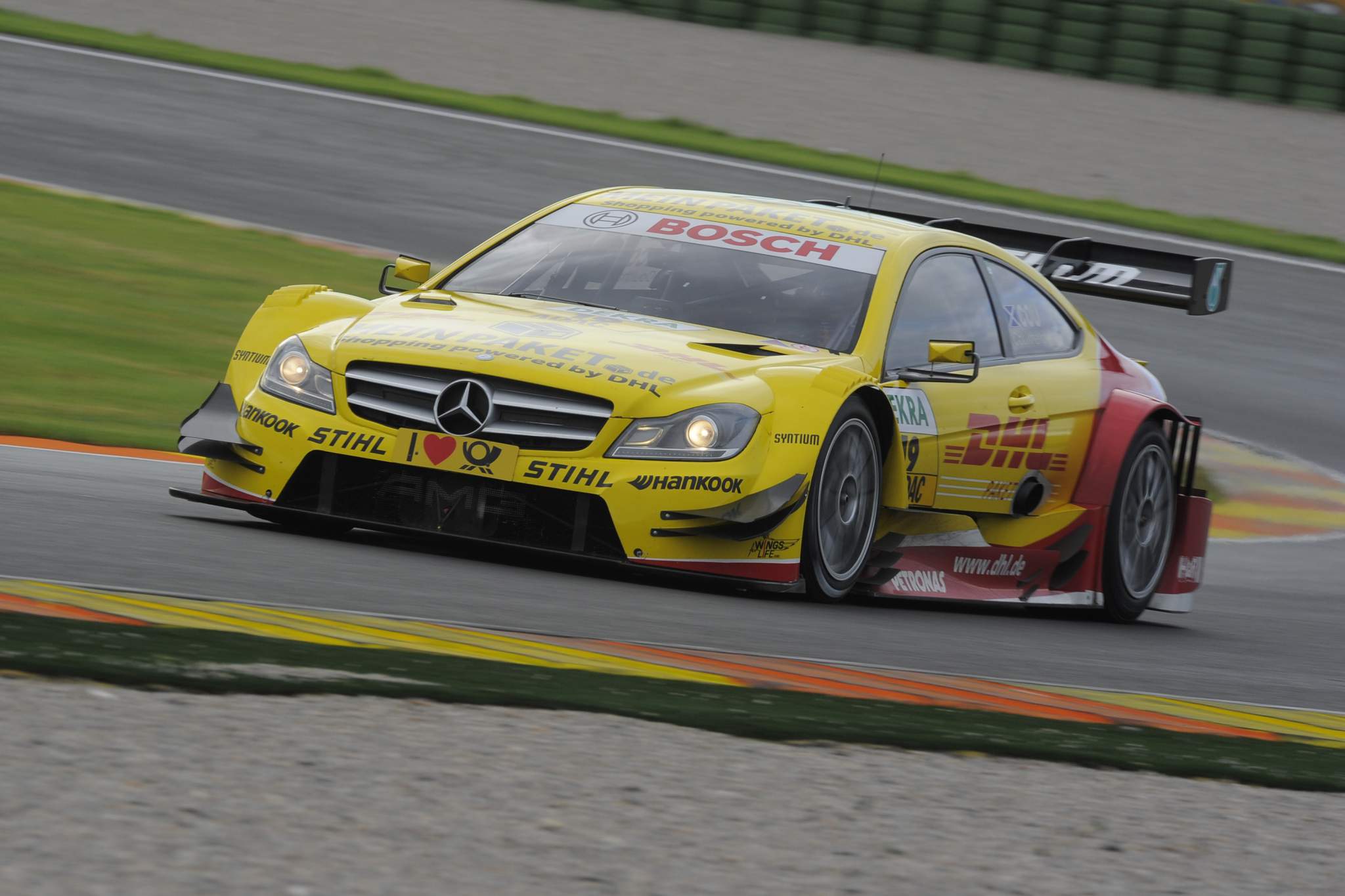 The numbers from Coulthard's DTM stint do not make for great reading, but the caveat of spending its entirety with the underdog Mucke squad (and most of it in older-spec Mercedes machinery) means it wasn't a complete waste.
He snuck that old Merc into DTM's four-car superpole once at Valencia, and bagged a top-five finish in mixed conditions at the Norisring. And he compares quite well to his team-mates in terms of (very limited) points hauls over the three seasons.
But not so much in qualifying head-to-heads. Maro Engel was somewhat ahead of Coulthard as his team-mate in 2010 and 2011, but it's the 1-9 beatdown at the hands of rookie Robert Wickens that really counts against the Scotsman.
12 Emanuele Pirro
2004 Joest Audi
11 starts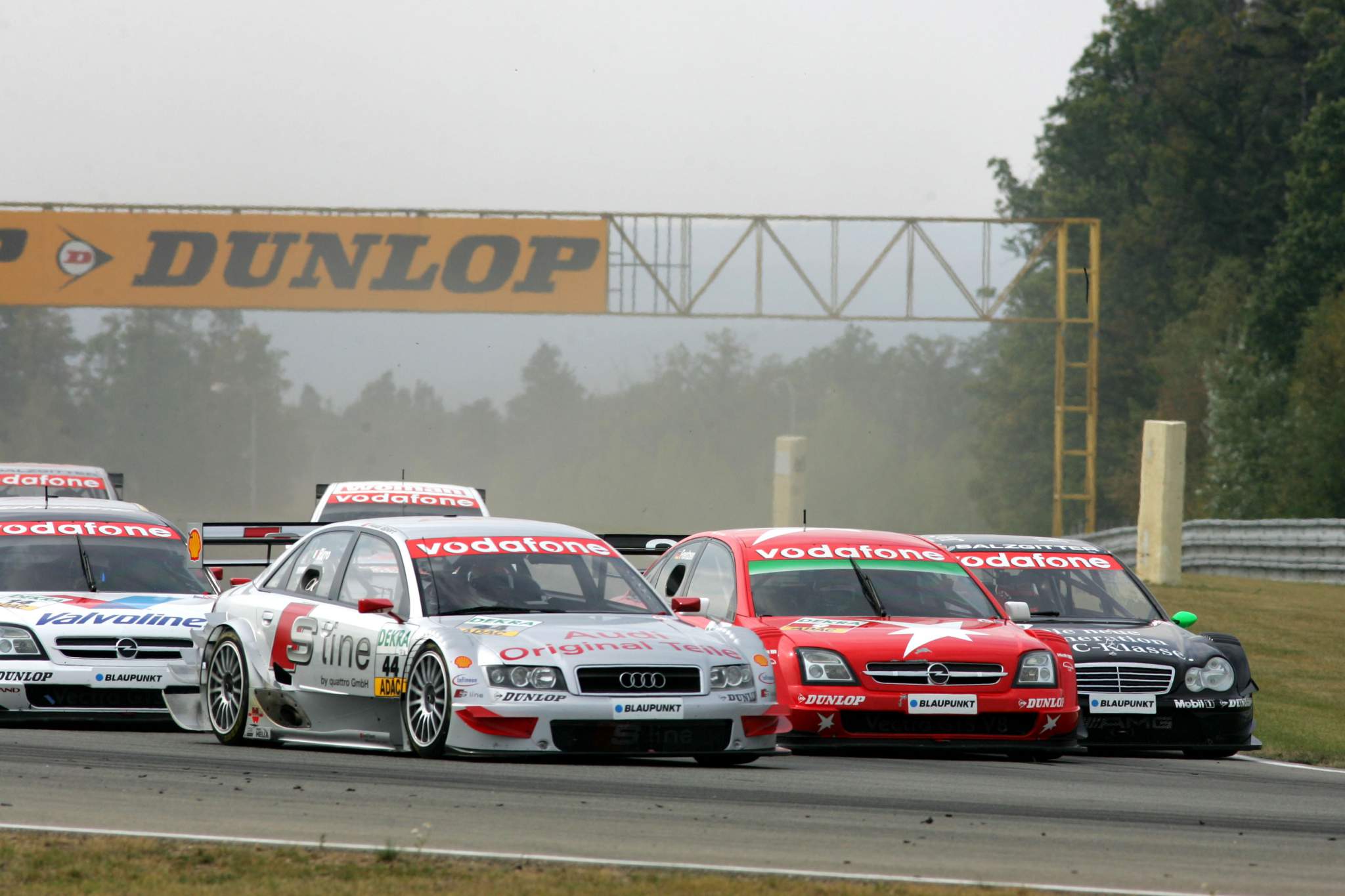 Pirro was 42 when he returned to the DTM in 2004, having previously won a race in its pre-Class 1 era. That meant he was already more than a decade removed from his three-year F1 career that spanned a poor season in Benetton and two better seasons in worse cars at Scuderia Italia.
Better known for his six overall Le Mans wins than anything he did in grand prix racing, Pirro was with the Audi Joest team that he drove for in each of those six victories during his DTM foray, and partnered by his long-time endurance team-mate Frank Biela, who is marginally younger.
They were not too far apart in qualifying initially, but Pirro soon pressed home his advantage – and he definitely made more of the current-spec Audi in race trim, finishing in the top 10 in more than half of his races.
Neither Pirro, nor Biela were part of Joest's four-car 2005 entry.
11 Allan McNish
2005 (Abt Audi)
11 starts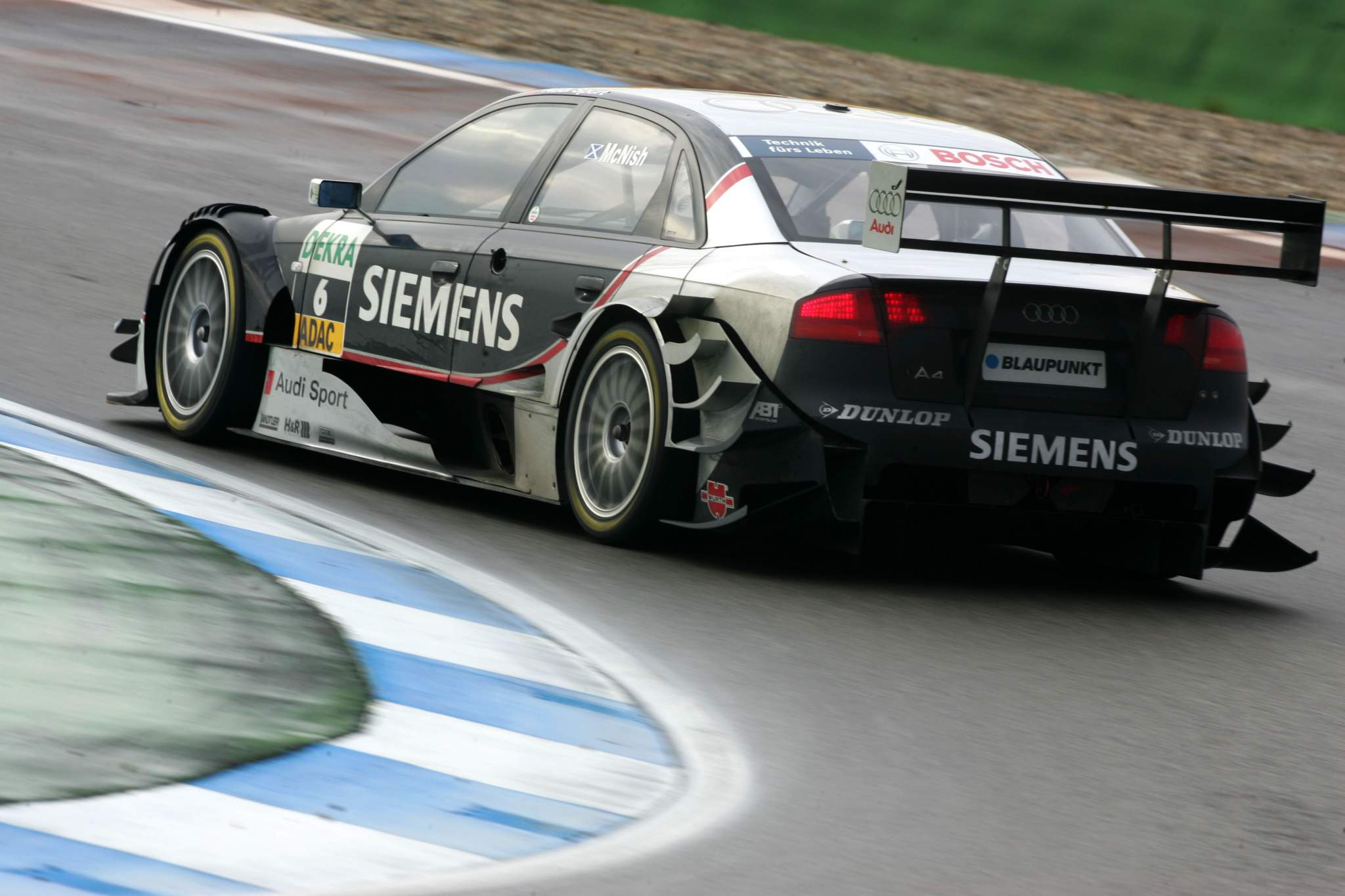 Having begun and ended his grand prix career with an ill-fated year as a Toyota F1 driver in 2002, McNish showed up in the DTM three years later, having been placed by Audi in its marquee Abt line-up as the sole newcomer.
Mattias Ekstrom and Tom Kristensen proved completely out of reach, but McNish did outscore future DTM champion Martin Tomczyk thanks to a fruitful mid-season run that should've yielded a Brno podium if not for a pitlane speeding penalty.
A messy race at Zandvoort snuffed out his momentum, however, and he never troubled the points again, ending his campaign by taking a first-lap hit at Hockenheim that basically ruled him out of the race.
When Opel left the DTM after 2005 and Heinz-Harald Frentzen became available, Audi snapped him up – and it was McNish who made way, an outcome that he doesn't seem to regret much.
10 Ralf Schumacher
2008 (Mucke Mercedes), 2009-12 (HWA Mercedes)
52 starts, 2 podiums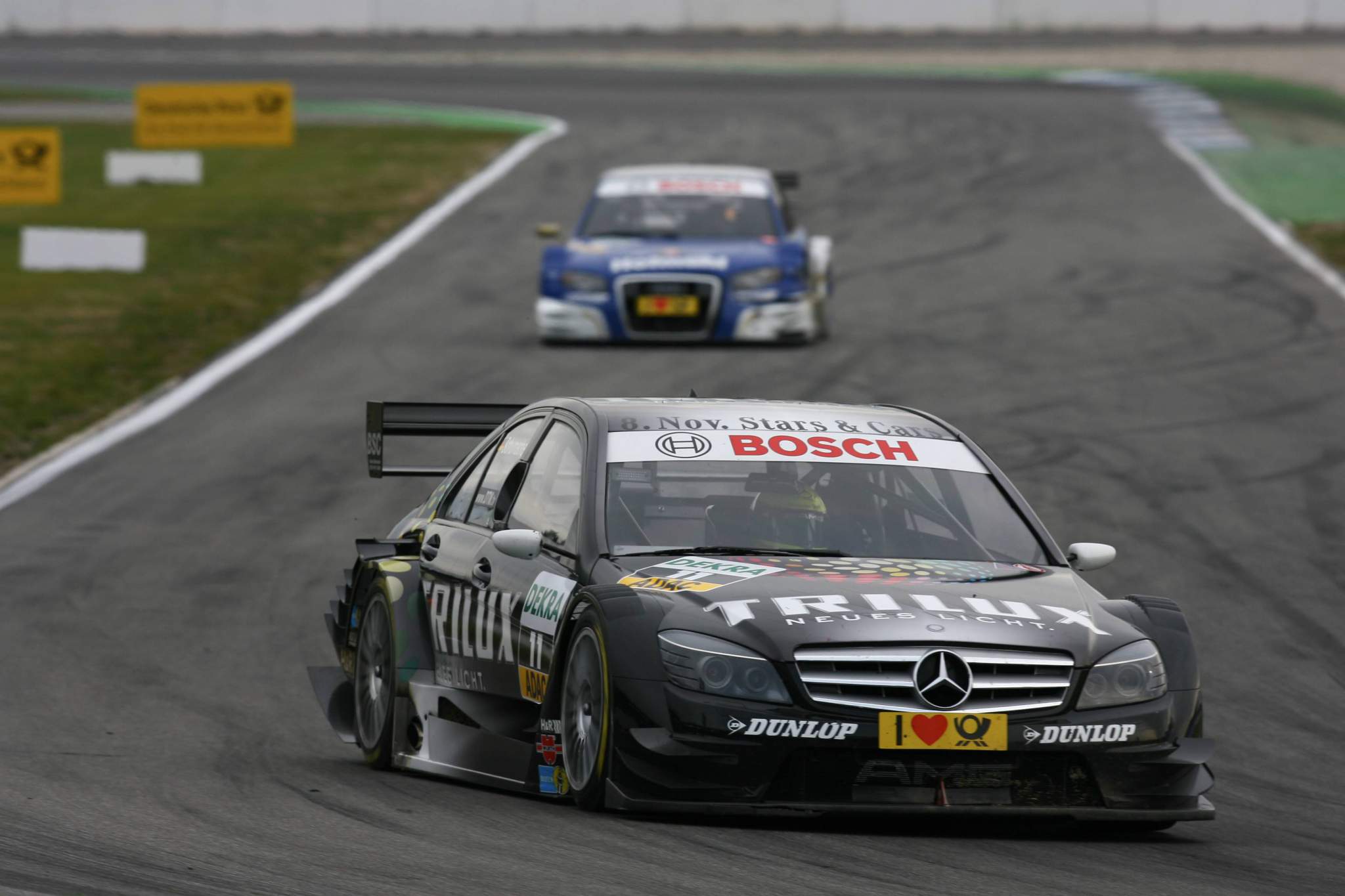 Having joined the DTM right after his exit from Toyota and grand prix racing in 2007, Schumacher was marginally ahead of team-mate Engel in year-old Mucke-run Mercedes C-Klasse in his first year.
But that was a distant memory over the subsequent four years as part of the top-line HWA roster, as he finished each season behind his team-mates (almost all DTM superstars) and usually a fair bit behind, too.
The 2010 season made for particularly grim reading – though it yielded his sole DTM pole at the Norisring, that was really the only highlight of the season and was instantly negated by a jump start. He finished the season 14th, while his team-mates were first, second and third.
DTM's switch from Dunlops to Hankooks the year after either coincided with or caused an upturn in Schumacher's form, as he bagged a maiden podium and came just a couple of laps short of snatching Red Bull Ring victory from that year's champion Tomczyk.
His final season in 2012 yielded just 10 points, but he could've and should've more than tripled that tally at the Norisring, taking the lead after dodging a Turn 1 pile-up ahead but ultimately dropping out with electrical issues.
9 Pascal Wehrlein
2018 (HWA Mercedes)
20 starts, 1 podium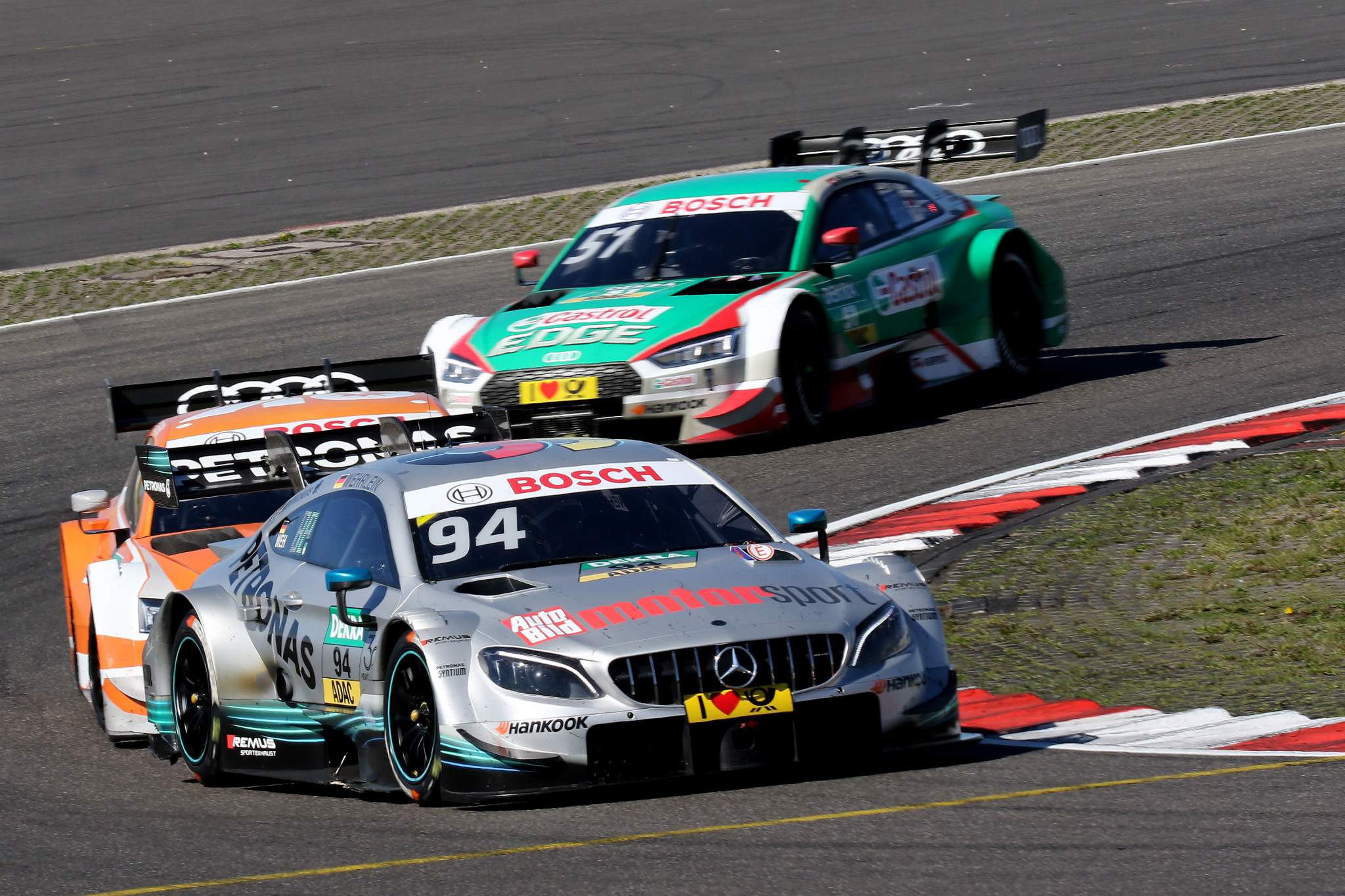 Wehrlein is the second case of four on this list of a driver who originally came to F1 from DTM, and then returned to the series once his grand prix dream fizzled out. And the aforementioned Wendlinger aside, whose 1989-1990 DTM stint wasn't particularly remarkable either, for the other three the second stint did not work out as well as the first.
But Wehrlein's second DTM career was particularly short-lived too. Mercedes made it clear long before the start of the season that it would be leaving the series after 2018, and thus it would not be able to provide a long-term home for Wehrlein here even if he wanted one.
Was he any good upon his return? It's honestly kind of hard to say. On the one hand, he was a below average qualifier within Mercedes' six-car ranks, did not manage to grab a win (unlike four of his fellow Mercedes drivers) and was only the fifth-highest Silver Arrow on the standings.
And yet, with Mercedes' final season proving quite fruitful, that was still good enough for eighth overall and a pretty impressive haul of points, which helped his Mercedes HWA crew (to which he was assigned alongside eventual champion Gary Paffett) to bag the teams' title. He probably should've won at Zandvoort too, if not for a sluggish pitstop that ultimately meant he missed out on the podium altogether.
In the end, his DTM farewell at Hockenheim was the worst weekend of his season, and it foreshadowed what ultimately ended up an acrimonious departure from Mercedes – as he was held to his contract and not allowed to compete in the season opener in Formula E, the series he now seeks to call his long-term home.
8 Robert Kubica
2020 (ART BMW)
18 starts, 1 podium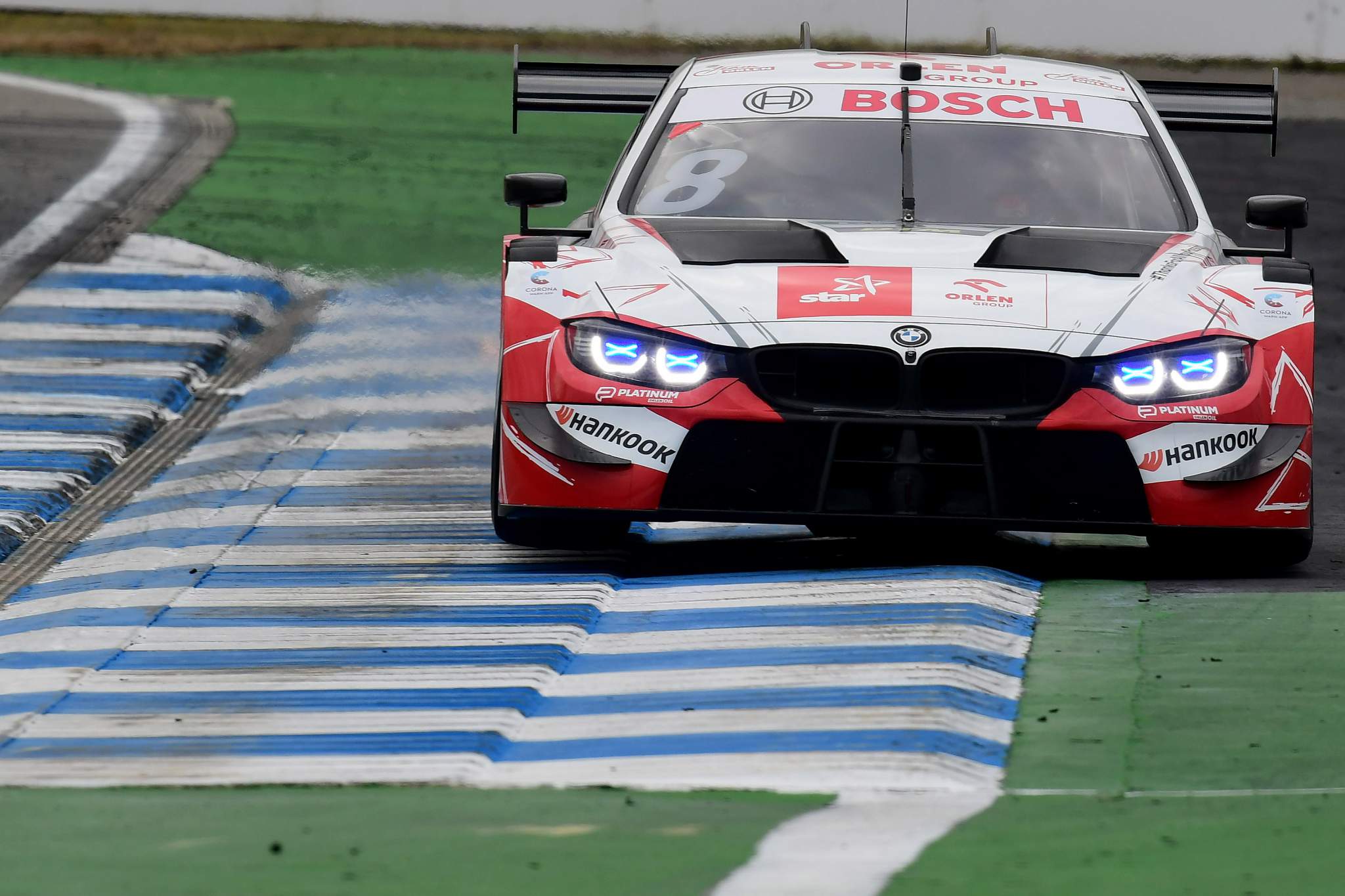 The stats line from Kubica's sole DTM season doesn't look all that great – 20 points, three points finishes, lots of finishes between 13th and 16th – but it was actually a lot more positive than so many of the campaigns revisited in this article.
DTM's farewell Class One season was an all-Audi affair, with BMW largely left to pick up the scraps and the ART-run car of Kubica usually left to pick up the scraps of those scraps – at least initially.
As the season went on, Kubica started to mix among the BMWs more and more, his average qualifying place among the seven M4s improving from 6.5 in the first three rounds to 4.5 over the rest of the campaign.
That improvement finally paid serious dividends at Zolder when, admittedly aided by substantial attrition and a good strategy, he passed Audi privateer Ferdinand Habsburg to secure what only was BMW's eighth (and ultimately last) podium of the 18-race season.
7 Christijan Albers
2007 (Futurecom-TME Audi)
11 starts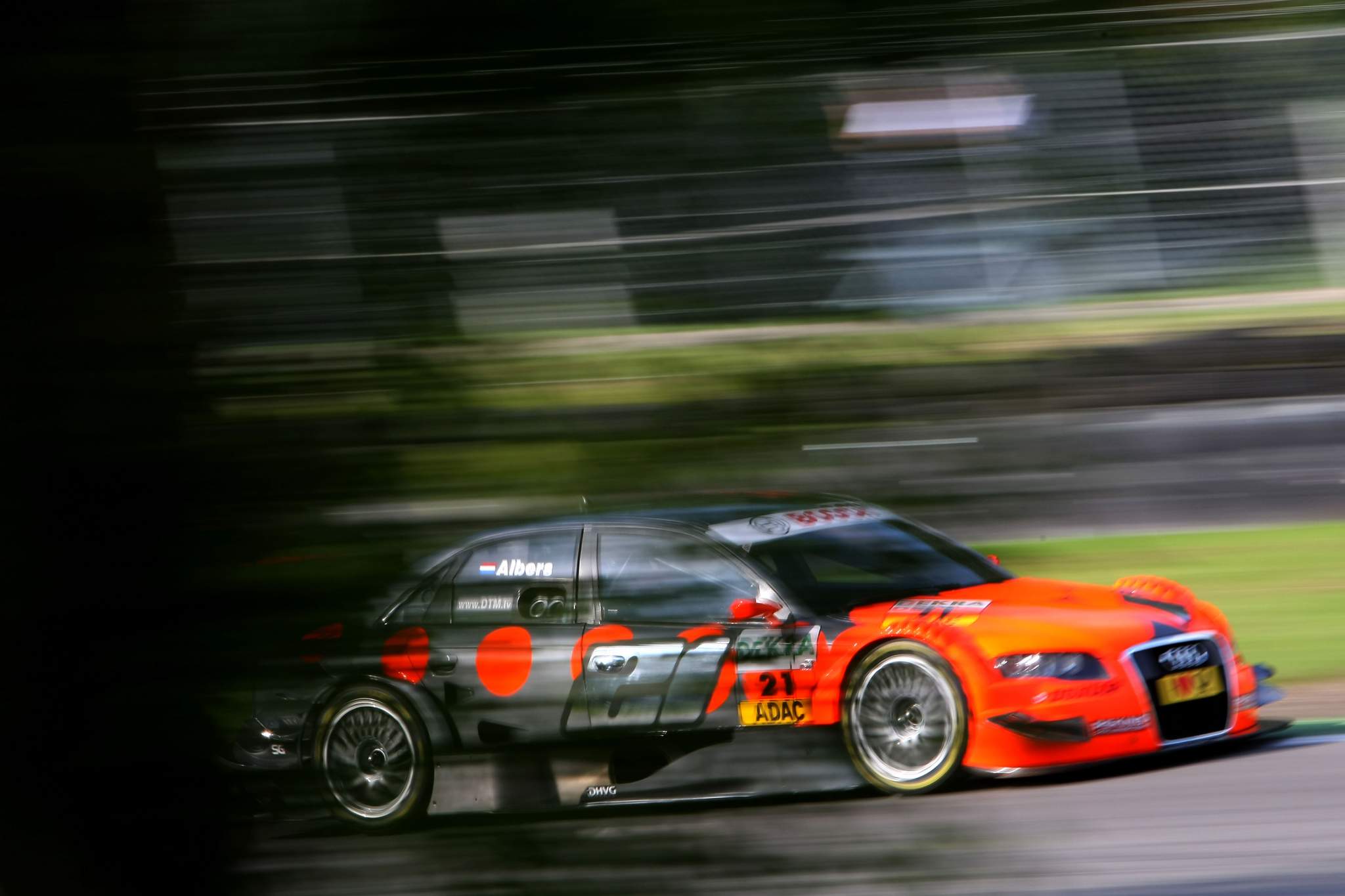 There are two drivers on this list who scored no points in their post-F1 DTM stint. The first, Petrov, is at the bottom of the list. The second, Albers, is much higher.
Why? Well, it's really quite hard to assess the job he did in 2008, so a lot has to do with the benefit of the doubt.
Albers had established himself as a top DTM operator in his first four years in the series before a low-key F1 career driving the backmarking cars of Minardi and 'Team Silverstone'. Once back in the DTM in 2008, no longer with a Mercedes HWA but with a Kolles-run two-year-old Futurecom TME Audi, he could do little other than rage against the dying of the light.
The Kolles Audi team never scored points in its four years in the DTM. Albers couldn't rectify that – even if he hadn't spent much of the season being shoved aside by faster cars (highlighted by the fact he was barged into and taken out at hairpin on the second lap in both the Hockenheim opener and the Hockenheim finale), the pure pace wasn't there for miracles.
In that context, the only fair comparison for Albers is team-mate Katherine Legge, and he was ahead in every qualifying and every race they finished together. It wasn't enough to give him a better DTM ride, but it should count for something.
6 Pedro Lamy
2000-01 (Rosberg Mercedes)
18 starts
Stuck with limited machinery and hampered by a terrible crash in his time in F1, Lamy was in the early stages of what would prove an ultra-successful sportscar career (and already an FIA GT champion) by the time he followed Mercedes into the revived DTM and slotted into Team Rosberg.
Though Mercedes' flagship HWA cars were on a different level, Lamy clearly had the measure of his team-mate – McLaren F1 tester Darren Turner – and bagged a pair of fourth-place finishes (with only a car problem preventing him from taking a third in the finale).
He was denied a great shot at a maiden podium, too, having put the car third on the grid for the Lausitzring races, only for them to be binned off due to brutal rain.
Team Rosberg was given year-old Mercedes cars for the 2001 season, and despite a pretty strong start to the season Lamy walked away after two rounds. Neither team-mate Turner, nor replacement David Saelens was not able to match Lamy's results for the rest of the season.
5 Heinz-Harald Frentzen
2004-05 (Holzer Opel), 2006 (Abt Audi)
32 starts, 4 podiums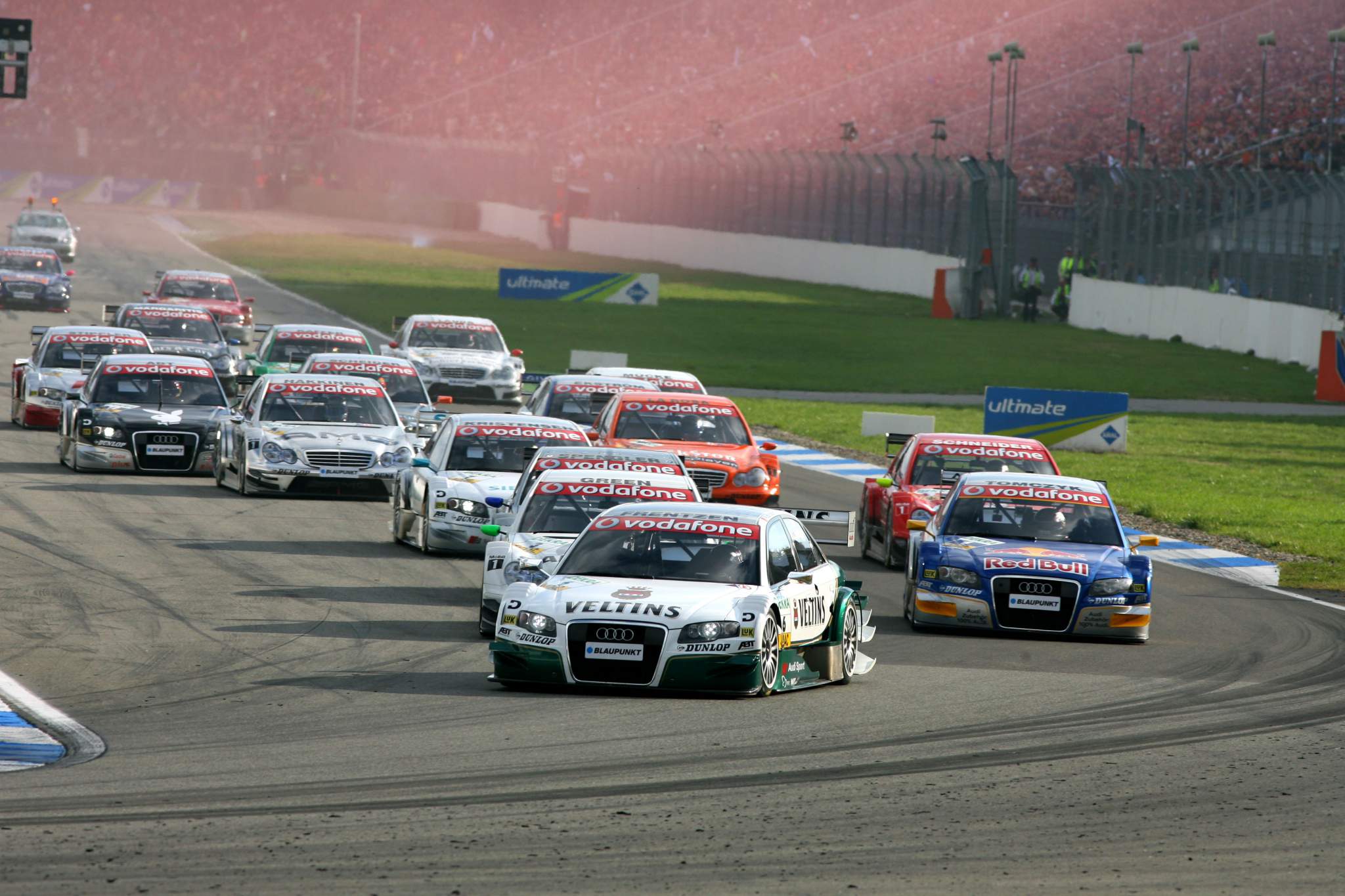 Fresh off a decade in F1, three-time grand prix winner Frentzen was handed the keys to a current-spec Vectra in the DTM in 2004. He was sometimes the quickest out of the six 2004 Opels in qualifying but never in any race, but Opel's season as a whole was kind of a disaster, and Frentzen's meager haul of three points was made to look less bad by the fact none of his team-mates scored more than 15.
In 2005 Opel was still poor – and would exit the DTM at the end of the season – but Frentzen certainly found an extra gear, putting the car in the top three on the grid more times than all of his squadmates combined, and picking up a pair of podiums at Brno and Zandvoort.
In his and Opel's final race, Frentzen crashed hard into the Hockenheim barriers and was knocked unconscious, suffering a concussion.
Despite this, he returned to the DTM next year – now with Audi – and got back onto the podium in the very first race. This kicked off a sensible campaign that nonetheless ended sourly, as Frentzen took his maiden pole in the Hockenheim finale but struggled in the race, before being punted off by fellow Audi driver Ekstrom.
His subsequent comments to the media prompted a sternly-worded statement from Audi, which ended with its head of racing Dr Wolfgang Ullrich saying he was personally "disappointed" in Frentzen. It surprised nobody when Audi and Frentzen subsequently went their separate ways.
4 Jean Alesi
2002-05 (HWA Mercedes), 2006 (Persson Mercedes)
62 starts
5 wins, 8 podiums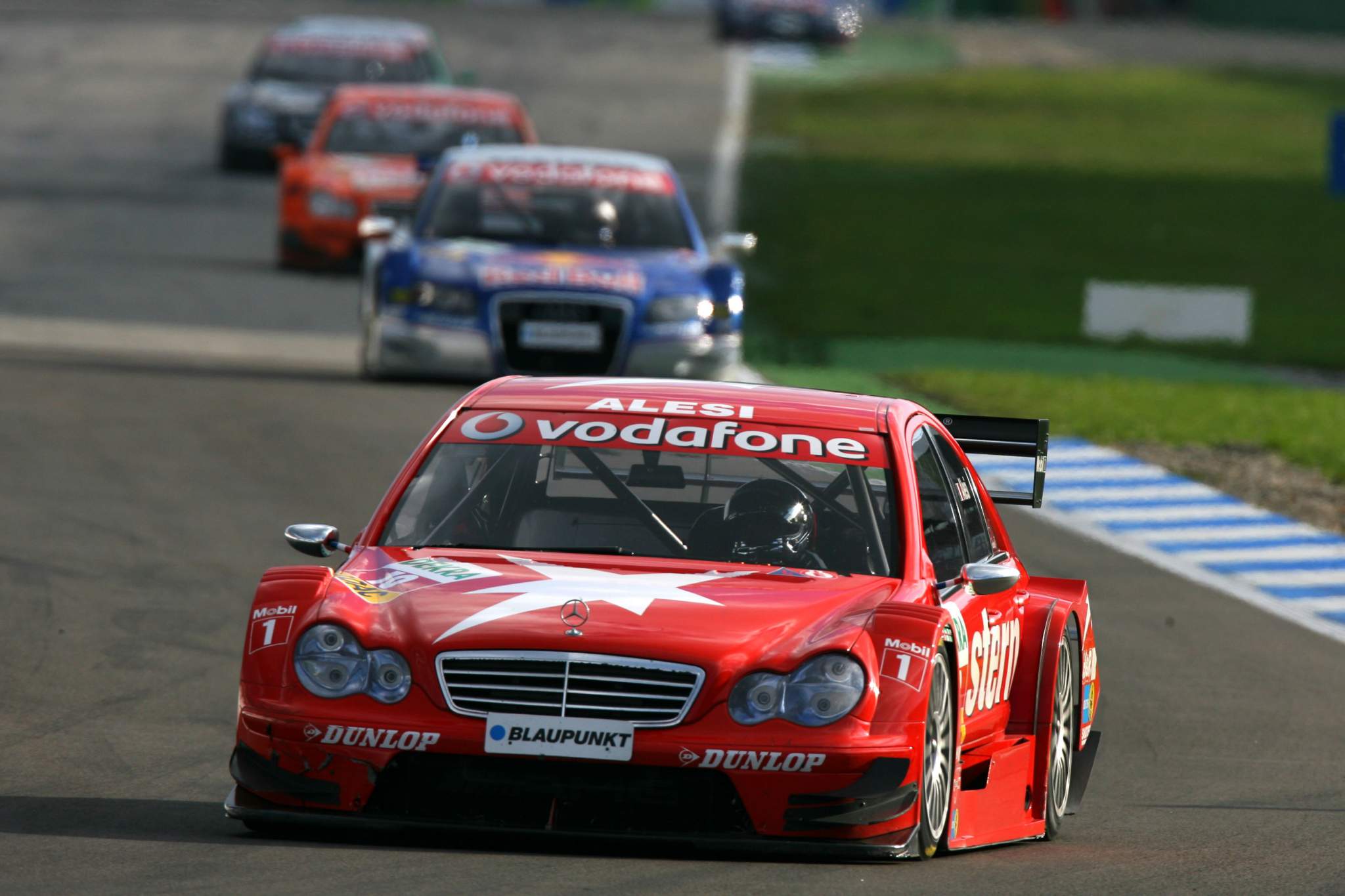 After a brilliant start to his F1 career that the rest of it never quite lived up to, Alesi headed straight to DTM with Mercedes, and had a brilliant start that the rest of his DTM career never quite lived up to.
He was on the podium in the main race in his very first weekend, and swept the qualifying race and the championship race from pole at Donington in round three. The rest of that campaign was hit-or-miss, and ended in a huge airborne shunt, but he was better in 2003, winning two more races and scoring more regularly.
But an undertray failure while leading from pole in the 2004 opener at Hockenheim set the tone for a disappointing campaign, in which his other race from pole, at the Norisring, ended in the tyre wall.
The win in the 2005 opener would be Alesi's last podium in the DTM. The rest of the season was not spectacular, and he was demoted from the main HWA squad after four seasons to drive one of Persson's year-old C-Klasses.
In those, he stacked up decently against team-mate Alexandros Margaritis in what proved to be his farewell DTM campaign.
3 Timo Glock
2013-15 (MTEK BMW), 2016 & 2020 (RMG BMW), 2017-19 (RMR BMW)
130 starts
5 wins, 15 podiums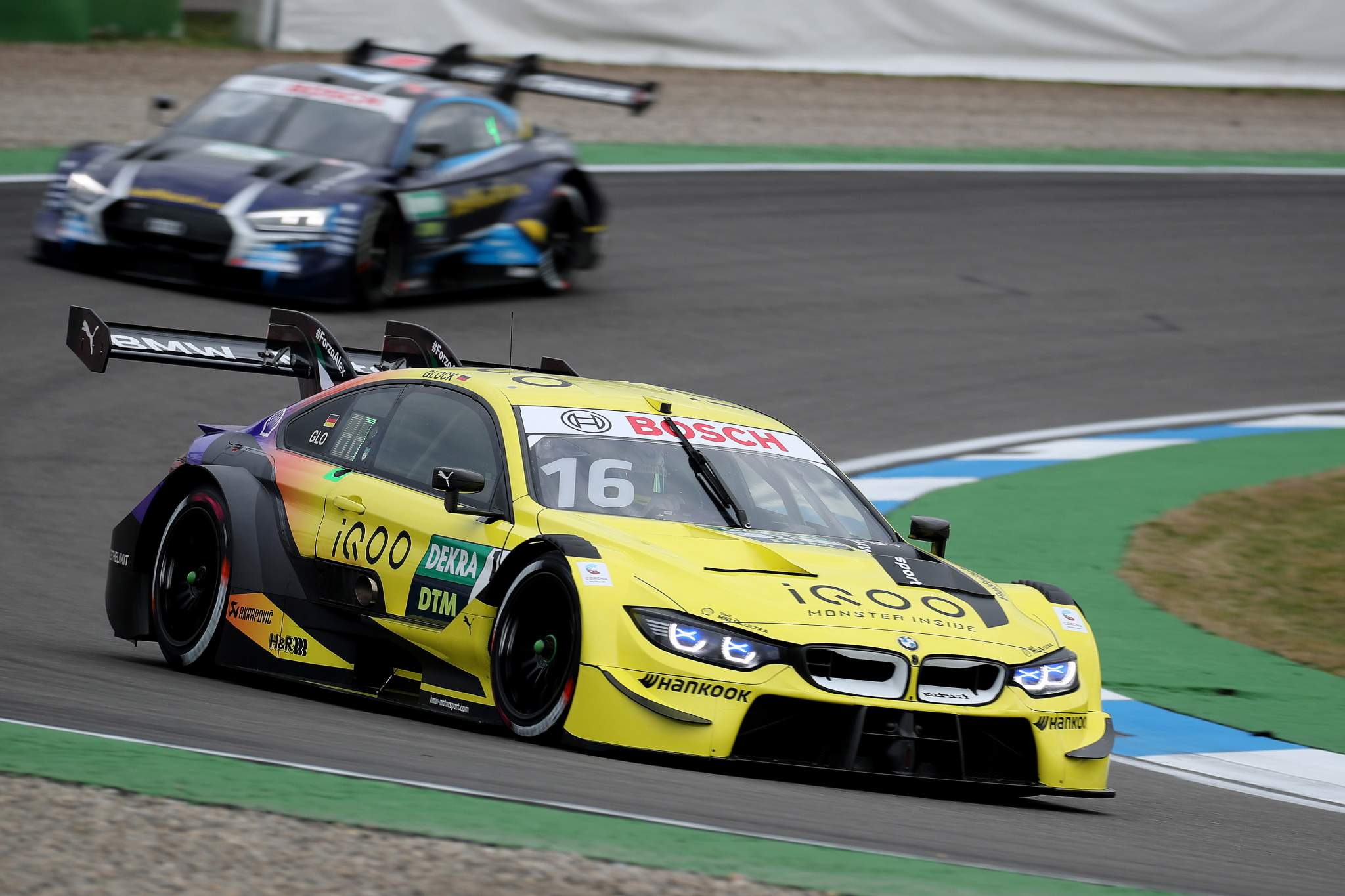 After three years driving around the back in a Marussia in F1, three-time F1 podium finisher Glock must've enjoyed coming straight into a series where almost anybody could win on any given weekend.
But thought he didn't have to wait long for his first podium (three races in) and his first win (at the end of the first season, achieved by passing Roberto Merhi around the outside of Hockenheim's Parabolika), consistency proved really hard to come by initially, and in his first seasons he was largely a below-average performer within BMW's strong roster.
There was the occasional win and podium, but it was really only by his fifth season that Glock became one of BMW's go-to guys.
However, that also coincided with the abolition of DTM's performance weights system and a sharp fall in BMW's competitiveness. His best seasons ended up being a Mercedes-dominated 2018 and an Audi-dominated 2020.
2 Paul di Resta
2014-18 (HWA Mercedes), 2019 (R-Motorsport Aston Martin)
99 starts
5 wins, 16 podiums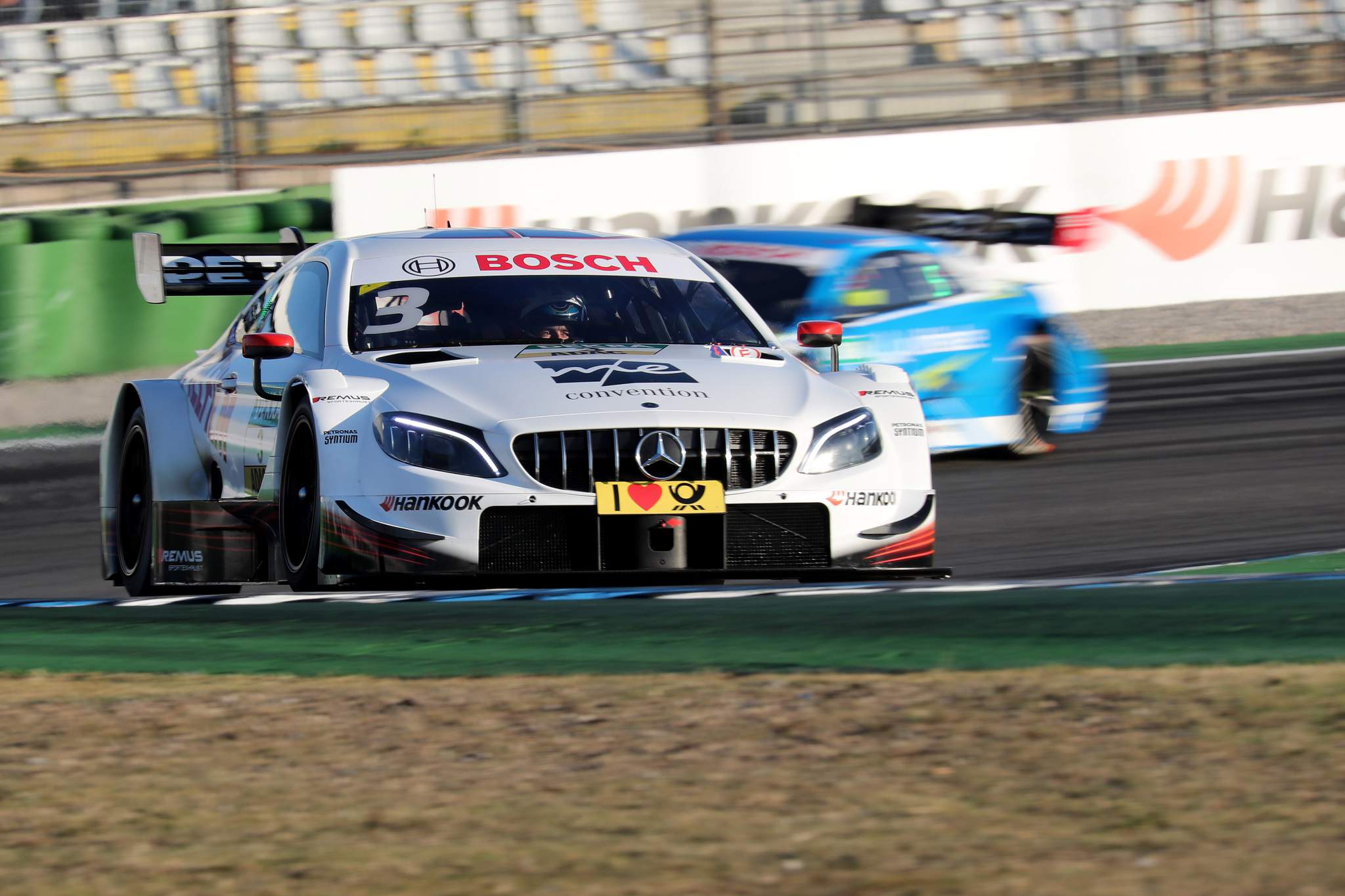 After leaving F1 in 2013, almost certainly before his time, di Resta required some time to readjust to the DTM series he had won in 2010, and only finished 15th in his first campaign (although there was a front-row qualifying that went to waste when Jamie Green tipped him into a spin during a safety car start at the Norisring).
But the year after he was already in strong shape and regularly fighting for podiums, and his first win after the comeback eventually came in the 2016 opener. Unfortunately, Mercedes wasn't really in a state to fight for the title that year, or in 2017, and when the opportunity did finally arise in its DTM swansong in 2018 di Resta entered the final round with the championship lead.
It didn't last – he was outqualified and outraced by champion Gary Paffett and runner-up Rene Rast in the Hockenheim double-header, and slipped to third in the standings, going on to join the Aston Martin R-Motorsport project.
The team had di Resta to thank for the highlight of its season, as he qualified third on the car's debut in the rain. That was as good as it got – the project collapsed after a season of being undercooked, leaving di Resta to focus on sportscars and F1 punditry.
1 Mika Hakkinen
2005-07 (HWA Mercedes)
31 starts, 3 wins, 8 podiums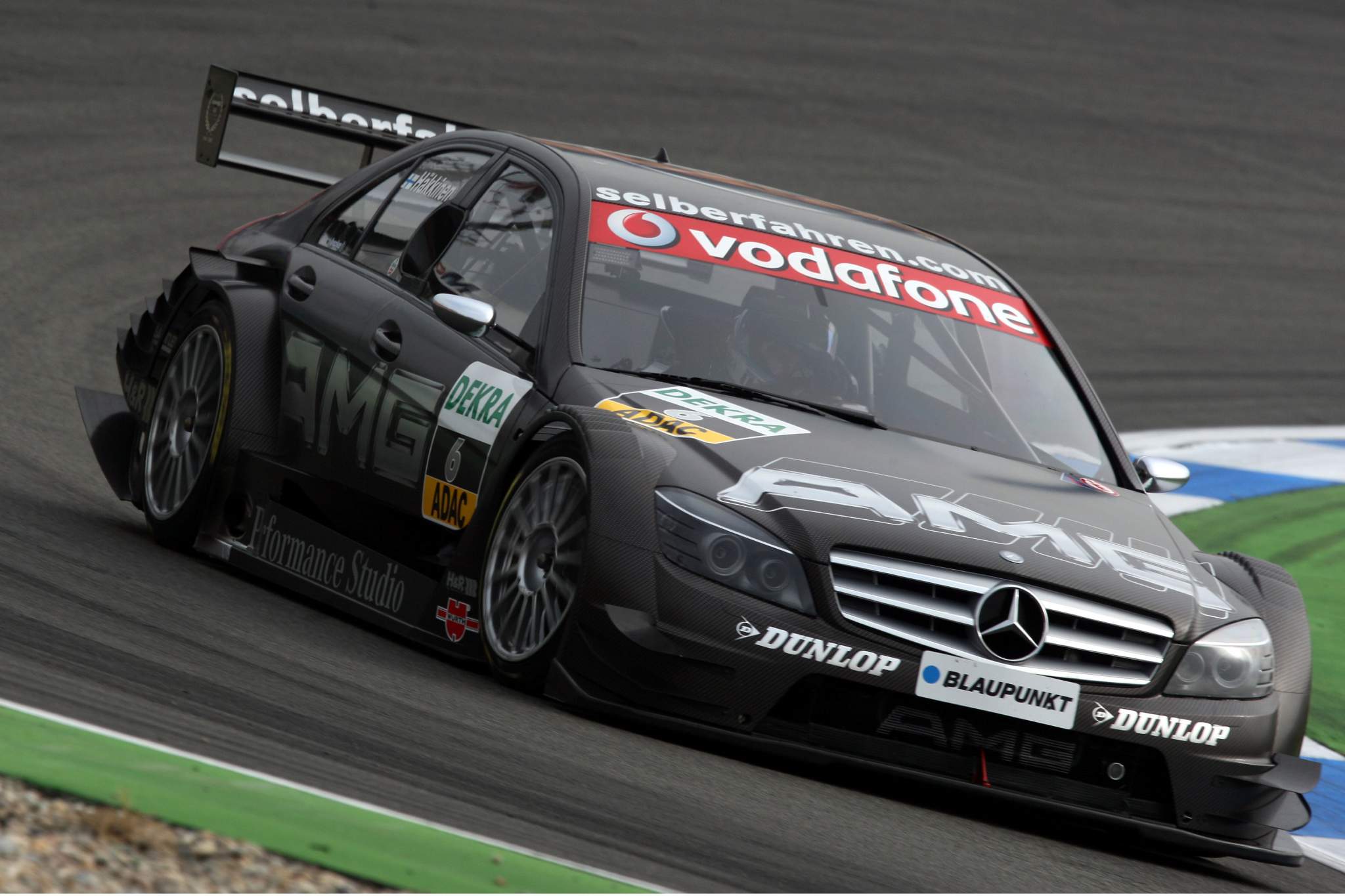 Hakkinen is a controversial choice for first place – it is not easy to make the statistical case that he was better than a post-F1 di Resta or Glock, and in fact within The Race's editorial staff there was a dissenting opinion that he should've been third at best.
Ultimately, there was really not much to choose from between the top four, but Hakkinen was also really hard to compare to di Resta and Glock. His Mercedes v Audi era of the DTM, with the grid padded out by older-spec cars, was just very different to the modern-era Class One series that di Resta and Glock found themselves in.
Qualifying stats suggests Hakkinen was an average performer among HWA's four-driver roster in 2005 and 2007, and well below average in 2006. But it was a brutal roster by DTM standards, with each of his team-mates, aside from fellow F1 outcast Alesi, stood as a true giant in the history of the German series.
It took Hakkinen only until his third race, at Spa, to take a dominant win from pole, but it seemed like he needed until season three to properly figure out DTM. And unfortunately, 2007 proved too eventful for his good.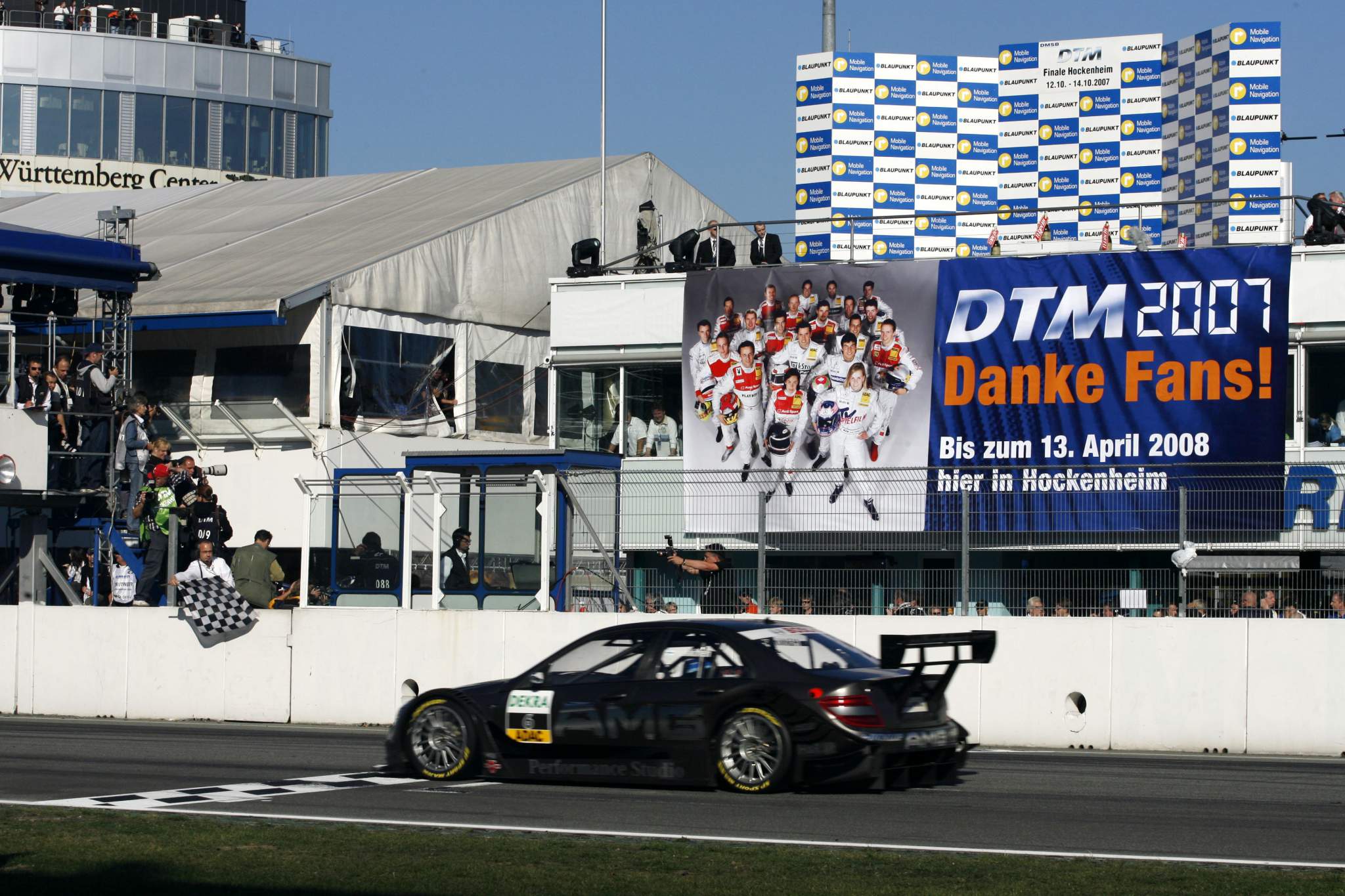 His two poles in 2007 yielded a retirement after a collision with Mike Rockenfeller and a fourth place. Instead, the two wins came at Lausitzring – where only half-points were awarded because the DTM felt the race control made too big of a mess of things (seriously) – and at Mugello, where Hakkinen was admittedly fortuitous to pit early and catch a timely safety car from 15th on the grid.
But it was Barcelona that defined the season. Running second, Hakkinen chucked his car down the inside of leader Tomczyk at Turn 1, outbraked himself and was already missing the corner when Tomczyk turned in and clobbered him. It was one of several incidents that led to Audi having what can perhaps be described as an almighty strop, and withdrawing all of its cars during the race.
Hakkinen was subsequently handed a 10-place grid penalty for the finale, which he rightly saw as "unjust", and it surely contributed to his decision to walk away from racing for good at the end of the season.
He would have accomplished a lot more in the DTM otherwise. But given the silverware he picked up in his time in the series, which came after four years of a circuit racing sabbatical, he accomplished enough to top this ranking.
And in the 1990s…
Mark Paulson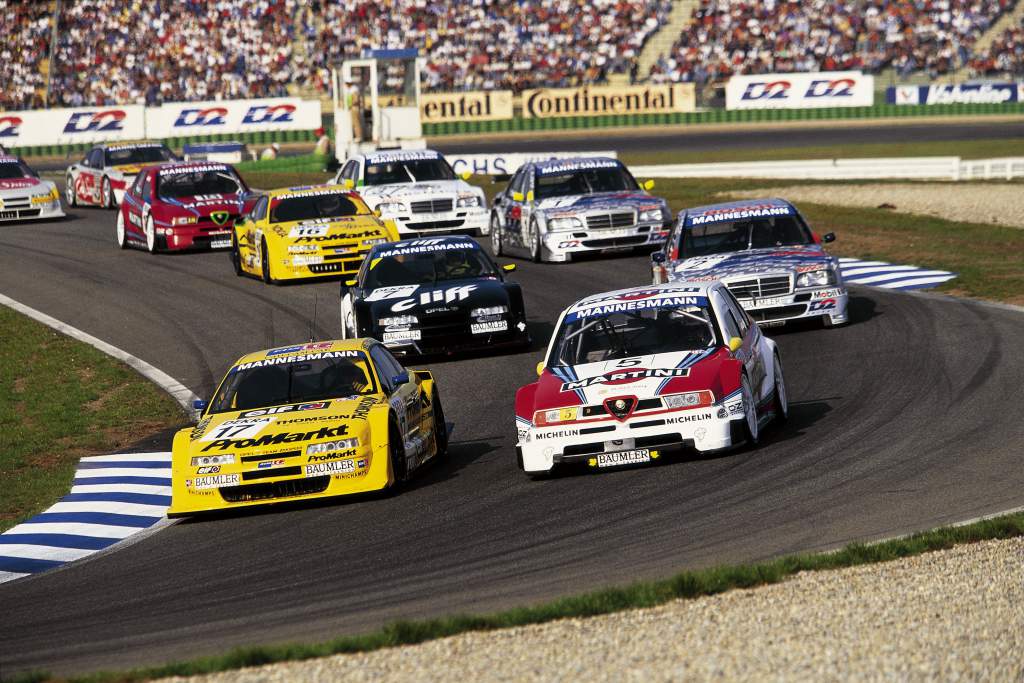 The DTM's previous Class 1 era, running from 1993 to 1996, featured an arms race with the most technologically advanced touring cars ever. And spending wasn't limited to the machinery as a glut of Formula 1 drivers were attracted to a series more high-tech than F1 and boasting a high profile.
Bernd Schneider, who successfully straddled the DTM's two eras, led the way.
After an F1 career mainly spent non-qualifying recalcitrant Zakspeeds, he found refuge in the DTM.
Considered the series' quickest driver by 1993, Schneider also had a reputation for being hard on machinery and initially played second fiddle to Klaus Ludwig at Mercedes' crack AMG squad.
But when 1994 champ Ludwig defected to Opel, Schneider delivered twin titles in 1995 – winning both the DTM and its new FIA-endorsed International Touring Car sister series into which the DTM fully morphed for 1996.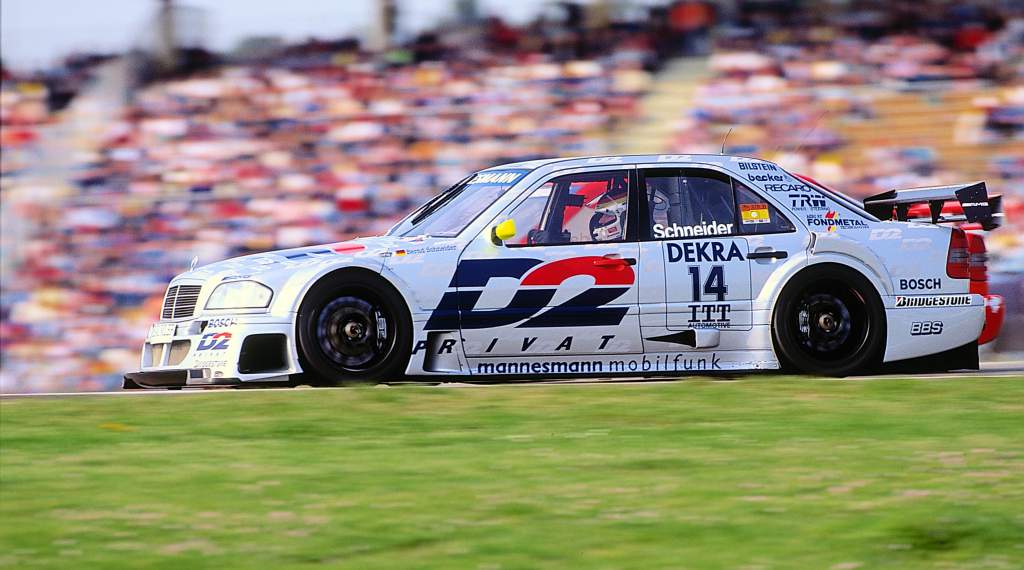 Mercedes had been playing catch-up to Alfa Romeo in 1993 when Nicola Larini dominated with 11 wins in his four-wheel-drive 155 V6. Fresh from subbing for Ivan Capelli at Ferrari alongside Italian touring car success in 1992 – after earlier F1 travails in backmarking machinery – Larini quickly adapted to Germany's unusual tracks.
Wins at temporary-airfield and street circuits complemented a double triumph on his first ever visit to the Nurburgring Nordschleife. Further F1 substitute outings for Ferrari in 1994 proved a distraction, before Larini suffered with Alfa's declining form and sometimes chaotic politics.
Larini's Alfa Corse team-mate was one-time grand prix winner Alessandro Nannini. Severing his right arm in a helicopter accident ended his top-line career, but the ex-Benetton driver returned in Italian touring cars before becoming a DTM frontrunner.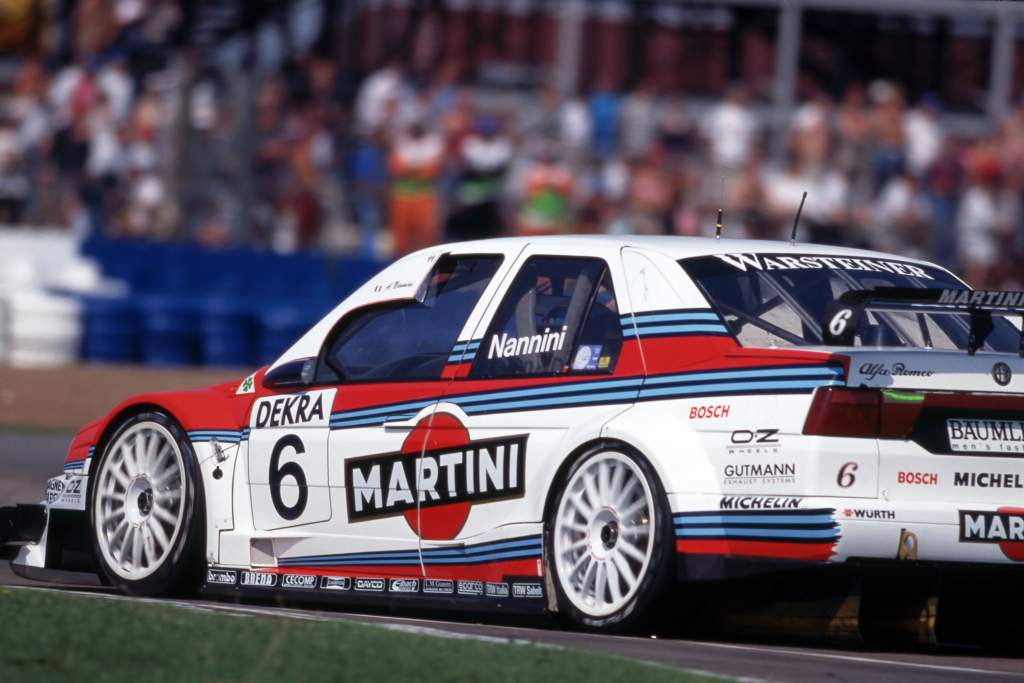 Les/Jacob Ebrey Archive
Poor reliability, street circuit struggles and a feisty temperament contributed to erratic results. Five wins and a mid-season points lead were squandered in 1994, then Nannini alone persevered with developing Alfa's tricky 1995 chassis.
Improved – albeit inconsistent – form in 1996 focused Alfa's attention, a controversial new engine helping Nannini to seven wins (some team orders-assisted, as Alfa put its full might behind him) but only third in the championship.
Stefano Modena's F1 career didn't live up to expectation, but he burst into the DTM with a sensational debut double win at Avus in late 1994. As Alfa slipped back, though, he couldn't repeat that success at its second-string squads.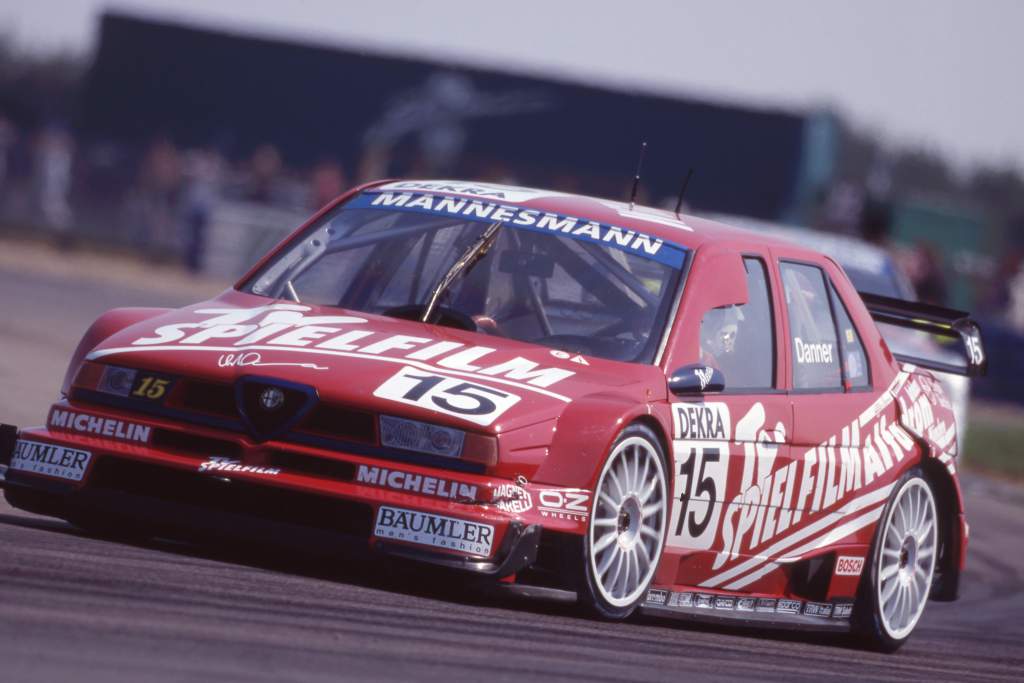 Les/Jacob Ebrey Archive
Also in the Alfa camp, 1980s F1 backmarker Christian Danner (above) took semi-works machinery to three wins, and Michael Bartels – who failed to qualify for a single grand prix in his brief 1991 Lotus spell – won twice ahead of a splendid GT career.
Five-time GP winner Michele Alboreto struggled to adapt to much heavier cars and lower power than he'd been used to in F1, while an impressive win and podium at Silverstone topped touring car legend and F1 serial non-qualifier Gabriele Tarquini's 1996 stint.
Opel's star driver when its 4WD Calibra joined the party in late 1993 was 1982 F1 world champion Keke Rosberg. The Finn's flamboyance mixed the odd decent result with spectacular incidents before focusing on his own Team Rosberg.
He'd already introduced F1 podium finisher JJ Lehto and ex-Larrousse man Yannick Dalmas to the Opel roster in 1995. The duo, who also combined to win that year's Le Mans 24 Hours, took time to adapt and were often hampered by older machinery.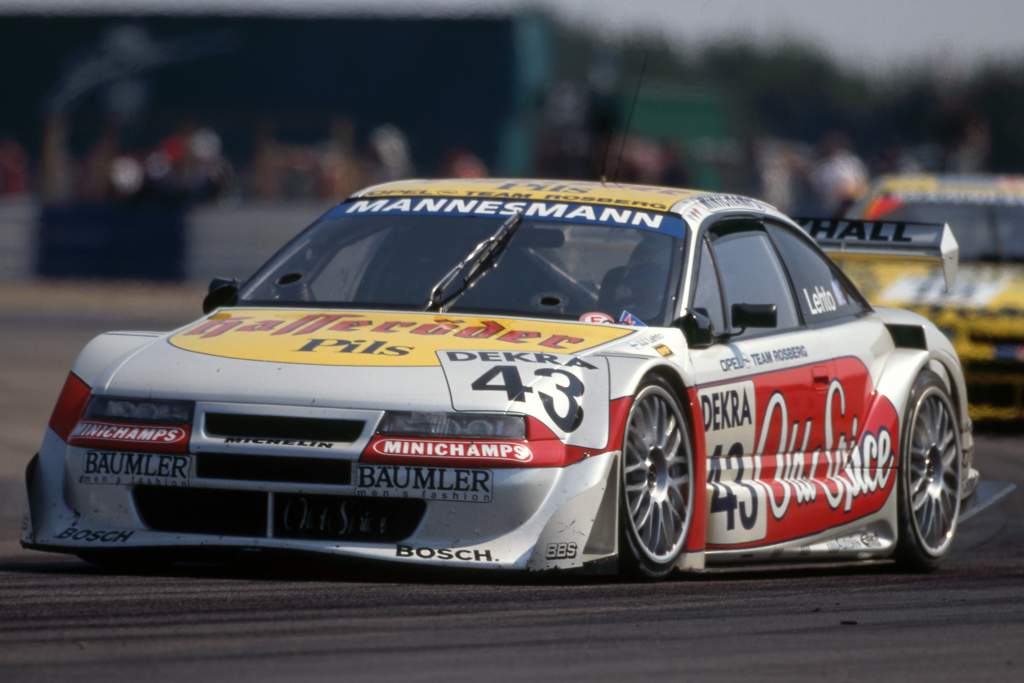 Les/Jacob Ebrey Archive
Armed with Opel's improved 1996 challenger, Lehto was a podium regular – including from a pitlane start at home in Helsinki – en route to fifth in the standings behind champion stablemate Manuel Reuter.
Sportscar ace and '70s F1 regular Hans Stuck, DTM champion in 1990, returned in 1996 as Opel's big-name crowd-pleasing Rosberg replacement. He took a pair of wins among a mixed bag of results.