Formula 1's previous attempt at holding grands prix in Las Vegas is remembered for producing one of the most hated circuits in championship history, a course that managed to somehow be both boring and extremely punishing for drivers. And was famously crammed into a casino car park.
But those two Caesars Palace races decided two world championships, featured a return to the top step of the podium for a legendary F1 team (which would only win once more thereafter) and an above average amount of bizarre incidents.
The track was a relatively late addition to the 1981 calendar as a second United States venue after classic F1 host Watkins Glen ran into financial difficulties.
Fitting its 2.3-mile distance into a tight space primarily comprising that infamous car park meant a layout of repetitive tight-radius corners winding within an outer section that had some faster elements, with scant gradient change and all within tall concrete barriers, wide sand traps and… car park markings. Drivers were distinctly underwhelmed by the layout and the venue's featureless nature, with few visual references for braking points.
Running anti-clockwise meant it also had more left-handers than any other track on the 1981 F1 schedule, providing a heavy fitness challenge for drivers' neck muscles given the ultra-stiff suspension the cars of the era required to make their ground effect skirts work and the searing heat. Speeds and lap times being significantly faster than anticipated didn't help on the physical side.
World championship contender Nelson Piquet was affected worse than most, vomiting even in the familiarisation practice sessions mid-week and then ending up in agony from a bruised back when a massage intended to ease his neck problems went badly awry.
Despite this, Piquet scraped to the first of his three titles by taking fifth place as main rival and polesitter Carlos Reutemann plunged down the order to a lapped eighth for reasons never fully explained.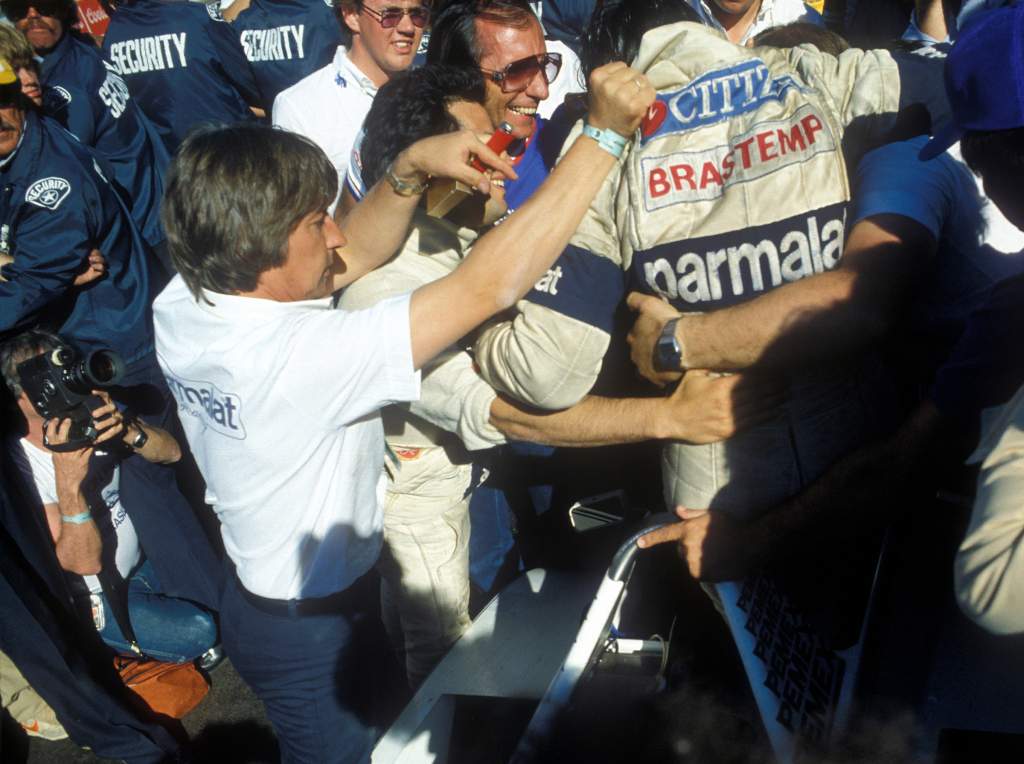 Piquet was barely conscious, such was his heat exhaustion, had to be helped out of his Brabham in a 15-minute process and pretty much collapsed on the podium – but was still world champion by a single point.
Reutemann's Williams team-mate Alan Jones utterly dominated in what he intended at the time to be his last F1 race before retirement, leading by 40s before switching into cruise mode.
While there was no battle for victory, there was more intrigue in Jones's wake than is often remembered. That included a classic Gilles Villeneuve cameo: somehow putting the awful 1981 Ferrari third on the grid, nearly taking the lead at the start, holding up a train of much faster cars for lap after lap, getting black-flagged because he'd bizarrely lined up only half in his grid slot, and then retiring anyway with a small fire on his car due to a fuel injection problem.
Michelin runners needing pitstops for fresh tyres shuffled things too: Alain Prost's Renault only just resisted Bruno Giacomelli's Alfa Romeo for second position by four tenths of a second, and outside title contender Jacques Laffite grabbed the final point from McLaren driver John Watson at the very last corner of the race.
A turbulent F1 year later, it was Watson versus Keke Rosberg (who back in 1981 in Las Vegas had performed a small miracle to even qualify his Fittipaldi) for the title following championship leader Didier Pironi's career-ending leg injuries.
Williams driver Rosberg – who only won one race that year – was three points clear of the absent Pironi and nine ahead of Watson, who could only take the title on countback if he won and Rosberg didn't score.
A typical race day charge from ninth on the grid to second was a good effort from Watson, but fifth for Rosberg sealed a championship that would've seemed unthinkable a year earlier.
That race is equally remembered for Tyrrell winning its penultimate grand prix and ending a four-year drought in the process.
Rising star Michele Alboreto overcame a qualifying crash (a red flag for Jean-Pierre Jarier's Osella having a suspension failure gave Tyrrell time to effect repairs) and a first lap wheel-bang with Eddie Cheever to run third behind the Renaults of Prost and Rene Arnoux. Engine problems for Arnoux and a massive tyre vibration for Prost opened the door for Alboreto to take his first F1 win.
That was it for F1 at Caesars Palace. Crowd figures, sponsorship and TV exposure had all been lower than the organisers hoped.
CART IndyCar stepped in for two more years and the track was converted into a sort of oval – the sinuous infield dropped and only the left-handers of the outer section retained, though they still required heavy braking in places, making it something of a 'roval'.
Mario Andretti, who'd contested both F1 races at the track, won the first CART race there and claimed his sole championship of the CART era at the second as Tom Sneva's win wasn't enough to overhaul him in the 1984 title fight.
And then the track was closed and had a shopping centre among other things built on top of it. Which most who'd raced on it would agree was a fittingly anonymous fate.