The (justified) cancellation of this weekend's Emilia Romagna Grand Prix means there will be no additions in 2023 to the litany of iconic moments that have taken place at Imola.
No consideration of Imola's place in F1 history can avoid the tragedies with which the circuit will always be linked – the deaths of Ayrton Senna and Roland Ratzenberger at the 1994 event, and also the 1982 fallout between Ferrari team-mates Didier Pironi and Gilles Villeneuve a fortnight before Villeneuve's fatal accident at Zolder.
Senna's death was also far from the first horrific crash at the now much-changed Tamburello circuit, with the warnings from Nelson Piquet and Gerhard Berger's fortunate escapes in 1987 and '89 not heeded.
But Imola has been the scene of many happier F1 occasions too, and some very unusual ones.
We previously selected some lesser-known memories to mark the track's return to the F1 scene in 2020. Here's another chance to read them:
M
c

Laren's late-1990s recovery began here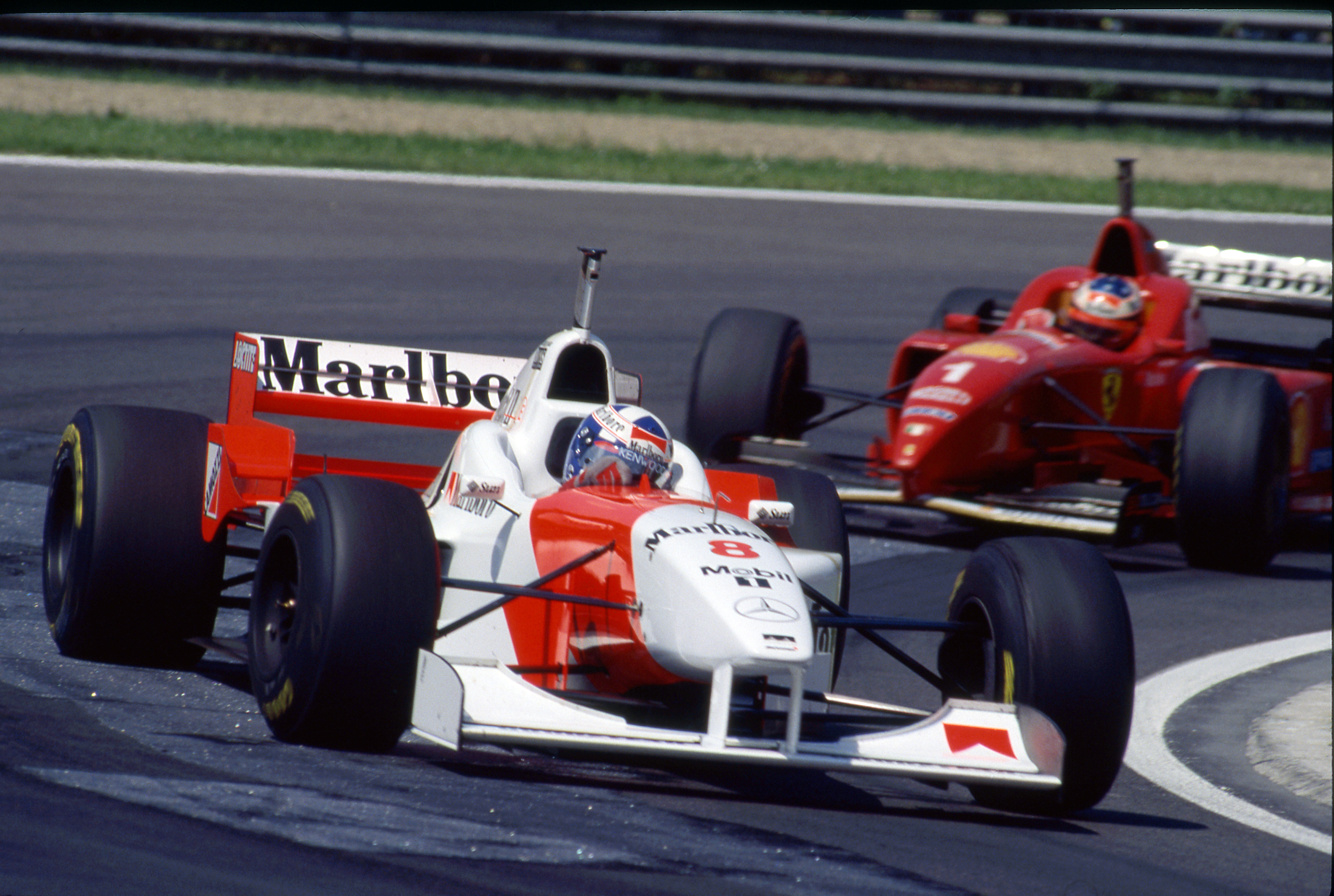 McLaren led just 14 laps in the first two years following the departure of Ayrton Senna. In one stint of the San Marino Grand Prix in 1996, David Coulthard surpassed that total.
Coulthard jumped into the lead with a rocket start, fending off Michael Schumacher's Ferrari and Damon Hill's Williams until he made his first pitstop.
Even though Coulthard probably would only have finished third if his car had made it to the end, it felt like a significant moment in McLaren's mid-1990s rebuilding process, and it was the first legitimate spell in the lead of a grand prix for the McLaren-Mercedes partnership. – Glenn Freeman
A pre-qualifier made it to the podium here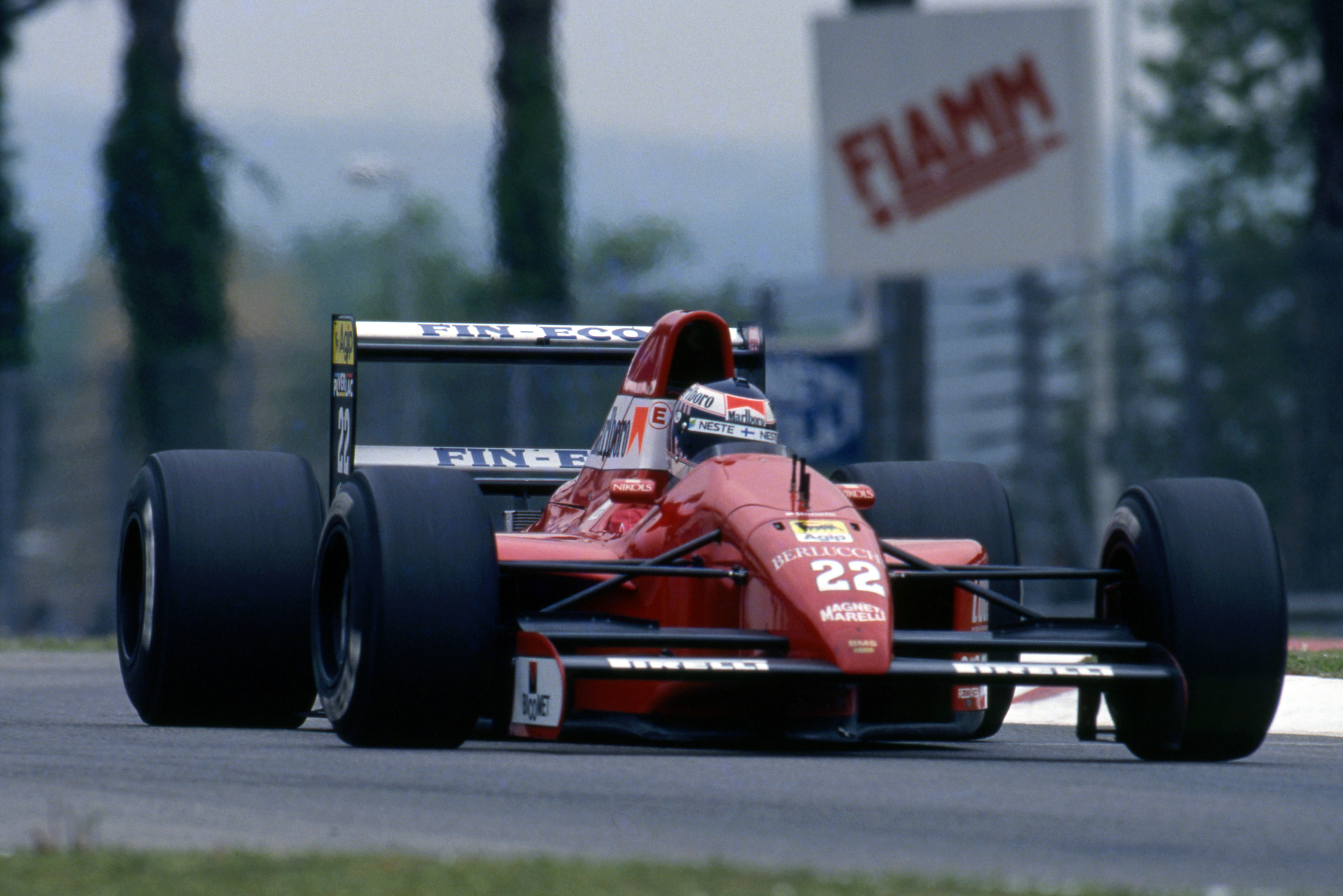 During F1's pre-qualifying era, simply making it onto the grid was often a big achievement for drivers in the teams forced to battle their way in even before practice.
At the 1991 San Marino GP – famous for Alain Prost spinning his Ferrari and retiring on the formation lap – Scuderia Italia had a tough time on Friday with Emanuele Pirro failing to escape pre-qualifying.
But team-mate JJ Lehto did make it through and put the team's remaining Dallara-Judd a solid 16th on the grid.
Then in a race of high attrition, Lehto came through to finish an amazing third behind the McLaren-Hondas of Senna and Berger.
True, apart from the McLarens only one driver who had qualified ahead of Lehto – Minardi's Pierluigi Martini, who finished fourth – made the chequered flag, but it was a big result for the team on home soil.
It was also the only podium appearance of Lehto's F1 career, and the only time apart from Stefan Johansson's 1989 Estoril podium for Onyx that a driver came from pre-qualifying to a top-three finish. – Edd Straw
Prost and Senna animosity really began here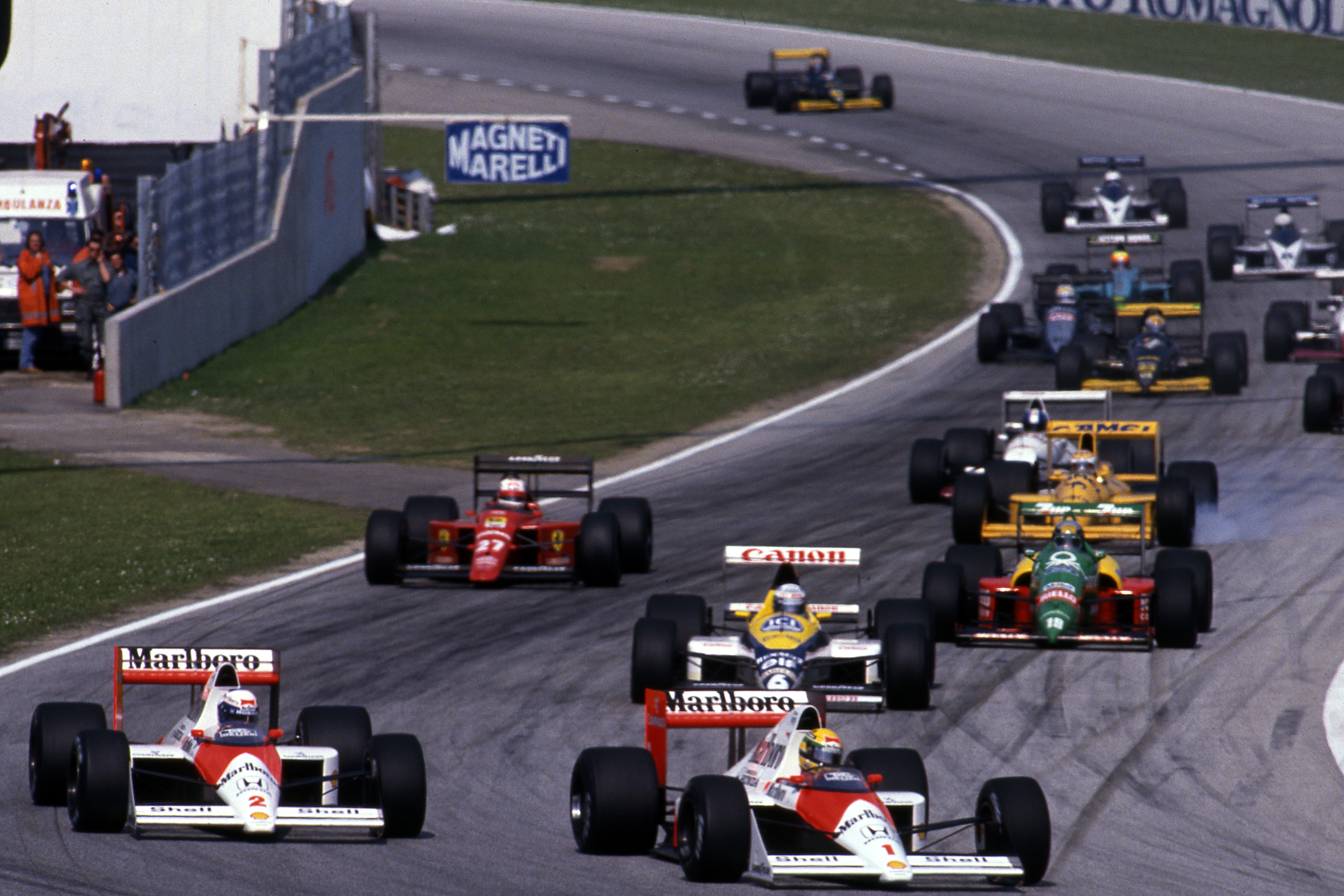 Without Berger's fiery crash in 1989, who knows where the Senna/Prost feud would have truly ignited? It wouldn't have taken long.
Senna's start/finish chop at Estoril in 1988 is sometimes considered the catalyst for the rivalry truly exploding, but the relationship wasn't particularly damaged by that. Imola '89 wasn't as dangerous, but in Prost's eyes it represented a betrayal.
At Senna's suggestion, after he was caught up in a Turn 1 collision in the season opener in Brazil, the McLaren drivers agreed before the race that whoever got away best off the line wouldn't be challenged into the first braking zone at Tosa. Senna got away well and Prost followed, although unless he lifted on the run through Tamburello it's hard to say it was his choice not to attack.
The race was red-flagged following Berger's crash on lap four, with a restart from the grid. This time Prost got away like a rocket and moved into the lead. He assumed the original agreement with Senna was still intact, only for Senna to sweep alongside on the approach to Tosa to retake the lead.
A frustrated Prost spun later in the race, and didn't attend the post-race press conference, where – unprompted – Senna mentioned that he'd had to attack on the restart because he feared being overtaken by Mansell's powerful Ferrari – which was running fifth…
Team boss Ron Dennis took the matter into his own hands by getting the drivers together in private during a test at Pembrey.
Prost's account of the tense meeting was that he sat quietly while Dennis interrogated Senna. Prost claims that while Senna admitted there was an agreement in place, it only applied to the first start, not the second.
"But more important," adds Prost in the book 'Alain Prost – McLaren', "Ayrton said I had overtaken him! I said, 'I don't know how many million people had seen what happened on television'. It took maybe 20 minutes before Ayrton would accept what happened. It was unbelievable."
While Dennis then told the world the matter was resolved at the next race in Monaco, quotes Prost claimed were given off the record appeared in French newspaper L'Equipe saying he would no longer "have any business" with Senna, who he called "not honest".
Senna hit back, declaring their relationship "finished". The war was on. – GF
Williams-BMW's first win came here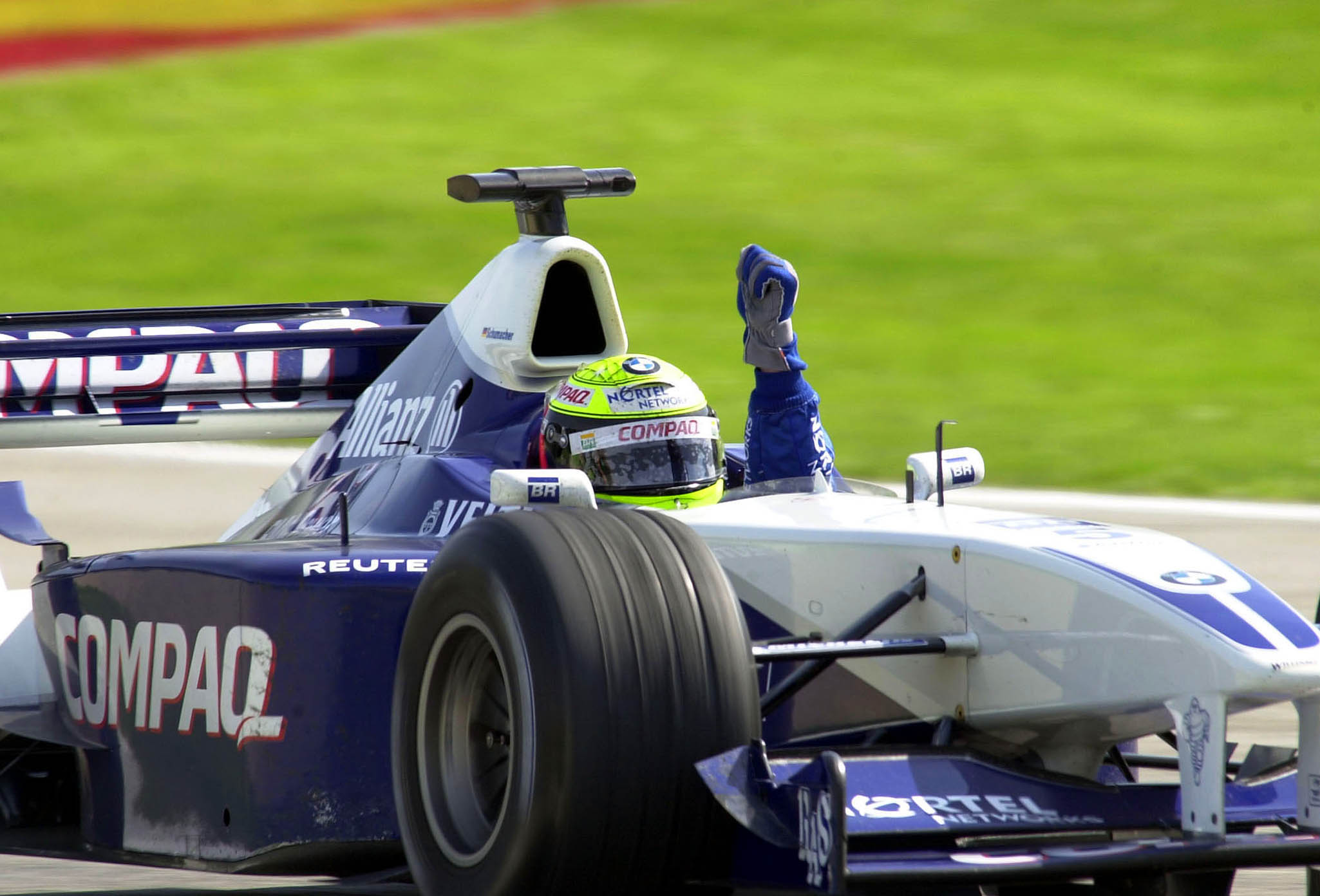 Williams and BMW didn't have to wait long to achieve their main goal for 2001. After Juan Pablo Montoya was taken out of the lead when lapping Jos Verstappen at the previous race in Brazil, Ralf Schumacher delivered the partnership's first win next time out in the San Marino GP.
As well as being Williams's first win since 1997, it was the younger Schumacher's maiden victory, sealed in commanding fashion by leading every lap.
The race signified Williams's return to being a major player in F1. Its upturn in fortunes was the result of a much more ambitious engine from BMW for its second season back. It was also the first win for Michelin, just four races into its own F1 comeback.
Ralf was disappointed his brother Michael couldn't join him on the podium, having retired from the race, sending large swathes of the tifosi for the exits even though the second Ferrari of Rubens Barrichello was third. But Michael was waiting for the winner in parc ferme afterwards.
The race should also be remembered for a bizarre moment in the early weeks of Kimi Raikkonen's F1 career. The Finn was initially granted a superlicence on a provisional basis, and in just his fourth race he slid into the wall at Tosa in strange fashion. It later emerged his steering wheel had come off in his hands.
Afterwards he shrugged: "As far as I'm concerned I put it on correctly." – GF
One of 21st century F1's least impressive careers ended here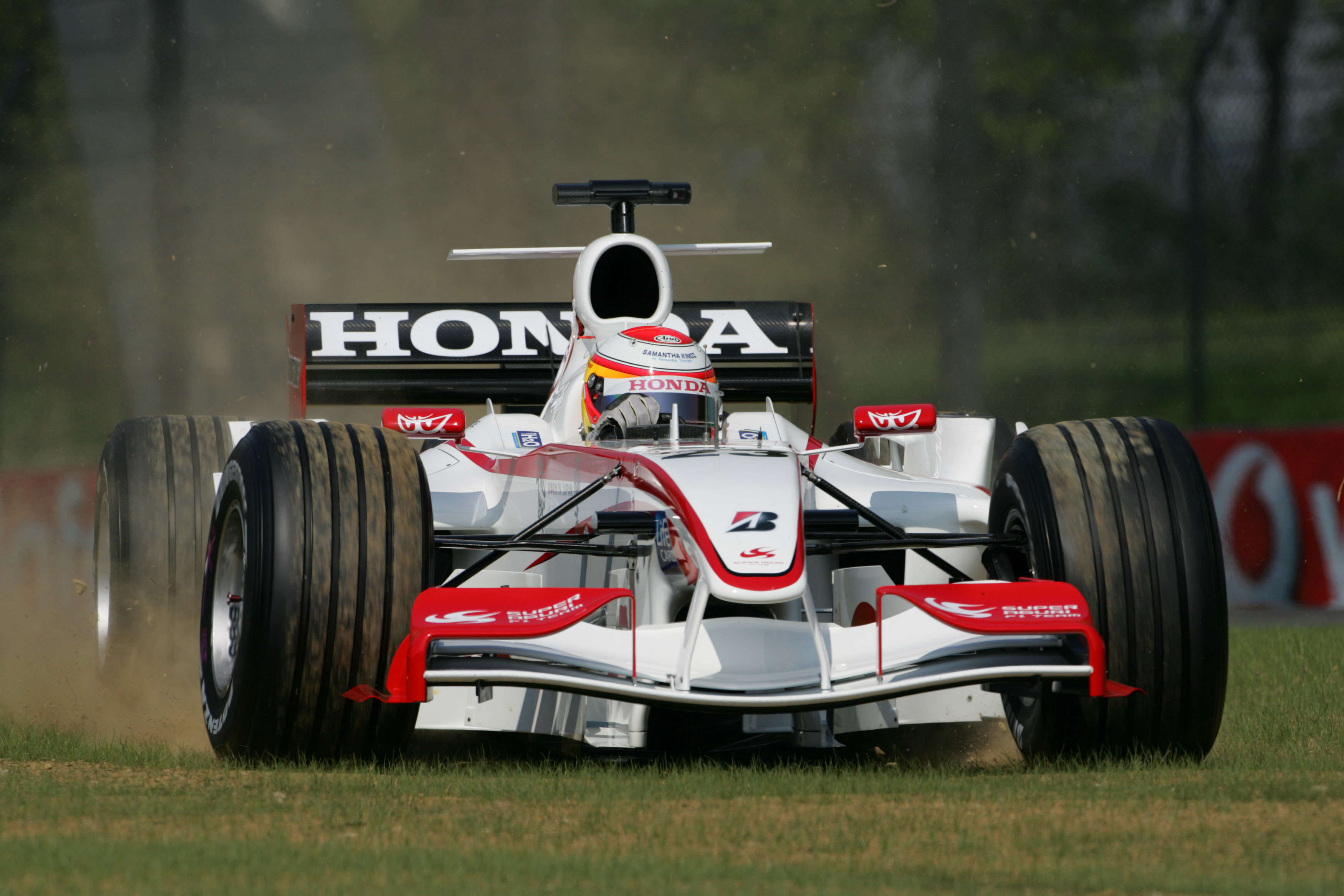 Yuji Ide was a driver with victories in Formula Nippon, Super GT and Formula 3 in Japan to his name when he got his F1 break in the second entry of the hastily-assembled Super Aguri team in 2006. But it was his final outing in the San Marino GP at Imola that gained him F1 infamy.
On the first lap of the race, he stuck his nose up in the inside of the Spyker of Christian Albers in the left-hand second part of the Villeneuve chicane. The move was never on and sent Albers rolling through the gravel trap. Albers escaped injury, while Ide continued until a suspension problem put him out.
The stewards took a dim view and hit him with a reprimand, with the FIA subsequently advising the Super Aguri team to bench Ide until he could be given greater test mileage to be better prepared for F1. He was replaced by Franck Montagny, but the FIA subsequently revoked his superlicence. – ES
Hakkinen crashed out of the lead here too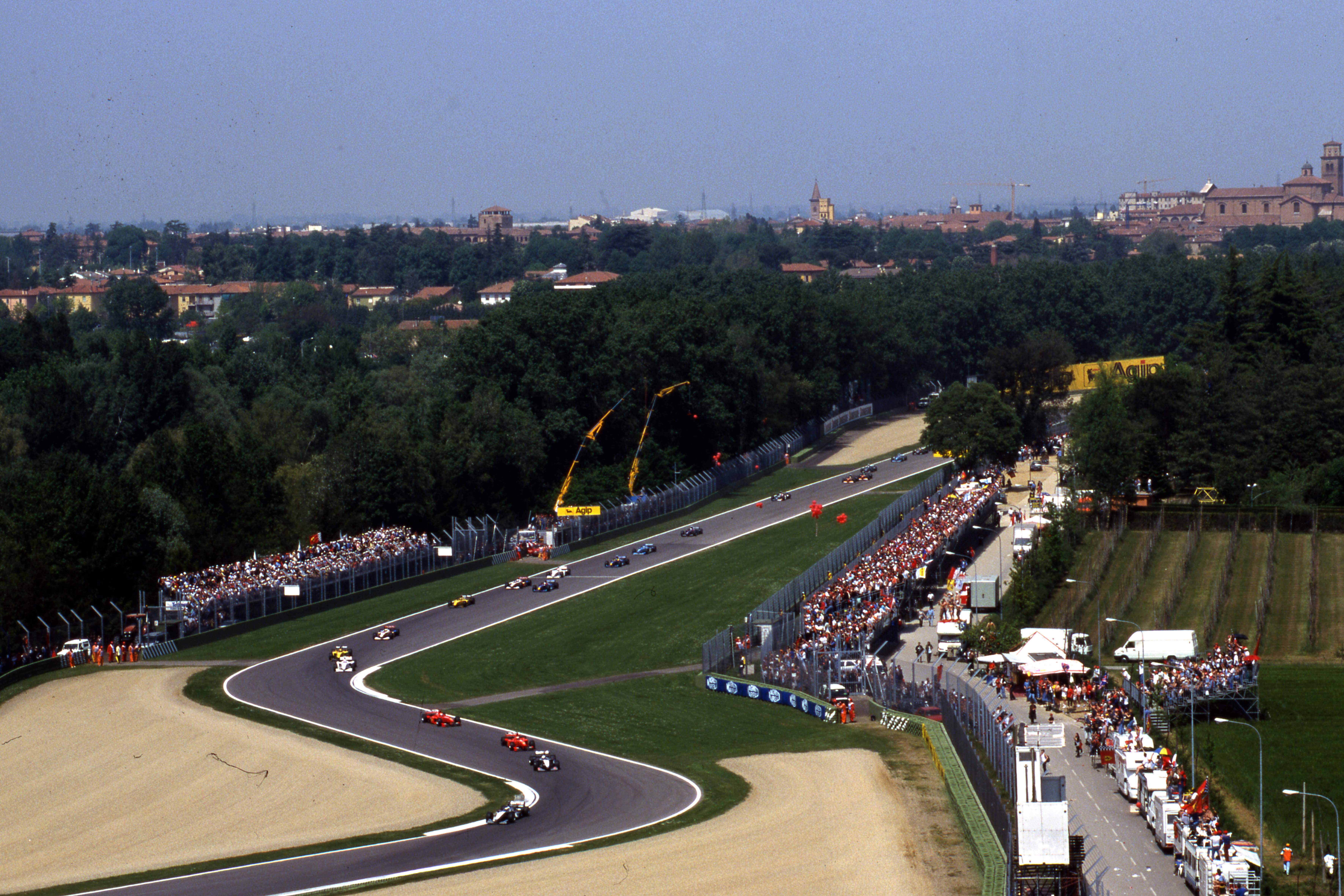 Mika Hakkinen was rocketing away at the front in 1999 when he lost control on the exit of the final corner and his McLaren speared left into the barriers.
It was the first of two high-profile blunders on Italian soil that year, as he'd also throw it off the road at Monza, again to the delight of the Ferrari home crowd.
Unlike at Monza later in the season there were no tears from Hakkinen, just a matter-of-fact acceptance that he'd made a mistake.
Years later he would compare the two mistakes, saying both were a symptom of him trying too hard to build a lead before the pitstops. Given he was already nearly 13 seconds clear at Imola, it was a needless error. – GF
Mansell's M
c

Laren career 'peaked' here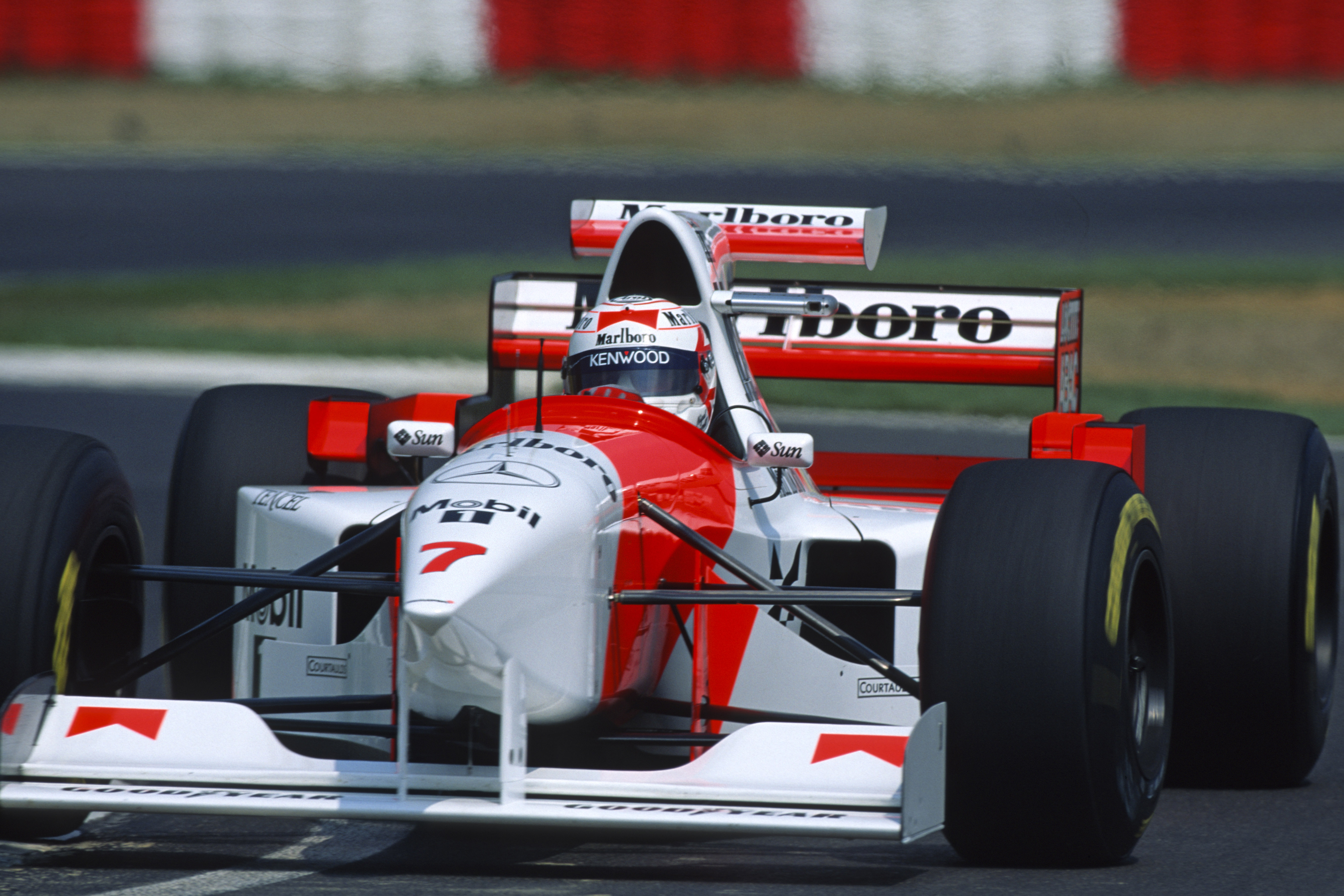 Imola was the setting for Nigel Mansell's long-awaited McLaren debut in 1995. Mansell sat out the first two rounds of the year while McLaren made a wider chassis that he'd fit into, and ahead of its arrival McLaren boss Ron Dennis joked there was room for a stereo inside it.
Mansell knew from his experience with the tight-fitting MP4/10 in testing that it was a bad car, saying after he'd left McLaren: "If I tried to go 10 tenths, the chances of having an accident were very high."
He played down expectations publicly for the Imola debut, but later admitted to being "dismayed" that the wider B-spec car "had all the same characteristics and defects as the original".
Quite what he expected when development time had been dedicated to simply making the car wider rather than faster is another question.
He qualified ninth, just two tenths of a second slower than team-mate Mika Hakkinen, and ran as high as fifth. But his race unravelled after a clash with Eddie Irvine, and he came home two laps down in 10th.
Amazingly, that was to be the peak of the Mansell-McLaren partnership, which would last just one more race.
Button's first F1 pole came here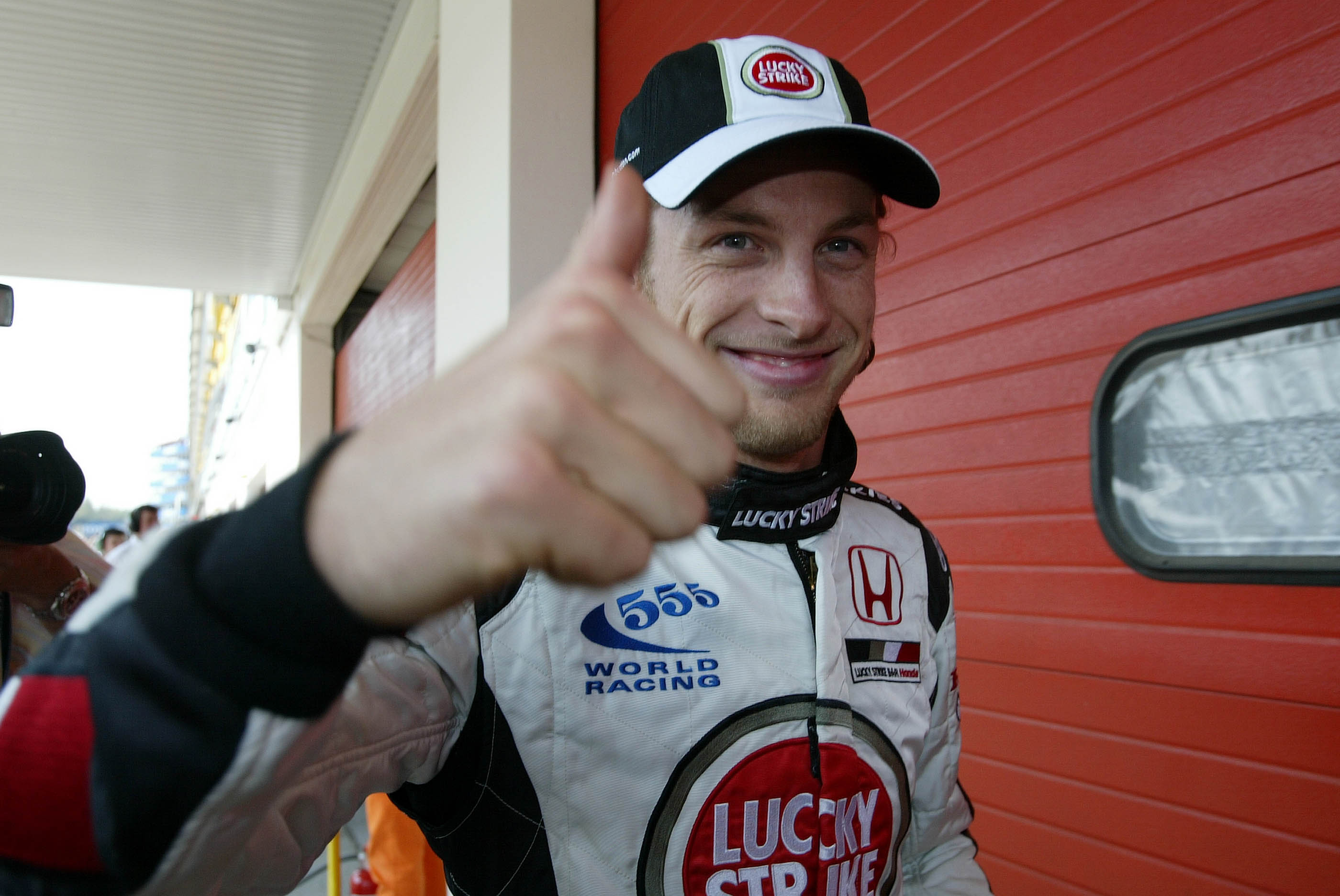 The 2004 season was comfortably the high point of BAR's short but eventful time as an F1 team before morphing into first Honda, then Brawn and ultimately Mercedes.
Having steadied its ship since the embarrassment of its 1999 debut and benefiting increasingly from Honda's involvement and progress, in 2004 the combination of its own gains and the likes of Williams and McLaren in particular going off-course with their designs meant it emerged as the most competitive Michelin runner for the majority of the season.
The unfortunate thing for BAR and its lead driver Jenson Button was that this was a year when Ferrari and Bridgestone were a league apart. BAR may have been second in the constructors' championship, but it went winless all year – Renault, McLaren and Williams managing to capitalise on the three occasions all season when Ferrari left a chink of light for the opposition to slip through.
But at Imola in round four, there was real hope for Button and BAR as they stormed to their first pole by 0.258s over Michael Schumacher's Ferrari.
The two cars left the rest of the field standing through the opening laps, before the suspicion that the BAR may have benefited from a lighter fuel load (in the era when qualifying was done with first-stint race fuel) was proven by Button coming in two laps before Schumacher.
The Ferrari, which had lurked on Button's tail in the opening laps, was then fully unleashed and rejoined with a lead Schumacher turned into another unchallenged victory. But second from pole for Button still made this the high point of the season when he proved beyond doubt he could cut it in F1 after the stumbles that had followed his sensational rookie campaign. – Matt Beer
25% of Arrows' F1 podiums happened here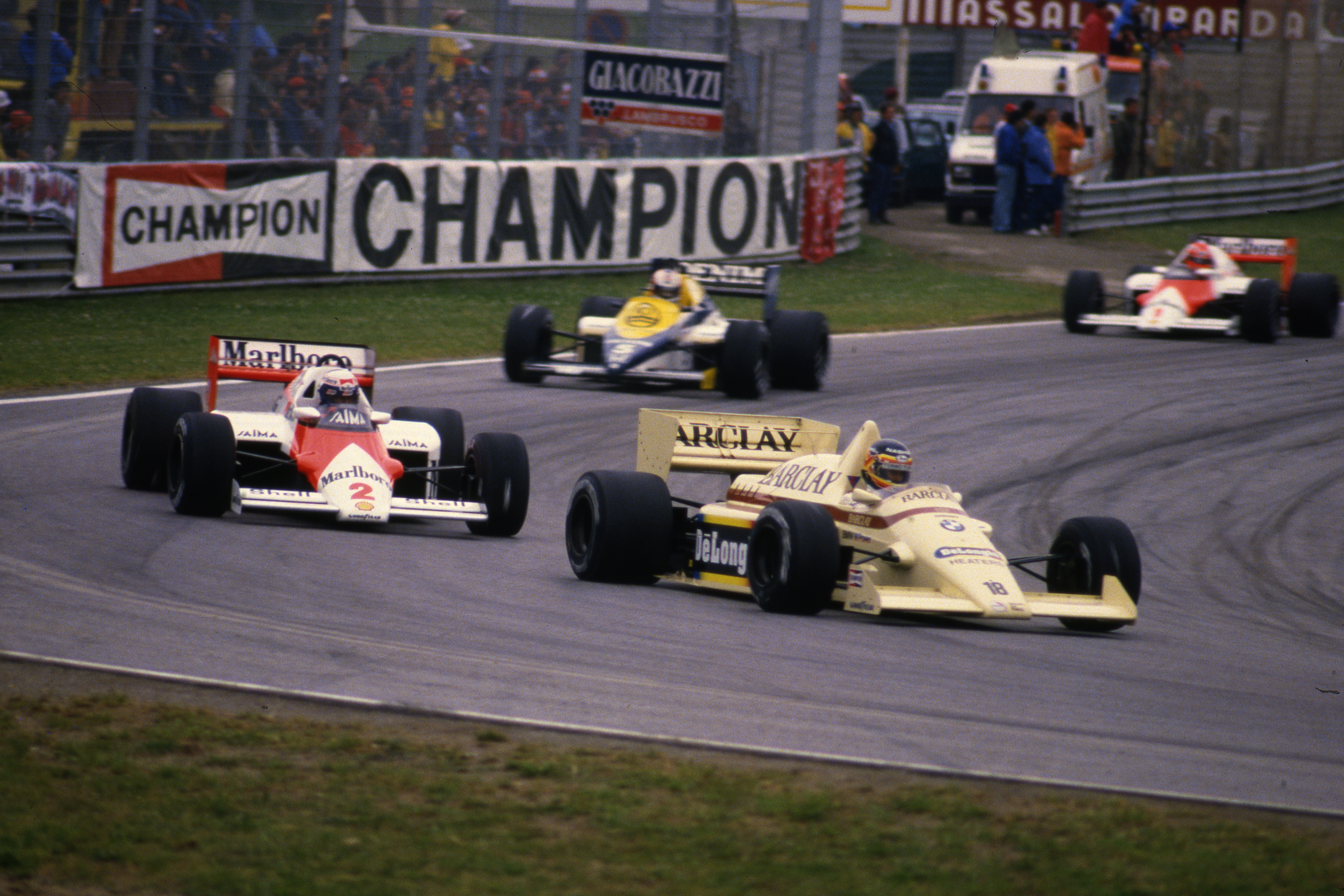 When asked to think of venues synonymous with Arrows F1 success (not a question asked often, admittedly), you might go for Kyalami – where Riccardo Patrese nearly won in the team's controversial first season in 1978 – or the Hungaroring, scene of Damon Hill's heartbreaking near-miss in 1997.
But actually Imola ranks as a – relatively – happy hunting ground for F1's long-term underachiever, with two of its eight podiums happening here.
The first was in an era where it was a regular threat for victory. Arrows made an excellent start to the 1981 season, leading from pole with Patrese in Long Beach and taking third behind a Williams 1-2 at a very wet Rio.
At Imola, Patrese was the main threat to the early Ferrari 1-2 in another damp race, and once leader Villeneuve had made a disastrously premature switch to slicks it was the underdog Arrows chasing Pironi for the lead.
Ultimately eventual champion Piquet's Brabham overcame both as Piquet recovered from an early ninth place to victory. But Patrese finished under five seconds behind in second place, fending off Carlos Reutemann's Williams as Pironi's tyres faded.
That placed Arrows third in the constructors' championship. But Imola was as good as it got – big teams finding their feet (and getting their turbos sorted) plus an unsuccessful mid-season switch from Michelin to Pirelli tyres meant Patrese's third place was the last time the team scored all year.
Four years later, Arrows finally returned to the podium at the same track – though this time much further from victory. Thierry Boutsen was lapped by both on-the-road winner Alain Prost's McLaren and the Lotus of Elio de Angelis, which picked up victory when Prost was disqualified for being underweight, which elevated Boutsen to second.
This race was the point at which the fuel limits of that part of F1's turbo era reached an almost comical point. Cars running dry or slowing dramatically had been a regular feature of the rules since they arrived for 1984, with Imola's uphill charges out of slow corners making it a tough one on consumption.
Both Senna's Lotus and Stefan Johansson's Ferrari ran out of fuel in the closing stages while leading (from 16th on the grid in Johansson's case), and even Boutsen pushed his car across the line on foot as its BMW engine ran dry. – MB
Frentzen actually won in a Williams here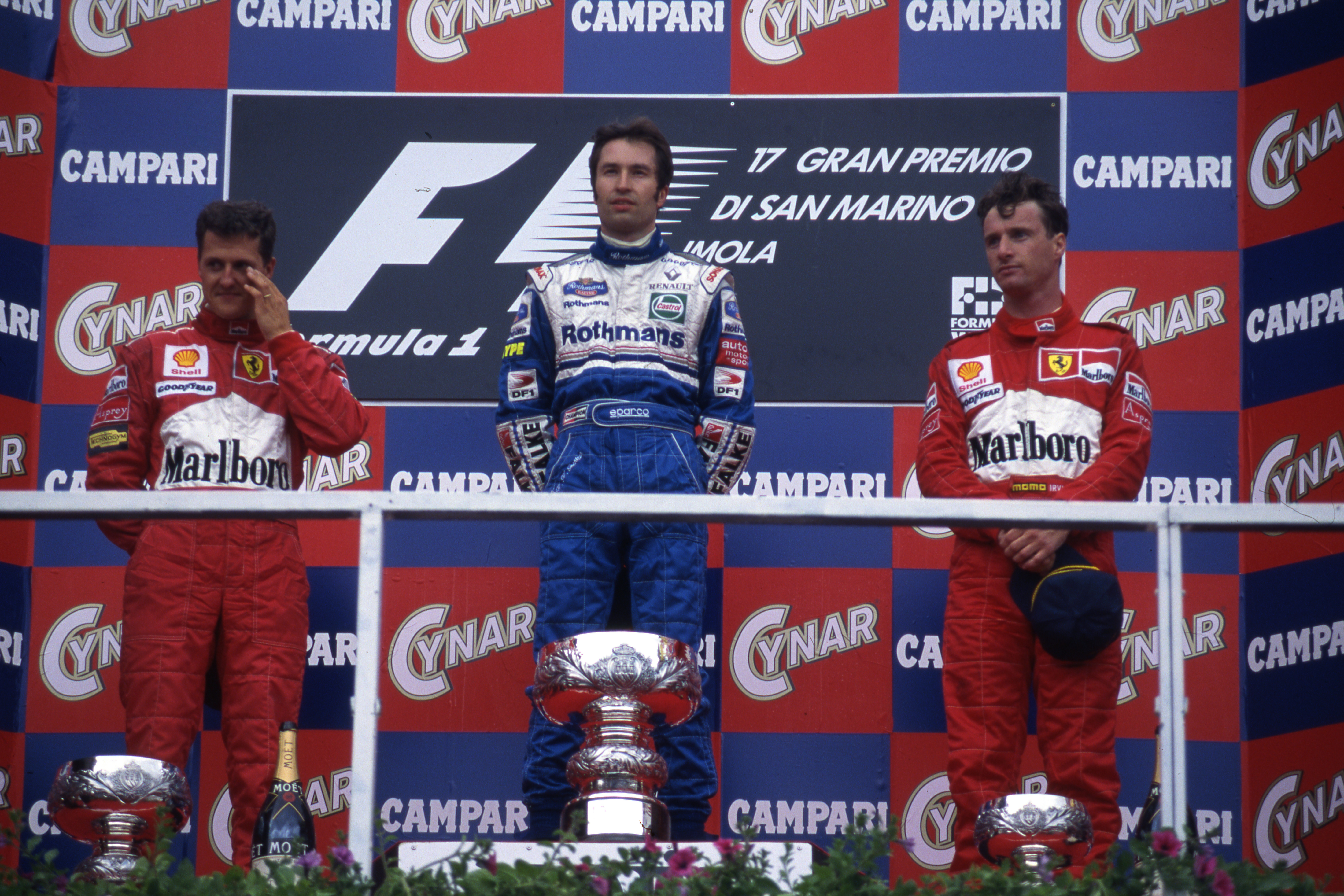 Coloured by furious fans' perceptions of Williams's actions in sacking 1996 champion Hill to make way for him, Heinz-Harald Frentzen's Williams stint was not as bad as it was portrayed at the time. And at Imola it looked like it was about to blossom into what Frank Williams and Patrick Head had hoped for when they signed Frentzen from Sauber.
After the embarrassment (1.7s off team-mate Jacques Villeneuve in qualifying) and misfortune (brake failure in a much more encouraging race) of Melbourne and the huge embarrassment of Interlagos (a very distant ninth place finish), Frentzen actually looked set for his Williams breakthrough at Buenos Aires – where his clutch failed as he hassled Villeneuve for the lead.
Then at Imola he shadowed Villeneuve and Michael Schumacher through the first stint, jumped both by running longer at his first stop then held the Ferrari at bay for a very assured race win that proved to be a complete one-off.
In between episodes of bemusement at the Williams and the Goodyear tyres, mechanical misfortunes and hapless first-lap tangles, Frentzen did show promising form on other occasions in 1997. But Imola was the only place where he pulled everything together, his luck held and he actually won for Williams. – MB