Some racing drivers know when to stop, others don't.
Jackie Stewart knew. So did Alain Prost, and the Rosbergs come to think of it.
Nigel Mansell palpably did not, but he's far from the only one.
Hindsight's wonderfulness surely allows Mansell to daydream now about his pole and win at Adelaide in 1994 being the glorious valedictory farewell his bellicose Formula 1 career deserved.
The reality, though, was painfully different. It was an embarrassing end in 1995.
Through a marriage of wretched inconvenience that seemed to get grimmer by the race – and he only took part in two of them – 'the lion' lost his roar.
One of the people who saw the whole unsavoury episode at close quarters was former McLaren F1 employee Colin Morgan, who completed the original seat fittings for Mansell in early 1995.
Morgan joined the team in late 1988 after enjoying success with the TWR Jaguar team at Le Mans. He would work in a variety of positions at Woking until the early 2000s, including as team manager in the McLaren F3000 offshoot team West Competition – which took Nick Heidfeld to a dominant title in 1999.
"I did the seat fitting and then we did the pre-season testing with him [Mansell]," Morgan tells The Race.
"Johnny [Ostrowski, a fellow mechanic] and I did the driver seat fitting. Just speaking to other mechanics [we knew] Mansell was always tight in the car, but this time he was properly wedged in the thing."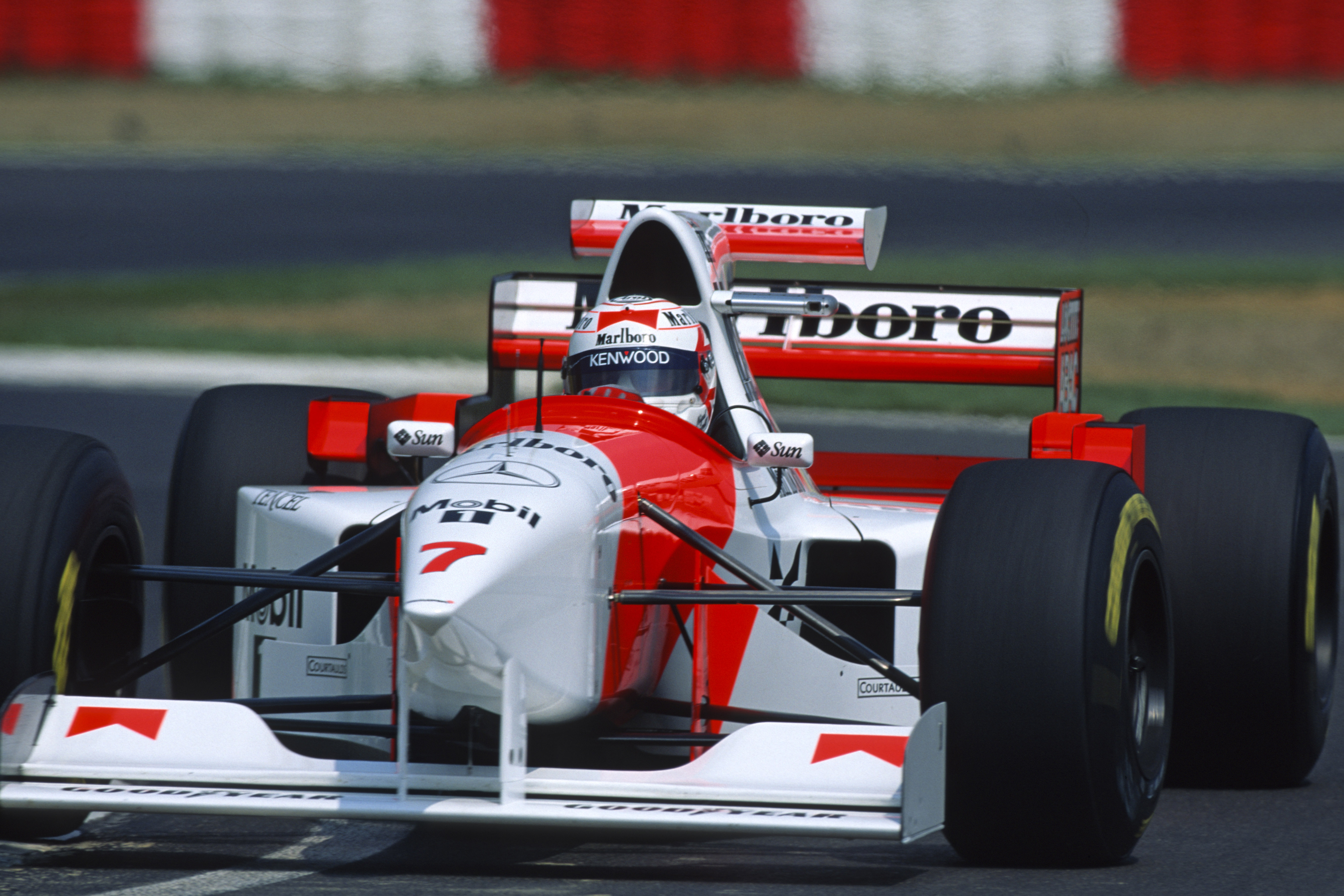 The first couple of tests were a disaster and McLaren had to redesign the bottom half of the car to make it wider and fit the drivers.
While Mika Hakkinen made do with the tighter chassis, Mansell simply could not fit and was replaced for two races by Mark Blundell. Three years on from serving as a test driver for the team, former Tyrrell driver Blundell claimed a point on his McLaren debut at Interlagos.
McLaren turned around the new design and produced the wider tub in a remarkable 33 days and presented it for the then mandatory side-impact test the Wednesday before the third round at Imola. But it wasn't enough to soothe Mansell.
"He was never happy right from the start," remembers Morgan.
"The very first day he walked through the factory door you had that feeling he didn't really want to be there, and McLaren management didn't seem to want him there either.
"When Ayrton [Senna] or Alain [Prost] were at the factory, the management would be clucking around them all over the place, but Nigel was very much left on his own and just sort of kicked around the place for a few hours.
"His body language, his expressions, the way he was talking when we were testing was poor.
"There was no sort of 'I want to do this, I want to do that, let's fight guys'. He was kind of defeatist and there didn't seem any purpose to it all apart from the money perhaps."
"Nigel had done nothing but whinge the entire way round at Barcelona before he eventually parked it" :: Colin Morgan
Morgan only attended the first of Mansell's races at Imola, where he finished a dispirited 10th after a brush with Eddie Irvine's Jordan while fighting over fifth position.
That was only half the story though. Team-mate Hakkinen had trounced Mansell in qualifying and lapped 1.2 seconds quicker.
"I only did one of his races, I didn't do the second race because that was when my eldest daughter was born. Honestly one was more than enough," says Morgan.
It was the first of three times that he would work alongside Mansell. The second was to be with the Grand Prix Masters series and the third with Ultimate Motorsport, when he ran Mansell's youngest son Greg in the 2009 Formula Renault 3.5 Series.
McLaren rarely produced poor cars but the MP4/10 series was, according to Morgan, "without doubt the worst car I ever worked on".
There were 10a, 10b, 10c specs of the car and "not only were we changing specs of the car between races, we were changing them at the race meetings and they weren't small changes", he recalls.
"The change between the Spec b and the Spec c was a completely different rear end, different wheelbase, new floors, new bodywork and we're changing all of that overnight mainly because we just couldn't work out what to do with this car."
Aesthetically the car also had big issues. A high-nose was somewhat de rigeur but the mini-wing engine cover, which had been an effort to exploit a new 25cm centre-line extension in the regulations, was particularly obtrusive.
"That was the only thing that Nigel got right, at the launch he said: 'I hope it goes as well as it looks'. Well it certainly did," jokes Morgan.
If Mansell's performance at Imola had roots in the recalcitrance of the car, Barcelona two weeks later left no on in doubt as to his complete lack of motivation.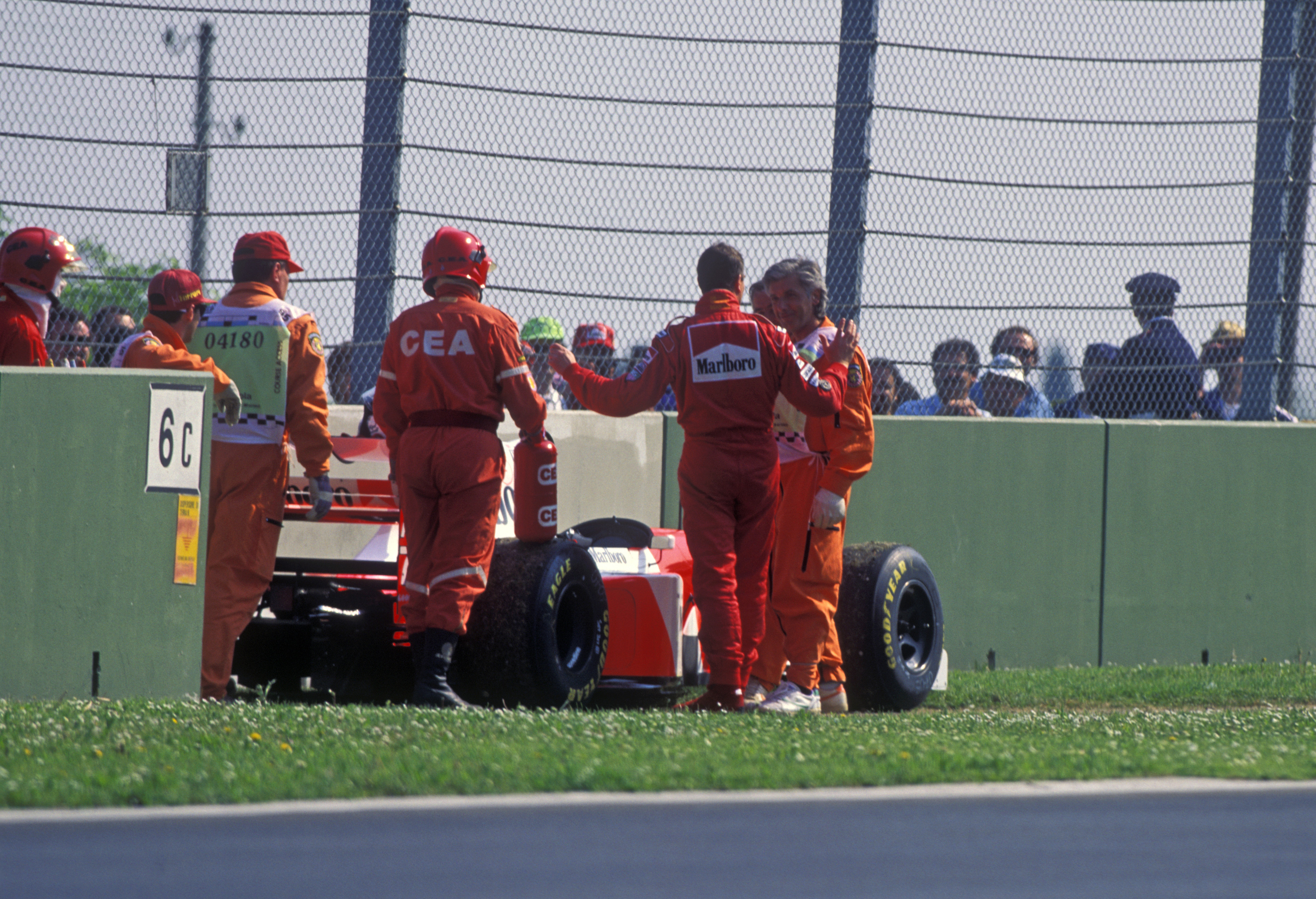 This time in qualifying Mansell got to within 0.1s of team-mate Hakkinen but this didn't tell the whole story. The Finn had actually made a mistake on his qualifying flyer and lost a chunk of time.
The race was a disaster. Mansell made a poor start from 10th and following his first tyre stop was racing with Luca Badoer's Minardi and Domenico Schiattarella's Simtek when after a trip through the gravel he made his final F1 pitstop.
He swung straight into the pit garage, hopped out, had a cursory look around the front of the car and then left the circuit without debriefing.
"When I came back for the next race [in Monaco] we actually had a different radio policy that only the people on the pit wall could hear what the driver was saying," says Morgan.
"And the reason they brought that in was that Nigel had done nothing but whinge the entire way round at Barcelona before he eventually parked it.
"Steve Hallam was his engineer and every lap, Mansell was on the radio moaning: 'How many laps to go Steve, Steve, how many laps to go now, Steve? Can I stop, Steve? I really don't want to be doing this, Steve.'
"Steve is a very professional guy and he's like: 'Yes, OK Nigel, please concentrate on the job in hand'.
The rumoured $1.2million settlement from the shambles undoubtedly sugared the pill
"We definitely didn't give him good equipment, granted. But I'm sure he was on a lot of money, even then. He was on a damn sight more than all of us guys back in the garage.
"You're suddenly thinking, hold on a minute, we've been working our arses off all weekend and he's just there slagging it all off.
"And OK, it's not down to us, it's down to the car, but still, no matter what the car and whether you're winning or at the back, you'll still hope that the driver's going to give his best, because do you know what, the mechanics always do.
"I think if your driver's just messing around like that, you start to question why you are doing it and you think 'hang on a minute, they're getting paid big bucks for this and they are not taking it seriously, why should we?'"
The following weekend team boss Ron Dennis headed down to Mansell's then-home in Devon for talks.
There followed what an official press release called "extensive and open discussions" that resulted in the almost inevitable split.
At the time Mansell described the parting of ways as "a unique experience" and said the McLaren drive was one that he had expected would "have given me the possibility to be competitive with the other top teams".
"There was no fire from him, like there was from Mika, to help to try and move us along," surmises Morgan.
"I think the management felt, 'well do you know what, he's not going to help us move along, so let's just do what we need to do and stop this madness'."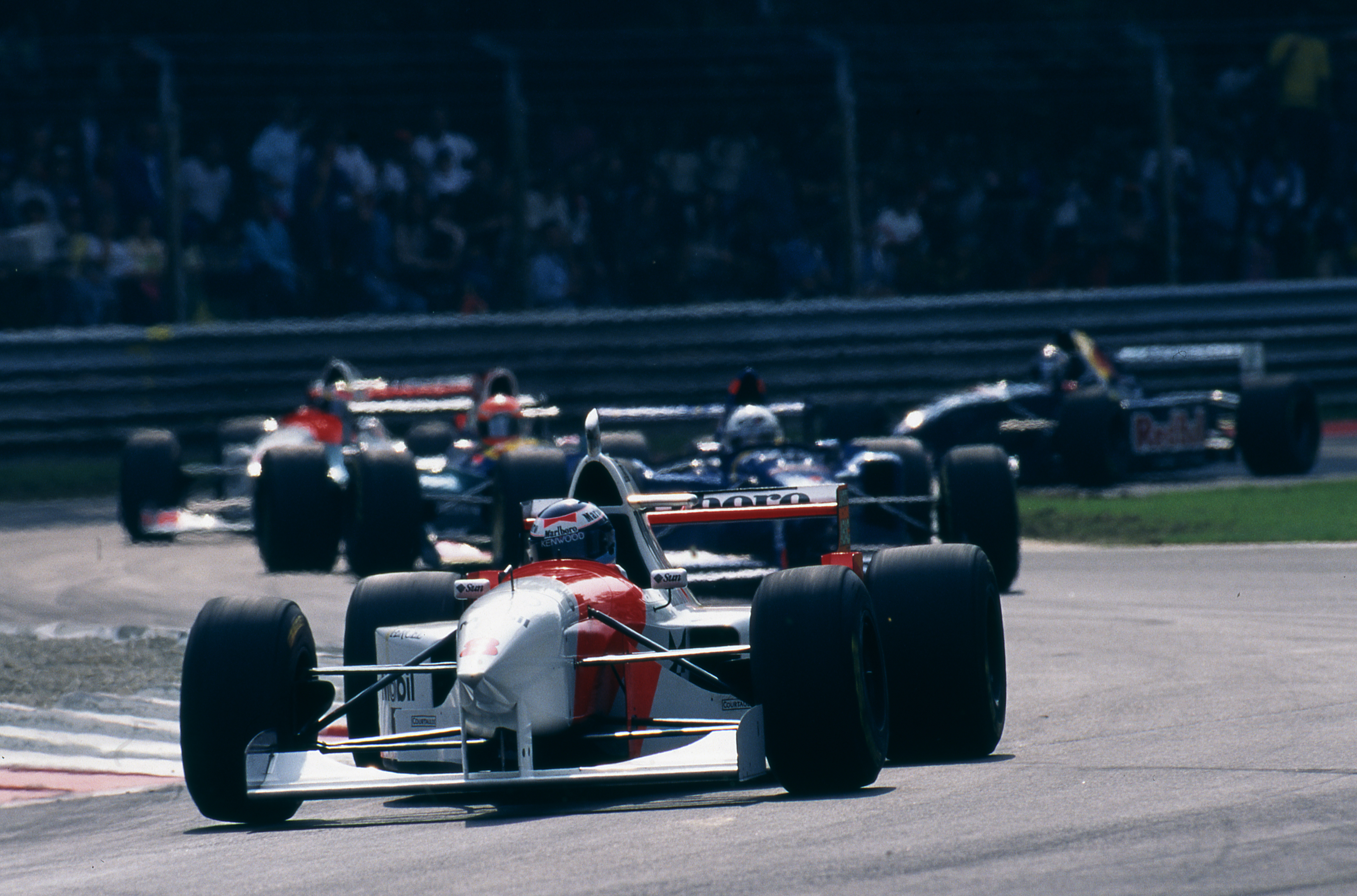 Some sort of sanity returned and McLaren, although still finding its feet in new relationships with Mercedes and Ilmor, plugged on and started to get results from the car.
Podiums for Hakkinen at Monza and Suzuka followed before his traumatic Adelaide accident rocked the team.
Blundell also dug deep and collated five further points scoring performances, including a truly heroic fourth at Adelaide to pick the team up after his team-mate's life-threatening shunt.
As for Mansell? The rumoured $1.2million settlement from the shambles undoubtedly sugared the pill but the fact that a once great champion had left the ultimate motorsport stage so ignominiously jarred with even his most partisan fans.