The recently-announced plans for a new urban, rallycross special-stage style series called SuperCharge triggered surprise and curiosity from the motorsport industry in equal measure.
What would have been a bold launch in normal times was seen as positively assertive during a pandemic which has triggered downturns and depressions worldwide.
But the magic ingredient in this new initiative, and it has a fair few, is a focus on road-relevant electric tech which is designed to amplify 'bang for buck' motorsport in an urban environment.
It's not just a nifty marketing idea. This has been carefully crafted over almost two years by proficient industry achievers that between them have a century of experience in a variety of motorsport disciplines.
But the key measure of its perceived success will come through how much manufacturer interest it can garner in an EV motorsport market that could become saturated sooner rather than later.
The Homework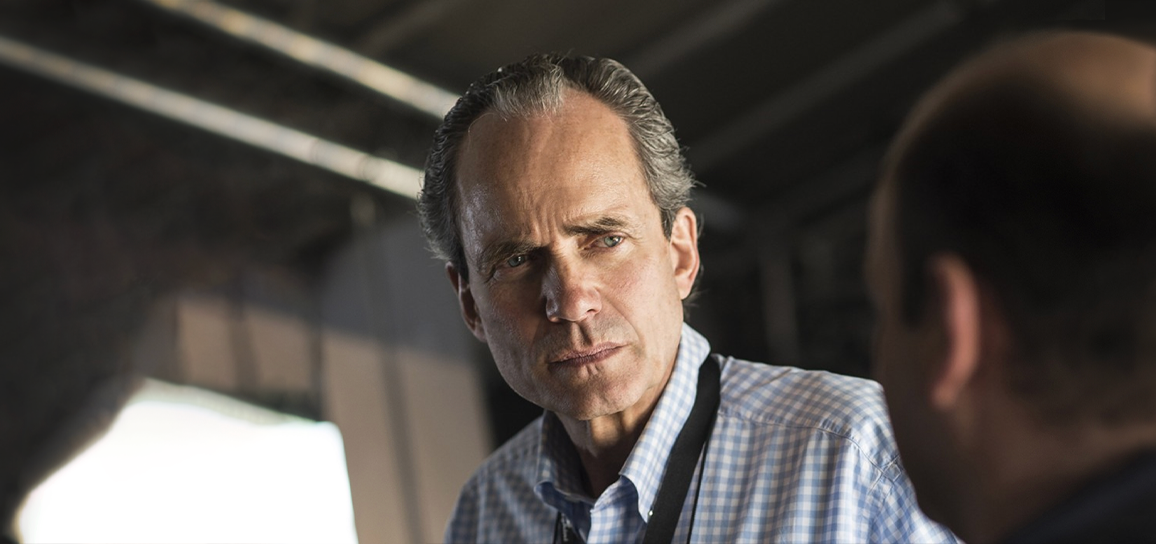 SuperCharge has taken "knowing the market" to a forensic level.
Key to this has been dipping in to the knowledge and contact books of seasoned racing industry veterans – Willy Rampf as technical advisor and Max Welti (pictured above) as co-founder and sporting director.
Both have extensive knowledge of how OEMs operate and what they are presently looking for in a global motorsport marketing campaign.
Rampf, Welti and his fellow co-founder Rob Armstrong consulted with a variety of manufacturers on what key technical challenges and style of EV car they wanted to showcase to consumers.
"We had to approach such a project differently than what we and other organisations did in the past," Welti tells The Race.
"We contacted manufacturers, we went to see them, we were talking them through our ideas and they came back with their ideas and their strategies, and that actually developed the whole project, not to be just an idea, or a dream, or a hope."
Crucially, and for Welti somewhat surprisingly, the fact that 'crossover' compact SUVs were the vehicle of choice on the minds of a vast majority of the manufacturers was a shock.
"I was very astonished about that, because not a single one said anything else," admits Welti.
"I was a bit afraid initially, whether that was feasible for the spectacle we had in mind."
His fears were soon allayed however and the concept was quickly formed.
A Tech-Transfer Relevant Concept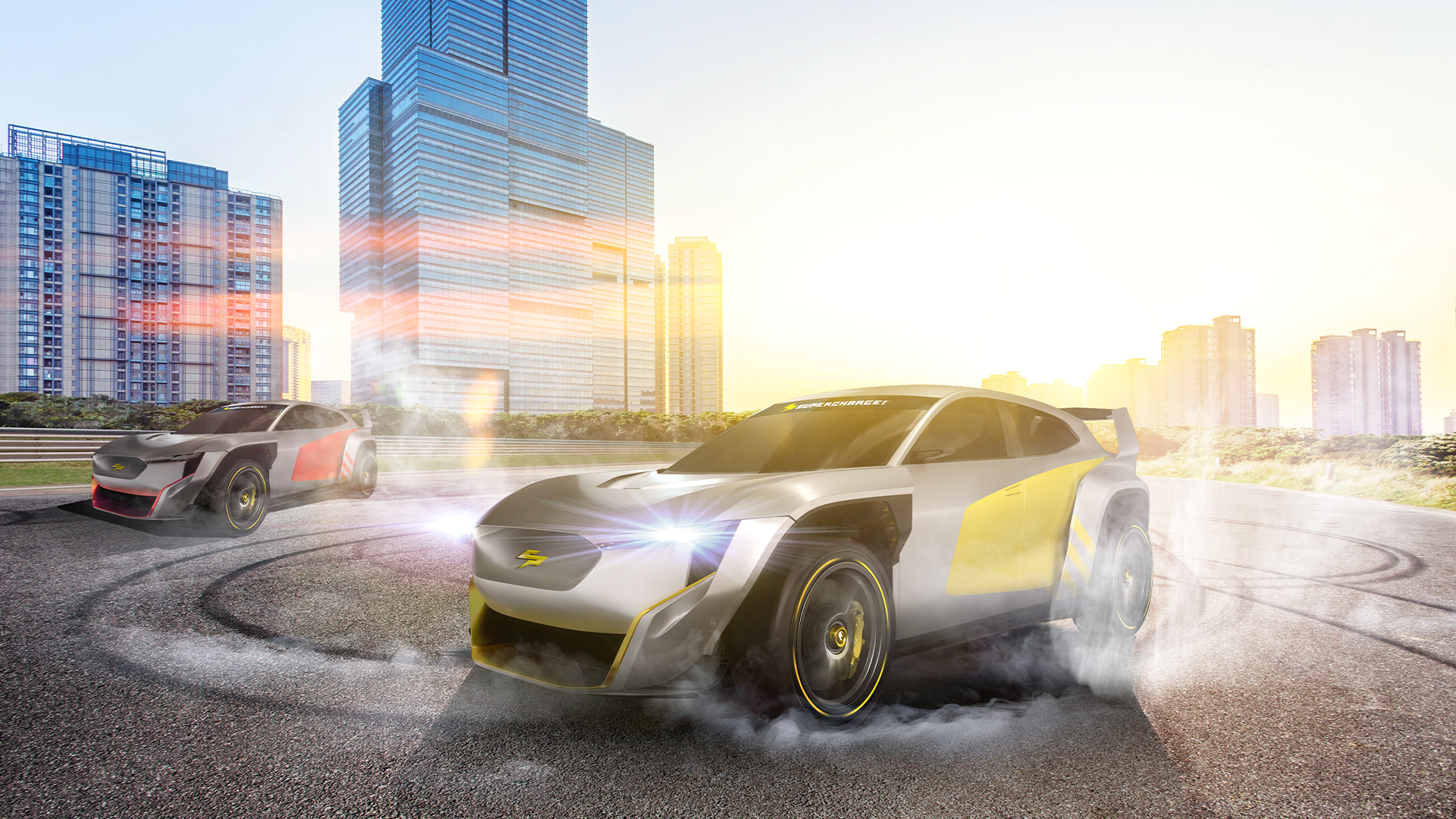 With the marketing intelligence 'in the can' and knowing that technology transfer would be an all-encompassing hook for OEMs, the basis was formed of what the car would look and feel like.
Rampf acted quickly and in collaboration with Holzer Automotive in Augsburg, Germany the detailed outline began.
"We started with basically a first specification sheet, where we made a rough concept of a car," former Sauber and VW Motorsport tech chief Rampf tells The Race.
"It was fairly clear that OEMs do not just want to put a sticker on a car, they want to have something back from the technology point of view.
"That's the reason why we came to the battery, which is the biggest and most dominating part or system, let's say, on an EV car.
"So it was fairly clear we should go a set way on the battery technology side to make something that is a strong technology transfer from the race car to the road car."
That is why manufacturer competitors will be able to generate and develop battery technology system advancements off their own back which can mirror battery performance of automotive EVs.
A maximum power output of the battery at 500 kilowatt will be the same for everyone in SuperCharge, whatever battery is defined.
Weight is also a key element of the technical package according to Rampf because, "let's say if you have the battery module, there is still a minimum rate for the battery, so we define the battery box which is behind the driver.
"The battery box will have a huge volume to accommodate different types of cells/modules, also different concepts of cooling for example, because cooling also is an issue for the battery."
The energy source will have a minimum weight that means if competitors gain some weight on the battery cells then they will still have to add ballast inside the battery box structure.
"So there's still a slight advantage or a small advantage because you lower the centre of gravity from the battery itself, but I mean this will not be dominating," clarifies Rampf (pictured below).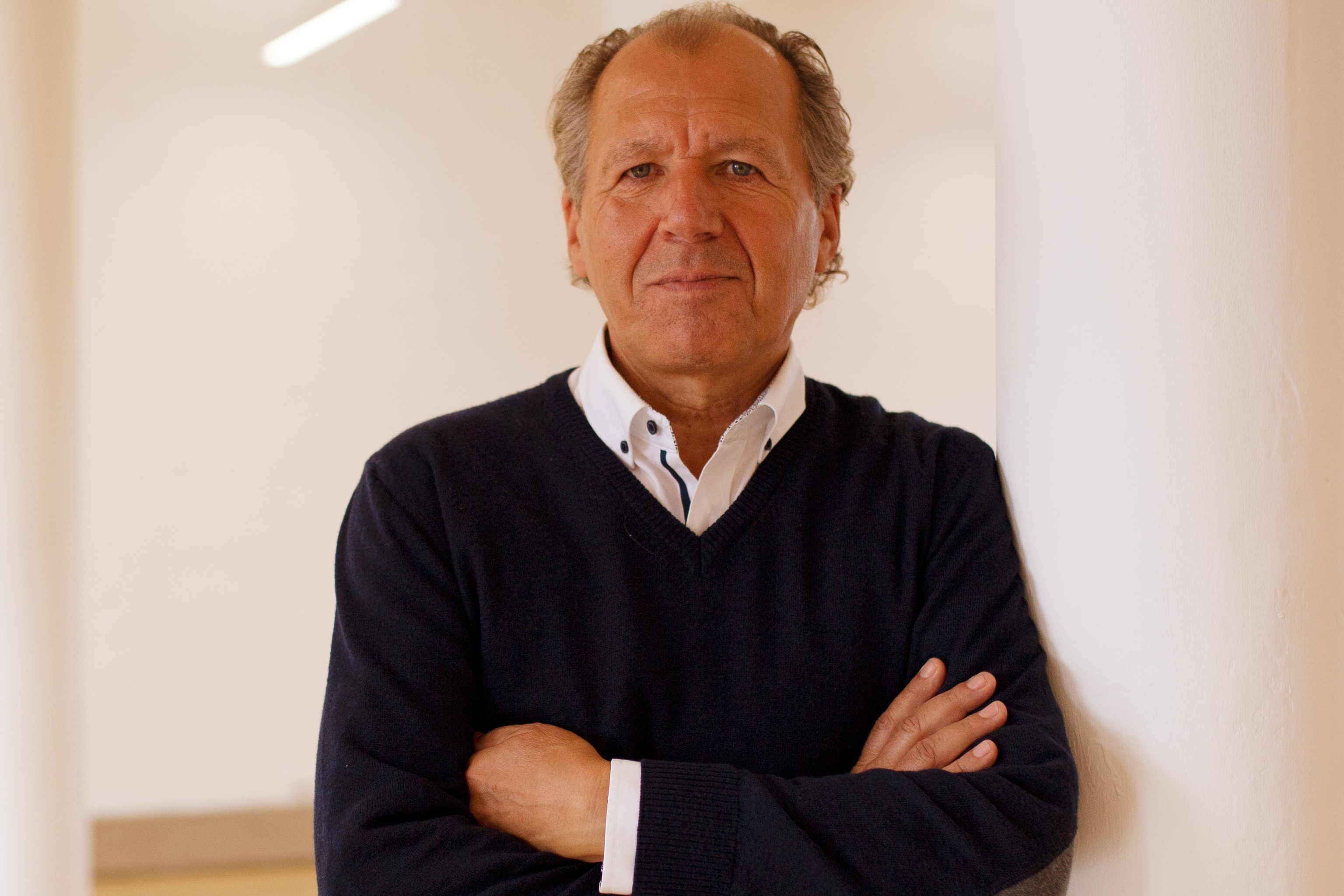 "To make a battery isn't only the chemistry of the cells. I would say more than 50% of battery design is mechanical engineering because the trick is to combine the different cells in the most efficient way to form modules and to include some intelligent cooling on the battery, it's quite a lot of mechanical engineering as well."
This means that how teams will use a battery, power management and energy management on a car is up to the OEM, so "the technology is interesting because it can be transferred to automotive programmes also".
The drivetrain control will be done via a standard voltage-controlled oscillator (VCO) and "will allow different mappings for the electric drivetrain, because there's an independent drivetrain front and independent rear", according to Rampf.
Unlike Formula E there will be no brake-by-wire systems due to the technical complexity, extra costs of such systems and the fact that the four-wheel-drive SuperCharge cars will recuperate via a "normal mapping".
Other complicated driver aids such as launch control and traction control aren't included because, again, the OEMs were "not in favour of it for this type of car".
"The aim," says Welti, "is to certainly have a test car for the fourth quarter of the coming year in order to be ready for 2022."
Surviving Year One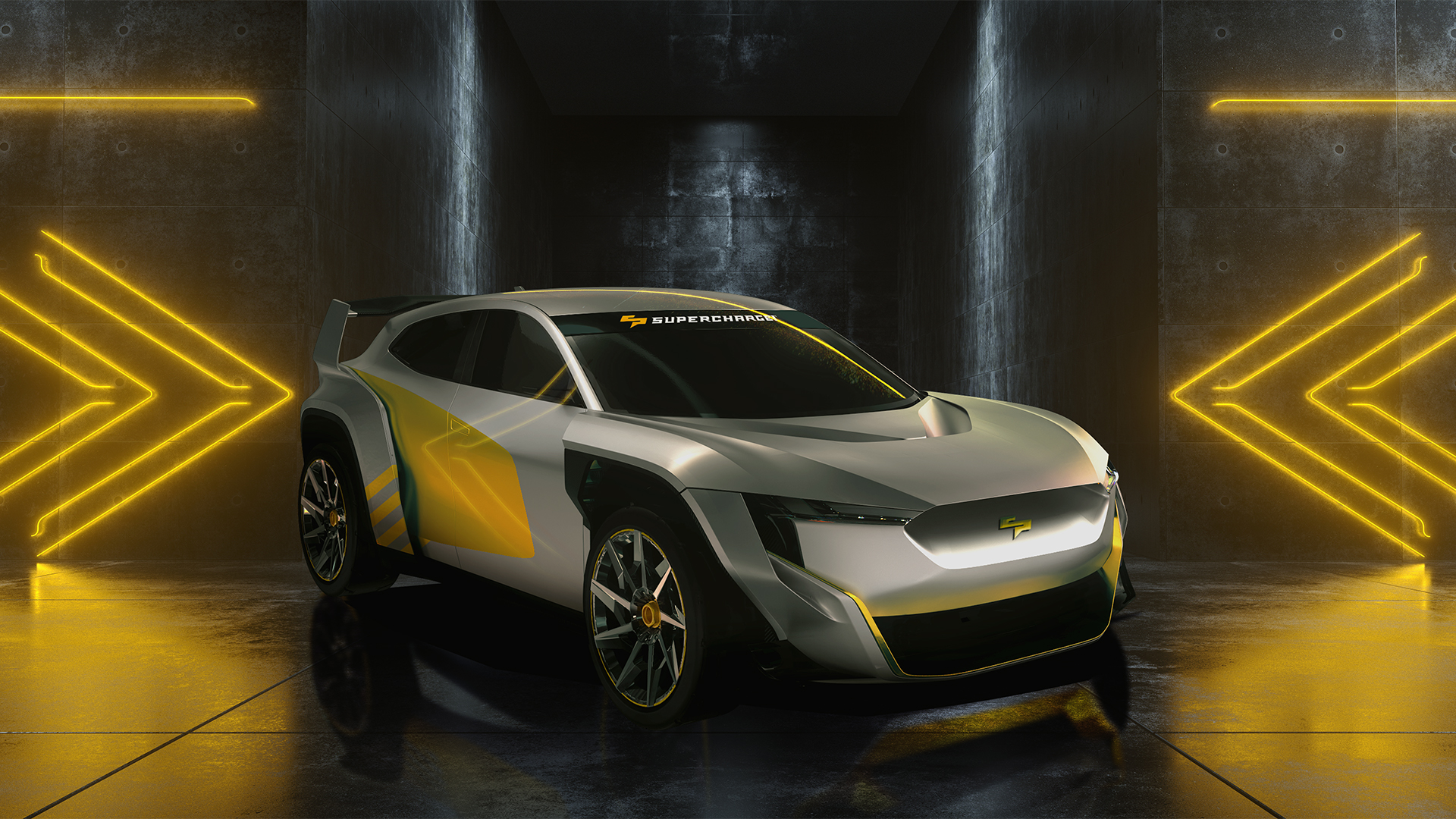 Financing and then sustaining and growing investments of motorsport is one of the challenging and, more often than not, most commercially fraught areas of any sporting entity, let alone one of ambitious scale like SuperCharge.
So many series have fallen by the wayside on, or soon after a first campaign.
Even Formula E took three years to fully establish itself. It just managed to ride-out a serious flatline, one which almost rendered it dead soon after arrival in the early months of 2015, to prosper and thrive.
SuperCharge will be keen not to fall in to such traps and in co-founder Rob Armstrong, it has someone with vast experience in senior commercial positions in Formula 1 with the Stewart and then the Jaguar teams. He then went on to oversee a halcyon period of world rallycross as Global Head of Motorsport for IMG.
There are investors too, notably Sean Wadsworth, who is also currently the chairman and investor of W Series. A Nigel Frank recruitment group co-founder, Wadsworth is an early SuperCharge backer with board member status in the project.
The expensive part of the project is likely to be putting on multi-continental events in urban settings and creating the infrastructure that goes with that.
Formula E found this out to its cost in year one, although SuperCharge has an advantage in that it will not disrupt city centres and its small stadium-sized space does not have the inherent logistical headaches of a 1.5-mile circuit.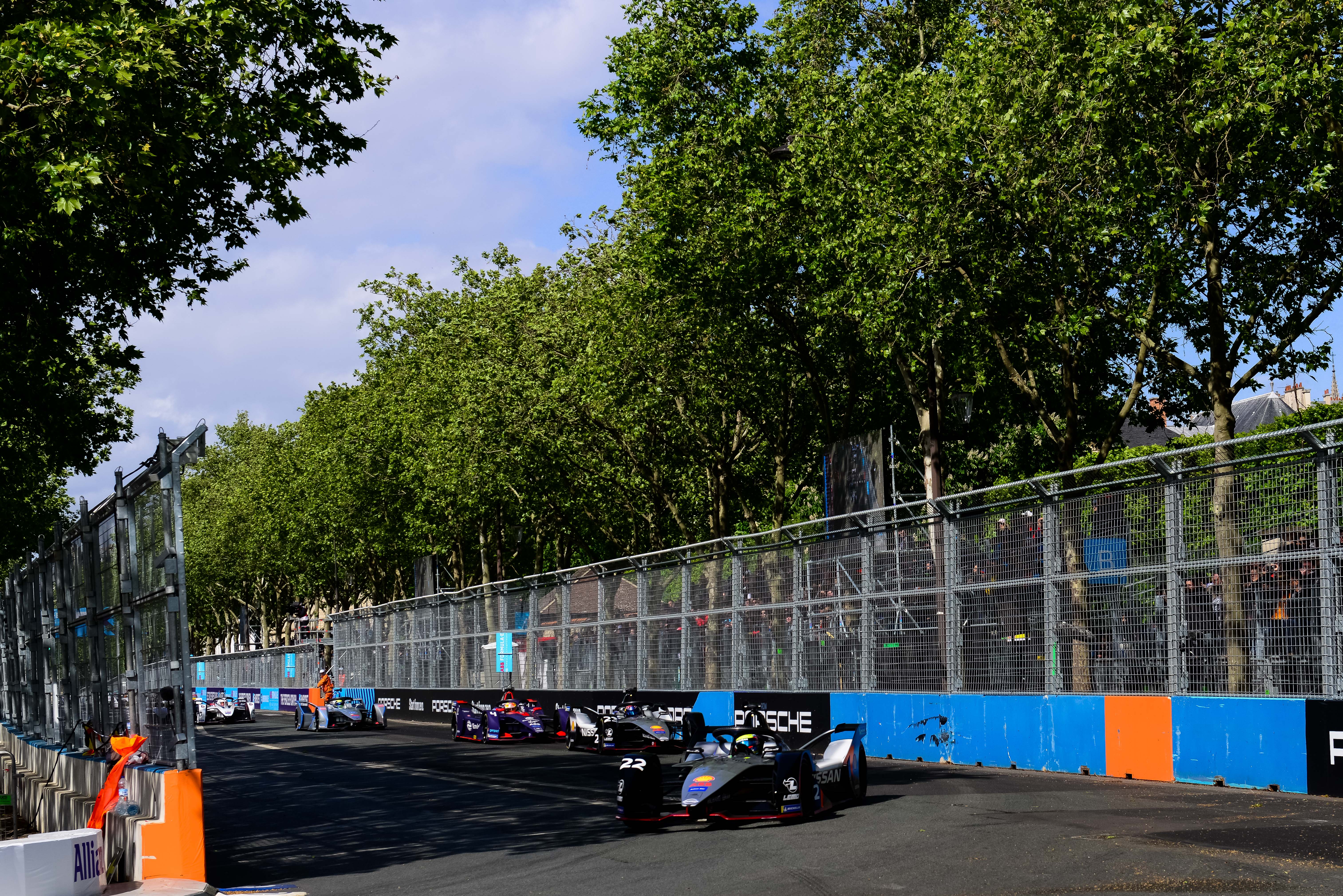 The basics of the package being centred on marketing via the silhouette bodywork and the freedoms within the battery regulations has already addressed what the manufacturers want.
Another box ticked is the homologation of the competitors' packages, which although not confirmed officially, are likely to run to at least a three-year fixed rules set.
The potentially very clever part of SuperCharge though is that manufacturers can play with concepts of their brands on the cars via a silhouette bodywork philosophy, or as Rampf says: "You don't have to show a complete car like a prototype element, you can show elements or core categories, which are coming in the future."
Add this to key consumer questions from EVs – range and charging, which SuperCharge will address in its sporting regs – then you have another range of manufacturer tick-offs that have minimal spend but maximum impact from a marketing perspective.
It's a compulsive framework of rationale for investors to savour, and the fact that SuperCharge already has some of that in place shows the merit in such a business plan.
That also applies to venues for the one-day events themselves.
"It's really important to us to say that we can be in different types of cities, and we don't need to be in the centre of a city, we can be in an industrial estate, or whatever it might be," Armstrong tells The Race.
"We really want to try and be in the same venue consistently, rather than have to move around if you can avoid it, and that also saves a lot on costs as well."
Post-COVID boom?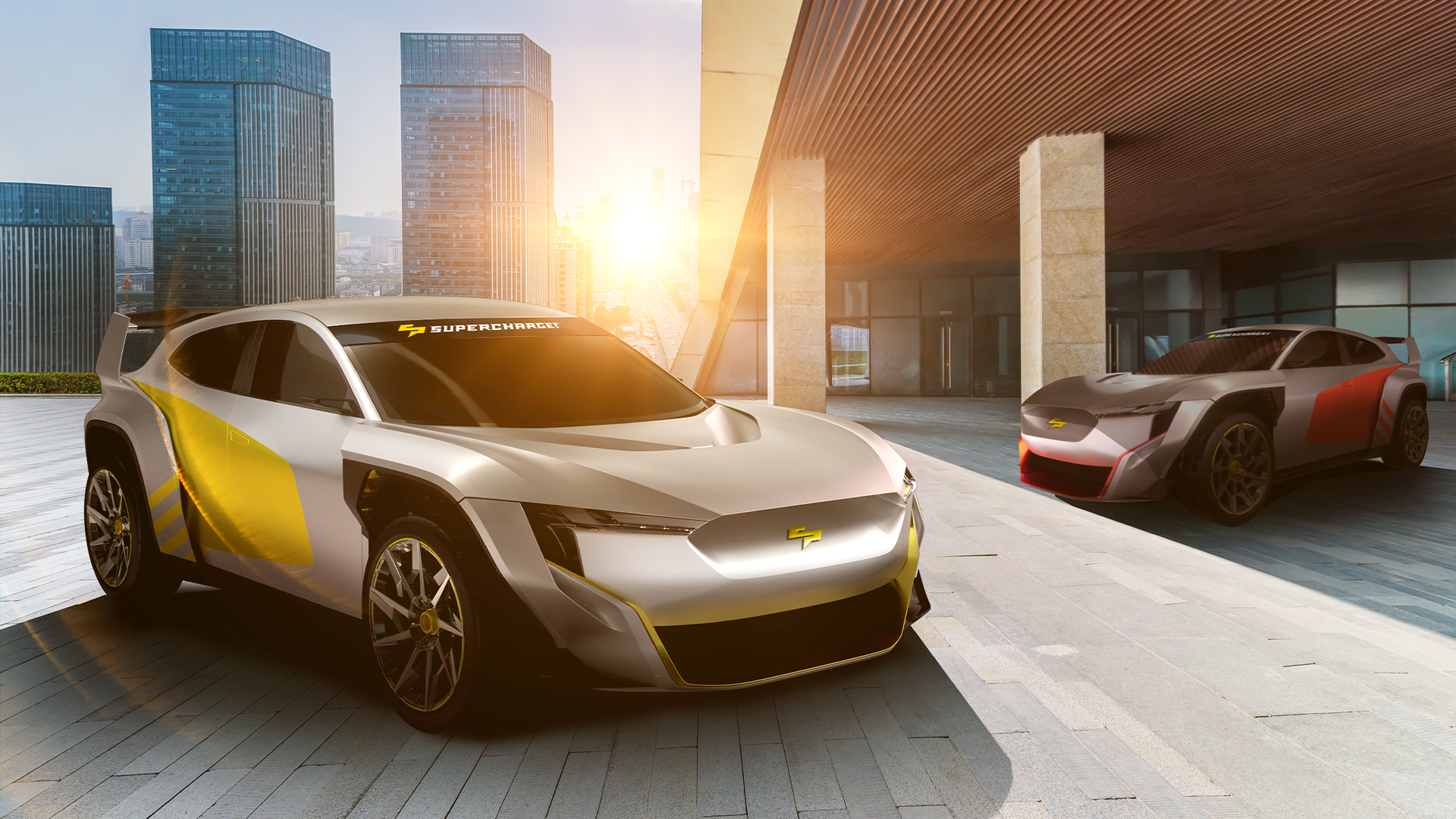 "The percentage of electric cars is going up," says Rampf.
"I think this for sure, also has to do with the current discussions about environment and for sure the current situation with corona is accelerating this a little bit."
Future EV sales projections are something that the OEMs are well on top of and symbiotically SuperCharge can capture the EV zeitgeist nicely.
According to respected automotive research analyst Matthias Schmidt, 2020 CO2 compliance targets are "rapidly approaching the final furlong and correspondingly acting as the main catalyst in more plug-in models arriving on Europe's roads".
"From a supply side, coupled together with generous EV purchase and fiscal stimuli impacting the demand side, the final quarters of 2020 are providing the perfect conditions for an electrically-charged storm over Europe's EV market," he details.
History tells us that often, not always, but often there are booms after economic contraction. The 'roaring twenties' after the first world war are one example.
News of a viable COVID-19 vaccine potentially being distributed before the end of 2020 is potentially the most tangible first sign that businesses such as SuperCharge can get extra momentum to begin and make a mark.
"We think three or four manufacturers would be a good result," says Armstrong
"You see that the new series that are coming through now and they're attracting manufacturer interest and support from a fairly early stage, and that would be a terrific result [for us]."