Peter Hickman insists he goes into the second week of the 2023 Isle of Man TT with plenty of possibilities to add to his record of wins, despite a slew of problems with his FHO Racing BMW meaning he ultimately just lost out to Michael Dunlop in the first of the two main-event races.
Hickman arguably started the Superbike TT as the clear favourite despite Dunlop breaking the existing lap record during practice week, with his record of premier class victories at the event well-established in recent years.
However, Hickman faced issues from the point he started the six-lap race and was up against it thanks to a problem with his S1000RR's electronics that he said meant Sunday's Superbike race was a lot more physically taxing than he would ordinarily have expected.
"Straight from the start I set off and before I'd even got to St Ninian's [the crossroads within the first mile of the course], I couldn't even shift into second gear," he told The Race afterwards. "The quickshifter stopped working immediately, and I knew I was in for a long race before I'd even started.
"Then when we got down to Quarterbridge, the blipper [downshifter] didn't work at all, either, which is not ideal to be honest.
"The whole race the blipper never worked, and the quickshifter was intermittent. Sometimes it would work, sometimes it wouldn't, which is probably even worse to be honest. You don't know what it is or isn't going to do, which is tough."
Those woes were compounded by an even more significant issue that developed as a result of the ones that Hickman went into the race expecting, though: a lack of consistent front brakes, as the vibrations from racing on the Snaefell Mountain circuit caused the pads in his brake calipers to get knocked back against their stops.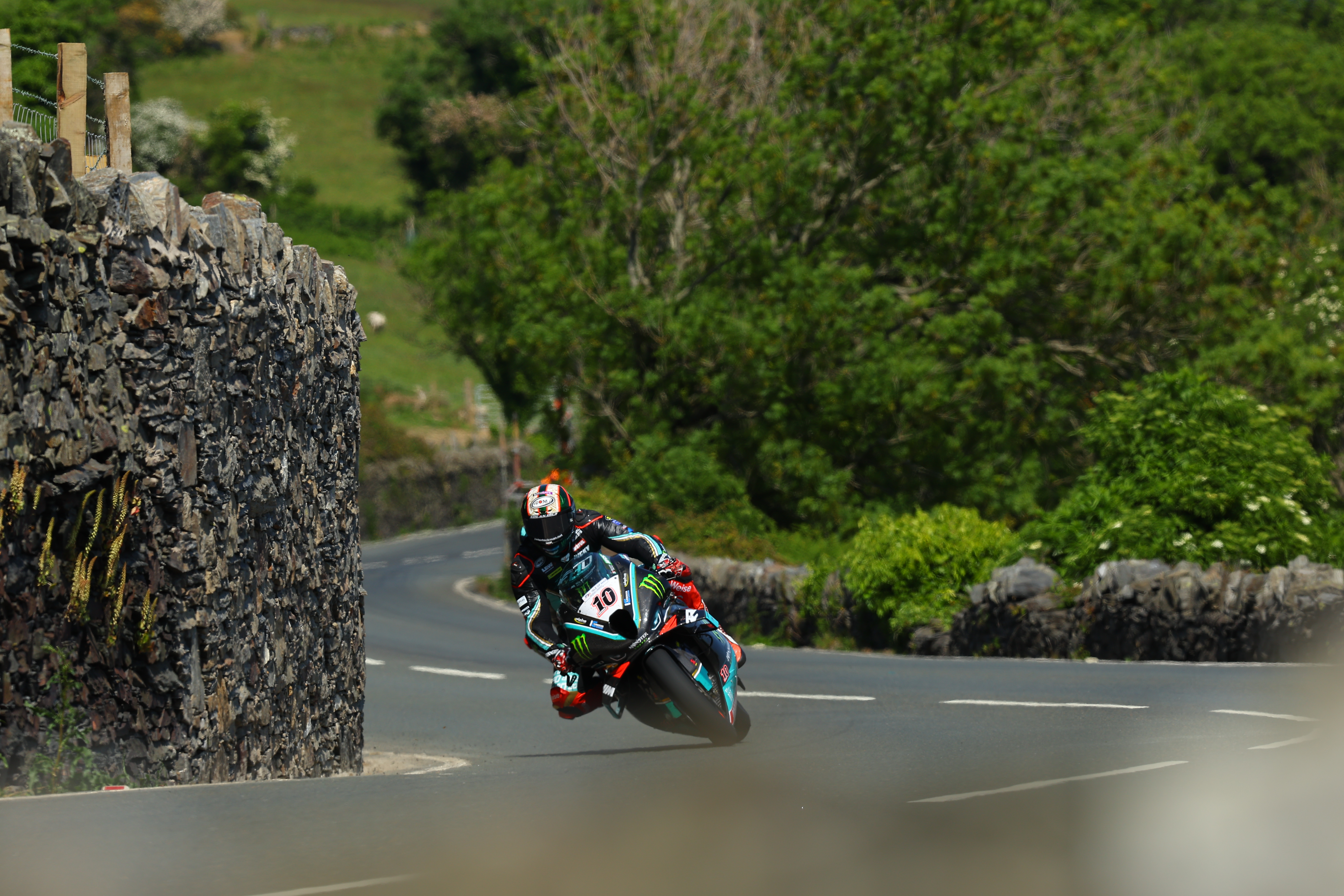 "The bike shakes its head too much," he explained, "which we've been struggling with all week. Every time I went for the brakes, I didn't have a brake – the pad knock-back is so bad that any time we get to any sort of braking zone, I have no brakes, which is not very nice. Very unnerving.
"By the end, I had kind of got used to it. I had to pump the brakes three times to get any sort of brake, and that's what I had to do the entire race, which is not very nice.
"It means that you can't really ride properly, because you're always riding on the edge, erring on the side of caution. Every braking zone I was really early, then padding it three times.
"Sometimes I was even tucking the front, a couple of times, when I had panicked on the second pull and got nothing, then on the third pull it was suddenly there and I locked up the front in a straight line being too aggressive with the third brake, with a bit of panic.
"But that's the way it goes, and we finished on the podium, which I wasn't entirely sure we would be able to do after the first couple of miles. I just dug in really hard, as much as I could, and it's still a new lap record, which is interesting, isn't it?"
While it might not have been an easy event so far for Hickman, who also lost out to Dunlop in the opening Supersport race, he said the experience of managing the bike even with it's issues – and the stunning lap he closed off the race with, which was just a tenth of a second from the absolute lap record – meant he was still confident of success with another six races to come this week.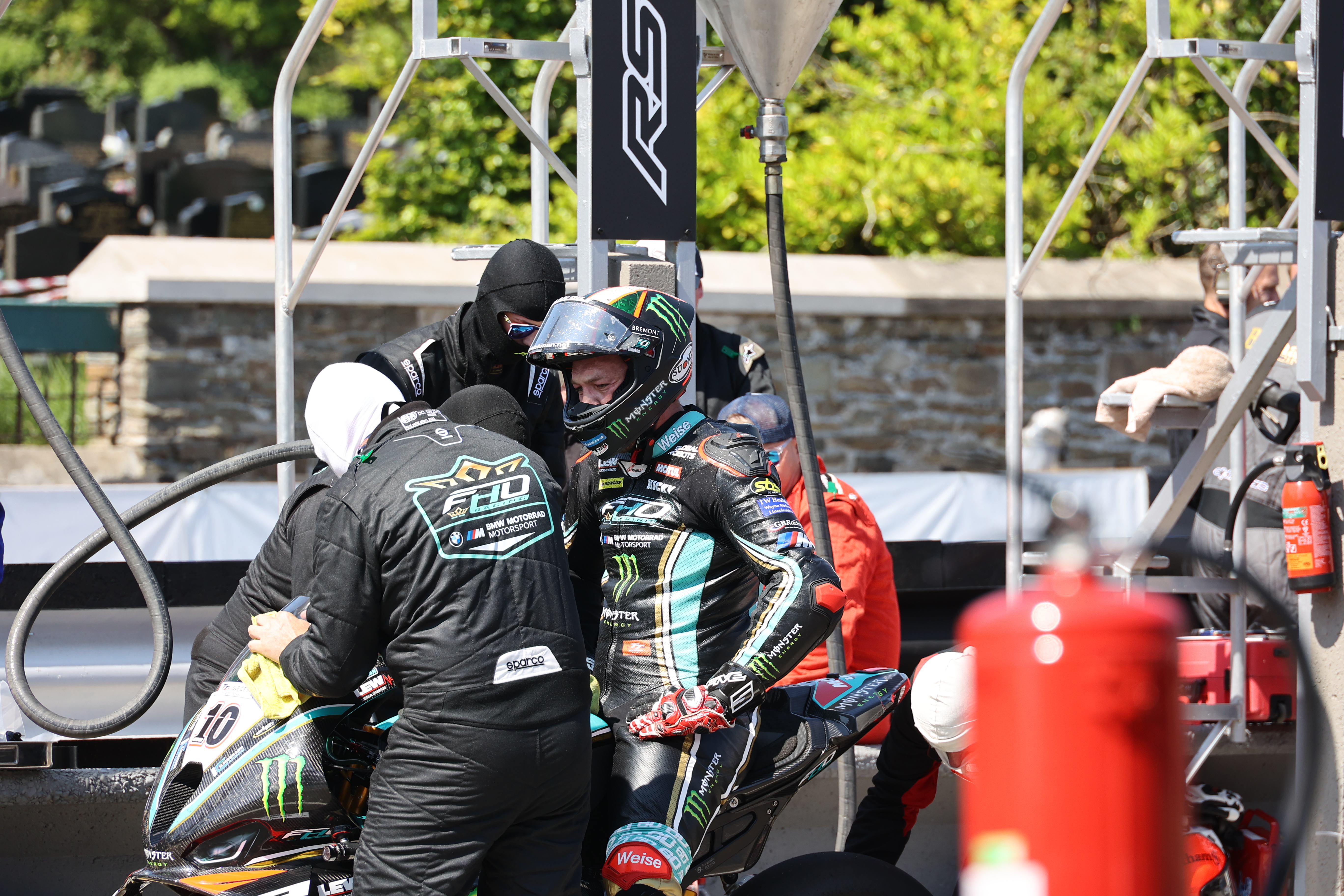 "Even with the bike being a pain in the arse, I can still be fast with it," he insisted. "But with the shifter as well… if it had just been the chassis problems, and not the brake problem, I might have been OK, but I can't deal with three problems, or four problems.
"I had a shifter that was intermittent, a blipper that wasn't working, no brakes, and a bike that's being really aggressive over every bump that we came to. It was actually really physical, knocking the bike and me around.
"So, all those problems together, to still do a 135mph-point-whatever lap means I've got the pace, and if we can get rid of those problems, who knows where we could end up."