It's never easy to be team-mates with a rider who's performing considerably better than you. Just ask just about anyone who's spent time at Honda alongside Marc Marquez.
Right now it's another partly-orange-clad racer who's making his stablemates' lives miserable every single weekend: Red Bull KTM's Brad Binder.
The difference between him and his three fellow KTM-mounted racers (works team-mate Jack Miller and Gas Gas-branded Tech3 duo Pol Espargaro and Augusto Fernandez) was best exemplified in last weekend's Thai Grand Prix.
Binder fought for the win for the entire race distance, the only rider in the same class as title rivals Pecco Bagnaia and Jorge Martin. The other three KTM/Gas Gas bikes rolled home as the last three of the 18 finishers in the race at the Chang International Circuit.
Of course, that particular result is a little unfair on the other three KTM riders, all of whom had their own issues in Thailand and have not been quite so distant from Binder all season long.
But it's also notable that all three had post-race excuses that, unlike in past weeks where there had been a similar results spread, had little to do with the nature of the bike and all to do with themselves.
The use of Michelin's harder construction rear tyre - one that is now brought as standard to higher-temperature tracks such as Buriram, Buddh and Mandalika - was one theory suggested by Miller to try to explain why he was losing so much time accelerating out of the circuit's slower corners.
"I've been struggling all weekend to get off Turn 1 and Turn 3," the Australian explained after his race to 16th.
"The bike didn't feel terrible, it's just that every time we put this casing in, I seem to suffer. I can't find a way to get any drive.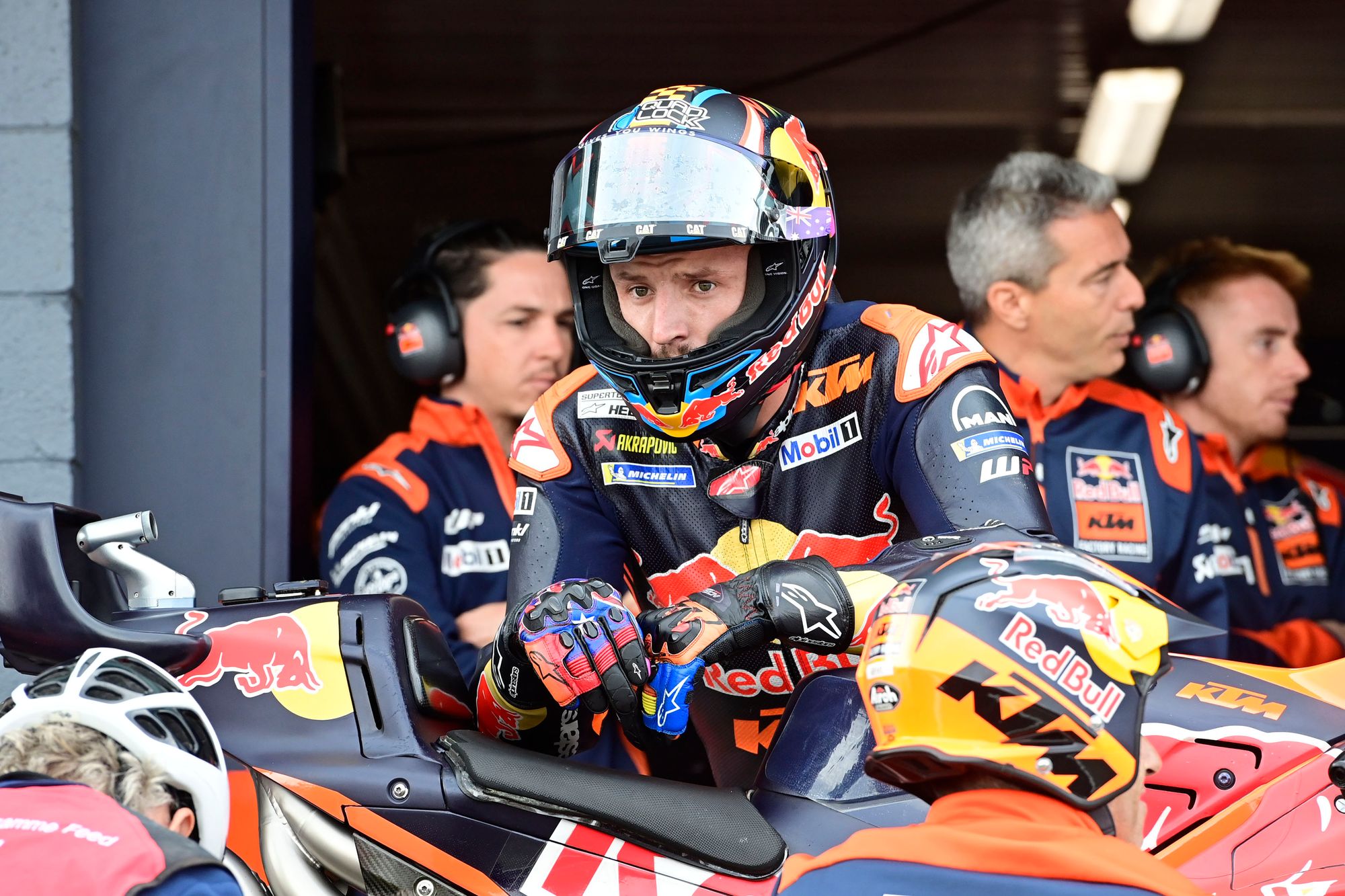 "It wasn't like that in the past and it's a head-scratching moment. I was missing a lot of top speed - I couldn't even get close to a Yamaha.
"It was a long race. A disappointing weekend, and not the result we wanted to have.
"Clearly the bike is working well with Brad, because he's doing a fantastic job. And we need to work harder.
"He's making the difference in sector one. He's been two tenths quicker than anyone else there all weekend, and I tried every which way to change my line or try different styles. Keeping lean angle, short shifting, everything I could. But we've got a little bit of work to do and I'm disappointed."
---
Binder vs Miller at Buriram
Average gap in Sunday's 26-lap race (excluding first lap)
Sector one: 0.129s
Sector two: 0.186s
Sector three: 0.155s
Sector four: 0.170s
Average gap in Saturday's 13-lap sprint (excluding first lap)
S1: 0.107s
S2: 0.133s
S3: 0.155s
S4: 0.119s
Qualifying gap (Binder's best Q2 lap vs Miller's best Q1 lap)
S1: 0.145s
S2: 0.103s
S3: 0.203s
S4: 0.149s
---
Things weren't any better for Tech3 rookie Fernandez, either, with his recent up and down run of form continuing with a 17th-place finish that left him also scratching his head, especially after a strong start to the weekend in which he progressed directly to Q2 on Friday.
He was partly struggling with yet more KTM brake issues, as a persistent problem where the bike's aggressive shakes on corner exit leave it with the brake pads pushed back against the calliper and require more force to apply. That problem sent him wide on the first lap and from there his day just went from bad to worse.
"My pace wasn't like Brad," he explained, "nothing like the top eight. But it was better for sure than P17.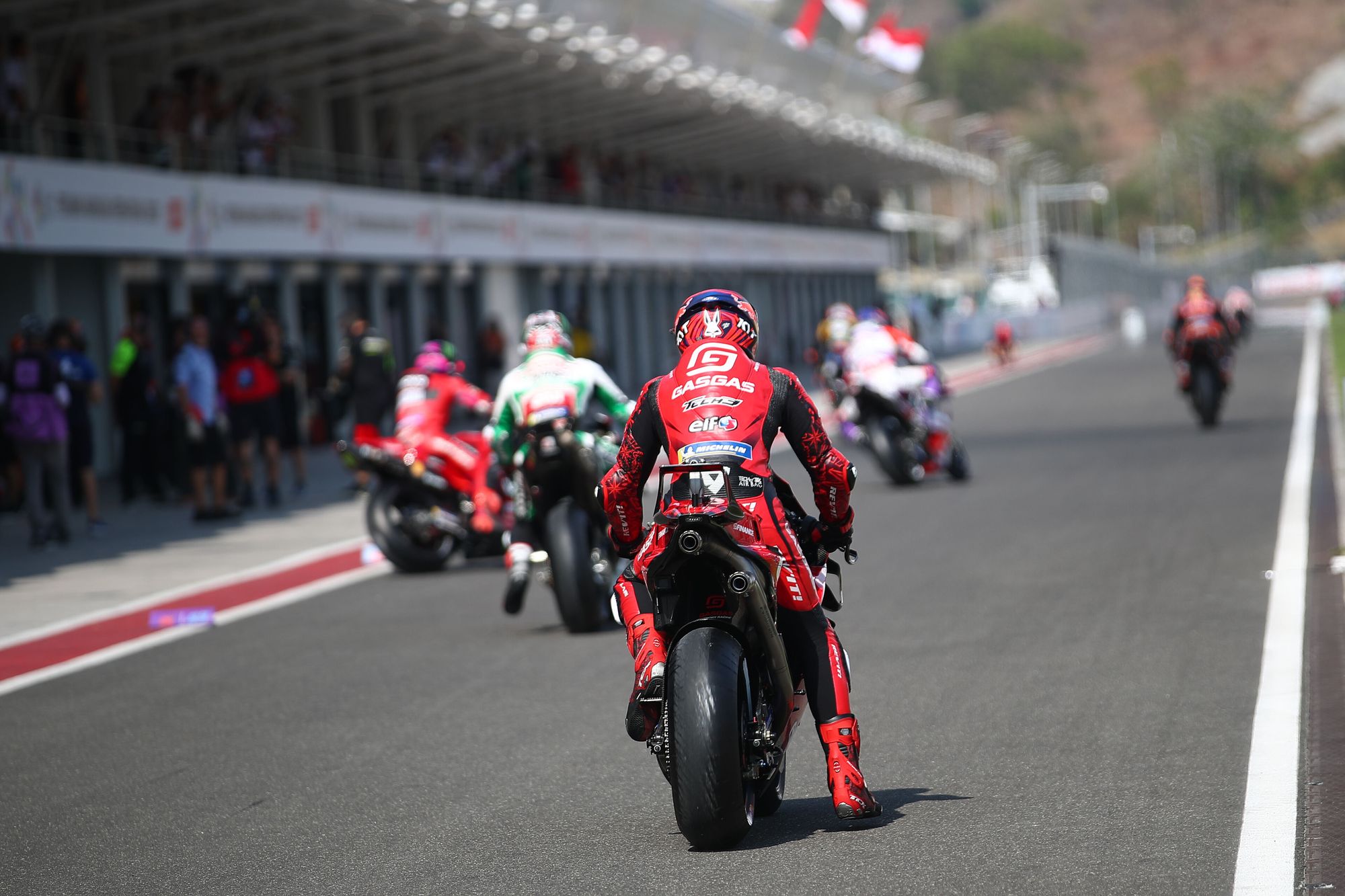 "I'm struggling with race pace this weekend. Even if we managed to go to Q2, I haven't been feeling good with it and we've been trying to find ways to solve it."
Yet while the other two might be looking for solutions to their own problems, it's KTM veteran Espargaro who gave perhaps the most damning and honest assessment of the differences between them and Binder right now. He simply admitted that he believes the factory's number one rider is riding better than the rest.
"I'm struggling a lot with this bike," he said, "and I get the feeling Augusto and Jack are too.
"I think that somehow if you put Brad on a Moto2 bike he would still be able to win races in MotoGP, because his level is so high."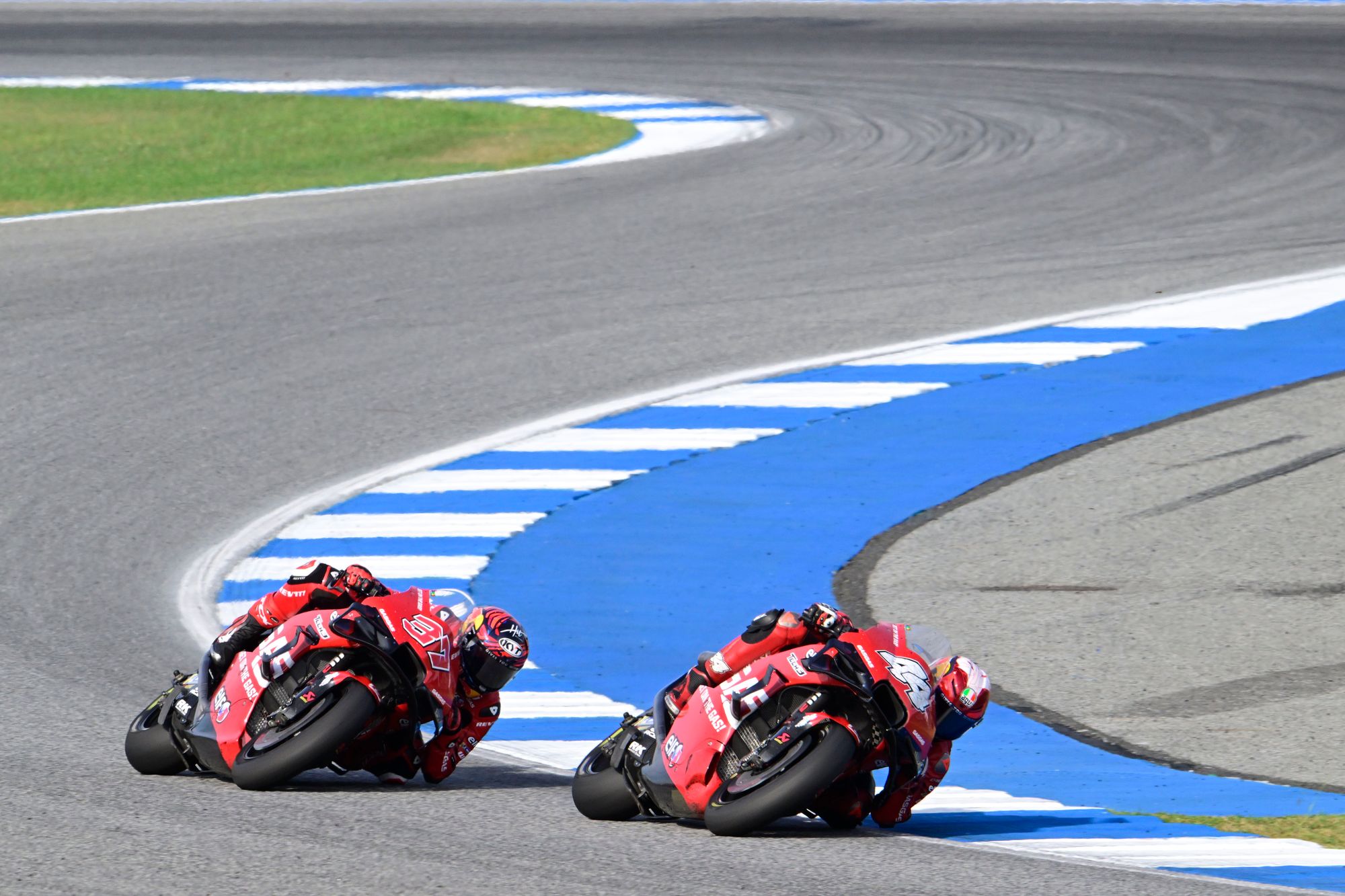 Espargaro alluded to the tyre construction explanation too, and the way the bike has developed.
But he saw both as things Binder is handling better - not excuses for his team-mates.
"When we're using these kinds of casings where we lose the edge grip, I'm not able to ride the bike," he said.
"At the minute, only Brad is performing and the others are struggling. But the bike's not made for him - far from it.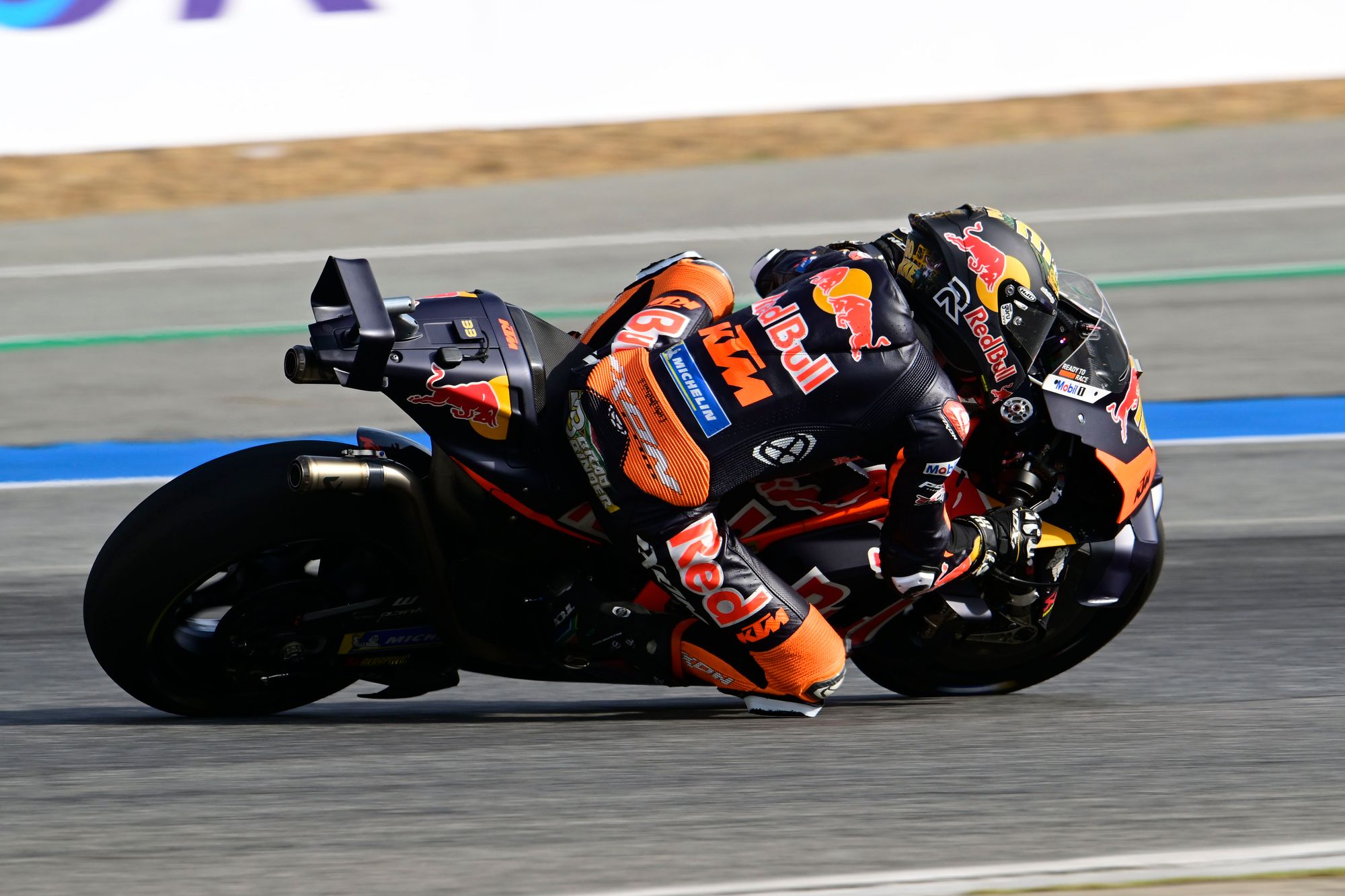 "He's so good that he's able to be fast with whatever bike you can put him on. When we three are the last ones [finishers], it's something we need to study for the future.
"He's able somehow to brake a little bit later and to carry corner speed. Normally, we're riding quite similar to Brad, but he's been changing the riding style quite a lot through the years as the bike changes.
"He's able to adapt, maybe because he's younger and fresher. He's able to adapt and I'm not.
"In Europe, I can, but out of Europe when you need to go to the maximum riding style the bike asks for, I'm not able to."