Sunday was the culmination of a lot of dreams for a lot of people at the San Marino Grand Prix, with a first MotoGP victory for Franco Morbidelli, a first podium finish for Pecco Bagnaia and a last lap overtake on Valentino Rossi to give Joan Mir his second trip to the rostrum in three races.
However, of all the dreams that came to fruition at Misano, perhaps the most satisfying was Rossi's.
The nine-time motorcycle racing world champion lost out on his own 200th podium but saw the VR46 Academy programme he's been pouring heart, soul and money into for seven years achieve its greatest day ever.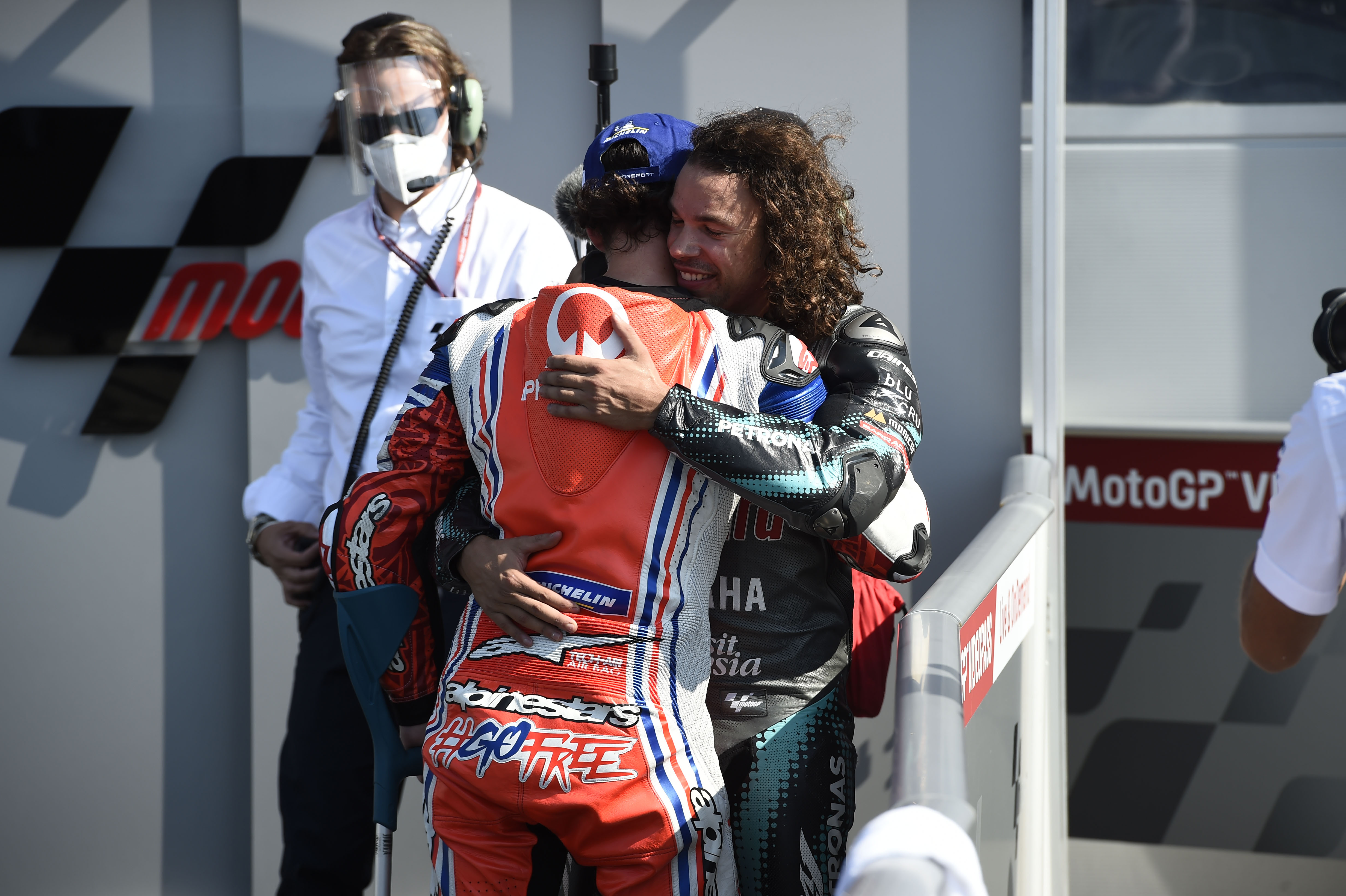 Both Morbidelli, the original member, and Bagnaia had their best-ever results, with the 2017 Moto2 world champion holding off the advances of the 2018 title winner to give the Italian talent factory its first ever premier class race win.
Rossi's proteges added to that in Moto2 with yet more impressive results in the form of a 1-2 for Team Sky VR46 riders Luca Marini (Rossi's half brother) and Marco Bezzecchi. That meant four of the nine available podium places across MotoGP, Moto2 and Moto3 went to VR46 products on Sunday.
When Rossi does eventually retire (whenever that will be), he'll leave a legacy that gives much more to the sport he loves than any of his fellow great champions, having created a degree 180-degree reversal in fortune for Italian riders after a decade of Spanish domination.
That's something he's incredibly proud of, too, with his keen sense of history and heritage meaning that he knows the impact that his work will have long after he's hung up his helmet.
"It's our challenge to take Italians to the top," said Rossi.
"We have a great history, but in recent years the movement up has been quite low.
"Being in the Academy is like being in Florence during the Renaissance, being an artist or a poet or a writer, with Vale as the teacher" :: Franco Morbidelli
"So, we've worked hard, we've put time and money and effort into it, and it looks now that we can fight. Spain is still number one, but we can fight with them.
"I think that I've got to be a great motivation for them. They've seen me still there fighting against them and still able to put a lot of effort into it, and it motivates them to go faster too."
Sunday's winner Morbidelli is not only the first member of the programme, he's also the biggest success story from it so far.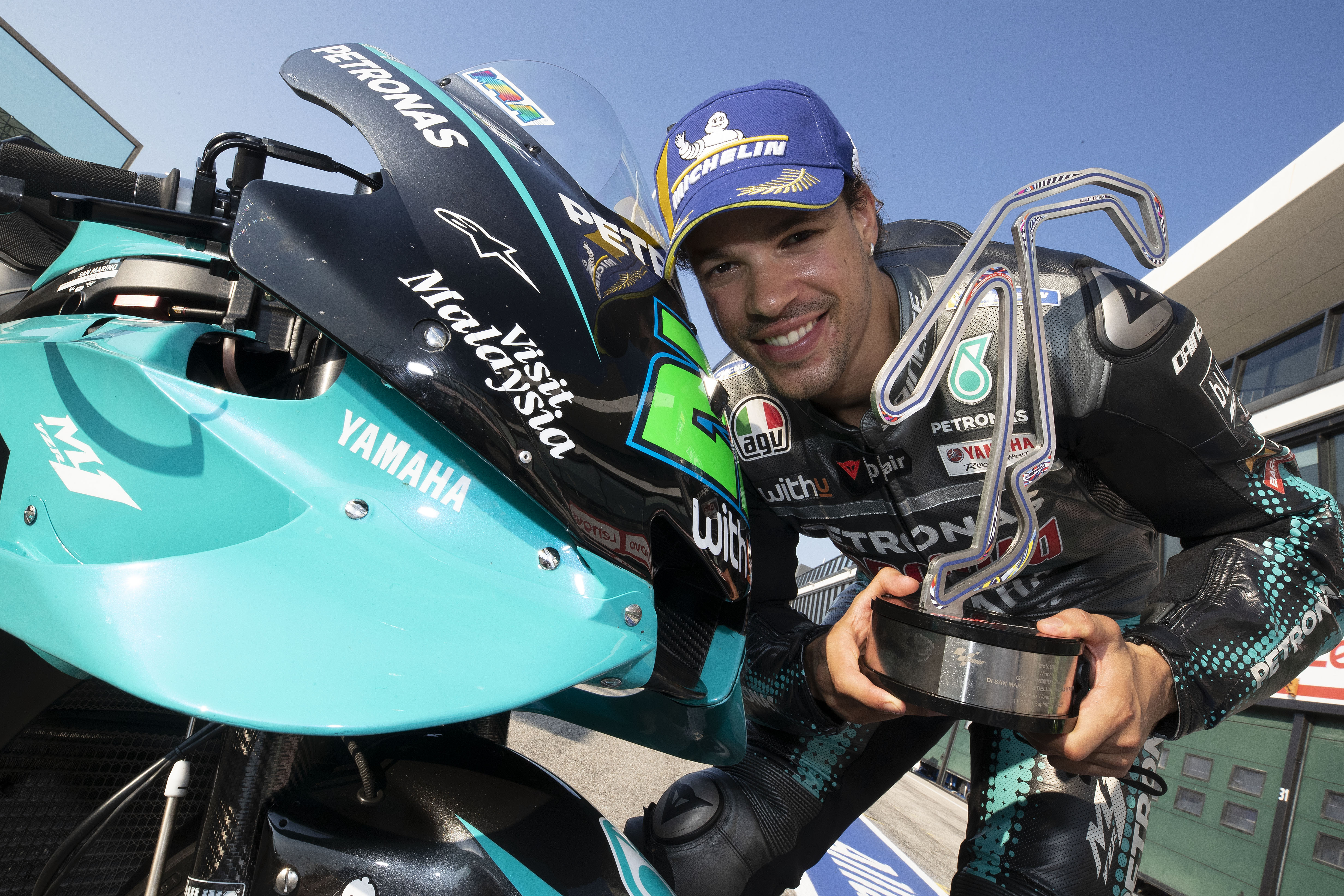 The first to win a world championship, the first to move to MotoGP, the first podium finisher in the premier class and now the first to win there, he knows just how special the world he's a part of is.
"Being in the Academy is like being in Florence during the Renaissance, being an artist or a poet or a writer," he says.
"It is Florence for riders, with Vale as the teacher who keeps us all right and helps us all learn. We give our maximum, and in return he helps us to develop our natural skills and talent."
Morbidelli is also the perfect example of the importance of the structure Rossi has built to allow young Italian riders the chance to progress.
"It was Vale that told me that I needed to be racing in better championships and who believed that I could do well in MotoGP" :: Franco Morbidelli
Born in Rome to an Italian father and Brazilian mother, Morbidelli's family relationship with Rossi goes back a long way.
His father Luigi was a racer who competed against and remained friends with Graziano – Rossi's own father and a 250cc grand prix winner in the late seventies.
Wanting to give his fast son a headstart in racing, Luigi Morbidelli moved Franco to Tavullia to learn at the feet of the master, starting out a career that led from the Italian minibike championship to the cusp of a move to 125cc GP – until the family ran out of money.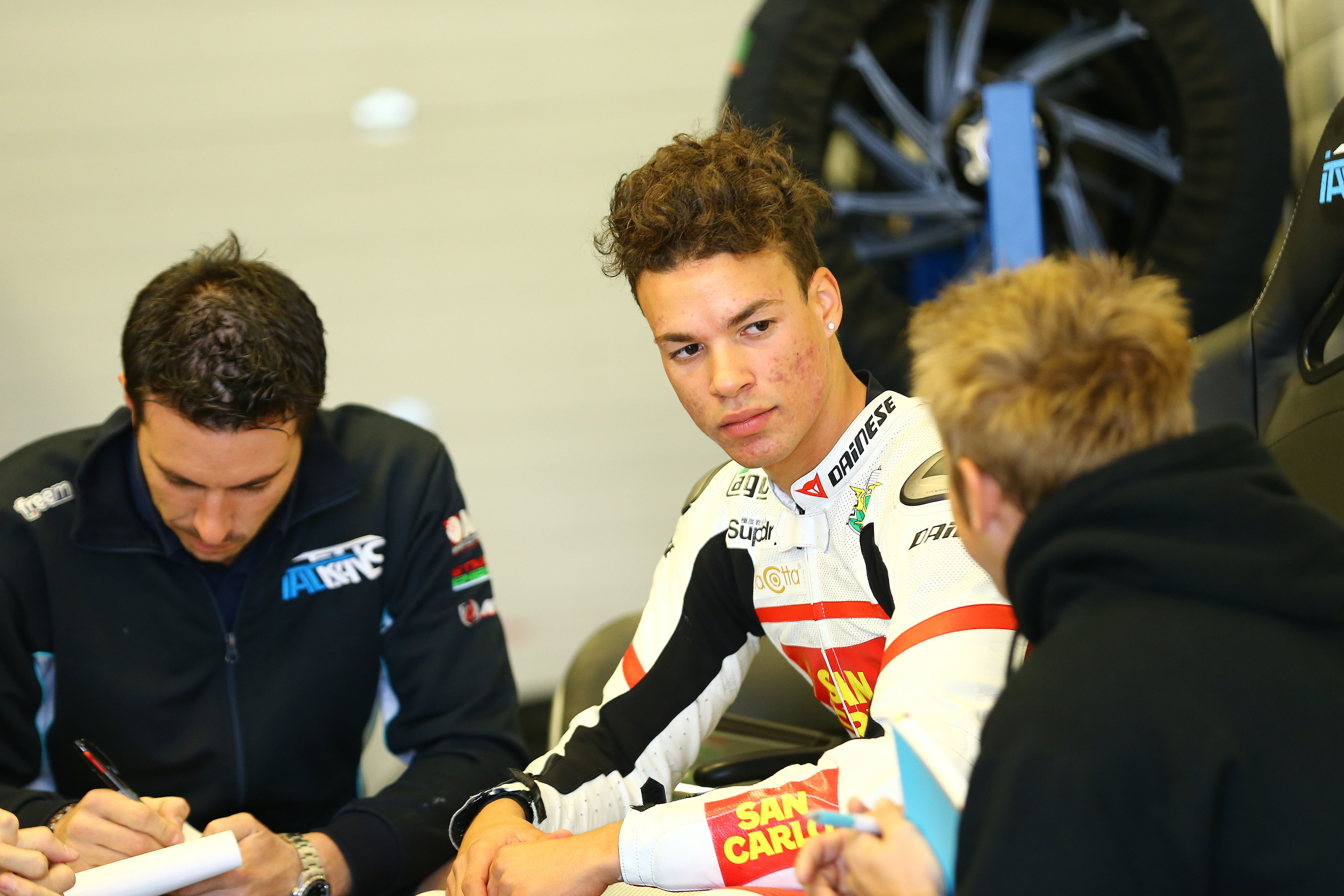 Instead heading to the European Superstock 600 series and on the verge of a career swing into production bike machinery, it was a helping hand from Rossi that pushed Morbidelli into a Moto2 wildcard at Misano and a switch back to prototype machinery that led him to MotoGP victory at the same track seven years later.
"I wouldn't be a world champion without the Academy," says Morbidelli.
"My path was already going in a different direction when I joined it, and he took me into his world, into the MotoGP world.
"The Academy is in a way a tribute to Marco Simoncelli" :: VR46 CEO Albi Terbaldi
"I was on a path towards superbikes, I was racing in superstock, but it was Vale that told me that I needed to be racing in better championships and who believed that I could do well in MotoGP.
"We tried it, and it came out pretty good!"
Though the desire for developing Italian talent has always been important to Rossi, his schooling system was borne out of something much darker.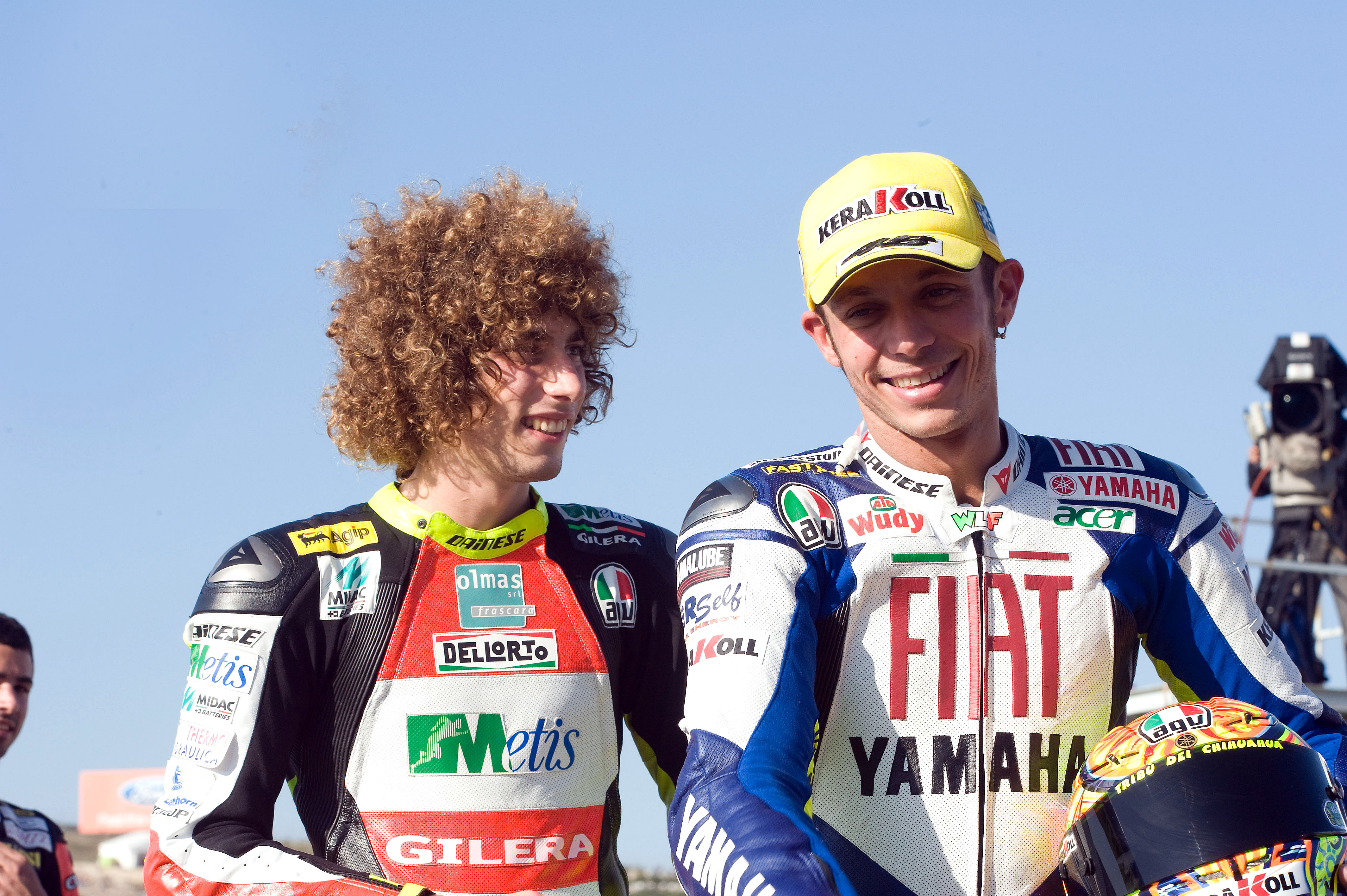 He first took Morbidelli under his wing after losing his best friend in MotoGP Marco Simoncelli in 2011, and only later formalised the entire VR46 structure that now exists.
"After the loss of Marco Simoncelli, something was missing from Vale's life," VR46 CEO Albi Terbaldi explains.
"Marco was the one guy who could train with Valentino at the same level, and the Academy came in part from the loss of Marco.
"In a way, we started the Academy in reverse, because first we were friends with these riders and then we started working with them.
"It's strange the things that life can give us, because it can be very cruel at times and can be great at times. The Academy is in a way a tribute to Marco."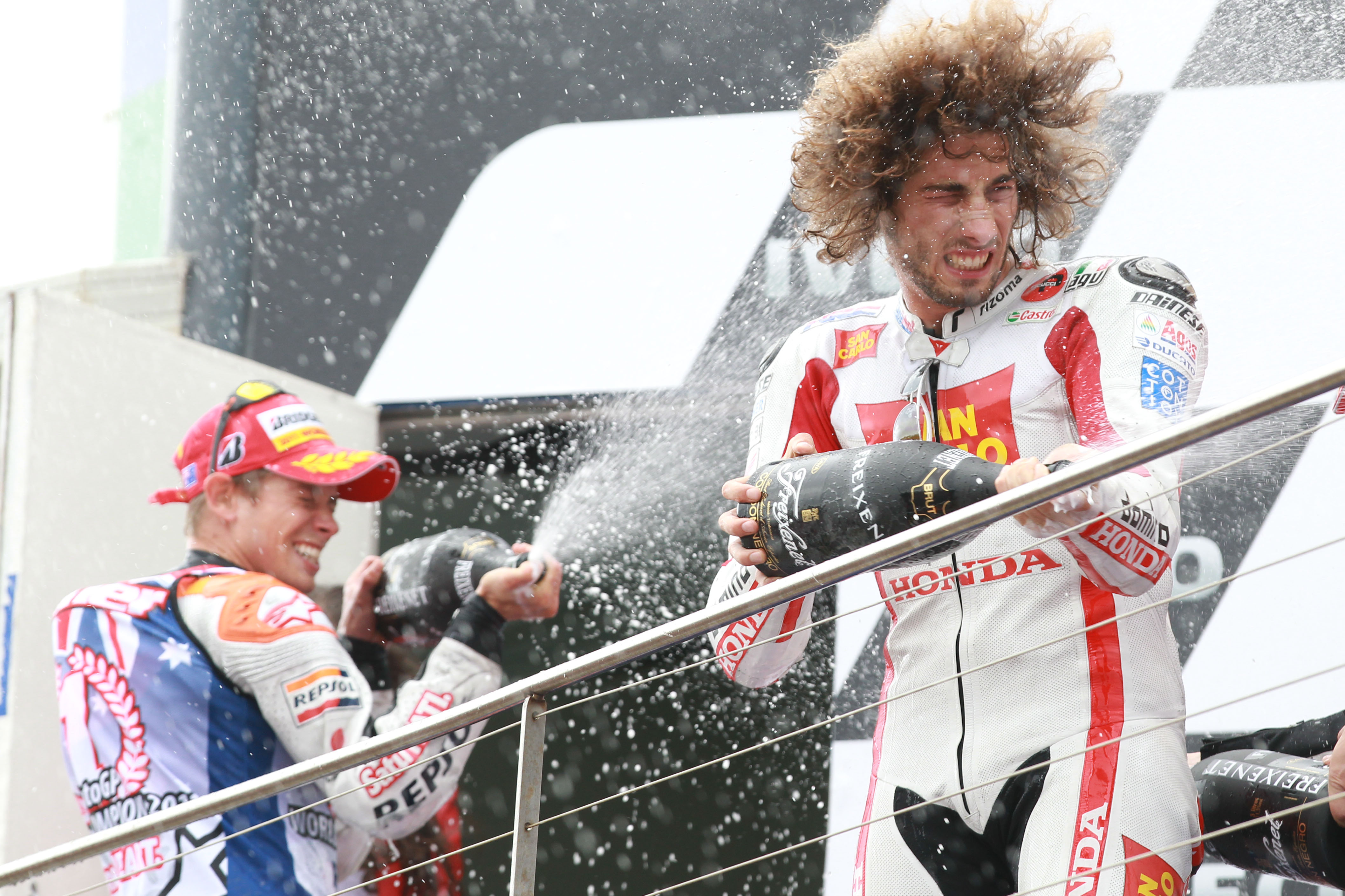 It's also part of the smart business model that has helped to build the VR46 empire.
Funded in large part by sales of merchandise produced in-house, with revenues of over €30million a year from that side of the company alone, the Academy has helped to create not only fast riders but cultured, intelligent kids who engage with the world beyond racing.
Each contributing 10% of their earnings as well (considerably less than what is charged by some managers), they not only train and ride with Rossi but they also play a role in designing their own merchandise, they take part in mandatory English lessons and media training.
They even have school trips, with legendary designer Aldo Drudi playing a key role in their cultural appreciation by organising weekends away touring the galleries and museums of Florence, Venice and Rome.
And from that has come another strong benefit to having the Academy programme around him that Rossi is very aware of.
Now 41 years old but still racing and competing for podiums at the highest level of motorcycle racing, he has taken a personal benefit from being surrounded by mad teenagers who love racing bikes the way he did 20 years ago.
"You're first, then Franco goes faster and Balda beats him and sets the fastest time and you think 'fuck!'" :: Valentino Rossi
Very much a Peter Pan figure with his very own gang of Lost Boys around him, he openly admits that the energy they give him is what keeps him young at heart.
"For me it is very important that I have the Academy," says Rossi.
"To train every day when you're alone is very heavy, and so I started with one person alone 10 years ago, and it was more of a challenge and more fun. Now there are 10 or 15 of us every day so you can imagine how much fun it is!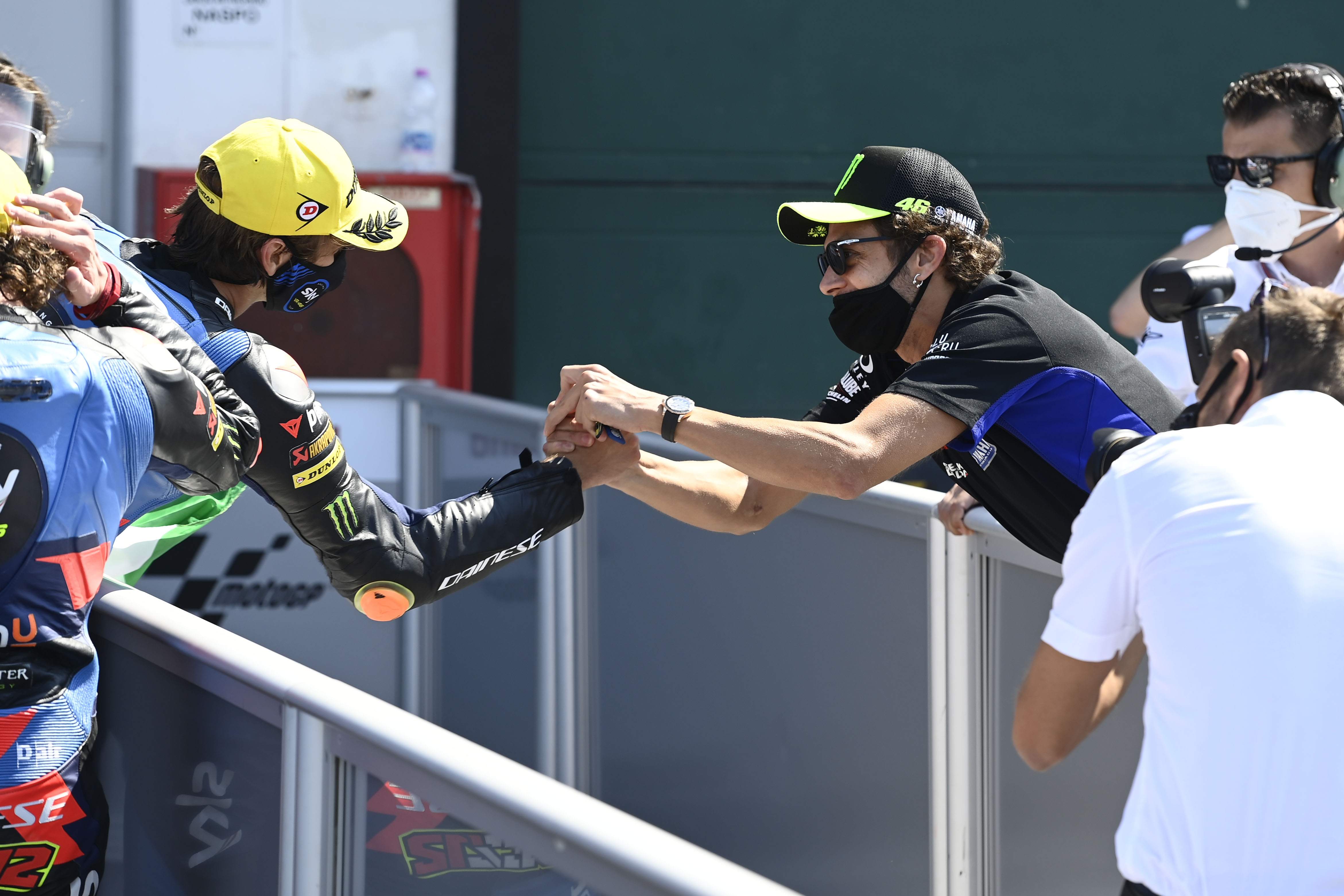 "Sometimes they make me feel old, sometimes they make me feel very young. But the level of training that we have together is unbelievably different, and fuck, every time we jump on a bike the challenge is so high. I can always ride with professional riders.
"If I had the Ranch and didn't have the Academy riders, I can do the same fast time every lap but I never improve.
"Now, you enter and you're first, then Franco goes faster and Balda beats him and sets the fastest time and you think 'fuck!'
"You arrive at the end of the day at 7pm and you're finished! It's great to still improve every day."
Now that his talent programme has started to race against him and beat him on track, too, Rossi did admit a little tongue in cheek after Sunday's race that perhaps he might have to reconsider his approach, though!
"There was a moment during the race where I asked myself – who the hell's idea was it to make the Academy?!" he joked.
"It's a great satisfaction because we work every day to make them grow.
"We did a great thing for Italian motorcycling – it's just a pity they go so strong, so early!
"But when I stop, we can still cheer on our riders. So, I'm happy."