Marc Marquez's address to the media upon his return to the MotoGP paddock in Austria drove home the unique nature of his visit – one more akin to an inspection by a corporate bigwig than a racer returning to his regular stomping ground.
One reason behind that is, of course, obvious – Marquez was never going to try actually riding at the Red Bull Ring, and is awaiting a late-August medical check-up to know whether or not he'll be able to ramp up preparations for a return to his Honda RC213V in time to actually race before the season is out.
But he could also have not made it any clearer that attending the Austrian Grand Prix isn't something he's doing to take in the atmosphere and spend quality time in familiar surroundings – but rather to have "important meetings" with the Honda factory personnel in attendance and, though this went unsaid, assess the situation.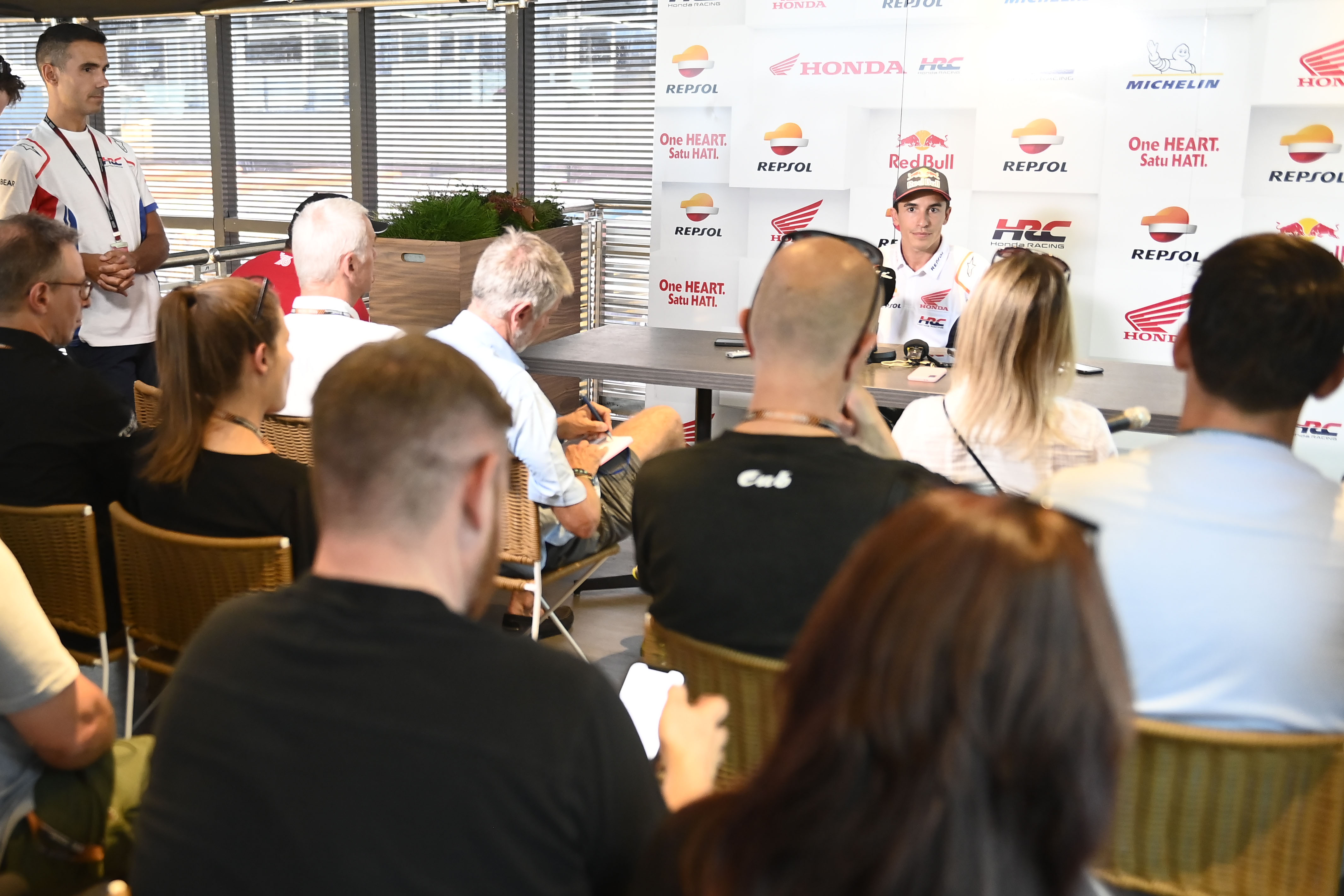 In a Honda hospitality-based press conference that had to be cut short due to 'safety' – as a heavy rainstorm threatened to tear it apart, emphasising Marquez wasn't here for the nice views and weather – the six-time MotoGP champ reiterated several times that he had full faith in Honda, which he said was working "more than ever". "The budget is there," he stressed – and he indicated it would be not just wrong but insulting to suggest the staff weren't trying hard enough.
"I'm not the guy to say 'this is the way' – Honda is the brand that has won the most titles in the world, and I'm here with Honda because I believe in them and I believe that I can come to the top with them," he said.
Yet the following sentence summed up the somewhat mixed messaging at play.
"But it's true that we need to understand the way to organise well, because every time we have more and more races, less testing, and the work in the factory becomes more and more important than in the circuit. "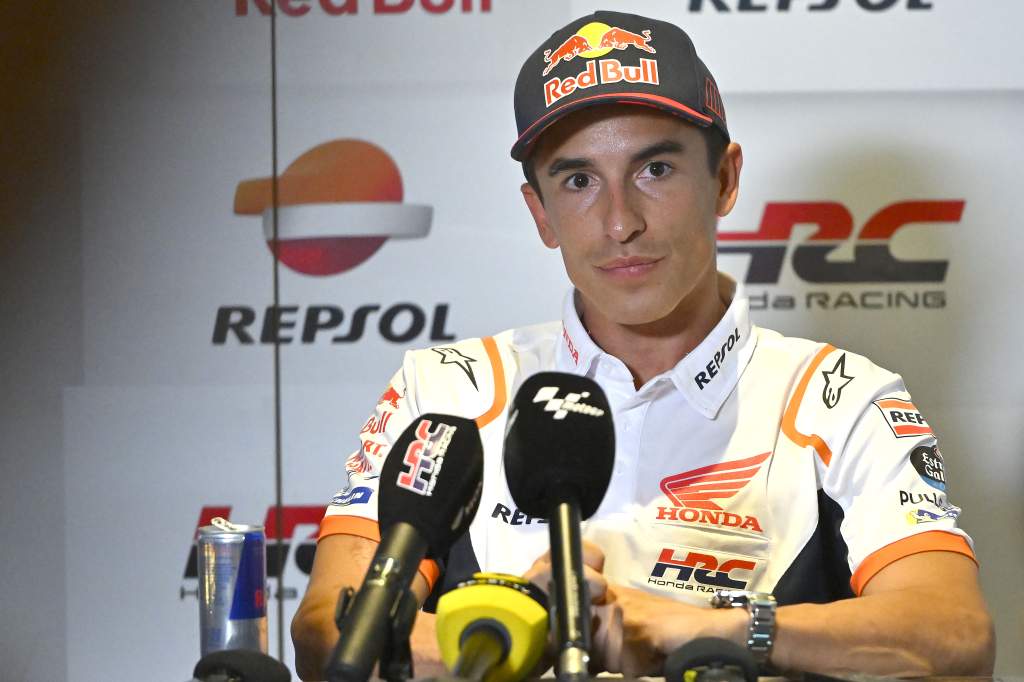 It's not Marquez's first rodeo when it comes to time on the sidelines, unfortunately, and he acknowledged that he regretted the relatively hands-off approach he had opted for before.
"Obviously you see that Honda is in a difficult moment. Not only one rider, all the riders. And when all the riders are in a difficult moment, it means that the project is not in its best moment. But it's true that, as I said in Mugello, I had the experience of 2020, 2021, when I was also a long time without coming to circuits and in that period I disconnected too much.
"When I came back everything was too new. So this time I tried to keep in contact a lot with Santi [Hernandez, crew chief], with [test rider] Stefan Bradl, especially with my team.
"Of course my brother [LCR rider Alex Marquez] is riding Honda, too, but I prefer to keep that tight relationship with my [Repsol] team, with Honda engineers.
We are ready! Con un infiltrado 🕵🏻‍♂️ 😂@marcmarquez93 #AustrianGP pic.twitter.com/jH39lF1VKy

— Alex Márquez (@alexmarquez73) August 18, 2022
"One of the reasons to be here is not to see the bikes on the track – it's to speak with Honda, to speak with the engineers… of course I cannot decide what we need to do. But I want to be involved about the project, because when we are in a difficult moment, all the people need to go in the same way. And when we are in a difficult moment, it's impossible that one guy makes the difference. The teamwork is the most important in this moment."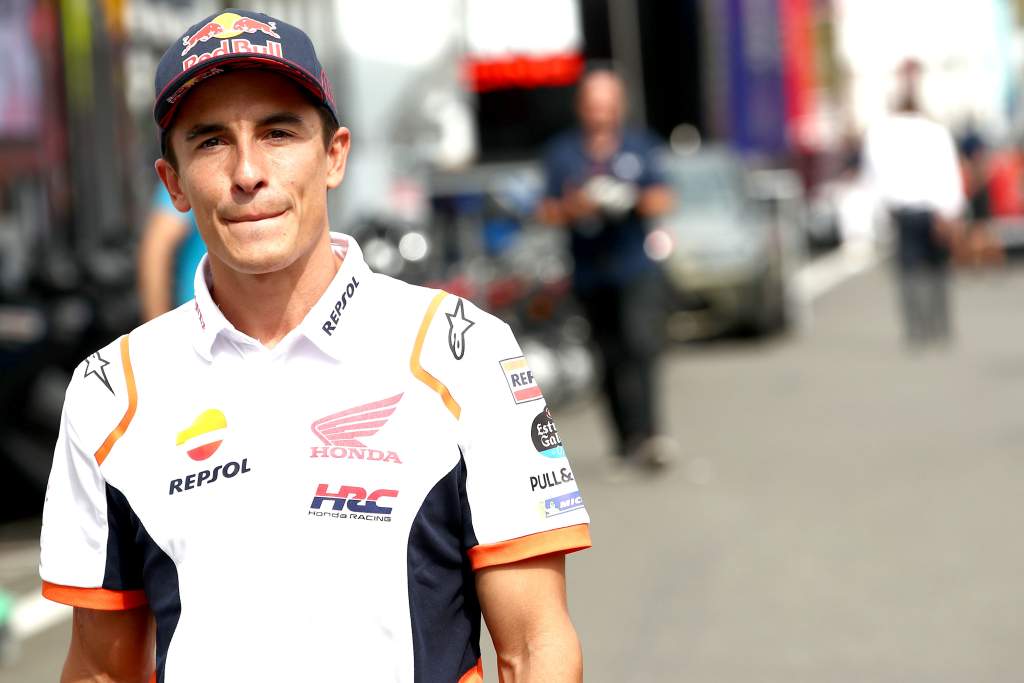 Bradl, who is racing in Marquez's place right now and has long established himself as the Spaniard's first-choice test rider, affirmed that he and Marquez have been "in touch regularly" even before his visit.
He's definitely one staffer who Marquez will not want to see replaced – but a recent answer in a MotoGP.com interview suggested Marquez was keen for developments elsewhere, saying Honda needed to change not just the RC213V but "something on the team".
Asked about that line at the Red Bull Ring, Marquez emphasised this was not a call for sackings.
"On that sentence I know what you mean. Maybe was a misunderstanding, and we speak all the time – when I say 'team' it's not 'persons', it's 'concept'. The concept of the team."
He then referenced the fact that MotoGP's European manufacturers – still chasing a first title since 2007 but increasingly strong nonetheless relative to the Japanese 'establishment' – are "working in a different way", though stressed this was not to be taken as a demand to make Honda more European.
Still, that answer – and the one below – made it clear the meetings Marquez was planning on for the Red Bull Ring would not be limited to your typical rider feedback.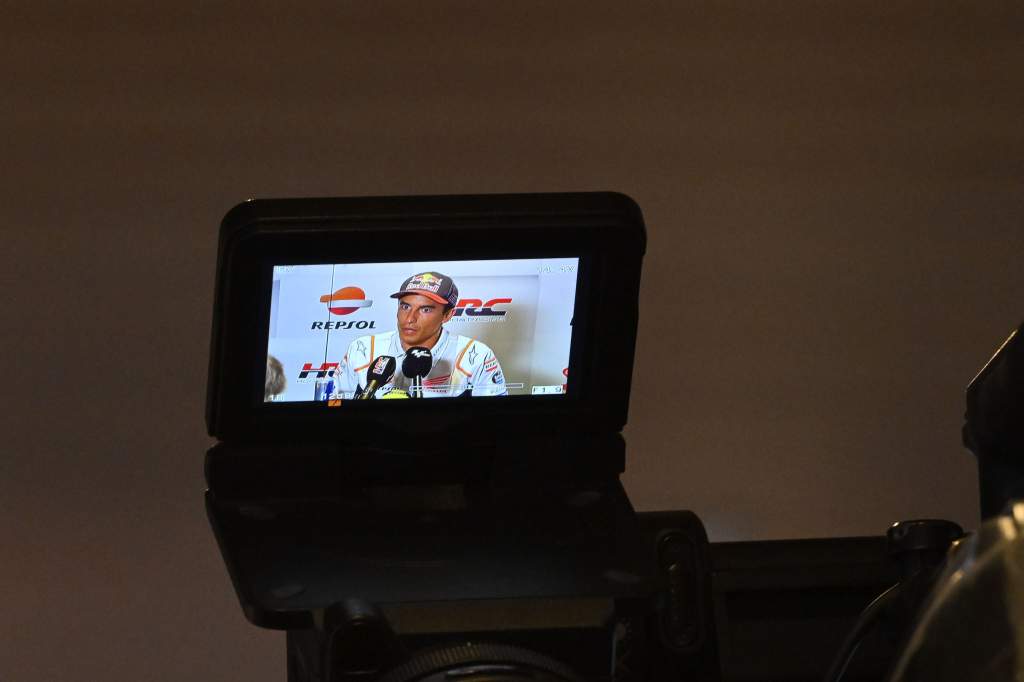 "Since I rode in Mugello, it was a difficult bike that was so difficult to take profit of, and the problem was big, it was not a small problem. But for me now the most important thing, as I say, it's not on the bike. It's more on the project, the coordination area.
"All the information in the team in this difficult moment is the most important thing. And the information needs to flow in a good way, in all the areas, in all the aspects. And if the information is flowing well, and all the people are working in the same team and are motivated, for sure we will go out in that situation. But we are here to help, and as a rider I will do 100%."
He ultimately said all the right things – ever humble, ever pointed. But you don't need to be a MotoGP expert to know Honda as 'the house of Marquez' – and it's impossible to see his visit as anything but a serious act of housekeeping.