In the past, every time a rider was asked ahead of the start of the season who was going to win the championship (and trust me, they get asked this a lot!), the answer was always the same thing: that Marc Marquez was the favourite, followed by a long list of all the others who could, potentially, win that season.
Amid ongoing injury woes for Marquez that stretch back to July 2020, it hasn't necessarily been the go-to answer of late, to be fair – but if this week's Ducati launch is anything to go by, then we are absolutely and firmly back in the territory where the six-time MotoGP world champion is seen as the first and foremost threat to all of his rivals.
"For me, Marc is Marc – he's won eight titles [six in MotoGP, one in Moto2, one in 125cc]," said Enea Bastianini as the covers were taken off the new Desmosedici. "He will be at 100% because he improved in the last part of the season and was fast, and it will be so difficult to battle with him.
"It's not only Marc but also Pecco [Bagnaia], Fabio [Quartararo], [Joan] Mir; we have a lot of names."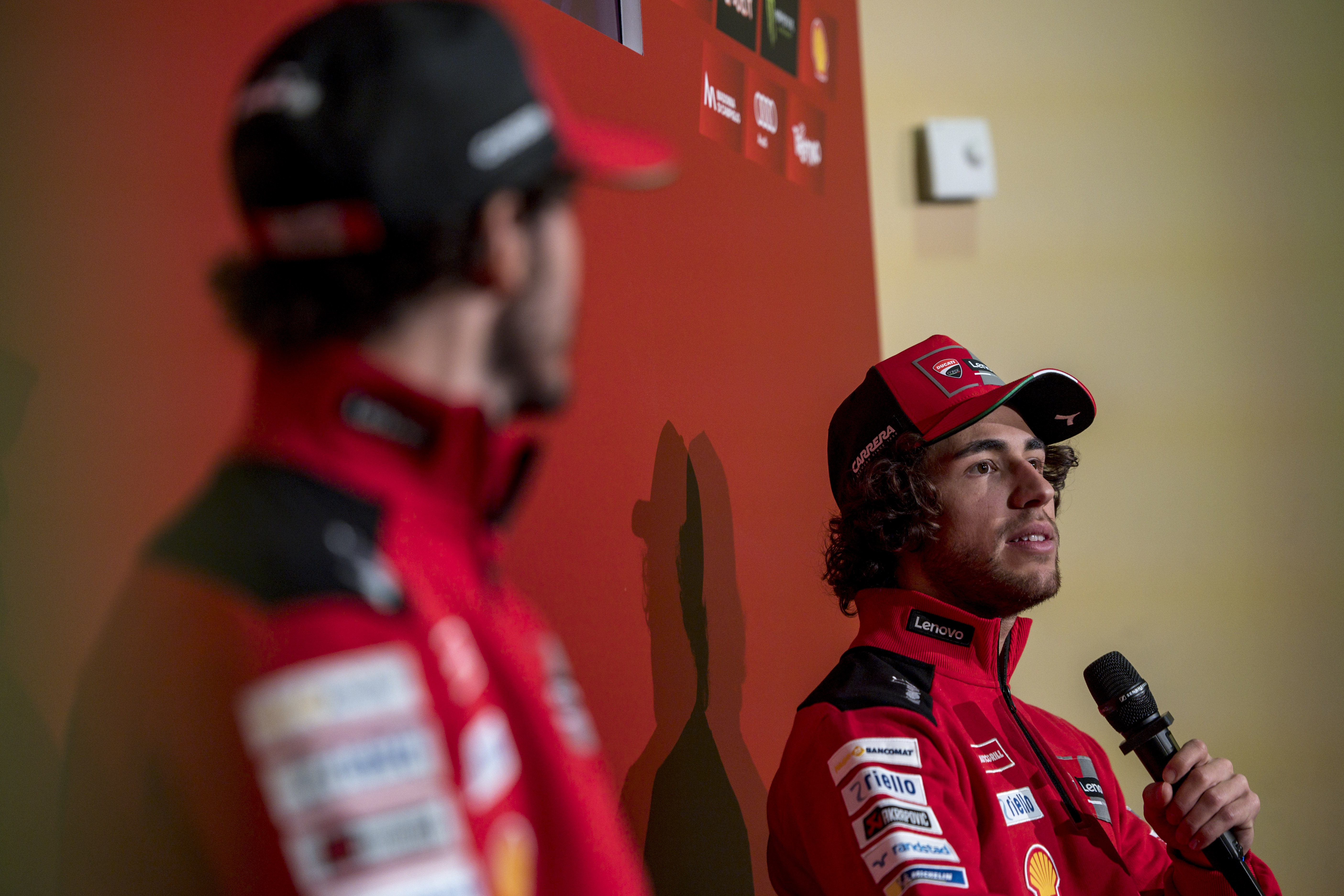 "To answer this question is like when you are at school," added reigning world champion Bagnaia, "and the teacher asks you before starting the lesson 'Bagnaia?' 'Here.' 'Marquez?' 'Here.'
"There are so many who are possible to fight for wins and the title. Marquez will be at 100%, because already last year he was OK, and if the Honda is competitive then he will be at the front. If not, it'll be more difficult because in the era we're living the bike is very important.
"There are a lot of riders, Quartararo, Marquez, Bastianini, I think [Franco] Morbidelli will be OK, [Miguel] Oliveira with Aprilia will be so competitive, I think [Brad] Binder will be very competitive. It will be tough, difficult, but our objective is to be better."
What does that tell us about the attitude of the Honda rider's rivals? Well, one thing is for certain: Marquez might not have won a title since 2019, but he is still very much the man to beat, even if defaulting to him is something of a lazy answer when the question gets rolled out.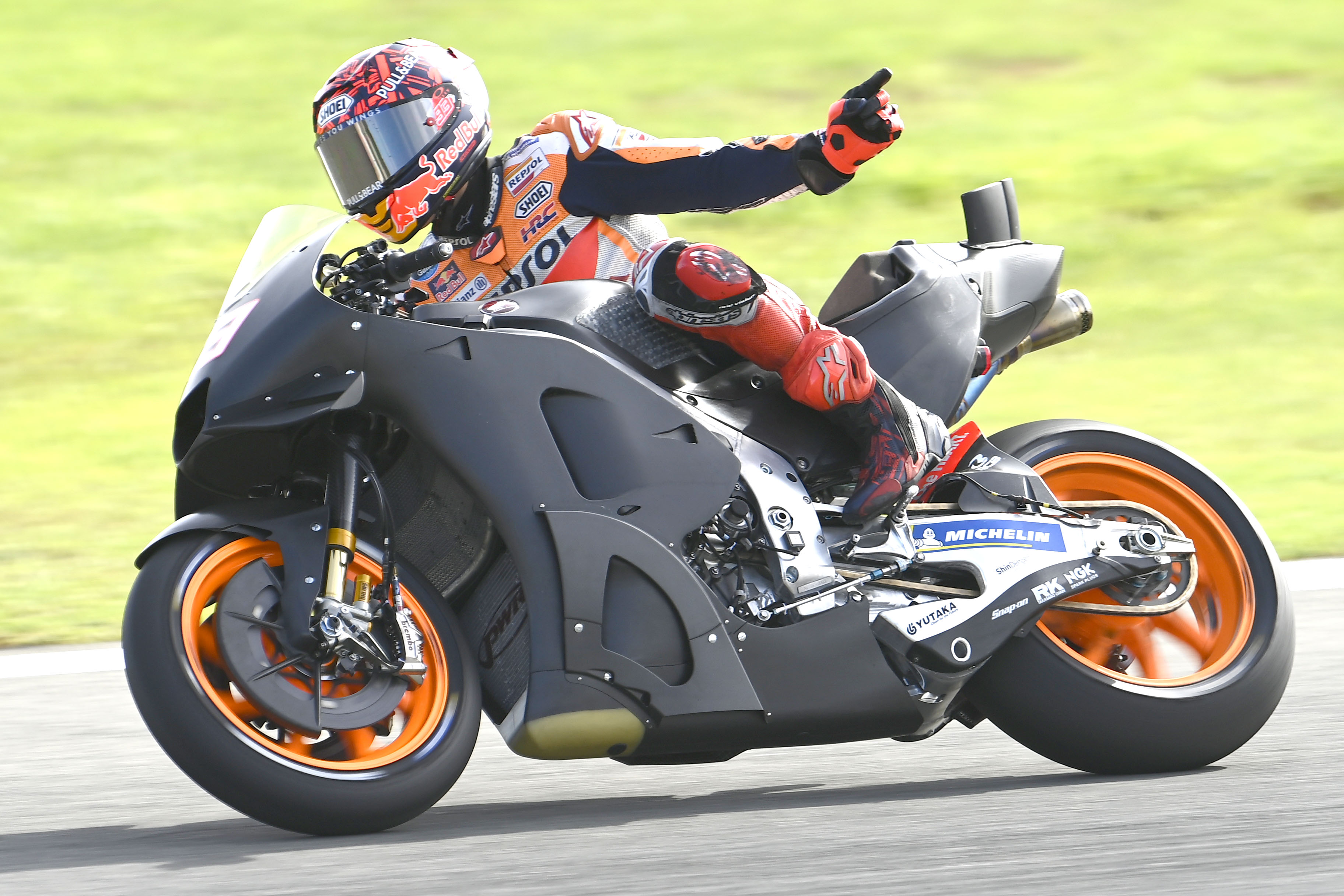 It says a lot about the absolutely prodigious amount of talent that he has that even after multiple extensive surgeries, an aggressive and seemingly uncompetitive Honda and a long time away from the top of the sport, he's still being held up as the number one rival, even by the reigning world champion and someone who won four races in only their second season in the premier class in 2022.
Whether or not Marquez can in fact fight for the title remains to be seen, and it's likely not something we're going to be too sure of until we see him ride the RC213V in anger at the first round of the championship in late March.
He ended the post-season testing unhappy with the improvements so far made by Honda, and while once upon a time that talent was more than enough to overcome even a hard-to-ride bike, that era might now have passed, as Bagnaia hinted at.
But even if he is on a fast bike, it does seem somewhat wild to suggest that he would still start the season as the absolute favourite, given the strength of the current field.
While the list of contenders might not quite be as long as Bagnaia makes it out to be, it's nonetheless impossible to not count Quartararo, Bagnaia, Bastianini and Marquez as at the very least starting the year in the mix.
And spare a thought for poor old Aprilia, which fought a valiant title campaign in 2022 with Aleix Espargaro – only, it seems, to have been somewhat forgotten about!