Even without specific context from 2022, the Ducati pairing of Enea Bastianini and Pecco Bagnaia is the most tantalising, fun and potentially volatile combination on the 2023 MotoGP grid.
In the red corner, a breakout star who, in being a just about average qualifier but a transcendent racer, has looked like something of an heir to Andrea Dovizioso – except for where Dovizioso seemed to be more of a strategic late-race master, Bastianini inspires terror through the inevitability of his charges borne out of technique and physique.
And in the… other red corner, perhaps an heir to Dovizioso's sometime team-mate Jorge Lorenzo – a rider who is the best all-rounder Ducati has, capable of blitzing lap records for fun and winning dogfights but also, Lorenzo-style, checking out from lights out if the conditions are right.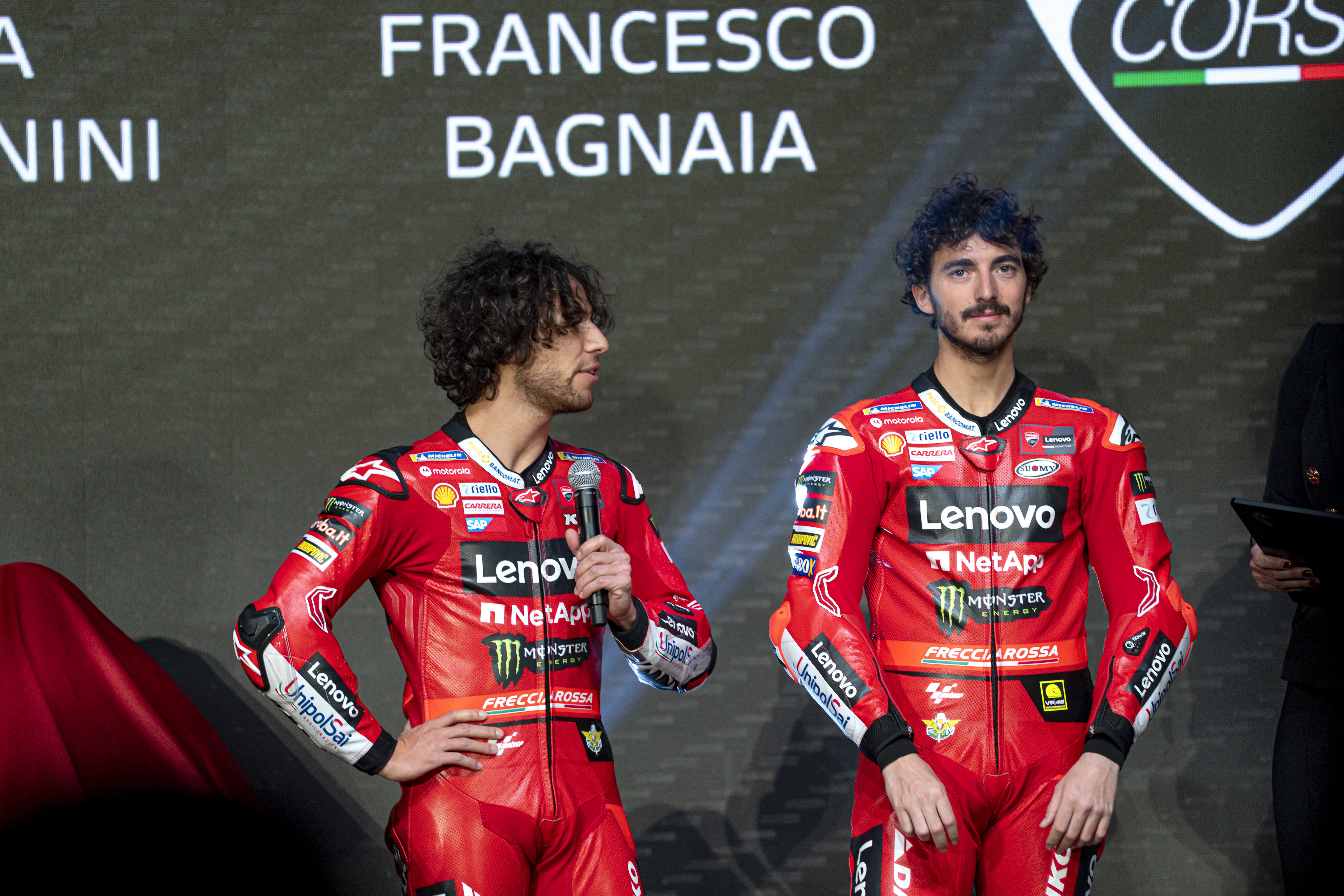 So that's two of the three/four/five best riders on the grid, in the best team, equipped what will probably be the best bike. That's already spicy – and the fact Bastianini wasn't hugely subservient to Bagnaia's title push in specific races last year (Misano, Aragon, Sepang) should make it even spicier, right?
Bagnaia doesn't necessarily agree.
"The battles of last year made a lot of noise, for sure," said Bagnaia during the launch of Ducati's 2023 challenger.
"We're both Italian. People are always searching for dualismo [antagonism].
"So, it's more from the outside that there was this pressure, that was pressing us to be aggressive.
"But it wasn't like this. We have a great relationship. We were always speaking."
It's logical for a rider to denounce a media narrative, just as logical as it is for a member of the media – like yours truly, someone who has written and said many things about the Bagnaia/Bastianini dynamic and certainly hasn't always seen it as particularly positive – to insist said narrative is reflective of reality.
In that regard, it is very important to point out that Bagnaia has every right to feel things have been exaggerated – across the 2022 title run-in, he basically never once showed any public frustration towards Bastianini (unless you count the time he mimed stabbing Bastianini in the back in parc ferme, which you 100% shouldn't, because it was funny and we shouldn't read things into people goofing off).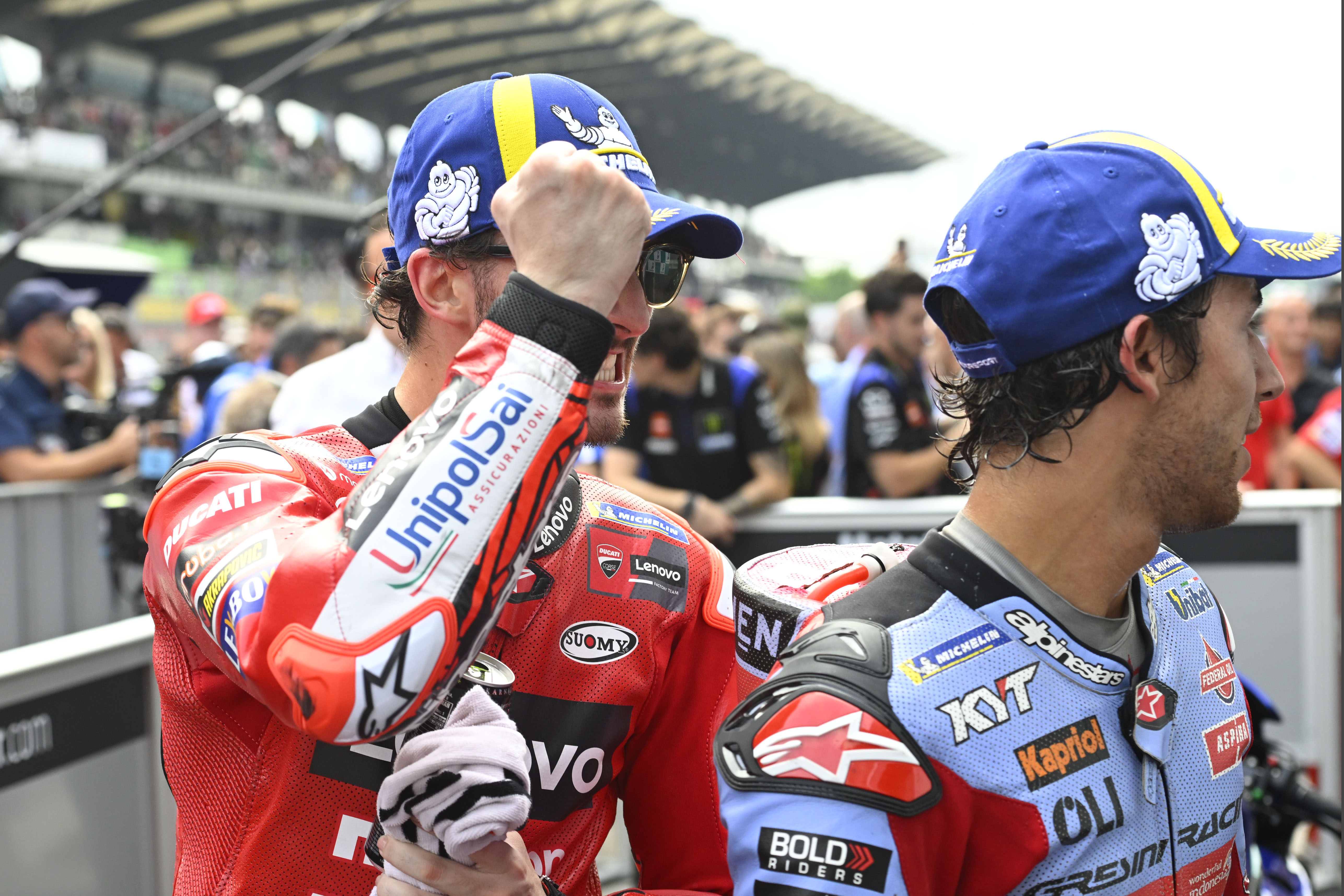 His public stance was unwavering – he did not want team orders, and was happy to take on Bastianini or whoever.
All that said, it is a matter of record that Ducati chiefs looked like nervous wrecks on TV during races that, without Bastianini, their main championship hope would have likely won with ease. It is also a matter of record that Ducati CEO Claudio Domenicali was bothered by how Bastianini raced Bagnaia at Misano.
And speaking of the record, a few months prior Bastianini went on record claiming that Bagnaia wanted Jack Miller to stay on in the works Ducati red because he preferred an easier team-mate.
That's at least some tension. But that's just who Bastianini is – and Bagnaia seems to have no problem accepting that.
"To describe Enea, the correct answer is, like he said last year, he's a bastard – because he pushes like a bastard," Bagnaia joked, referencing a social media post from his new team-mate.
"No, I think he's a smart guy, very competitive guy. We want the same thing and we will do the maximum to achieve it.
"The battle between us will be intense but we will have to be intelligent and respectful to have a good relationship."
Bastianini, for his part, was extremely cordial, too – referring to Bagnaia as "the fastest rider in the world".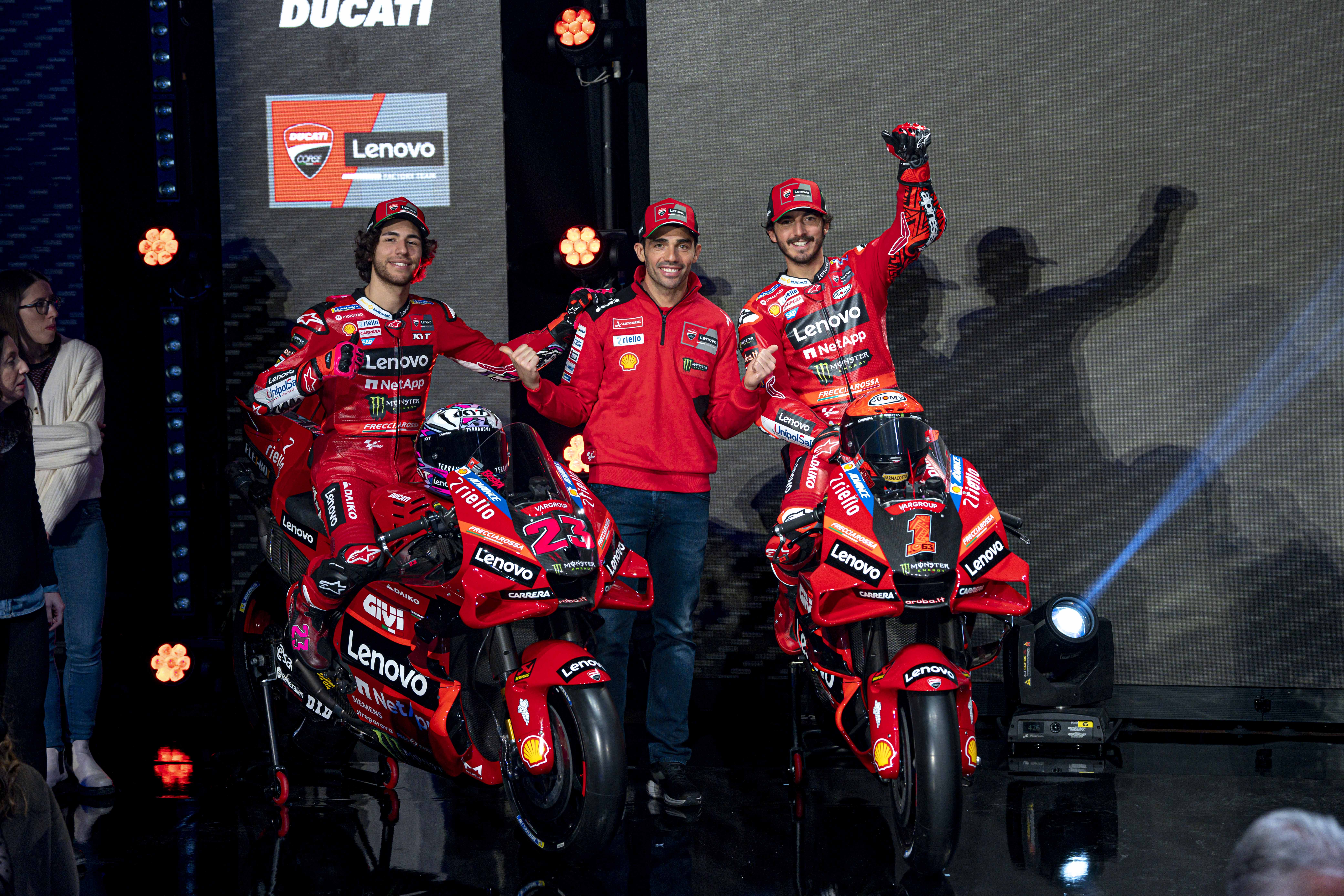 "The big difference is Pecco is MotoGP world champion, and I'm not," he chuckled, before later adding: "It's a pleasure to fight with him in the next year, to try to win."
But the newcomer, sporting an endearing Marco Simoncelli-style haircut, seemingly objected to the suggestion that he had beeb 'aggressive in a nice way' against Bagnaia last year.
"My approach with Pecco has been the same and will be the same. I'm not staying aggressive, I think, with Pecco. I only tried to do all the time my race.
"And now he's my team-mate, he's a world champion, and my relationship is really good, and I think it will continue like this."
In regards to 2022, it is very easy to let bygones be bygones. Bagnaia seemed unperturbed by the Bastianini duels, and won the title in the end. Bastianini was known to be motivated by securing the top-three championship bonus in his contract – and he got that done, too.
And now the pair are on equal footing in the title race, at least to start with, so they won't be expecting favours from each other come lights out.
But Bagnaia knows he had something special in past team-mate Miller – and, having already emphasised last year that he wanted a similar working relationship with the new KTM rider's replacement, he made a point of mentioning it again here.
"With Jack everything was settled already," he said. "With Enea everything starts from zero.
"It's true that if Enea beats me, I won't be angry. I will be frustrated. But [that's the case] with all the riders. It's normal.
"For sure Enea last year was incredible. Without the factory bike, in an independent team, he was doing a really good job. After three races he was leading the championship. He demonstrated that he's very competitive, and also in circumstances of difficult races he was there, fighting for wins. And it's correct that it's like this.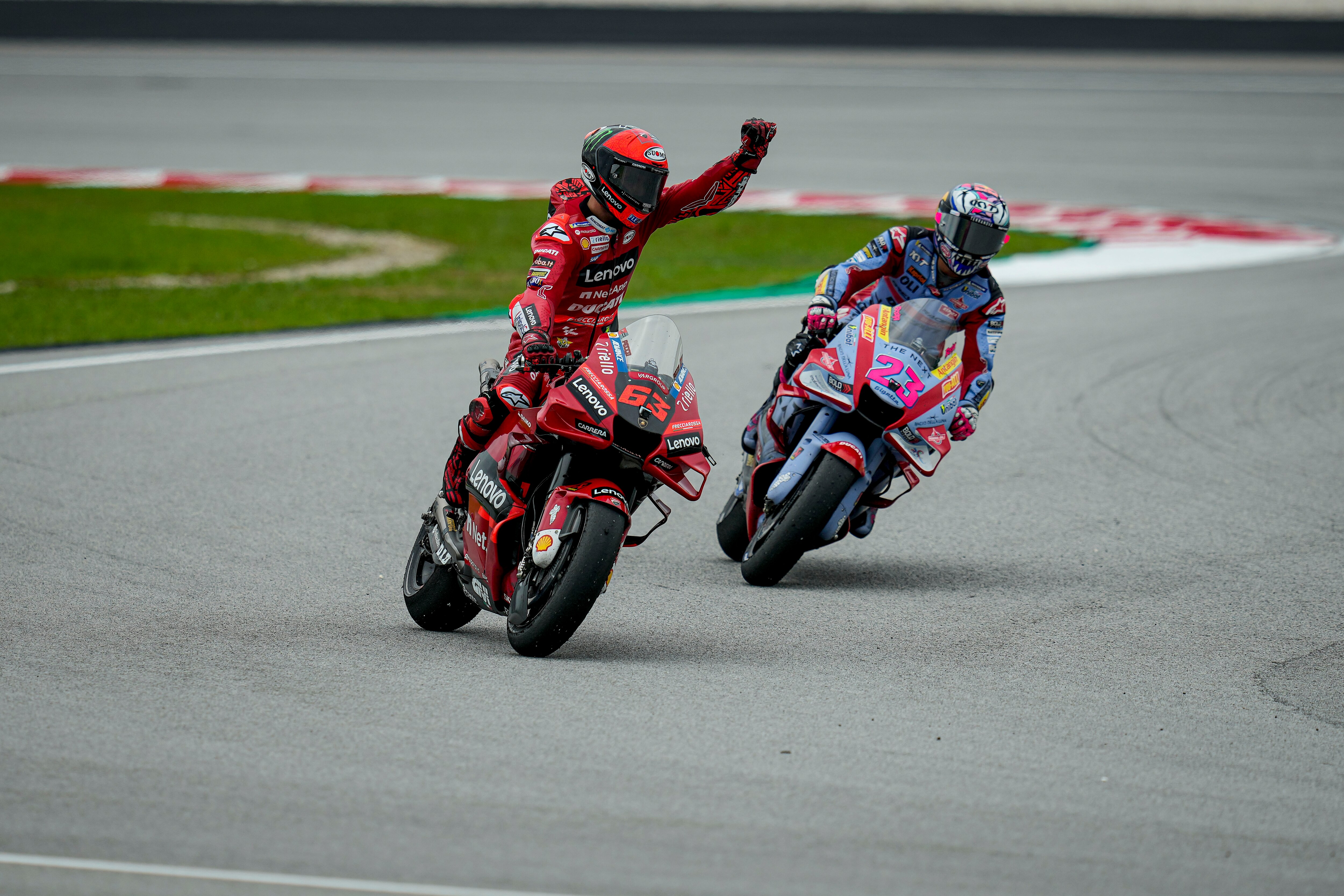 "It will be very important to be smart next year, this year. To understand that we have to be together to be [best prepared for] the race, and then the race is another story. Everyone can do what they want to do.
"But in the box we have to work well, and I think we're smart enough to understand that and to work well together."
Time will tell whether Bagnaia's new team-mate has a similar view on what factory team cooperation should look like.