Ducati MotoGP rider Francesco Bagnaia says he has no need for the factory to tell his stablemates to aid his 2022 title quest.
Bagnaia is aiming to become Ducati's second-ever MotoGP riders' champion – and first since Casey Stoner in 2007 – and has closed to within 10 points of championship leader Fabio Quartararo, having trailed him by 91 points just five races ago.
But Quartararo's lead could've been down to five after Aragon had Bagnaia held on to beat Gresini Ducati rider Enea Bastianini on the opening lap.
Given the fact, Ducati fields eight bikes in 2022, five of them works-spec, the spectre of team orders has loomed over its title challenge, but the Bologna factory has so far resisted the lure of specifically prioritising Bagnaia.
But this could change. At Misano, Ducati CEO Claudio Domenicali was perturbed by what he perceived as a potential last-lap near-miss between Bastianini and Bagnaia, and after Aragon Paolo Ciabatti made it fairly clear that the current policy – that of Bagnaia's fellow Ducati riders simply taking more care when racing him rather than specifically prioritising his results – could be altered.
"I think it was a great race for the spectators… obviously for the title, for Pecco the chance to win the title is more than for Enea, who is a little bit behind," Ducati sporting director Ciabatti said of Aragon to MotoGP.com. "Would be better for him [Bagnaia] to finish in first position, obviously, but as usual Enea is super strong in the last few laps and he was faster.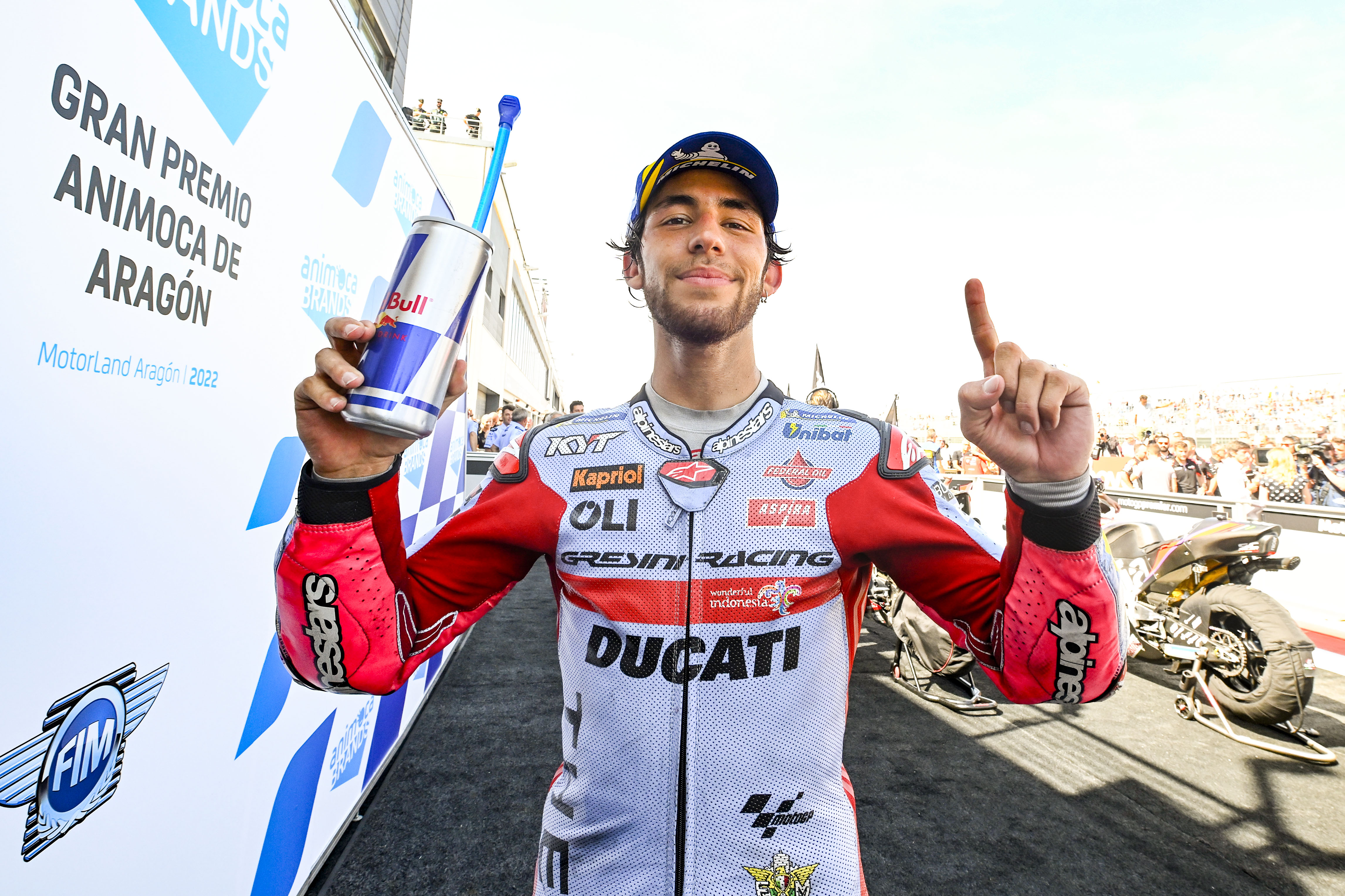 "I think we'll see [about team orders]. It's very important for Ducati to win the riders' title, we only won it once in 2007, with Casey, it was a long time ago. So obviously we need to maximise the possibilities to gain points on Fabio and see what happens."
Bastianini is 48 points behind Quartararo, so theoretically remains in the title hunt – but has himself acknowledged that he is a distinct long shot for the crown.
"There is a big question about this situation," he said when asked about team orders in the lead-up to Motegi. "Also the media pushes a lot for this.
"But I think the situation inside my box now is very smooth, for the moment. My feeling is good, and I think also Ducati wants this for the moment. And… I haven't a team order for the moment. We will see during the future what happens."
Yet Bagnaia, for his part, has not been putting any public pressure on Ducati to favour his title campaign – and has now indicated that he has even told Ducati that he was not interested in team orders.
"Sincerely, I don't think that I need some help to be in front. I prefer to win on track and not because someone let me pass," he said.
"But in any case I'm not inside of this decision, it's something that for sure I said my desire, that is to let me do what I want to do… and if they decide something different, it's not something about me.
"I will be racing, I will try to be in front and I will try to win. This is my main goal. Like I did in Aragon or Misano."