Marc Marquez is convinced he is not any kind of favourite for victory in the Motegi MotoGP race – but Jack Miller says the polesitter's words should be taken with a grain of salt, and he's far from alone in that view.
Marquez scored his first pole position since 2019 in a wet Motegi qualifying, having returned to MotoGP competition the previous weekend at Aragon after a spell on the sidelines necessitated by a fourth surgery on his right arm.
The seven-time champion is convinced that the wet track helped make up for both the fact that he is not yet fully fit and that the Honda RC213V has not been very competitive in 2022.
But his pace on the medium rear tyre in the sole dry session of the Motegi weekend so far – a session in which Marquez ended up sixth-fastest – has raised eyebrows among his rivals ahead of what is expected to be a dry race.
"I see Marquez quite strong, yesterday he did an amazing pace with the medium," said Pramac Ducati's Jorge Martin.
"He's strong," Yamaha's points leader Fabio Quartararo agreed.
"Actually he's the one that's making me doubt [consider] to go with the medium rear, because he made 1m45.1s, for sure it was kind of a time attack, but 1m45.1s with the medium is really fast.
"He has the speed, he has the pace, he's starting from pole… I think you can put a coin on him for victory."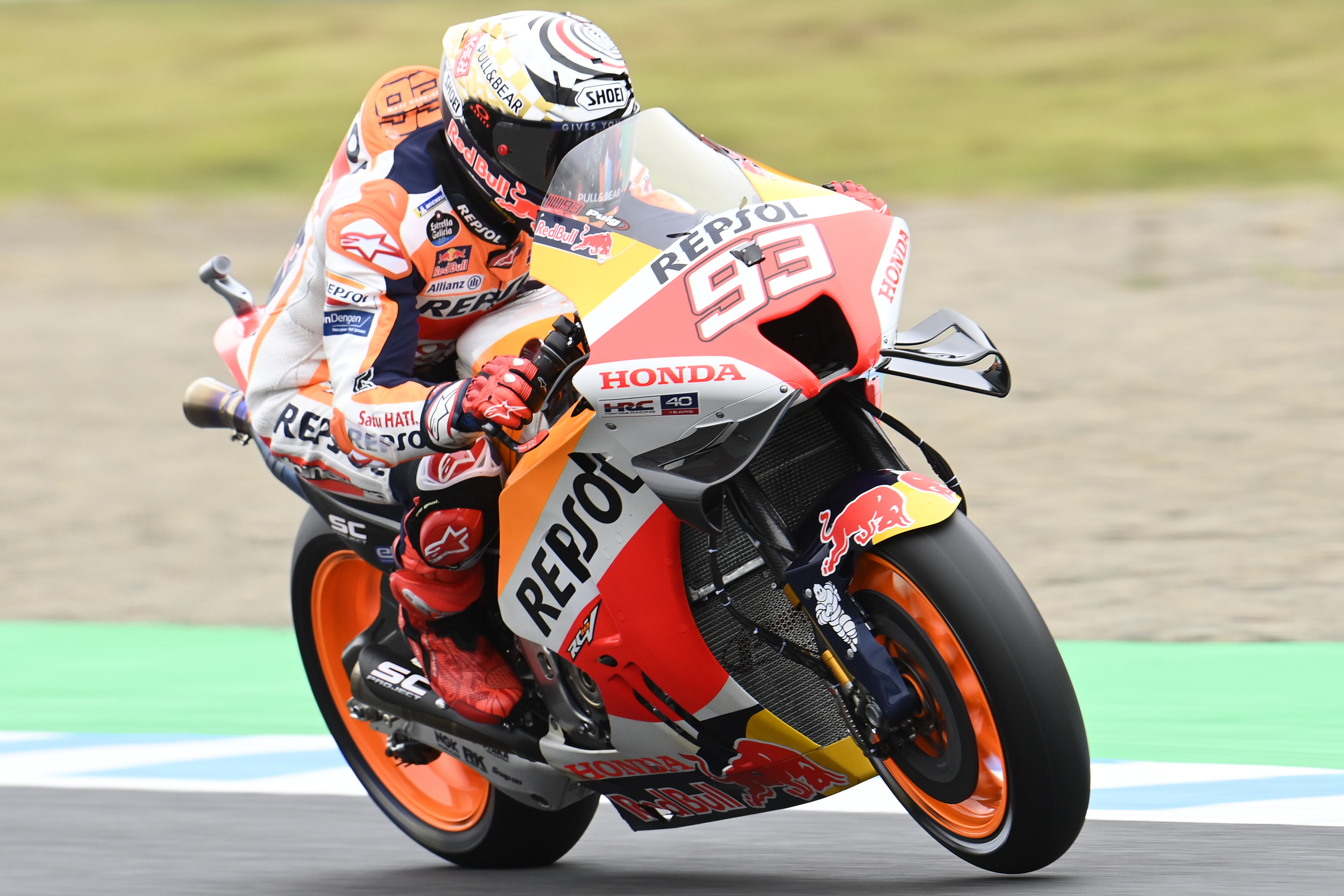 The lap Quartararo is referencing, a 1m45.195s, was indeed done with a fresh medium rear, but Marquez completed 15 laps on another medium rear tyre earlier in the session.
And his pace appeared broadly comparable to that of Quartararo, albeit with five laps in the low-1m46s margin compared to Quartararo's eight (plus one in the high 1m45s).
"My opponents didn't understand on Friday how I was riding," said Marquez when he was told his rivals saw him as a major threat.
"If the race was 10 laps, I would say, yes, the level is there, the speed is there. But for 24 laps, I am not ready.
"I already understood on Friday that I am not ready to attack all the laps. In Aragon I was able to ride like I want and keep constant, but here [at a more 'stop and go' track] the problem is, I cannot use all my energy in the first laps."
Aprilia's title contender Aleix Espargaro acknowledged that only Marquez could judge his fitness, but said it looked like in performance terms Marquez and Honda had everything they needed to go for a Motegi win – noting that the second Repsol bike of Pol Espargaro was in the top seven on Friday too.
"He's fast. He's been fast also in the dry, not just in the wet," Espargaro said of Marquez.
"Here it's about three things – the rear tyre, the speed, and in his case he has number three which is physical condition, which the others, we don't have. So… but he's very fast in Japan, always, and it looks like his bike works well here, because also Pol yesterday was fast."
And though Marquez answered with a 'no' when asked if he thought he had a realistic chance at a podium, Ducati rider Miller was far from convinced.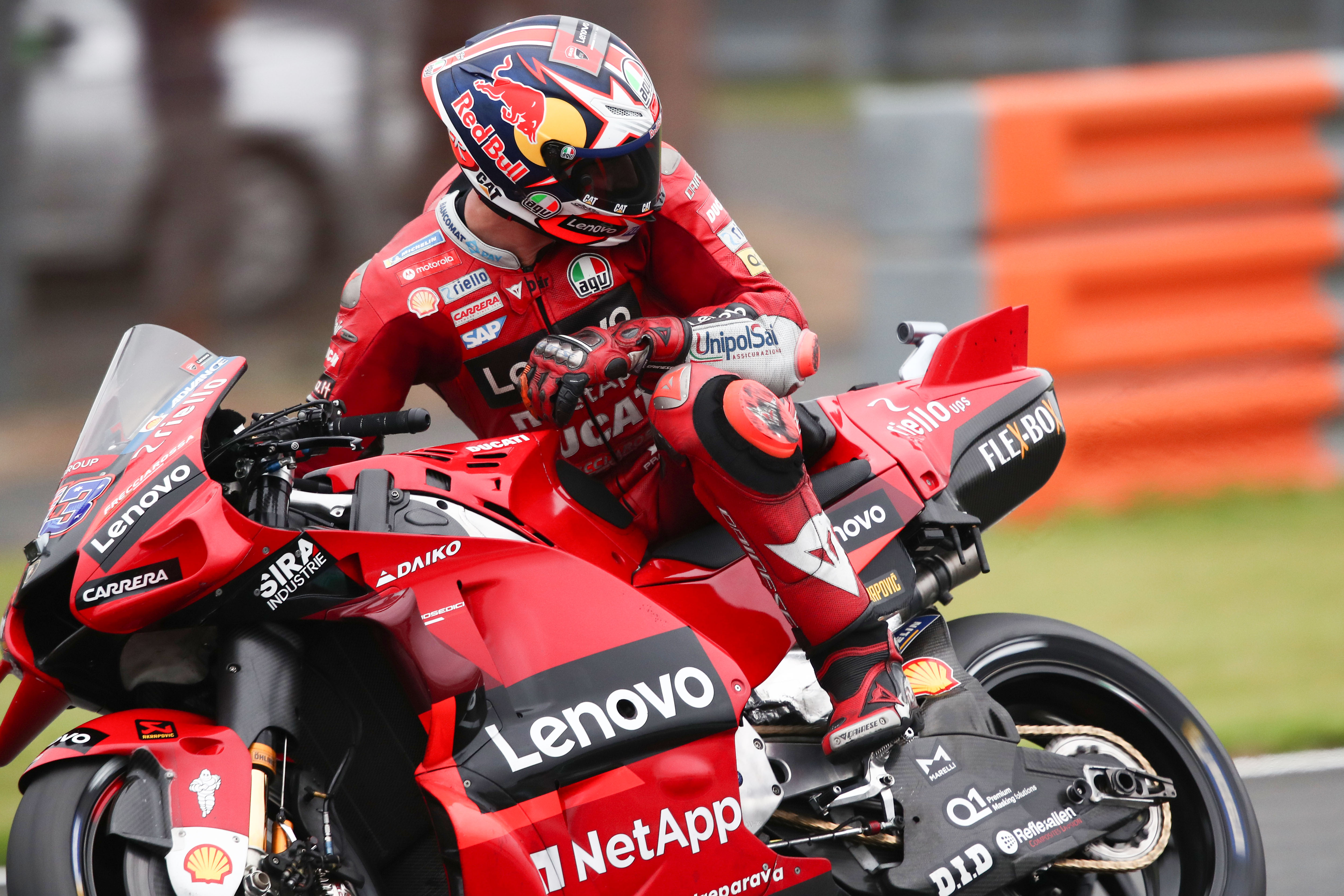 "Marc's on pole and Marc can win races around here, we all know that," he said.
"It's a tough one to say… of course Marc is going well, and we all know he can turn it on on a Sunday.
"Whether or not the fitness is there in his shoulder… It's quite physical around here. A lot of hard braking, a lot of using your arms to try to keep yourself afloat. It will be interesting to see what he can do.
"Of course he says it's not [possible] but he's said that a thousand times before. He's the boy who cried wolf. I think he'll be a threat."