Pecco Bagnaia took a massive step towards a second successive MotoGP riders' title - despite losing the Qatar Grand Prix victory battle to an inspired Fabio Di Giannantonio.
Di Giannantonio, who is out of a MotoGP ride for 2024 (being replaced by Marc Marquez at Gresini and with no alternative seats seemingly available), reeled in and overtook the defending champion to win by 2.7 seconds.
However, second place was as pleasing for Bagnaia as it ever could've been - as a disastrous race for main championship rival Jorge Martin leaves the gap between them at a huge 21 points coming into the Valencia season finale, where 37 will be available.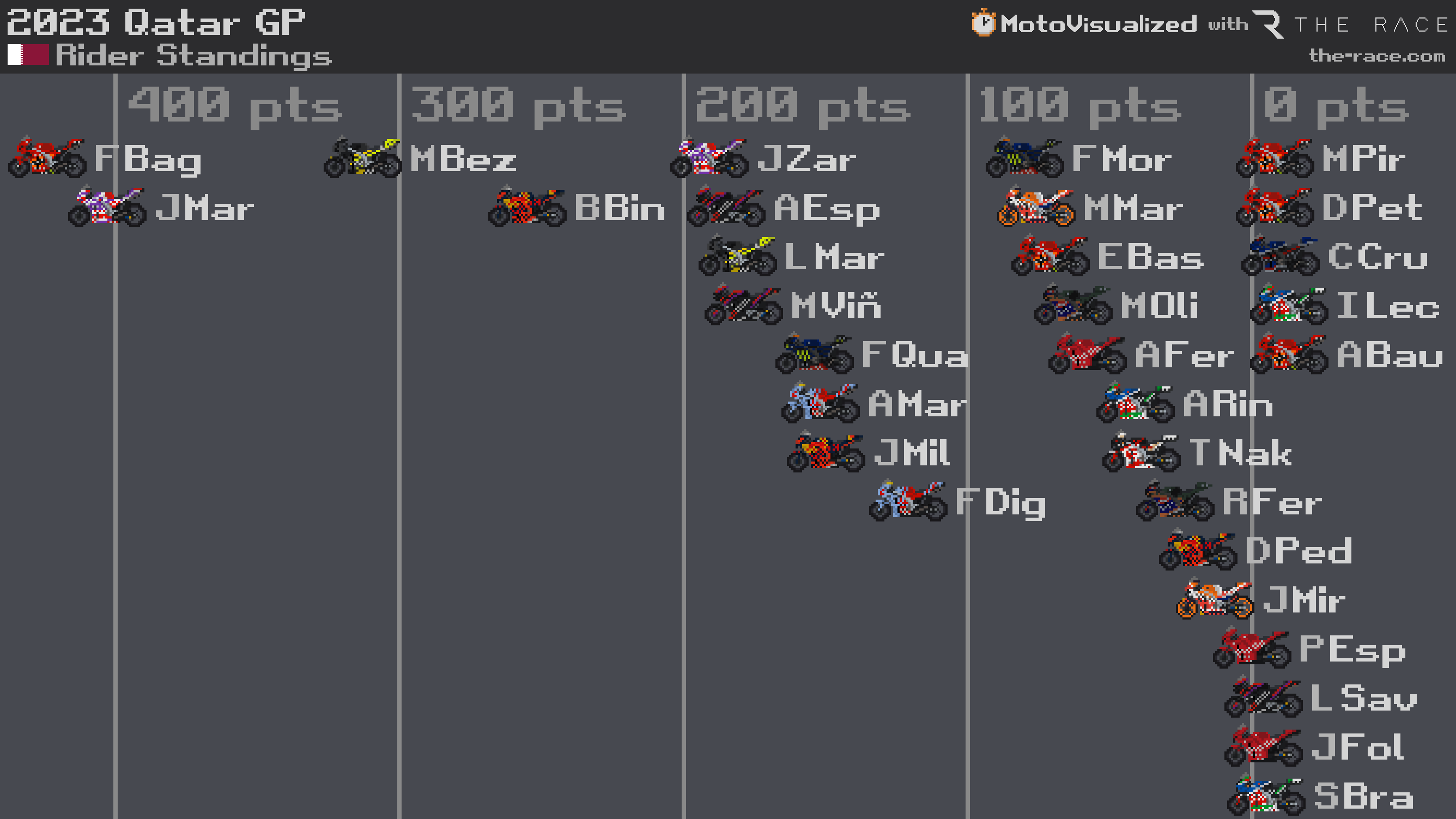 Having overtaken Bagnaia off the line in the sprint on Saturday - and then nudged him wide at Turn 1 - Martin had a dreadful start this time, his getaway more akin to his numerous worryingly sketchy practice starts during the weekend.
It dropped him to eighth place, but worse for him was that Bagnaia went the other way, taking the lead off his fellow Valentino Rossi protege Luca Marini on the run to Turn 1.
The reigning champion's lightning getaway set him up for a long stint in the lead. Marini's time in second place, meanwhile, would prove relatively shortlived - though briefly overtaken by Gresini team-mate Alex Marquez on the second tour, Di Giannantonio soon returned the favour and, on lap five, picked off Marini at Turn 6.
It was a five-rider lead group at that point, and Martin wasn't in it. Though a Johann Zarco error promoted him to seventh and he then worked his way past Marc Marquez, the Honda rider's time spent in sixth place created a significant gap to the top five.
But even once Martin found himself into clean air, his charge back towards the leaders was aborted immediately as his pace suddenly cratered.
By the halfway point of the race, it became increasingly clear that only Di Giannantonio had the pace to run with Bagnaia out front. Brad Binder had overtaken Alex Marquez with a Turn 1 divebomb and briefly threatened to run with the leaders but soon had to let them go.
As the grand prix approached its climax, Di Giannantonio hounded Bagnaia relentlessly. In an apparent reference to an old Ducati team order to Jorge Lorenzo - though not an actual team order this time but rather just a race distance heads up from the Gresini team - he received a 'Mapping 8' message on his dashboard.
Shortly thereafter, on lap 19 of 22, Di Giannantonio lined up Bagnaia at Turn 12 and sent it down the inside, managing to cover off the reigning champion at Turn 13.
And when Bagnaia sought to retaliate with the aid of slipstream on the main straight, he instead had to check up and put his bike straight to avoid clattering into Di Giannantonio.
He succeeded at that, but ran very deep into the Turn 1 run-off, coming out over two seconds behind Di Giannantonio.
Fortunately for Bagnaia, there had been a five-second buffer between the leading duo and third place, and so he was able to comfortably bring it home in second.
Third ultimately went to Marini, despite him dropping behind not just Di Giannantonio but also Alex Marquez and Binder early on.
The VR46 Ducati rider, who is expected to sign with the works Honda team for 2024 as Marc Marquez's replacement, stormed back through and then fought off a charging Maverick Vinales' Aprilia by 0.080s for the final podium spot.
Binder settled for fifth, with Alex Marquez, Fabio Quartararo (Yamaha) and Enea Bastianini (Ducati) close behind them.
Vinales, Quartararo and Bastianini all made their way past Martin, who had no semblance of pace after that initial drop and spent most of the distance a sitting duck.
While Pramac team-mate Zarco did go easy on him, he was also overtaken by Jack Miller for ninth, and only narrowly fought off the final top-10 spot in a battle with Marc Marquez, who himself had a race of going backwards.
There were only two retirements from the 22-lap contest. LCR Honda stand-in Iker Lecuona pulled up on the opening lap already with an apparent technical issue, while Aprilia's Aleix Espargaro called it a day after six laps.
Espargaro was nursing a small ankle fracture after a multi-bike collision in the sprint that had also ended the season of RNF Aprilia's Miguel Oliveira.
MotoGP's tyre pressure rules introduced mid-season yielded no time penalties this time, but just a spate of warnings for first-time offenders who had run for too many laps under the minimum.

These were Alex Marquez, Miller, Zarco and Augusto Fernandez.
Race Results
| Pos | Name | Car | Laps | Laps Led | Total Time | Fastest Lap | Pitstops | Pts |
| --- | --- | --- | --- | --- | --- | --- | --- | --- |
| 1 | Fabio Di Giannantonio | Ducati | 22 | 4 | 41m43.654s | 1m53.312s | 0 | 25 |
| 2 | Francesco Bagnaia | Ducati | 22 | 18 | +2.734s | 1m53.350s | 0 | 20 |
| 3 | Luca Marini | Ducati | 22 | 0 | +4.408s | 1m53.486s | 0 | 16 |
| 4 | Maverick Viñales | Aprilia | 22 | 0 | +4.488s | 1m53.318s | 0 | 13 |
| 5 | Brad Binder | KTM | 22 | 0 | +7.246s | 1m53.452s | 0 | 11 |
| 6 | Alex Marquez | Ducati | 22 | 0 | +7.620s | 1m53.369s | 0 | 10 |
| 7 | Fabio Quartararo | Yamaha | 22 | 0 | +7.828s | 1m53.575s | 0 | 9 |
| 8 | Enea Bastianini | Ducati | 22 | 0 | +8.239s | 1m52.978s | 0 | 8 |
| 9 | Jack Miller | KTM | 22 | 0 | +11.509s | 1m53.718s | 0 | 7 |
| 10 | Jorge Martin | Ducati | 22 | 0 | +14.819s | 1m53.693s | 0 | 6 |
| 11 | Marc Marquez | Honda | 22 | 0 | +14.964s | 1m53.610s | 0 | 5 |
| 12 | Johann Zarco | Ducati | 22 | 0 | +17.431s | 1m53.540s | 0 | 4 |
| 13 | Marco Bezzecchi | Ducati | 22 | 0 | +17.807s | 1m54.073s | 0 | 3 |
| 14 | Joan Mir | Honda | 22 | 0 | +18.673s | 1m53.714s | 0 | 2 |
| 15 | Augusto Fernandez | KTM | 22 | 0 | +21.455s | 1m53.734s | 0 | 1 |
| 16 | Franco Morbidelli | Yamaha | 22 | 0 | +21.474s | 1m54.220s | 0 | 0 |
| 17 | Raul Fernandez | Aprilia | 22 | 0 | +22.142s | 1m54.032s | 0 | 0 |
| 18 | Pol Espargaró | KTM | 22 | 0 | +27.194s | 1m54.253s | 0 | 0 |
| 19 | Takaaki Nakagami | Honda | 22 | 0 | +27.740s | 1m53.706s | 0 | 0 |
| | Aleix Espargaró | Aprilia | 6 | 0 | DNF | 1m53.864s | 0 | 0 |
| | Iker Lecuona | Honda | 0 | 0 | DNF | 0s | 0 | 0 |