Injured Honda MotoGP rider Marc Marquez will not have to serve the penalty he was handed for crashing into Miguel Oliveira and Jorge Martin at Portimao if he is not fit for next weekend's Termas de Rio Hondo event.
The wording of Marquez's penalty notice specifically states that he has been given a double long-lap penalty for the Argentine Grand Prix.
But having sustained a likely hand fracture in his Portuguese GP incident, he is not certain to contest the next round.
The Race sought clarification from the MotoGP organisers and had it confirmed that the letter of the law states that the sanction only applies to the Argentina race.
The discrepancy was first noted when the sanction notification was released by the FIM MotoGP stewards, stating, as the majority of rider sanctions do, that the penalty would apply at a specific race; in this case that the penalty must be served "in the MotoGP race at the Gran Premio Michelin de la Republica Argentina".
However, that notification is different from the one received by then-VR46 rider Celestino Vietti at the final round of the 2022 Moto2 season at Valencia last November and served in Sunday's race at Portimao, which instead changed the language used to say that the double long lap must be taken "for the next Grand Prix event".
Spotting the differing working, The Race contacted MotoGP organiser Dorna for clarification on the rule, and had it confirmed that Marquez's penalty will only apply, as the exact wording states, to the Argentine race – and will disappear should he not compete.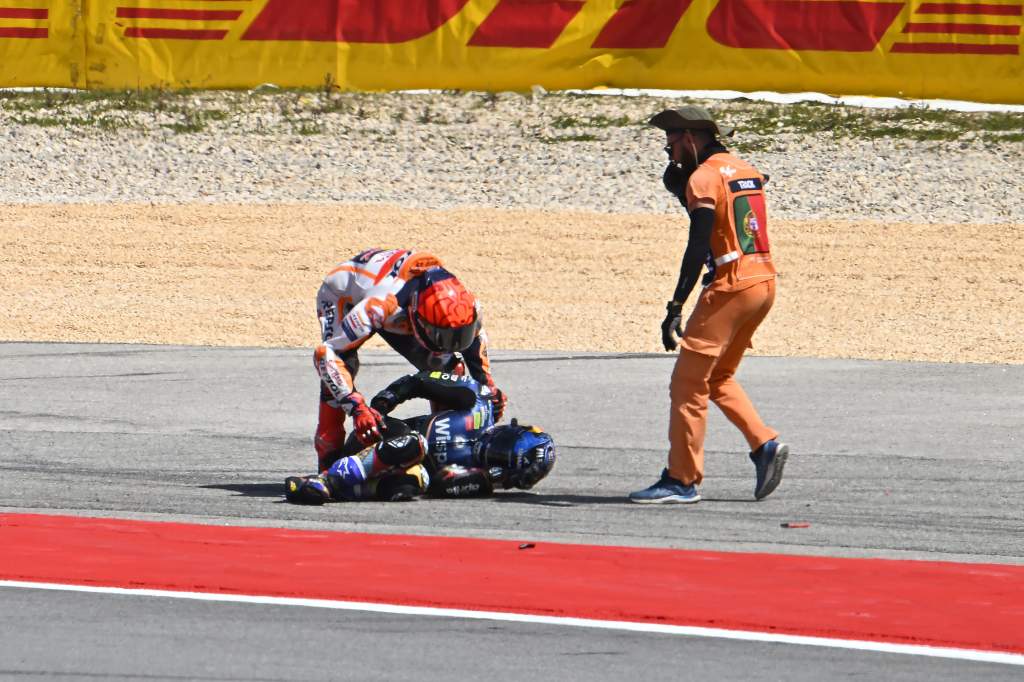 Given that there has already been criticism of the decision to only punish the six-time world champion with a double long-lap penalty for reckless riding that ended home hero Oliveira's race and left Saturday podium finisher Martin with a broken toe, the prospect of him never taking the penalty at all should he not be fit to race in Argentina is likely to ignite further controversy.
The chances of Marquez not making it to Termas de Rio Hondo remain to be seen, as he prepares to undergo fresh medical examination on a potential fracture in the first metacarpal of the right hand sustained in the fall.
That examination should come on Monday, and a confirmation of his status is expected shortly afterwards from his Repsol Honda team.
Marquez, already wearing an extensive plaster cast at the time on his injured hand, refused to comment extensively on the state of his injuries after Sunday's race, saying that given the injuries sustained by Oliveira and Martin, it would have been inappropriate.
"On my side I have some pain in my right hand and with my knee," he commented, "but this is not so important at the minute.
"I fully accept and respect the penalty of the double long-lap during the Argentina GP because I did a mistake."