Honda MotoGP rider Marc Marquez has been assessed a double long-lap penalty for causing a multi-bike incident in the Portuguese Grand Prix at Portimao.
Marquez hit Jorge Martin and Miguel Oliveira at Turn 3 while running fourth on the third lap, with everyone involved suffering injuries.
Home hero @_moliveira88 couldn't see it coming! 💥@marcmarquez93 clipped @88jorgemartin and wiped the @rnfracingteam rider out of contention ⚠️#PortugueseGP 🇵🇹 pic.twitter.com/ij6lawV1Jt

— MotoGP™🏁 (@MotoGP) March 26, 2023
Oliveira seemed to take the heaviest impact but got off relatively lightly, suffering a leg contusion that the RNF Aprilia team doesn't expect to prevent him from racing in Argentina next week.
Martin suffered a broken toe that he nursed for the rest of his race – ultimately crashing out towards the end – while Marquez is suspected to have sustained a right thumb fracture.
Aprilia's Aleix Espargaro went as far as to call for a race ban for Marquez, though several of his peers were more lenient – with podium finishers Pecco Bagnaia, Maverick Vinales and Marco Bezzecchi all agreeing that Turn 3 was a particularly difficult point and there was a degree of misfortunate to the incident.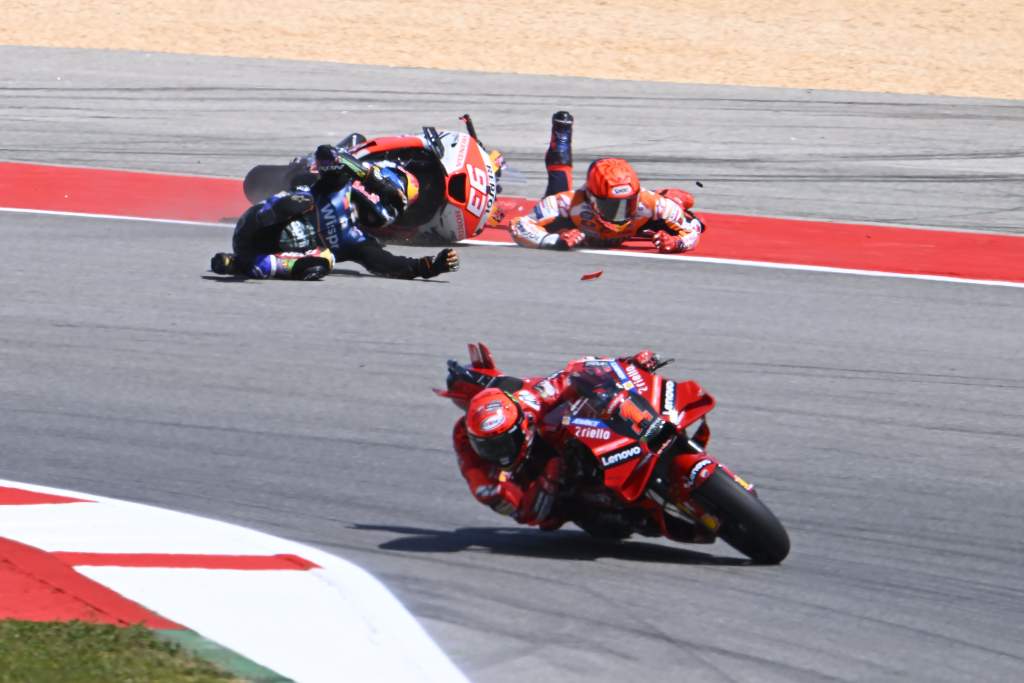 The stewards ruled that Marquez was "observed as being overly aggressive and causing a crash", which Vinales suggested was now automatically a double long-lap penalty under the slightly more formalised sanction standards this year.
For his own part, Marquez told British broadcaster BT Sport: "First of all of course I'm very sorry for Miguel. It's true that it was completely my mistake and for that reason I've been penalised for the next grand prix in Argentina with a double long lap penalty and I completely, completely agree.
"It's true that my intention was not even to overtake Martin and of course not Oliveira. I had a big lock with the front tyre because I chose the hard option and maybe it was not ready enough, with the wind it was colder. Martin was also struggling with the hard front.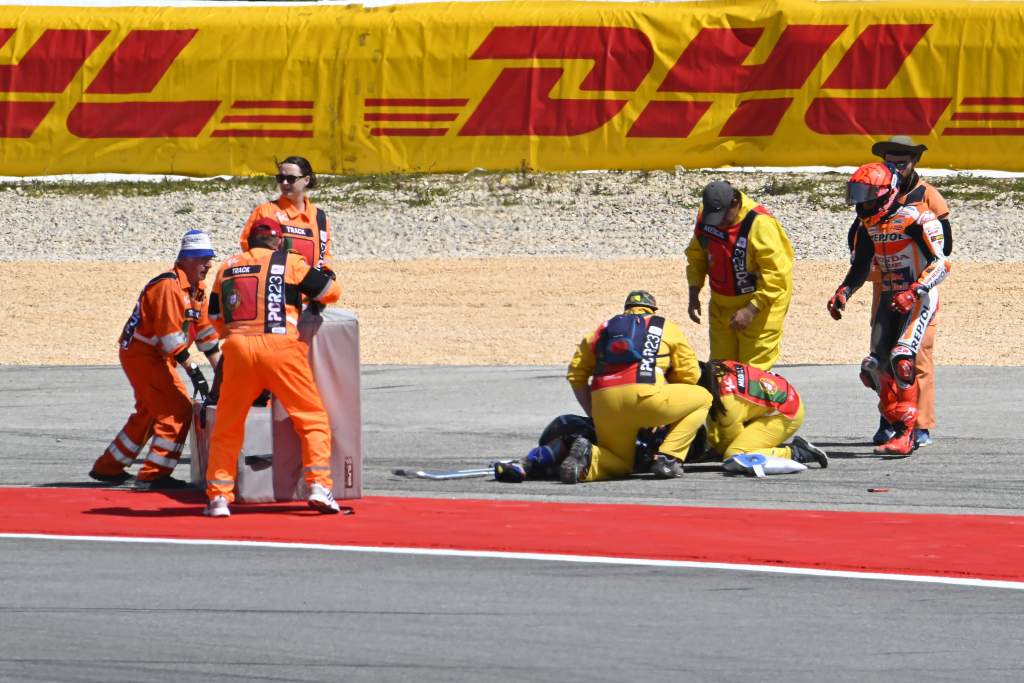 "I tried to unlock, I saved the crash, but when I released the brake the bike was going to the inside. I avoided [taking out] Martin but I couldn't avoid Oliveira.
"Luckily for him, he's OK so this makes me more quiet [calm]. But today I did a big mistake and I can just say sorry to Oliveira and to all the Portuguese fans."
Marquez will serve the penalty in his next full-length race rather than a sprint. He is currently declared as being unfit by the MotoGP medical team, so could yet miss the next weekend's round at Argentina's Termas de Rio Hondo track, where he traditionally shines.
"I don't care about my injuries. We will evaluate it and let's see," he added. "I will come back when I feel ready."