Aleix Espargaro believes MotoGP rival Marc Marquez deserves a ban for "one race minimum" for crashing into Jorge Martin and Miguel Oliveira at Portimao.
Marquez looked to have misjudged his braking at the start of the third lap of the Portuguese Grand Prix, hitting Martin coming into Turn 3 and then collecting Oliveira in a nasty impact.
Oliveira suffered a leg contusion and is in pain but looks to have avoided broken bones, while Marquez himself has a suspected hand fracture. Martin also picked up a broken toe in the impact, though he continued down the order until later crashing out by himself.
Speaking soon after the race, Espargaro argued Marquez deserves a heavy sanction – the kind Marquez's Honda stablemate Takaaki Nakagami should've got but didn't for causing his own multi-bike accident at Barcelona last year.
"For me they have to ban one race minimum. Like Nakagami in Barcelona. If not… for me it's ridiculous," said Espargaro.
"But I don't care, I don't make the rules. The only thing that I'm worried is, I hope Miguel is good. Because the speed he hit Miguel, you can destroy the knee.
"I know because like this Bradley Smith hit me in Barcelona, he broke my knee. And… I had a lot of pain for one year. I had to race with [inflammation] and everything for one year. So hopefully Miguel is OK."
The Espargaro/Smith collision came in 2019 at Barcelona, when they were team-mates at Aprilia.
For his part, Oliveira did not comment on Marquez's actions after the race in a statement supplied by his team RNF, as he elected not to face the written media due to being in pain.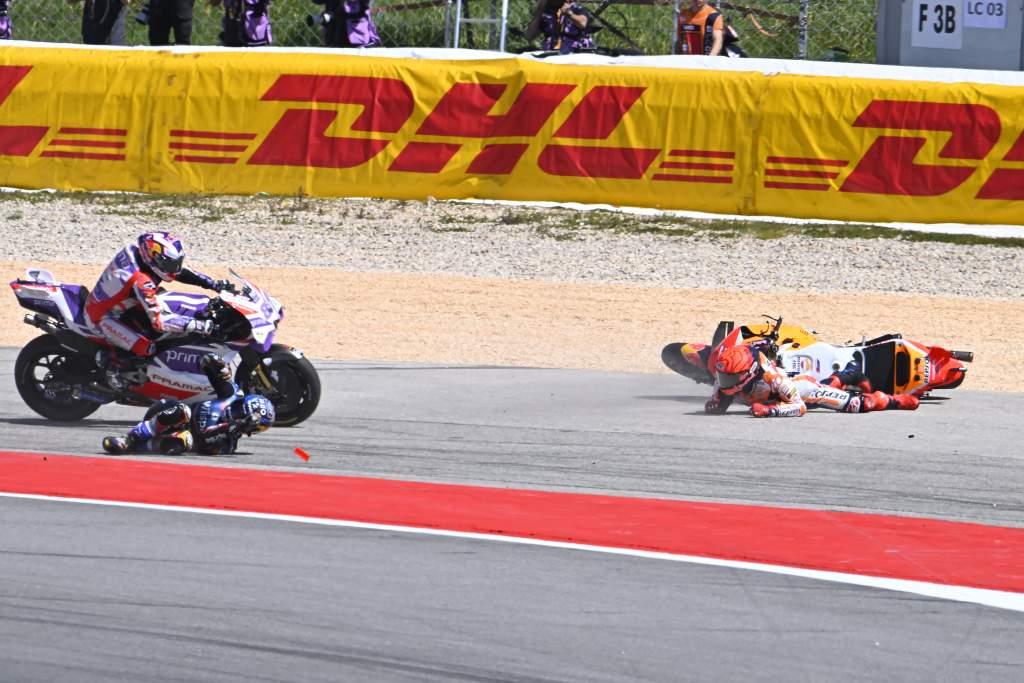 "Today was a shame. Obviously, to end my home GP in two laps is something that I wasn't expecting, for sure," he said.
"Luckily from the crash- I'm still very bruised in my hip on the right side. Hopefully I will do everything I can to be fully fit for Argentina next weekend."
Honda team principal Alberto Puig told DAZN that Marquez was not even trying to overtake Martin or Oliveira, and had simply locked his brakes.
"The tyre was not up to temperature," said Puig. "He braked, he locked up – and when he released the brake, the bike went. It wasn't his intention to try an overtake."
VR46 Ducati's Marco Bezzecchi, who was seen reviewing the footage of the crash post-race with his fellow podium finishers, was more lenient than Espargaro.
"You know, corner 3 is a little bit of a bastard," Bezzecchi said in MotoGP.com's After The Flag show.
"You just brake five metres later and you don't stop at all. It's easy to make some mistakes, especially when you are in a group and you try maybe to overtake, you can make some mistakes.
"But, you know, in the first laps, to be so aggressive is sometimes a bit dangerous – but it's something also that can happen. I don't want to say nothing to this. It's just racing."