An enraged Alex Rins has hit out at rival Taka Nakagami and the MotoGP stewards panel over the events of the Catalan Grand Prix at Barcelona.
Nakagami crashed at Turn 1 at the start of the race, his accident also removing Francesco Bagnaia and Rins from the contest – with Bagnaia's Ducati being hit by Nakagami's head and Rins sent airborne from his Suzuki after an impact with the Japanese rider's Honda.
Both Nakagami and Rins have had to go to hospital in the aftermath. The former avoided "serious head injuries" as per an initial examination but suffered pain in his right shoulder, while the latter incurred what he suspected was a left wrist fracture – a prediction later confirmed in an MRI scan.
It was the second MotoGP race in a row that Nakagami and Rins had a collision that ended the latter's race, and – while sympathetic of his rival's pain – Rins made it clear that Nakagami's aggression had to be reined in.
He also appeared to hint that he had lobbied for a suspension for the Japanese – as had been incurred by Moto3's Deniz Oncu last year – and suggested that the verdict of no further action that came in after the incident was investigated suggested the MotoGP stewards' panel, led by past 500cc champion Freddie Spencer, was simply not up to the task.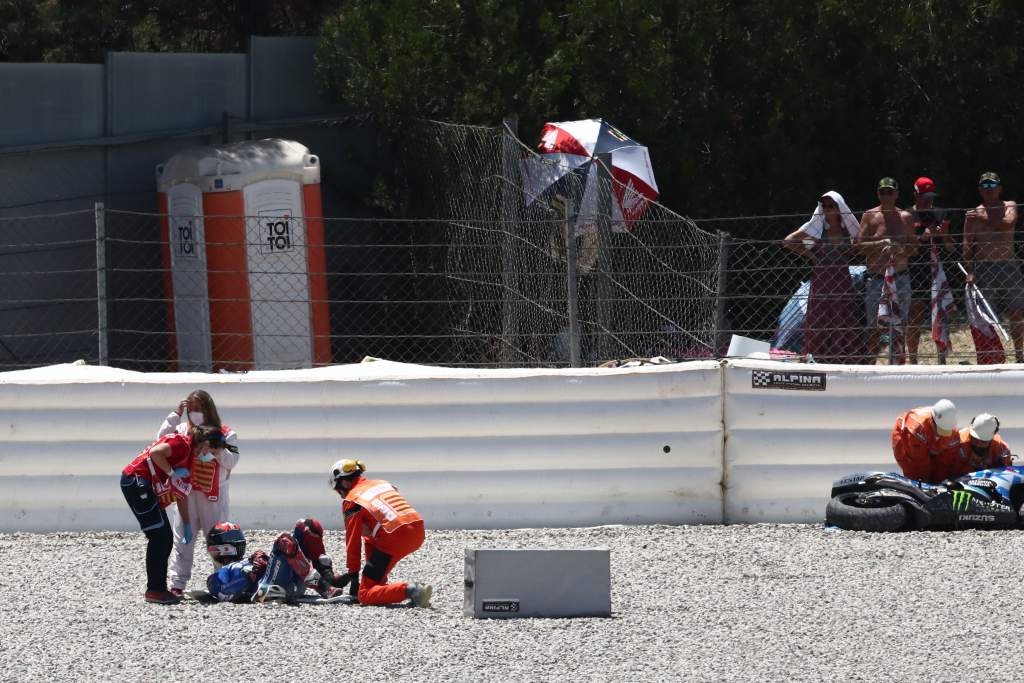 "Well, sincerely… first of all, I hope that Taka is OK, because I saw him with the face [grimacing in pain] very bad. But he cannot go like this. He cannot ride like this.
"You never want that a rider, that a rival gets injured, OK… but he was over the limit in that action. This is the first thing I want to say.
"But the second thing is, it's unacceptable. We cannot go like this. The race direction, the stewards, make zero sense what they say. To say 'no further action' about what happened in the race… for me I already said to Freddie when I was there in Mugello, that in my opinion they need to penalise with the same penalty as Oncu received last year, no?
"But… it's crazy. For sure, and today they demonstrated it on TV, that the stewards are not on the level of MotoGP."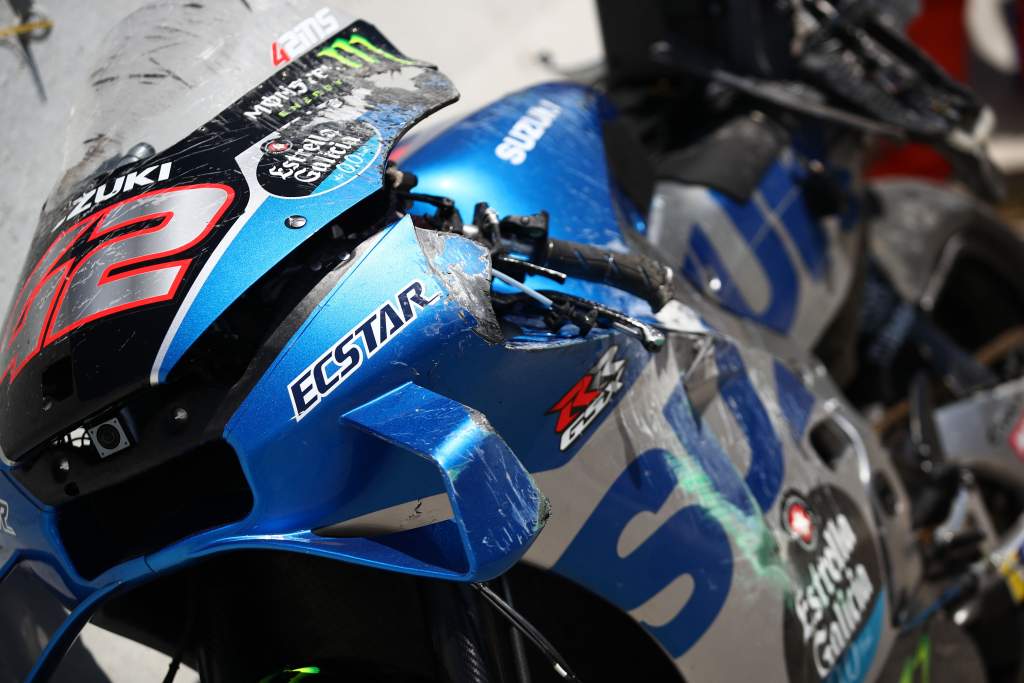 Rins would repeatedly restate his belief that the stewards' panel was not fit for duty throughout his session, and made it clear he wanted it to be completely re-staffed.
"In the end, his bike touched me and I flew so badly. I think my left wrist is broken.
"I will go now to Dexeus [hospital in Barcelona] to check it. But it looks bad. Because I cannot move [it] more [than a certain angle].
"I am so sad for the decision that they [the stewards] took. I can't say more. We had an incredible pace today."
The Race contacted MotoGP for a response to Rins' complaints but the championship organiser declined to comment.
MotoGP did however explain in its end of day press release that the incident did not meet the "established threshold" for incurring a penalty.
It said the stewards reviewed footage of the start from a "multitude of angles", including from overhead, and judged Nakagami had "braked at a similar time to riders around him".
It is not the first time in recent years that somebody triggering a potentially championship-altering crash at Barcelona and escaped without sanction, with Nakagami's incident bringing to mind Jorge Lorenzo's fall at Turn 10 in 2019 that collected all of his Honda team-mate Marc Marquez's chief championship rivals.
And Rins felt that in Nakagami's face there was also added factor of how the LCR man had approached Turn 1 – darting from the inside of the corner to the outside and even briefly clipping the front tyre of fellow Honda rider Pol Espargaro.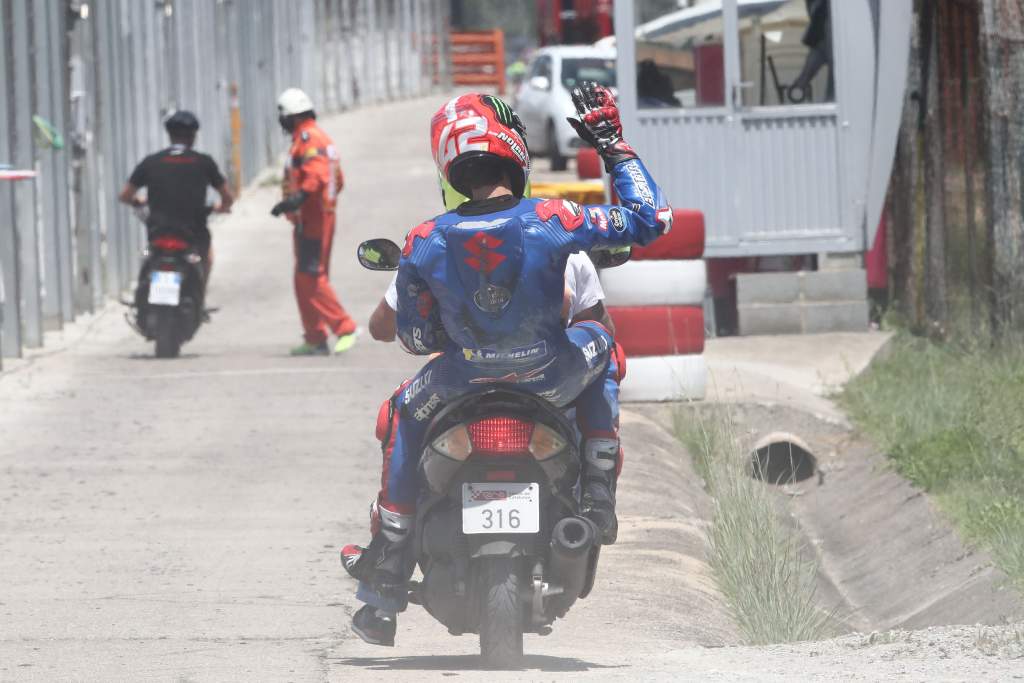 "I mean, 'no further action' about what happened?" Rins continued exasperatedly. "First of all, Taka crossed the track a bit aggressively – if was some riders close to him, for sure he would touch.
"And second one, he braked so late, and he lost the front. It's obvious."
Rins' view of the crash was fully shared by Bagnaia, who likewise took aim at both the stewards' verdict and Nakagami's action.
"From a professional rider like he is, you cannot expect [to collide] with him in the first braking in the first lap, when he was 12th [on the grid] and he was trying to overtake 10 riders in the first braking – crossing the line of a lot of riders," Bagnaia said of Nakagami.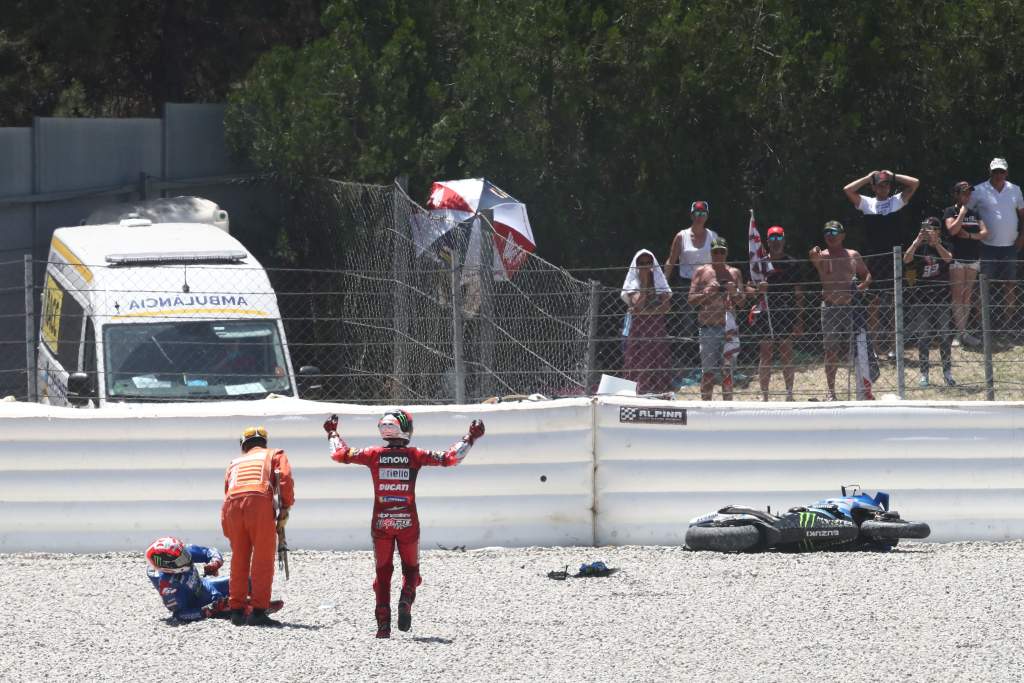 "If I was not there he was surely on the gravel and his race was already finished.
"I can't understand what he was expecting to do with his braking. Maybe when he will be back – I hope he will be back soon – I will ask him."
Of the stewards, Bagnaia said that he felt "they did a mistake today".
"No further action of the crash of today is unbelievable, for me, because he was so [far] behind that he touched me, I was third!"