Even as recently as a few short months ago, the prospect of six-time MotoGP world champion Marc Marquez ditching his factory Repsol-coloured Honda bike (even as beleaguered as the team was) and trading it in for a satellite Ducati at Gresini Racing was nothing more than a far-fetched dream.
But that's exactly what became a reality on Thursday, as his move to the Italian squad was finally announced.
Rounding out weeks of speculation and a will-he, won't-he back-and-forth that has kept the entire MotoGP world on tenterhooks just while watching from the outside, it's been another level of stress entirely for those inside the satellite team trying their hardest to pull off one of the greatest coups in the sport's history.
Yet that pressure comes to a team that is more than capable of dealing with the absolute highs and lowest lows not just of racing but of life, something it's demonstrated multiple times since team founder Fausto Gresini tragically died two years ago just as the team split from Aprilia to become truly independent again - and then, under the steerage of his partner Nadia Padovani, went on to return to the top step of the podium thanks to first Enea Bastianini and then Alex Marquez.
And, with that emotion still very much fresh in the staff's minds, team commercial boss Carlo Merlini said it's meant that the past weeks of work have very much been a case of finally closing one chapter of the team's illustrious history and preparing to start another with not one but two Marquez brothers in its ranks.
"It's been the end of something and the beginning of something else," the veteran team figure told The Race shortly after Marquez's arrival for 2024 was announced at the Indonesian Grand Prix. "Two or three months very intensive, also from an emotional perspective - a real rollercoaster.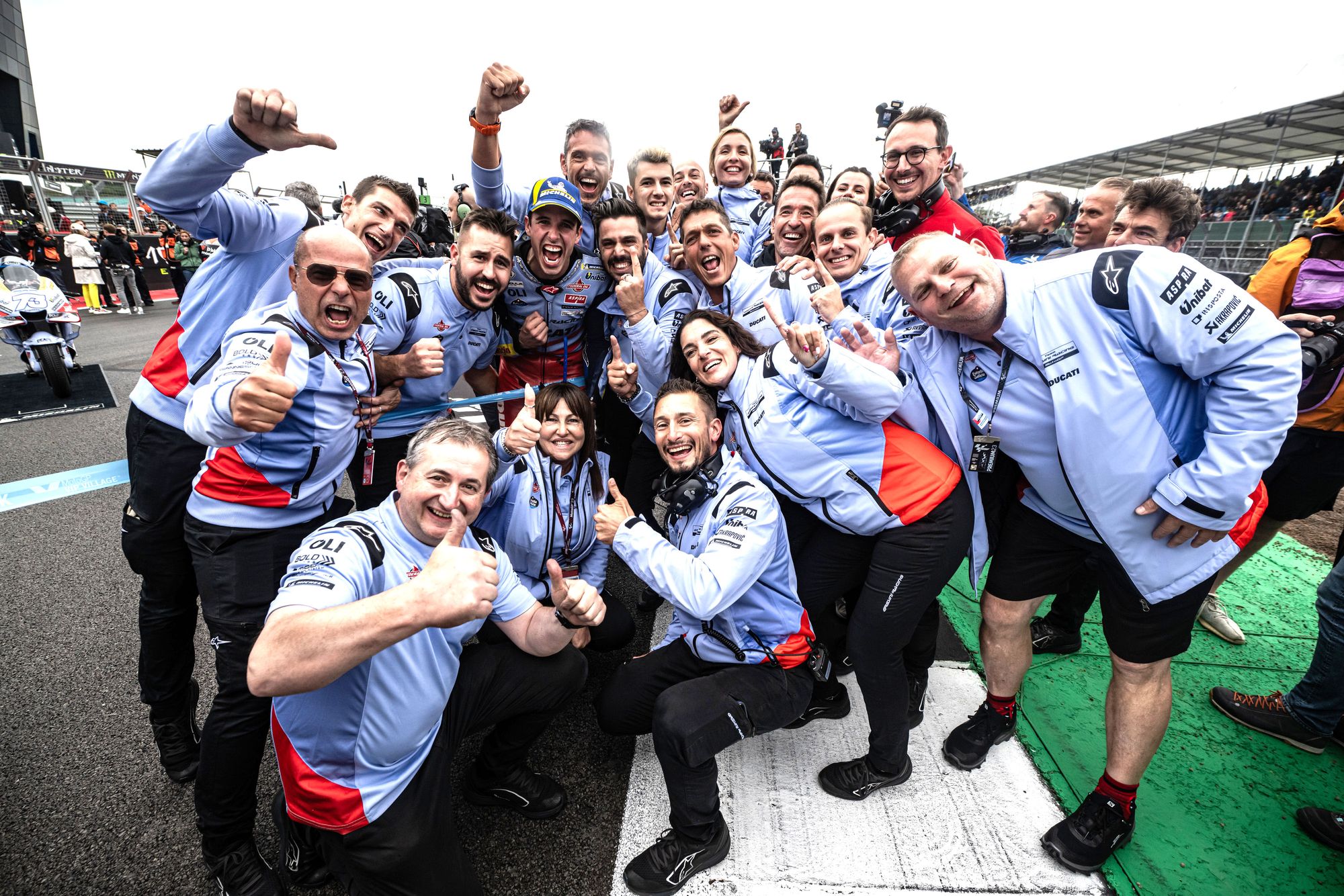 "Sometimes you have the feeling that we can make it, sometimes the mood was not that good because you can see that things were a bit more complicated. But today, making the announcement, it's something big for us and we are so happy.
"You can imagine how big it is for a private team, an independent team, to think and to dream and then to actually have him in the line-up. It's a great day, and it's a new story that will start."
Coming as a huge success for arguably MotoGP's smallest team and definitely one that very much remains a family-run organisation within the box, it also means a lot of hard work ahead - but, with Marc Marquez adamant that finding joy from racing again is the primary task in the coming months, it's one that Merlini clearly believes his squad is up for.
"It's a very nice story that's happening for the team," he added, "for what we've gone through in the past years, and how we're handling and managing the post-Fausto chapter of Gresini Racing.
"It's a nice story because it's a challenging thing to get Marc to where he belongs again, but that makes it a good day to celebrate.
"As Marc said, it's mostly his move, his brave move to leave what he left. We've been standing by for a while, just waiting for him. If he wants, the door is open, if he decided to choose Gresini.
"As he said, he had several options, and in the end probably above the money, above the technical package, what really counted was to go to a place where he could find a cosy, mellow and familiar atmosphere. This is probably the main factor to perform at the proper level."
And while the team might very much be looking towards the future right now with its Marquez ambitions (which arguably even stretch as far as championship glory), Merlini said he would still very much like to know what his friend and partner Fausto would've thought of the success it's already enjoyed in signing up motorcycle racing's hottest property.
"I don't want to go too much into the emotional part," said Merlini, "but sometimes I would just love it if I could open a window and let him see what his boys and girls are doing down here. I would love to hear his feedback!"