Neither MotoGP championship leader Pecco Bagnaia nor his main rival Jorge Martin believe Bagnaia is likely to be hugely compromised by his Friday disappointment at Mandalika.
But both are well-aware that Bagnaia's less-than-ideal start to the Indonesian Grand Prix weekend has given Martin an edge - something that is harder to shrug off now that the gap between the pair is three points.
While Martin comfortably worked his way into an automatic Q2 spot for Saturday morning by placing in the top 10 in the hour-long Friday afternoon practice, Bagnaia missed out - and it didn't make for pretty reading, with the Italian only 16th, four tenths off the 10th place he had sought.
A closer look reveals his situation is nowhere near that perilous. Bagnaia was not the 16th-fastest rider on track - his decisive final run on a new soft tyre was compromised by yellow flags and then conclusively ruined by a final-sector error, but had he simply mirrored the sector time from his previous lap it would've been a 1m31.061s - which would've slotted Bagnaia into sixth place, right behind Martin.
Late drama for @PeccoBagnaia at T15! 😱

The reigning World Champion made a costly mistake while chasing a Top-10 spot ⚠️#IndonesianGP 🇮🇩 pic.twitter.com/gs74Amnngp

— MotoGP™🏁 (@MotoGP) October 13, 2023
The underlying performance is therefore clearly there for Bagnaia to have at least made the top 10 - his title rival recognises as much. Equally, though, Martin recognises the significance of Bagnaia not having delivered on that performance.
"I saw he was outside [of the top 10], and it's a bit strange for him, staying out of Q2, but I feel like he will get to Q2," Martin conceded.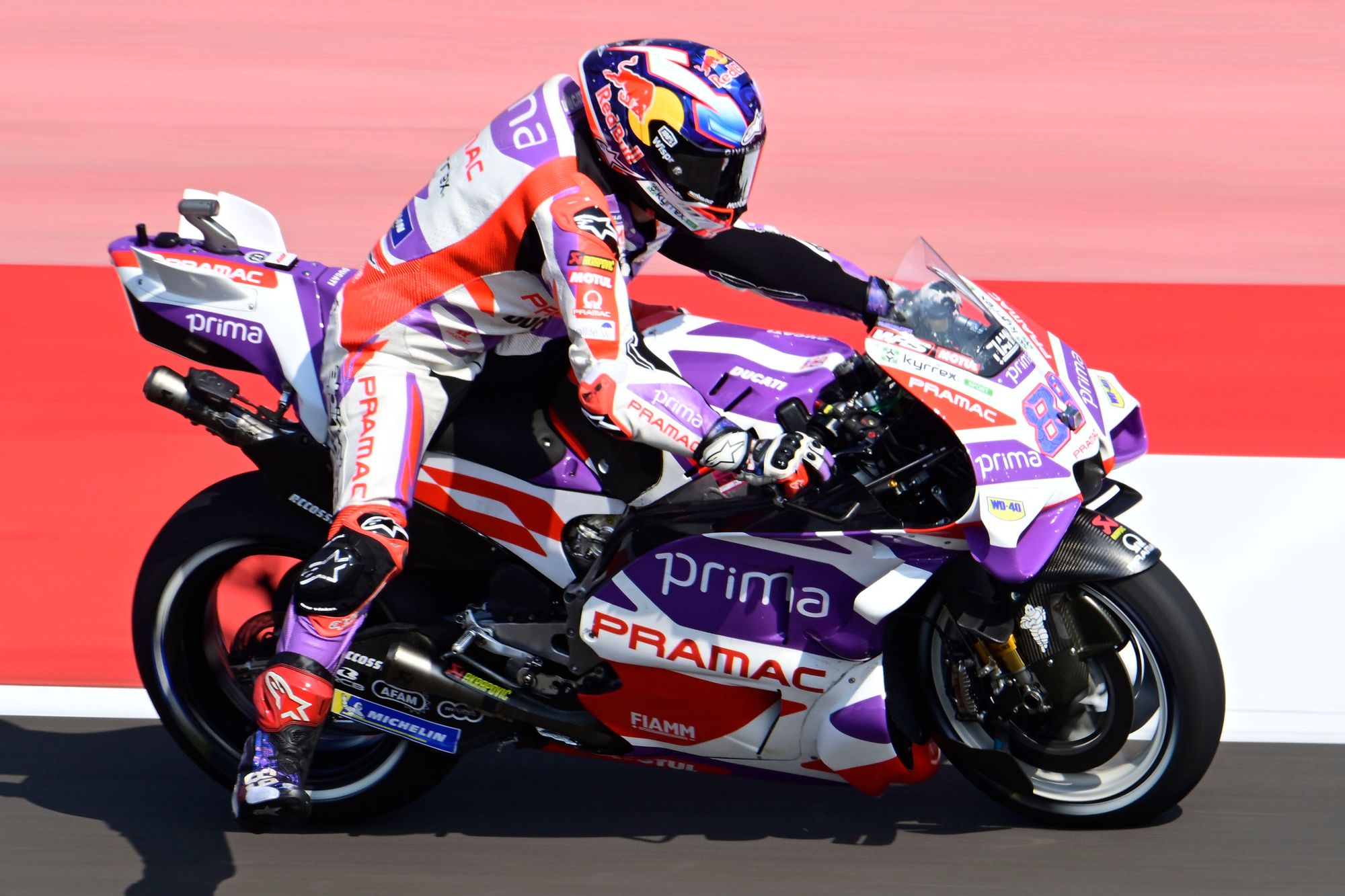 "The thing is, he will have one less [soft rear] tyre if he goes through, so this is important, it's like the first mistake, let's say.
"The important thing we are in and we can just focus on trying to work on the race in the best way."
Bagnaia, for his part, was relaxed - even joking that this was simply his way of reclaiming the spotlight. "It's just because you yesterday spoke too much about Marc!" he quipped, referencing Marc Marquez's signing with Gresini.
In fact, the Italian went as far as to say that, having had some discomfort with his bike in recent rounds, he and his Desmosedici GP23 are once again in sync.
"I was not expecting, honestly, to be out of Q2, my feeling with the bike finally is back, I feel incredible with the bike, I can brake very hard, the corner speed is insane, the level of grip is huge compared to the last three-four races. So I was very happy.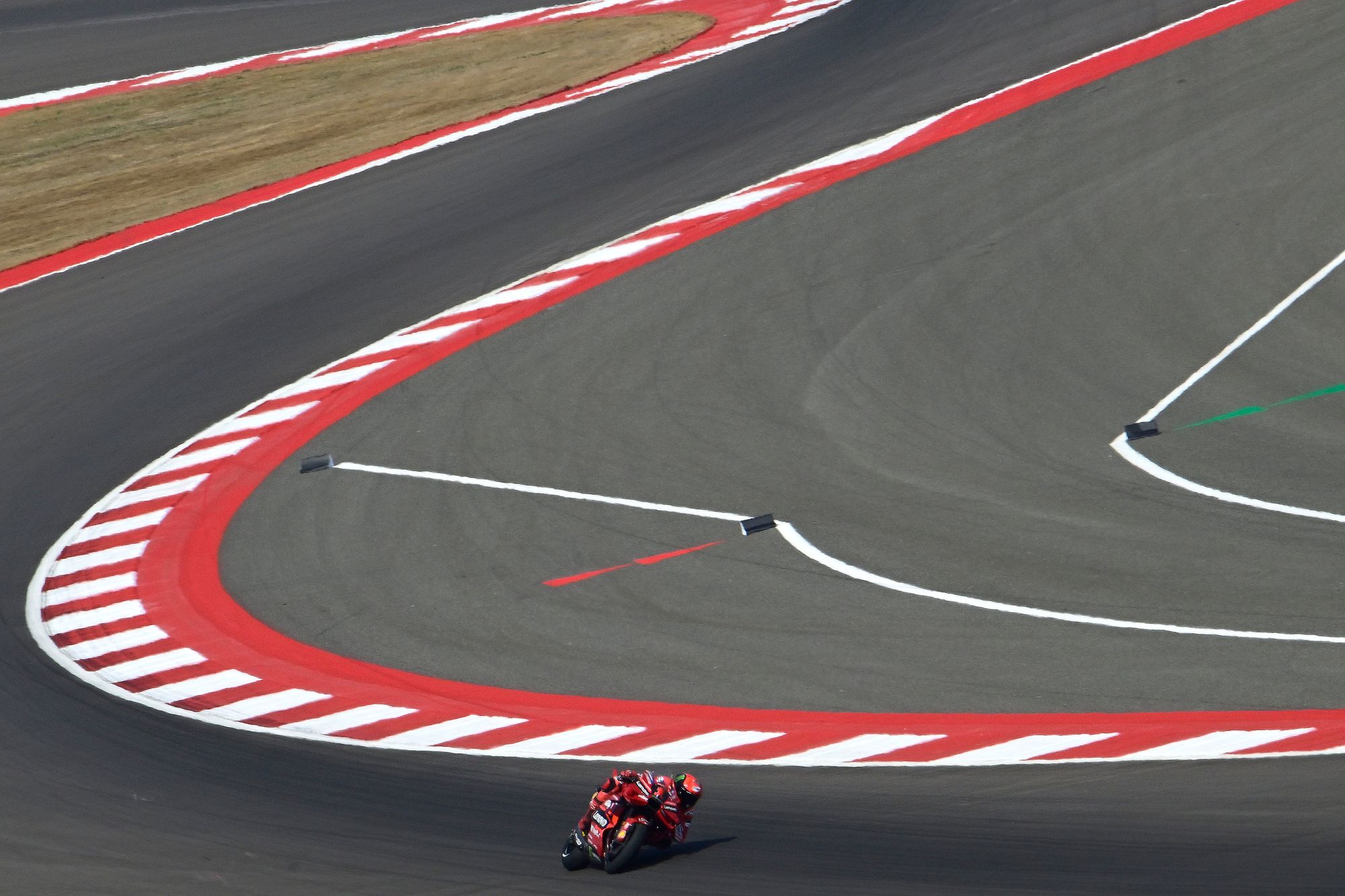 "Then... we improved on that but unluckily we lost something on electronics [set-up] that today didn't work as it expected, maybe because different tyres [harder-construction rears used at Mandalika for more stability], the [resurfaced] Tarmac is different... maybe other things.
"Maybe it's for that that I was struggling. Normally our bike is very smooth on acceleration, very smooth on the braking, but today the rear of the bike was very, very aggressive. I was losing the rear in conditions that I was not expecting it.
"But I'm happy that the problem comes from the electronics side. And it's not a problem, it's just something to adjust better. And thanks to that I'm quite sure it's easier to improve. If it was a problem from the [mechanical] settings, for sure it would be more difficult."
Bagnaia also feels physically "100 percent maybe the first time after Le Mans, so I'm very happy about it".
Opposition that Bagnaia will encounter in Q1 will include the likes of usual Q2 participants Johann Zarco (Pramac Ducati) and Luca Marini (VR46 Ducati), but he does clearly like his chances of fighting through.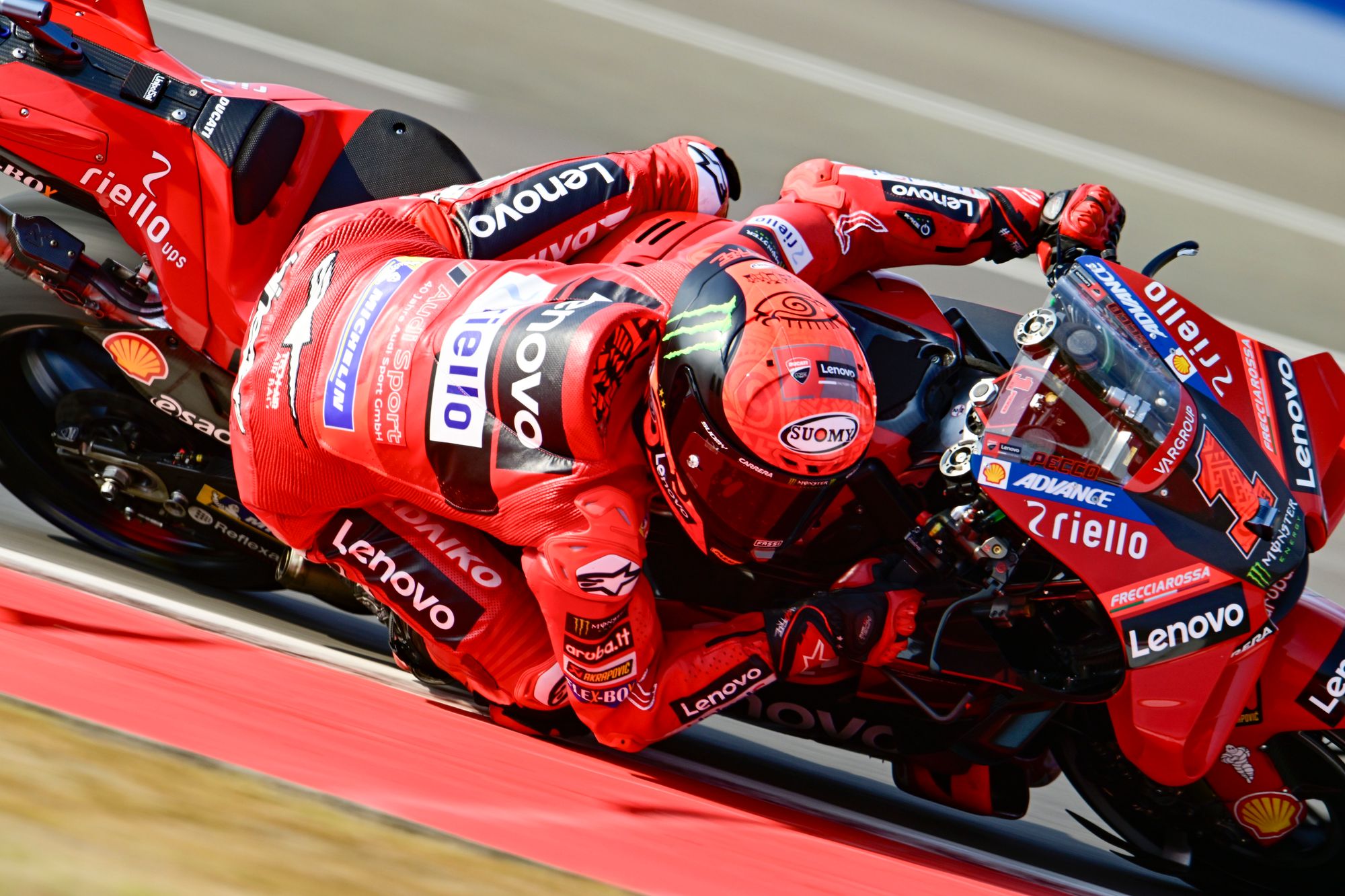 "In Jerez I was in Q1 and then we won the race the day after. I am not so scared about it, not so worried about it. Also like I said, I know perfectly that the problem, what we have to adjust, it's the electronic side and it's easier to improve."
At the same time, like Martin, Bagnaia has alluded to the fact he may have to use an extra soft rear tyre - which would restrict his ability to do two fresh-rubber runs in Q2. And he's wary of compromising his Q2 because of how the racing may be.
"I think we have just a very short line, very small racing line, because outside is very dirty. So starting behind can be a problem, because doing overtakes here is not easy, already in a normal situation, but like this even worse.
"So will be very important to start from the front."
It also shouldn't be taken for granted that he will make Q2 - and if he doesn't, it suddenly creates a massive handicap.
On the whole, there's a very real chance that this weekend will offer the duelling Ducati pair fewer points in their head-to-head fight than some of the others coming up.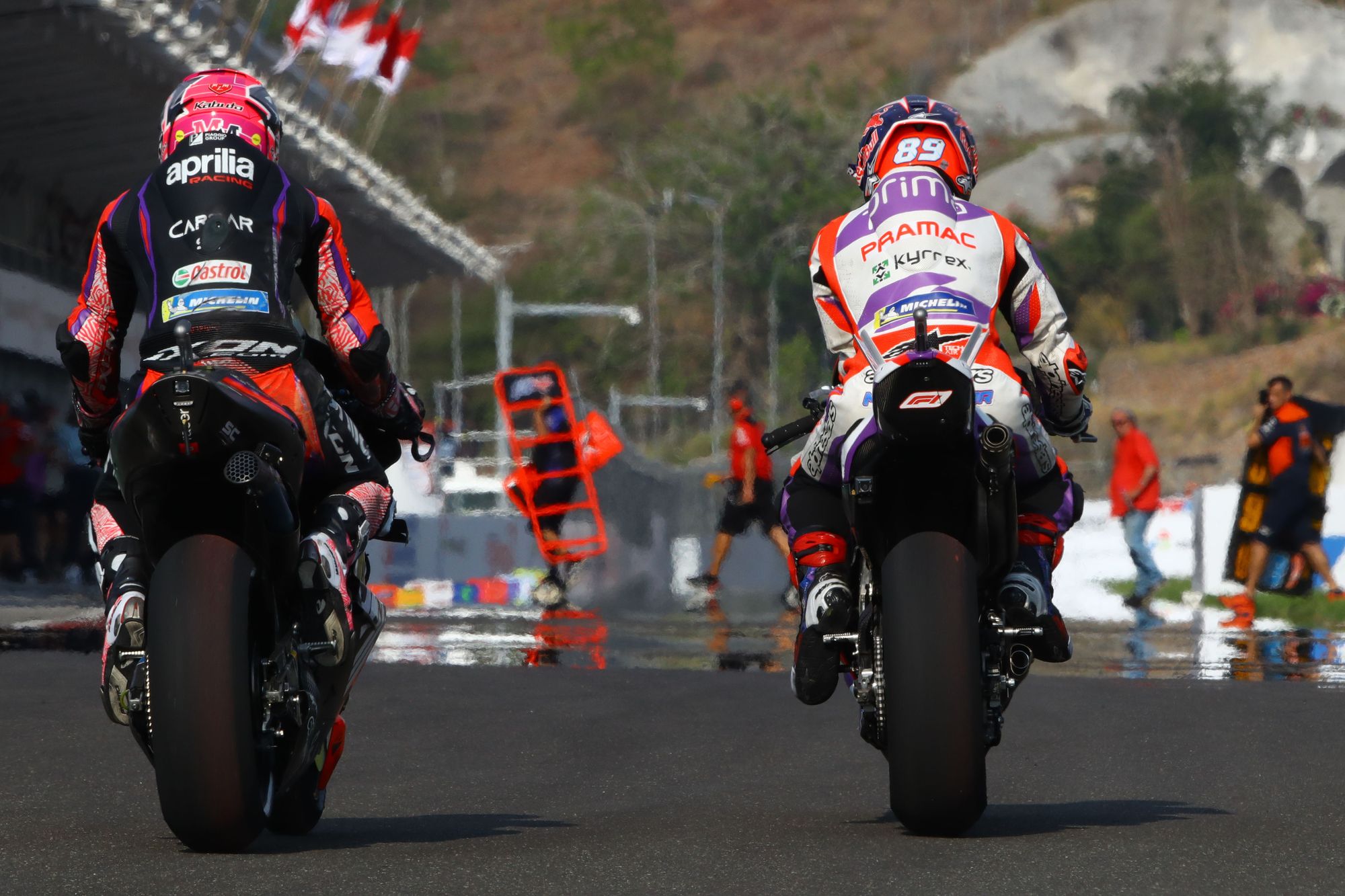 This is because of how potent Aprilia looks - Martin described Aleix Espargaro as being "a bit step in front of everybody", though he feels he should at least have something for the other works RS-GP of Maverick Vinales.
But with just six rounds left to run and the gap in the points virtually non-existent, any small advantage either of the two protagonists can get could potentially have season-defining ramifications if exploited fully - and it's Martin who has that advantage after the first day at Mandalika.