There's one thing to be said for the venue for the opening two rounds of this year's MotoGP world championship: Qatar's Losail International Circuit rarely delivers a boring race, and there's perhaps no better venue for a double-header to kick off the year.
Since its arrival on the calendar back in 2004, it's delivered shock and surprise as well as a visual spectacle in its years as a night race.
Though seen as a Ducati-friendly venue thanks to its long straights and hard braking, that's not always been the case, with Yamaha utilising the long and flowing corners to take its fair share of the wins too.
With two more to hopefully add to the list of great races over the coming fortnight when action gets underway, we ranked every single one of the 17 Qatar GPs so far for you so that you know what order to watch the highlights if you want to psych yourself up for MotoGP's return!
17: 2020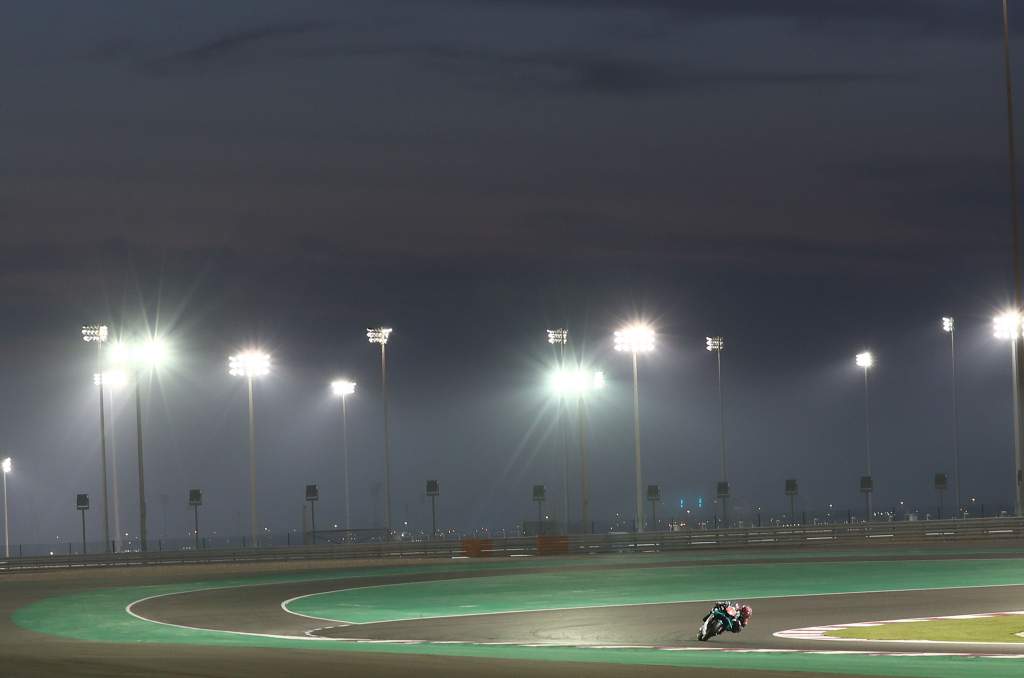 Simply, the worst race ever to happen at Losail because it didn't happen thanks to the coronavirus pandemic.
All set up after the test, riders returned home for a few days' final preparation – only to see the Qatari government close the border to Italian citizens, effectively ending any chance of a race.
Moto2 and Moto3, already in the country for their own test only a few days ahead of the race, were able to race – but without the premier class, it wasn't quite the same.
16: 2011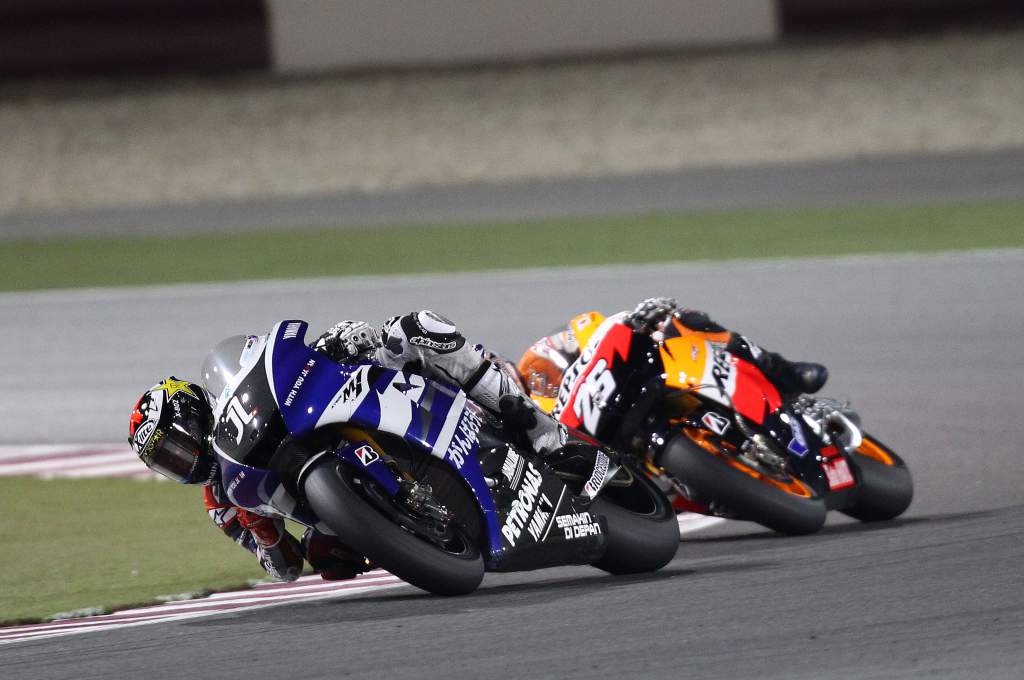 All change and yet still the same, as Casey Stoner romped to yet another victory at Losail, his fourth in five years – except this time, for the first time, it came not on a Ducati but on a Honda after his high-profile manufacturer switch in the off season.
With Stoner winning by over three seconds, the real entertainment actually came behind him as his team-mate Dani Pedrosa and reigning world champion Jorge Lorenzo (pictured) got thoroughly stuck into a scrap for second place featuring aggressive overtakes and even the odd bit of dirt tracking!
15: 2008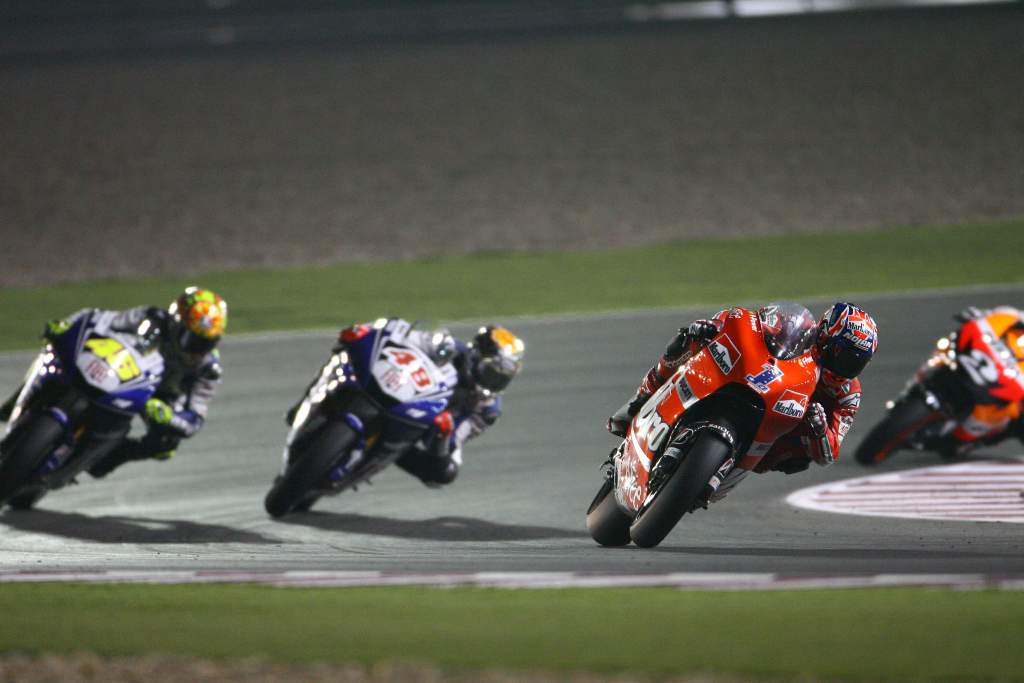 2008 was a rather dull affair at Losail, with another Stoner victory but this time in much more dominant style, as he rode away from the chasing pack to take victory by over five seconds from rookie Lorenzo, who had just secured pole position for his first-ever MotoGP race. Pedrosa was a further five seconds back in third, while Valentino Rossi was a distant fifth.
What makes the race stand out, though, is the other significant first it marks. Having arranged the first MotoGP race ever to be held at night, the Losail circuit spent millions designing a custom floodlight system that would essentially ensure shadow-free racing.
Since then, it's gone on to be one of the visual spectacles of the season – and thankfully, to regularly produce better racing too.
14: 2013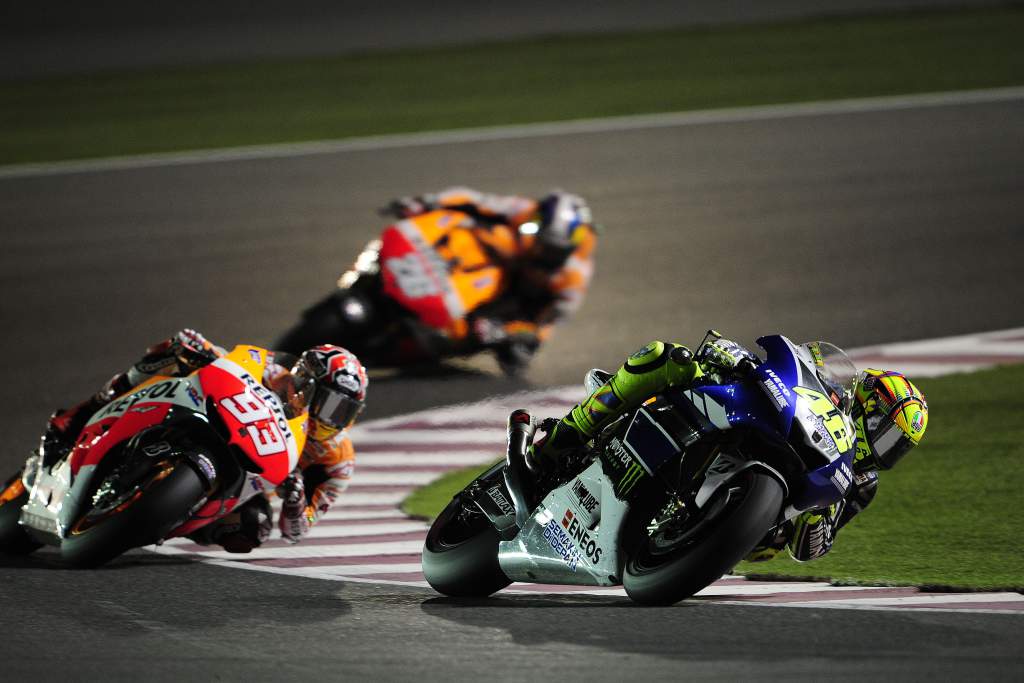 2013 was the result that 2012 (more of that later) had looked set to be, with a smooth but uneventful performance from Lorenzo to take a flag to flag victory by over five seconds.
But behind him, there was plenty of drama as Rossi well and truly asserted that he was back in business at Yamaha after two dire years at Ducati.
Fighting all race for the podium, he was forced to do even more work when he ran wide and dropped back to fifth behind the works Hondas and Cal Crutchlow – but, buoyed by just being fast again for the first time in two years, he gritted his teeth to take second place.
Third went to some Spanish kid on an orange Honda, as Marc Marquez showed us all a glimpse of the future by defeating veteran Pedrosa in his first-ever race in the premier class.
13: 2006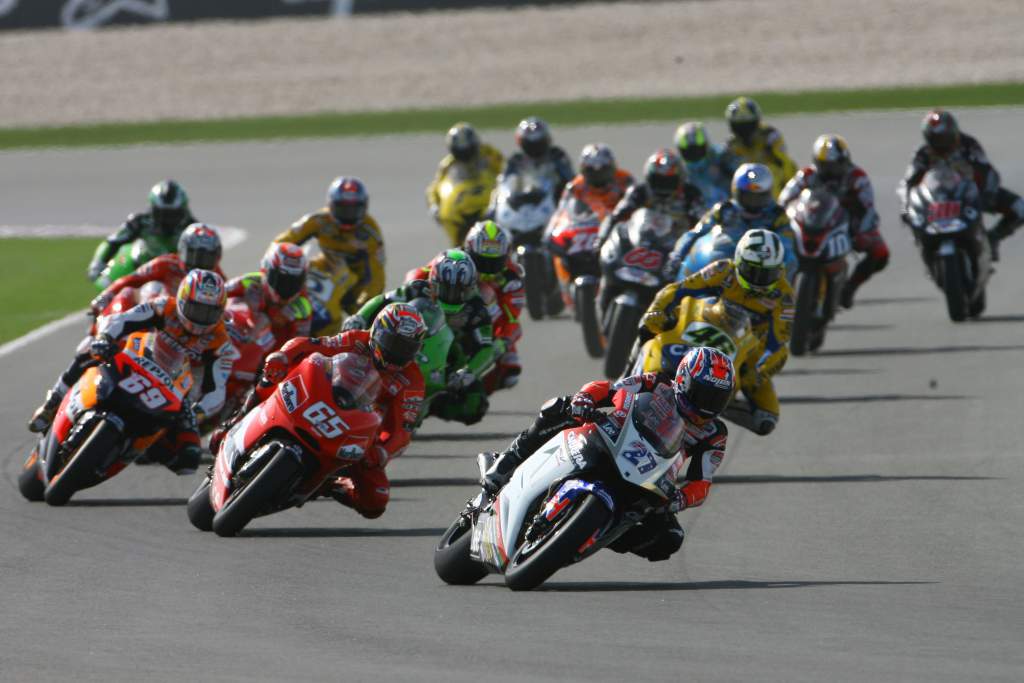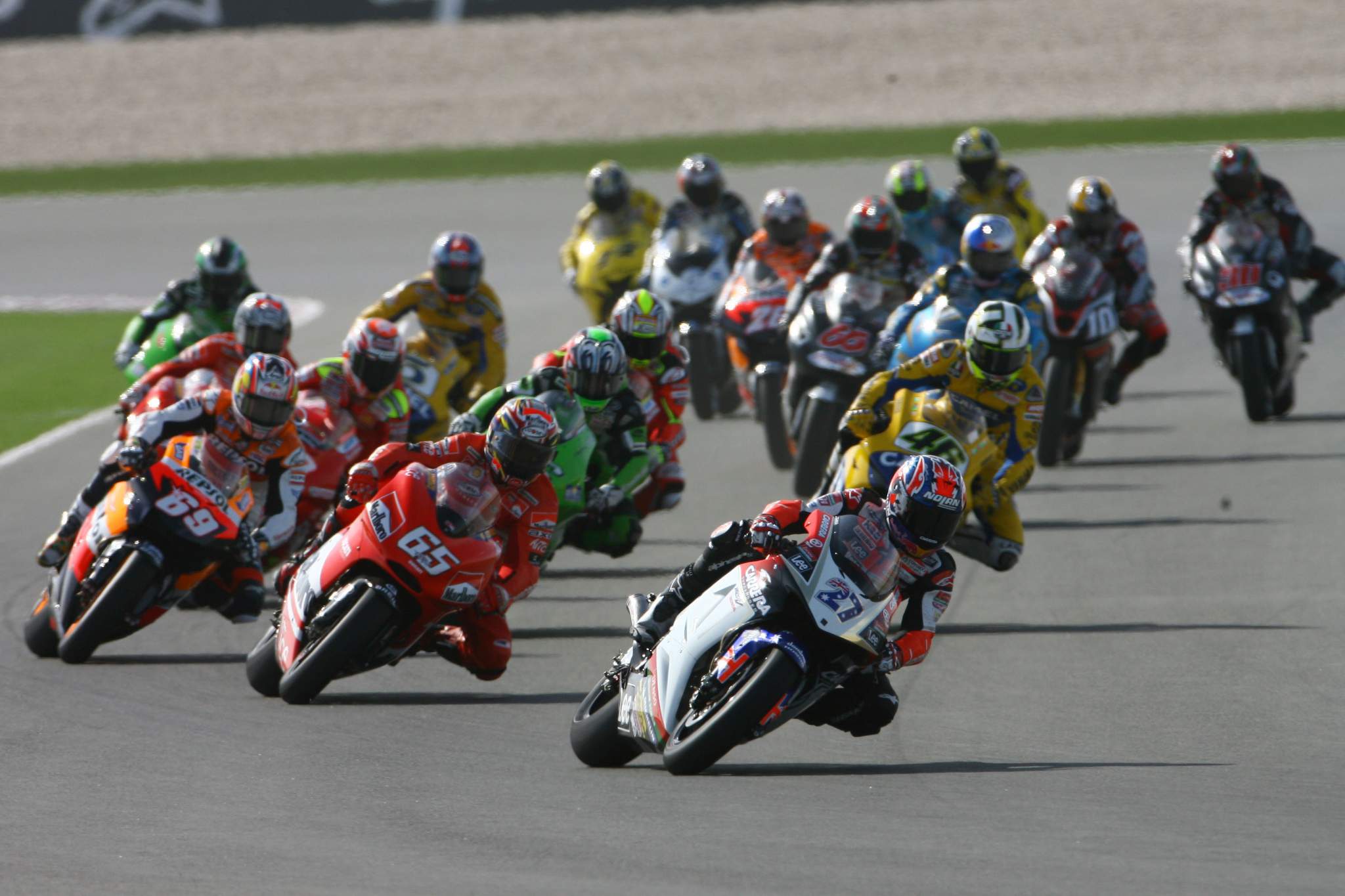 Not the most eventful race on track as Rossi took victory from Nicky Hayden by a second, it was a pretty textbook Rossi victory of the era as he got to the front and then controlled the gap back to his eventual title rival (and eventual champion).
But 2006 is notable for what it hinted at rather than what it outright showed us.
For one, it marked the first time that a young Australian rookie riding for LCR Honda was able to lead a race, with Stoner qualifying on pole position and making a rocket start to hold onto P1 for the first handful of laps before eventually fading back and finishing fifth.
It was performances like these that secured him a Ducati seat the following year and unleashed his title ambitions and his epic rivalry with Rossi – first foreshadowed when the Italian was forced to catch and pass Stoner to take victory in 2006.
12: 2014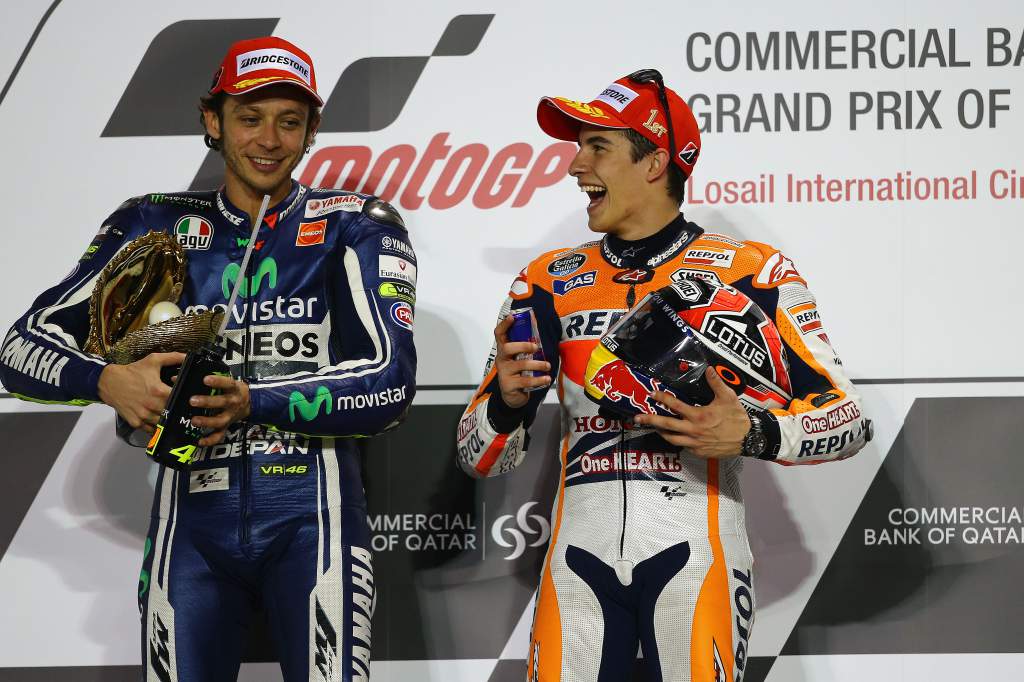 With 2013 winner Lorenzo the victim of a rare mistake and early race leader Stefan Bradl similarly falling out of contention, 2014 was one of those races where the front pack becomes whittled down rider by rider until there are only two left – and we got a proper treat when the two remaining were Marquez and Rossi.
Back when they were civil to each other, the pair had a cracking dice for the win, with plenty of the sort of hard but clean passes that both are both expert at and love executing.
It was Marquez who eventually held off his future nemesis for the win, but there were plenty of smiles in both camps after the chequered flag thanks to some good clean fun.
11: 2017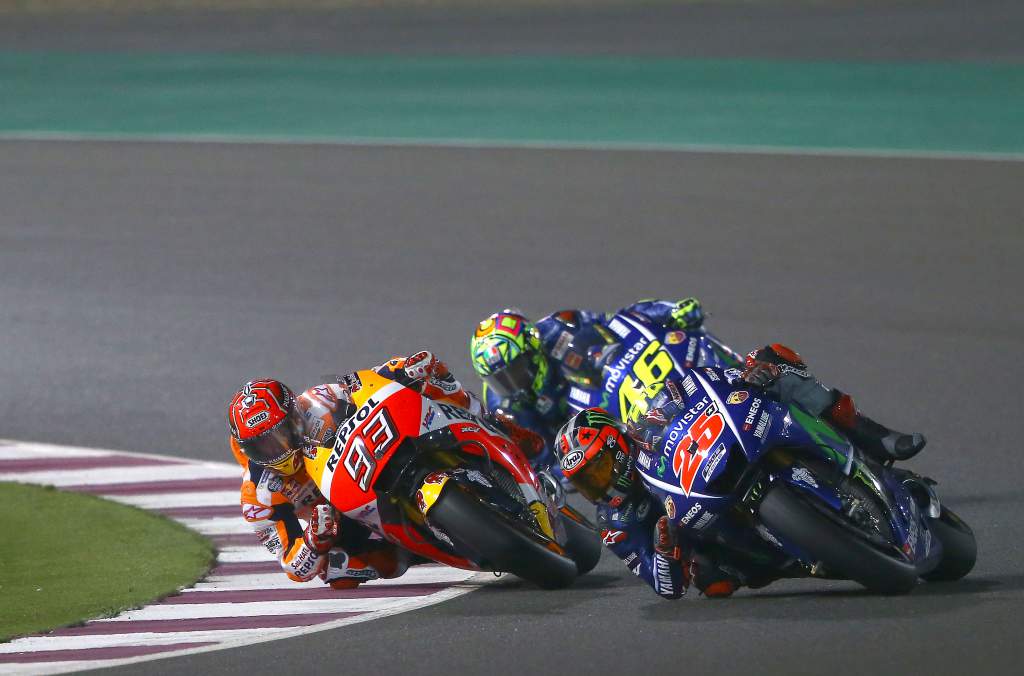 The 2017 race was a day of false starts if there ever was one. Firstly, the race itself, after the torrential rain that had come and gone all weekend returned on the grid, delaying the start of the race by an hour and meaning two laps were cut from the overall distance.
Then, when action got underway, it was rookie sensation Johann Zarco who burst out of the traps and into the lead.
Pulling well clear on the satellite Tech3 Yamaha, he looked set for a result for the history books – until a small error led to him hitting the deck.
Zarco crashes out of the LEAD of the #QatarGP! Dovizioso leads!#RiderOK pic.twitter.com/TF06IjdB5m

— MotoGP™🏁 (@MotoGP) March 26, 2017
Then, false start number three: Maverick Vinales. The dominant figure throughout testing that year, he charged through the field on his Yamaha debut, picking them off one at the time.
First, Andrea Iannone crashed out in front of him. Then came an aggressive move on Marquez for second (with Vinales' team-mate Rossi now in tow).
Finally, he caught Andrea Dovizioso too, taking the win and setting up a perfect start to the season with two more victories in the next three races – only for it to eventually amount to nothing as his season faded away shortly after.
10: 2010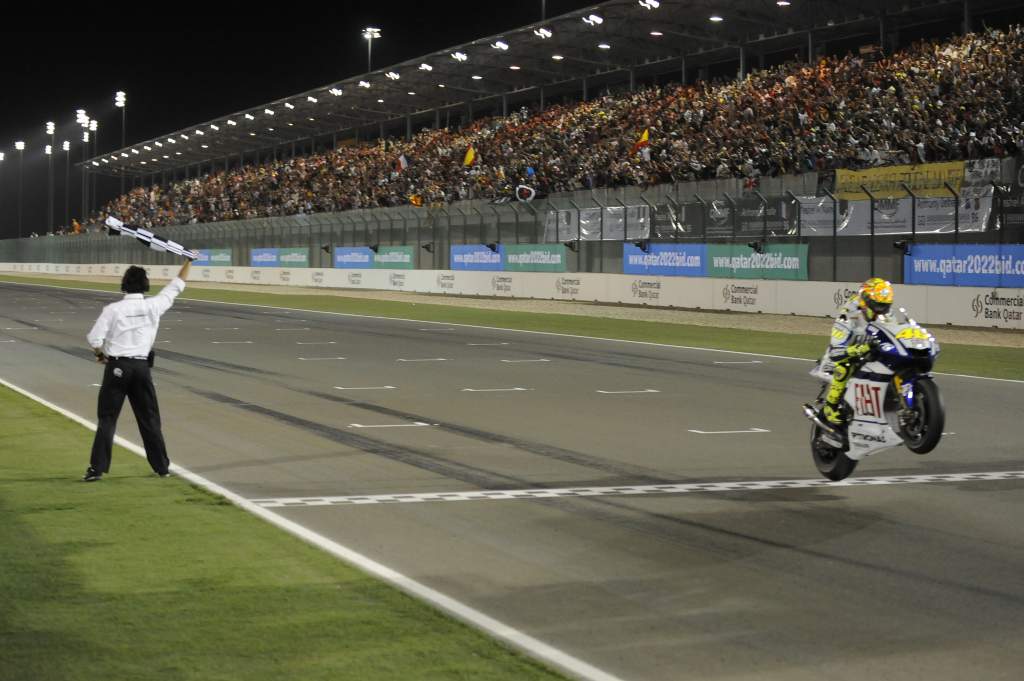 Despite Honda rider Pedrosa securing an early lead as the lights went out in 2010, it looked set to be another textbook Stoner Losail performance when the Ducati rider took the lead after a handful of laps and quickly disappeared up the road, leaving behind a cracking battle for the final podium spots between Rossi, Hayden, Lorenzo, Dovizioso and Ben Spies.
So when Stoner made a rare mistake and fell from the lead while under zero pressure from anyone, it came as a huge shock.
It also suddenly threw Rossi back into the lead of the race, and he held it until the line to open his account for the year – although Lorenzo scooped up valuable points in second that would come in very useful later in the year…
9: 2009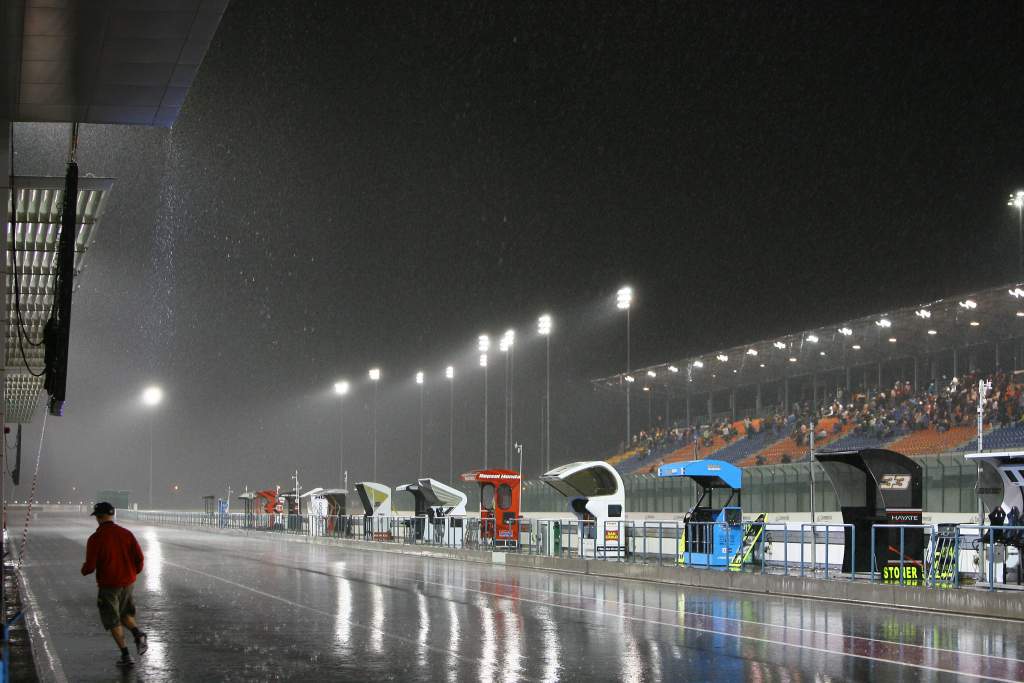 The 2009 Qatar race will always be remembered for its contribution to MotoGP pub quiz questions, as it was run not on a Sunday but on a Monday thanks to heavy rain that hit Losail just as the riders were lining up on the grid and delayed the start 24 hours.
The rain had arrived earlier in the day, with the 125cc race red-flagged after only four laps and Iannone getting the victory. The 250s then had their race distance cut from 20 laps to 13, which meant a MotoGP race should've fitted in despite the delays.
But as the MotoGP riders were just about ready to watch the start lights, the heavens opened. With the grid unable to race in Qatar in the rain thanks to reflections from the new floodlights introduced a year earlier, the start was postponed 24 hours.
When it did happen, it was a bit of a dull affair as Stoner led from flag to flag, taking the win from Rossi by nearly eight seconds. But the rain drama and Monday slot give it curiosity value.
8: 2007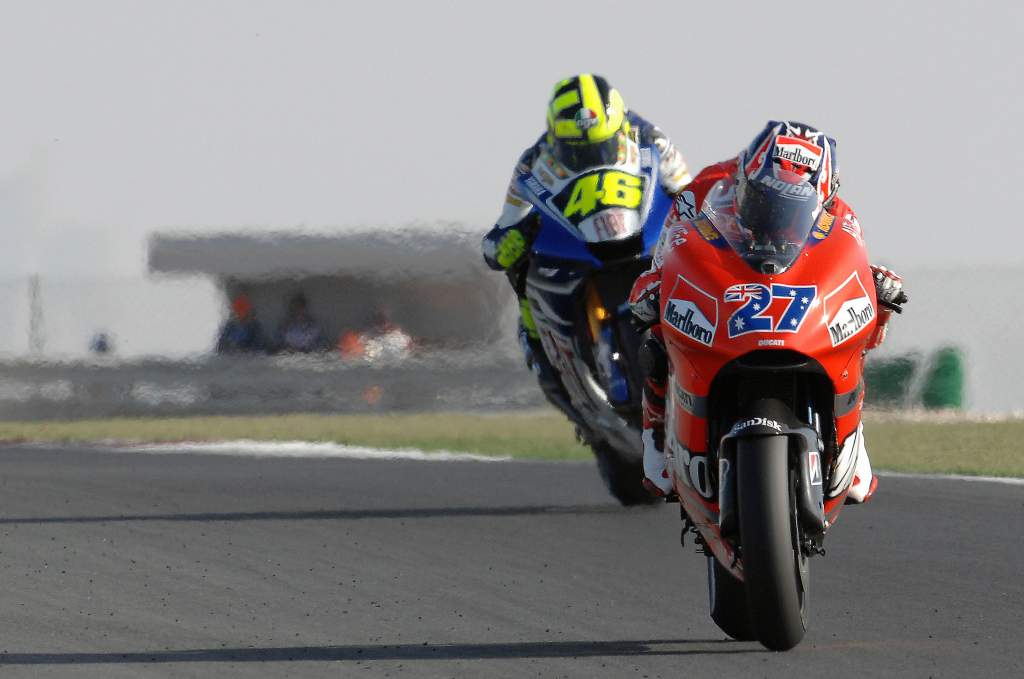 With Qatar the opening race of the calendar for the first time, 2007 delivered on what 2006 promised by giving us the first Rossi versus Stoner duel.
It was Stoner who led from the line, but with five laps to go Rossi had hunted him down and set up what looked certain to be a final-lap scrap for the win.
Except, it wasn't to be as Rossi got his first-ever taste of the awesome power of Stoner and Ducati combined.
As fans expected a fight to the line, Stoner just accelerated away from Rossi with three laps to go to take the win by nearly three seconds – and to kick off an incredible title charge.
7: 2016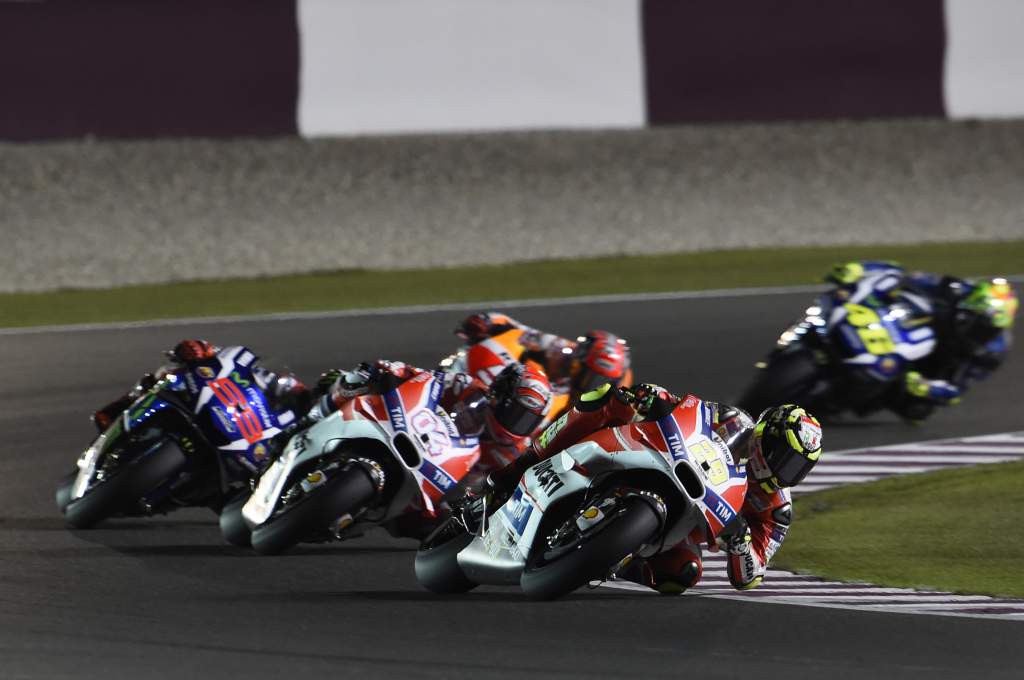 Not every race can be an absolute classic, but in the defence of the Losail circuit it serves up a belter more often than not, and even the tamer races tend to be lively affairs in the opening laps.
2016 is a perfect example of that, with the result on paper (a Lorenzo victory by two seconds) not quite reflecting the early fighting.
The opening stage of the race was an all-Ducati affair as team-mates Iannone and Dovizioso traded the lead in the early laps, with Lorenzo sitting tight behind them and Marquez and Rossi holding on to their coattails.
But when Iannone crashed out, it broke up the pack just enough for Lorenzo to make his move. Blowing past Dovi, he checked out at the front and victory was all his.
We got treated to another little Marquez versus Rossi tussle behind too, before that also settled down for the dash to the line. Not a classic, but not a dull race.
6: 2015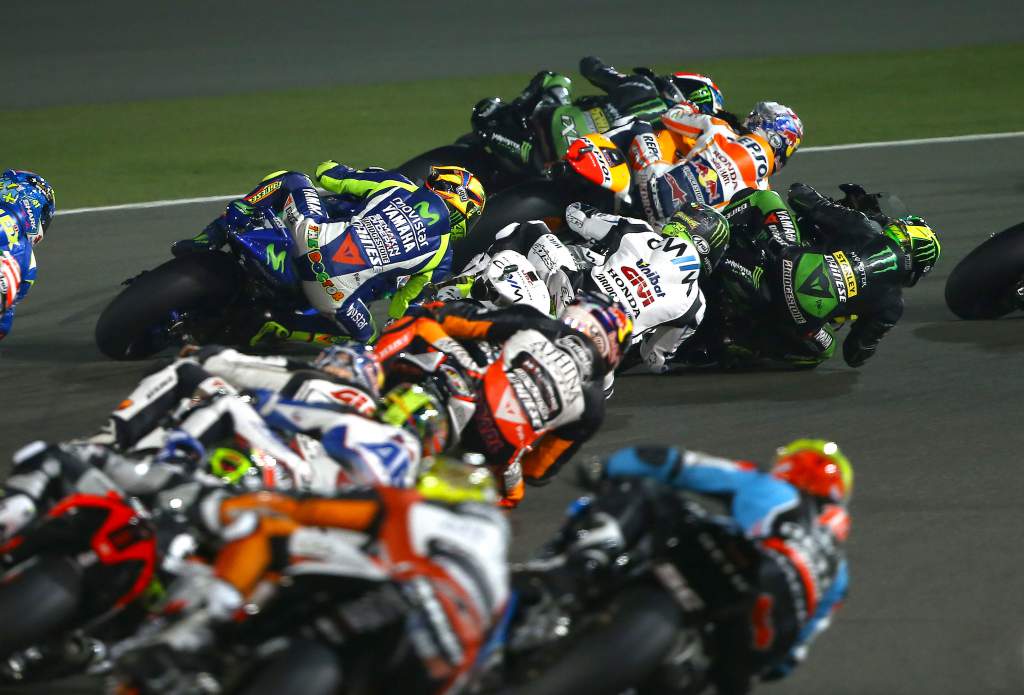 Rossi on top form is something exquisite to watch, and that's exactly what we got in 2015 at Losail in what will rank as one of his great performances.
Qualifying in eighth but enthusiastic about his chances that night, he delivered a textbook Rossi 'Sunday special' as he carved his way through the field.
Unable to get alongside Yamaha team-mate Lorenzo and Ducati pair Iannone and Dovizioso on the grid, Rossi just gritted his teeth and scythed through the pack instead – hunting down the trio in front and then disposing of them one at a time.
And with Marquez unable to even match the four in front and forced to settle for fifth, it was a worrying indicator for the Honda rider of just how tough 2015 was going to be for him on an even more unruly RC213V than usual.
5: 2012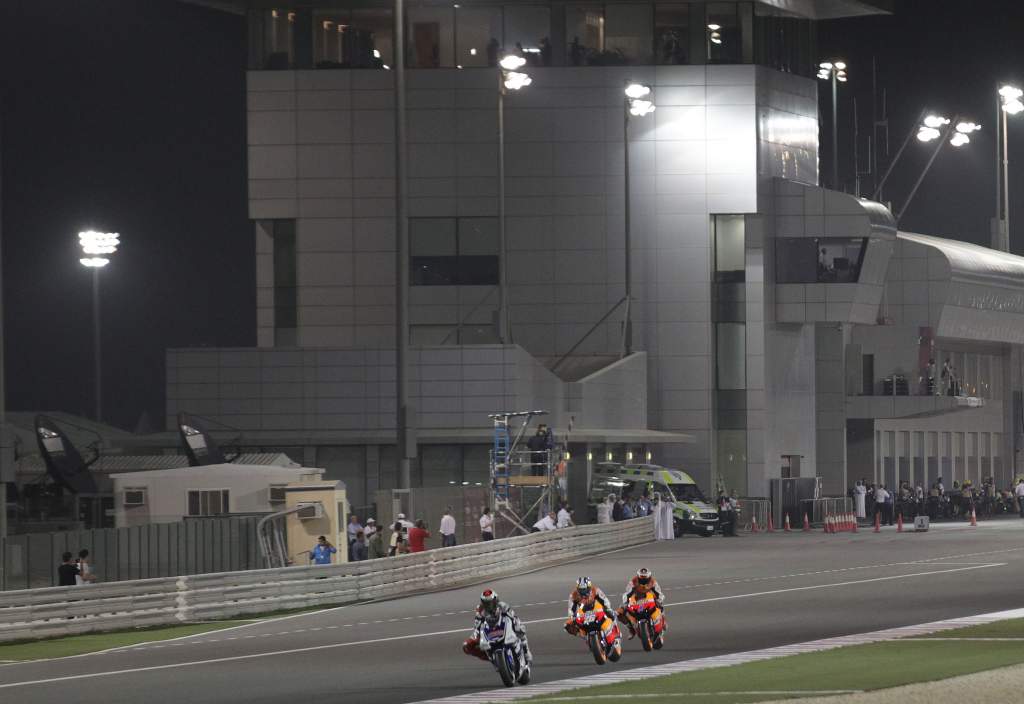 With very fast pole position man Lorenzo making a blistering start and disappearing off up the road, it looked like we were in for one of those mesmerisingly fast and consistent (but sometimes rather dull) Lorenzo wins in 2012, until at least he decided to give us something of a show.
He dropped back as the race progressed and fell into the clutches of the Repsol Honda duo. First Stoner and then Pedrosa passed Lorenzo, and another Stoner success was on the cards.
All until someone put another 50p into Lorenzo's meter and he sprung back into action to hunt down the pair and steal back his win from them in the closing stages for a thoroughly entertaining victory.
4: 2005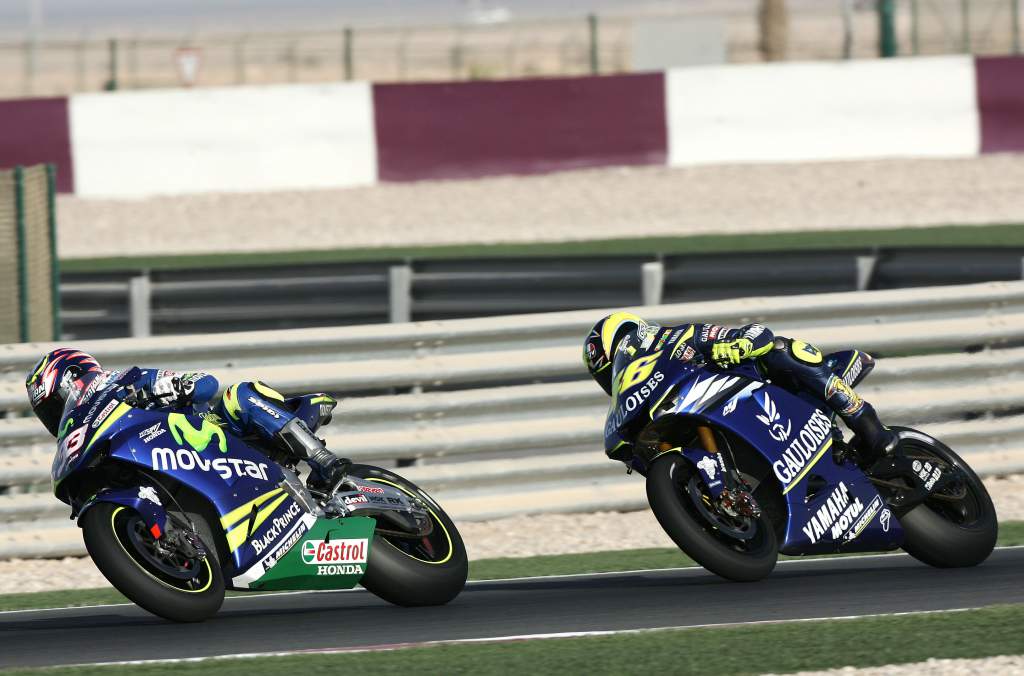 Such an example of how not to be team-mates that it's probably the case study used in MotoGP's textbook of such things.
Gresini Honda duo Marco Melandri and Sete Gibernau went to war in the final laps – and ended them with Gibernau out of contention in the gravel trap somewhere and Melandri leaving himself open to a last-lap dusting by Rossi.
The Gresini pair had led for much of the race, but as the chequered flag drew near, they started to increasingly duff each other up – allowing third-placed man Rossi to hunt them down.
Eventually there was one overtaking move too many, with Gibernau going wide and ending up deep in the gravel, leaving an isolated Melandri with Rossi hot on his heels and able to cruise past him in the closing stages.
Hayden inherited third, with Gibernau eventually coming home a distant fifth.
3: 2018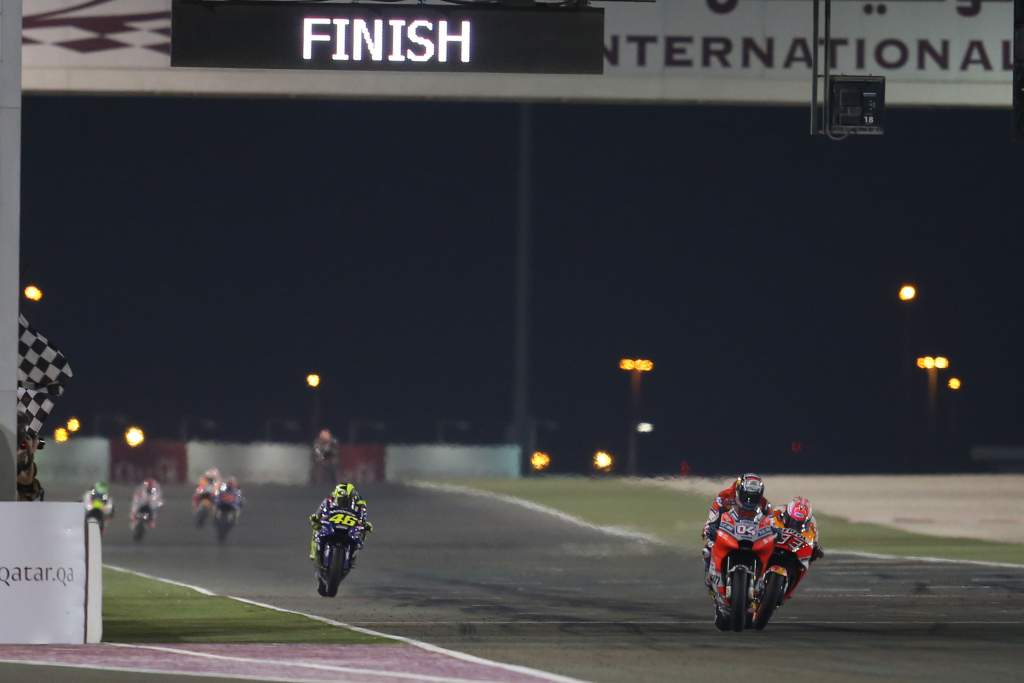 When MotoGP arrived for the opening race of 2018, we'd had a second half of the previous year characterised by one thing: the epic last-corner fights between Dovizioso and Marquez.
Multiple times the previous year, it had come down to the last turn – and Qatar was ready to deliver another incredible display.
It was Marquez who made the initial break, getting clear of the field at the front with Rossi and Zarco, while Dovi languished down the pack and had to pull himself together for a charge through the field in the early stages.
He slowly but surely got there through, closing down the leading pack in no short order and getting into the fight for the lead – then capitalising on the ferocious top speed of the Ducati to get stuck into Marquez and Zarco.
Breaking fractionally clear in the closing laps, it was Marquez who led into the final turn on this occasion – but it was Dovizioso who led out of it, using the kerbs to squeeze Marquez wide and to take one of his finest victories.
2: 2004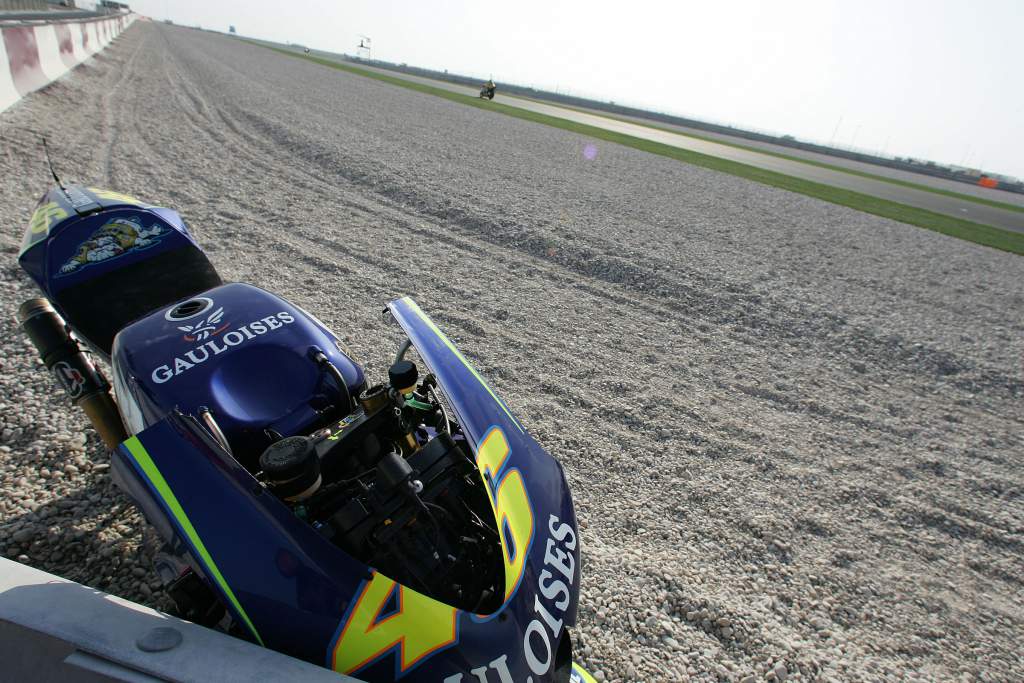 The first year, and perhaps the most noxious Qatari Grand Prix thanks to what happened not on the track but off it.
Arriving at Losail for the very first time, at a time when the track was still very much out in the desert compared to the more built-up situation around it today, riders discovered that it was dusty and dirty, prompting concerns about what the race start would be like.
To help a little, Rossi's Yamaha mechanics headed out to his qualifying position with a scooter, doing some burnouts to lay down some rubber for him.
It was discovered (allegedly after a complaint from title rival Gibernau's Gresini Honda team), and Rossi and Max Biaggi were punished by being sent to the back of the grid for Sunday's race.
Rossi made an amazing start, but it wasn't to last as he crashed out while on a charge. Gibernau went on to win the race by over a second from team-mate Colin Edwards.
He was supposedly cursed to never win a race again by Rossi afterwards, and it's a threat that came true!
1: 2019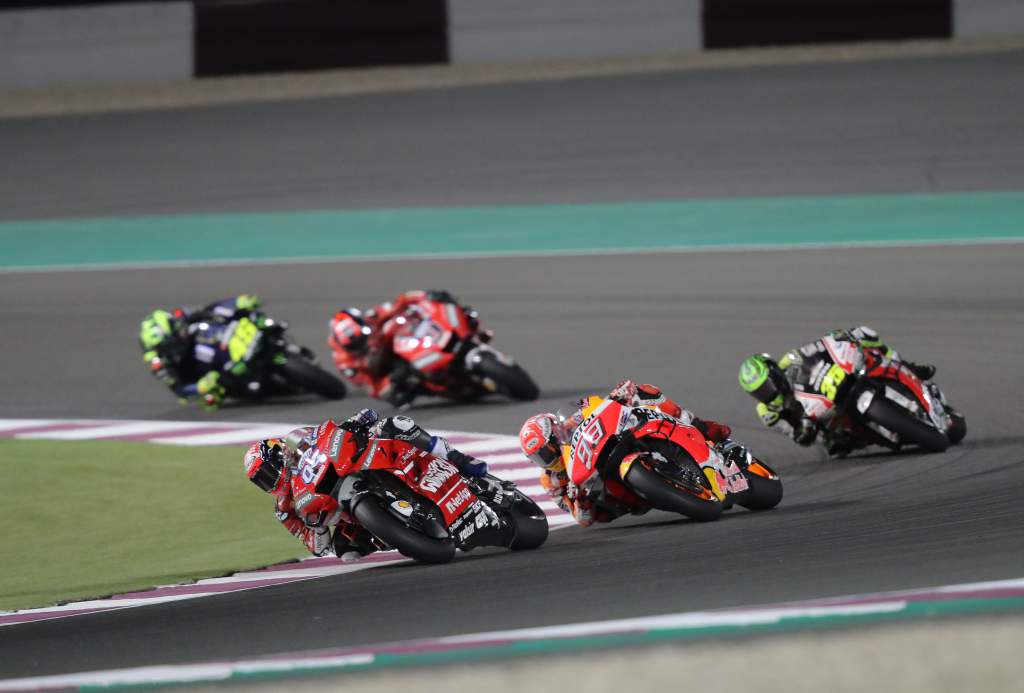 No messing around off the line for Dovi in 2019, he nailed his start and led as soon as the flag dropped. It didn't take long for Marquez to find him though, and even though Alex Rins did his best to disrupt them, soon they got stuck into each other.
It was business as usual right to the chequered flag, with the pair trading positions and paint in an epic battle – and just like the year previous, it was Dovi who triumphed, letting Marquez set up his own last-corner move that took him wide on the exit, before utilising his Ducati's power to out-drag him to the line.
A last lap for the ages! 👏👏👏@AndreaDovizioso and @marcmarquez93 had us on the edge of our seats the last time the #MotoGP class raced at Losail! 🔥#QatarGP 🇶🇦 pic.twitter.com/ayrp6QmeH1

— MotoGP™🏁 (@MotoGP) March 22, 2021
Behind them, Crutchlow, returning from a horrendous ankle injury, took third, ahead of Rins and Rossi.
And the entire field wasn't far away as MotoGP recorded its closest ever top-15 finish with a mere 15 seconds covering the pack.
Modern MotoGP at its finest, with close racing throughout and two riders on two vastly different bikes settling things in the final corner.