While MotoGP is on hold amid the coronavirus pandemic, we'll be revisiting some classic races from its past.
As this weekend should've been the occasion of the 2020 United States Grand Prix at Austin, we've turned the clock back 12 years to an incredibly hard-fought and controversial US race at Laguna Seca.
Rossi with a point to prove
Valentino Rossi began 2008 as something of a wounded animal.
His title run had been rudely interrupted by the crazy events of 2006 and the shock Valencia crash that allowed Nicky Hayden to take that crown, then by Casey Stoner and Ducati stamping their authority all over '07.
A third championship defeat in a row would be unpalatable for Rossi, and he had the additional in-house hassle of Yamaha replacing his chilled-out and invariably slower 2005-07 team-mate Colin Edwards with ambitious upstart double 250cc champion Jorge Lorenzo for this year.
Rossi convinced himself that Michelin was a big part of his 2007 problems and lobbied Yamaha to get him onto the same Bridgestone tyres as Stoner for '08. Remarkably that meant the two factory Yamahas would be on different tyre brands, as Lorenzo stayed on Michelins – with a wall constructed down the garage between them.
Rossi on the ropes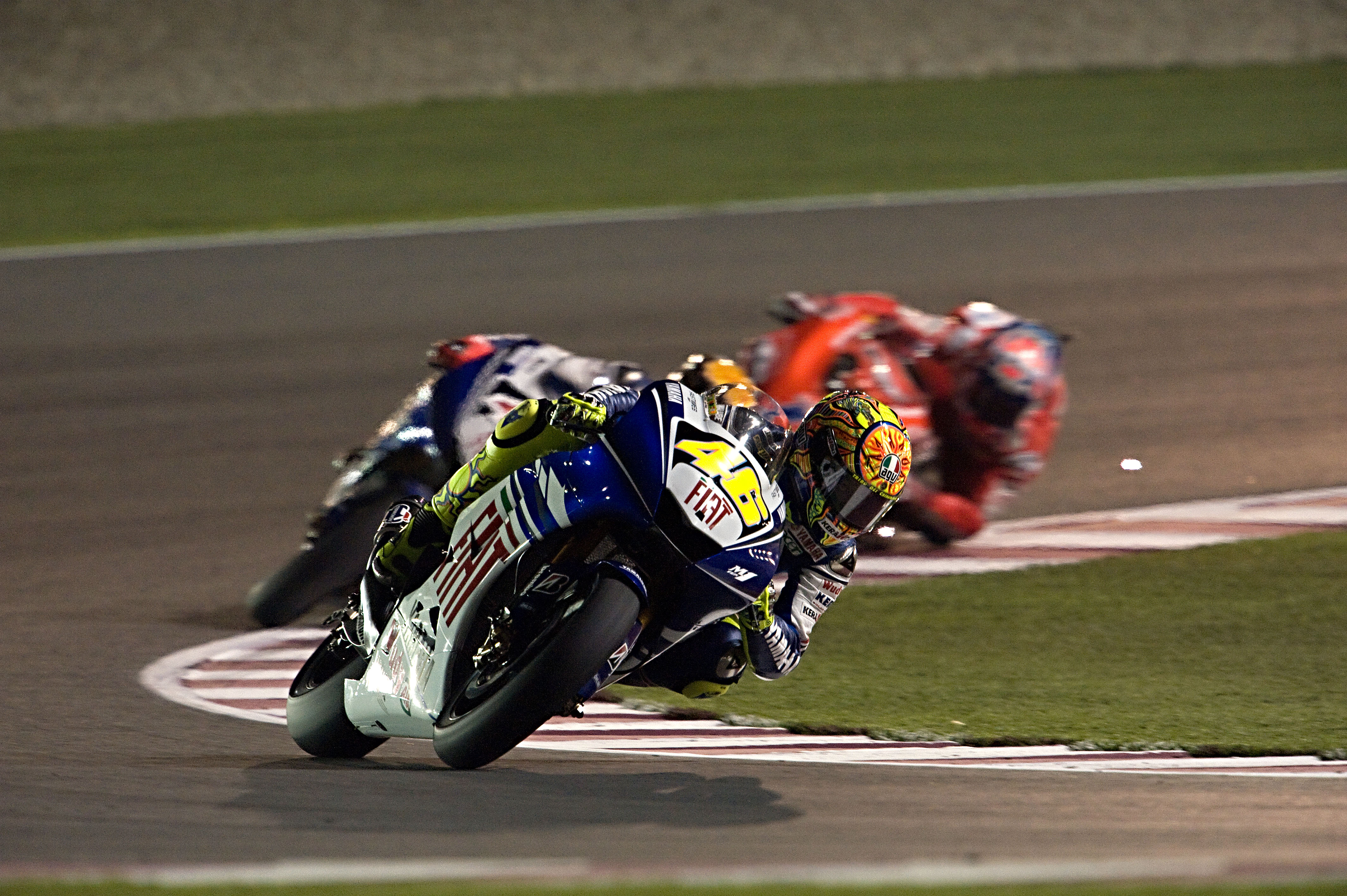 And yet that tyre switch seemed to cause more problems than it solved as 2008 began, Rossi urging Yamaha to start from scratch with set-ups to get on top of the new rubber as he struggled at first.
Stoner appeared set to reprise his 2007 form as he blasted to victory in the season-opening Qatar GP. Lorenzo announced his arrival with three straight poles, a lot of insouciance and a win at only the third attempt. Between Stoner and Lorenzo's triumphs, Dani Pedrosa dominated for Honda at Jerez.
Three races in, Rossi was only third in the championship – 14 points behind (Michelin-shod) joint leaders Pedrosa and Lorenzo. This was not good enough.
But then it clicked and Rossi embarked on a hat-trick of victories at Shanghai, Le Mans and Mugello that thrust him into the points lead.
The Yamaha and Bridgestones were now in harmony, and it didn't hurt that two of his three rivals were in trouble: Lorenzo's early vim dulled by a series of vicious crashes that left him battered and broken (and sometimes on the podium on crutches), Stoner and Ducati seemingly lost. Two trips off the road at Jerez, the bizarre problem of an onboard camera swinging loose at Estoril and an engine glitch at Le Mans, plus a lack of pace between those incidents, meant that after round seven Barcelona – where Rossi finished second to Pedrosa – Stoner was 50 points away from Rossi.
Stoner fights back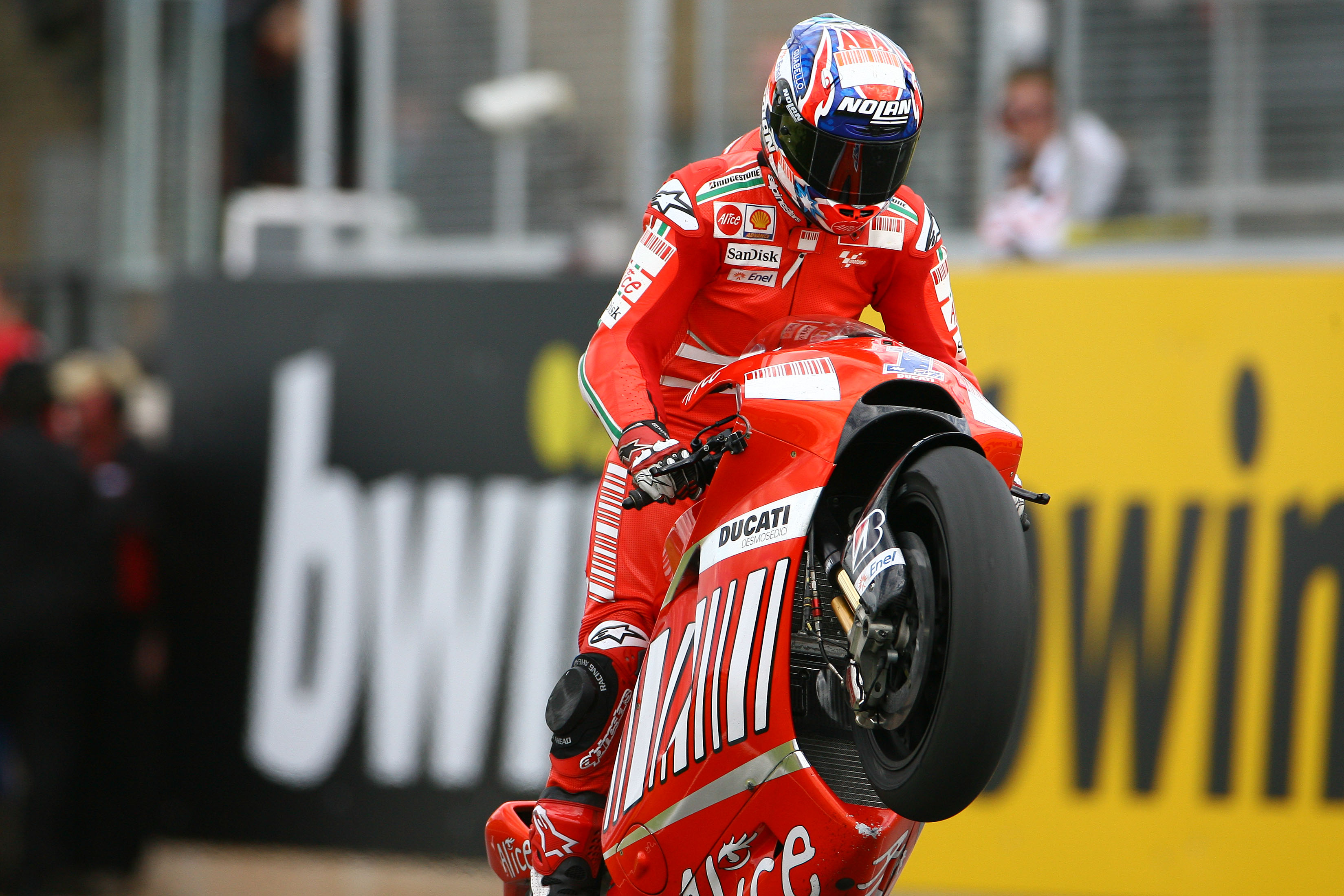 Then another major swing.
Adjustments to the engine management system at the post-Barcelona test made the Ducati's behaviour just a little more malleable. It wasn't enough to rescue second rider Marco Melandri's humiliatingly abject season, but it was enough to turn Stoner into a winning machine again.
Rampant victories at Donington Park, Assen and a wet Sachsenring powered Stoner back into championship contention, as he got the gap to Rossi down from 50 points to 20 in just three races – helped by Rossi clashing with Randy de Puniet in the Netherlands.
Laguna Seca looked like it would be more of the same. Stoner carried a consistent advantage of between half a second and seven-tenths through every single practice session, qualifying and the warm-up. Rossi was second on the grid but he may as well have been in a different event – joking after qualifying that the only way he could beat Stoner on race day was to jump the start by 30 seconds.
Pedrosa wasn't a threat here. A brutal crash while running away with the Sachsenring race left him with wrist injuries and he withdrew from Laguna ahead of qualifying. In any case, the Michelin runners had been grappled to get heat into their tyres at the California track and Hayden and Lorenzo's third and fourth places on the grid were expected to be as good as things would get.
So the stage was set for a fourth straight crushing Stoner victory, unless Rossi could come up with some magic…
The race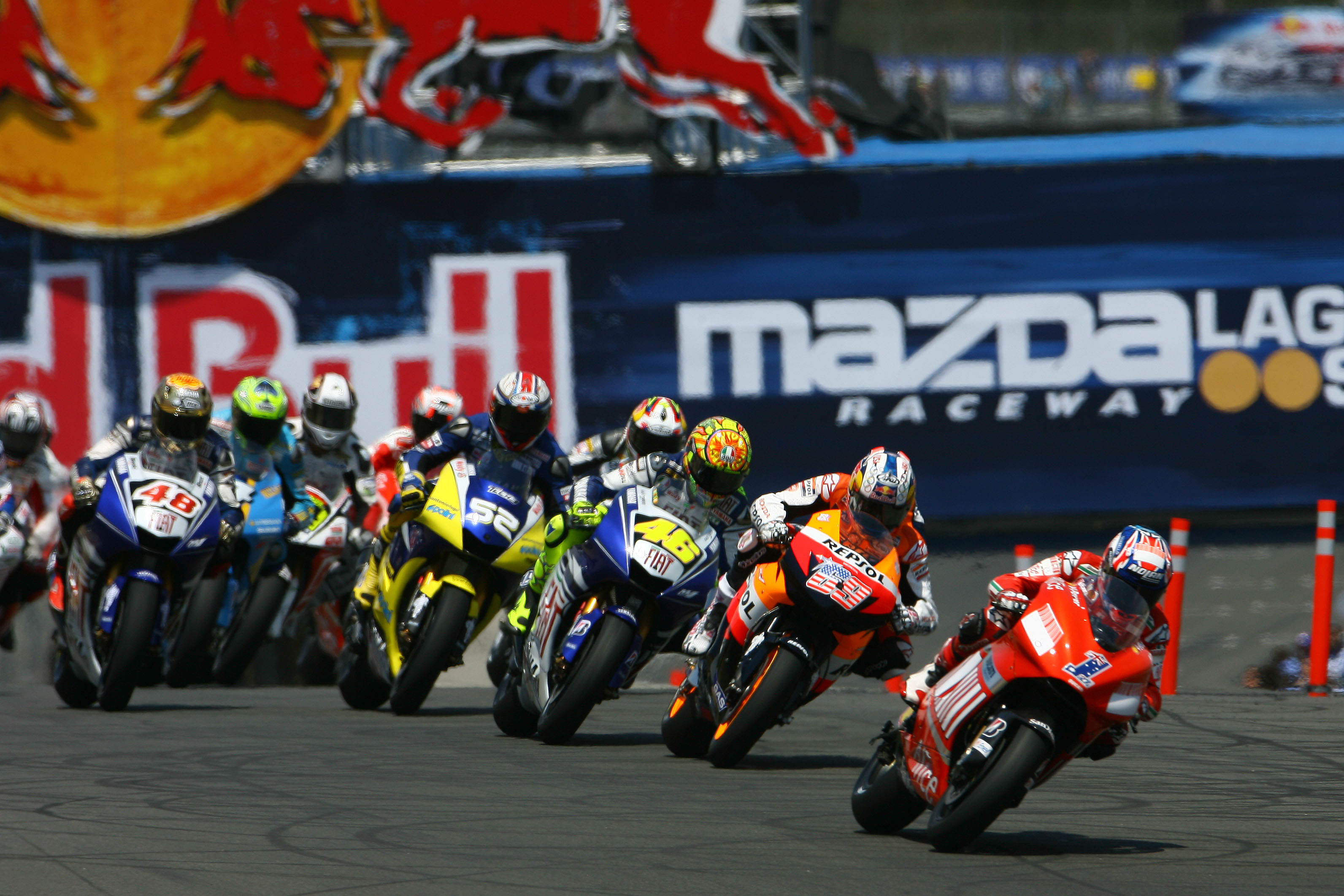 That mission didn't begin well – Hayden surging ahead of Rossi off the line. But the Yamaha was back ahead under braking for the first proper corner and looking determined.
As the field piled over the crest into the Corkscrew for the first time, Rossi hurled his Yamaha down the inside of Stoner's Ducati and into the race lead.
A bold move, but surely a redundant gesture given that the clearly superior Ducati would soon be back ahead.
"When I realised I was going on the gravel I worried a bit, but the gravel here has good grip!" :: Valentino Rossi
In their wake, Lorenzo was already out again. A ferocious high-side out of the Turn 5 left-hander hurled him into the sky and caused yet another set of foot injuries when he slammed to the ground in the gravel trap.
Rossi's lead was barely inches as Stoner's Ducati clung to the Yamaha's tail through the opening laps, and it was no surprise when it blasted past on the pits straight at the start of lap four.
But Rossi had no intention of conceding. He launched the Yamaha back down the inside as they braked for the corner where Lorenzo had crashed, catching Stoner by surprise – though the reigning champion reacted well, hung on to the outside line and managed to pull ahead again exiting the next turn.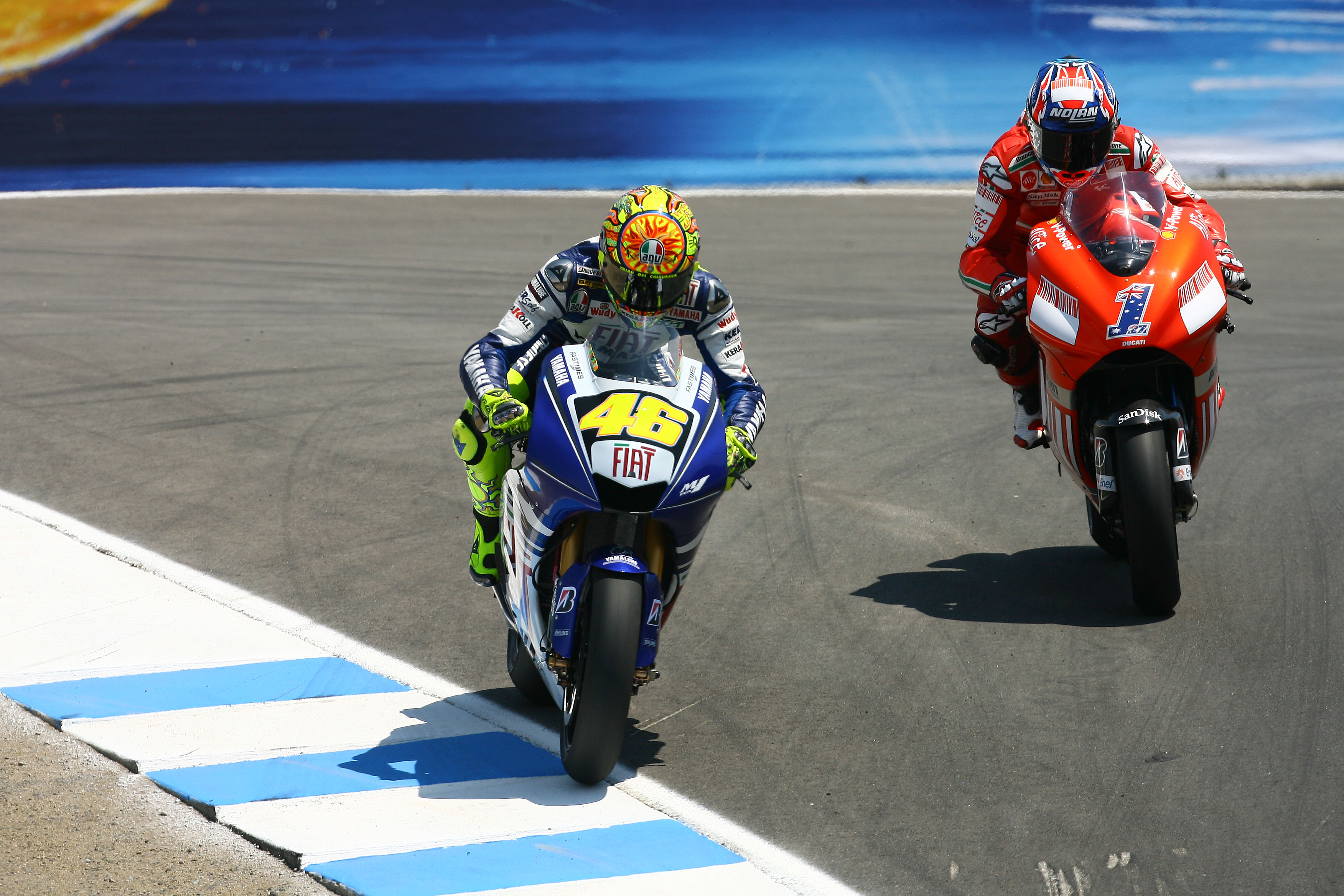 Then as they came to the Corkscrew, Rossi again divebombed his rival – producing the MotoGP equivalent of Alex Zanardi's famous CART pass as he skittered wide at the second apex, bounced over the kerbs, kicked up the gravel, incredibly stayed upright as his Yamaha crashed back over the kerbs and jumped sideways, then somehow fended Stoner off all the way down the hill to keep the race lead.
"That move was fantastic, he braked late but I braked even later," said Rossi.
"We went a bit wide but that's a peculiar corner so it can happen. When I realised I was going on the gravel I worried a bit, but the gravel here has good grip!"
Stoner found it less fantastic.
"I've been in hard racing all my life, some very aggressive racing, but today was a little bit too much," he said. "I nearly went in the gravel so many times and I don't think it was necessary."
He was back in front on acceleration down the front straight, but again Rossi overtook him into the Turn 5 left-hander – with rather less drama this time.
Stoner plots his response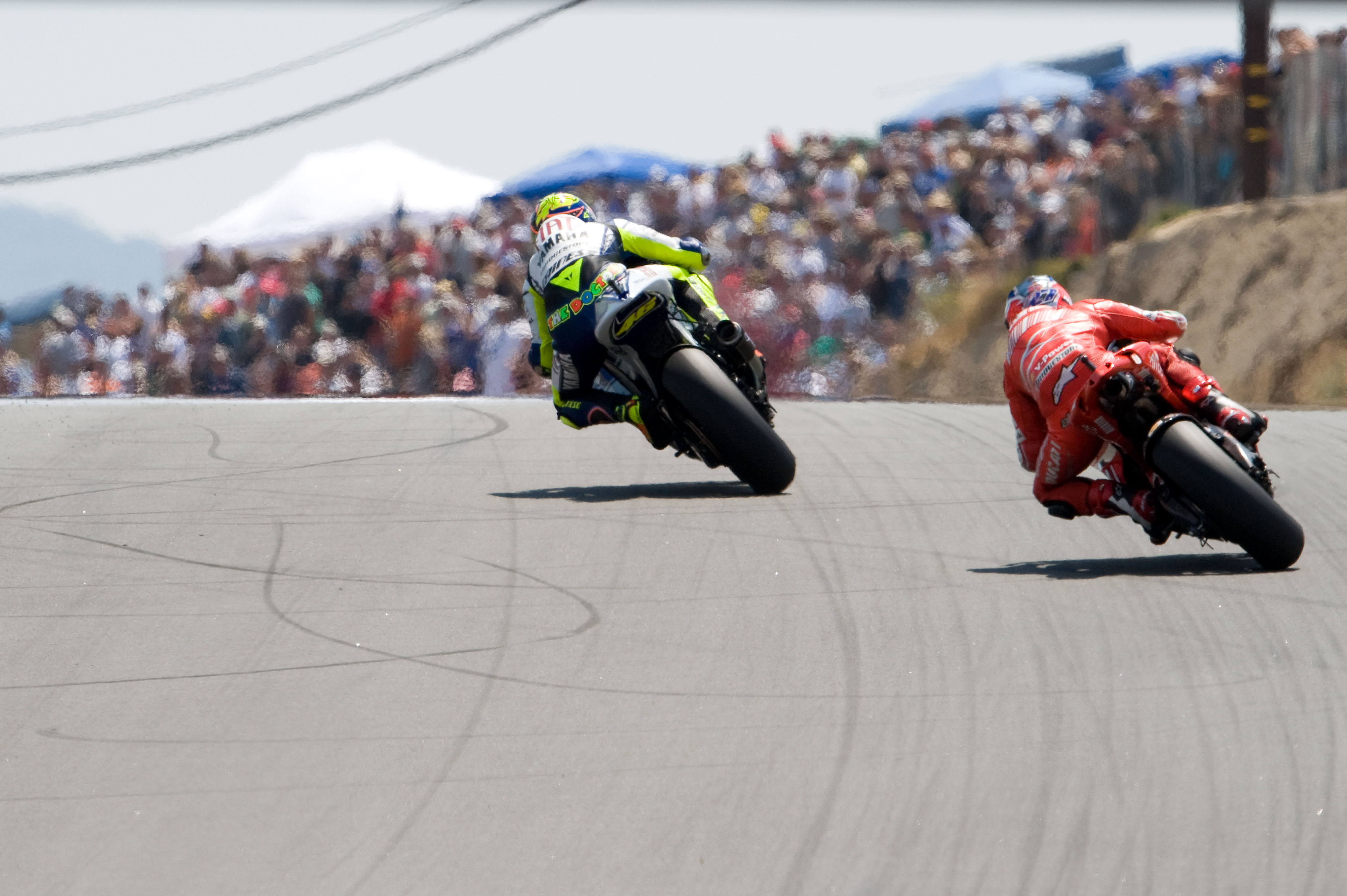 For nearly half the race, things then – sort of – calmed. Stoner pressured Rossi, never far behind him, sometimes very, very, very close, without hostilities truly erupting again.
They were in a class of their own. Suzuki's Chris Vermeulen had usurped Hayden from third, and would soon be followed by satellite Honda rider Andrea Dovizioso, in the middle of his impressive rookie season with the JiR Scot team, but this battle would end up a minute away from the front.
"I was just trying to find a point where I could get past where I knew he wasn't going to come barrelling up the inside and wipe us both out" :: Casey Stoner
Further back, two American guests at either end of their careers were starring. Suzuki wildcard Ben Spies – on his way to a third straight AMA Superbike title in his 'day job' and surely heading for a MotoGP future – finished eighth just behind de Puniet and Toni Elias in only his second start.
John Hopkins' Kawasaki injury stand-in Jamie Hacking, winner of three AMA titles at Supersport and Superstock level, was on course for a brilliant 11th ahead of six MotoGP regulars on what would be his only appearance at this level.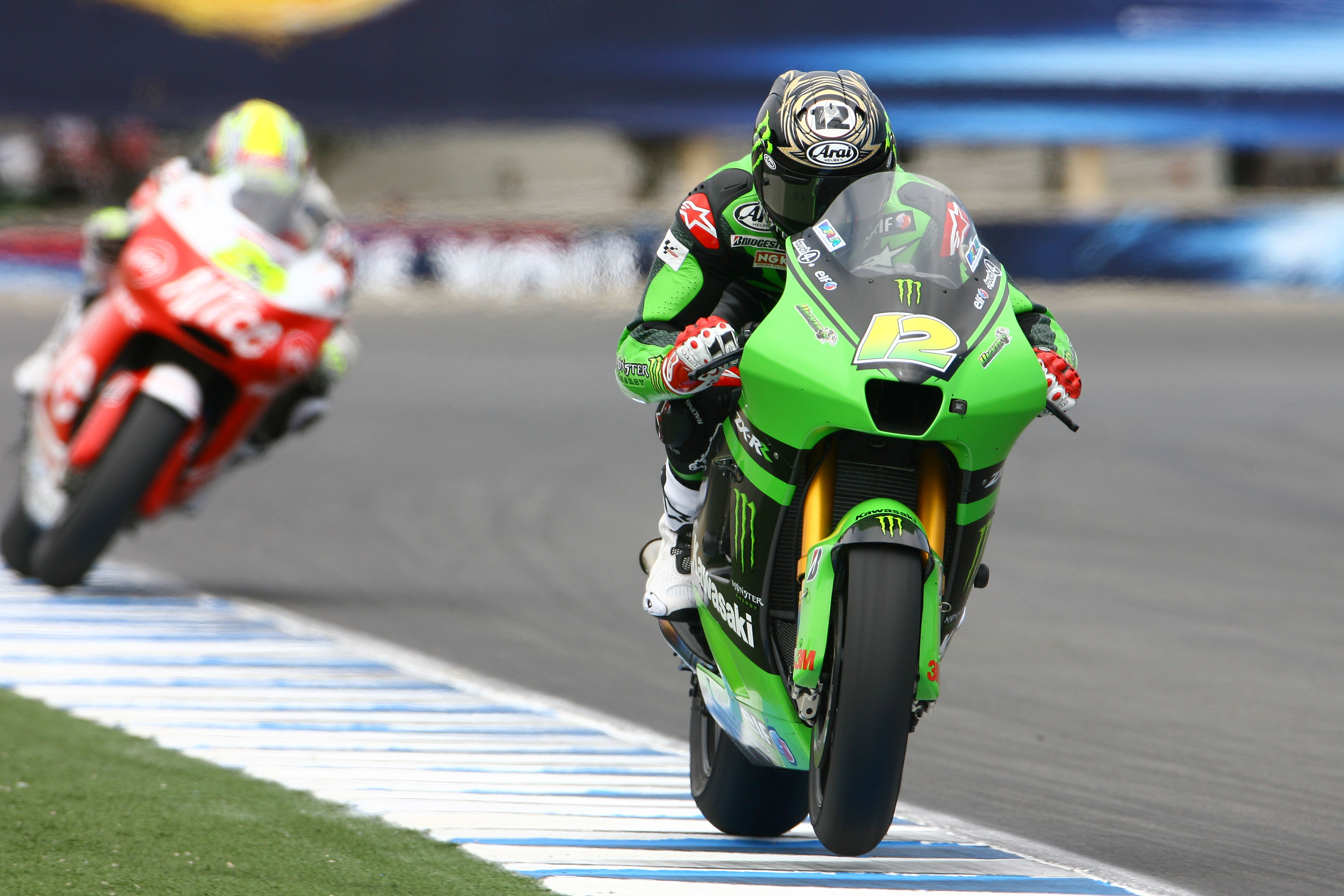 Hacking's team-mate Anthony West was a lapped 17th and last after a trip off the road, one place behind the similarly troubled Melandri's factory Ducati.
No one was really watching any of that, though. Not all the time Stoner was hovering on Rossi's tail, furiously plotting.
"I was just trying to find a point where I could get past where I knew he wasn't going to come barrelling up the inside and wipe us both out," he explained.
The flashpoint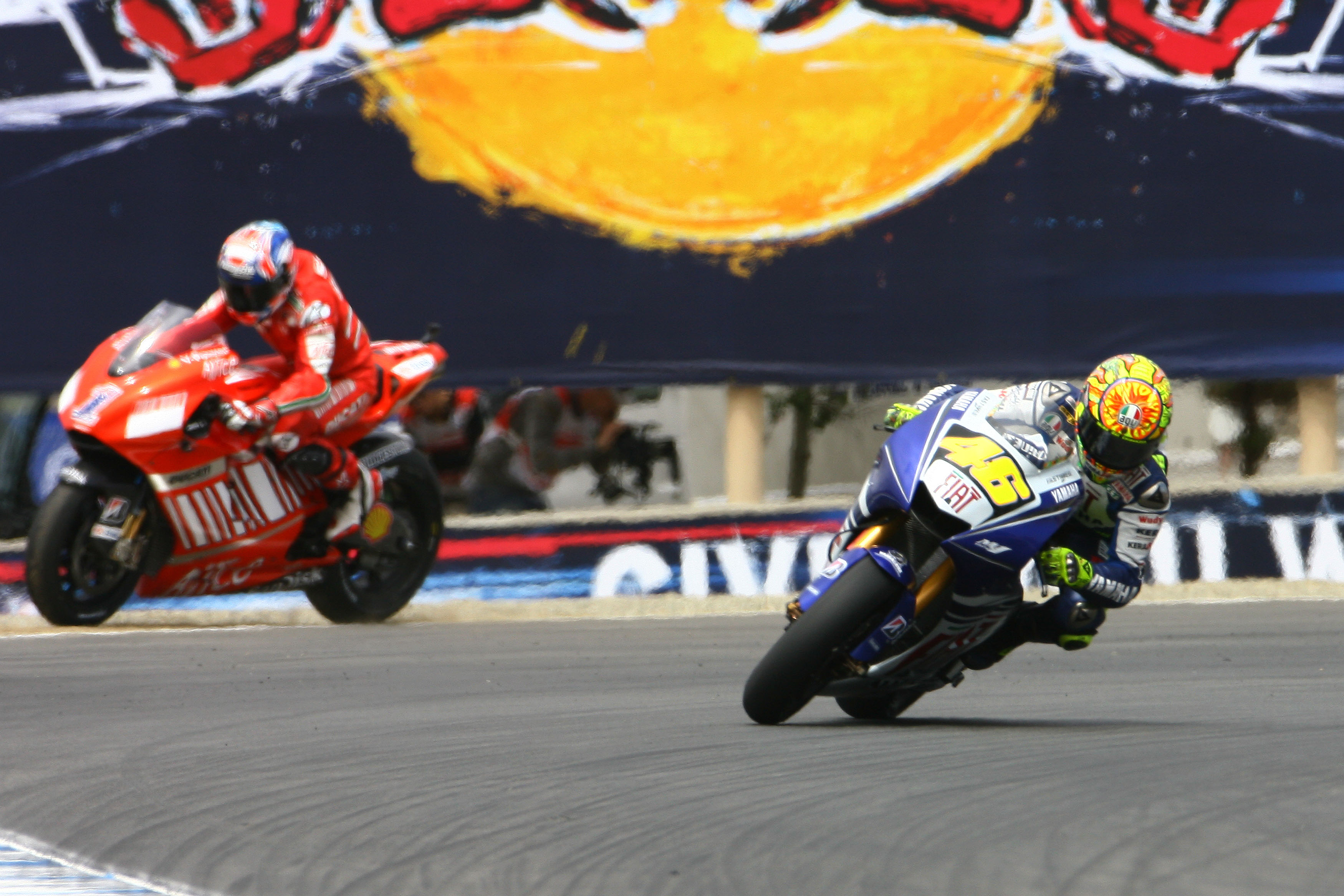 On lap 19 of 32 Stoner tried down the outside of the pits straight again, and again took the lead – only to run very wide as he braked for the Turn 2 hairpin and hand the place back.
With nine to go, Stoner went for it again at the same place. He edged ahead on the start, but Rossi braked later and clung to the inside. Stoner tried to go right around the outside at Turn 2 without success, then tried down the inside at Turn 3 – where it was Rossi's turn to take the outside line, with which he incredibly edged back in front.
"The battle was normal, I never touched him, I never ran wide" :: Valentino Rossi
Then, as they reached the final corner, Stoner ran wide and slewed into the gravel. The Ducati tipped onto its side and he had to push it back up and remount.
Remarkably, he and Rossi had pulled so far away from the rest that Stoner could do this without losing second place. But victory was gone – and he was furious.
"He seemed to brake a lot earlier than normal," Stoner said of Rossi.
"I nearly stayed on the track and I'd completely let off the brakes just to get it round to the right of him.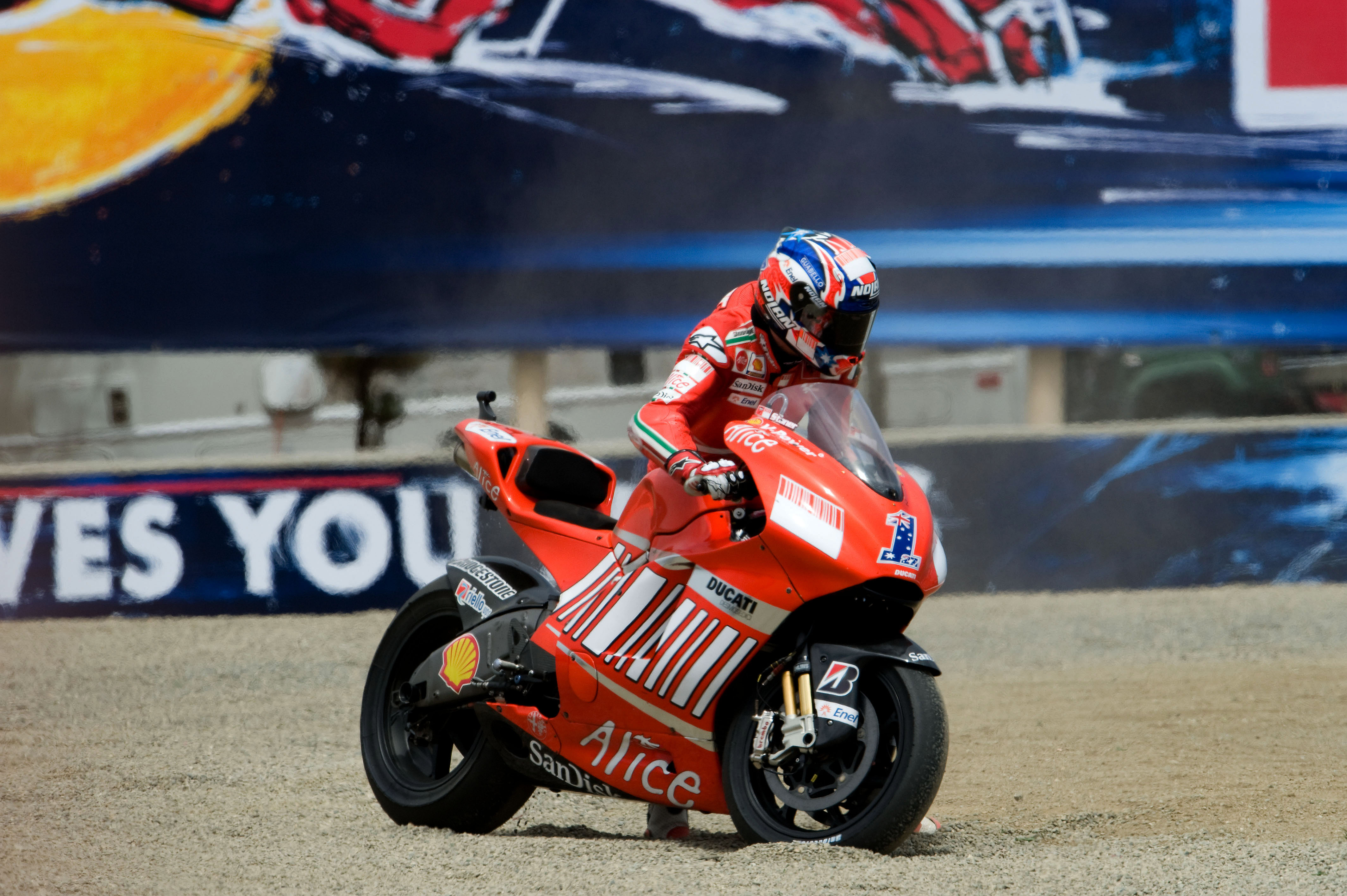 "I'm disappointed with my mistake. I could have caught it, I suppose. He'd done it a few times in the race so I should have been expecting it, but that time I just couldn't stop quick enough.
"I felt like I was going to plough into the back of him so I just let the brakes off and went around."
The suggestion of a brake test went down badly with Rossi.
"No, no, no. I never make this type of thinking in my career and I become angry if he says this," said Rossi. "I think he made a mistake and you need to admit when you made a mistake.
"I didn't brake before [I should have], for sure. I didn't even know he crashed, I saw the next lap."
The fallout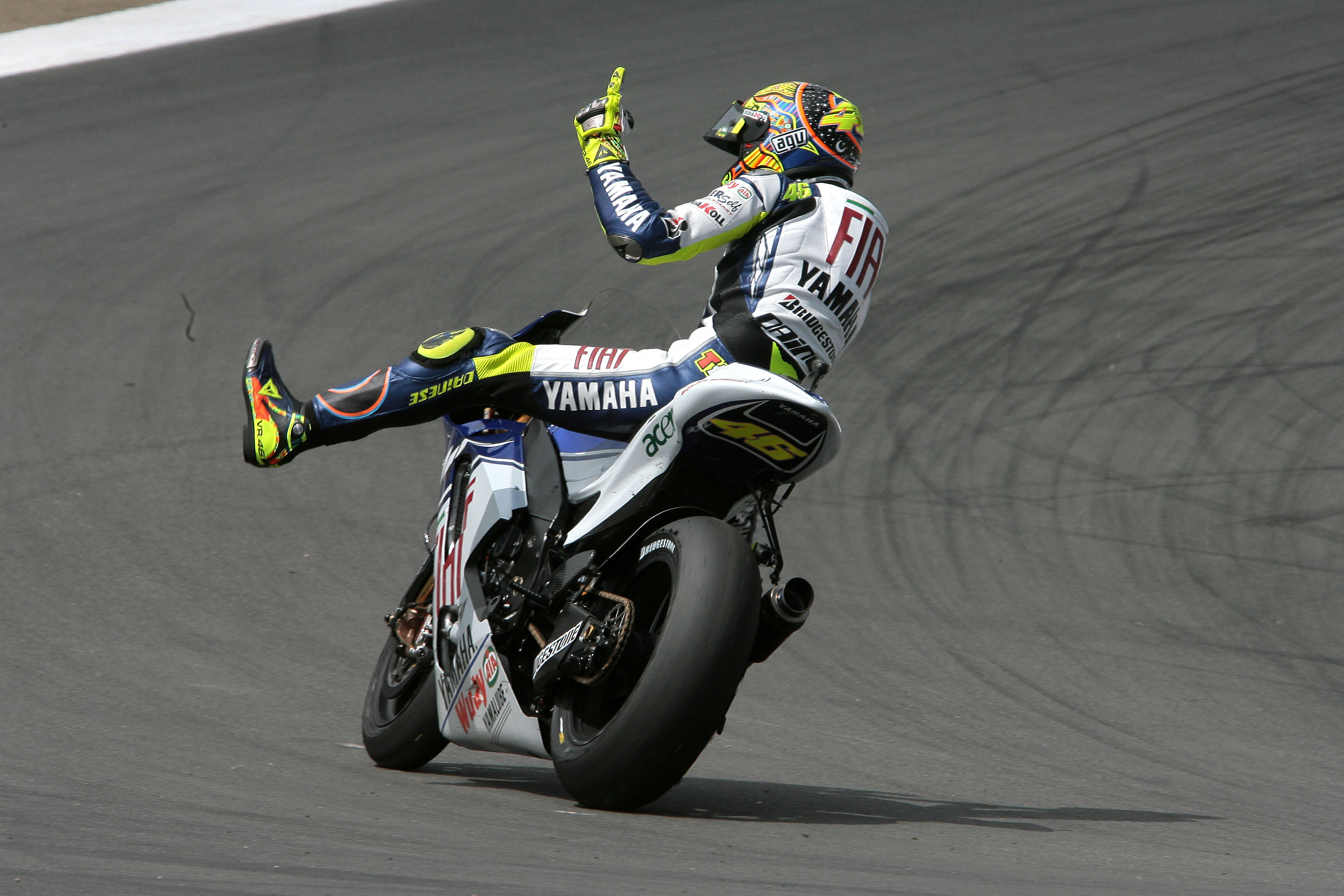 Rossi ultimately won by 13s over Stoner, giving him a 25-point championship lead.
Stoner shook his head as he crossed the finish line.
Then Rossi approached him in parc ferme, with the television cameras rolling.
"Great race!" said Rossi.
"No, you can't race this way," Stoner replied.
"That's racing, Casey."
"That's racing? OK, we'll see…"
The debate went on even as they mounted the top two steps of the podium. Stoner declared afterwards that this rostrum conversation concluded the matter.
"Look, Valentino rode a great race and I have nothing against that, just a couple of his overtaking moves, for me, were past the point," he said.
"But I spoke to him about it on the podium and we'll just get on with the next weekend."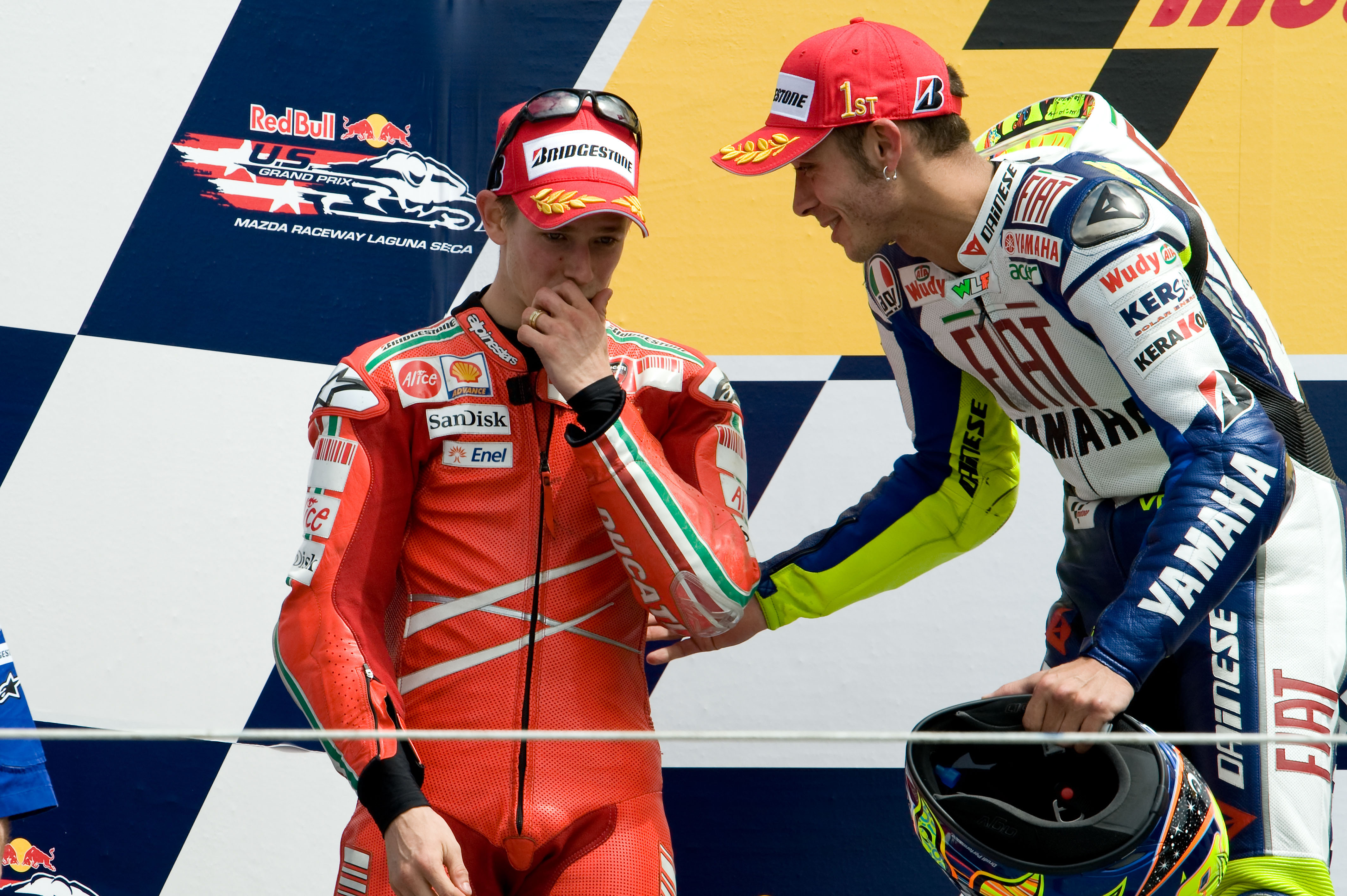 Rossi wasn't quite done yet, though.
"I'm sorry Stoner complained," he said in his evening media debrief.
"I understand our fight was very aggressive, but I think he complained most of all because he ended up behind.
"I'm very sad that he was angry at the beginning but I think after a race like this it's normal when you arrive behind.
"I think the battle was normal, I never touched him, I never ran wide. The overtaking moves were tough but I always passed under braking, which is where I'm stronger.
"This is racing and every overtake was very clear for me."
What happened next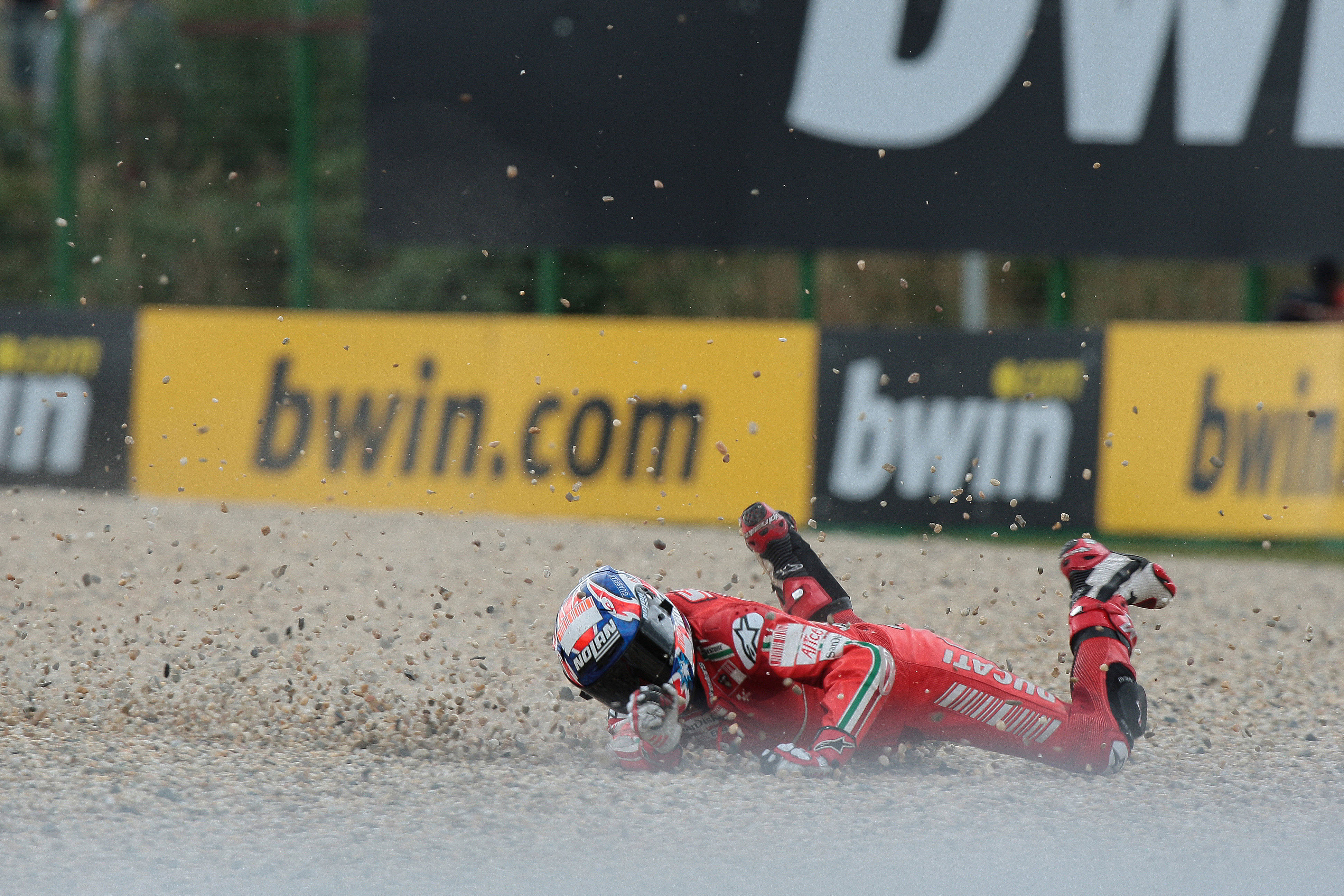 Laguna was the first of five straight race wins for Rossi. Stoner crashed out of the lead of both the next two grands prix.
By Motegi in October, three rounds from the end of the season, Rossi was a world champion again.