Aprilia MotoGP rider and 2022 championship contender Aleix Espargaro has blamed a faulty tyre for his performance in Sunday's German Grand Prix, after he dropped out of the fight for second place at the Sachsenring despite looking to have the pace to come runner-up to victor (and his main title rival) Fabio Quartararo.
Looking all weekend to not quite have the same race pace as the Frenchman and Ducati rider Pecco Bagnaia, Espargaro nonetheless went into the race as the best of the rest – hence the surprise when first team-mate Maverick Vinales and then second factory Ducati rider Jack Miller were handily outpacing him in the latter stages of the race.
Eventually salvaging fourth after a mechanical problem for Vinales, it still means that for the second race weekend in a row Espargaro conceded valuable points.
And while the last time was entirely his own fault after miscounting the laps remaining at the Catalan Grand Prix, this time round Espargaro very much pinned the blame on someone else.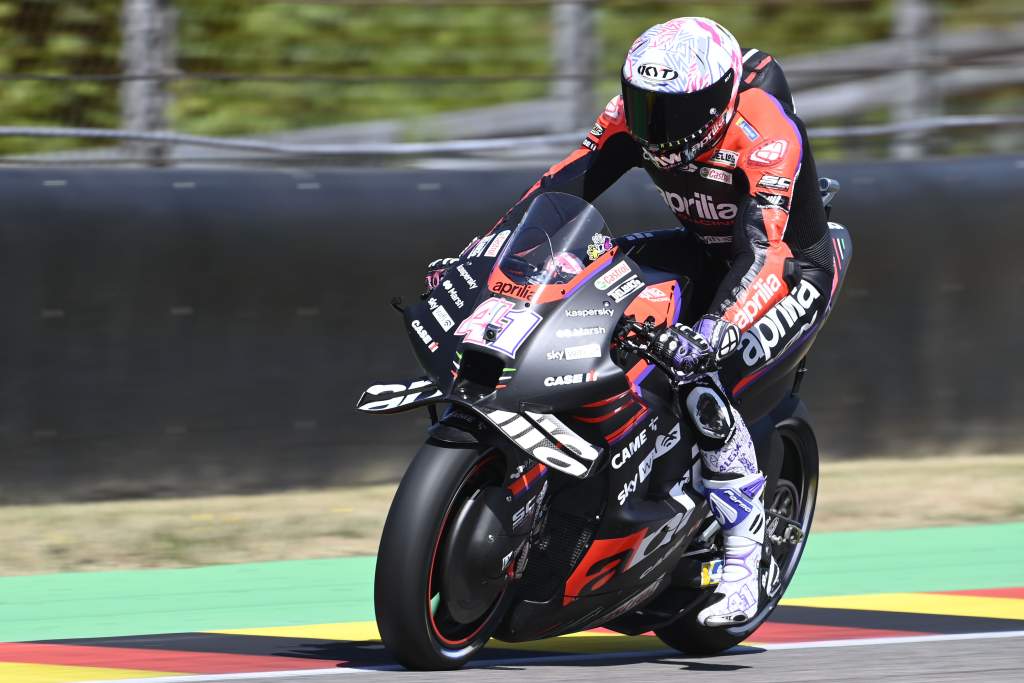 One of a number of riders to complain about similar issues all weekend long, he was left frustrated about a vibration issue from his front tyre after the race – something that he insisted very much denied him the chance to pick up an extra seven points in second place behind Quartararo to limit the damage done by the Yamaha rider's latest victory.
"From lap one, when I changed the front tyre on the grid and rode the formation lap, I started to feel a lot of vibration on the front," he explained.
"I was very angry but I obviously had no time to stop and change the tyre.
"I changed it on the grid and it started to jump."
A front tyre vibration was also what Ducati's Jack Miller had pinned his costly FP4 crash under yellow flags on – albeit in that case Michelin insisted there was no defect found.
"It happened to more than seven riders on Friday and yesterday to [Suzuki rider Joan] Mir in qualifying," Espargaro continued. "My tyres were perfect all weekend, but today? Unbelievable.
"A lot of chattering. The first six or seven laps, with a new rear tyre, I could manage it quite well, but after that it was impossible.
"My best sector during the weekend was sector three, the fast part of the track, and in the race it was impossible for me to ride it.
"It was a question of trying to avoid a crash all race. It's a surprise, because I was lapping very slowly and even like this I was all race on the podium.
"At some stages of the race I thought I would have to stop, but in the end at least it's fourth place."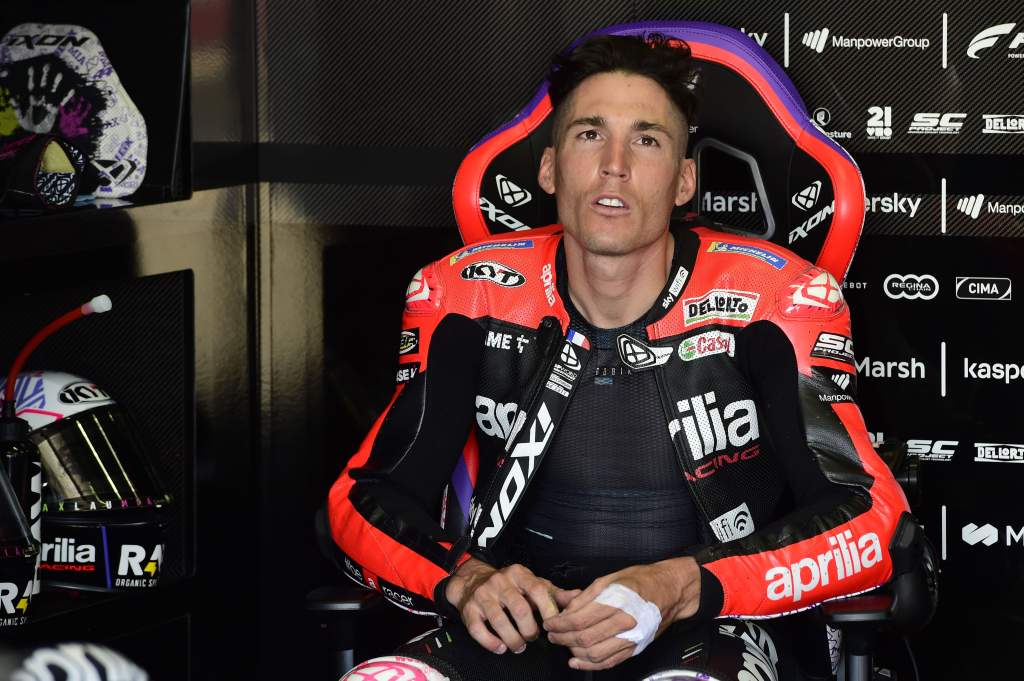 Insisting that it was '100%' an issue with his front tyre, he was left fuming at Michelin after the race for denying him the chance to score more points after a race where he says his pace dipped into Moto2 speeds at times.
"You just have to analyse my pace," Espargaro said, "because some laps I was doing 1:23 laps. It's just one second faster than [Moto2 race winner] Augusto's [Fernandez] fastest lap of the race.
"Very slow laptimes. I'm happy to take fourth place because it's a lot of points for the championship, but sincerely today our potential was easily to fight for second place.
"I spoke to Michelin and they said they will analyse, but honestly it doesn't matter for me. The race is done.
"But there is clearly no doubt that the tyre was not OK. I used four hard front tyres all weekend with no problem and I went onto the grid with a used tyre with 16 laps and it was OK.
"I put in a new one and as soon as I arrived to corner one with a new one the bike started to vibrate. There is no doubt."
The Race reached out to Michelin for comment and received the following statement: "Aleix's tyre was checked after the race, and the balance was OK.  From data, there was no vibration related to the wheel rotation, but we can see clearly that chatter was present. But this was not a tyre issue.
"Chatter can happen when you have very low grip on the front due to a low-grip surface and high temperatures. This was also an issue for other riders, not only Aleix."
However, part of Espargaro's frustration is perhaps linked not just to his specific issues with Michelin but also with the bigger picture in the championship. Confident only that he would have been able to finish second to Quartararo had things gone according to plan, he knows that that isn't good enough to win him a title.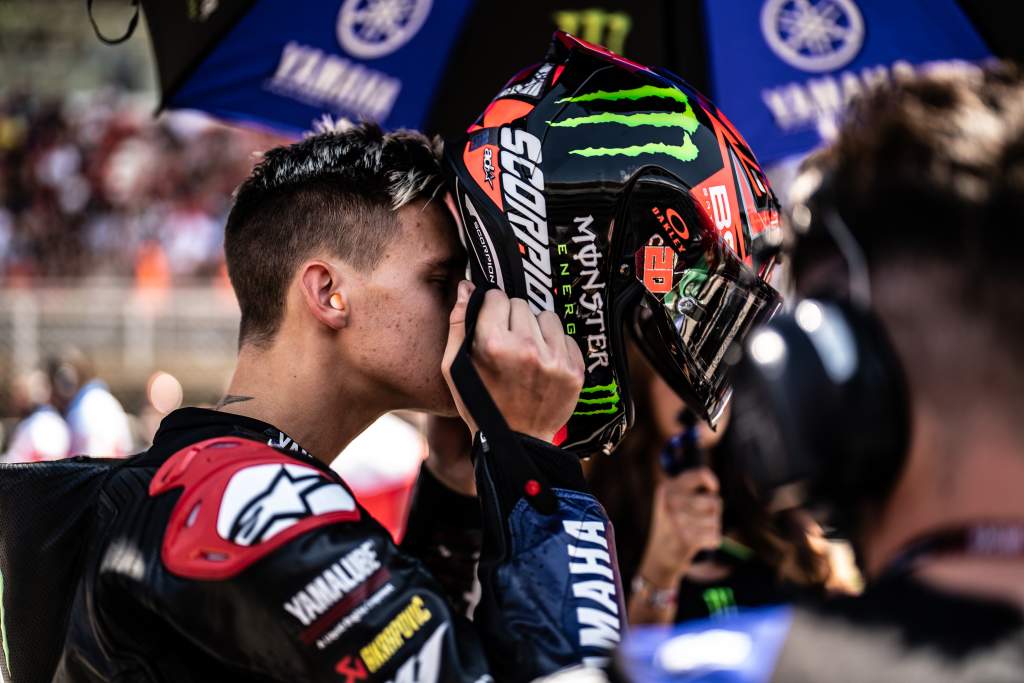 "The championship is] difficult," he conceded. "For me, the problem is not the points. It's just 30 points, not so much – if he crashed in Assen and I won or finished second, it would be 10 points.
"The problem is that he is always faster than me on Sunday. Today, realistically, I think I could have beaten Zarco in a normal condition, with a normal front tyre. The pace was there and he wasn't very fast.
"But Fabio won very easily. The problem is that on Sunday he is faster than me and I need to find some speed."