If there's one thing that's obvious from the comments made not by Ducati's fleet of riders but by its rivals after last weekend's post-season test at the Jerez circuit, it's that they're rattled by the pace of the Italian bikes – which could very well be the biggest prize that Ducati has won all season.
There's no questioning that the Bologna factory finished off the 2021 MotoGP season as the strongest squad on the grid. It won four out of the last six races with Pecco Bagnaia, taking six pole positions in a row and securing half of the available 18 podium places. It was a stunning way to sign off the year.
What's even more impressive is that it wasn't just Bagnaia, either, though, with Jack Miller and Jorge Martin also race winners and Johann Zarco and Enea Bastianini joining them on the podium. In fact, out of Ducati's six racers in 2021, only rookie Luca Marini failed to finish in the top three, but he also was able to make strong progress as the year unfolded.
This is why the display put on by its now-eight-strong line-up – but by Bagnaia in particular – at the Jerez test so worrying for Ducati's rivals.
While it's not necessarily the best bike on the grid given that such a moniker is more often than not really a result of the combination of machine and rider more than just the technical factor, it's certain that Ducati has either built a machine that suits a variation in riding styles or picked a line-up across four teams that are perfectly suited to the bike – with the former most definitely more likely.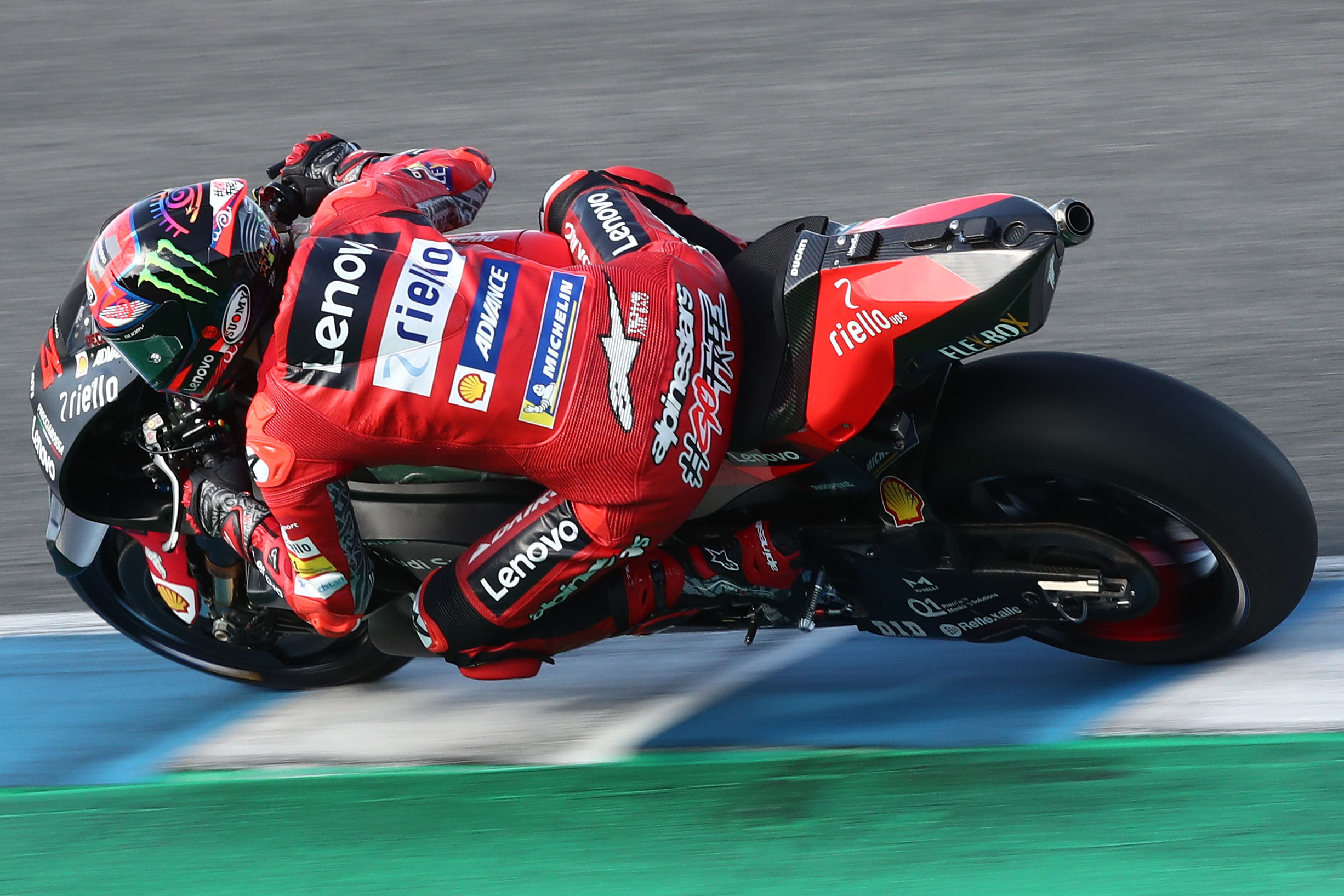 With that in mind, it's hard to see Bagnaia's post-test comments as anything other than a final parting shot to Ducati's rivals as MotoGP heads into the winter break, with the championship runner-up really twisting the knife as the series breaks up for two months of inaction.
"I'm happy," said the Italian after the conclusion of testing. "We've still got work to do but I'm feeling great, and Ducati have already developed a perfect bike. The good thing is that with a medium tyre and in the wind, I managed to do a faster laptime than my qualifying, which is an incredible thing. We're working in a good direction for sure."
That's a worrying statement to hear for its rivals, and it's one that has elicited a plethora of responses already, as both reigning champion Fabio Quartararo and former winner Joan Mir were quick to call out the threat posed by the Ducatis next season.
"They made a massive step, so I'm more worried about next year," Quartararo admitted, "but this is something I have too much on my mind right now. I need to leave it to Yamaha, they know what they have to do to improve for next year. So, of course, we are not fully confident because they make that step. But we are the world champions of this year, so we need to enjoy it."
"They were faster," Mir said after the final race of 2021 a few days prior. "That's it. It's frustrating. I gave everything all this weekend to try to build a better end of the championship, but honestly, it was not possible. I'm sorry for all the fans."
The reality of the matter is, of course, that Ducati might be looking in good shape right now – but its ascendancy to the top of MotoGP next season is far from a sure thing even if the bike is improved as it claims.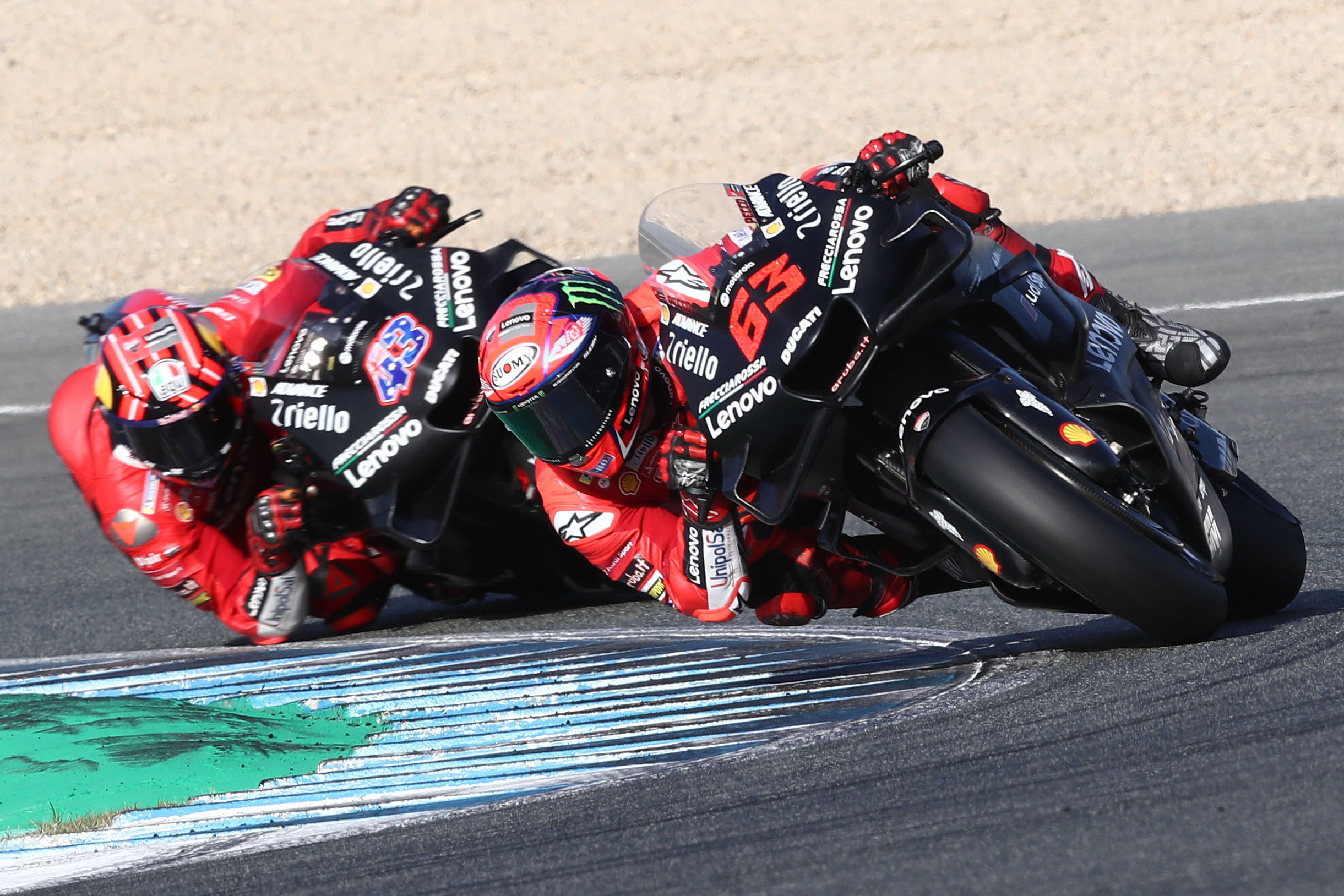 None of the manufacturers have finalised their specifications for 2022 just yet, with five more days of official testing coming ahead of the opening round – and with two months off between now and then, it's plenty of time for engineers to come up with something more to help halt their charge.
MotoGP is, after all, a rather fickle world given just how competitive the racing is right now. Twelve months ago, an incredible second half of the championship saw Franco Morbidelli tipped by many as the favourite for the 2021 title, until injury and an outdated satellite bike eventually saw him finish the year in 17th with only 47 points to now-team-mate Quartararo's 278.
But that isn't the important thing right now for Bagnaia and Ducati, because while the war might be a way off, for now, it has arguably already won the first battle. It's a long few months ahead for Ducati's opponents, and it's months going to be spent worrying about just what the Italian combination will be able to do when the lights go out in Qatar.
Motorcycle racing remains a sport where the rider is everything regardless of the technical package they're sitting atop, and mind games are a key strategy if played right. They've previously been a key strategy employed by Valentino Rossi, for example – and it's hard to imagine that the now-retired racer hasn't taught protege Bagnaia a trick or two about how to get under the skin of the opposition.