"They were faster. That's it. It's frustrating. I gave everything all this weekend to try to build a better end of the championship, but honestly it was not possible. I'm sorry for all the fans."
Many in the MotoGP paddock will have found Ducati's late-season ascent culminating in first-ever premier-class 1-2-3 finish ominous.
Suzuki's Joan Mir, who was best of the rest at Valencia, clearly did, sounding deeply affected by the sight of the Desmosedicis escaping into the distance ahead of him on the final Sunday of the 2021 season.
There's nothing particularly fresh about a motorsport competitor talking up their rivals – it's arguably the industry's favourite hobby. But Mir doesn't tend to be prone to overbearing pessimism, given that he sounded largely unfazed by Fabio Quartararo's early-season charge and had remained reasonably positive until it became absolutely clear the title was slipping away.
Suzuki is quite bullish about its incoming 2022 bike, yet this Ducati 1-2-3 seems to be bothering Mir more than Quartararo's emergence ever did. And, in elaborating on his concerns on Sunday, the 2020 champion put forward a few fascinating numbers.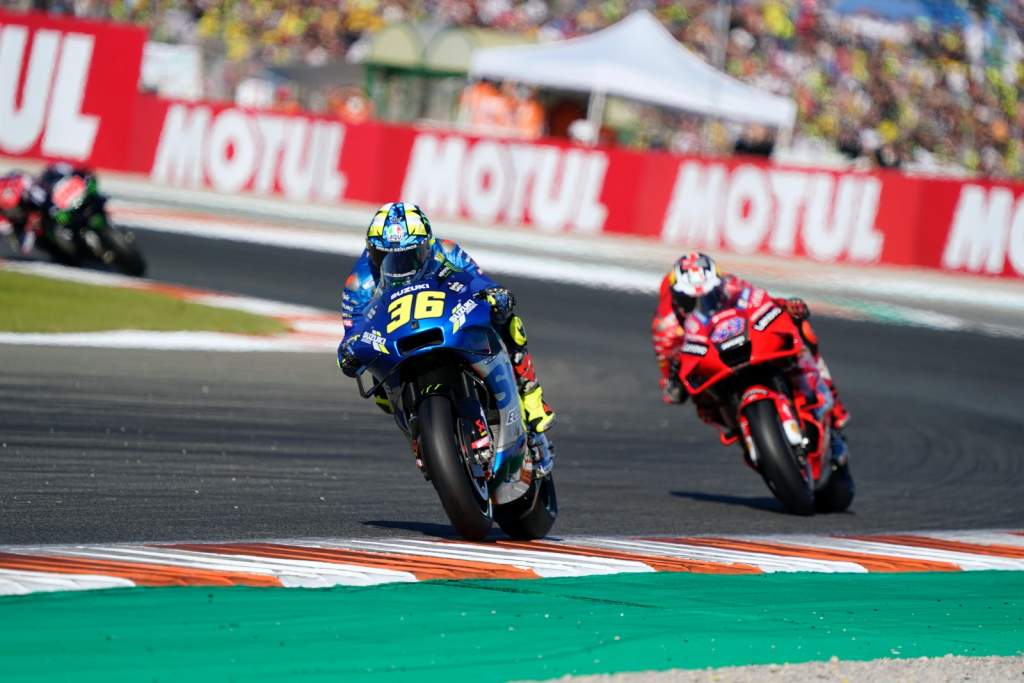 "It's really curious if you look at the laptimes in this race, and if you compare the laptimes of this year compared to the other ones [at Valencia]," Mir said.
"When I won the [first] race in 2020, on that race we were 25 seconds slower, I think, 20-25s.
"Then, the second race, with more information of the track, with more grip, because two weeks in a row on the same track [there's more grip], [Franco] Morbidelli won, in front of Jack [Miller].
"And they finished the race in 41 minutes and I think 22 seconds, more or less.
"[This time] I finished two seconds faster than that race. But somehow they [the Ducatis] made some improvement to be 15 seconds faster in the race. Jack less, of course, but the others even more! And it's something that, it's a huge step that they did, if you analyse well. We have to work."
The numbers Mir cited, coupled with his moribund tone, raised a few eyebrows and are worth looking into further.
Certainly, when informed of his rhetoric in the post-Valencian GP press conference, the factory Ducati duo sounded a bit sceptical.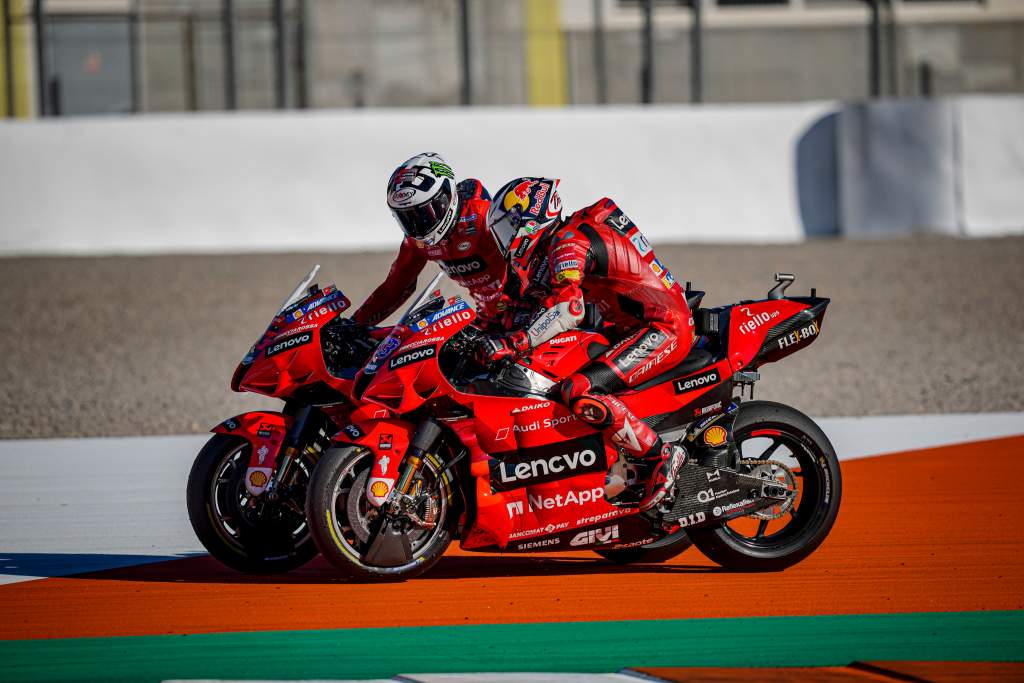 "Jack was fighting for the win [in 2020], and the pace was more or less the same, no?" said Francesco Bagnaia.
"OK, maybe a little bit faster today," Miller interjected, kicking off the briefest of dialogues.
"Yeah, but today was also more hot than last year."
"Conditions were better today, for sure."
"Conditions were better," Bagnaia concurred. "Last year I was 11th – maybe if you compare me, I was 25s in front [versus last year], but Jack was doing more or less the same race, and he was competitive as last year."
As for the first Valencia race of last year's double-header, the one Mir had won, comparisons are rendered more or less moot because the conditions weren't fully comparable, with damp patches at Turn 1 in particular influencing pace.
But the second Valencia race is a much better parallel to this year's sole outing.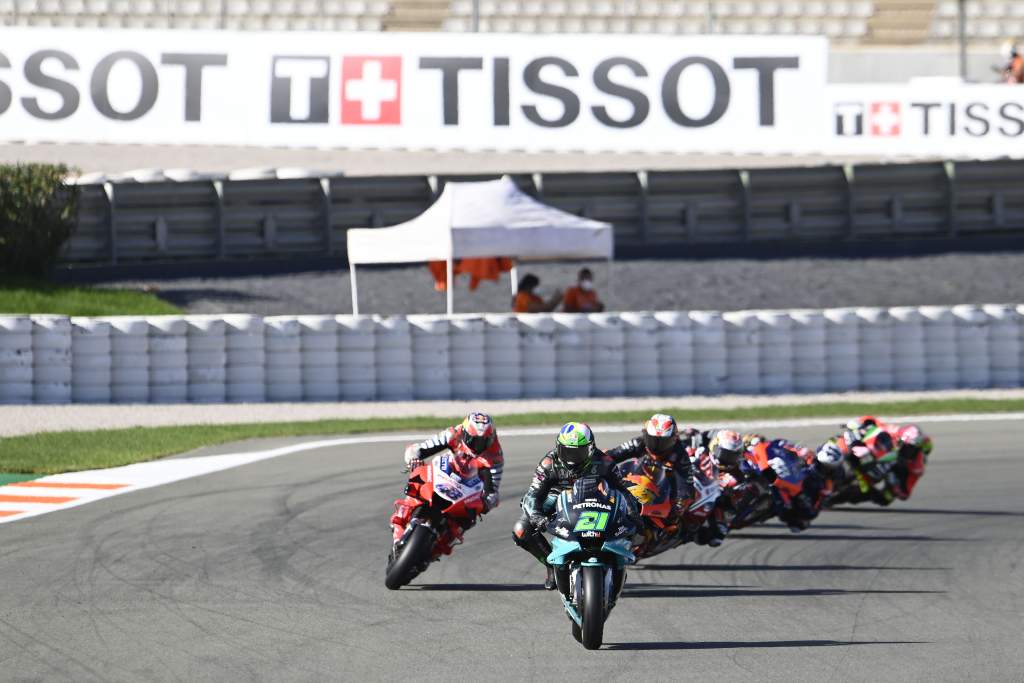 MotoGP's documents actually suggest a marginally higher ground and air temperature in last year's edition, but either way the difference between the race times of the respective race winners is almost exactly seven seconds, which is not nothing but not spectacular. And Miller, of course, was right in the thick of the lead group in both occasions, each time on an up-to-spec Ducati.
Mir was at a loss as to his deficit to the Ducatis at Valencia, but he did repeatedly point to one problem – he was "struggling a lot with the front", overheating it while running behind the Desmosedicis, while the Ducatis themselves didn't seem to have that problem despite also often running in traffic behind fellow Ducatis.
Not that Mir suggested there was something nefarious going on – instead, he made it as clear as it could be that he expects Suzuki to go all-in in the off-season to reduce the deficit.
But just how stark is the comparison between the Valencian GP on November 15, 2020, and the Valencian GP on November 14, 2021? It is worth taking a cue from Mir and trying to "analyse well".
First, let's put together the best race times of each of the six manufacturers in the two respective races.
| | | | |
| --- | --- | --- | --- |
| Marque | Top rider '20 | Top rider '21 | Delta |
| Honda | C. Crutchlow | A. Marquez | -13.740s |
| Aprilia | A. Espargaro | A. Espargaro | -9.858s |
| Ducati | J. Miller | F. Bagnaia | -7.090s |
| Suzuki | A. Rins | J. Mir | -5.480s |
| Yamaha | F. Morbidelli | F. Quartararo | -1.558s |
| KTM | P. Espargaro | B. Binder | -0.566s |
You can see there's a fair amount of extra noise in there that doesn't really say much about year-on-year bike performance. For Honda, its top 2021 Valencian GP rider Alex Marquez was hurt in late 2020, while its top 2020 Valencian GP rider Cal Crutchlow was anyway never really fully fit that season and about to retire, and also had a somewhat messy race.
Marc Marquez would've been the best point of comparison but wasn't present on either occasion, while extrapolating the pace of Takaaki Nakagami (who crashed both times) in both races is at least in line with the general perception that Honda hasn't made huge strides.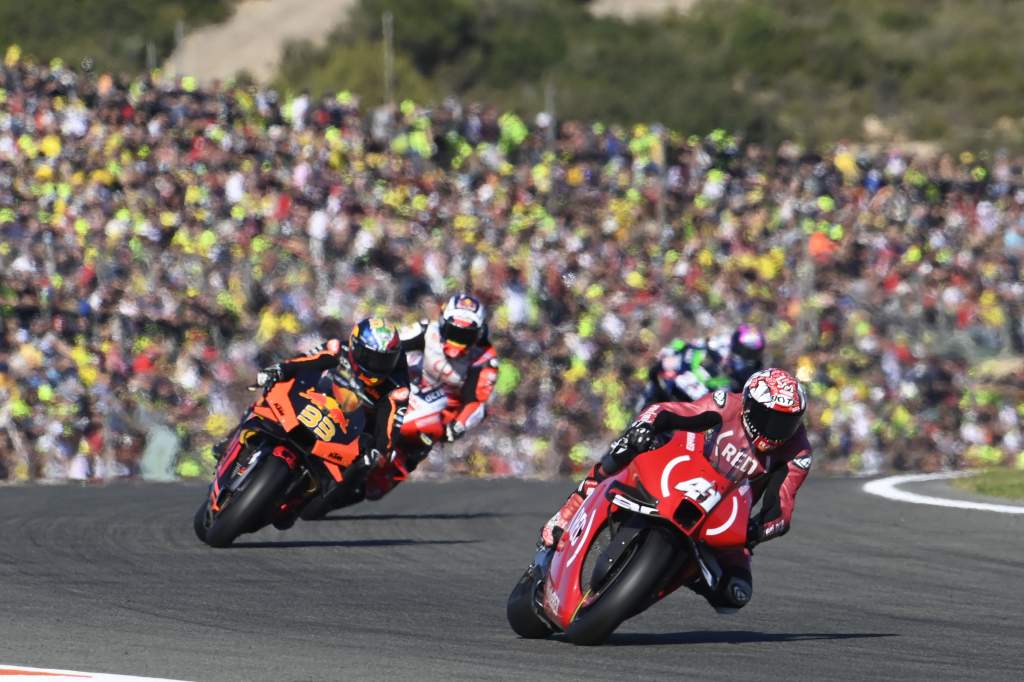 The results over at KTM, Aprilia and Suzuki seem about in line with the narratives (for whatever that's worth) – of those three, Aprilia has very clearly made the biggest step forward. But Yamaha is hard to draw conclusions on, as its 2020 Valencia standout Morbidelli just isn't back to full fitness right now, and it's really hard to say how a peak Quartararo stacks up with a peak Morbidelli at Valencia.
So, in trying to terms of trying to chart the trend of a general grid-wide improvement, we've dipped into the rider-by-rider comparison as well, for those riders that were present on both occasions.
| | | | | |
| --- | --- | --- | --- | --- |
| Rider | Valencian GP '20 | Valencian GP '21 | Race delta | FL delta |
| Fabio Quartararo | Yamaha '20* | Yamaha '21 | -34.752s | -0.678s |
| Francesco Bagnaia | Ducati '20 | Ducati '21 | -26.453s | -0.746s |
| Alex Marquez | Honda '20 | Honda '21 | -20.557s | -0.621s |
| Valentino Rossi | Yamaha '20 | Yamaha '21 | -13.246s | -0.243s |
| Johann Zarco | Ducati '19* | Ducati '21 | -10.983s | -0.271s |
| Alex Rins | Suzuki '20 | Suzuki '21* | -10.508s | -0.308s |
| Joan Mir | Suzuki '20 | Suzuki '21 | -10.486s | -0.448s |
| Aleix Espargaro | Aprilia '20 | Aprilia '21 | -9.858s | -0.082s |
| Jack Miller | Ducati '20 | Ducati '21 | -6.267s | -0.208s |
| Maverick Vinales | Yamaha '20 | Aprilia '21 | -6.225s | -0.232s |
| Danilo Petrucci | Ducati '20 | KTM '21 | -5.398s | -0.122s |
| Brad Binder | KTM '20 | KTM '21 | -2.687s | -0.298s |
| Andrea Dovizioso | Ducati '20 | Yamaha '19 | +0.808s | +0.229s |
| Takaaki Nakagami | Honda '19* | Honda '21* | +1.300s | +0.448s |
| Miguel Oliveira | KTM '20 | KTM '21 | +3.952s | +0.183s |
| Franco Morbidelli | Yamaha '19 | Yamaha '21 | +7.088s | +0.286s |
* Didn't finish race, estimated race time calculated
You'll note that there are finish time deltas even for those riders who didn't finish both races. We've taken a bit of a liberty there to reinforce the dataset – for those who crashed out, we calculated an estimated finish time by taking the assumption that the rider's gap to the eventual race winner would've continued to grow or decrease at a consistent rate equal to the rate from the second lap to the lap before the crash.
A rider-by-rider approach doesn't eliminate some humongous outliers. Again, Morbidelli is injured and is on a newer bike; there are some other machinery changes; and while Quartararo was obviously much better in 2021, he was not this much better, but is instead flattered by the fact the ran super-wide and had to recover from a distant last place during the 2020 race.
What it does suggest though is that Mir really shouldn't be surprised by the leading Ducatis going quicker, because almost everyone went quicker.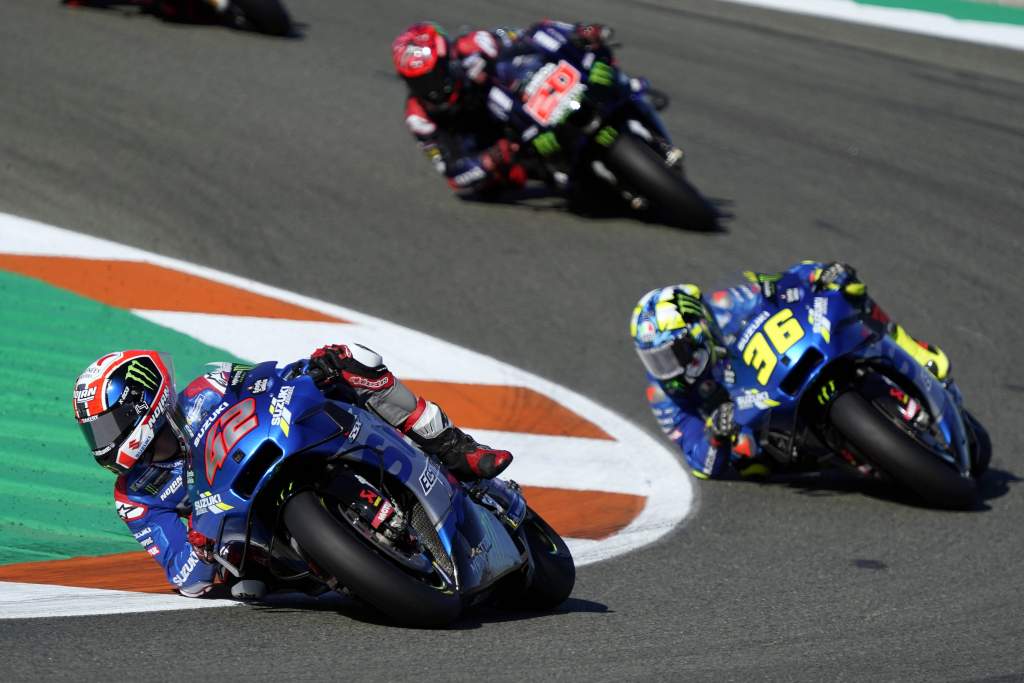 Mir himself found 10 seconds compared to 2020, even if that was admittedly a conservative ride to make sure of the championship. His genuine laptime gain, whatever it was, can't have been that different from the improvement Miller showed.
"Franky and I were pushing a lot last year, but the weather is a lot better today, Turn 4 you can really let the brakes go and you had no hesitation going in because there was a lot of temperature," said Miller. "We were able to use the hard front this year.
"There's a lot of variables in that comment [comparing 2020 to 2021]. For sure we've improved, don't get us wrong.
"But to say that the bike has changed or done anything dramatic, if you're really inside there – we haven't changed that much. It's just that the thing is working more and more, I think the boys are working… we came here, for example, in the first practice and we put the same setting as we had last year, and it was not working at all.
"We immediately went back to what we were using in Portimao, what we've used all year, it was job done, we didn't touch the bike really apart from some clicks here and there.
"I think we've all been very comfortable with this bike, we've found a great package that works and you don't have to adjust it overall every weekend. I think that's more the thing – just getting some time on the same bike, because we've been on it for two years."
Miller also quipped that Mir "better watch out" when Ducati's 2022 bike shows up, but his answer before that probably already gets to the bottom of the Suzuki man's frustration.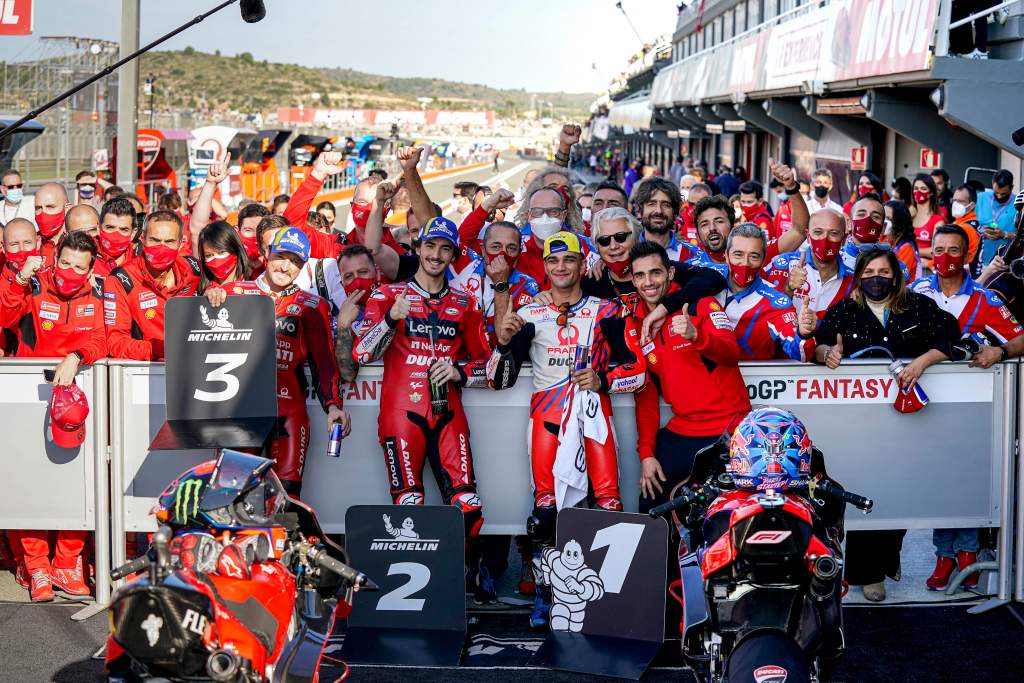 Mir probably wasn't intimating that the 2021 Desmosedici was massively souped up, but rather that it was working better with the tyres available, for one reason or another. But more than that, it was working better for a wider range of riders.
It's hard to say exactly where Mir's 15-second figure came from, but there's a decent possibility it comes from a Ducati factory team-only comparison. In 2020, the fastest all-red Ducati was Andrea Dovizioso, on 41m31.207s. This year, it was Bagnaia on 41m15.481s. As you can tell, that's a difference of just over 15 seconds.
But Dovizioso was the second-fastest Ducati overall in that 2020 race, whereas there were already two more Desmosedicis within just a second of race winner Bagnaia this time (and Johann Zarco not that far back, too).
Perhaps that, the multi-faceted nature of the Ducati attack, is really what Mir wanted to draw attention to. After all, how can a rival MotoGP rider not be discouraged by the prospect of five works-spec Desmosedicis on the grid next year?
Or maybe Mir's concern is more to do with one particular rider, the one who found 26 seconds without any injury- or incident-related caveats.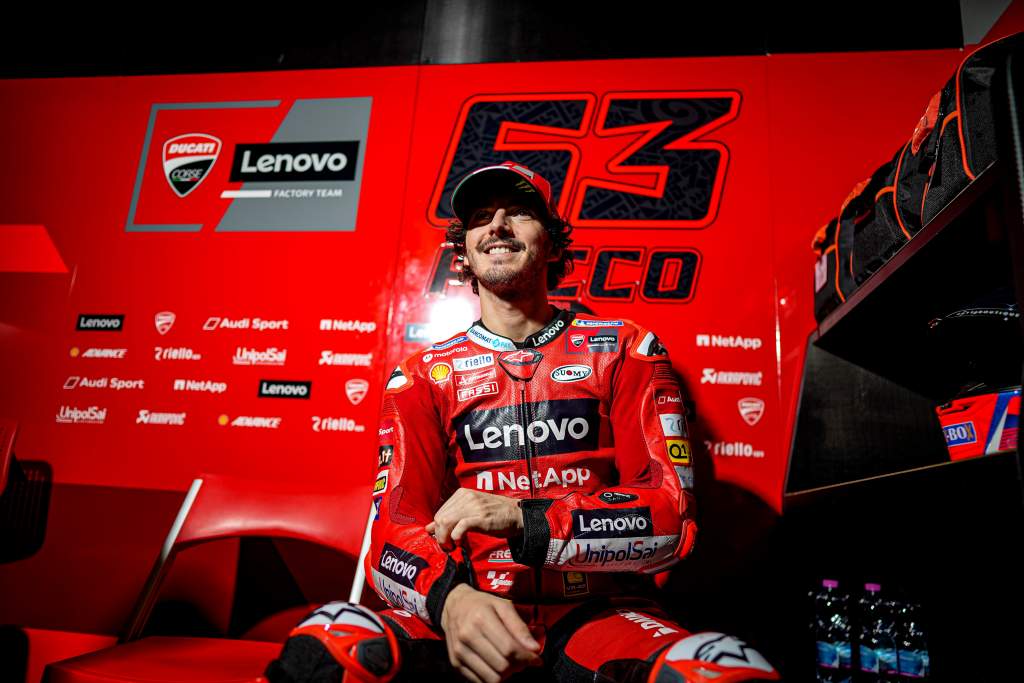 Bagnaia's first reaction to hearing of Mir's observations was very telling, as he assumed the Suzuki rider was looking at Bagnaia's 2020 and 2021 races. "I'm just surprised that he's comparing me. I was fast [this time]," the Italian said.
The implication seems fairly clear. Bagnaia '20 and Bagnaia '21 are two different riders. And the latter version, as all of MotoGP has found out in these past few weeks, is an absolute menace.